A 34-year-old father who has spent nearly five months in hospital after he almost died with COVID has told of his "blind panic" after the virus left him "gasping for air" - and he is urging the government to be cautious over the lifting of all restrictions.
Graham Horsfall has been a patient at Warrington Hospital since 16 January after contracting coronavirus during the peak of the second wave, and is still barely able to walk.
The IT consultant, who has no known underlying health condition, spent more than four months in an intensive care unit (ICU) and was told by medics he had just a 16% chance of survival.
Live COVID updates from the UK and around the world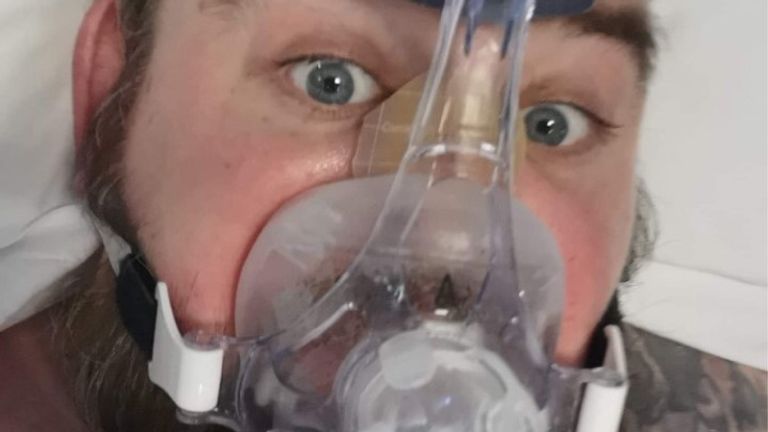 As the government considers whether to stick with its plan to remove all COVID restrictions on 21 June amid a rise in cases linked to the Indian (Delta) variant, Mr Horsfall has urged ministers to continue with some measures including rules on face masks.
"I think they should be cautious," he told Sky News.
"I wouldn't just go: 'Right okay, back to normal.'
"They could pick and choose things that could be relaxed a bit more, but also keep an eye on it.
"I think masks are here to stay for a long time… and they should be really.
"You're not going to get rid of (the virus). It is going to come back again as it evolves and mutates as a disease."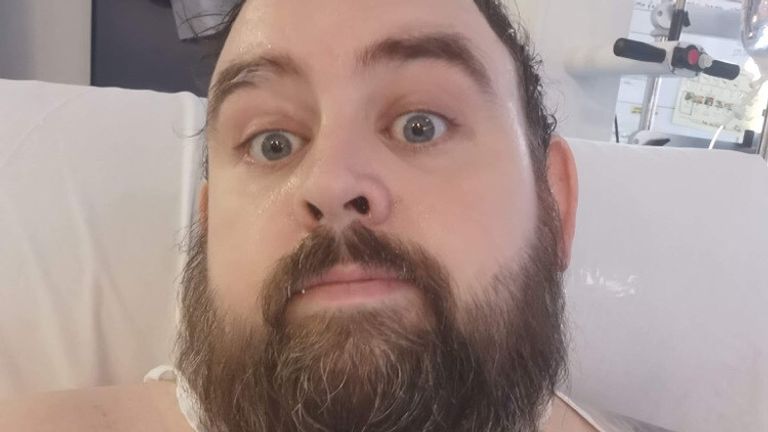 Mr Horsfall has urged people to take coronavirus seriously after challenging COVID conspiracy theorists about their views online – including members of his own family.
"I've got family members on Facebook saying it's all a conspiracy and a government plot to keep us all indoors and reset the economy," he said.
"People are losing people day in a day out. It's affecting people long-term. It affects everybody in different ways.
"I've seen people on Facebook saying: 'No one I know has had it.' I message them and say: 'Well now you do.'"
Mr Horsfall, who has a five-year-old son called Ollie and six-year-old daughter named Lily, began isolating at home in January after a colleague contracted COVID.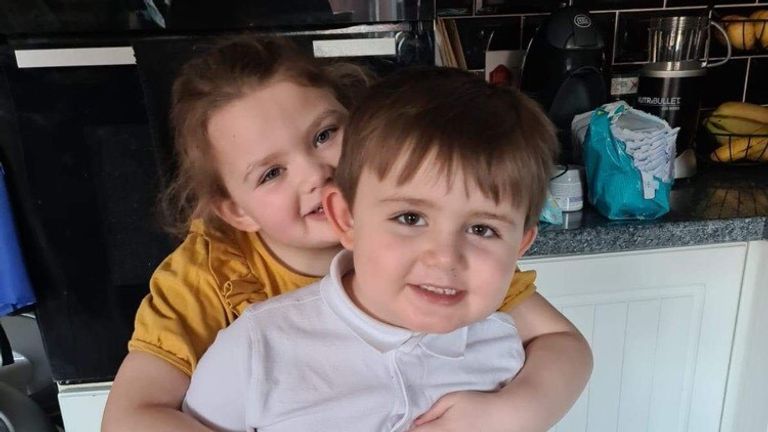 Three days later, he began coughing before his condition deteriorated and he started to "gasp for air".
His wife Emma called for an ambulance and he was rushed to Warrington Hospital, where he continues to be treated today.
"All of a sudden I couldn't breathe," Mr Horsfall said. "It was really scary.
"At that point, they told me they're going to have to put me on a ventilator because I need more oxygen.
"I am in blind panic at this point. The last thing I remember doing before they put me under was transferring money to my wife because it wasn't looking good."
Mr Horsfall's wife and children were isolating themselves so they could not accompany him to hospital.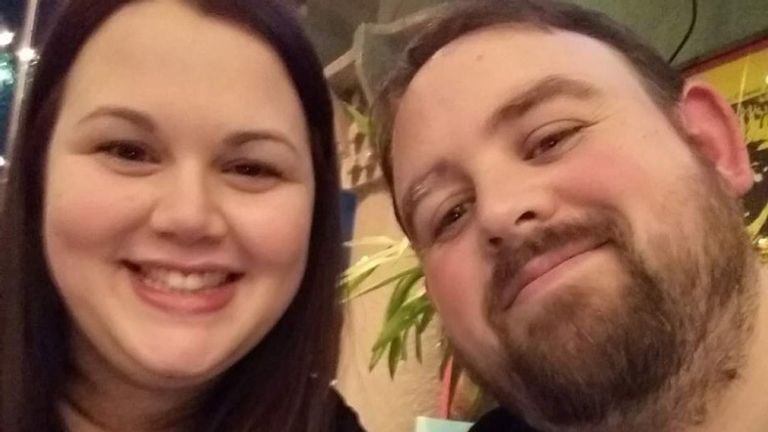 After arriving at hospital, he says he was hooked up to a ventilator and sedated.
"Basically my breathing was being done for me by a machine. It's the only thing that kept me alive," Mr Horsfall said.
"It's just full on fear. It's the unknown. Am I going to come out of this or am I not?"
Mr Horsfall said he only regained consciousness again in mid-February but he was "dazed and confused" and his condition quickly deteriorated.
He was given a tracheotomy and had to be sedated again before he awoke to find he was "literally paralysed" after suffering from muscle atrophy, meaning his muscles had wasted away.
"I could move one arm," Mr Horsfall said.
"I couldn't move my other arm, I couldn't move my legs, I couldn't move my torso. I was literally paralysed."
Mr Horsfall, who could not talk due to his tracheotomy pipe, said he initially thought he has having an hallucination when he woke up before he was handed his phone so he could text his wife.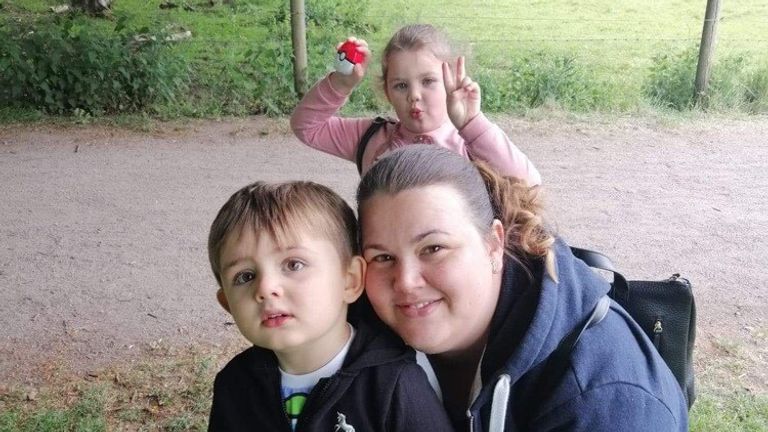 He added: "One of the nurses turned around to me and basically said, based on the treatment I had…it had an 84% mortality rate – so 84% of people that had the same treatment as me, didn't make it.
"It was a proper eye-opener."
Mr Horsfall said seeing other COVID patients around him lose their lives was "harrowing", including a man in his 20s who had recently become a father.
"You sit there thinking: 'Bloody hell, it will literally take any age'," he said.
"It's not just taking the elderly, which people think.
"They would do their best to shield you from people passing away.
"Every time a curtain was shut, we knew someone had passed away on the ward. And that happened all the time.
"It's harrowing for people. You make friends with people. Even though you couldn't talk, you would give them a wave. And then all sudden that person's gone."
Mr Horsfall said his wife – who also caught the virus in January but only suffered mild symptoms – was unable to visit him when he first gained consciousness in mid-February due to the hospital's COVID rules.
He added: "She was having to deal with the fact that she thought I was going to die while looking after our kids as well, which isn't easy.
"She's done amazing. Absolutely amazing. She's doesn't think she has, if you ask her, but she has – she's done amazing."
Mr Horsfall was only able to speak again after his tracheotomy pipe was removed on 12 March.
At that point, he was allowed to have one hour-long visit per week, with Mrs Horsfall required to wear full PPE and undergo temperature checks before seeing her husband.
However, Mr Horsfall had to wait until the start of May to see his children in person again when his daughter visited.
"That was emotional," he said.
"It was a massive boost for me, mentally and physically, because it makes you push that bit harder. You take those extra couple of steps when you're doing physio."
Mr Horsfall said he was the last COVID patient on the ICU ward when he moved out on 25 May and he is now being treated on a respiratory ward.
He said his muscles had "rotted away" due to his lack of movement while in hospital and that he was now doing rehabilitation work and seeing a physio every day.
"I walk with a zimmer frame now, that's how I get around," Mr Horsfall said.
"Because of the COVID, probably the furthest I've gone without being out of breath is about 15 metres.
"Then you just get so breathless you have to sit down because your lungs are knackered due to COVID.
"There's a lot of work to put in yet."
Mr Horsfall does not know when he will be able to leave hospital but doctors believe he should be able to make a full recovery due to his age.
They are now considering whether he will be able to continue his recuperation at home in the future or in a rehabilitation centre.
"I've been here long enough," Mr Horsfall said.
"I just want to be home to see my kids."
Health secretary on Indian (Delta) variant

He recently had his first COVID jab "to be on the safe side" because he fears he would not survive catching the virus again.
The health secretary says the Indian variant has made the decision about whether to lift lockdown restrictions on 21 June "more difficult" due to its higher rate of transmission.
Matt Hancock told Sky News the Delta variant was 40% more transmissible than the Kent (Alpha) strain, leaving the easing of social distancing in the balance for the original target date.
Ministers are "drawing up other options" before a decision is made on the 21 June easing, a government official told Sky News.
World Cup: England cruise past Senegal to set up quarter-final clash with holders France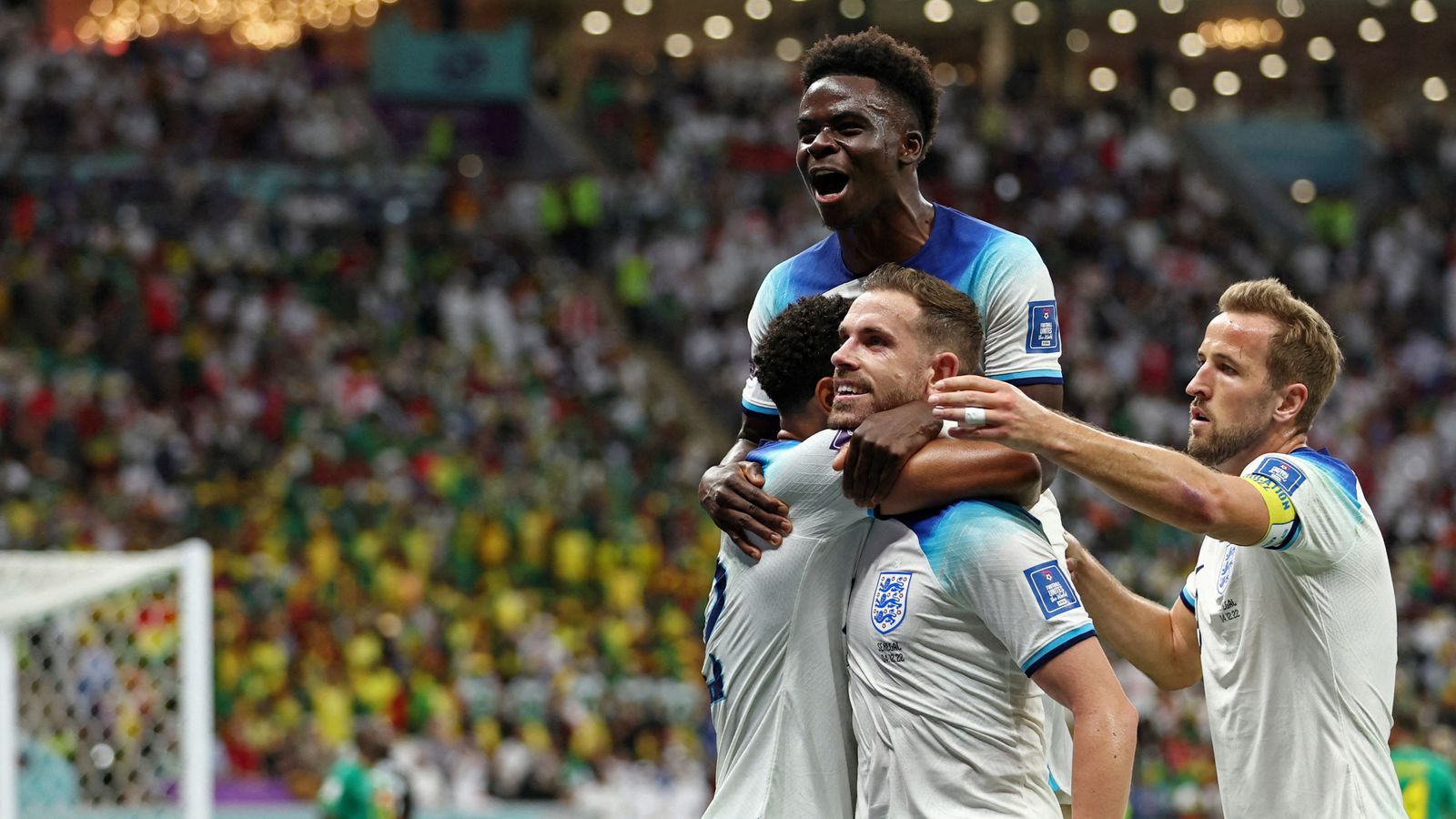 England cruised past Senegal 3-0 in their first World Cup knockout match, with a mouth-watering clash against holders France awaiting them in the last eight.
Two quick-fire goals – the first from Jordan Henderson, the second from Harry Kane – put Gareth Southgate's side in control going into the half-time break, after what had been a nervy start at the Al Bayt Stadium in Qatar.
Senegal, the African Cup of Nations champions, had chances to open the scoring and forced a fine save from goalkeeper Jordan Pickford before his namesake Henderson struck in the 38th minute.
But the second half was far more comfortable for the Three Lions, and Arsenal's young star Bukayo Saka scored his third goal of the tournament in the 57th minute to rubber-stamp the victory.
Kane's goal in first-half added time means he has now scored 11 goals at major tournaments, seven in the World Cup and four in the Euros, overtaking Gary Lineker as England's all-time top scorer in major tournaments.
England face the toughest test they could ask for in the next round, after record-setting goals from French strikers Olivier Giroud and Kylian Mbappe helped the 2018 winners see off Poland in the earlier Sunday game.
RMT rejects offer from train operators aimed at preventing further strikes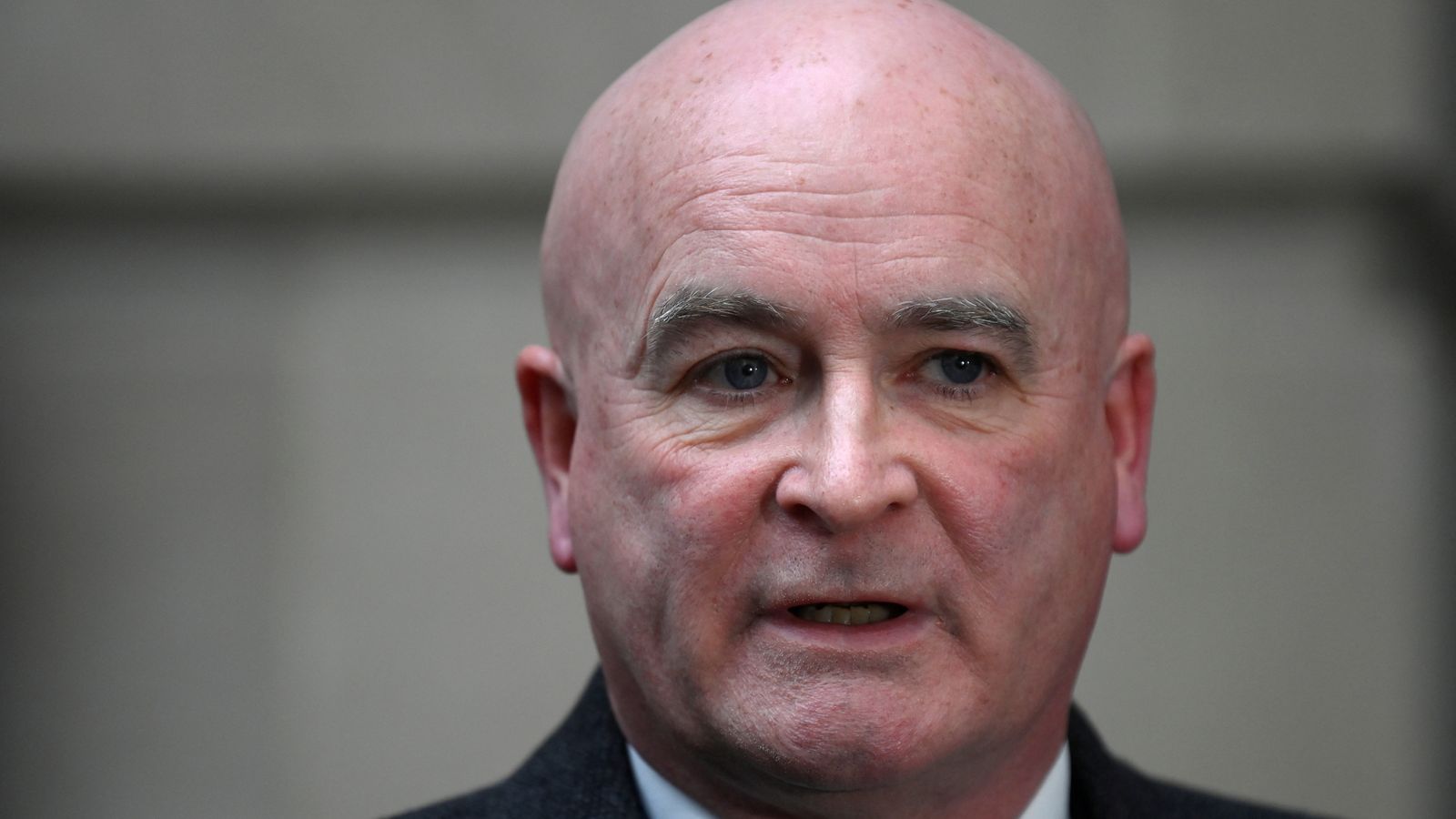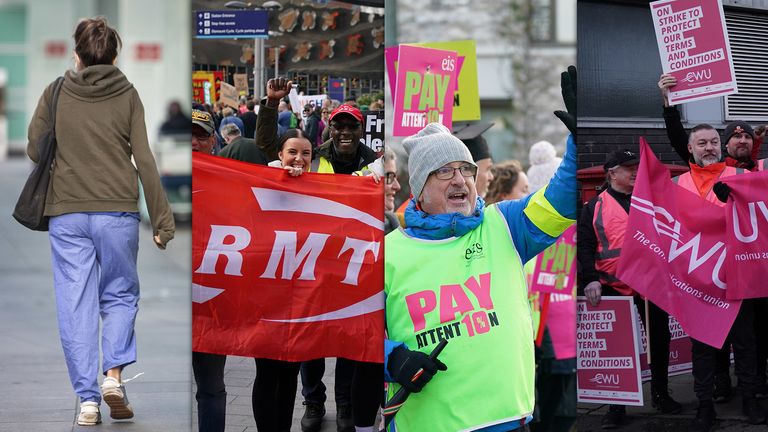 The RMT has rejected an offer from train operators aimed at preventing strikes over the Christmas period, the union has announced.
The Rail Delivery Group (RDG) said its proposed framework would have supported pay increases of up to 8%, covering 2022 and 2023 pay awards, while delivering much-needed reforms.
But the RMT, led by secretary general Mick Lynch, has turned it down.
The union said: "The RDG is offering 4% in 2022 and 2023 which is conditional on RMT members accepting vast changes to working practices, huge job losses, Driver Only Operated (DOO) trains on all companies and the closure of all ticket offices."
Mr Lynch added: "We have rejected this offer as it does not meet any of our criteria for securing a settlement on long term job security, a decent pay rise and protecting working conditions.
"The RDG and Department for Transport (DfT), who sets their mandate, both knew this offer would not be acceptable to RMT members.
"If this plan was implemented, it would not only mean the loss of thousands of jobs but the use of unsafe practices such as DOO and would leave our railways chronically understaffed."
RMT has demanded an urgent meeting with RDG on Monday morning in the hope of trying to resolve the dispute, the union posted on Twitter.
In a statement posted on the RMT website, Mr Lynch said the talks would aim to secure "a negotiated settlement on job security, working conditions and pay."
It means rail strikes planned during December and early January are still scheduled to go ahead, with commuters facing severe disruption on 11, 12, 13, 14, 16, 17 December, and 3, 4, 6 and 7 January.
Mr Lynch previously insisted "I'm not the Grinch" as he defended the industrial action.
Read more:
All the lines affected by train strikes over Christmas and January
How will strikes affect businesses?

The RDG said it was proposing a "fair and affordable offer in challenging times, providing a significant uplift in salary for staff" which would deliver "vital and long overdue" changes to working arrangements.
The draft framework agreement gives RMT the chance to call off its planned action and put the offer to its membership, a statement said.
"If approved by the RMT, implementation could be fast-tracked to ensure staff go into Christmas secure in the knowledge they will receive this enhanced pay award early in the New Year, alongside a guarantee of job security until April 2024," an RDG spokesperson said.
"With revenue stuck at 20% below pre-pandemic levels and many working practices unchanged in decades, taxpayers who have contributed £1,800 per household to keep the railway running in recent years will balk at continuing to pump billions of pounds a year into an industry that desperately needs to move forward with long-overdue reforms and that alienates potential customers with sustained industrial action."
The company called on the union to "move forward with us" so we can "give our people a pay rise and deliver an improved railway with a sustainable, long-term future for those who work on it."
A bleak winter of strikes
Motorists have also been warned to brace for Christmas chaos after road workers revealed they will down tools for 12 days to coincide with rail walkouts.
National Highways workers, who operate and maintain roads in England, will take part in a series of staggered strikes from 16 December to 7 January, the PCS union said.
A growing list of unions are threatening to grind the country to a halt, putting pressure on Prime Minister Rishi Sunak.
He is attempting a more constructive, less combative approach with the unions as the government treads a careful line between "being tough but also being human – and treating people with respect", a government source told Sky News.
Military could 'drive ambulances' during strikes

Some 10,000 paramedics voted to strike in England and Wales, the GMB union announced this week.
They join up to 100,000 nurses set to walk out in the biggest-ever strike by the Royal College of Nursing (RCN) in England, Wales, and Northern Ireland on 15 and 20 December.
On Sunday morning, Conservative Party Chairman Nadhim Zahawi told Sky News' Sophie Ridge on Sunday the army could be deployed to help ease possible strike disruption over Christmas.
Kate Winslet says hearing mother's £17k energy bill struggles 'absolutely destroyed' her – and she had to help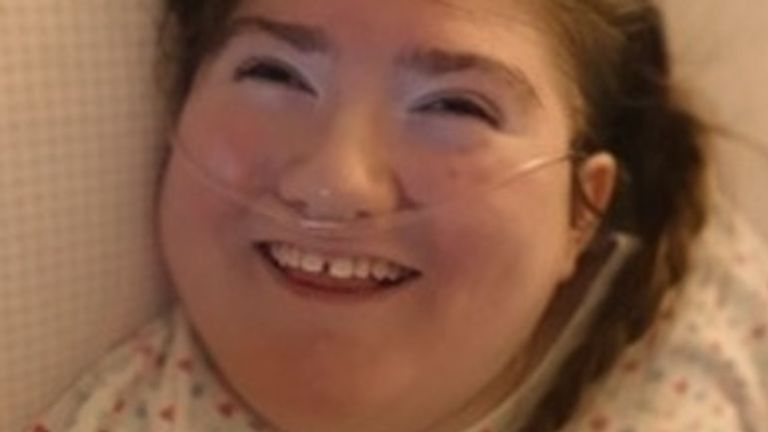 Kate Winslet has said it "absolutely destroyed" her to hear about a woman who was facing a £17,000 energy bill just to keep her daughter alive, and felt she had no other option but to help.
Carolynne Hunter's 12-year-old daughter Freya has severe complex health problems and disabilities, is non-verbal and blind and requires full-time oxygen and at-home nursing care.
Ms Hunter, 49, from Tillicoultry, Scotland, launched an appeal on GoFundMe last month to help pay for the rising costs of the equipment that keeps Freya alive, such as a machine monitoring her oxygen and heart rate.
Days into the campaign, which had a £20,000 goal, a donation of £17,000 marked "Kate Winslet and family" was paid to the fundraiser, which has been confirmed to have come from the actress.
The Titanic star, 47, has now said she felt she had to do something when she heard Ms Hunter was "going to have to put her child into care because she could not afford her electricity bills" and it "absolutely destroyed her".
"I thought, on what planet is anyone going to let that happen? This is completely, completely wrong," she told the BBC's Sunday With Laura Kuenssberg.
"It was just wrong to me that this woman was going to suffer and that she should have been in any way as a mother forced to make such a heartbreaking decision because she simply didn't have the support and couldn't pay the bills.
"I just couldn't let that happen."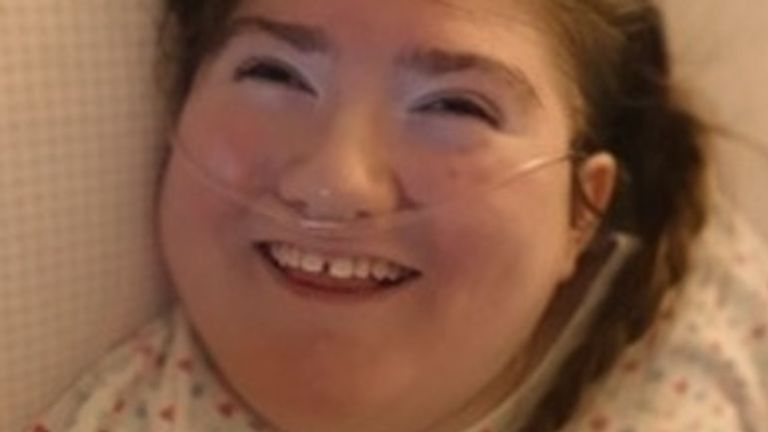 On her GoFundMe page, Ms Hunter disclosed she had "no way of reducing" the energy in her home due to her daughter's needs, and faced a predicted annual fuel bill of £17,000 in January 2023 – up from just over £9,000 in October this year.
In August, Ms Hunter said she was in fear of the winter months.
"Our families are going to suffer, there's going to be a mass crisis for the NHS and social care and children will die if their families are not able to pay for it," she told PA news agency.