Passenger numbers plummeted by 223 million last year, as a result of the COVID-19 outbreak, new figures show.
Only around 74 million people travelled through UK airports in 2020 – less than a quarter of the 297 million from the year before, data from the Civil Aviation Authority reveals.
The airport which saw the largest drop in travellers was Cardiff, which took a hit of 86.7%, followed by Glasgow Prestwick, which saw a decline of 85.8%.
Brown: Why the UK should donate more vaccines

Southampton saw a drop of 83.4%, London City's passengers fell by 82.3% and Leeds Bradford's numbers reduced by 81.2%.
London Heathrow, the country's largest airport, and one of the busiest in the world, recorded a 72.7% fall in numbers to 22.1 million – down from 80.9 million the year before.
It comes amid the near-total collapse of international travel not just in the UK, but globally, as a result of the pandemic.
There had been a partial recovery over summer and early autumn last year, but once restrictions were re-imposed around the UK, travel all but stopped again.
The Airport Operators Association (AOA) has said the figures show the "devastating impact" of the pandemic on the industry.
AOA chief executive Karen Dee said: "These figures lay bare the devastating impact COVID-19 has had on UK airports.
Subscribe to the Backstage podcast on Apple Podcasts, Google Podcasts, Spotify, Spreaker
"With passengers down nearly 90% between April and December 2020, airports' economic output was decimated and significant numbers of jobs were lost."
With travellers from almost every tourist destination on the planet currently required to go into quarantine when they return to the UK, Ms Dee warned that the government's "overly cautious" approach to reopening travel means summer will be "as bad, if not worse, than 2020".
She added: "This leaves UK airports trailing behind international competitors in the EU and US, who not only received significantly more financial support from their governments but are also now able to restart travel over the summer.
"To ensure there are viable airports to support the economy and government agendas like global Britain and levelling up, the government now faces the choice of either meaningfully restarting aviation or setting out a comprehensive package of support to compensate airports for the impact of government policy."
Sky News has contacted the Department of Transport for comment.
Joules secures Next rescue with majority of stores and jobs saved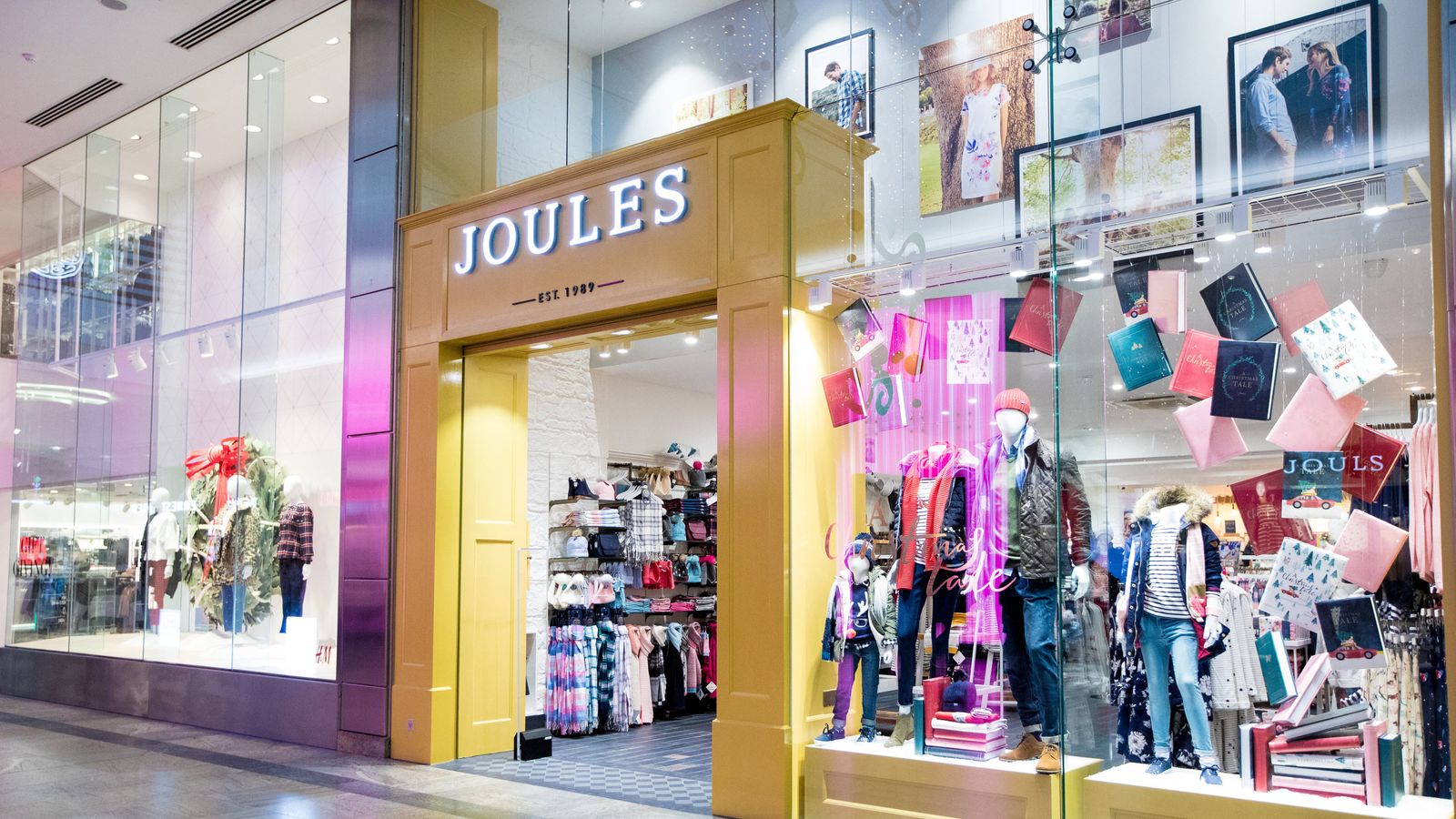 Collapsed fashion retailer Joules will live on after Next agreed a rescue deal that preserves most of its stores and jobs.
Under the deal Next will pick up 100 of its 132 stores and only 133 of 1,600 staff will lose their jobs.
TFG, the owner of the Hobbs, Whistles and Phase Eight womenswear brands, appeared to be the frontrunner on Wednesday in an auction process to secure an agreement with Joules' administrator, Interpath Advisory.
Joules is the second major UK acquisition for the fashion-to-homewares retailer in as many months.
Next snapped up the brand, website and intellectual property of Made.com on 9 November.
Joules had been trading as normal since a failure to secure new investment pushed it towards insolvency a fortnight ago.
The clothing, footwear and accessories retailer collapsed after its finances, profitability and cash generation came under pressure amid the cost of living crisis.
It had been in talks with both Next and TFG about new investment beforehand.
Unions could coordinate strike action across NHS for 'maximum impact', GMB boss says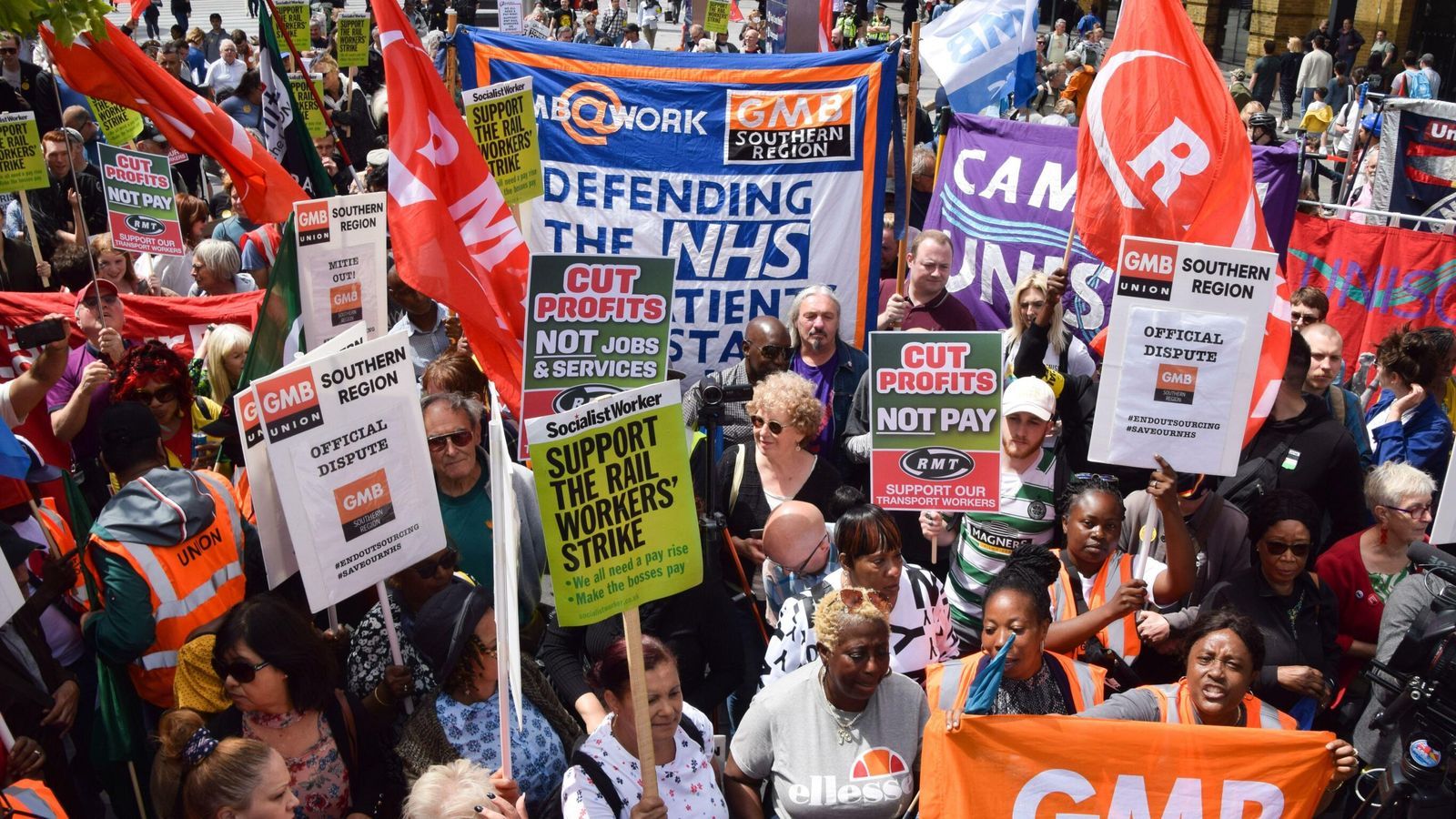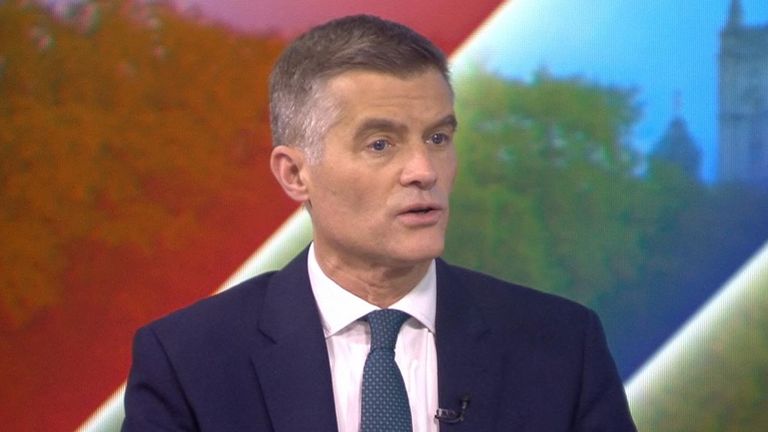 Union leaders could coordinate industrial action across the NHS this winter to cause "maximum impact", the head of the GMB has suggested.
Andy Prendergast, the GMB national secretary, said health workers have had enough of "public school boys who run the government and simply don't care" about their pay demands.
More than 10,000 ambulance workers from the GMB voted to strike yesterday, following in the footsteps of nurses in opting to walk out.
Union rejects claim granting pay rises will lead to spiralling inflation – politics live
Asked if there will be a "coordinated strike" in the health service, Mr Prendergast told Sky News: "We will be talking to the other unions.
"We know that the nurses have got their first ballot in over 100 years. We know that our colleagues in Unite, in Unison are currently delivering ballots.
"So we'll be looking to make sure this has the maximum impact."
It was put to Mr Prendergast that the safety of patients could not be guaranteed if there is coordinated strike action between unions and the NHS.
He argued their safety is not being guaranteed now due to the staffing crisis, with poor pay driving many out of the profession.
"One third of our members in the ambulance service believe that they have been involved in a delay that has led to a patient dying, so this isn't a situation where this is a service that runs perfectly well," he said.
NHS 'dying on its feet'
"This is a service that's dying on its feet and our members are actually standing up and the public of Britain should support them. This is a matter of a life or death situation."
Mr Prendergast said NHS workers "work extremely hard, often for wages that a lot of people wouldn't get out of bed for".
He added: "Ultimately they are saying enough is enough. It's time for them to take action. This is the one thing that they can do to try and improve patient safety, to try and improve the terms conditions, to try and deal with 135,000 vacancies that we have among a service that we rely on."
Paramedics, emergency care assistants, call handlers and other staff are set to walk out in nine trusts:
South West Ambulance Service
South East Coast Ambulance Service
North West Ambulance Service
South Central Ambulance Service
North East Ambulance Service
East Midlands Ambulance Service
West Midlands Ambulance Service
Welsh Ambulance Service
Yorkshire Ambulance Service
'Inflation-busting pay rises are unaffordable'

The industrial action is due to take place before Christmas, with the union planning to meet reps in the coming days to discuss dates.
Thousands of ambulance workers in Unison, the UK's biggest trade union, also intend to take industrial action before Christmas.
Up to 100,000 nurses from the Royal College of Nursing are also set to stage a mass walkout in December, one of the busiest months for the NHS.
The army has been placed on stand by in case it is needed to fill roles of NHS workers on strike days.
Coordinated strike 'can speed up negotiations'
Dr Emma Runswick of the British Medical Association told Sky News that coordination between unions will help protect patients as they can discuss between themselves how to cover urgent and emergency care.
She added that an effective coordinated strike "will help to speed up negotiations".
"We want there to be an impact on the employers and on the government to bring them to the table to negotiate with us. And if we coordinate and if we're effective, the government and employers will negotiate faster. And that's better for us and better for patients in the long term."
Dr Emma Runswick of the British Medical Association says an effective coordinated strike will help to speed up negotiations.

The UK is facing a wave of strikes this winter as workers from different industries are set to walk out over pay and conditions
Rail workers, civil servants, firefighters and teachers are among the tens of thousands expected to take industrial action as a recession grips the UK and the cost of living rises.
Read More:
Which industries are striking this winter and why?
Eurostar security staff to strike in December, RMT union announces
Wage price spiral 'nonsense'
Ministers have been criticised for refusing to negotiate with unions, with Business Secretary Grant Shapps saying meeting their pay demands would lead to a wage inflation "spiral".
Eddie Dempsey, assistant general secretary of the RMT, which covers the transport sector, rubbished that argument.
"This idea that there's going to be a wage spiral is nonsense because wages have been falling as a share of wealth in this country – what goes to wages and what goes to profits," he said.
Mr Dempsey said that now, wages only account for around 8% to 12% of unit costs.
He pointed to a study from the Bank of England which found there was no risk of wage-induced inflation across Western economies because people have got less money.
He claimed what the government is actually worried about "is a shift in class power".
"They're worried about trade unions and ordinary working people having the ability to bargain for better wages. That's what they're worried about."
Rail union 'hopeful' of deal to end strikes
Mr Dempsey said his union has been in negotiations for longer than six months and "every time we feel like we are making headway it has felt like the rug has been pulled out from under our feet".
However he said there is "definitely a change of tone" with the new Transport Secretary Mark Harper and the RMT is "hopeful" a deal can be reached.
Royal Mail workers are also locked in a bitter dispute over pay and conditions, with the CEO Simon Thompson accusing union leaders of "trying to destroy Christmas" by walking out.
He claimed striking workers had demonstrated "extraordinary behaviours" and that he has heard allegations of racism, sexism and violence.
Royal Mail CEO accused of 'lying'
Speaking during Sky's Q&A with union leaders, Dave Ward of the Communication Workers Union (CWU) accused Mr Thompson of "lying".
He said the union "welcomes an independent look at behaviours" of his members but the CEO's behaviour should also be investigated.
"He goes on (social media) every single day, including weekends. and he goads our members," Mr Ward said.
"He's brought in a team of union and worker busters and they're deliberately creating a psychological attack on every single worker.
"Go out and ask postal workers how they feel about this particular CEO."
Buyers struggling to afford homes after mini-budget despite house prices falling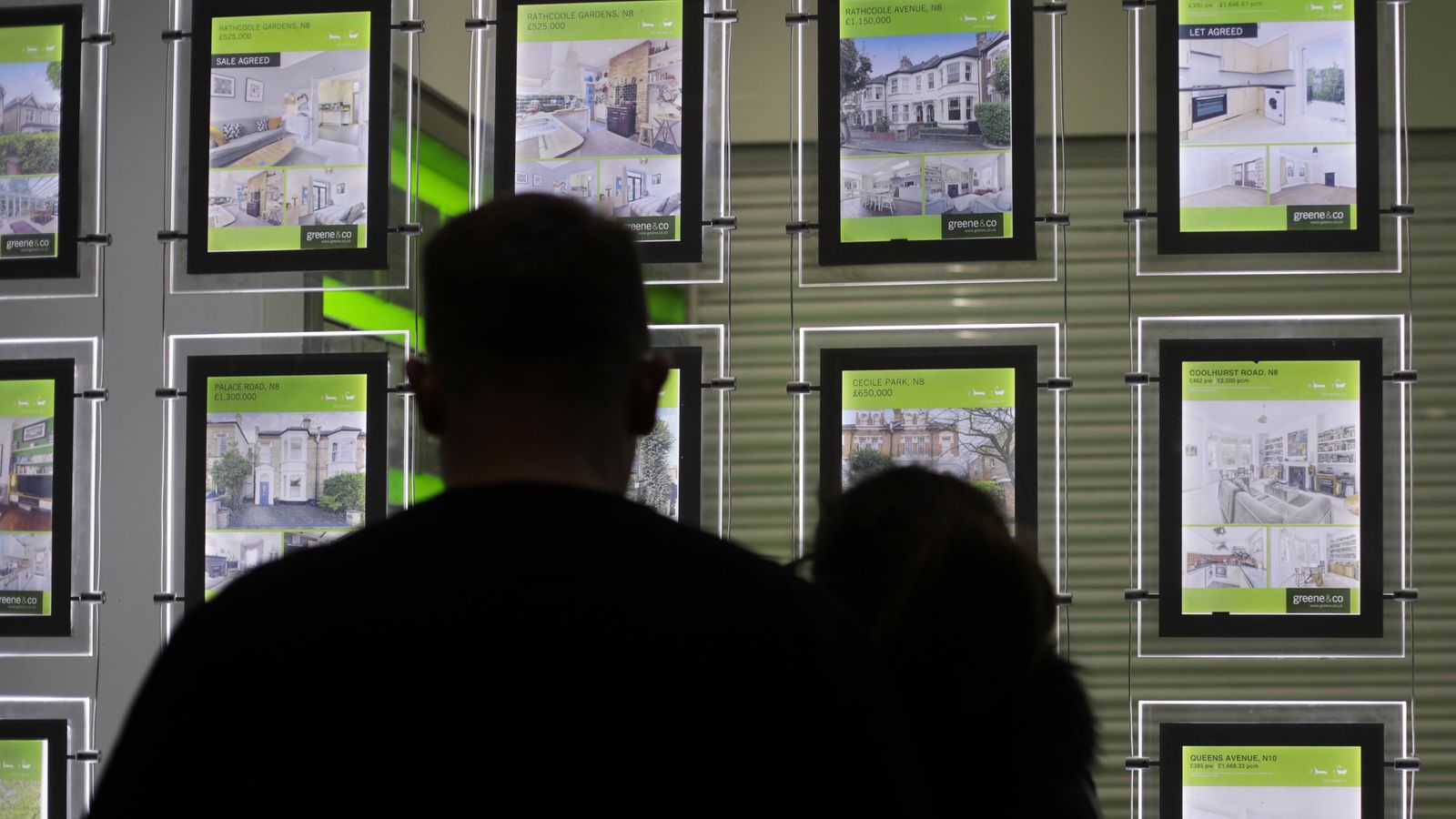 Buyers are increasingly struggling to afford homes despite prices falling faster, according to a closely watched report.
Average prices fell by 1.4% last month, up from a 0.9% drop the month before, Nationwide Building Society found.
The mortgage lender said it was the biggest monthly drop since June 2020.
It took the annual pace of price growth to 4.4% from 7.2% and the average cost of a home to £263,788.
The findings build on wider evidence of a marked slowdown, partly linked to rising flexible mortgage rates after successive rises to Bank rate by the Bank of England since December last year to tackle soaring inflation.
Nationwide said it was clear that wider mortgage conditions were yet to recover from the financial market meltdown that followed the Truss government's mini-budget growth plan in September, which hammered confidence in the UK's public finances.
Lenders withdrew offers and temporarily halted deals as the value of the pound hit a record low and borrowing costs surged.
Fixed term rates have taken time to ease back towards pre-growth plan levels, damaging affordability.
It has been exacerbated by the wider cost of living crisis, with pay growth lagging far behind the pace of price increases in the economy.
Property website Zoopla reported this week that homes had been typically selling for 3% below their asking price in recent weeks and warned that figure was likely to deteriorate further next year.
Robert Gardner, Nationwide's chief economist, said: "While financial market conditions have stabilised, interest rates for new mortgages remain elevated and the market has lost a significant degree of momentum."
Click to subscribe to The Ian King Business Podcast wherever you get your podcasts
He added: "Housing affordability for potential buyers and home movers has become much more stretched at a time when household finances are already under pressure from high inflation.
"The market looks set to remain subdued in the coming quarters. Inflation is set to remain high for some time and Bank rate is likely to rise further as the Bank of England seeks to ensure demand in the economy slows to relieve domestic price pressures."