Christian Eriksen is in a stable condition after suffering what doctors said was a cardiac arrest during Denmark's opening Euro 2020 match on Saturday.
The Danish footballer is awake in hospital, and has "sent his greetings to his teammates" while he remains under examination following his collapse in Copenhagen.
Denmark team doctor Morten Boesen told a news conference that tests on the player "so far look fine", adding that Eriksen "was gone" before resuscitation efforts began.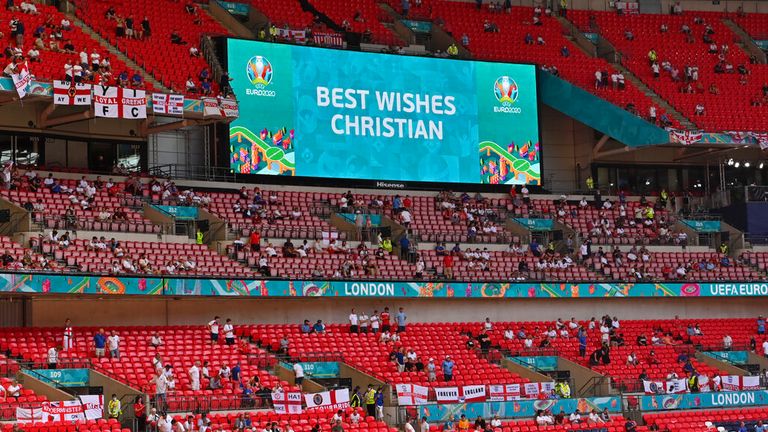 Mr Boesen added: "How close were we? I don't know. We got him back after one defib, so that's quite fast."
"We don't have any explanation why it happened. The details about what happened I am not quite sure of because I am not a cardiologist, I will leave that to the experts. I didn't see it live, only on screens afterwards."
Earlier on Sunday, the Danish FA said in a tweet that the 29-year-old had been in contact with the squad on Sunday, as he continues to recover from the incident in Copenhagen.
"This morning we have spoken to Christian Eriksen, who has sent his greetings to his teammates," it said. "His condition is stable and he continues to be hospitalised for further examination," it added.
Denmark's players and staff have "received crisis assistance and will continue to be there for each other after yesterday's incident", the statement added, with some of Eriksen's teammates having been reduced to tears as they formed a wall around him to shield him from the cameras while he received treatment on the pitch.
"We would like to thank everyone for the heartfelt greetings to Christian Eriksen from fans, players, the royal families from both Denmark and England, international associations, clubs etc," the statement said.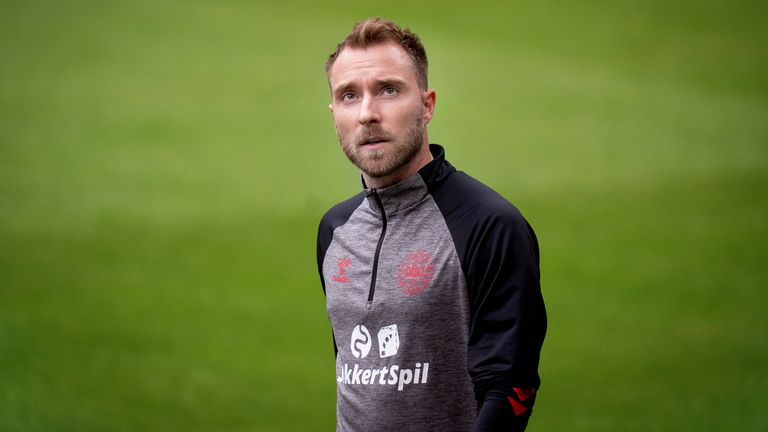 Medics attended Eriksen after being quickly ushered on to the field by English referee Anthony Taylor, while Denmark captain Simon Kjaer made what has been hailed as a life-saving intervention by securing his neck, clearing his airways and starting CPR.
Kjaer then led the Danish players in forming the ring around their teammate and comforted Eriksen's partner, who appeared distraught as she went on to the pitch.
Inter Milan midfielder Eriksen, who spent seven years in English football with Tottenham, has been inundated with messages of support since his collapse – including footballers past and present, pundits, politicians and royals.
Boris Johnson was said to have been "shocked" by what happened.
"He is very thankful for the quick thinking actions of officials," the prime minister's spokesman said. "The response of players and fans in the stadium was exemplary. It showed sport at its best."
Encouraging news about Christian Eriksen, we are all thinking about him and his family. Well done to the medical team and Anthony Taylor for their calm and swift action. W

— The Duke and Duchess of Cambridge (@KensingtonRoyal) June 12, 2021
The Duke and Duchess of Cambridge also tweeted to praise the referee and medical team.
Prince William, who is also president of the FA, added: "Encouraging news about Christian Eriksen, we are all thinking about him and his family."
Also among those to send their well-wishes was former Arsenal and Birmingham player Fabrice Muamba, whose heart stopped for more than an hour while playing for Bolton against Spurs in 2012.
Dr Jonathan Tobin, the Bolton club doctor at the time, told Sky News: "Even managing to start CPR under that much pressure… I'm not understating it when I said I could hardly breathe when I first started treating Fabrice on the pitch.
"After a minute or two, I was into the groove, everything was fine, but that first minute it was hard. All I could hear was my own heart thundering in my head."
"So, congratulations for starting the CPR and congratulations for letting their training take over," he said of those who treated Eriksen.
Muamba hoped to resume his career but retired from professional football five months later on medical advice – and doctors are concerned that Eriksen may also struggle to play again.
Sanjay Sharma, professor of sports cardiology at St George's University in London, who worked with Eriksen at Tottenham during his time in north London, said: "The good news is he will live, the bad news is he was coming to the end of his career, so would he play another professional football game? That I can't say.
"In the UK he wouldn't play. We'd be very strict about it."
He added: "Without putting it too bluntly, he died today, albeit for a few minutes, but he did die and would the medical professional allow him to die again? The answer is no."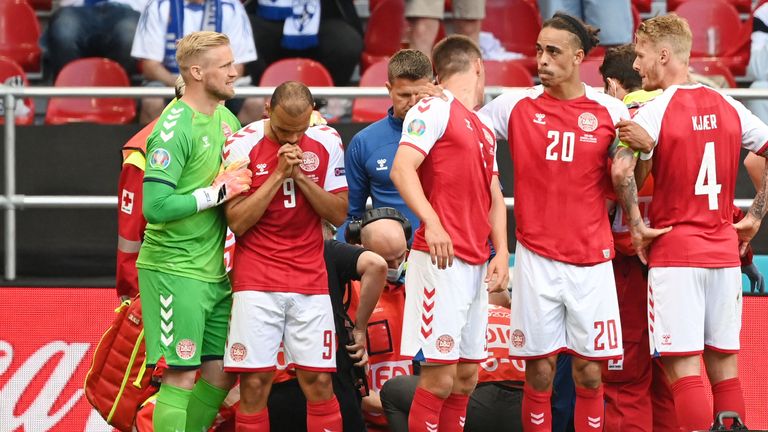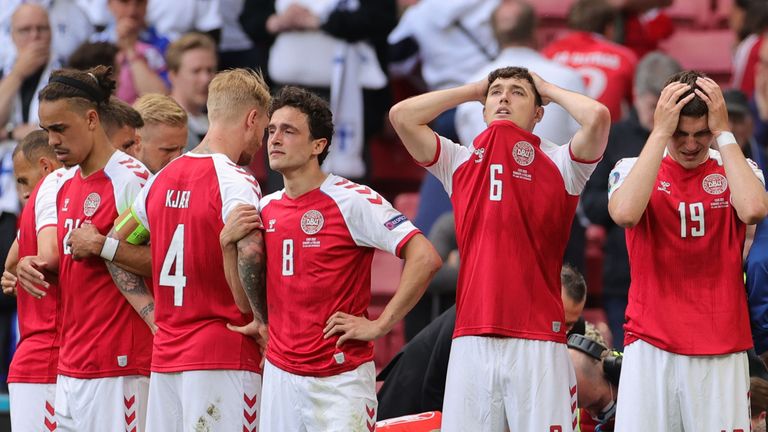 Inter physician Piero Volpi told The Associated Press now was not the time to be making such assessments.
"Right now, the important thing is that he recovers," added Dr Volpi, who also confirmed that Eriksen had never contracted COVID-19. He also was yet to receive a vaccine.
Some Denmark players chose not to continue playing, coach Kasper Hjulmand said after the Group B match, which Finland went on to win 1-0 via a 59th minute goal from Joel Pohjanpalo.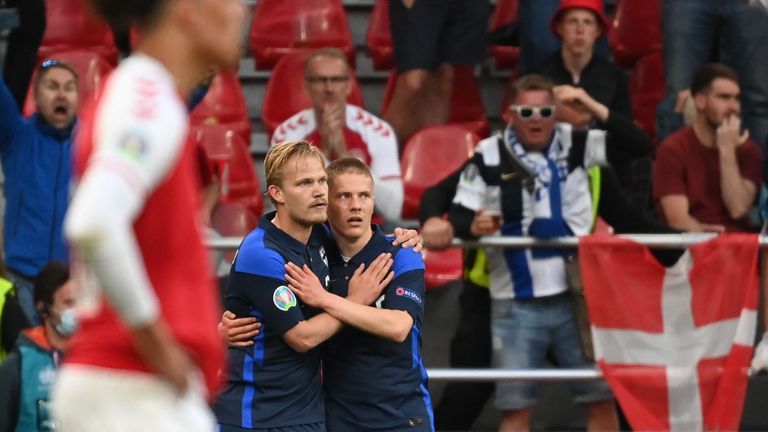 Eriksen was the focus of further well-wishes at Wembley in London on Sunday afternoon, when England begin their Euro 2020 campaign against Croatia.
England captain Harry Kane is a former teammate of Eriksen during his time at Tottenham.
Turkey election: President Erdogan declared winner with more than 52% of vote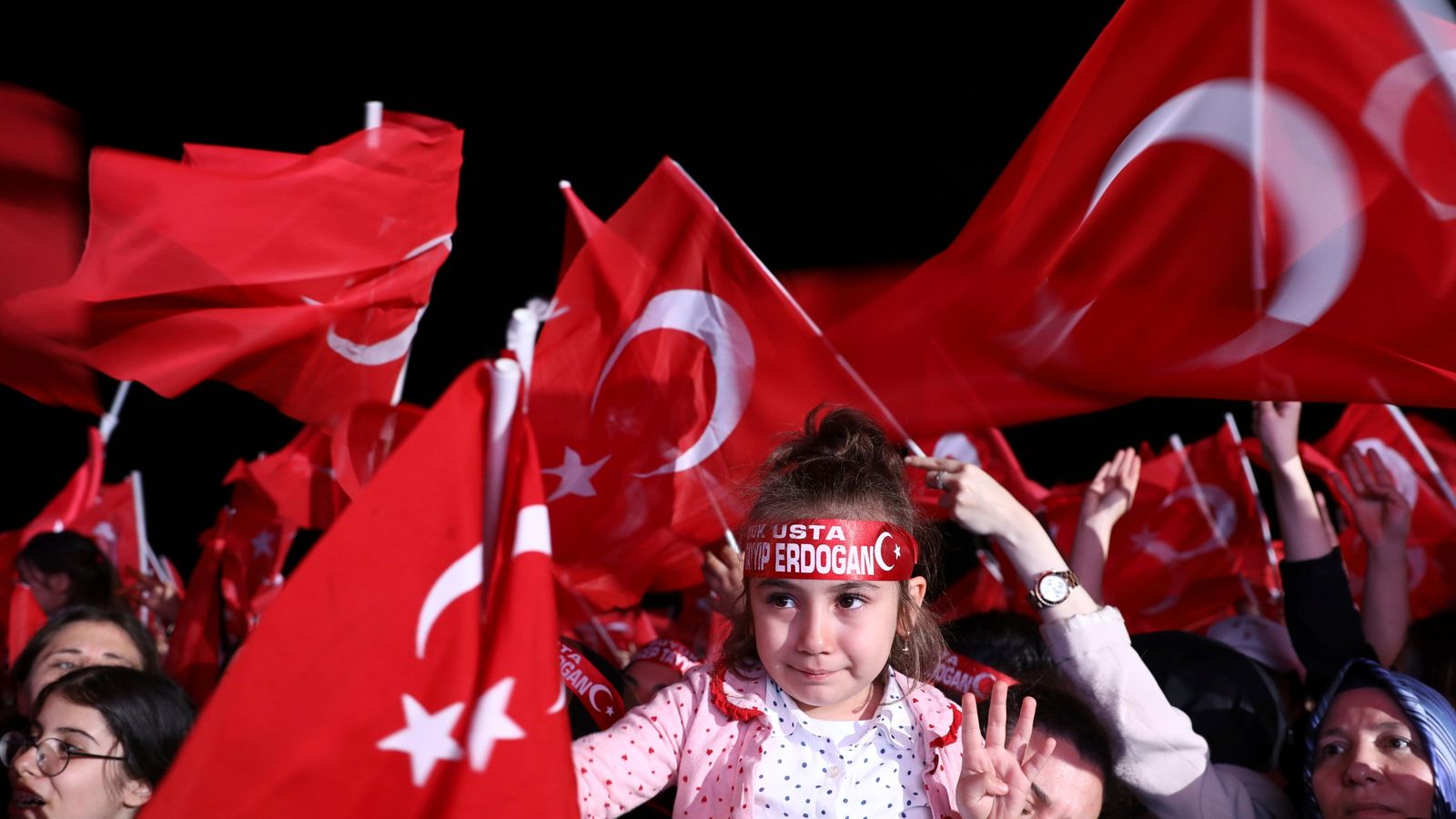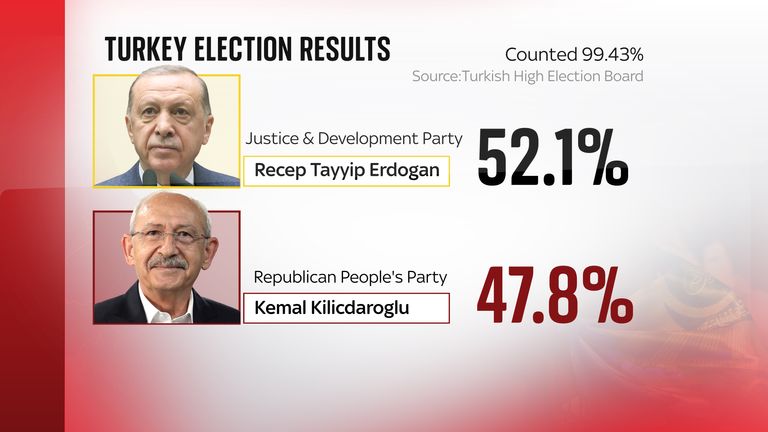 Recep Tayyip Erdogan has won the presidential run-off election, with leaders from around the world congratulating him.
With 99% of the votes counted, Mr Erdogan, who served as prime minister from 2003 to 2014, won with a share of 52.1%.
It means he has secured a record-breaking third term as president and will serve at least five more years in power.
Turkey election latest
Erdogan thanks crowds as election officials declare him winner
Polls closed at 5pm local time (3pm BST) and while votes were counted fast, for hours it remained too close to call. At one point, less than a percentage point separated the incumbent from his rival, Kemal Kilicdaroglu.
Shortly after 8pm local time (6pm BST) Mr Erdogan stepped out of his home and thanked people for "giving us the responsibility to rule for the next five years".
He has been congratulated by a host of world leaders. Among them, Vladimir Putin, who wrote a lengthy message to Mr Erdogan, which concluded: "From the bottom of my heart I wish you new successes in such a responsible activity as the head of state, as well as good health and well-being."
French President Emmanuel Macron also sent well-wishes, as well as reiterating the "immense challenges" both countries face.
"The return of peace to Europe, the future of our Euro-Atlantic Alliance, the Mediterranean Sea," he tweeted.
"With President Erdogan, whom I congratulate on his re-election, we will continue to move forward."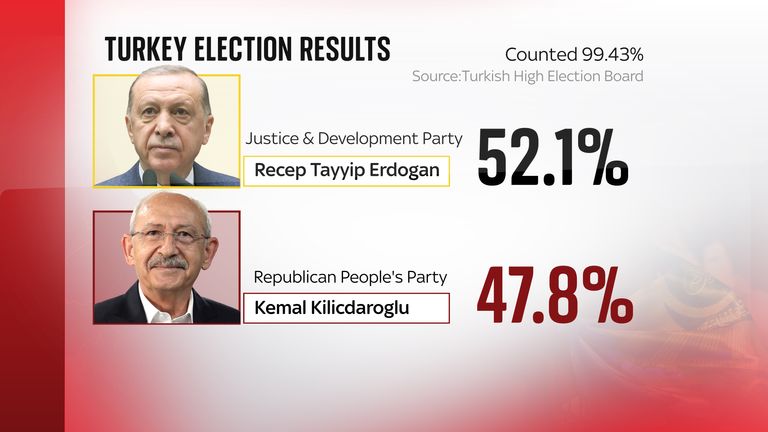 Opponent refuses to admit defeat
Kemal Kilicdaroglu took the stage earlier this evening, and in a rousing speech, he refused to admit defeat.
"I wasn't able to defend your rights," Kilicdaroglu began by saying. "I did not shirk against an unjust structure, I could not be a silent devil and I was not.
"I could not stand quiet against millions of people becoming second-class citizens in this country.
"I could not let them stand all over your rights. For your children to go to bed hungry. For farmers to not to be able to produce. I could not allow these things."
He concluded by thanking the 25 million people who voted for him – and says the "battle continues".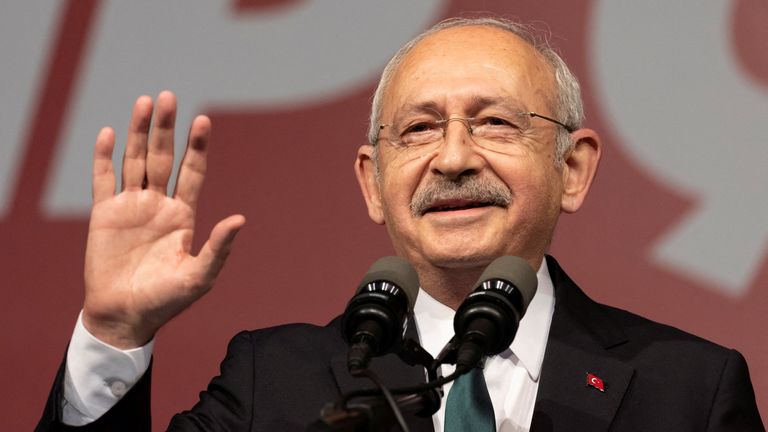 First presidential run-off in Turkey's history
The pair were forced to go head to head when neither reached the required 50% of the vote in the first round on 14 May and Mr Erdogan's win will have profound consequences for Turkey, and the wider world.
The two candidates offered sharply different visions of the country's future and its recent past.
Turkey election: 'This is an historic vote'

Mr Erdogan's government vetoed Sweden's bid to join NATO and purchased Russian missile-defense systems, which prompted the United States to oust Turkey from a US-led fighter-jet project. But it also helped broker a crucial deal that allowed Ukrainian grain shipments and averted a global food crisis.
Meanwhile, Mr Erdogan's 74-year-old challenger promised to restore a more democratic society.
Sudan conflict: Pregnant woman and baby killed in shooting – but husband left unaware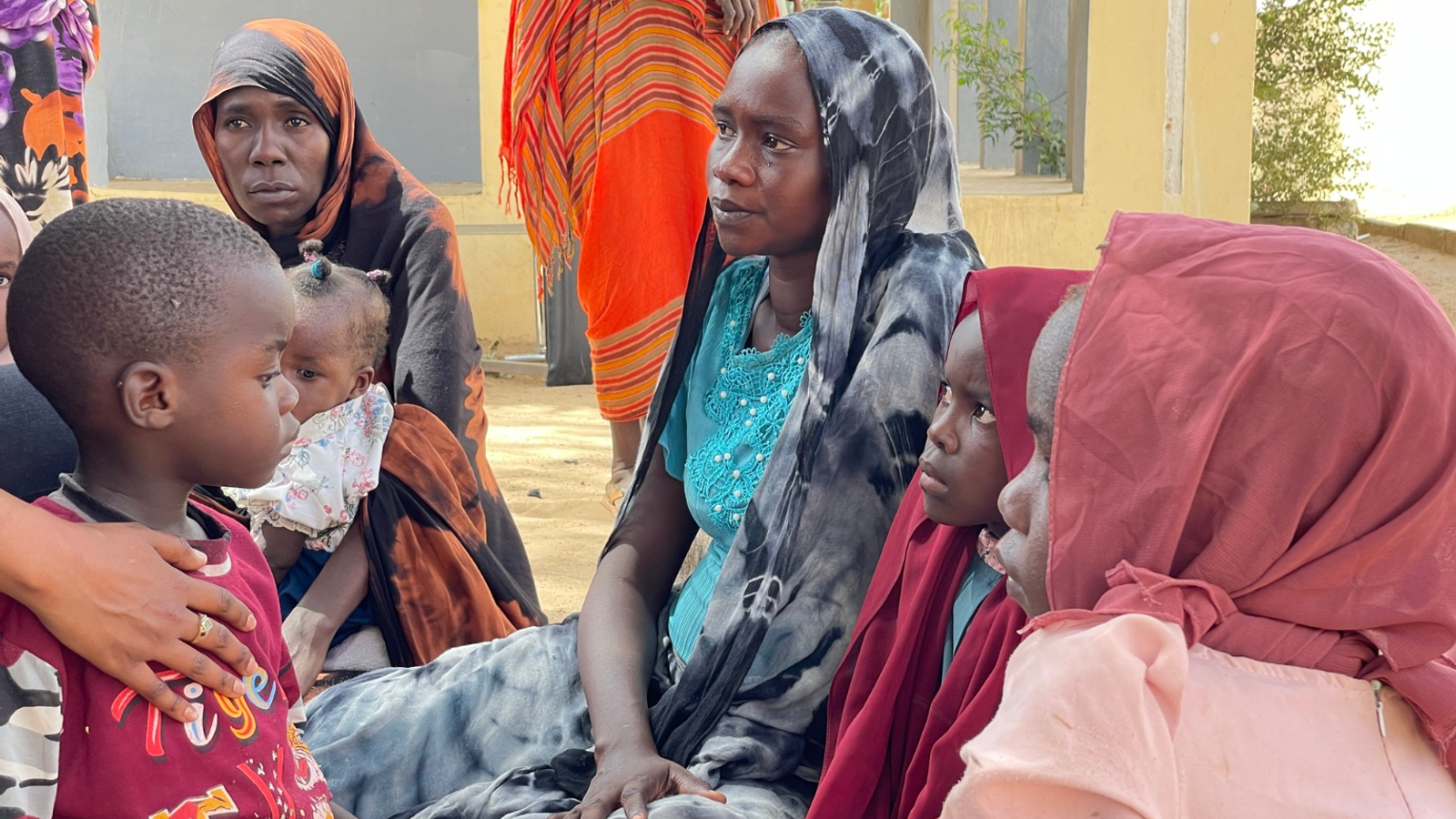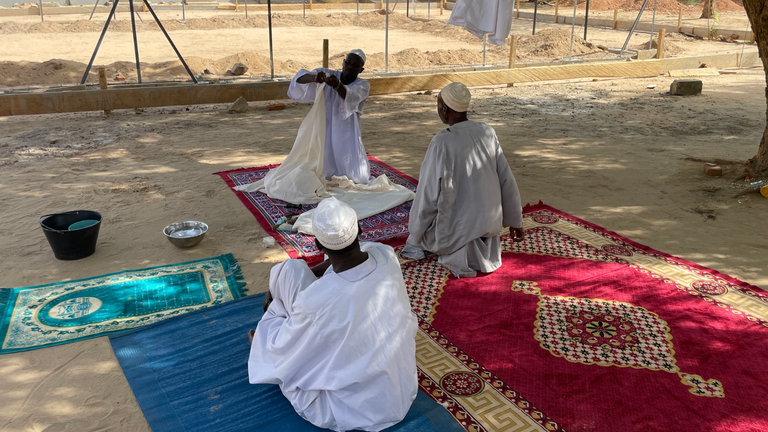 Men in crisp white thobes sit on mats under a leafy thorn tree carefully cutting pieces of white material.
They slowly stitch them together with tender, experienced precision.
Another shroud for another life lost to senseless violence.
More men arrive and they raise their hands in prayer to grieve the recently deceased.
The latest victim of the militias terrorising their community lies in a two room morgue a few metres away.
Fatma was eight months pregnant and travelling on a cart with her young son and daughter to Hajr Hadeed in eastern Chad.
She left her husband in the violence of al Geneina, the state capital of West Darfur in Sudan, where fleeing residents are reporting a citywide massacre.
Fatma's sister Zeinab says her five-year-old nephew El-Sheikh was holding his pregnant mother's body when the cart arrived in the village.
She rushed with close relatives to Adre Central Hospital.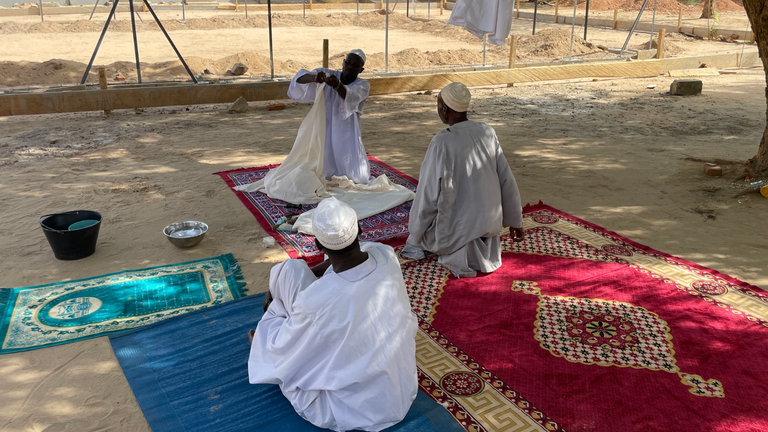 They could feel the heaviness of Fatma's body, but held out hope that the baby in her belly was still alive.
Hospital workers were cleaning the blood from the floor when they arrived at Dr Mahmoud Adam's office.
He said Fatma was dead when she arrived and was quickly able to ascertain that the baby too had died.
"Since the war in Khartoum started so many wounded civilians are passing through the border from Darfur," said Dr Mahmoud, whose hospital now has treatment tents operated by the medical aid agency Medecins Sans Frontieres (MSF) in its grounds.
He recalls the 2003 genocide and observes there is little difference between then and now.
"It is so sad that to see people dying and suffering like this," he said.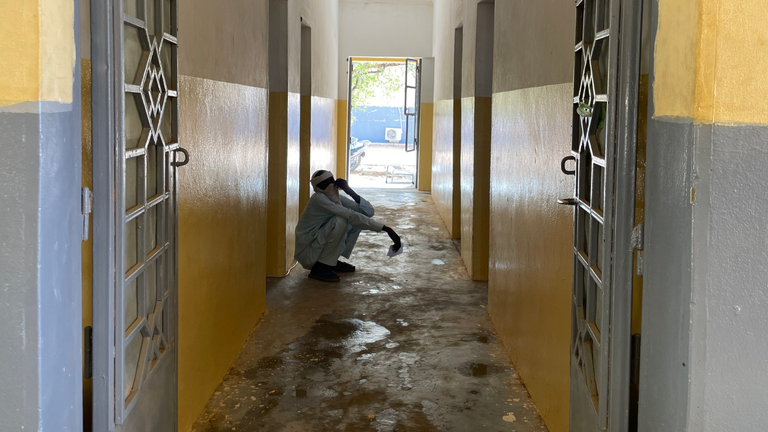 We walk over to the morgue where Fatma lies covered on a cement slab.
"She was shot in the back of the head," he said.
Dr Mahmoud believes she died instantly.
Read more on Sudan crisis:
Scale of destruction in before and after images
The fighting explained
Zeinab sits under a tree just outside the morgue building.
Her eyes are wet and wide and every couple of minutes she muffles her sobs with her dark tobe.
Fatma's small children lie silently across her lap.
More family arrive from their village as the body is prepared for burial.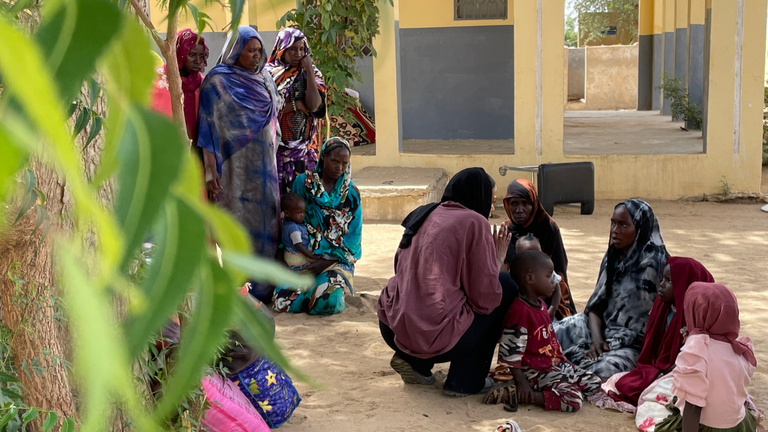 Zeinab is handed different phones as family from across the region call to extend their condolences.
One call that doesn't come is from Fatma's husband Adam in al Geneina where telecommunications have been down for more than a week.
The only information from there is coming from the fleeing residents who have safely made it across the violence-ridden region.
The city 'is on fire'
They say the city is on fire and that there are too many deaths to count.
Deep in the al Geneina blackout, Adam is still unaware that his wife and unborn child have been killed.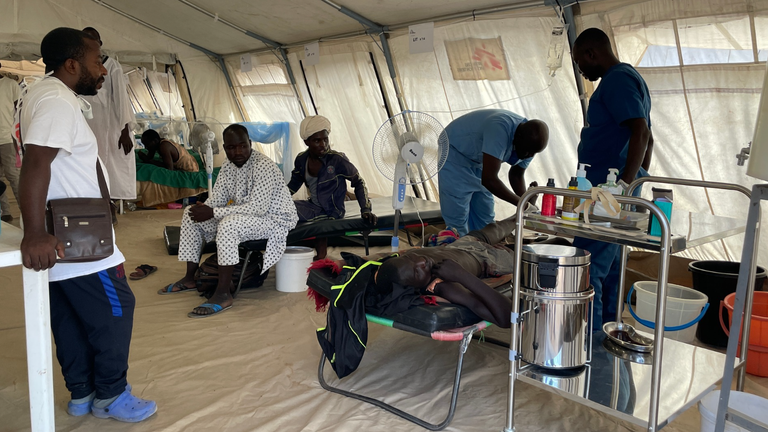 No one can reach him to deliver the news.
Fatma emerges from the morgue wrapped in the white shroud.
She's lifted onto the back of a military grade Toyota pick-up by the men from her family as wailing rings out from the crowd of women.
Dread and panic
The cries carry more than just loss, but notes of dread and panic.
The fearful anticipation that there is more grief to come.
Health Secretary Steve Barclay rules out new pay offer for nurses despite 'constructive' meeting with RCN chief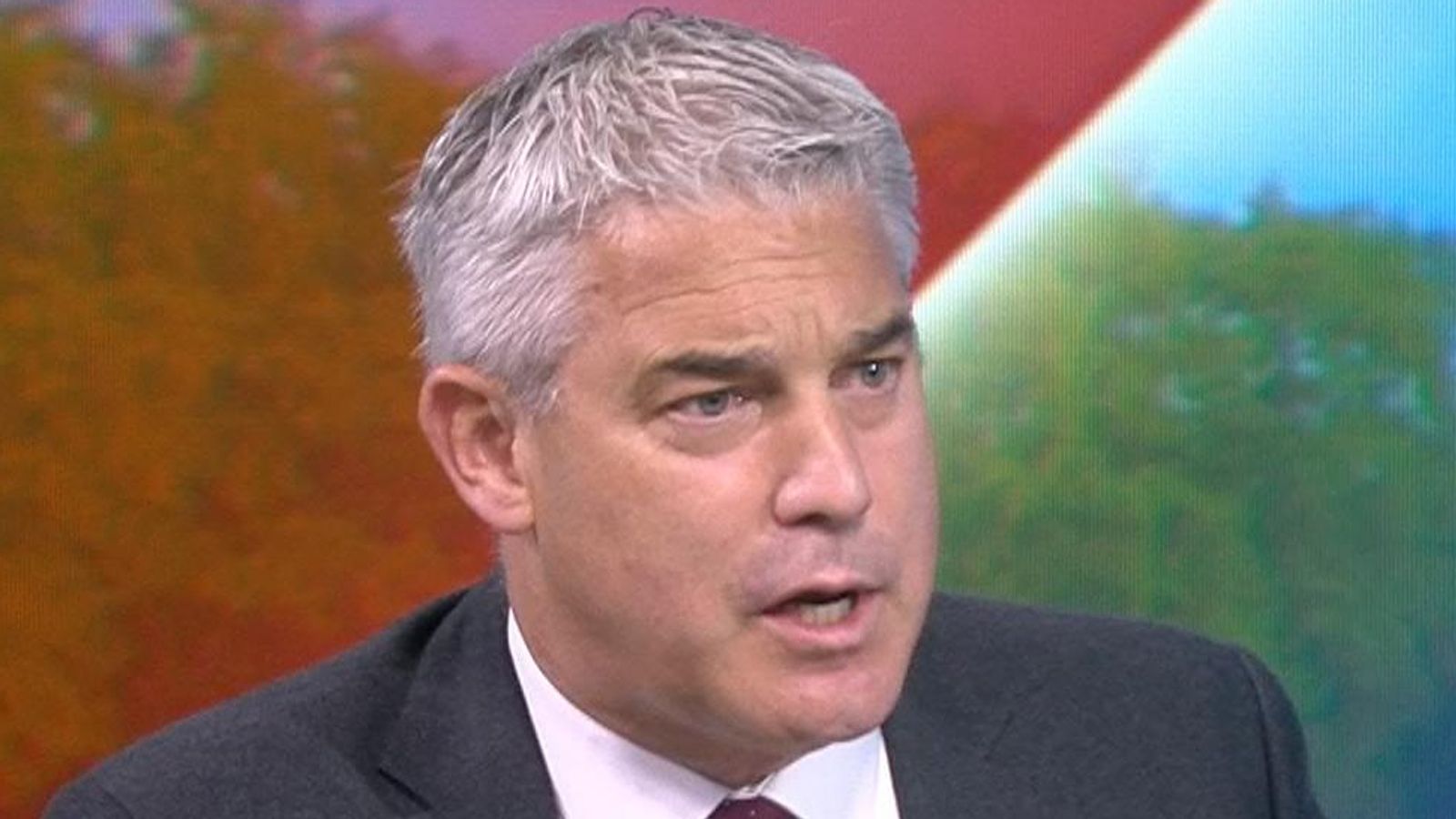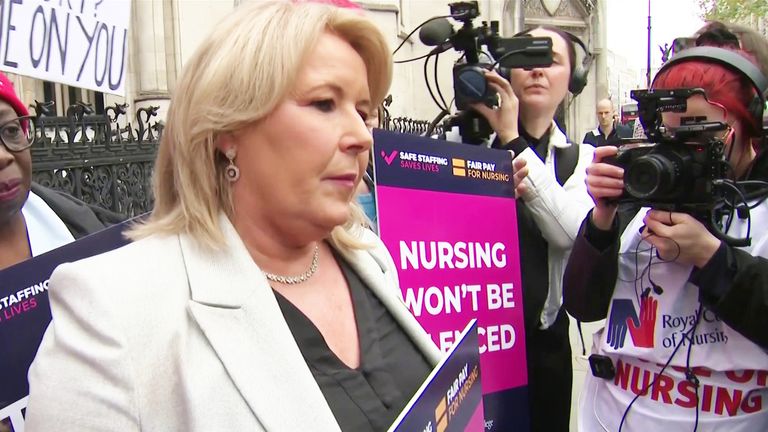 Health Secretary Steve Barclay held a "constructive" meeting with Royal College of Nursing (RCN) chief Pat Cullen – but made clear that a new pay offer for nurses will not be forthcoming.
Ms Cullen previously recommended the members of her union accept the deal agreed with the government, but it was rejected by members.
However, the offer was imposed because a majority of the NHS Staff Council body wanted to take the deal – despite the opposition from the RCN.
Politics latest:
'Manifestly wrong' for MPs to claim driving fines back on expenses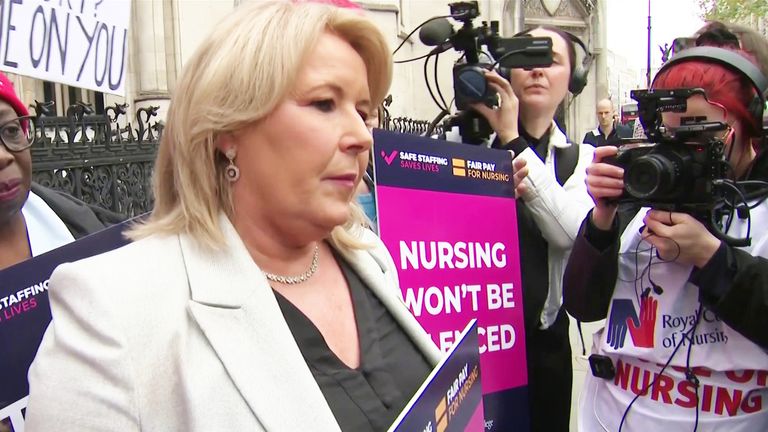 Speaking to Trevor Phillips, who was hosting Sophy Ridge on Sunday on Sky News, Mr Barclay was asked about a recent summit with Ms Cullen.
He said they "had a very constructive meeting this week" – but described what was offered previously and accepted by the NHS Staff Council as a "full and final" offer.
This offer amounted to a 5% pay rise, plus a cash top-up.
Currently, the RCN is balloting over whether to take further strike action, with close to 30,000 members taking part in the vote.
Ms Cullen said previously: "Once again, we have been forced to ask our members if they want to take to the picket lines in their fight for fair pay.
"This is unfinished business and the government can get it resolved without the need for more strike action."
The cost of living crisis saw the RCN take part in nationwide industrial action across England for the first time in its history.
After other health unions also took action, Unison, GMB, the Chartered Society of Physiotherapists and the Royal College of Midwives were all among those who in the end voted to accept the pay increase offered by the government.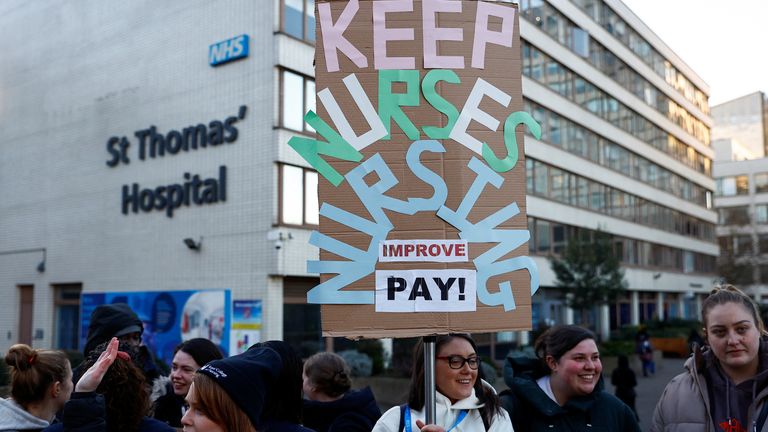 Demands aren't 'legally possible'
Speaking about the deal, Mr Barclay told Sophy Ridge on Sunday: "It means a band six, entry-level nurse gets over £5,000 over the two years – recognising the huge, valuable contribution that NHS staff have made.
"Now what some in the RCN are asking us to do isn't legally possible.
"It's not possible to give a band six nurse different pay to a band six midwife or a band six paramedic."
Unite was another union which rejected the government's offer.
Members at Guy's and St Thomas' NHS Foundation Trust in London, and the Yorkshire Ambulance Service NHS Trust, last week announced they would be downing tools on 1 June – and junior doctors will be walking out for 72 hours on 14 June.
Click to subscribe to the Sky News Daily wherever you get your podcasts
The RCN leadership is encouraging its members to vote in favour of strikes.
While Mr Barclay said the pay element of the deal is closed, there is room for talks about issues like violence against staff and pension abatement, he added.