Christian Eriksen is in a stable condition after suffering what doctors said was a cardiac arrest during Denmark's opening Euro 2020 match on Saturday.
The Danish footballer is awake in hospital, and has "sent his greetings to his teammates" while he remains under examination following his collapse in Copenhagen.
Denmark team doctor Morten Boesen told a news conference that tests on the player "so far look fine", adding that Eriksen "was gone" before resuscitation efforts began.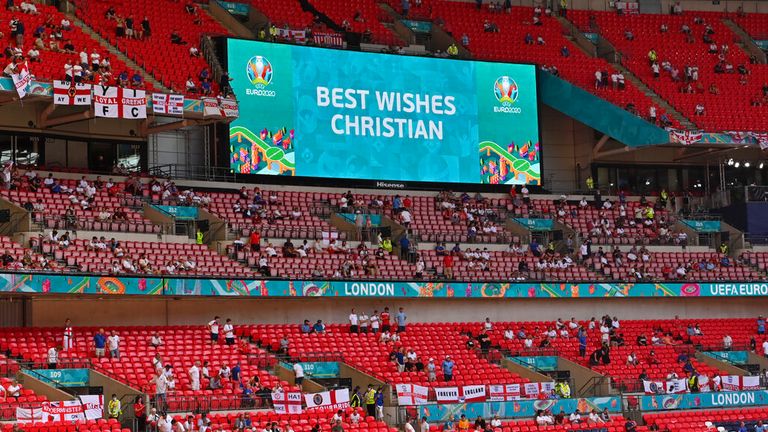 Mr Boesen added: "How close were we? I don't know. We got him back after one defib, so that's quite fast."
"We don't have any explanation why it happened. The details about what happened I am not quite sure of because I am not a cardiologist, I will leave that to the experts. I didn't see it live, only on screens afterwards."
Earlier on Sunday, the Danish FA said in a tweet that the 29-year-old had been in contact with the squad on Sunday, as he continues to recover from the incident in Copenhagen.
"This morning we have spoken to Christian Eriksen, who has sent his greetings to his teammates," it said. "His condition is stable and he continues to be hospitalised for further examination," it added.
Denmark's players and staff have "received crisis assistance and will continue to be there for each other after yesterday's incident", the statement added, with some of Eriksen's teammates having been reduced to tears as they formed a wall around him to shield him from the cameras while he received treatment on the pitch.
"We would like to thank everyone for the heartfelt greetings to Christian Eriksen from fans, players, the royal families from both Denmark and England, international associations, clubs etc," the statement said.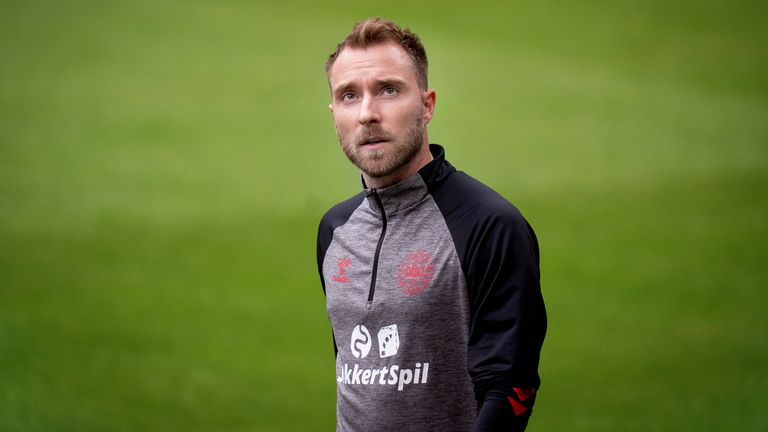 Medics attended Eriksen after being quickly ushered on to the field by English referee Anthony Taylor, while Denmark captain Simon Kjaer made what has been hailed as a life-saving intervention by securing his neck, clearing his airways and starting CPR.
Kjaer then led the Danish players in forming the ring around their teammate and comforted Eriksen's partner, who appeared distraught as she went on to the pitch.
Inter Milan midfielder Eriksen, who spent seven years in English football with Tottenham, has been inundated with messages of support since his collapse – including footballers past and present, pundits, politicians and royals.
Boris Johnson was said to have been "shocked" by what happened.
"He is very thankful for the quick thinking actions of officials," the prime minister's spokesman said. "The response of players and fans in the stadium was exemplary. It showed sport at its best."
Encouraging news about Christian Eriksen, we are all thinking about him and his family. Well done to the medical team and Anthony Taylor for their calm and swift action. W

— The Duke and Duchess of Cambridge (@KensingtonRoyal) June 12, 2021
The Duke and Duchess of Cambridge also tweeted to praise the referee and medical team.
Prince William, who is also president of the FA, added: "Encouraging news about Christian Eriksen, we are all thinking about him and his family."
Also among those to send their well-wishes was former Arsenal and Birmingham player Fabrice Muamba, whose heart stopped for more than an hour while playing for Bolton against Spurs in 2012.
Dr Jonathan Tobin, the Bolton club doctor at the time, told Sky News: "Even managing to start CPR under that much pressure… I'm not understating it when I said I could hardly breathe when I first started treating Fabrice on the pitch.
"After a minute or two, I was into the groove, everything was fine, but that first minute it was hard. All I could hear was my own heart thundering in my head."
"So, congratulations for starting the CPR and congratulations for letting their training take over," he said of those who treated Eriksen.
Muamba hoped to resume his career but retired from professional football five months later on medical advice – and doctors are concerned that Eriksen may also struggle to play again.
Sanjay Sharma, professor of sports cardiology at St George's University in London, who worked with Eriksen at Tottenham during his time in north London, said: "The good news is he will live, the bad news is he was coming to the end of his career, so would he play another professional football game? That I can't say.
"In the UK he wouldn't play. We'd be very strict about it."
He added: "Without putting it too bluntly, he died today, albeit for a few minutes, but he did die and would the medical professional allow him to die again? The answer is no."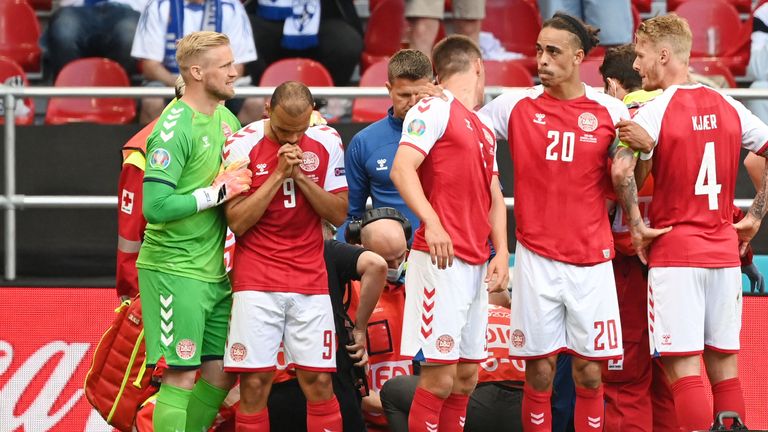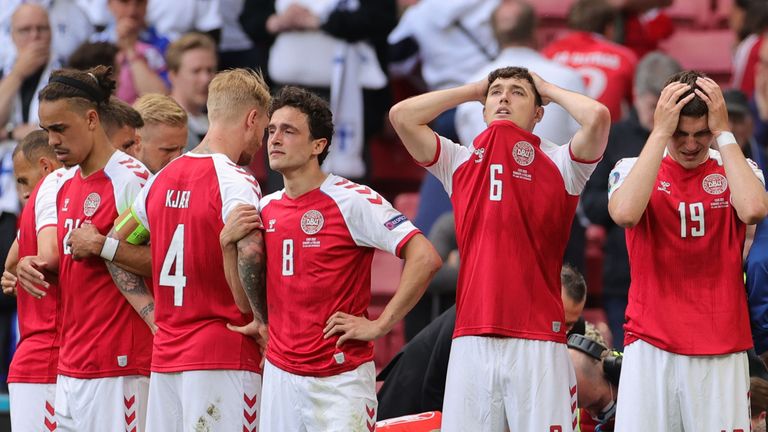 Inter physician Piero Volpi told The Associated Press now was not the time to be making such assessments.
"Right now, the important thing is that he recovers," added Dr Volpi, who also confirmed that Eriksen had never contracted COVID-19. He also was yet to receive a vaccine.
Some Denmark players chose not to continue playing, coach Kasper Hjulmand said after the Group B match, which Finland went on to win 1-0 via a 59th minute goal from Joel Pohjanpalo.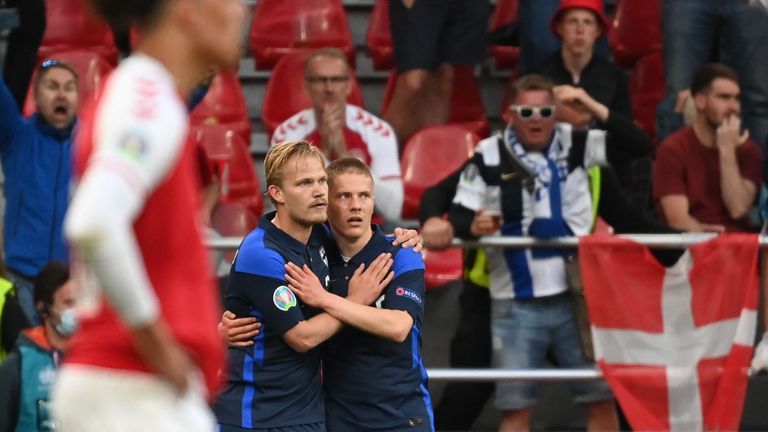 Eriksen was the focus of further well-wishes at Wembley in London on Sunday afternoon, when England begin their Euro 2020 campaign against Croatia.
England captain Harry Kane is a former teammate of Eriksen during his time at Tottenham.
Netanyahu says human rights groups are turning a blind eye to alleged rapes by Hamas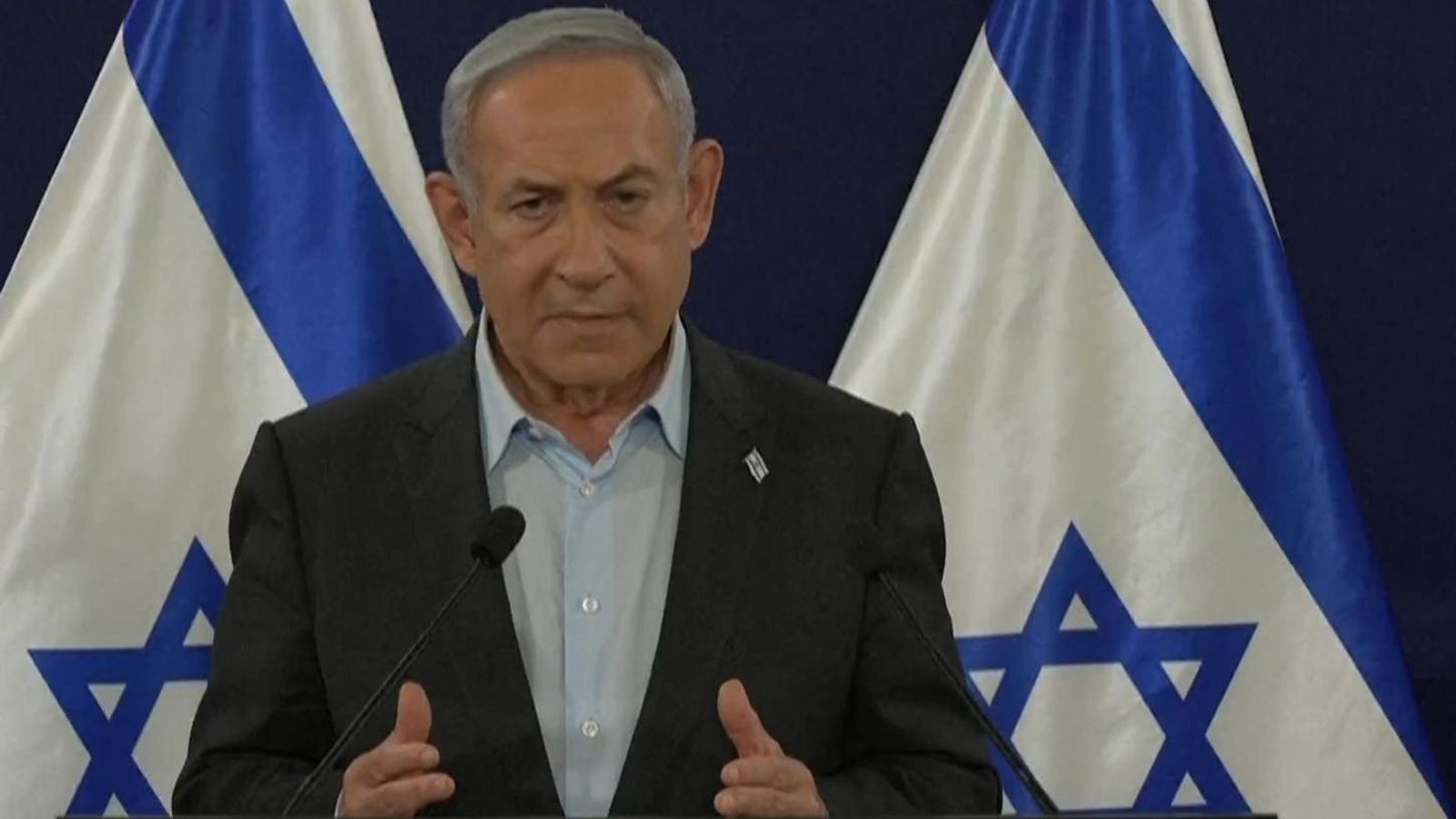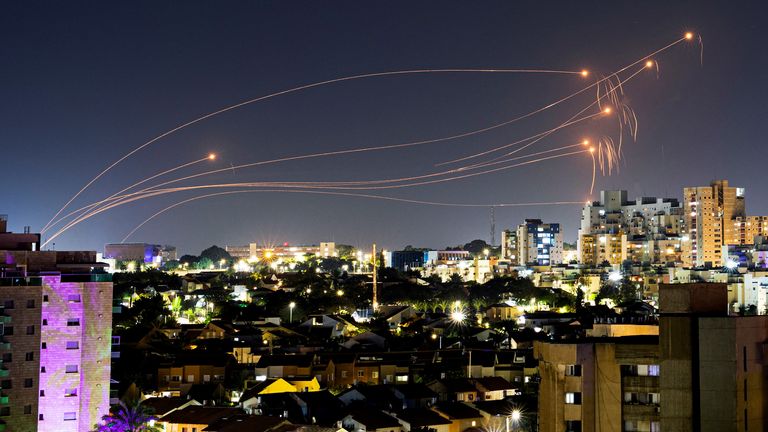 Benjamin Netanyahu has accused human rights groups of turning a blind eye to rapes that Israel says were committed by Hamas during the 7 October massacre.
Speaking at a news conference on Tuesday, the Israeli prime minister accused the international community of playing down the attacks and even ignoring them.
He said he expects "all civilised leaders, governments, nations to speak up against this atrocity".
"I say to the women's rights organisations, to the human rights organisations, you've heard of the rape of Israeli women, horrible atrocities, sexual mutilation – where the hell are you?" Netanyahu told a news conference on Tuesday, speaking in English to emphasise his point.
US President Joe Biden called the reports of sexual violence "appalling" and urged the world to condemn "horrific accounts of unimaginable cruelty".
Speaking at a campaign fundraiser in Boston, he called on the world to condemn the acts by Hamas "without equivocation" and "without exception".
He also stressed that "Hamas's refusal to release the remaining young women" is what ended a temporary truce and hostage agreement that the US helped broker.
Israel's justice ministry says "victims were tortured, physically abused, raped, burned alive, and dismembered" however Hamas has rejected all allegations that its gunmen committed sexual assault.
'Widespread' sexual violence
A human rights group has reported that rape and sexual violence were "widespread" during Hamas' 7 October attack on Israel.
A group named Physicians for Human Rights in Israel, which has a long record of advocating for Palestinian civilians in Gaza, published an initial assessment in November.
"What we know for sure is that it was more than just one case and it was widespread, in that this happened in more than one location and more than a handful of times," Hadas Ziv, policy and ethics director for the organisation, said on Tuesday.
"It is becoming more apparent that the violence perpetrated against women, men and children also included widespread sexual and gender-based crimes.
"What we don't know and what the police are investigating is whether it was ordered to be done and whether it was systematic."
While investigators are still trying to determine the scope of the sexual assaults, many witnesses of the atrocities have spoken out, with some giving harrowing details of terrorists raping, mutilating and murdering women.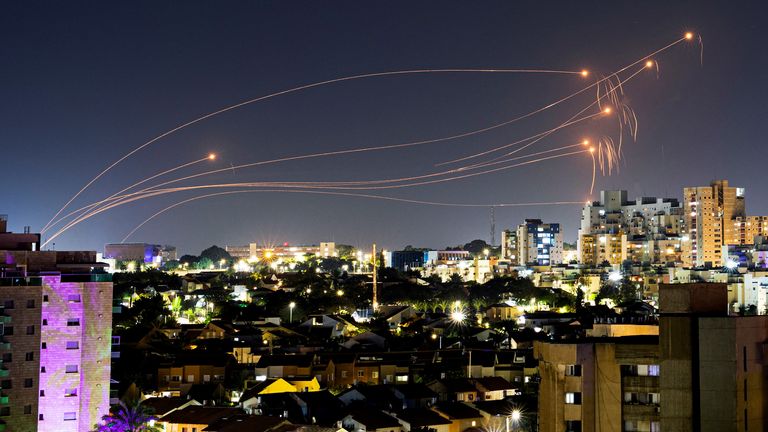 A man hiding in a pit during the assault on a music festival said he heard someone nearby screaming she was being raped.
Israel-Gaza latest: US steps up pressure on Israel with visa ban
An army reservist who was tasked with identifying those killed said some of the women were found wearing only bloodied underwear.
Others said they found women semi-naked, bound, eviscerated, stripped, bruised, shot in the head or torched.
Hamas and other Gaza militant groups killed about 1,200 people, most of them civilians, and took more than 240 hostages that day.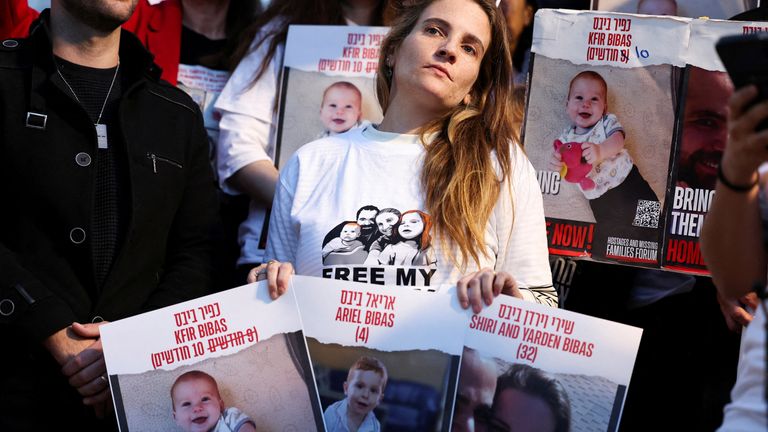 Read more:
Decomposing babies 'seen in footage' from abandoned hospital
British teenager killed in Gaza while fighting for IDF
The truce has ended – what will Israel do now?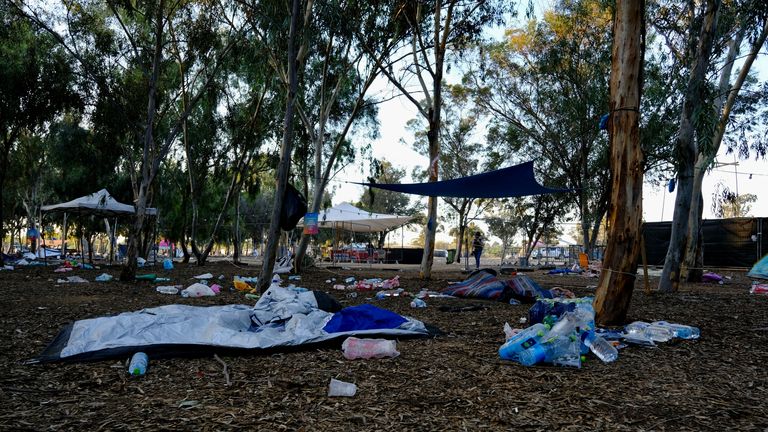 Two months after the attack on farming communities and army posts in southern Israel, police are still trying to put together the pieces.
In the immediate aftermath, priority was given to identifying bodies, not to preserving evidence.
Police say they're combing through 60,000 videos seized from the body cameras of Hamas attackers, from social media and from security cameras as well as 1,000 testimonies to bring the perpetrators to justice.
It has been difficult finding rape survivors, with many victims killed by their attackers.
This was Emilia's first day back at school following her release.

Last month, Israel's police chief presented to the international news media videotaped testimony of a rape witness at the music festival.
Her face blurred, she said she watched militants gang-rape a woman as she lay on the ground.
The woman in the video described watching the militants as she pretended to be dead.
"I couldn't understand what I saw," she said.
'Absolutely concerned' about sexual violence against hostages
At the Shura military base where victims are being identified, Shari Mendes, a member of the army reserve unit that deals with the identification and religious burial preparation of female soldiers, said some of the women's bodies came in with little clothing.
"Often women came in in just their underwear," she said.
"Sometimes we had people who – we just had a torso, okay – or they were very decomposed or they were mutilated.
"I saw very bloody genitals on women."
Based on open-source information and interviews, the Physicians for Human Rights in Israel report documents incidents at the music festival, homes around the Gaza Strip and an Israeli military base, all attacked by Hamas.
Kibbutz survivor returns home for first time since October 7 attack

On Tuesday, Mr Netanyahu and members of his war cabinet held a meeting with recently released hostages and family members of hostages still held in Gaza.
Some of those former hostages shared testimonies of sexual abuse during their time in Gaza, participants said.
Separately, a doctor who treated some of the 110 released hostages said that at least 10 men and women among those freed were sexually assaulted or abused, but did not provide further details.
According to the Israeli military, 138 hostages, including 15 women, are still held by Hamas and other militant groups in Gaza.
Lt. Col. Richard Hecht, a military spokesman, said the army is "absolutely" concerned about sexual violence against female hostages.
Echoing these concerns earlier this week, US State Department spokesman Matthew Miller said: "It seems that one of the reasons they (Hamas) don't want to turn women over that they've been holding hostage – and the reason this pause fell apart – is that they don't want these women to be able to talk about what happened to them during their time in custody."
The effect Israel's war in Gaza is having on civilians is 'brutal to see'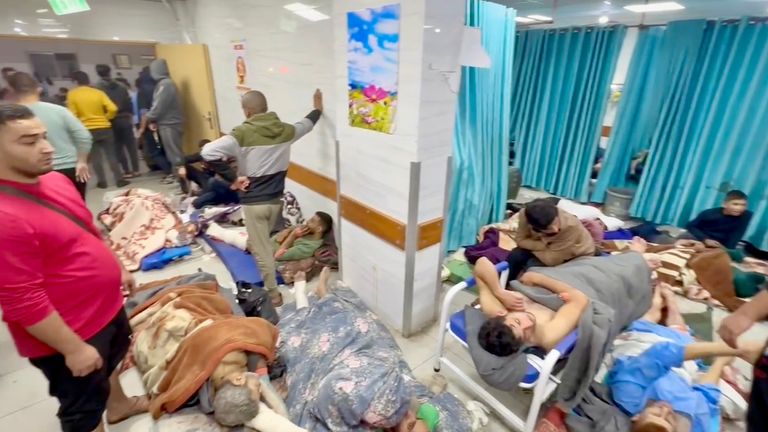 Israel said its troops have entered Gaza's second-largest city, while intensive bombardment has sent streams of ambulances and cars racing to hospitals with wounded and dead Palestinians. Here, Sky News' chief correspondent Stuart Ramsay looks at the effects of a bloody new phase of the war.
It's hard to believe but it's actually getting worse in Gaza as every hour passes. The latest pictures from inside hospitals and on the streets are quite extraordinary.
Israel says it's clearing out the north and the south of the strip in two simultaneous operations to take down Hamas.
But the effect their campaign is having on the civilian population is brutal to see.
Israel-Gaza latest: US steps up pressure on Israel with visa ban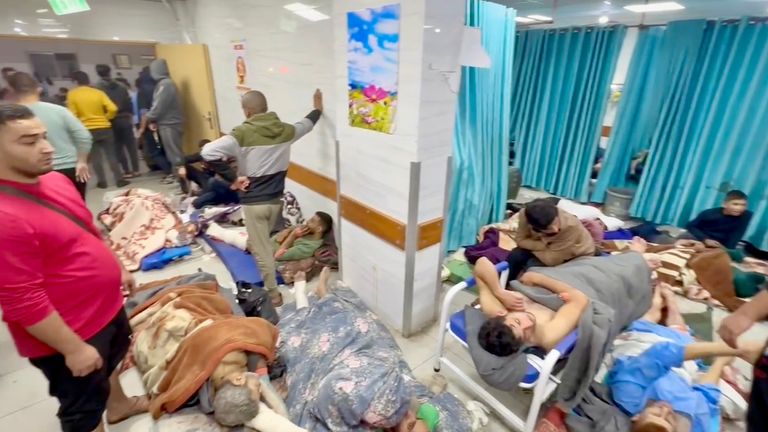 Hospitals are overwhelmed, they ran out of beds long ago, now they're running out of space on the floors as they struggle to keep men, women, and a lot of children alive.
The pictures from our team inside Gaza show medical staff struggling to deal with the sheer volume of injuries that pass through their doors in a near-constant stream.
In the north of Gaza people are crammed into the compound of the Kamal Adwan Hospital, seeking safety.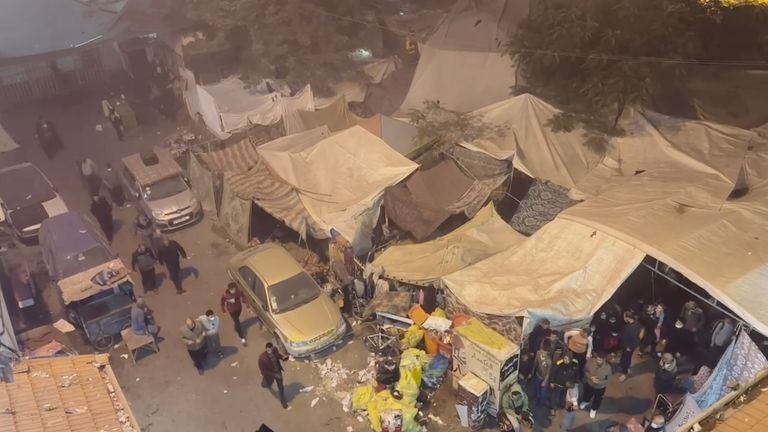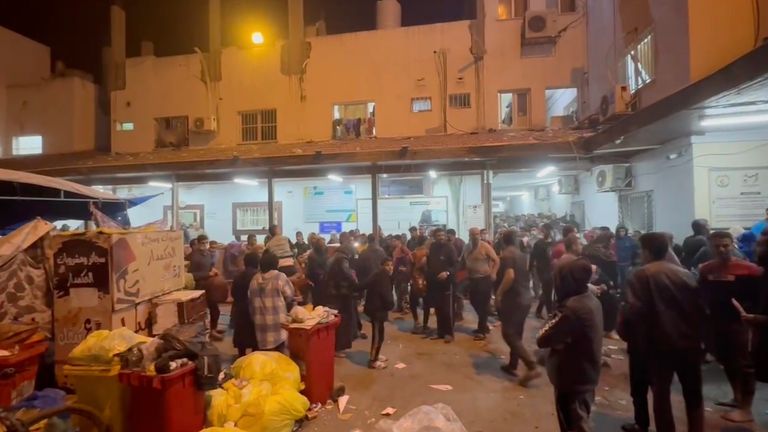 Beyond the walls, they film as the sounds of huge explosions reverberate through the tents of the displaced.
On the street, people out looking for supplies start running as fighting breaks out a short distance away. They too start heading to the hospital desperate to get inside for the protection they hope it will afford them.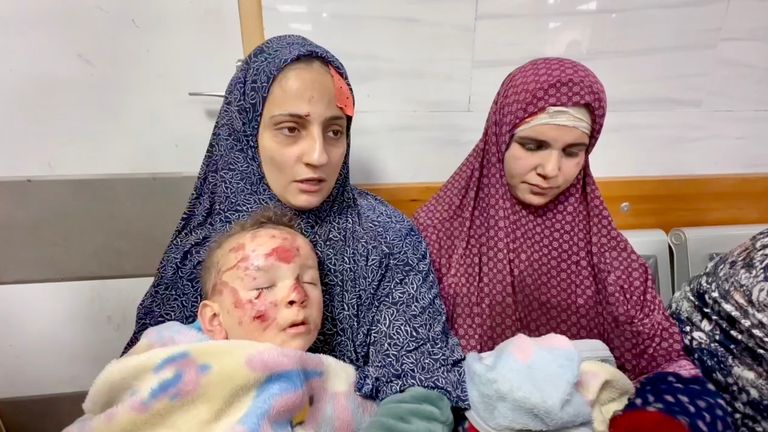 One woman, holding her sleeping little boy, his face a mess of cuts after their street was hit by an Israeli bomb, told the team she had only just arrived at the hospital. Her son will be two years old in two days.
She couldn't stay at her home anymore.
"Everyone left, they were continuously shelling us last night, we had just arrived and were about to go to sleep, then everything started," she said.
"People were hit all around us, everything was destroyed. Look at what happened to him, this child. What has this child done? Is he carrying any weapons?"
Read more:
Decomposing babies 'seen in footage' from abandoned hospital
British teenager killed in Gaza while fighting for IDF
The truce has ended – what will Israel do now?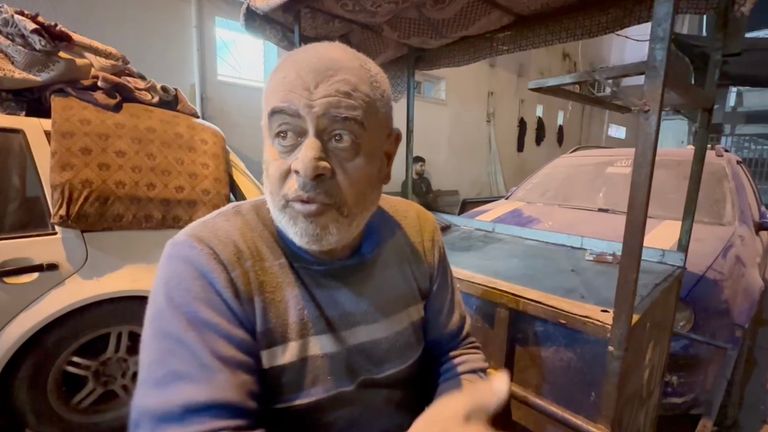 Outside the hospital, a man covered in dust was asked why he was staying at the hospital.
"Because we cannot find anything to protect us, that is why. We only have our God to protect us before anything," he said.
"We are saying we do not need anything, all we want is to live with our family, children and our loved ones and also the whole world to live in peace and safety, no one listens to us, no one hears us, no Arabs, no foreigners, no one. What do they want from us?"
Other pictures from inside Gaza show desperate scenes of chaos.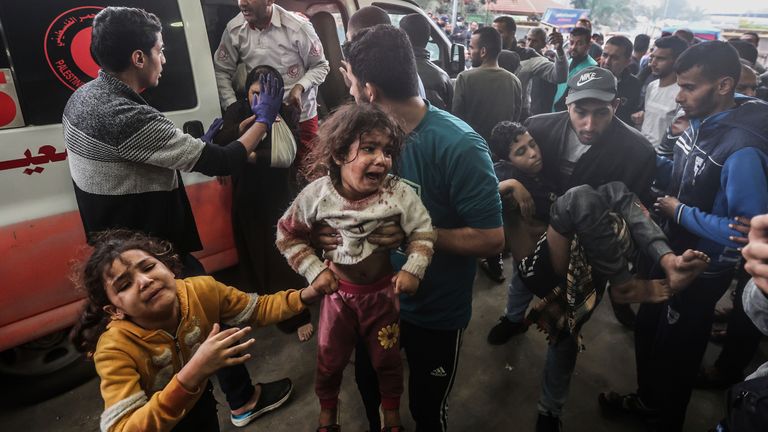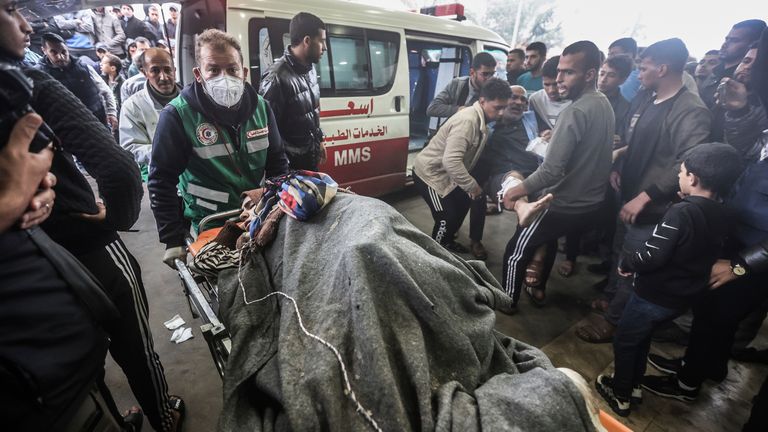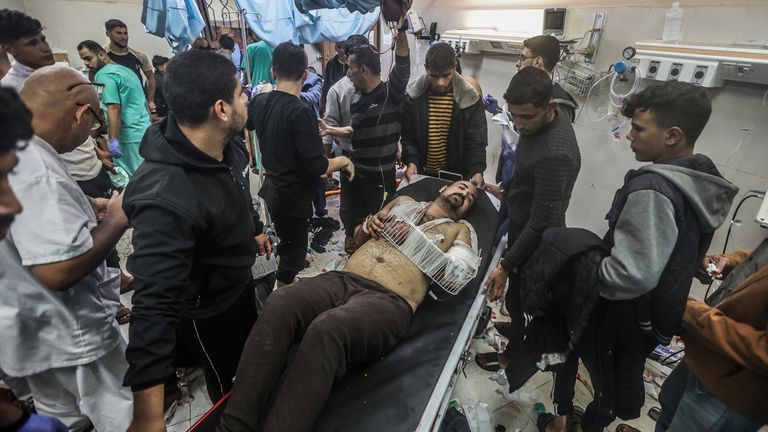 At the Nasser Hospital in Khan Younis in the south of the strip, they're treating people on the floor – it's covered in blood.
Children, men, women; the young and old. Injured from airstrikes on homes and schools. In many cases they lie on the floor, clinging on to life.
One of the injured, a small boy, is holding onto a purple sweet.
He's being treated on the floor, and he's alone.
There really isn't much that can be done for these patients. It's not hopeless only because the staff keep going regardless of the odds of keeping many of them alive.
Incredibly the situation is actually getting worse. It's hard to imagine. But it is.
The United States among other nations has told Israel too many civilians are being injured and killed in their campaign against Hamas.
Israel says it's moving into the next phase of its campaign, and that its fight against Hamas continues.
The people of Gaza are stuck in the middle of a brutal war.
Bus plunges into a ravine killing 16 in the Philippines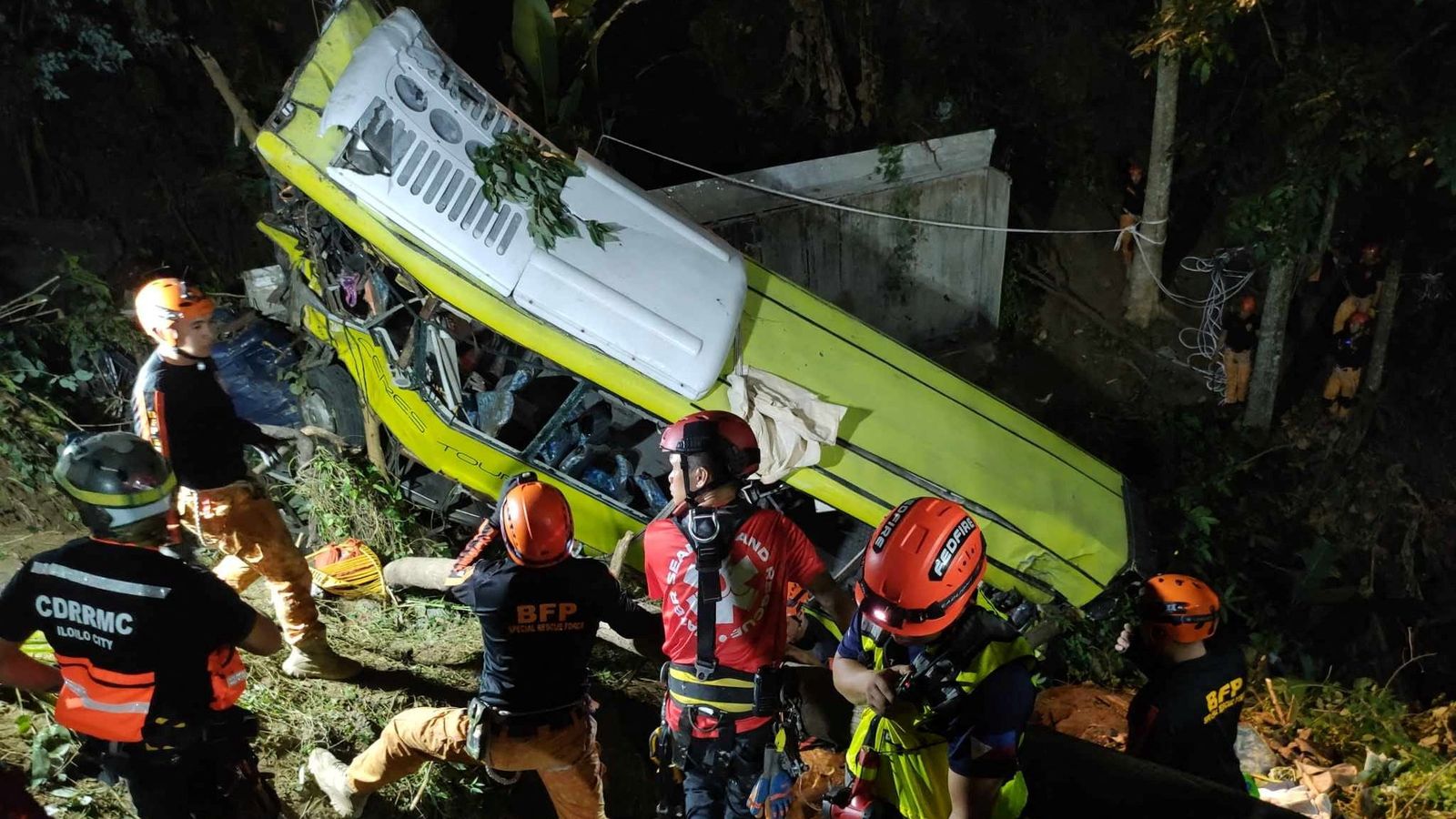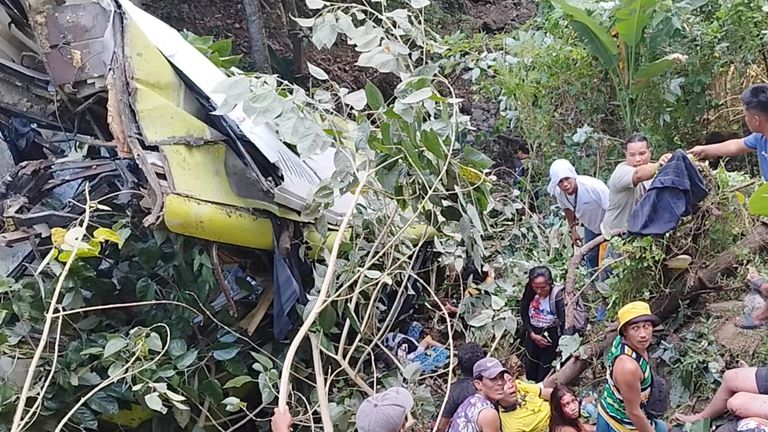 At least 16 people have been killed and another 12 injured after a bus plunged into a ravine in a mountain village in the Philippines..
Eight of the wounded in the accident, which happened on Tuesday afternoon in Hamtic town in Antique province, were in critical condition at a local hospital, officials said.
The bus, which came from the nearby Iloilo province, was manoeuvring along the road when the driver lost control, smashed onto a concrete railing then fell into the ravine.
"The driver was repeatedly sounding his horn because he had apparently lost control of the bus before it plummeted into the ravine," Ronniel Pabustan, an Antique provincial crisis responder, said.
Dozens of rescuers, including police, army and provincial emergency responders, worked to free the victims.
Using stretchers and ropes, they brought the victims up the ravine in a rescue that dragged late into the night, according to Mr Pabustan.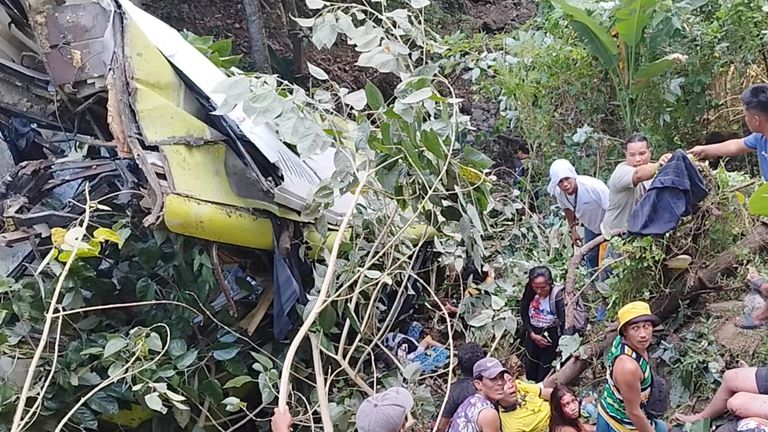 "It's so tragic and painful because this happened close to Christmas," he said, adding that among the dead were a baby and the driver.
Radio presenter shot dead during live radio show in Philippines
The search for victims ended overnight but provincial officials urged village leaders to alert emergency personnel if they find any more victims in the site of the accident, a thickly wooded area in the bottom of the ravine.
Fatal road accidents are common in the Philippines due to weak enforcement of traffic laws, dilapidated vehicles and dangerous road conditions, including inadequate safety signs and barriers on mountain roads and in far-flung provinces.