Forward Jozy Altidore and goalkeeper Brad Guzan are on a preliminary 59-man United States roster for next month's CONCACAF Gold Cup, which also includes rising stars Daryl Dike and Matthew Hoppe.
Defender Reggie Cannon, and midfielders Kellyn Acosta, Sebastian Lletget and Jackson Yueill are the only holdovers from the 23-man roster for the Nations League roster. Acosta was the only starter in the 3-2 win in the final Mexico on June 6.
– Carlisle: Lessons learned from USMNT's epic Nations League win
– Bonagura: USMNT's 'B' team shows promise, depth
– Stream ESPN FC Daily on ESPN+ (U.S. only)
The roster was announced Friday and it lacks some of the best players in the U.S. It doesn't include Christian Pulisic, Weston McKennie, Tyler Adams, Giovanni Reyna, Sergino Dest, John Brooks, Zack Steffen and Joshua Sargent. They are being given time off ahead of preseasons with their European clubs and the start of World Cup qualifying on Sept. 2.
Guzan, 36, has 64 international appearances. He was Tim Howard's backup at the 2010 and 2014 World Cups and started at the 2016 Copa America. He has not played for the U.S. since a September 2019 exhibition against Uruguay.
Altidore, 31, has 42 goals in 115 international appearances and also was at the 2010 and 2014 World Cups. He last played for the U.S. in the 1-0 loss to Mexico in the 2019 Gold Cup final. Also on the preliminary roster and hoping to play their way back into first-choice player pool are midfielders Julian Green and Cristian Roldan, and forwards Paul Arriola and Gyasi Zardes.
Moses Nyeman, a 17-year-old D.C. United midfielder, was included even though he is not yet eligible. Nyeman was born in Liberia and is in the process of obtaining U.S. citizenship.
Teams must submit their 23-man rosters by June 30. A team may replace an injured player up until a day before its first game. The U.S. is based in Kansas City, Kansas, for the first round and opens Group B on July 11 against Haiti, St. Vincent and the Grenadines, Guatemala or Guyana. The Americans play Martinique on July 15 and Canada on July 18.
Mexico, Curacao, El Salvador and a qualifier are in Group A; Costa Rica, Jamaica, Suriname and a qualifier in Group C; and Grenada, Honduras, Panama and invited guest Qatar in Group D. The top two nations in each group advance. The final is Aug. 1 in Las Vegas.
USMNT PROVISIONAL ROSTER
Goalkeepers: Brad Guzan (Atlanta), Bill Hamid (D.C.), Sean Johnson (New York City), Tim Melia (Kansas City), Matt Turner (New England)
Defenders: Julian Araujo (LA Galaxy), George Bello (Atlanta), Reggie Cannon (Boavista, Portugal), Cameron Carter-Vickers (Tottenham, England), Justin Che (Dallas), Kyle Duncan (New York Red Bulls), Chase Gasper (Minnesota), Jonathan Gomez (Louisville), Aaron Herrera (Salt Lake), Henry Kessler (New England), Shaq Moore (Tenerife, Spain), Erik Palmer-Brown (Manchester City, England), Kevin Paredes (D.C.), Donovan Pines (D.C.), Miles Robinson (Atlanta), James Sands (New York City), Auston Trusty (Colorado), Sam Vines (Colorado), Walker Zimmerman (Nashville)
Midfielders: Kellyn Acosta (Colorado), Cole Bassett (Colorado), Gianluca Busio (Kansas City), Johnny Cardoso (Internacional, Brazil), Caden Clark (New York Red Bulls), Hassani Dotson (Dallas), Leon Flach (Philadelphia), Julian Green (Greuther Furth, Germany), Sebastian Lletget (LA Galaxy), Djordje Mihailovic (Montreal), Moses Nyeman (D.C.), Andres Perea (Orlando), Paxton Pomykal (Dallas), Cristian Roldan (Seattle), Tanner Tessman (Dallas), Eryk Williamson (Portland), Jackson Yueill (San Jose)
Forwards: Jozy Altidore (Toronto), Frankie Amaya (New York Red Bulls), Paul Arriola (DC), Corey Baird (Los Angeles), Cade Cowell (San Jose), Daryl Dike (Orlando), Jeremy Ebobisse (Portland), Jesus Ferreira (Dallas), Nicholas Gioacchini (Caen, France), Matthew Hoppe (Schalke, Germany), Jonathan Lewis (Colorado), Rubio Rubin (Salt Lake), Chris Mueller (Orlando), Ricardo Pepi (Dallas), Robbie Robinson (Miami), Memo Rodriguez (Houston), Mason Toye (Montreal), Gyasi Zardes (Columbus)
Boone: Yanks had sights on Verdugo, liked 'edge'
NASHVILLE, Tenn. — Acquired in a rare trade between the Yankees and rival Red Sox, Alex Verdugo can figure on being a starting corner outfielder for New York.
"He's actually been a guy that we've talked about now for, for a while," Yankees manager Aaron Boone said Wednesday, a day after New York obtained Verdugo for right-handers Greg Weissert, Richard Fitts and Nicholas Judice. "I feel like there's an edge he plays the game with."
In addition to getting Verdugo, the Yankees have talked with the San Diego Padres about a possible trade for three-time All-Star outfielder Juan Soto.
"I allow myself to dream on a lot of things," Boone said. "I always start to imagine what it could look like."
The left-handed-hitting Verdugo, 27, batted .264 with 13 home runs, 54 RBIs and a .745 OPS in his fourth season with the Red Sox. A Gold Glove finalist, he had 12 outfield assists and nine defensive runs saved.
He was benched twice last season by Boston manager Alex Cora: on June 8 for not hustling between first and second on a grounder a night earlier and on Aug. 5 for arriving late to the ballpark.
Red Sox chief baseball officer Craig Breslow, hired in October, said those issues didn't factor into the trade.
"I didn't get into that stuff with Alex that much," Boone said. "But we hear those things from across the way and stuff, so I'm not overly concerned about that."
A seven-year major league veteran, Verdugo has a .281 career batting average with 57 home runs and 255 RBIs with the Los Angeles Dodgers and Red Sox.
Selected by the Dodgers in the second round of the 2014 amateur draft, Verdugo was acquired by Boston with infielder Jeter Downs and catcher/second baseman Connor Wong in the February 2020 trade that sent slugger Mookie Betts and pitcher David Price to the Dodgers.
Verdugo is eligible for arbitration and is likely to get a salary of about $9 million. He can become a free agent after the World Series.
"He's a guy who takes a lot of pride in posting," Boone said Cora told him.
With Verdugo's addition, Aaron Judge could move from right field and become the regular center fielder.
"We'll see how everything shakes out this winter," Boone said. "I've talked to Aaron about that. So I think Aaron's open to anything and ready for anything."
This was just the eighth trade between the Yankees and Red Sox since Major League Baseball split into divisions in 1969. The Yankees obtained outfielder Greg Allen from Boston in May for right-hander Diego Hernández.
The most notable deals involved the Yankees' 1919 purchase of Babe Ruth, New York getting pitcher Sparky Lyle in 1972 for first baseman Danny Cater and infielder Mario Guerrero, and Boston receiving Elston Howard — the Yankees' first Black player and the 1963 American League MVP — in 1967 for pitchers Ron Klimkowski and Pete Magrini.
Weissert, a 28-year-old right-hander who attended Fordham, not far from Yankee Stadium, had a 4.05 ERA in 17 relief appearances over five stints with New York last season. He struck out 22 and walked eight in 20 innings. His fastball averaged 94.3 mph.
Fitts, 23, was a sixth-round pick from Auburn in the 2021 amateur draft and was 11-5 with a 3.48 ERA in 27 starts this year at Double-A Somerset. He struck out 163 and walked 43 in 152⅔ innings.
Judice, 22, was an eighth-round pick last summer from Louisiana-Monroe and has not made his minor league debut.
Game notes
Boone expects "a leaner" Giancarlo Stanton at spring training. The five-time All-Star hit a career-low .191 with 24 home runs and 60 RBIs in 2023.
"Being at this point in his career, I think being a little lighter is going to be something that serves him well and I think it's something he knows and wants to do," Boone said.
Sources: Orioles on verge of signing Kimbrel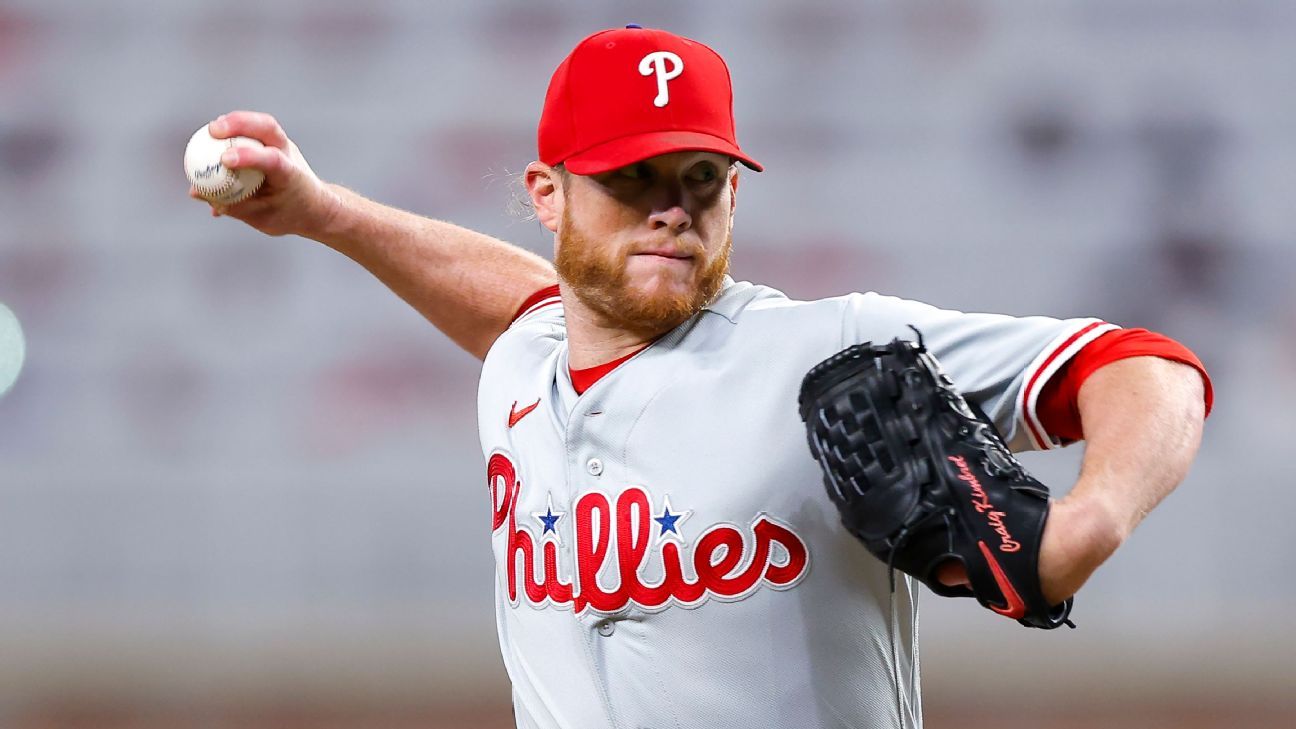 The Baltimore Orioles are on the verge of signing veteran closer Craig Kimbrel, sources told ESPN's Buster Olney on Wednesday.
Baltimore has a need since All-Star closer Felix Bautista is likely out for the 2024 season after Tommy John surgery. He went on the injured list in August.
Kimbrel was one of the preeminent closers of the 2010s, making seven All-Star appearances and accumulating a whopping 332 saves — at least 68 more than anybody else — while pitching for the Atlanta Braves, San Diego Padres and Boston Red Sox from 2011 to 2018.
The 35-year-old right-hander navigated that eight-year stretch with a 1.97 ERA, a 0.91 WHIP and a rate of 14.6 strikeouts per nine innings with a devastating fastball-curveball combo. He has since posted a 3.57 ERA, a 1.16 WHIP and a 13.0 strikeout rate with the Chicago Cubs, Chicago White Sox, Los Angeles Dodgers and Philadelphia Phillies.
Kimbrel made two more All-Star teams from 2019 to 2023, including this past season with the Phillies, when he posted a 3.26 ERA, saved 23 games and struck out 94 batters in 69 regular-season innings.
The sheer dominance of his 20s, however, has mostly eluded Kimbrel in his 30s. His lasting image in Philadelphia was blowing a two-run lead in the eighth inning of Game 4 of the National League Championship Series, paving the way for the Phillies' shocking elimination against the upstart Arizona Diamondbacks.
The Orioles were a major surprise last season, winning an American League-best 101 games. They won the AL East before being swept by the Texas Rangers in the division series. Many preseason projections had them finishing in the basement of the division.
Belmont to be run at Saratoga due to renovation
The Belmont is heading to Saratoga for the first time — but almost certainly not the last.
New York Gov. Kathy Hochul announced Wednesday that the 2024 Belmont Stakes will be run at Saratoga Race Course, with the third leg of horse racing's Triple Crown shifting upstate from Long Island because of the massive renovation of Belmont Park.
The move has been expected for some time since the New York Racing Association unveiled plans for the $455 million Belmont Park project. Construction is expected to last into 2025, so there is a good chance of the Belmont at Saratoga two years in a row.
"This is likely a two-year endeavor," NYRA president and CEO David O'Rourke said by phone Wednesday. "We're going to get it right, and we're going to improve on it each year."
Pending the approval of the North American Graded Stakes Committee, the Belmont will be run at a distance of 1¼ miles, shorter than the race's traditional 1½ miles because of the shape of the dirt track at Saratoga. It was 1⅛ miles in 2020 when the Belmont led off the Triple Crown run out of order because of the COVID-19 pandemic.
That Belmont had no fans. A crowd of up to 50,000 is expected this time to witness history.
"The ability to have the Belmont up at Saratoga, a bunch of circumstances would have to come into alignment," O'Rourke said. "It's the most historic venue in the country. It's one of the coolest sporting venues on the planet, and it's one of the greatest tourist towns in the nation. Everyone's excited."
The purse will increase from $1.5 million to $2 million, and the race will be part of a special four-day run at Saratoga a month before the usual summer meet there begins July 11.
"It's a win for horse racing and for the Capital Region to have the excitement and the ability to host the four-day festival in June at America's most historic track," Hochul said in a statement.
Racing in New York is currently happening at Aqueduct in Queens, which was home to the Triple Crown finale from 1963 to 1967, the last time Belmont Park was renovated.
The race is expected to return to Belmont Park in 2026. O'Rourke said expanding the annual Saratoga meet beyond 40 days is "not in any of our current thinking."
"Something like this is just kind of a unique thing to know that it's going to happen for a couple years up there," he said. "We're really just trying to program our racing calendar through the development. Bringing the Belmont up there was kind of an obvious move in some ways, in terms of potential for the actual event."