Arrivederci, it's one on one: The England songs you need to know (and some you don't) ahead of final
Everyone seems to know the score, they've seen it all before…
Except this time, maybe, they haven't. England. Are. In. The. Final. Of. Euro 2020. Could football (whisper it) actually be coming home?
We have David Baddiel, Frank Skinner and The Lightning Seeds' Ian Broudie to thank for that central refrain now synonymous with England and football; a song full of unashamed nostalgia for the days of our World Cup victory (1966, you might have heard of it), perfectly capturing the mix of "oh-so-nears" pessimism and cautious hope that comes with being an England fan.
Released for Euro '96, back when it was only 30 years of hurt, Three Lions is still the ultimate anthem for English football. But Sunday's match against Italy will be the men's team's first international tournament final since 1966; a historic moment, which means you may want a whole soundtrack to mark the occasion.
From a homage to Sven-Goran Eriksson to a celebration of baked goods, here are a few official and unofficial songs to add to the playlist. After Three Lions, of course. And Three Lions '98, because no one likes change. We still believe…
This Time (We'll Get It Right)
After failing to qualify for the World Cup in 1974 and 1978, 1982 was not only a big year for football but a big year for England in the charts. Frontman Kevin Keegan was no stranger to the Top 40, having released the single Head Over Heels In Love a few years earlier, and he led the squad in their promise to "get it right… this time". Sadly, it wasn't to be; England failed to progress beyond the second group stage, despite remaining unbeaten throughout the tournament in Spain. The song charted at number two though, so every cloud.
We've Got The Whole World At Our Feet
"There's not a single team that we can't beat," sang the England squad ahead of Mexico 1986. Unfortunately, they hadn't reckoned with Maradona and his Hand of God. To add insult to injury chart success also eluded them, with We've Got The Whole World At Our Feet only reaching number 66 (as if they needed another reminder). However, Gary Lineker did win the tournament's Golden Boot for top scorer.
All The Way
For the Euros in West Germany in 1988, Stock, Aitken and Waterman took charge of the music, which led to this upbeat number that epitomised the pop sound at the time. Sadly, it only reached number 64 in the charts – mirroring England's success in the tournament (they went out early after failing to win any of their games in the group stage).
World In Motion
England's second-finest track comes from New Order and a magnificent rap from John Barnes, with minimal input from the rest of the squad. Released for Italia 90, this was the World Cup of Gazza's tears, of England's first heartbreaking penalties defeat – losing 4-3 to West Germany in the semi-finals – and of Gary Lineker infamously getting caught short on the pitch. There aren't many football songs that break out of the novelty bracket but this is definitely one of them, encapsulating the hopeful optimism of England fans perfectly without, for the most part, really sounding like a football song at all.
Eat My Goal
Not an official England track but Collapsed Lung's football anthem Eat My Goal, released in 1996, became the soundtrack to Coca-Cola's "Eat Football, Sleep Football, Drink Coca-Cola" advertising campaign that tied in with Euro 96.
Vindaloo
As well as the revived Three Lions, the France 98 World Cup also brought us Fat Les, aka Blur bassist Alex James, actor Keith Allen and artist Damien Hirst. Thanks to its easy to chant "nah nah nahs" and triumphant "we're gonna score one more than you", Vindaloo was an affectionate parody that became the unofficial hit of the tournament. Featuring comedian Paul Kaye (best known as Dennis Pennis) in a video sending up The Verve's Bittersweet Symphony, also look out for David Walliams and Matt Lucas, and a young Lily Allen, who are in there somewhere.
(How Does It Feel To Be) On Top Of The World
This one was actually the official song for 98, even though it's Vindaloo you remember. Featuring a medley of artists including The Spice Girls, Echo And The Bunnymen, Space and Ocean Colour Scene – aka England United – but no actual England players (apart from a few cameos in the video), the song featured a nice sing-song chorus but wasn't quite as memorable or rousing as the other offerings that year, and charted at number nine. This was the World Cup of Michael Owen's incredible goal against Argentina – and David Beckham's infamous red-card kick in the same game.
Meat Pie, Sausage Roll
After the success of Three Lions, football songs were cool again – which meant everyone wanted to release one. Contenders in 1998 also included Granddad Roberts And His Son Elvis, with this ridiculous song that should have been sponsored by Greggs. "Ooh, we got a corner," is the refrain, while it ends with the bizarre line: "No wonder my wee smells like Sugar Puffs, the stress I'm under."
We're On The Ball
Ant & Dec took over official duties for the 2002 World Cup in South Korea and Japan, hailing then manager Sven-Goran Eriksson as England's "super Swede" and referencing captain Golden Balls and the 5-1 win over Germany in the qualifiers the previous year. Despite the single essentially being PJ and Duncan's musical revival, England were not quite ready to rhumble and lost 2-1 to eventual winners Brazil in the quarter-finals
Sven, Sven, Sven
Released a year earlier, Sven, Sven, Sven, by comedy duo Bell & Spurling, was also inspired by the 5-1 victory and the nation's love for Eriksson at the time. Featuring women in England bikinis and dressed in Bavarian costume, the video is a reminder of how much times have changed in the last 20 years. The pair released an updated version, Gareth, Gareth, Gareth, for the World Cup in 2018, but it wasn't quite as successful as their top 10 debut.
All Together Now
Written about the Christmas truce in the First World War in 1914, when soldiers from both sides put their weapons down to exchange gifts and play football, this song by The Farm was released in 1991 and has been used by numerous football teams since. Re-released for the 2004 Euros in Portugal, England were beaten by the hosts on penalties in the quarter-finals.
World At Your Feet
The official England song for the Germany 2006 World Cup was released by Embrace, best known for hits including All You Good Good People, Come Back To What You Know, Ashes and Gravity in the 1990s and 2000s. "With the world at your feet, there's no one you can't beat/ Yes it can be done," sang frontman Danny McNamara. A nice effort that charted at number three and spent six weeks in the Top 40, but England were not so successful. Wayne Rooney was red-carded in the quarter-final against Portugal and Cristiano Ronaldo became known as the winker – and once again they were knocked out on penalties.
Shout
While the only music people really remember from the South Africa World Cup in 2010 is Shakira's Waka Waka (This Time For Africa) and the deafening sound of vuvuzelas, Dizzee Rascal and James Corden did also team up to release this unofficial song for England. Sampling Tears For Fears' Shout and also including the line "come and have a go if you think you're hard enough", the song did top the charts but probably won't be remembered as one of the England greats. England went out 4-1 to Germany in the final 16, so it wasn't the team's greatest performance, either.
Sing 4 England
Chris "Unbelievable, Jeff" Kamara released Sing 4 England for the Euros in 2012, co-hosted in Poland and Ukraine. Harking back to the naff but lovable-sounding typical football songs of the 80s and 90s, it gets full marks for rousing positivity. "Come on and sing for ENG-ER-LAND". We were all encouraged; sadly, we'd seen it all before, and England lost in the quarter-finals, to Italy, on penalties.
Ole (We Are England 21)
Released during this year's tournament, Ole is the Euro 2020 (yes, it's still Euro 2020, even though it's now 2021; blame COVID) effort from Krept & Konan. A contemporary rap track that – ole, ole, oles aside – moves away from the traditional football song but still reflects the mood of the nation.
Sweet Caroline
Neil Diamond's 1969 hit Sweet Caroline became a feel-good hit again all over again during the pandemic in 2020, and has now become a hit at this year's Euros, too. DJ Tony Perry made the decision to play the song after England's win over Germany, and a fan favourite was born. In a video message, the US singer-songwriter told The Telegraph he was "thrilled" to see fans belting the song out at Wembley, saying: "Well, I hope you can do it again – here's to England." Because good times never seemed so good – so good, so good…
Whole Again
This sugary Atomic Kitten hit from 2000 has found a new audience thanks to a reworked version paying tribute to current England manager Gareth Southgate; so much so that Natasha Hamilton and Liz McClarnon went viral after performing it live to football fans watching the quarter-final victory over Ukraine in Croydon, and have now released it as a new single. While some might say they could have put a bit more effort in and changed the rest of the lyrics, now is not the time for nitpicking. Altogether now: "Southgate, you're the one, you still turn me on – football's coming home again."
Tupac Shakur's brother asks for 'accountability' ahead of court appearance for alleged killer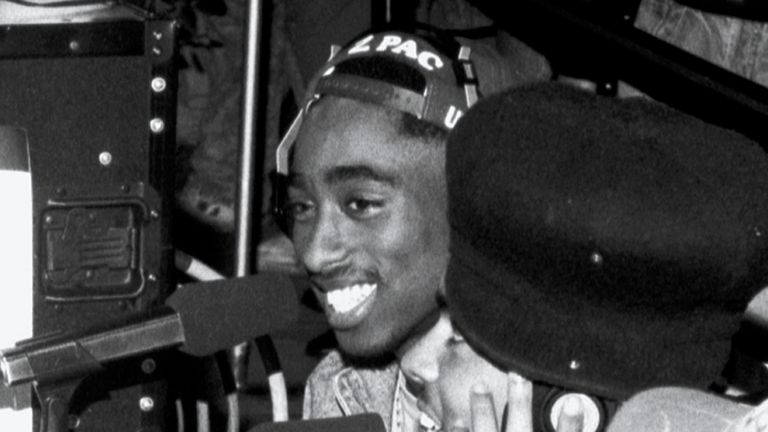 On the junction of the Las Vegas strip where Tupac Shakur was shot dead in September 1996, only a graffiti-covered lamp post with some scrawls of "RIP Pac" and "Tupac Shakur, I love you," hint at what unfolded here.  
Tupac was rap music's brightest star when he was shot four times at point-blank range while being driven along one of the city's busiest streets. He died a week later.
His fame has only increased in the years since and his death is the subject of dozens of books, films and songs.
Until this week, many people had given up believing that police would crack one of America's great unsolved crimes. But today, in a courtroom just a few miles from where he was killed and 27 years later, a man will enter a plea, charged with Tupac's murder.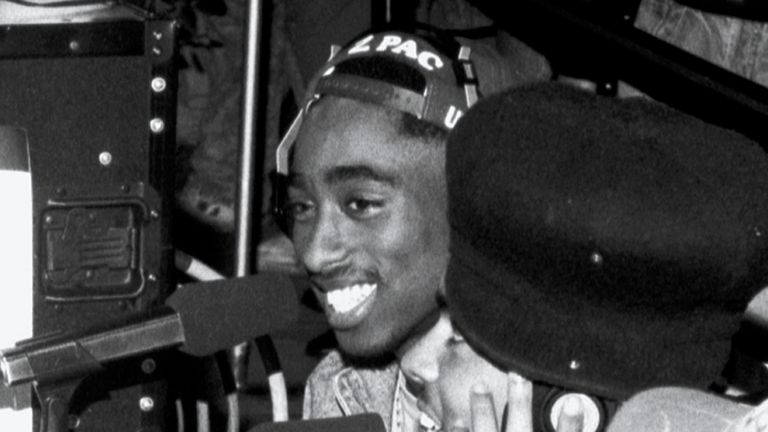 It is a moment Tupac's family feared they would never see. His brother, Mopreme Shakur, told Sky News: "I was shocked, surprised, and taken aback because it's been so long.
"We haven't heard anything in 27 years. My daughter is 27 years old, so any accountability is good at this point."
The man arrested is Duane Davis, better known in rap circles by his street name Keefe D.
He has long been known to investigators as one of four suspects identified early in the investigation. He isn't the accused gunman but is described as the group's ringleader by authorities.
In Nevada you can be charged with a crime, including murder, if you help someone commit the crime.
'How far are they going to go?'
Mopreme believes others need to be held criminally accountable for his brother's murder. "It would be a shame after all this time for them not to do this properly," he says, "meaning that they look at all the connections to it and get the total justice that we want.
"There's doubt in their sincerity. How far are they going to go? Are they going to go all the way and get all the accomplices? "
Read more:
The story of a rapper 'meant for something great'
Tupac suspect recalls night rapper died

Duane Davis is accused of being the "shot caller" by authorities and is alleged to have handed the gun used to kill Tupac to the shooter. As early as 1998, Davis bragged about being at the scene of the crime and wrote a memoir in which he stated he was in the car from where the bullets were fired.
Mopreme says he believes Tupac's murder would not have gone unsolved for so long if he had been white. "Pac was a young black male," he says, "and we have challenges in this country when it comes to equal justice.
"That's just the nature of the beast, it's just the nature of the beast in America. I'm realistic about that."
'A lot of people were happy': David Beckham defends Qatar ambassador role
David Beckham has insisted he was not upset by the criticism he received over his decision to accept millions of pounds from Qatar to serve as a football ambassador around last year's World Cup, despite its stance on LGBTQ+ rights. 
Pamela Anderson praised by Jamie Lee Curtis for makeup-free appearance at Paris Fashion Week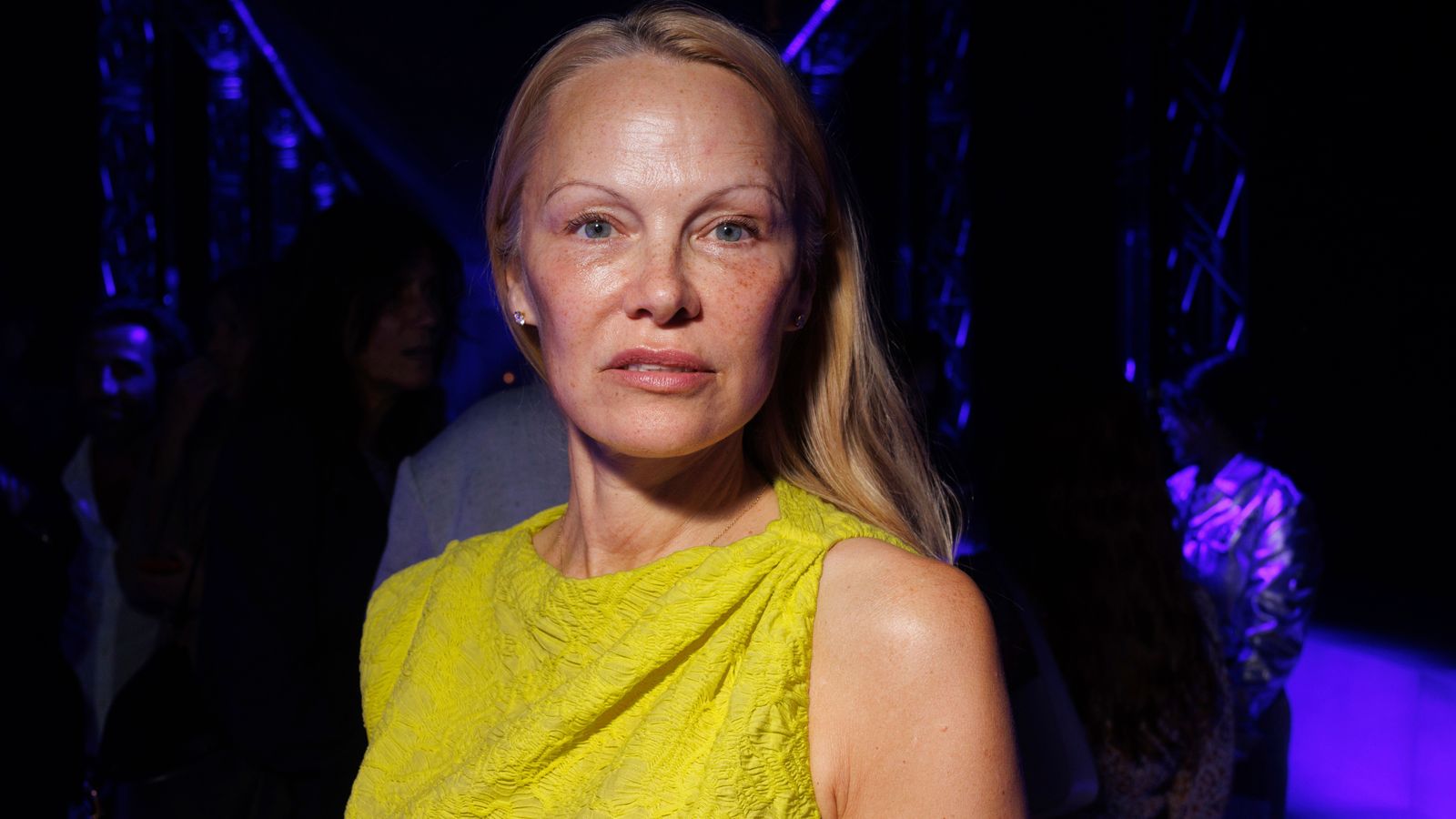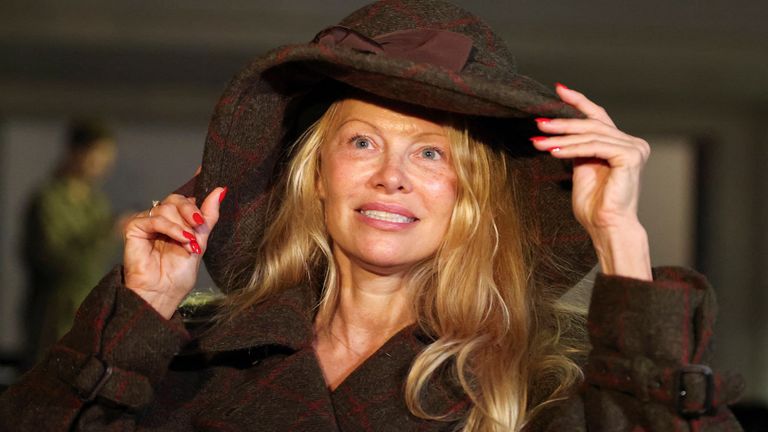 Jamie Lee Curtis has praised Pamela Anderson for showing up to Paris Fashion Week with no makeup on, crediting her with kicking off a "natural beauty revolution".
The Oscar-winning actress shared two pictures of the Baywatch star looking fresh-faced on Instagram.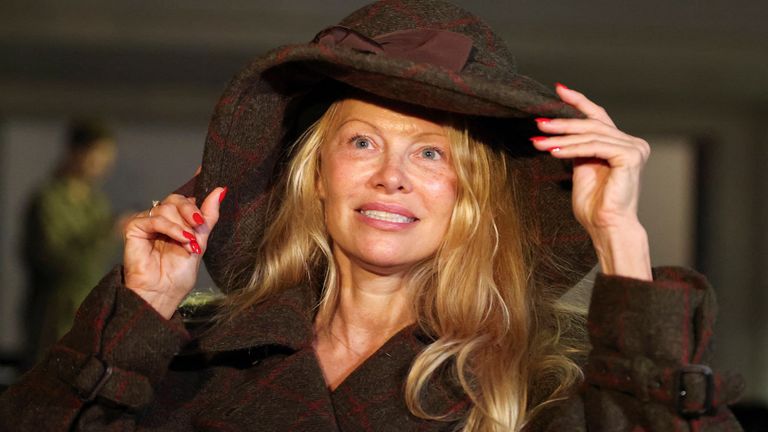 Curtis wrote: "THE NATURAL BEAUTY REVOLUTION HAS OFFICIALLY BEGUN!
"Pamela Anderson in the middle of fashion week with so many pressures and postures, and and and, this woman showed up and claimed her seat at the table with nothing on her face.
"I am so impressed and floored by this act of courage and rebellion."
Actress Selma Blair commented "Love this. Beautiful self-assuredness," while comedian Chelsea Handler wrote, "That's pretty iconic".
Michelle Visage added, "And she was GLOWING".
The images of Anderson were taken on Thursday at the Isabel Marant Womenswear Spring/Summer 2024 show at Place Colette during Paris Fashion Week.
She also attended the Victoria Beckham show the following day.
Anderson, 56, who in her youth embraced cosmetic enhancements to the extreme, has since adopted a more natural look.
She told Elle last year that started going makeup-free after her makeup artist Alexis Vogel sadly died from breast cancer.
Anderson said: "She was the best. And since then, I just felt, without Alexis, it's just better for me not to wear makeup."
Calling her low-maintenance approach "freeing, and fun, and a little rebellious," she went on to joke about "the effects of time, which come to us all".
She said: "I think we all start looking a little funny when we get older. And I'm kind of laughing at myself when I look at the mirror. I go: 'Wow, this is really…what's happening to me?' It's a journey'," she said. "I feel rooted for. I feel good. I'm in a good place."
Click to subscribe to Backstage wherever you get your podcasts.
Meanwhile Curtis has long been a fan of growing old gracefully.
During a conversation with Maria Shriver for the Radically Reframing Ageing Summit in March 2022, she said: "I am an advocate now for natural beauty because I do feel that there has been a genocide on natural beauty.
"This word 'anti-ageing' has to be struck, because what the f*** is 'anti-ageing?' I am pro-ageing. I want to age with intelligence and grace and dignity and verve and energy. I don't want to hide from it."