Ex-Sex Pistols members suing Johnny Rotten over right to use group's music in upcoming TV series
Two former members of the punk outfit Sex Pistols are suing singer Johnny Rotten in an effort to use the band's music in an upcoming TV series about the anarchic icons.
Paul Cook and Steve Jones want tracks to be used in Pistol, to be made by Trainspotting director Danny Boyle, but Rotten (real name John Lydon) has said it's "disrespectful" and has refused to give permission.
Cook and Jones say the band had agreed in 1998 that licensing decisions such as this would be made on a "majority rules basis", but Lydon argues that the use of their music can't be granted without his consent.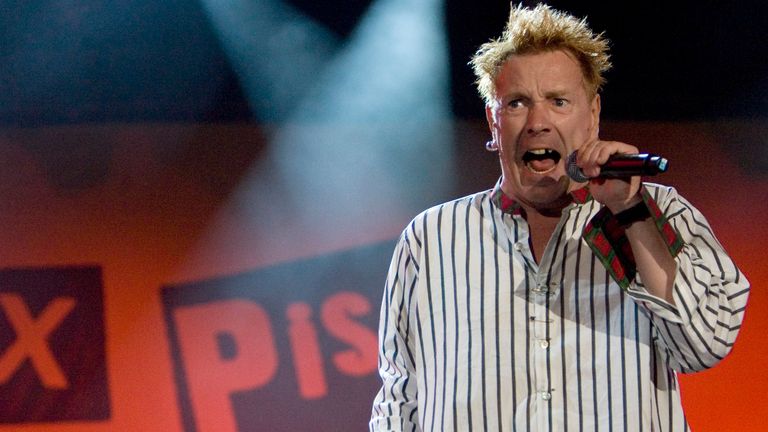 Edmund Cullen, who is representing Cook and Jones at the High Court in London, said the former bandmates have a "brittle and fractious" relationship.
He added that the group's original bassist, Glen Mattock, and the estate of his late replacement, Sid Vicious, were behind Cook and Jones.
Representing Lydon, Mark Cunningham said in a written argument that Jones's memoir (on which the show will be based) depicted the singer "in a hostile and unflattering light," and describes Johnny Rotten as "the annoying little brat with the great bone structure who's always asking for more."
The case is set to continue next week.
Pistol, a six-part series, is slated to hit screens next year.
It's due to air on the Disney-owned US network FX on Hulu, and Lydon has previously said of the plans: "Poor old Johnny Rotten is the victim of Mickey Mouse."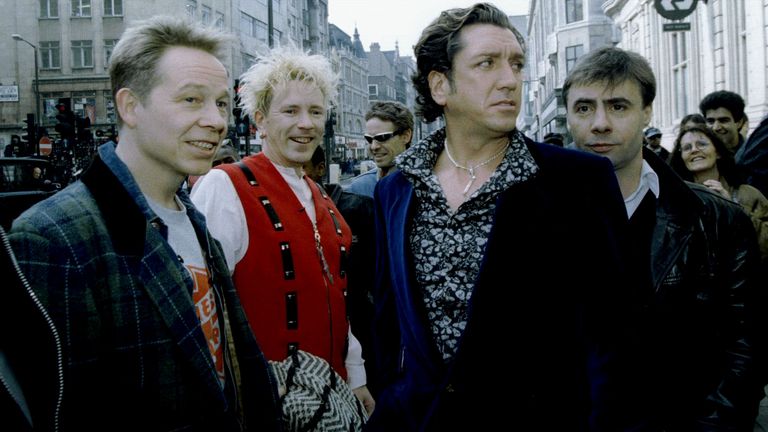 Subscribe to the Backstage podcast on Apple Podcasts, Google Podcasts, Spotify, Spreaker
The Sex Pistols formed in 1975 and had a short-lived career which consisted of just one album. However, they went on to become cult icons in the world of music, and have since performed together several times.
They are known for tracks such as God Save The Queen and Anarchy In The UK.
Sir Elton John to headline Glastonbury in last UK gig of farewell tour after 52 years on the road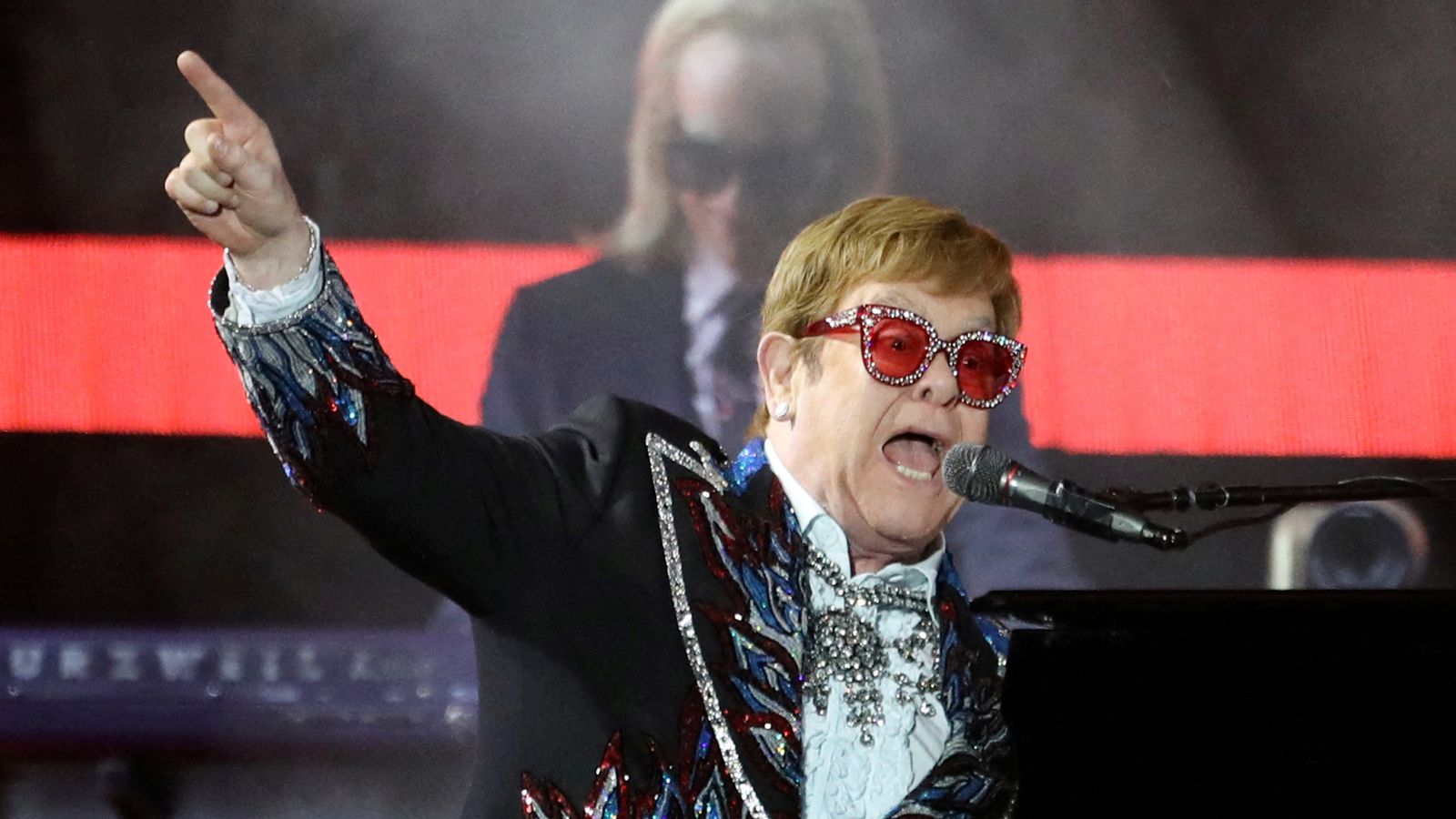 Sir Elton John is to headline at next year's Glastonbury Festival in his final ever gig in the UK on what has been billed as his farewell tour after more than 50 years on the road.
The Rocket Man singer will play the Pyramid Stage on the last night of the popular, sold-out event at Worthy Farm in Somerset, which runs from 21-25 June 2023.
Sir Elton said he "couldn't be more excited" to be appearing at Glastonbury 2023.
Glastonbury co-organiser Emily Eavis has promised it will be "the mother of all send offs".
The veteran megastar has been performing around the world as part of his marathon Farewell Yellow Brick Road tour which began in September 2018 before it was disrupted by the COVID-19 pandemic.
He said: "As the end of my Farewell Yellow Brick Road tour comes into view, there is no more fitting way to say goodbye to my British fans.
"They have been beyond brilliant, and have supported me through all the highs and lows of my career.
"Every week I speak to new artists on my radio show and Glastonbury is often cited as a pivotal moment in launching their careers – the festival's genuine, enthusiastic support for the best emerging talent is something I've long admired.
"I've been talking to Emily Eavis about it over the last few weeks and I can't wait to embrace the spirit of the greatest festival in the world. It's going to be incredibly emotional."
Ms Eavis said: "It gives me enormous pleasure to let you know that the one and only Elton John will be making his first ever Glastonbury appearance, headlining the Pyramid Stage on the Sunday night next year.
"This will be the final UK show of Elton's last ever tour, so we will be closing the festival and marking this huge moment in both of our histories with the mother of all send offs.
"We are so very happy to finally bring the Rocket Man to Worthy Farm."
The veteran singer's 300-plus date worldwide run is due to conclude next summer and will mark his retirement from touring after 52 years.
So far it has seen him perform across Europe with shows in Milan, Paris and Frankfurt, and he also recently ended the North American part of the tour at the Dodger Stadium in Los Angeles.
The final leg will include dates in Australia, New Zealand and European shows next year.
Throughout the tour, the megastar has treated fans to elaborate shows filled with extravagant costumes, spectacular visuals and classics from his catalogue including Tiny Dancer, Rocket Man, Your Song and hit recent number one single Cold Heart, which was a collaboration with pop star Dua Lipa.
In 2018, he announced his farewell world tour after deciding to bow out of live performing to spend more time with his two children.
The singer has had a glittering career that has seen him release a hit single in every decade since the 1970s, and notch up worldwide record sales of 300 million.
This year at Glastonbury Billie Eilish, Sir Paul McCartney and Kendrick Lamar headlined, with Diana Ross performing in the traditional Sunday Legends slot.
Sir Paul's Saturday headline slot on the Pyramid Stage saw the former Beatle become the festival's oldest solo headliner, performing a week after he celebrated his 80th birthday.
Indiana Jones And The Dial Of Destiny: First trailer revealed as Harrison Ford returns for fifth film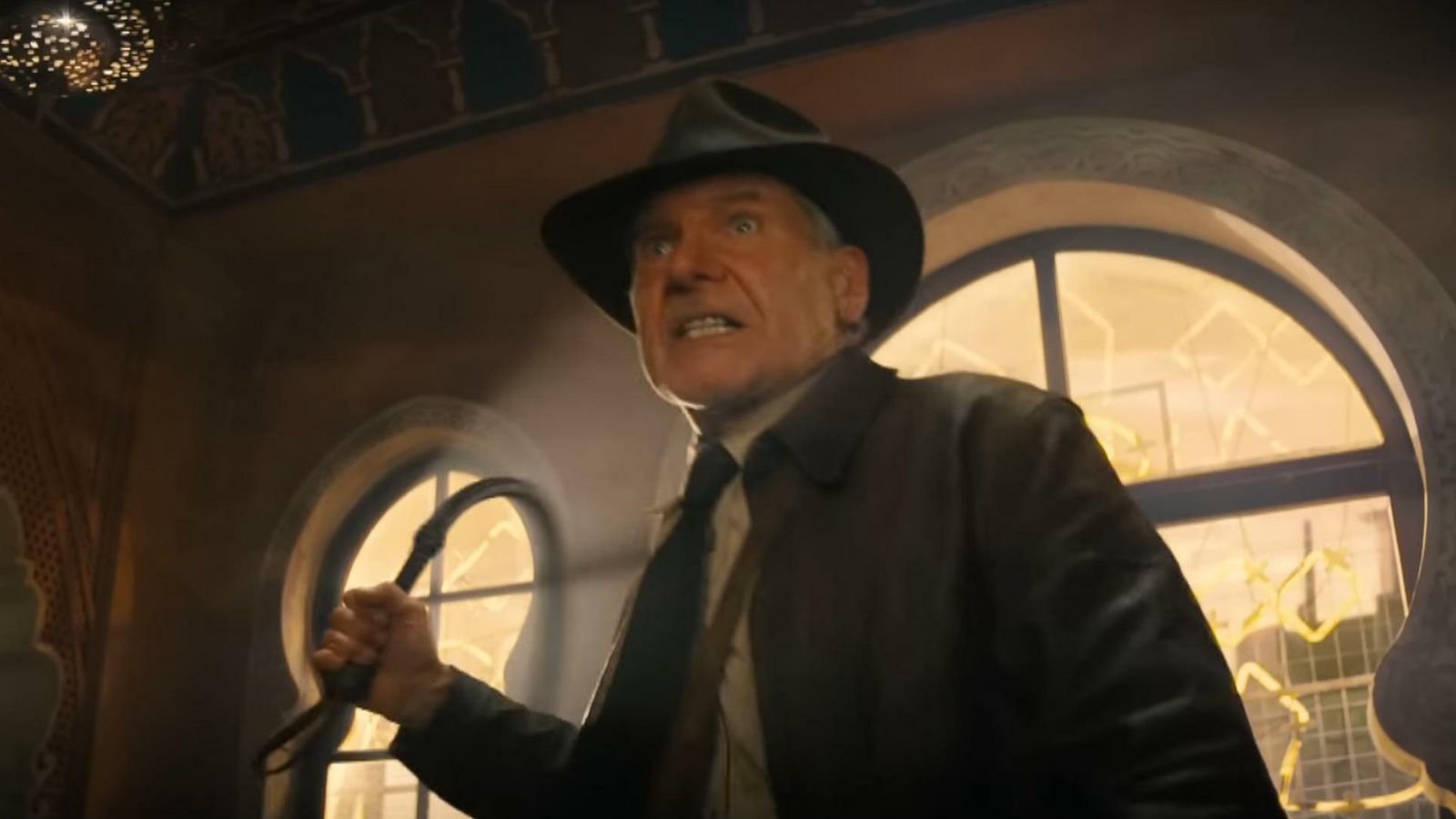 The first trailer has been released for the new Indiana Jones movie – with the title now revealed as The Dial Of Destiny.
Harrison Ford is back at age 80 as the famous whip-cracking archaeologist, more than 40 years after first playing the character.
Chase sequences, Nazi villains, a huge rolling boulder, and Ford riding a galloping horse through New York City all feature in the clip.
Indy's friend Sallah, played by Welsh actor John Rhys-Davies, is also back.
He's heard telling the adventurer: "I miss the sea. I miss waking up every morning wondering what wonderful adventure the new day will bring to us."
Ford's character reminisces: "I don't believe in magic, but a few times in my life I've seen things, things I can't explain.
"And I've come to believe it's not so much what you believe, it's how hard you believe it."
The actor is 'de-aged' in many of the sequences and looks similar to how he appeared in the previous films.
Phoebe Waller-Bridge also shows up in the trailer as his goddaughter, while Mads Mikkelsen and Antonio Banderas are the other big names involved.
The Dial Of Destiny is due to be released on 30 June and is directed by James Mangold, the filmmaker behind Le Mans 66, Logan and Johnny Cash biopic Walk The Line.
Indiana Jones, along with Han Solo, are the two roles that have defined Ford's career – and fans will be hoping for a better movie than the last reboot.
Kingdom Of The Crystal Skull (2008) was widely regarded as a disappointment despite being directed by Steven Spielberg, who did the original trilogy.
Harry and Meghan's documentary series trailer released by Netflix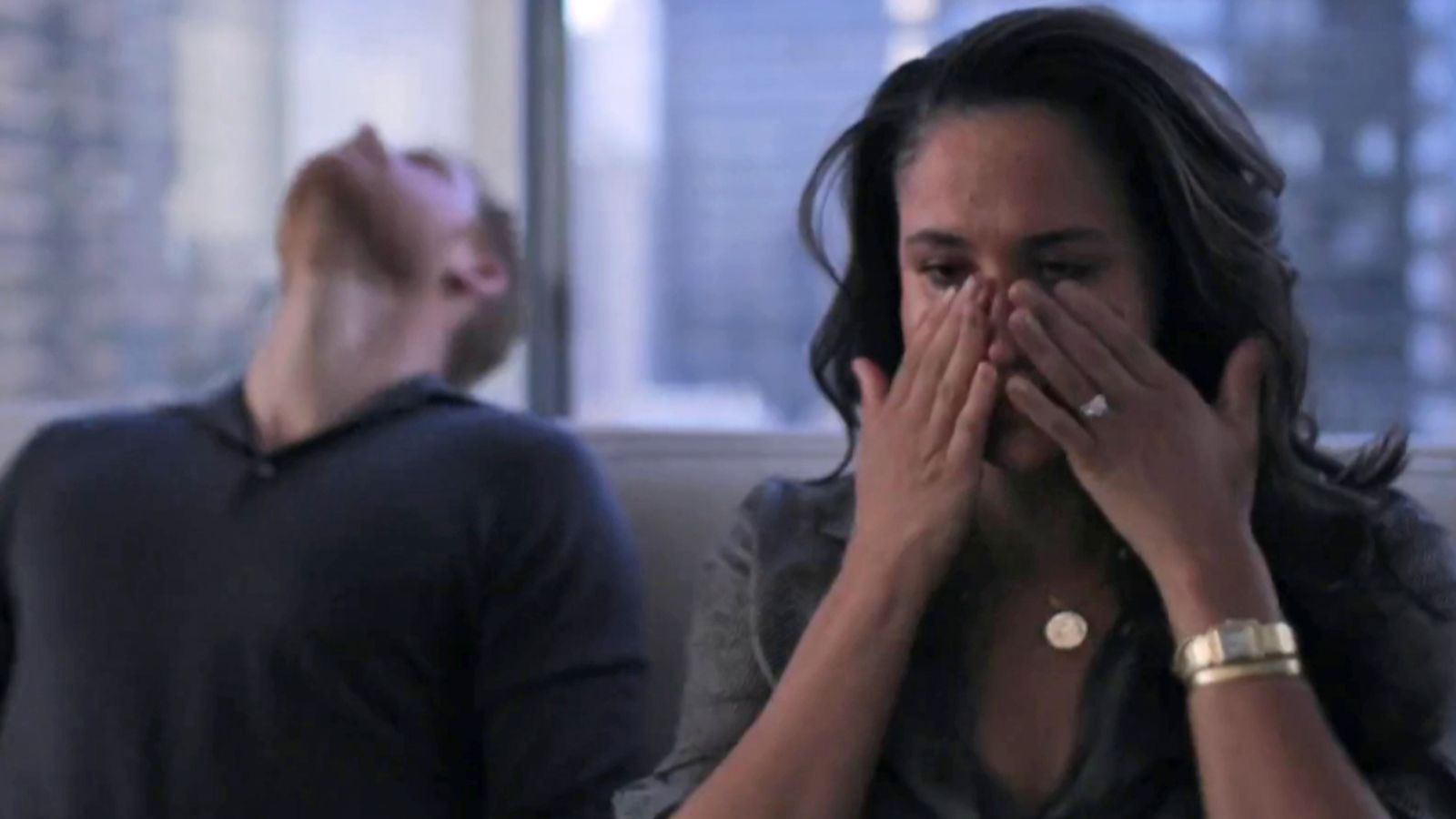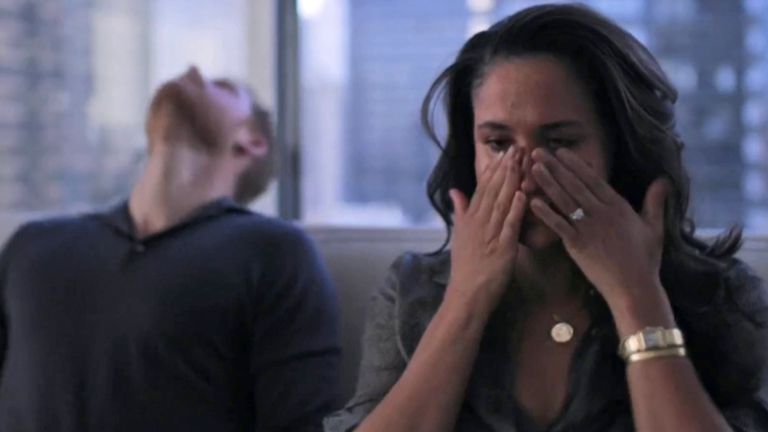 The trailer for Harry and Meghan's new documentary series has been released.
The one-minute preview, released by Netflix, features previously unseen black and white photographs of the couple set to music.
They are heard being asked "Why did you want to make this documentary?" to which Harry replies: "No one sees what's happening behind closed doors."
He adds: "I had to do everything I could to protect my family" before Meghan is seen wiping away tears.
The trailer ends with Meghan saying: "When the stakes are this high, doesn't it make more sense to hear our story from us?"
Images of William and Kate with Harry and Meghan at the Commonwealth Day service in 2020, the Sussexes' final public appearance as senior working royals, feature among the images.
There are also joyful pictures of the couple kissing while Meghan sits on a kitchen counter, as newlyweds dancing at their wedding, cuddling in a photobooth, and Meghan cradling her baby bump.
But the duchess is also pictured in sadder moments, wiping away tears and sitting with her hands covering her face.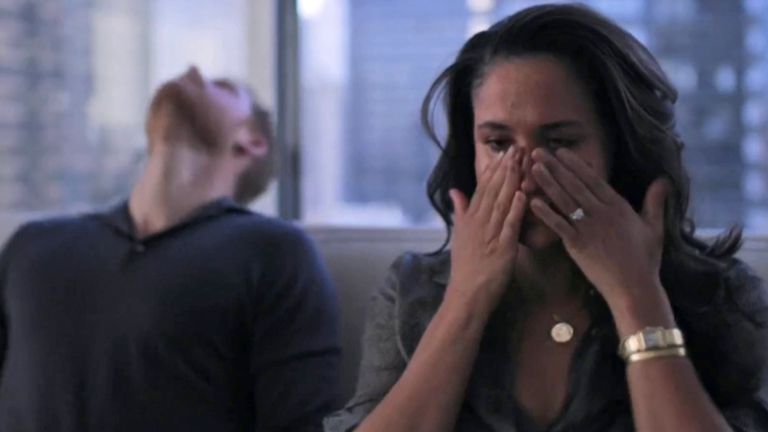 Netflix describes the documentary, titled Harry & Meghan, as a "global event" and says it is "coming soon" – reports say it will land on 8 December.
It says the show "explores the clandestine days of their early courtship and the challenges that led to them feeling forced to step back from their full-time roles in the institution".
It features commentary from friends, family and royal historians.
It adds: "The series does more than illuminate one couple's love story, it paints a picture of our world and how we treat each other."
The director, Liz Garbus, is a two-time Academy Award-nominated and Emmy-winning director.
Harry and Meghan signed lucrative deals – thought to be worth well over £100m- with Netflix and Spotify after quitting the monarchy and moving to the US.