The stage is set: What to expect at England's theatres, cinemas and clubs from tomorrow
For performance venues around England, it is the week they have been waiting for – being able to legally fill their auditoriums after 17 months.
But despite all legal limits being lifted, venues and theatres, while excited, are tentatively making changes to their policies – with some opting to keep some restrictions.
Ahead of Monday, Sky News has spoken to a number of people from the industry that have expressed their relief, anxieties and hopes for the next step in its social and financial recovery.
'Important' for UK that theatres reopen – McKellen

Nica Burns, co-owner of Nimax Theatres in London
Six of London's best known theatres, such as the Lyric and the Palace, are co-owned by Nica Burns – making her a major player in the city's entertainment district.
Speaking to Sky News from her office on Zoom, she said that while restrictions across the UK are lifting, her theatres would not be immediately increasing capacity and relaxing mask rules.
A number of her venues opened in May at the initial lifting of restrictions, meaning she has already had a head start.
"A lot of tickets that were already sold, had been sold at 50%," she said. "The advance ticket sales go back a couple of months when what they were promised were the capacity and robust mitigation measures – and we're giving them 50%, and 60% and 70% capacity will go up to potentially go to 75%."
Explaining her more cautious approach, she said: "I think it's that I just thought that was the right thing to do."
Ms Burns added that some of her theatres are old and narrow, meaning, for now, reduced capacity will help alleviate pinch points and keep people safe.
The approach taken by Ms Burns is different to that of counterpart Andrew Lloyd Webber, who is planning to pack his auditoriums as soon as possible and is hosting what he calls a "Freedom Day" performance of Cinderella – but his theatres will still require patrons to wear masks and present recent proof of a negative test, according to his website.
Delfont Mackintosh Theatres, home to shows such as Mary Poppins and Hamilton, also says online that it will be asking for proof of vaccination status and encouraging mask use from 21 July when auditoriums fully reopen.
Shows in the West End are booking now.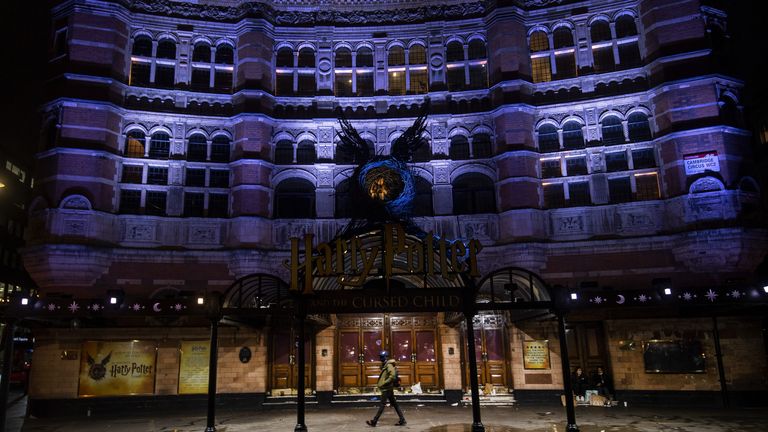 Chris Stafford, chief executive of Curve Theatre in Leicester
The Curve Theatre in Leicester will open on Tuesday, without any social distancing, for the first time since the pandemic when the national tour of Magic Goes Wrong opens.
"We're really pleased to say audiences feel confident returning to theatre," Mr Stafford told Sky News over Zoom from the venue's auditorium.
"We are seeing audiences booking tickets to come back and have a shared experience together.
"But also, one of the really important things for us is that we offer audiences as they build their confidence security, that the theatre coming back and returning to live events will be as safe as it possibly can be."
Mr Stafford explained that while his venue received culture recovery grants from the government, and that his venue is partially subsidised by the Arts Council, audiences need to return to "pre-COVID levels".
He added that 330,000 people a year were visiting his venue before the pandemic – making it a key part of Leicester's economy
"It's essential that they survive this pandemic," he concluded.
Masks will still be required at the venue, Mr Stafford confirmed, while social distancing will be dropped.
Leicester Curve reopens on Tuesday 20 July, with a touring production of Magic Goes Wrong.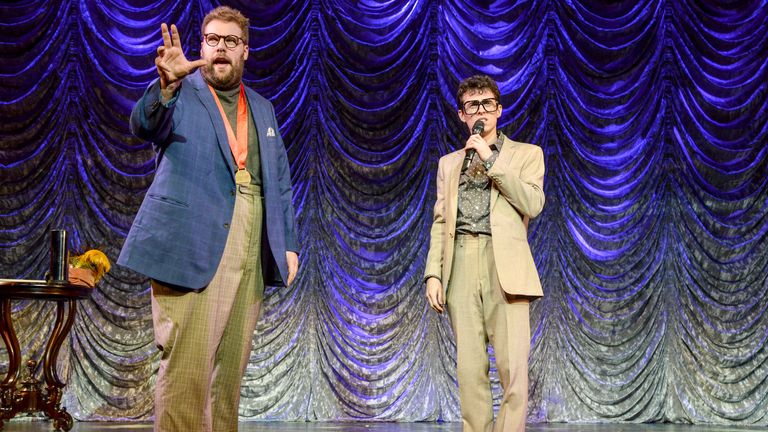 Loki Mackay, manager of The Comedy Store in London
"There are so many things to do still," Loki Mackay told Sky News ahead of The Comedy Store reopening, adding: "The short notice made it difficult to plan ahead."
The iconic central London venue will open its doors again next week and invite punters back in to what is one of the world's most famous comedy clubs.
Upon reopening, the club will go pretty much back to standard trading – masks will be optional, no social distancing will be in place, and visitors won't need to prove their health status.
Mr Mackay told Sky News he was "doing okay with tickets" but added there will be no full houses for a while.
He says comics are "raring to go" after 18 months of podcasting and blogging to make ends meet.
On support over the last year, he said that it was "b***** all" and that everything they have heard has been through the newspapers. And while he has had some some Arts Council funding, it all went on rent.
The venue reopens later this week, with acts such as Marcus Brigstocke, Kiri Pritchard-Maclean and Tom Stade.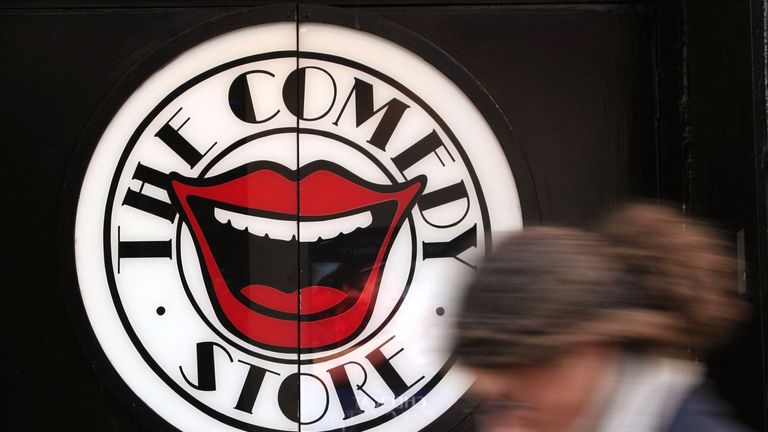 Sir Ian McKellen, theatre legend appearing in Hamlet at the Theatre Royal Windsor
Sir Ian McKellen, 82, who is starring in Hamlet at the Theatre Royal in Windsor, told Sky News he believes audiences will be nervous to come back into venues.
He said: "I am a little bit nervous about that. I daresay the audience will be nervous too.
"Do audiences really want to come back and sit next to people with a cough, who's a bit fidgety?"
He said he didn't know if "our patterns of behaviour" will have changed, or "will swing back to normality".
Sir Ian added: "I suspect not for a little bit."
Tickets for Hamlet, which has just extended its Windsor run, are available now.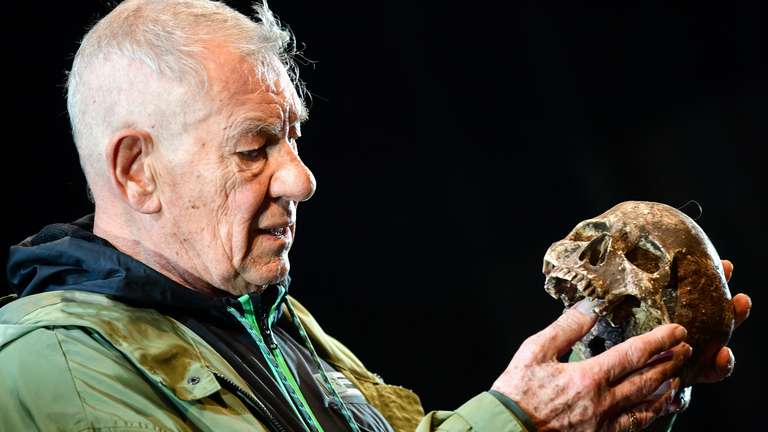 Mazz Murray and Ben Forster, West End performers and appearing at the Royal Albert Hall
The Royal Albert Hall will be back with a bang this week, as it hosts its delayed 150th birthday celebrations.
On Monday it will host its very own 150th birthday party, then on Wednesday, stars of the West End will take to the stage in aid of charity Acting For Others.
Ben Forster, who has performed iconic roles such as Jesus, in Jesus Chris Superstar, and the Phantom, in Phantom Of The Opera, will be one of the stars on stage that night.
"The last 18 months has been terrible. We would never have expected coming into the pandemic that it would have lasted for so long," he told Sky News from the Royal Albert Hall.
"I just want people to feel the love again, and it heightens people's spirits. That's why people go and watch musicals, because it lifts them and takes them on a journey for for a moment. And that's what this show is going to do."
Mazz Murray, who will be taking on the role of Donna in Mamma Mia in August, will also perform, and says it's going to be a "real mix of emotions".
Murray added that while performers have had little support over the past year-and-a-half, "there's been no precedent and that unfortunately their professions were spent in dark, busy unventilated spaces".
"So if anyone's going to have to take the rough end, then I'm prepared to take it," she said. "It was it was very, very difficult. I'm hoping that we're at the end of it, but I love what I do – so on this occasion, we all got the short straw."
Like other venues, the Royal Albert Hall is asking people to wear masks and take tests – but won't enforce it as the hall feels it is unfair when the government permits taking masks off.
Tickets to The Best Of The West End on Wednesday 21 July are available now.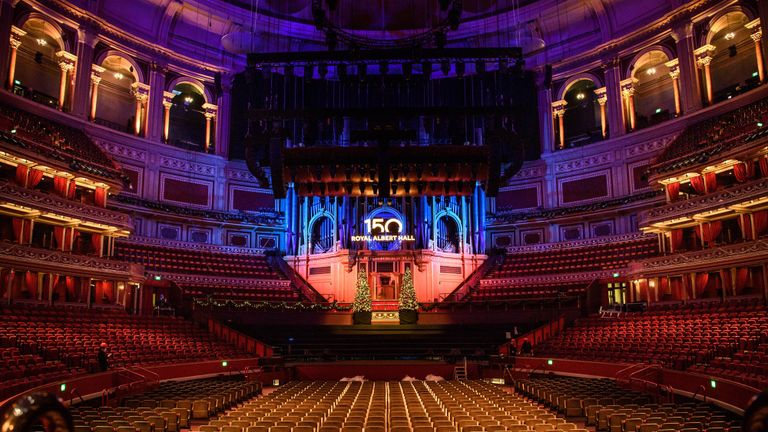 Jenna Boyd, West End performer in Come From Away
Jenna Boyd will be part of the cast of the Olivier-winning Come From Away when it reopens later this week.
It's based on the true events in the immediate aftermath of 9/11 when planes were rerouted to Gander in Newfoundland, Canada.
Speaking to Sky News during a rehearsal break at the Phoenix Theatre, Ms Boyd said the last 18 months had been "hideous".
"This industry has felt abandoned," she said. "There are a number of people who have been fortunate enough to be able to receive some sort of financial aid – but the huge majority of people have been literally hung out to dry."
Speaking about getting back on stage, she said: "I think it's going to be fairly overwhelming for all of us. There's going to be a few tears as we walk out and there's going to be a few tears as we finish, and it's all because the love that the audience gives from their appreciation of what goes on on that stage and the story that's been told is so, so mammoth."
Come From Away opens on 22 July at London's Phoenix Theatre.
Steve Cowley, local theatre performer, appearing in one man show Battle Cry
Steve Cowley from Chesterfield in Derbyshire says he is "really excited" to get back on to stages over the next few weeks. He'll perform in one man show Battle Cry in Birmingham and Buxton – the first time he'll have appeared on stage in the flesh since early 2020.
The show is about a veteran suffering with PTSD, which opened to acclaim when it debuted a couple of years ago.
Mr Cowley teaches acting as well as treading the boards for a living, but last year left him at a loss when his only work suddenly dried up.
"Even my agent had to get another job," he told Sky News from his local theatre, adding: "It's scary to see the industry on its knees.
"We were probably overlooked, and I thought I might quit at one point.
"I used the government's job retraining tool, and it gave me things like market trader, funeral director and beauty consultant – none of them were me."
You can watch Battle Cry at the Buxton Fringe on 23 and 24 July.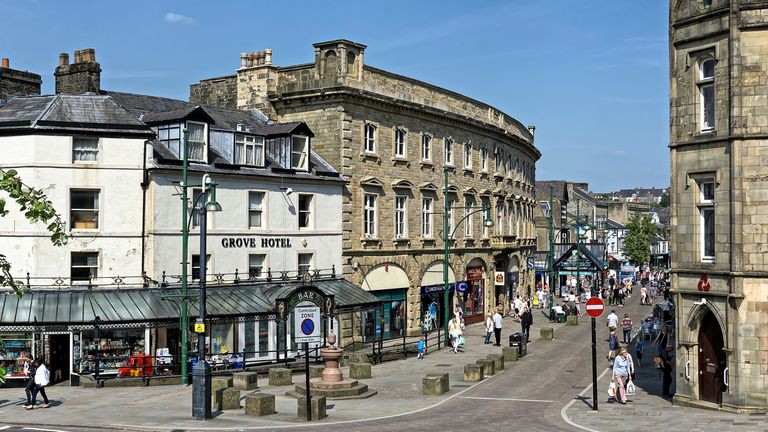 Cinemas and gig venues
It's a busy time for large parts of the industry right now, understandably, so many of the people Sky News contacted were unable to chat.
However, cinemas such as Vue and Curzon said in statements that masks would still be encouraged at their screenings with safety protocols – like enhanced cleaning – largely unchanged. The UK's biggest chain, Cineworld, says masks remain mandatory in Scotland, Wales and Northern Ireland, as per the government guidance there, but won't be in England anymore (they will be encouraged for staff, though).
At gig venues – the Academy Group, which looks after the local O2 venues across the country, says while masks are no longer mandatory, their use is encouraged. Its venues will also be asking for proof of a negative test or that both vaccinations have been had.
It is important to note that each venue, company and operator will have different rules, and it is advised to check with them before making any decisions to book events.
Avatar is back after 13 years – but will the sequel live up to the original?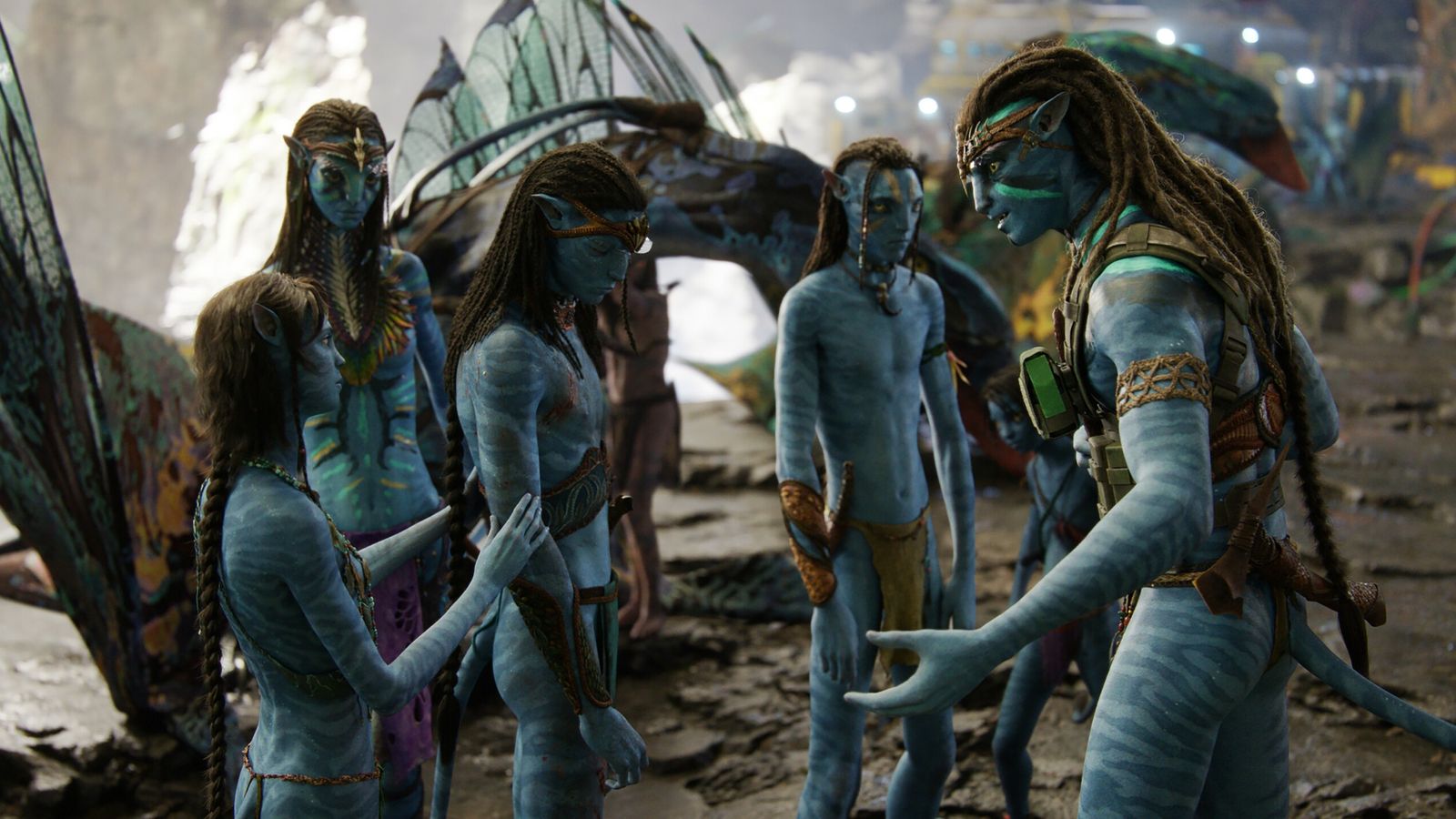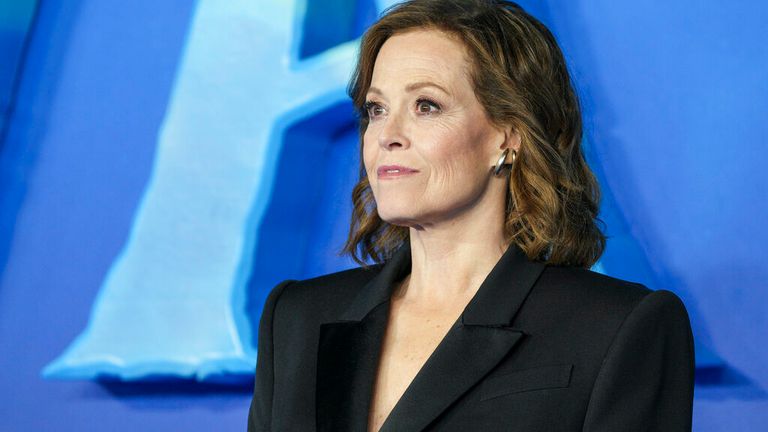 Thirteen years on, James Cameron's mega-budget Avatar sequel opens in cinemas next week, hoping to illicit that same appetite in cinemagoers for the 3D magic of the first.
While the medium has fallen out of favour, it remains Cameron's preferred choice of viewing.
But not only will cinemagoers need 3D glasses – coming in at a whopping three hours and 10 minutes, it also requires stamina.
Click to subscribe to Backstage wherever you get your podcasts
With production costs totalling around £285m (up there with the most expensive films ever made), to make it worth Disney's while, the epic has to at least end up making it into the top five highest grossing movies of all time.
To do so, it needs audiences to want to see it more than once, which perhaps isn't too unreasonable when you factor in that a huge amount of the money generated in both of Cameron's previous blockbusters – Titanic and the first Avatar – came from cinemagoers paying to see the film's multiple times.
But in a cost of living crisis do we have the cash now?
The film sees Sam Worthington return to the role of Na'vi leader Jake Sully and is rooted around the family he now has with warrior Neytiri, played by Zoe Saldana.
"The movie's mighty," Worthington told Sky News.
"It's a mighty film, and very heart-wrenching.
"We all went through a pandemic together as a whole world, and that's a connection that we all have to each other… and it's about us being connected as individuals – I think that's very important to relate to and really take to heart."
Thanks to the magic of motion capture, Sigourney Weaver returns, playing Jake Sulley's adoptive teenage daughter.
'I needed to see it twice'

"It's an experience so immersive and also takes your breath away," she told Sky News, adding that she will need to see the film once more to get the full experience from it.
The sequel also features Kate Winslet in the cast as the matriarch of an ocean-bound clan.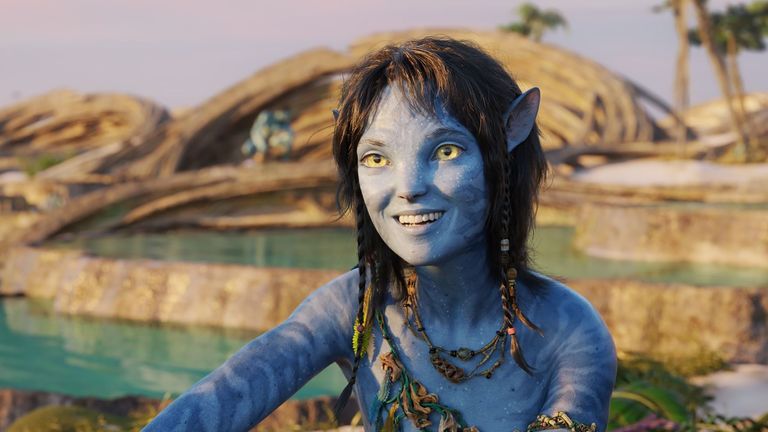 For the Oscar-winning actress it was a chance to work, once again, with the filmmaker who put her on the Titanic:
"He (Cameron) asked and I said yes. Why on earth would I not?," she told Sky News.
"Also, my children would never have allowed me to. They were like… just do it."
Kate Winslet on accepting Avatar role

Cameron, who overtook his own movie, Titanic, with Avatar as the highest grossing film ever in 2009, has already set the wheels in motion for the next films in the franchise – and spent much of the last decade preparing.
"It was a lot of time spent working on the script for four movies, production design for four movies, a bunch of new technology we needed," he said.
"And then we started at full tilt five years ago… and then we shot two movies, actually part of the third one."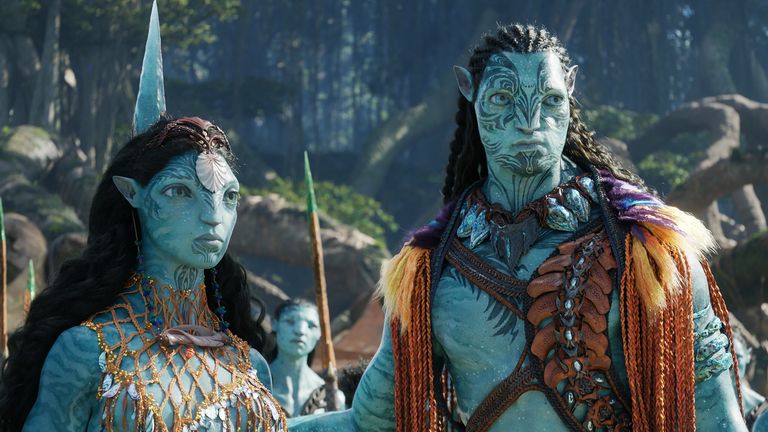 Cameron also describes his new sci-fi epic as a "love letter to the oceans".
"A lot of people [in 2009] picked up on the messaging around the rainforest and around the plight of indigenous cultures around the world.
"We have that in spades now because nothing has really got that much better – in the meantime, this one is my love letter to the oceans and a cry for people everywhere to be responsible for guardianship of the oceans."
Right now the Na'vi's survival might just depend on what happens off-screen more than on.
Avatar: The Way of Water is in cinemas on 16 December.
Stephen Bear: Reality TV star on trial accused of sharing garden sex tape on OnlyFans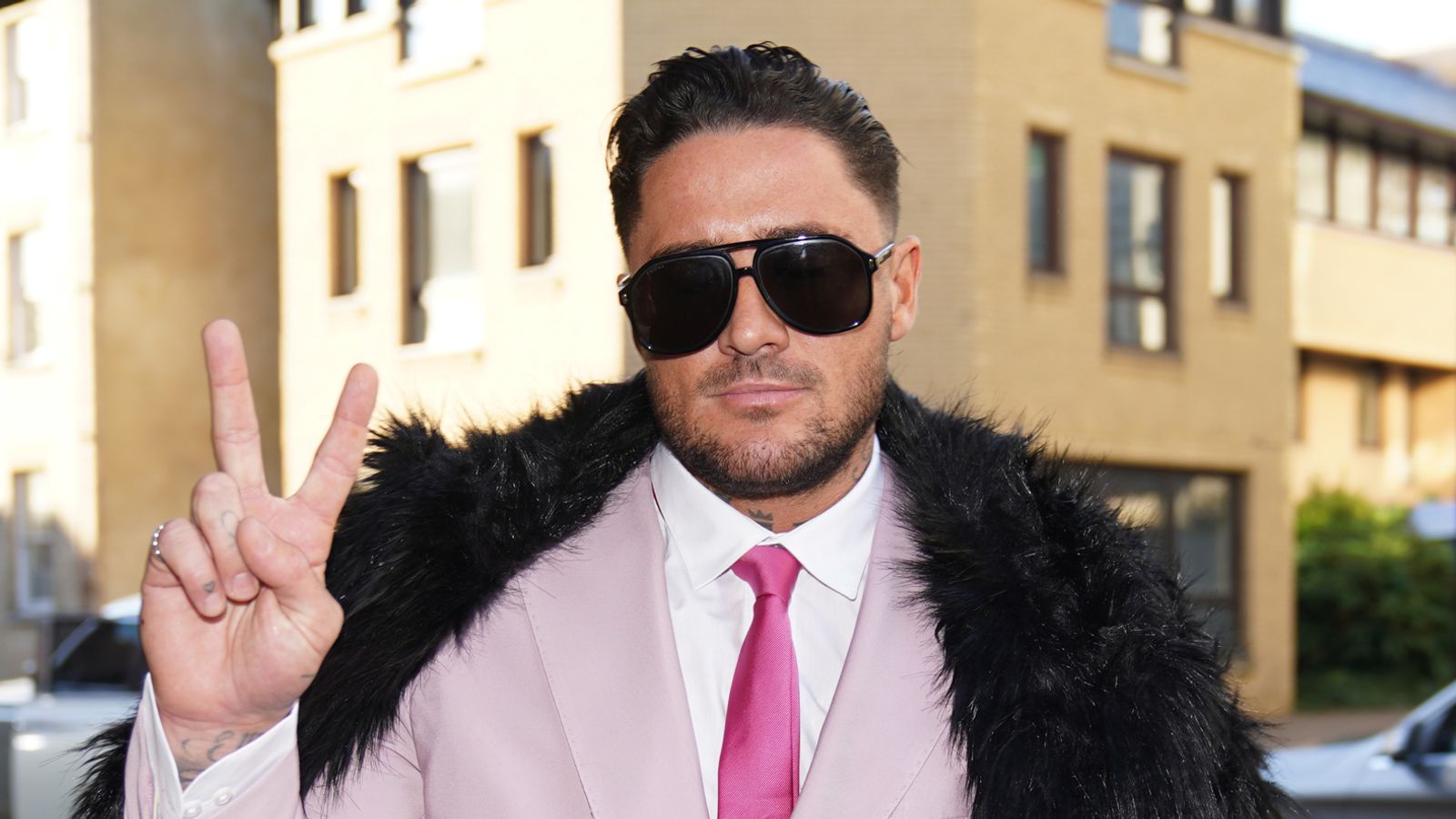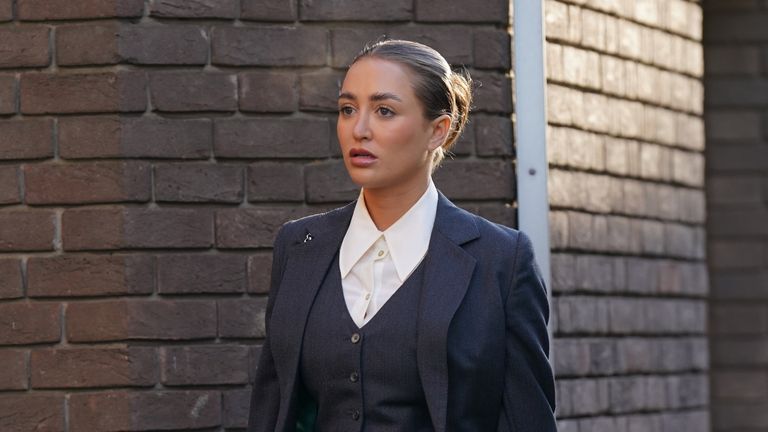 A reality TV star has appeared in court accused of sharing a garden sex tape on the online subscription platform OnlyFans.
Stephen Bear is accused of voyeurism and two counts of disclosing private, sexual photographs and films.
The 32-year-old, who won Celebrity Big Brother in 2016, came to Chelmsford Crown Court wearing a pink suit and fur coat. He denies the charges.
The trial heard Bear had sex with his ex-girlfriend Georgia Harrison in his garden before sharing footage of it – caught on his CCTV cameras – on OnlyFans.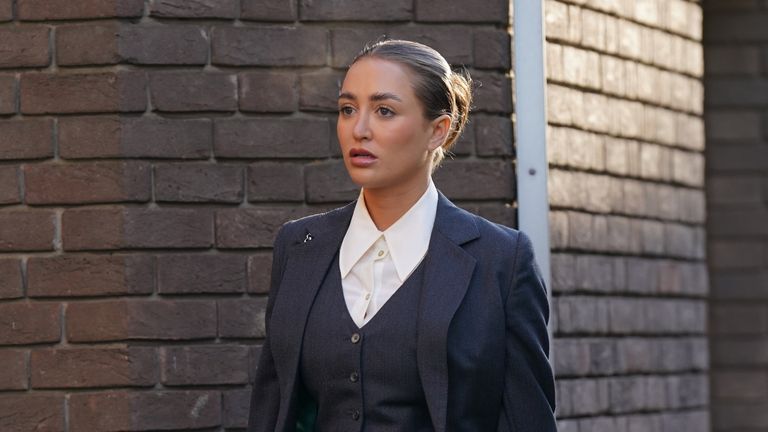 Ms Harrison, who has appeared on several reality shows including The Only Way Is Essex (TOWIE), waved her right to anonymity in relation to the case.
Jacqueline Carey KC, opening the prosecution case, said: "In August 2020 the complainant Georgia Harrison met up with her former boyfriend Stephen Bear.
"They had some lunch and had some drinks and ended up back at his house in Loughton (in Essex).
"They engaged in consensual sexual intercourse in his garden.
"What she didn't know but he did was Mr Bear had CCTV cameras in his garden that recorded them having sex."
The barrister said that later that day Bear told Ms Harrison and showed her the footage.
"She told him never to send it to anyone and made it plain how upset she would be if he did," said Ms Carey.
She went on to say that Bear sent the footage to someone on WhatsApp that night "despite knowing how upset she would be if the footage were to get out".
She told the court that Bear later uploaded the footage "either himself or had it uploaded to OnlyFans and profited financially".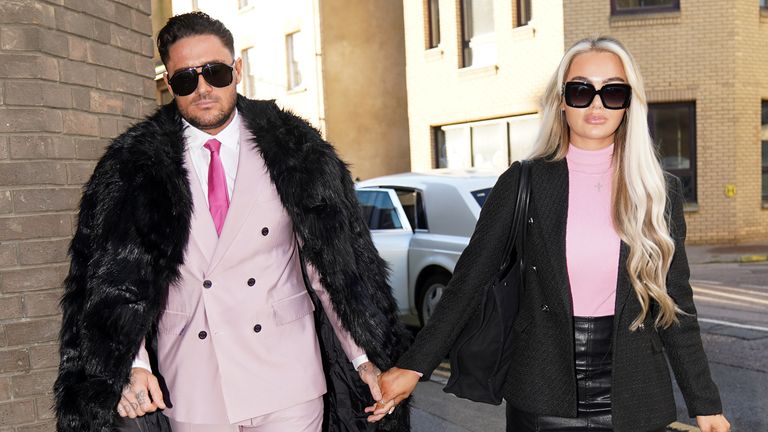 Ms Carey added: "The defendant was effectively selling the footage to get money".
OnlyFans is a platform known for adult content, which enables fans to pay creators for their photos and videos.
Bear, of Loughton in Essex, arrived at court with his current girlfriend Jessica Smith, in a chauffeur-driven white Rolls Royce.
He wore a pastel pink suit, fuchsia tie, black fur coat and dark sunglasses.
The alleged offences are said to have taken place in August 2020 and in November 2020.
Bear was arrested in January 2021 at Heathrow Airport following a trip to Dubai, and charged in May 2021.
Click to subscribe to Backstage wherever you get your podcasts
The case had originally been scheduled for February this year but was pushed back.
Bear won Celebrity Big Brother in 2016 after finding fame on Ex On The Beach. He went on to co-present just Tattoo Of Us with Charlotte Crosby on MTV in 2017, and has appeared on Celebs Go Dating for Channel 4 and Eating With My Ex for BBC Three.
His former girlfriend, Ms Harrison, 27, has appeared on shows such as Love Island and Olivia Meets Her Match.
The trial, which is expected to last at least four days, continues.
Kirstie Alley: Cheers star dies after short illness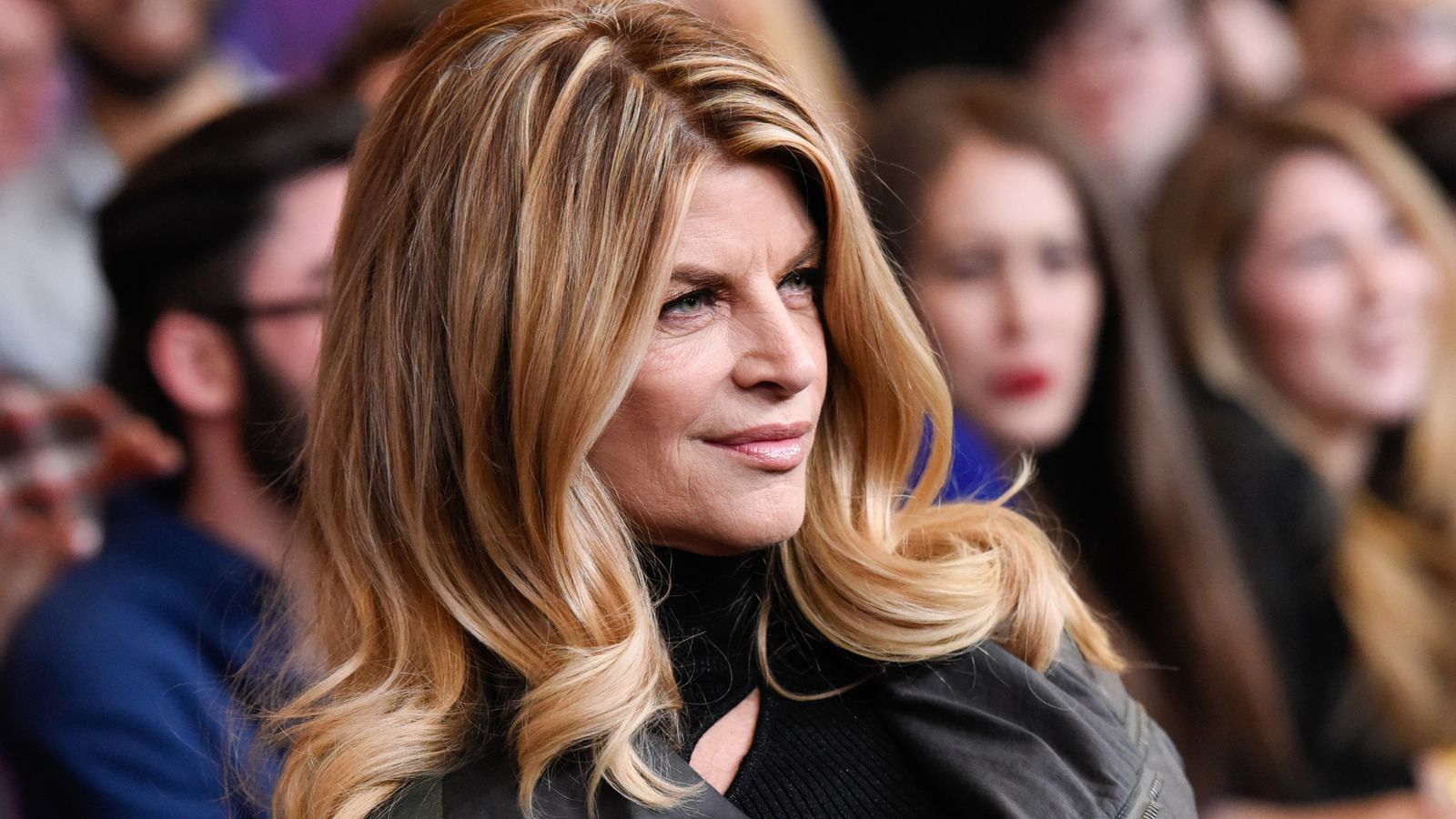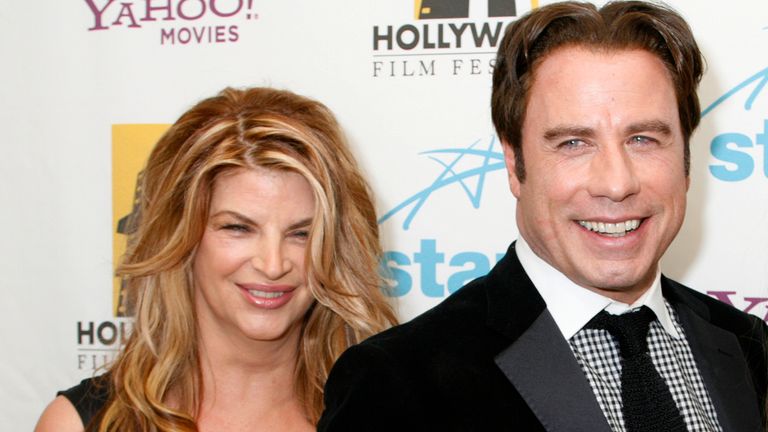 Kirstie Alley – who shot to fame after appearing in the US sitcom Cheers – has died at the age of 71.
In a statement, her children said: "We are sad to inform you that our incredible, fierce and loving mother has passed away after a short battle with cancer, only recently discovered.
"She was surrounded by her closest family and fought with great strength, leaving us with a certainty of her never-ending joy of living and whatever adventures lie ahead."
Alley was best loved for her role as Rebecca Howe in the long-running US comedy Cheers, in which she appeared as the on-off love interest of Boston bar owner Sam, played by Ted Danson.
She also starred alongside John Travolta in the successful 1989 romantic comedy Look Who's Talking.
The actor paid tribute to her on social media. "Kirstie was one of the most special relationships I've ever had. I love you Kirstie," he wrote on Instagram, alongside a photo of the late star. "I know we will see each other again."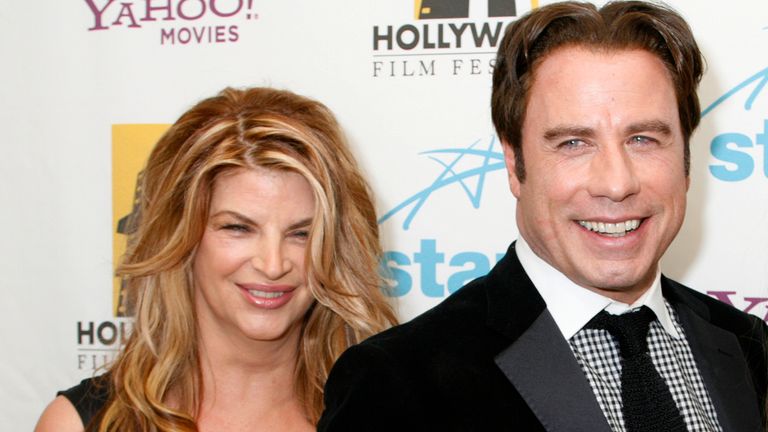 From 1997 to 2000 she had her own sitcom on US network NBC, Veronica's Closet.
Later, in 2018 she took part in UK Celebrity Big Brother, in which she finished as runner-up.