Ron Francis and Dave Hakstol didn't know they were participating in a four-week audition.
They bonded at the 2019 IIHF world championships in Austria and Slovakia, where Francis was part of Team Canada's management brain-trust and Hakstol was a member of the men's team coaching staff.
"I got to know him as a person and watch his work ethic, building that respect for what he can do," Hakstol said.
Francis was named the first general manager for the expansion Seattle Kraken later that year. After his first NHL head coaching gig with the Philadelphia Flyers from 2015-18 — making the leap from coaching the University of North Dakota — Hakstol was hired as an assistant coach with the Toronto Maple Leafs before the 2019-20 season, working under Mike Babcock and then Sheldon Keefe.
Francis kept him in mind as he cast his net for the first Kraken coach. On June 24, it was announced that Hakstol got the job — a surprise to some, given that his name wasn't among the ones rumored to be in the running.
But Francis wasn't surprised in the least that Hakstol ended up being his guy.
"As we went through the process, he was certainly a guy that I had interest in talking to. He's got the experience. It was maybe a big jump from college the first time, but now he's been in the league for six years, he's worked under some different coaches and has a bit more experience, so we're comfortable in that regard. We were always comfortable with his hockey acumen," he said.
ESPN spoke with Hakstol recently about getting this coveted job, the upcoming expansion draft, learning from failures, and whether the Vegas Golden Knights have set the bar uncomfortably high for Seattle.

ESPN: Let's start at the very beginning: What was your reaction when you heard Seattle's nickname and saw its colors for the first time?
Hakstol: [Laughs] I didn't know what it was at the time. I had learn what it was.
ESPN: You mean what a Kraken was?
Hakstol: Yeah. But something I've learned over time is to be open to new things, right? Once I started seeing the merchandise and learning what it was and seeing how attached the fans were to the name, it's really cool. Seattle's going to be a great spot for the NHL. You're going to see a lot of the merchandise, not only in Seattle but around the NHL.
ESPN: How did this stay so quiet? Were you watching all the speculation about possible coaches and thinking "wow, I've really kept this under wraps?"
Hakstol: Around 7:45 a.m. PT, the day of the announcement, it started to get out a little bit. I don't think we really tried to keep anything quiet. We just dealt directly with one another. There was no special effort to keep things quiet. I obviously paid attention to everything that was going on. Speculation is part of the business, and there were a lot of really good people that were a part of the process. It's a pretty special opportunity there.
ESPN: You've obviously interviewed with an NHL team before. Was there anything unique about this process in talking with Seattle? Like, for example, if you talk with the Flyers, you know you're coaching Claude Giroux. So you might get asked about coaching Claude Giroux. But here, there isn't a single player yet.
Hakstol: Yeah, that's unique, when there's no players that are obviously in place. But the most important part of the [hiring] process, in knowing that it's the right spot, is the people that you're working with. I had a chance to get to know Ron a few summers ago and then through the interview process. That's still the most important thing. Players aren't in place, but philosophically, we can be on the same path and really work well together.
As we were over at the world championships, I understood what [Francis] was seeing on the ice. He places a ton of value on players that can think the game. Intelligent players. The pace of the game is a really big aspect. But most importantly, the competitiveness.
ESPN: So in other words, Ron Francis likes guys that who play like Ron Francis.
Hakstol: Yeah, I think that's probably an accurate statement.
ESPN: Francis spoke a lot about second chances at your press conference. You've said in the past about failure that "if you evaluate it, deal with it, learn from it, a lot of good can come out of it." I don't want to qualify the Philly experience as a "failure," but what did you learn about yourself in evaluating it?
Hakstol: The bottom line was there were successes and there were failures, and as you add it up, we didn't get to the finish line. I didn't get to the finish line of what I had hoped to accomplish. That's the bottom line. But I learned more about the everyday business of coaching and building an NHL team, from start to finish every year. That's the biggest part of the experience that I take away.
Now, I have some experiences doing this once on my own. And I worked with a couple of really good coaches in Toronto to see their way of doing things. That's all made me a better coach than I was six years ago.
ESPN: You were an outstanding college coach. I have to imagine dealing with college-aged players is a lot different than dealing with NHL players. What have you learned about managing pros?
Hakstol: How important every interpersonal relationship is. You have to grow those relationships. It doesn't matter if that player is playing seven or eight minutes or he's playing 20 minutes a night. You really need to do a great job in relationship building with each and every player, and communicating with each and every player, because there's going to be ups and downs. There's going to be some good and some bad.
ESPN: Obviously, part of that communication process is having players in the dressing room who can help sell your message, who can be your guys in the room. Are you looking to maybe bring in some guys that you already have a relationship with or that you're familiar with that could be maybe eyes and ears in the room?
Hakstol: The process for [the expansion draft] … Ron and his staff have been preparing for that, and they're going to approach that draft with all the knowledge that they built. I've been asked my thoughts about guys along the way, and if I have clear opinions on them, I'll offer those opinions. If the right player is available, and that previous relationship exists, I think that's a head start. It's a benefit, but not a main focus. Everything after [the expansion draft on] July 21 is about building relationships with all the new players.
ESPN: It sounds like Francis and the front office are selecting this roster. That maybe you can give your input, but you're not sitting there with a back-of-the-napkin expansion list, and saying "hey, get me this guy."
Hakstol: Yeah, that's accurate.
ESPN: Is that a bit of a bummer?
Hakstol: Everybody has their roles and everybody has their things they have to execute. I actually look at the opposite way. I do have a part. I do have a seat at the table, to know and understand how we're building. I do get an opportunity to give my opinions where they fit. It's a great way to start.
ESPN: The front office is very analytics-driven. I know that was the case in Toronto, too. You seem like someone who is open-minded about them but likes to keep a foot firmly planted in the "this is still a human game" realm. Which side wins out in the end?
Hakstol: Coming up of the college game, we used very little analytics. We used some basic analytics data, but certainly not in the modern sense. But I learned a lot about it through my time in Philadelphia and as an assistant in Toronto. And I think it's a great tool. It really is.
There's an awful lot of good information that can help us as coaches. We're gonna use and take that information. We have a lot of very smart people in the analytics department. I want to take full advantage of the information they can provide us, so that we can connect that with the human side of the game.
ESPN: Are you ever worried that going with your gut too much, with a numbers-driven front office, could create a conflict?
Hakstol: No. I gotta be who I am, and I'll do that. I think the real key there is that you work hard and gain all the information. Because all that goes into gut feeling, right? The preparation, the mindset that you have. Those all help.
ESPN: You worked with newly hired assistant coach Paul McFarland in Toronto, but adding Boston's AHL coach Jay Leach was a surprise for a lot of us. How did he come to join your staff?
Hakstol: I was just fortunate that after an initial phone call he had interest. It's not a long-standing relationship. We didn't know each other before the interview process. I've just been really impressed with what he's done. You'll be hard-pressed to find a player that didn't love playing for him, and had gotten a lot better. He's got a unique ability in that sense. I was thrilled to have him join us in Seattle.
ESPN: Have you spoken to anybody that was involved with the Vegas Golden Knights when they started, to get some advice?
Hakstol: I know [Gerard Gallant] well and we've stayed in touch. We saw each other two world championships ago … you know, maybe I've been in too many world championships? That's not a good sign, right? [Laughs]. But in 2017, we were in Paris and Cologne together, and that's when I got to know Turk well, and he had accepted the job in Vegas. I kind of got an early look at things through him as he was going in, and then had the benefit of seeing the great job that he did there.
ESPN: Was it weird having him in the mix for this job?
Hakstol: I wouldn't say it was weird. He's a great man, great coach. The world is too small to be affected by that. Anything good that happens to him, I wouldn't be anything but happy.
ESPN: There was a time in recent NHL history when the expectations for an expansion team were quite low. Then came the Golden Knights and their run to the Stanley Cup Final in Year 1. Did they ruin the process for the Kraken? For example, you guy have better odds to win the Stanley Cup than Detroit and Buffalo.
Hakstol: [Laughs] I think it changes the comparisons, without a doubt, but I don't think it changes the standards from within. We have our own standards. We've gotta live to them every day. Will the comparisons be there? Absolutely, 100%. We're all really well aware of that and prepared for them.
ESPN: Finally, a lot of us hadn't seen you in a while. We didn't realize you had a goatee now. Did you grow it as a point of demarcation in your career? To be a "new" Dave Hakstol in Seattle?
Hakstol: [Laughs] No, I had to go into quarantine when I got to Toronto in late November, and I didn't shave for two weeks. Bam, there it was. My wife and my family weren't up there with me, so the goatee stayed. I started out with a full beard, and that was awful. So I shaved it and it stayed with me. At least for now.
Sources: Phils add RHP Walker for 4 years, $72M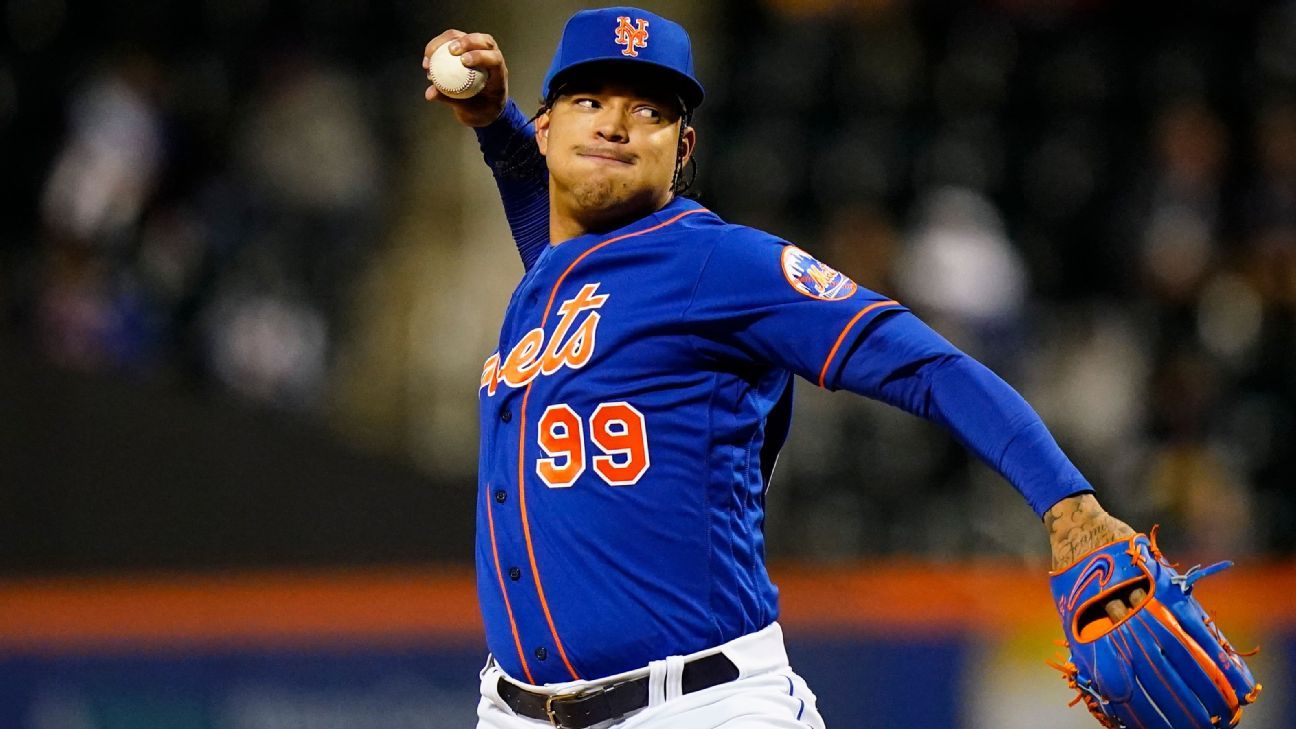 The Philadelphia Phillies and right-handed pitcher Taijuan Walker have reached agreement on a four-year, $72 million contract, sources told ESPN's Jeff Passan on Tuesday.
A day after reaching a blockbuster deal with shortstop Trea Turner, the Phillies add to their rotation with one of the top pitchers left on the free agent market.
Walker joins Philadelphia after one of the strongest seasons of his career in 2022, when he started 29 games for the New York Mets and posted a 3.49 ERA, 2.6 bWAR and a 1.19 WHIP in 157 innings pitched, striking out 132 batters while walking 45.
The Phillies mark the fifth team of Walker's major league career, including the Seattle Mariners, Arizona Diamondbacks, Toronto Blue Jays and Mets.
The 30-year-old righty served as a dependable back-of-the-rotation starter for the Mets throughout the course of the season before declining his $7.5 million player option for 2023, taking a $3 million buyout to explore free agency. The Mets declined to offer a qualifying offer to Walker.
Walker previously underwent Tommy John surgery in 2018 and missed the entire 2019 season. His 2022 campaign marked his most successful on the mound since undergoing treatment on a partial tear of a UCL in his right elbow.
Walker is the second pitcher to leave the Mets' rotation, after Jacob deGrom signed with the Texas Rangers. New York subsequently responded by signing Justin Verlander to a two-year, $86 million deal.
Pirates win 1st MLB draft lottery, right to pick first
The Pittsburgh Pirates secured the No. 1 overall pick in next year's draft on Tuesday, during Major League Baseball's first ever draft lottery. The next five picks, respectively, went to the Washington Nationals, Detroit Tigers, Texas Rangers, Minnesota Twins and Oakland Athletics.
MLB and the MLB Players' Association agreed to a draft lottery in the new collective bargaining agreement, whereby the 18 teams that did not reach the postseason would vie for the first six selections. Odds, based on 2022 winning percentage, ranged from 16.5% (for the Pirates, Nationals and A's) to 0.2% (Milwaukee Brewers).
The A's went in tied for the best chance at the No. 1 overall pick and finished with the No. 6 selection. The Twins took an even bigger step in the other direction, starting with the 13th-best odds and ultimately picking fifth.
The Nos. 7 to 18 picks in next year's draft – slated for July from Seattle, site of the next All-Star Game – will be slotted by reverse winning percentage, followed by how teams finished in the postseason (the World Series-champion Houston Astros, for example, will pick 30th). Rounds 2 through 20 will navigate entirely in reverse order of winning percentage and postseason finish.
We will select 1st overall in the 2023 MLB Draft! pic.twitter.com/fHNpobdFGM

— Pittsburgh Pirates (@Pirates) December 7, 2022
MLB placed more picks up for grabs than any other major spot in its first draft lottery. Only the first four picks of the NBA's draft are attained through the draft lottery. In the NHL, it's just the first two. The bottom three teams were all given the same odds for the No. 1 overall pick in an effort to disincentivize tanking for the worst record. Large-market teams (defined as those who do not receive revenue sharing) are prohibited from entering the draft lottery in back-to-back years; small-market teams can't enter it three straight years.
MLB Network announced the results of the lottery inside a ballroom from the Hyatt hotel that is staging this year's Winter Meetings, with executives from the 18 eligible clubs sitting at nearby tables and outfielder-turned-MLB-executive Raul Ibanez reading the results. But the process took place hours later, when a collection of sealed balls arrived in a suitcase and 1,000 four-number combinations were assigned to the 18 teams (the higher the odds for the No. 1 overall pick, the more combinations assigned to the team). Bill Francis, who helps run the MLB Draft, selected the six four-number combinations that determined the order. PricewaterhouseCoopers oversaw the process.
The top three players in next year's draft, based on rankings from ESPN's Kiley McDaniel in July, are: Wyatt Langford, a center fielder from Florida; Jacob Wilson, a shortstop from Grand Canyon; and Max Clark, a center fielder from Franklin Community High School in Indiana. This will mark the sixth time the Pirates select first overall. They did so as recently as 2021, selecting catcher Henry Davis out of Louisville.
Haniger to Giants; 3 years, $43.5M, sources say
The San Francisco Giants agreed to terms with outfielder Mitch Haniger, the team announced Tuesday, filling a hole in the Giants' outfield as they continue their free agent pursuit of American League MVP Aaron Judge.
The deal is for three years and $43.5 million and includes a player opt-out after the second year, sources told ESPN's Jeff Passan.
Haniger, who turns 32 later this month, has posted star-caliber numbers in the two seasons he has been healthy, but has struggled with injuries throughout his major league career, most of which he spent in Seattle. With the Mariners last season, he hit .246/.308/.429 with 11 home runs and 34 RBIs in 57 games, helping propel the team to its first playoff berth in two decades.
One season earlier, Haniger showed the sort of talent that led the Giants to consider a multiyear deal at $14.5 million a season. He hit 39 home runs, good for fifth in the AL, and drove in 100 runs while posting 3.9 Wins Above Replacement over 157 games, according to Baseball-Reference.
The Giants' offseason began with outfielder Joc Pederson accepting a $19.65 million qualifying offer. It continues with Haniger and could include Judge, who last year spent a majority of his time in center field but has played most of his career in right. Along with Haniger and Mike Yastrzemski, Judge could be part of the outfield while Pederson spends most of his time at designated hitter.
Long a fan favorite and leader in Seattle, Haniger joined the Mariners in November 2016, when Arizona — which drafted him in the first round of the 2012 draft — traded him along with Jean Segura for infielder/outfielder Ketel Marte and pitcher Taijuan Walker.
Haniger immediately produced for Seattle, putting up an OPS of .843 in his first season. His best year came in 2018, when he played 157 games and hit .285/.366/.493 with 26 home runs and played well above-average defense in right field.
The next season, in 2019, Haniger suffered a ruptured testicle after a foul ball took an unfortunate carom. The injury kept him out for the remainder of the season, and he missed significant time with back and core injuries, not playing in 2020.
His 2021 return was hailed in Seattle, where Haniger helped steer the Mariners to the cusp of the postseason with a bevy of clutch hits. He'll now slot into the middle of a Giants lineup that ranked 11th in baseball in runs scored but lost three-quarters of its infield — first baseman Brandon Belt, shortstop Brandon Crawford and third baseman Evan Longoria — to free agency.