Donald Trump's tax returns must be given to congressional investigators by the Internal Revenue Service (IRS), the US Justice Department has said.
In a memo on Friday, the department's Office of Legal Counsel said the Treasury should provide the House Ways and Means Committee with the former Republican president's tax details.
The move could bring about the end of a long legal showdown over the records.
It comes after Steven Mnuchin, who was then treasury secretary under the Trump administration, said that he would not hand over the tax returns.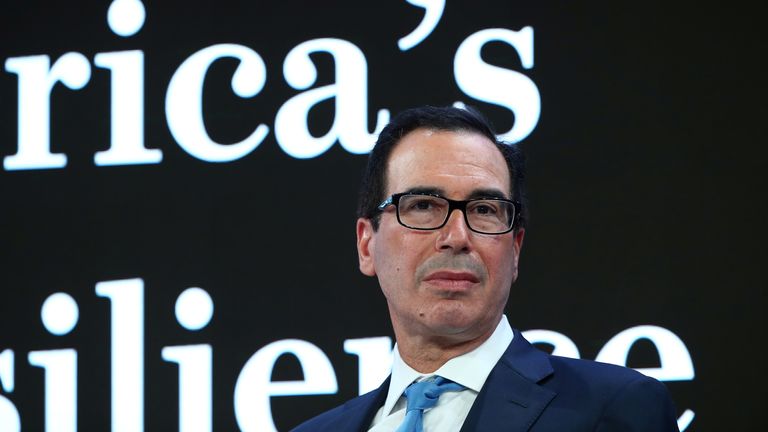 He argued that the records were being sought by Democrats, who controlled the House of Representatives, for "disingenuous" reasons aimed at exposing them to the public.
The committee then sued for the records under a federal law that says the IRS should give over any taxpayers' returns to a handful of top legislators.
The committee also said it needed Mr Trump's taxes for an investigation into whether he complied with tax law.
In Friday's memo, the Justice Department's Office of Legal Counsel said the committee chairman "has invoked sufficient reasons for requesting the former president's tax information".
The office added that under federal law the Treasury "must furnish the information to the committee".
It also said that the Justice Department had been mistaken in 2019 when it found the committee's request for his taxes had a partisan objective.
"We cannot know where receipt of the requested tax information will take the committee, any more than the committee itself can predict what it will find or determine," wrote Dawn Johnsen, acting assistant attorney general for the Office of Legal Counsel.
Manhattan district attorney Cyrus Vance Jr has already obtained copies of Mr Trump's personal and business tax records as part of an ongoing criminal investigation.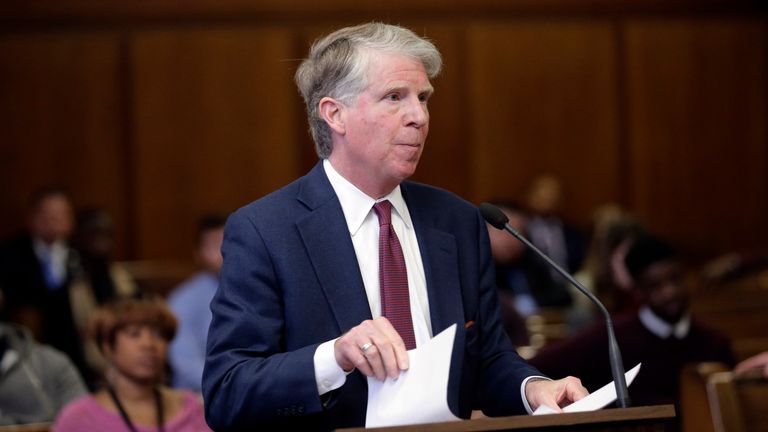 Mr Trump tried to prevent his accountants from handing over the documents, taking the issue to the Supreme Court.
But the justices rejected his argument that he had broad immunity as president.
US unveils nuclear stealth bomber as tensions with China rise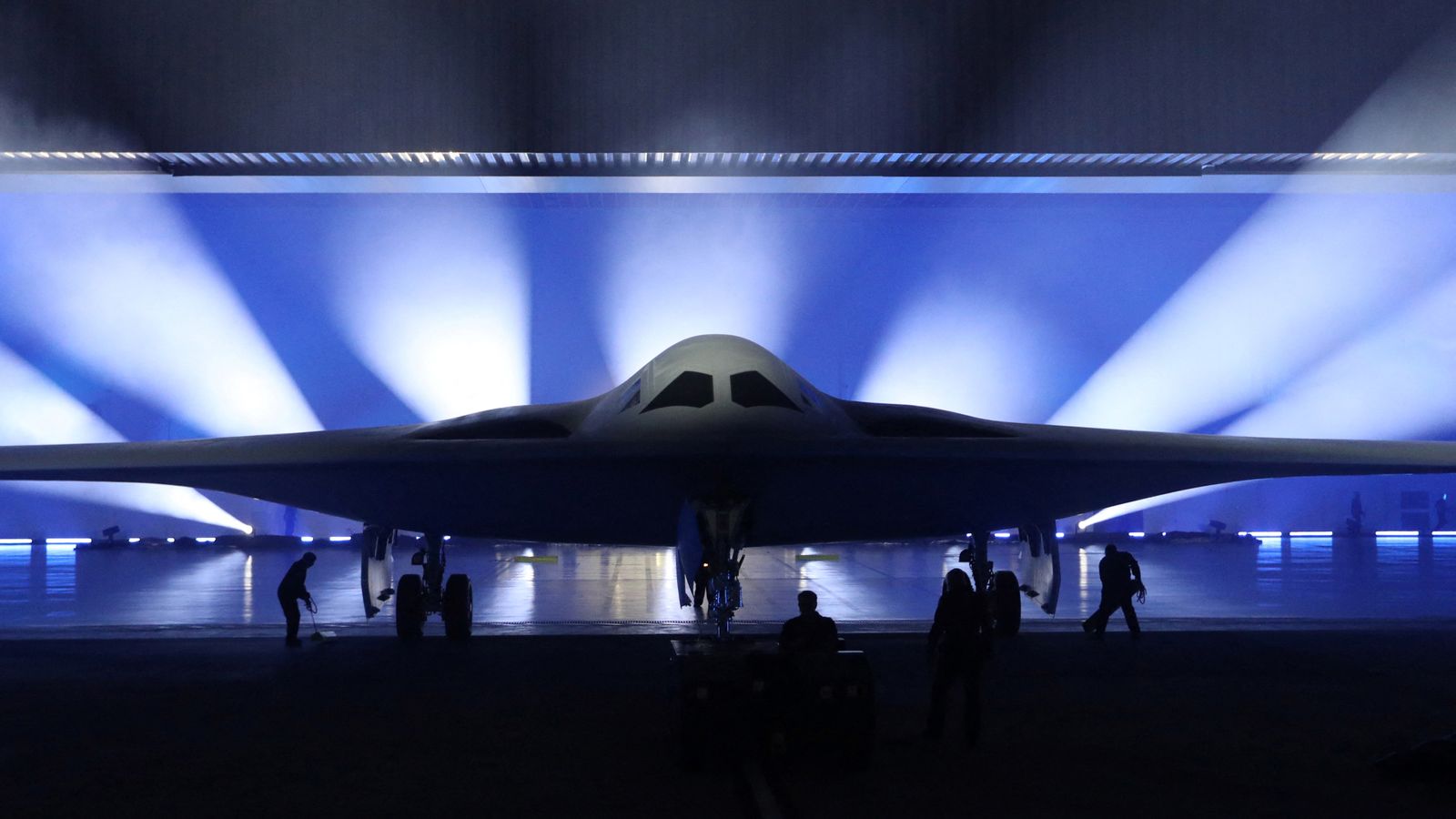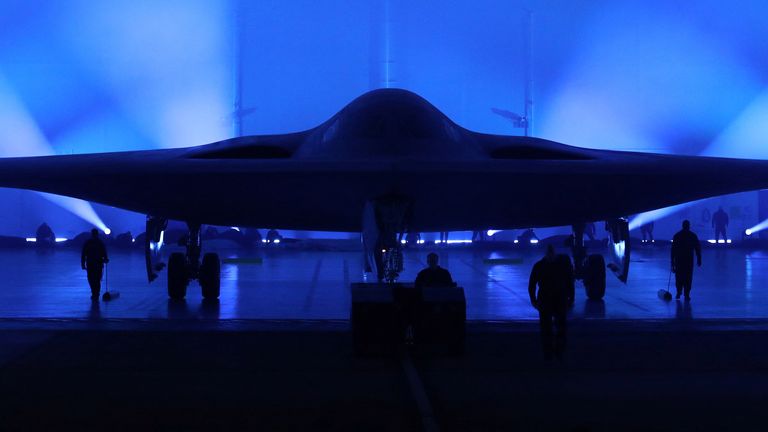 The US' newest high-tech nuclear stealth bomber has made its debut after years of secret development.
The B-21 raider, which will be able to deliver both conventional and nuclear weapons around the world using long-range and mid-air refuelling capabilities, is part of the Pentagon's answer to rising concerns over a future conflict with China.
It is the first new US bomber aircraft in more than 30 years.
The bomber was unveiled at an event at the US Air Force's Plant 42 in Palmdale, California where six aircraft are already at various stages of assembly.
US defence secretary Lloyd Austin said: "This isn't just another airplane.
"It's the embodiment of America's determination to defend the republic that we all love…We will soon fly this aircraft, test it, and then move it into production".
Each aircraft, which carries a similar 'flying wing' shape to its predecessor, the B-2, is projected to cost roughly $729.25m.
The Air Force planned to buy at least 100 of the planes and begin to replace B-1 and B-2 bombers. Almost every aspect of the programme is classified.
The aircraft is part of the Pentagon's efforts to modernise all three legs of its nuclear triad – which includes silo-launched nuclear ballistic missiles and submarine-launched warheads, as it shifts from the counterterrorism campaigns of recent decades to meet China's rapid military modernisation.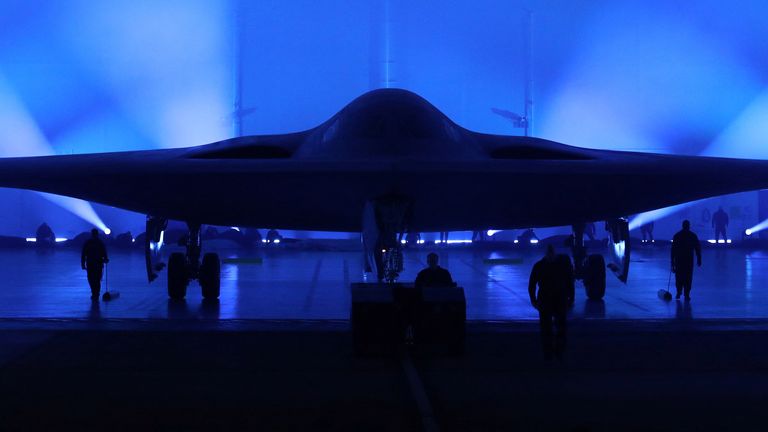 China is on track to have 1,500 nuclear weapons by 2035.
The Pentagon said this week in its annual China report that Beijing's gains in hypersonics, cyber warfare and space capabilities present "the most consequential and systemic challenge to US national security and the free and open international system".
Read more:
South Korea scrambles fighter jets
Rolls-Royce and easyJet test aircraft engine on hydrogen
Deborah Lee James, the Air Force secretary when the Raider contract was announced in 2015, said: "We needed a new bomber for the 21st Century that would allow us to take on much more complicated threats, like the threats that we fear we would one day face from China, Russia".
Kathy Warden, chief executive of Northrop Grumman Corp., which is building the bomber, said the B-21 is "extremely advanced" compared to the B-2 with advances in computer capabilities and materials used in coatings which make it "harder to detect".
Several defence analysts say other advances include new ways to control electronic emissions – meaning the bomber could confuse adversary radars and disguise itself as another object.
Man arrested over fatal shooting of Migos rapper Takeoff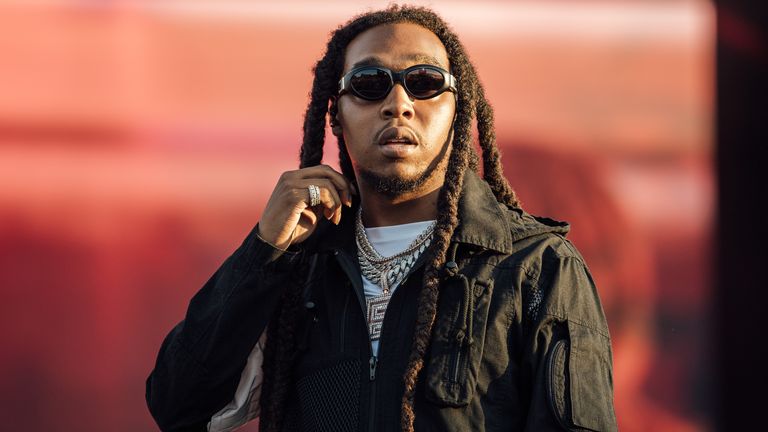 A 33-year-old man has been arrested following the fatal shooting of rapper Takeoff.
Patrick Xavier Clark has been charged with the murder of the Migos star, who was killed last month outside a bowling alley in the US city of Houston, Texas.
Takeoff was the youngest member of the Grammy-nominated rap trio, which also featured his uncle Quavo and cousin Offset.
Born Kirsnick Khari Bal, the 28-year-old was one of three people police said were shot in the incident when an argument erupted as around 40 people left a private party.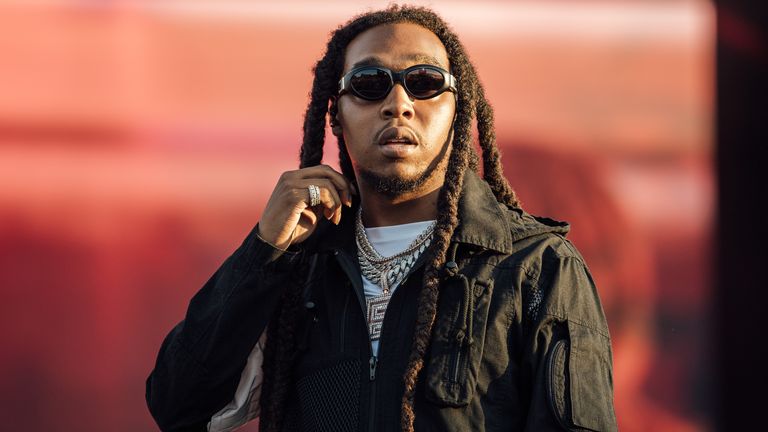 The other victims were a man and a woman, who both suffered non-life threatening injuries during the shooting, in which at least two people fired shots.
Speaking at a news conference on Friday, Police Sergeant Michael Burrow said the shooting followed a dispute over a game of dice, but that Takeoff was not involved and was "an innocent bystander."
The day after the attack, Houston Police Chief Troy Finner said Takeoff was "well respected" and there was "no reason to believe he was involved in anything criminal at the time".
Read more:
Rapper breaks silence on Takeoff's death
His music 'brings people together' – fans mourn Migos star
BRIT Awards nominee jailed over brawl
On Wednesday, police announced the arrest of another man named Cameron Joshua in connection to the shooting.
The 22-year-old was charged with illegally having a gun at the time Takeoff was shot, but Sgt Burrow said investigators believe it was Clark's gunfire that killed the rapper.
After Takeoff's shooting, Clark applied for an expedited passport by submitting the itinerary for an "imminent" flight to Mexico, according to court records.
They say he was arrested the day he received the passport and was in possession of a "large amount" of cash.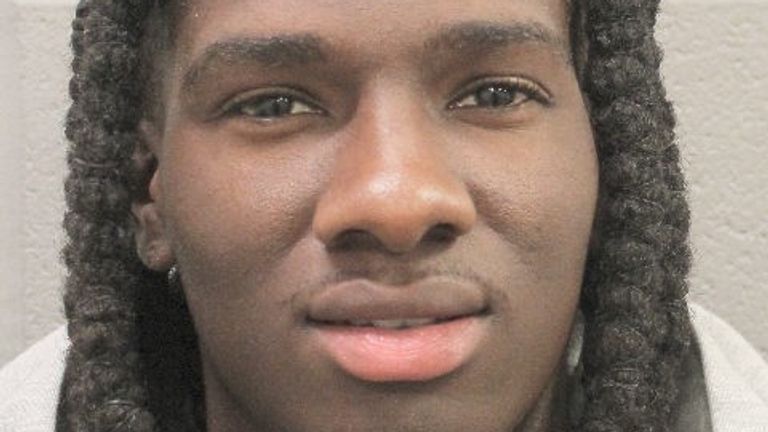 Who are Migos?
Migos' record label Quality Control mourned Takeoff's death in a statement posted on Instagram that attributed it to "senseless violence", while fellow musicians including Drake and Justin Bieber celebrated his legacy in a memorial service.
Migos first broke through with the massive hit Versace in 2013.
They had four Top 10 hits on the Billboard Hot 100, though Takeoff was not on their multi-week number one hit Bad and Boujee, featuring Lil Uzi Vert.
They put out a trilogy of albums called Culture, Culture II and Culture III, with the first two hitting number one on the Billboard 200 album chart.
Takeoff and Quavo released a joint album Only Built For Infinity Links just weeks before his death.
TikTok 'bones, no bones' star, Noodle the dog, dies – and millions of fans flock to pay tribute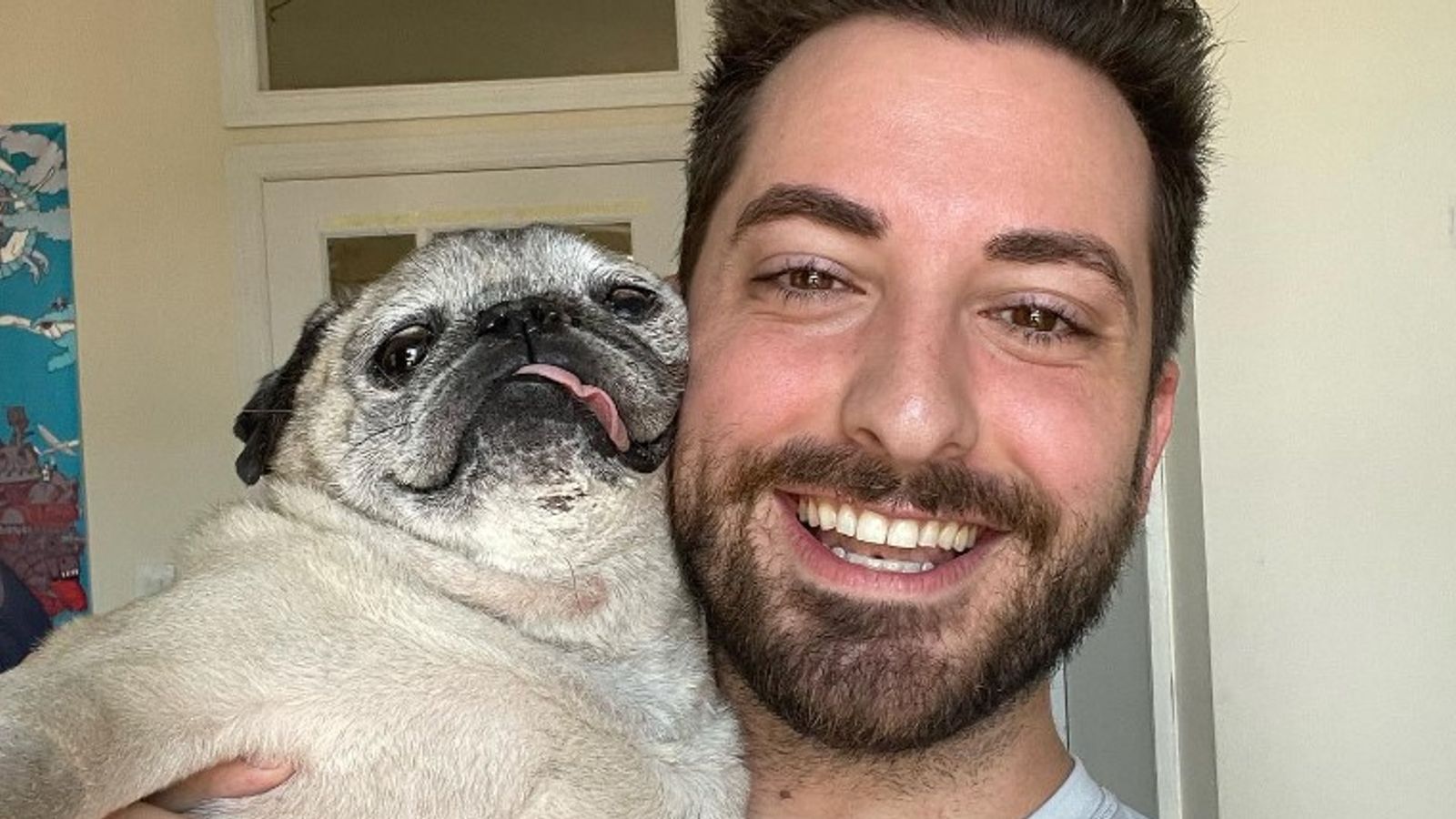 More than two million fans of a TikTok-famous pug have marked the death of the social media star and flooded the owner's page with messages of condolence.
Noodle the pug rose to fame on the platform with "no bones", a game his owner Jonathan Graziano played nearly every morning which recorded whether Noodle would stand up, or simply flop back over onto his dog bed.
When Noodle flopped, Graziano declared it a "no bones" day – and advised his viewers not to take any risks. But when Noodle stood – what became known as a "bones" day – it became cause for celebration.
But the 14-year-old's tearful owner took to TikTok on Saturday to announce he had died.
A red-eyed, choked Graziano said: "I'm so sorry to have to tell you this, but Noodle passed yesterday.
"He was at home. He was in my arms and this is incredibly sad, it's incredibly difficult. It's a day I always knew was coming, but never thought would arrive."
Graziano's "no bones" videos racked up millions of views, and his account grew to 4.5 million followers.
Fans on Twitter are wishing Noodle farewell too, with the hashtag "BonesDay", and commenting on Graziano's video, extending their condolences.
Noodle book published
Doug the Pug wrote: "RIP Noodle The Pug. A great friend and a pug who spread joy to millions. May it forever be a 'bones' day."
"Noodle impacted so many people – he made their days and weeks better. He was amazing," one fan commented on Graziano's TikTok, which was liked more than 2.4 million times.
Earlier this year, a children's book starring Noodle was published.
Graziano concluded in his tribute post: "I wanted to encourage you to celebrate him while we're navigating this sadness.
"He made millions of people happy – what a run! Thank you for loving him."