LAS VEGAS — When the U.S. men's national team and Mexico meet in Sunday's 2021 CONCACAF Gold Cup final, it will be the second time in 56 days that the longtime rivals have faced each other with a continental title on the line. And yet the two matches could not be more different in terms of the relative stakes involved.
Back on June 6, the sides met in the inaugural CONCACAF Nations League final, and it was the U.S. in desperate need of a win because, for the entirety of manager Gregg Berhalter's tenure, there had yet to be a victory that confirmed that the team was back on an upward trajectory.
A statement was needed, not only to generate some confidence in the coach's methods but also to give this generation of players something tangible to go with its undeniable talent. And, regardless of the wild sequence of events that took place during the game, the collective group stepped up, absorbed the pressure — and a bottle or two to the head — to ultimately walk away with a 3-2 win after extra time.
As for Mexico, while the loss stung — they always do against the U.S. — there was a belief that Gerardo "Tata" Martino's men had played well enough to win, having led twice and with the chance to make it 3-3 but for Ethan Horvath to save Andres Guardado's penalty. As it stood, El Tri would be back to fight another day.
– Gold Cup bracket, results, schedule and more
– Stream ESPN FC Daily on ESPN+ (U.S. only)
– Don't have ESPN? Get instant access
So what has changed heading into Sunday's encounter at Allegiant Stadium? In a word: expectations.
The U.S. came into this tournament with an intentionally youthful, inexperienced roster, with one fundamental reason the desire to give presumptive first-team regulars — Christian Pulisic, Weston McKennie, Giovanni Reyna and others — rest ahead of what is expected to be a busy season for both club and country.
But there was also a need to get a better idea of how impactful up-and-coming members of the player pool could be at the international level. This is especially important given that triple-fixture windows dot the horizon for World Cup qualifying, which begins in September, and depth will be tested.
Expectation-wise, this left the U.S. in a bit of a conundrum. Berhalter has said from the beginning that the goal was to win the tournament, regardless of roster construction. And yet there have been times when the team's youth has been trotted out as an explanation for shaky performances.
A 1-0 group-stage win against Canada, who had a slight edge in experience but also fielded some new faces in the absence of stars such as Alphonso Davies and Jonathan David, was seen as a case in point, yet it was not so much the young players who let the U.S. down that day but rather veterans who did not step up.
In Thursday's semifinal win, Qatar looked a cut above in the first half but were unable to find a way past the impressive Matt Turner in goal, which allowed the Americans to rally late in the game and seal victory through an all-important Gyasi Zardes goal.
That this U.S. squad has reached the final speaks well of its ability to adapt, grow and grind out results. Moreover, while injuries to the likes of defender Walker Zimmerman, midfielder Paul Arriola and defender Reggie Cannon have limited options, they have also given Berhalter data points on players like Shaq Moore, Miles Robinson, James Sands and Matthew Hoppe.
Given those developments, the U.S. would seem to be playing with house money on Sunday. Its objectives have largely been achieved and little is expected against the pre-tournament favorite. Yet Berhalter wants his side to be greedy and finish the job.
"We're not done, and that was the message to the team," the U.S. coach said after the semifinal. "It's nice to make the final, but we want to win the final. Our No. 1 goal is to win the Gold Cup. We said that before the Gold Cup, and we'll say it again."
By contrast, the stakes for Mexico could not be more different. This is a game it dare not lose, even if it almost cannot win; beating a short-handed U.S. team to claim a 12th Gold Cup title would prove little, even if there are a players absent like Raul Jimenez and Hirving Lozano.
But in the event of defeat, pressure would increase and doubts would be raised heading into World Cup qualifying. Would it even be enough to cost Martino his job?
There has certainly been that impulse at times in the past, but the tenure of predecessor Juan Carlos Osorio is instructive. The Mexico Football Federation stuck by him after a 7-0 thrashing by Chile in the 2016 Copa America Centenario quarterfinals, and that patience and emphasis on stability was rewarded with World Cup qualification and a famous victory over holders Germany in Russia.
This Mexico team has found a way to get results, even if the actual play has sometimes fallen short of its lofty standards. Jonathan dos Santos has been rallied around following the death of his father, and one would expect that its experience edge all over the field, but especially in a midfield led by Hector Herrera, will tell at some point.
Berhalter noted how poor his side was in terms of winning duels against Qatar, with just 42.7%, while the tackle success was even worse at 30%. If that happens again, the likes of Rogelio Funes Mori should benefit and make it a long night for a back line that has performed so well.
But the very nature of this long-standing rivalry means that another drama-filled chapter seems inevitable. Given the mental fortitude shown over the past few weeks by the U.S., as well as the must-win nature of the game for Mexico, expect another compelling encounter.
Boone: Yanks had sights on Verdugo, liked 'edge'
NASHVILLE, Tenn. — Acquired in a rare trade between the Yankees and rival Red Sox, Alex Verdugo can figure on being a starting corner outfielder for New York.
"He's actually been a guy that we've talked about now for, for a while," Yankees manager Aaron Boone said Wednesday, a day after New York obtained Verdugo for right-handers Greg Weissert, Richard Fitts and Nicholas Judice. "I feel like there's an edge he plays the game with."
In addition to getting Verdugo, the Yankees have talked with the San Diego Padres about a possible trade for three-time All-Star outfielder Juan Soto.
"I allow myself to dream on a lot of things," Boone said. "I always start to imagine what it could look like."
The left-handed-hitting Verdugo, 27, batted .264 with 13 home runs, 54 RBIs and a .745 OPS in his fourth season with the Red Sox. A Gold Glove finalist, he had 12 outfield assists and nine defensive runs saved.
He was benched twice last season by Boston manager Alex Cora: on June 8 for not hustling between first and second on a grounder a night earlier and on Aug. 5 for arriving late to the ballpark.
Red Sox chief baseball officer Craig Breslow, hired in October, said those issues didn't factor into the trade.
"I didn't get into that stuff with Alex that much," Boone said. "But we hear those things from across the way and stuff, so I'm not overly concerned about that."
A seven-year major league veteran, Verdugo has a .281 career batting average with 57 home runs and 255 RBIs with the Los Angeles Dodgers and Red Sox.
Selected by the Dodgers in the second round of the 2014 amateur draft, Verdugo was acquired by Boston with infielder Jeter Downs and catcher/second baseman Connor Wong in the February 2020 trade that sent slugger Mookie Betts and pitcher David Price to the Dodgers.
Verdugo is eligible for arbitration and is likely to get a salary of about $9 million. He can become a free agent after the World Series.
"He's a guy who takes a lot of pride in posting," Boone said Cora told him.
With Verdugo's addition, Aaron Judge could move from right field and become the regular center fielder.
"We'll see how everything shakes out this winter," Boone said. "I've talked to Aaron about that. So I think Aaron's open to anything and ready for anything."
This was just the eighth trade between the Yankees and Red Sox since Major League Baseball split into divisions in 1969. The Yankees obtained outfielder Greg Allen from Boston in May for right-hander Diego Hernández.
The most notable deals involved the Yankees' 1919 purchase of Babe Ruth, New York getting pitcher Sparky Lyle in 1972 for first baseman Danny Cater and infielder Mario Guerrero, and Boston receiving Elston Howard — the Yankees' first Black player and the 1963 American League MVP — in 1967 for pitchers Ron Klimkowski and Pete Magrini.
Weissert, a 28-year-old right-hander who attended Fordham, not far from Yankee Stadium, had a 4.05 ERA in 17 relief appearances over five stints with New York last season. He struck out 22 and walked eight in 20 innings. His fastball averaged 94.3 mph.
Fitts, 23, was a sixth-round pick from Auburn in the 2021 amateur draft and was 11-5 with a 3.48 ERA in 27 starts this year at Double-A Somerset. He struck out 163 and walked 43 in 152⅔ innings.
Judice, 22, was an eighth-round pick last summer from Louisiana-Monroe and has not made his minor league debut.
Game notes
Boone expects "a leaner" Giancarlo Stanton at spring training. The five-time All-Star hit a career-low .191 with 24 home runs and 60 RBIs in 2023.
"Being at this point in his career, I think being a little lighter is going to be something that serves him well and I think it's something he knows and wants to do," Boone said.
Sources: Orioles on verge of signing Kimbrel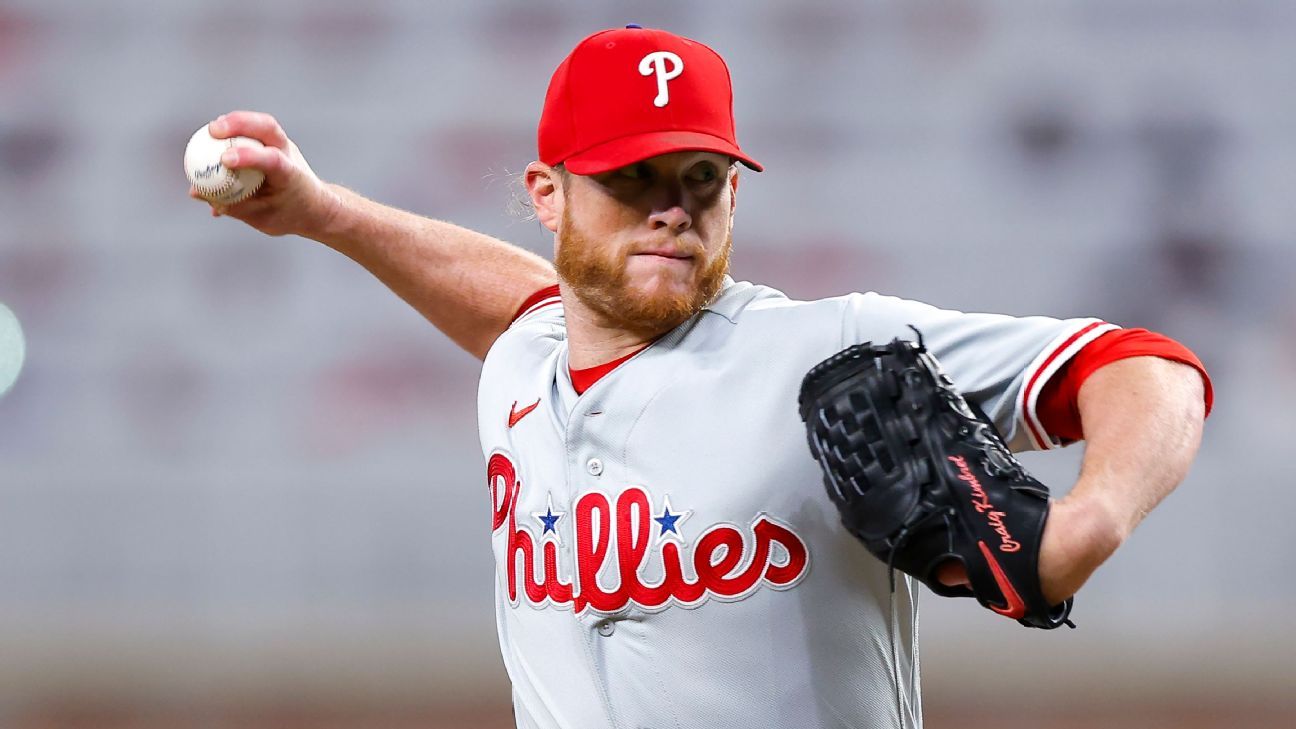 The Baltimore Orioles are on the verge of signing veteran closer Craig Kimbrel, sources told ESPN's Buster Olney on Wednesday.
Baltimore has a need since All-Star closer Felix Bautista is likely out for the 2024 season after Tommy John surgery. He went on the injured list in August.
Kimbrel was one of the preeminent closers of the 2010s, making seven All-Star appearances and accumulating a whopping 332 saves — at least 68 more than anybody else — while pitching for the Atlanta Braves, San Diego Padres and Boston Red Sox from 2011 to 2018.
The 35-year-old right-hander navigated that eight-year stretch with a 1.97 ERA, a 0.91 WHIP and a rate of 14.6 strikeouts per nine innings with a devastating fastball-curveball combo. He has since posted a 3.57 ERA, a 1.16 WHIP and a 13.0 strikeout rate with the Chicago Cubs, Chicago White Sox, Los Angeles Dodgers and Philadelphia Phillies.
Kimbrel made two more All-Star teams from 2019 to 2023, including this past season with the Phillies, when he posted a 3.26 ERA, saved 23 games and struck out 94 batters in 69 regular-season innings.
The sheer dominance of his 20s, however, has mostly eluded Kimbrel in his 30s. His lasting image in Philadelphia was blowing a two-run lead in the eighth inning of Game 4 of the National League Championship Series, paving the way for the Phillies' shocking elimination against the upstart Arizona Diamondbacks.
The Orioles were a major surprise last season, winning an American League-best 101 games. They won the AL East before being swept by the Texas Rangers in the division series. Many preseason projections had them finishing in the basement of the division.
Belmont to be run at Saratoga due to renovation
The Belmont is heading to Saratoga for the first time — but almost certainly not the last.
New York Gov. Kathy Hochul announced Wednesday that the 2024 Belmont Stakes will be run at Saratoga Race Course, with the third leg of horse racing's Triple Crown shifting upstate from Long Island because of the massive renovation of Belmont Park.
The move has been expected for some time since the New York Racing Association unveiled plans for the $455 million Belmont Park project. Construction is expected to last into 2025, so there is a good chance of the Belmont at Saratoga two years in a row.
"This is likely a two-year endeavor," NYRA president and CEO David O'Rourke said by phone Wednesday. "We're going to get it right, and we're going to improve on it each year."
Pending the approval of the North American Graded Stakes Committee, the Belmont will be run at a distance of 1¼ miles, shorter than the race's traditional 1½ miles because of the shape of the dirt track at Saratoga. It was 1⅛ miles in 2020 when the Belmont led off the Triple Crown run out of order because of the COVID-19 pandemic.
That Belmont had no fans. A crowd of up to 50,000 is expected this time to witness history.
"The ability to have the Belmont up at Saratoga, a bunch of circumstances would have to come into alignment," O'Rourke said. "It's the most historic venue in the country. It's one of the coolest sporting venues on the planet, and it's one of the greatest tourist towns in the nation. Everyone's excited."
The purse will increase from $1.5 million to $2 million, and the race will be part of a special four-day run at Saratoga a month before the usual summer meet there begins July 11.
"It's a win for horse racing and for the Capital Region to have the excitement and the ability to host the four-day festival in June at America's most historic track," Hochul said in a statement.
Racing in New York is currently happening at Aqueduct in Queens, which was home to the Triple Crown finale from 1963 to 1967, the last time Belmont Park was renovated.
The race is expected to return to Belmont Park in 2026. O'Rourke said expanding the annual Saratoga meet beyond 40 days is "not in any of our current thinking."
"Something like this is just kind of a unique thing to know that it's going to happen for a couple years up there," he said. "We're really just trying to program our racing calendar through the development. Bringing the Belmont up there was kind of an obvious move in some ways, in terms of potential for the actual event."