Shoppers are paying a record 10.6% more for food than they were a year ago, figures show.
Overall shop price inflation accelerated to 5.7% in September, up from 5.1% in August, in another record since the British Retail Consortium-Nielson IQ index began in 2005.
Food price inflation rocketed past last month's 9.3% to 10.6%, driven by the war in Ukraine, which is continuing to push up the price of animal feed, fertiliser and vegetable oil and is particularly affecting products such as margarine.
Fresh food products cost a record 12.1% more than last year, up from 10.5% in August, the highest rate for the category on record.
Inflation for store cupboard staples, such as pasta and tinned tomatoes, reached a record 8.6%, up from 7.8% a month previously, the fastest rate of increase for the category.
Although the summer drought diminished some harvests, other produce benefitted from the prolonged sunshine, leading to a fall in prices for fruit such as strawberries, blueberries and tomatoes.
Non-food inflation rose from 2.9% in August to 3.3%, largely driven by bigger hardware, DIY and gardening products hit hard by rising transport costs.
Read more:
Spending calculator: See which prices have gone up or down
Millions of people already behind with their household bills, new research suggests
Helen Dickinson, chief executive of the British Retail Consortium, said: "Retailers are battling huge cost pressures from the weak pound, rising energy bills and global commodity prices, high transport costs, a tight labour market and the cumulative burden of government-imposed costs.
"And, with business rates set to jump by 10% next April, squeezed retailers face an additional £800m in unaffordable tax rises.
"Government must urgently freeze the business rates multiplier to give retailers more scope to do more to help households."
Mike Watkins, head of retailer and business insight at NielsenIQ, said: "With food and household energy prices continuing to rise, it's no surprise that NielsenIQ data shows that 76% of consumers are saying they expect to be moderately or severely affected by the cost-of-living crisis over the next three months, up from 57% in the summer.
"So households will be looking for savings to help manage their personal finances this autumn and we expect shoppers to become more cautious about discretionary spend, adding to pressure in the retail sector."
Tesco Clubcard changes: Supermarket to cut value of rewards scheme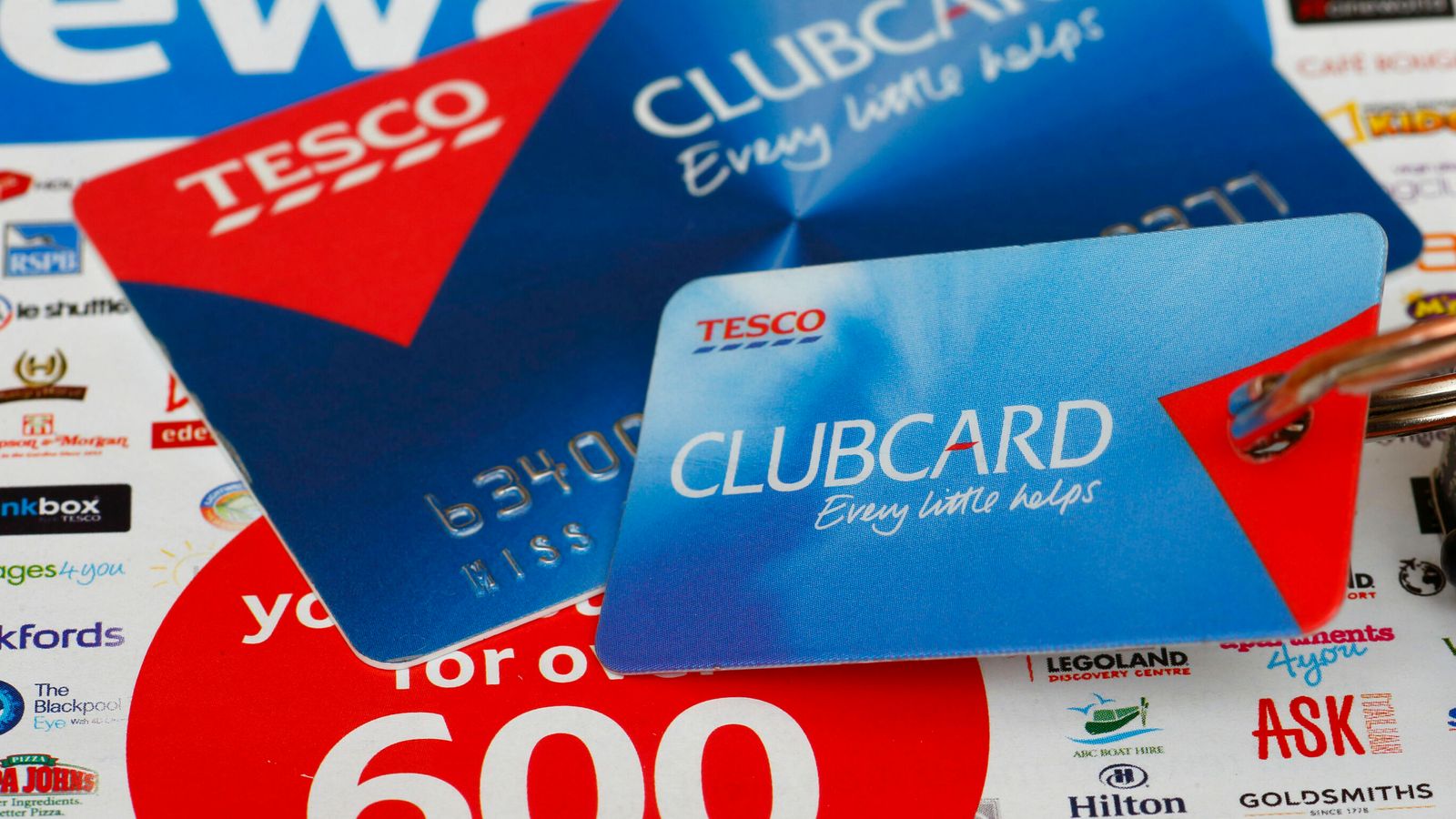 Tesco is cutting the value of its Clubcard rewards scheme, with customers no longer able to get triple their value when they cash them in with scheme partners. 
The Tesco Clubcard reward partner scheme lets customers collect points while shopping and exchange them for vouchers for theme parks, restaurants and day trips.
Points used to be worth triple their value when they were exchanged – but from June will only be worth double.
The change will kick in on 14 June.
In a statement, Tesco said it was making the change "to make sure we can continue to provide a wide range of rewards that meet the needs of all our Tesco Clubcard members, while keeping prices low for everyone".
But some Tesco customers expressed their outrage online given the context of the cost of living crisis.
One person tweeted: "Absolutely disgraceful from Tesco at a time when people are struggling enough with high prices and costs. More important to think of the profits I guess."
Read more:
The shops which could cost you an extra £800 a year
One Tesco customer said this could spell the end of their loyalty: "Main reason I hadn't switched to Aldi or Lidl was because we use points for family meals out etc…one step closer to ditching Tesco now!"
Another was more measured in their response: "Card benefits used to be much, MUCH better – but still worthwhile."
Tesco said it was extending the time period when partner rewards would be valid to 12 months, so any points cashed in for triple their value before 13 June can be used for a year.
In November, two million Tesco customers had Clubcard vouchers worth £13m that were due to expire.
If all those customers had cashed them in using the rewards scheme, the total savings would have totalled £39m.
MPs describe Stormont brake aspect of Windsor Framework as 'practically useless'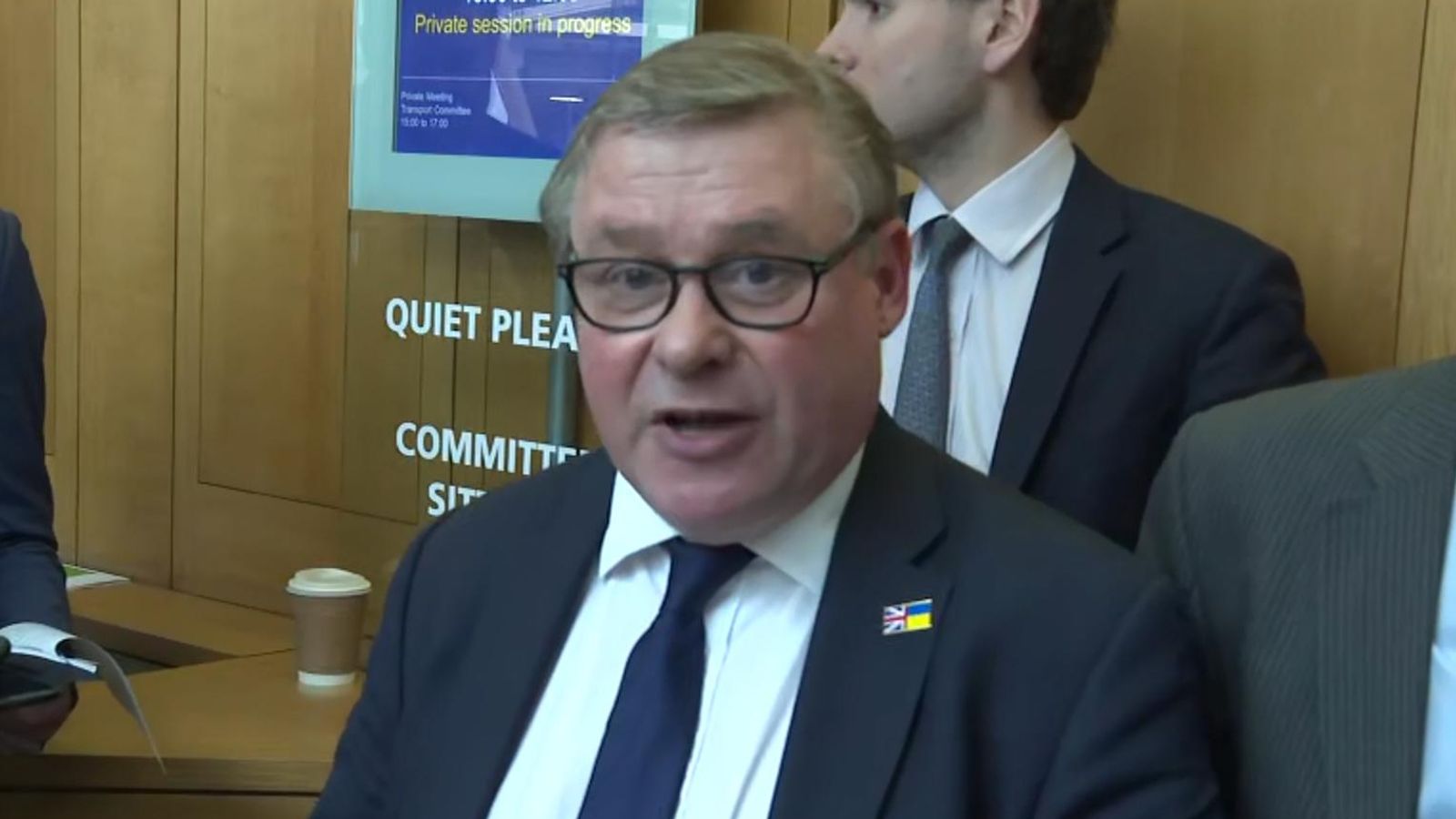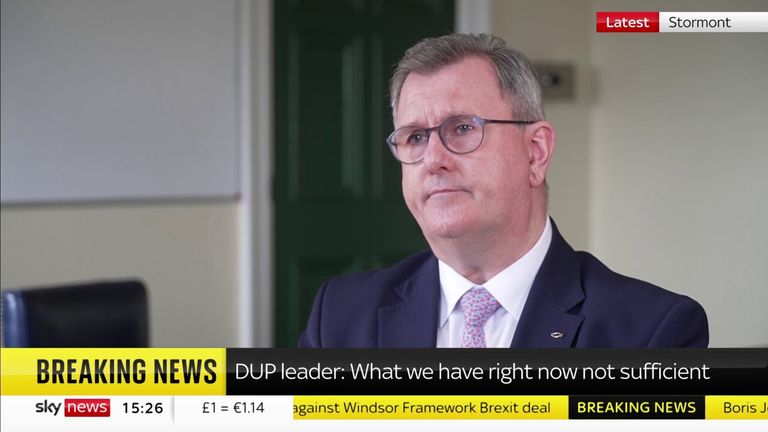 A group of Eurosceptic MPs has described the Stormont brake – a key part of Rishi Sunak's renegotiated Brexit deal – "practically useless".
Mark Francois, chairman of the European Research Group (ERG), spoke after the group commissioned its "star chamber" of legal experts to pore over the Windsor Framework, the UK's deal with the EU on post-Brexit arrangements when it comes to Northern Ireland.
Mr Francois said that among its initial findings were that EU law was "supreme" in Northern Ireland and that the rights of its people secured in the 1800 Act of Union had still not been restored.
Politics live:
Boris Johnson's partygate defence revealed
And in his harshest criticism, he said the Stormont brake – the mechanism that would allow a minority of politicians in Belfast to formally flag concerns about the imposition of new EU laws in Northern Ireland – was "practically useless".
However, he said the ERG would meet again on Wednesday before deciding its approach to a Commons vote on the brake scheduled to take place on the same day.
The ERG's criticisms of the Windsor Framework will be a blow to the prime minister, who had been hoping to secure widespread approval for his Brexit deal.
While Mr Sunak does not need the votes of the DUP and ERG to get the legislation through parliament, he will not want to rely on Labour's approval and will be looking to limit the size of any potential Tory rebellion.
The ERG's preliminary verdict comes as little surprise after the Democratic Unionist Party (DUP) confirmed it would vote against the Stormont brake in the Commons vote.
Sir Jeffery Donaldson DUP leader says Brexit deal 'not sufficient'

In a statement on Monday, DUP leader Sir Jeffrey Donaldson said while the Windsor Framework represented "significant progress" in addressing concerns with the Northern Ireland Protocol, it did not deal with some of the "fundamental problems at the heart of our current difficulties".
Sir Jeffrey said the brake "is not designed for, and therefore cannot apply, to the EU law which is already in place and for which no consent has been given for its application".
"Whilst representing real progress, the 'brake' does not deal with the fundamental issue which is the imposition of EU law by the protocol," he added.
The NI protocol was agreed as part of Boris Johnson's "oven ready" Brexit deal and was designed to prevent a hard border in the interests of preserving the peace secured in the Good Friday Agreement.
But the protocol has led to unhappiness in the DUP, who say it has created trade barriers between Great Britain and Northern Ireland and undermined its place in the UK.
Last February the DUP pulled out of the arrangement for devolved government in Northern Ireland in protest at the protocol, effectively leaving the region without government.
Read more:
DUP and Tory MP to vote against key part of Windsor Framework over 'fundamental problems'
MPs to debate 'Stormont brake' as key part of new Brexit deal comes to the Commons
The UK and Brussels agreed the Windsor Framework as a way to incentivise the return of power-sharing in Northern Ireland and to allay some of the key concerns of Unionists.
Under the agreement there will now be a green lane for goods that are destined for Northern Ireland will no longer be subject to time-consuming paperwork, checks and duties.
But Mr Francois said that the green lane "is not really a green lane at all".
The prime minister's official spokesperson said on Tuesday that the Windsor Agreement was a "good deal" for the people of Northern Ireland that went "significantly beyond" the previous protocol.
The spokesperson said the Stormont Brake was a "significant step change in what had previously been agreed" and that it had dealt with the "democratic deficit" flagged by the DUP, whereby EU laws apply in Northern Ireland without the influence of politicians in Stormont.
The Stormont Brake remains the "only avenue" to change Northern Ireland's status as being automatically aligned to EU rules, they added.
"A vote against the brake, in factual terms, would lead to automatic alignment with the EU with no say at all," the spokesman said.
Just Eat to axe around 1,700 delivery worker jobs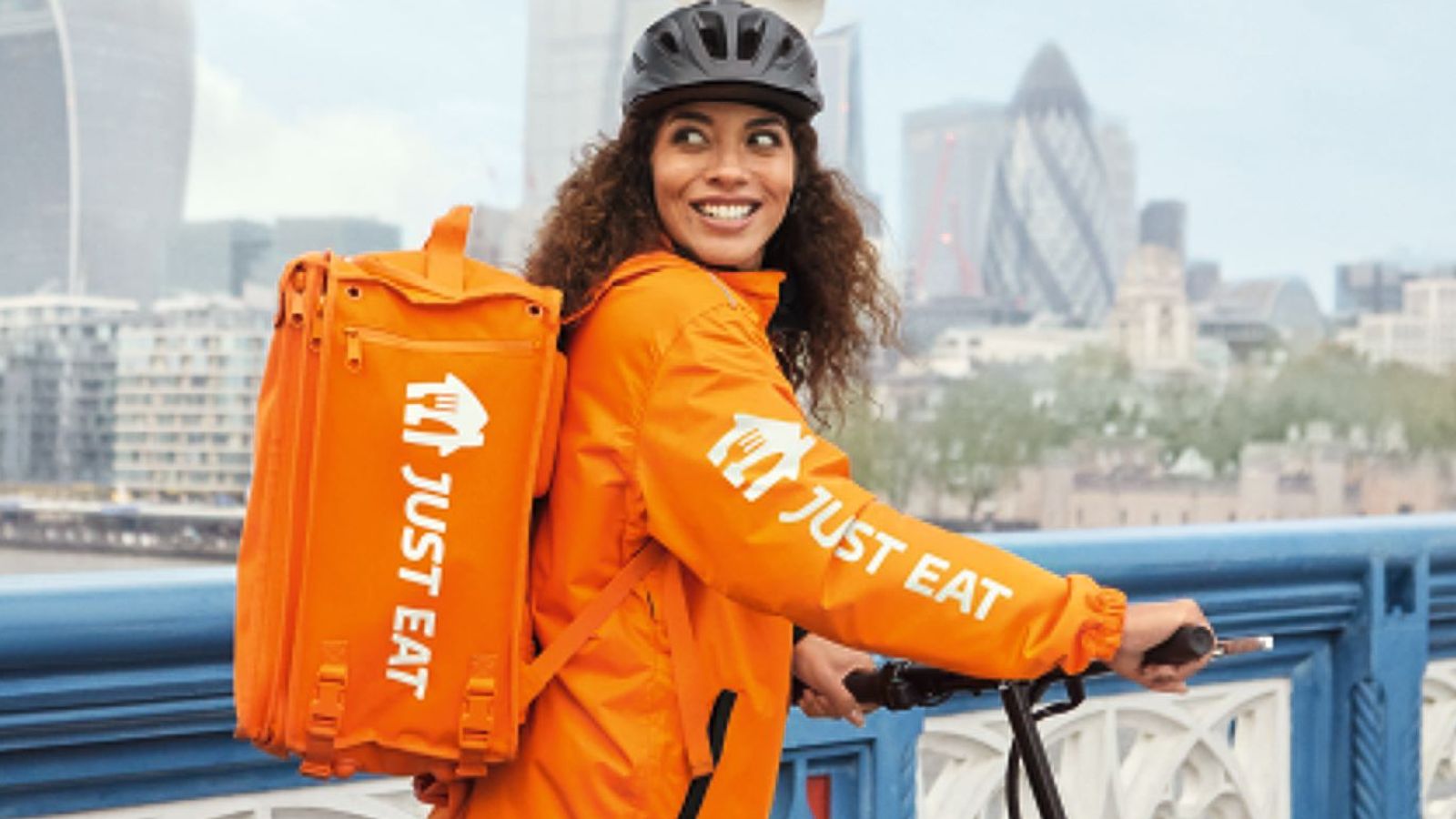 Delivery giant Just Eat has announced it is to axe 1,700 jobs as it ceases to employ its delivery riders and drivers.
Instead it will use gig economy workers to deliver food in the UK, as opposed to the hybrid system of employees and self-employed workers, despite strong comments by the chief executive against the gig economy.
A further 170 people working in Just Eat's operational department are also impacted.
Delivery employees have been given six weeks' notice with pay and it is understood office staff will begin a process of redundancy and may be moved to other parts of the business.
While the company could not provide Sky News with the number of delivery riders and drivers it uses in the UK, it did say employees were only a small part of overall delivery operations and only operated in certain parts of six UK cities.
The employment model was rolled out in London in December 2020 and Just Eat became the first food delivery aggregator in the UK to employ delivery people.
Company chief executive Jitse Groen said in February 2021 that the gig economy "has led to precarious working conditions across Europe, the worst seen in a hundred years".
"The gig economy comes at the expense of society and workers themselves," he wrote in the Financial Times while listing company plans to employ delivery workers.
Just Eat Takeaway.com said the employee model will continue in Europe.
However, delivery riders and drivers are not employed in all of the company's European markets. None are employed in Slovakia and Ireland.
The job cuts come after the company saw a 9% slump in customer numbers last year as diners returned to pubs and restaurants.
"Just Eat UK is reorganising and simplifying its delivery operation as part of the ongoing goal of improving efficiency," a spokesperson said.
"There will be no impact to the service provided to partners and customers."
Just Eat Takeaway.com is the largest food online ordering and delivery service in Europe. It had been the largest outside China after the purchase of Grubhub in June 2020 but has since sold parts of the business.