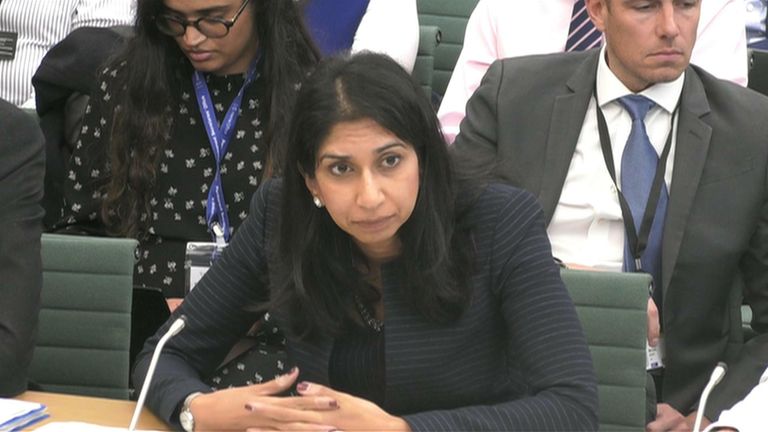 Rishi Sunak is mulling a crackdown on foreign students bringing dependents and studying "low-quality" degrees after net migration reached its highest level since the Second World War.
Downing Street has indicated that plans to bring overall numbers down could include putting up barriers for international students' loved ones and reducing admissions to lower-ranked universities.
This would be in line with proposals being explored by Home Secretary Suella Braverman, who has previously complained about foreign students "bringing in family members who can piggyback onto their student visa" and "propping up, frankly, substandard courses in inadequate institutions".
Politics live: Liz Truss and Boris Johnson join forces in headache for Sunak
An estimated 504,000 more people came to the UK than left last year, a figure greater than the population of Liverpool.
The estimates were compiled by the Office for National Statistics (ONS), which said the jump was driven by "unique" factors including visa schemes for Ukrainians and Hong Kong citizens, and more students arriving from outside the European Union following the lifting of COVID restrictions.
People arriving on study visas accounted for the largest proportion of long-term immigration of non-EU nationals, at 277,000, or 39% of the total, the according to the ONS.
The prime minister's official spokesman insisted Mr Sunak was "fully committed" to bringing overall immigration levels down and blamed "unprecedented and unique circumstances" for the record high.
The official said: "We're considering all options to make sure the immigration system is delivering, and that does include looking at the issue of student dependents and low-quality degrees."
Such a move could meet resistance from other parts of Whitehall like the Department for Education, which could raise concerns over universities' funding if the number of high fee-paying international students is cut.
The Russell Group of elite universities told the i newspaper that high numbers of foreign students "should be seen as a UK success story" and highlighted official figures showing that those on study visas are 97.5% compliant in leaving when their right to remain expires.
Sky News understands that plans for a student visa crackdown have not moved on since the home secretary said she would look at in October, with the Home Office more focused on tackling small boat crossings – or what it calls "illegal immigration".
Braverman struggles with asylum 'role play'

A record 40,000 migrants have crossed the Channel to the UK this year, compared to 28,561 crossings recorded in 2021.
Ms Braverman came in for criticism this week as she failed to explain the alternative safe and legal routes to the UK for asylum seekers escaping war.
During a grilling from MPs at the Home Affairs Select Committee, the home secretary admitted that "we have failed to control our borders".
She insisted: "That's why the prime minister and myself are absolutely determined to fix this problem."
The government wants to deport migrants to Rwanda for processing to deter people from making the dangerous journey across the Channel – but the plan has been held up by a series of legal challenges.
And under a recent deal struck with France, UK annual payments to Paris to help police the border are set to rise to €72m (£63m) in 2022/23, from €62.7m (£54.8m) for 2021/22.
Ukraine War Diaries: Fighting the Smart war against Russia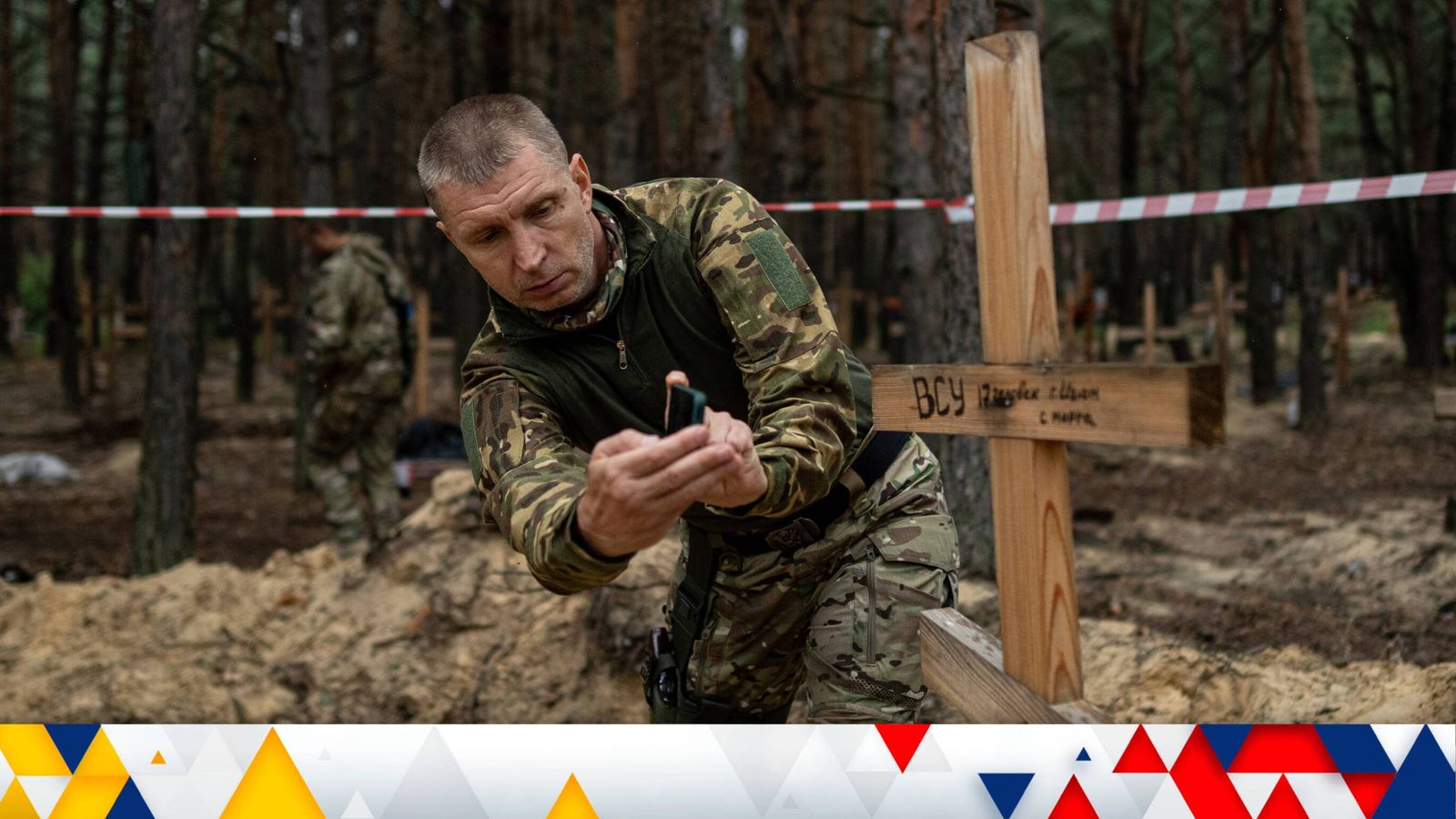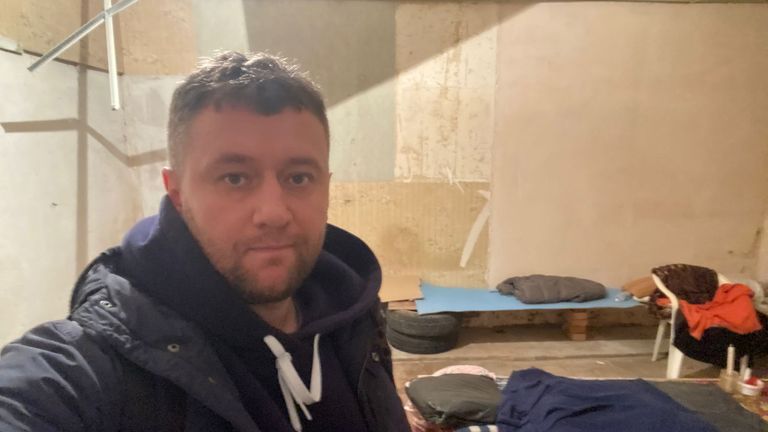 At first, Ukrainians used their smartphones to warn others of air raid alerts.
Now, they've changed tack, instead using a suite of apps to track Russian missiles heading towards their nation.
Since the start of the war, Russia has attacked Ukraine's power grid with more than 1,000 missiles. The country's power network has now been reduced by up to 50%, according to government officials.
Click to subscribe to Ukraine War Diaries wherever you get your podcasts
But, speaking in the latest episode of the Sky News Ukraine War Diaries podcast, Kyiv resident Ilyas Verdiev explains why internet connectivity is now sometimes even more coveted than light and heat for besieged residents.
"I had a blackout a week-and-a-half ago, I didn't have electricity," he explains. "But more important is that I didn't have a stable Internet connection.
"That means I didn't get the information from the different sources of how the situation is at the moment.
"Telegram is basically an instant messenger [app] where you can post any kind of information to different 'channels'. I have a few channels.
"One of them gives you an information of how and when the air forces of Russia are moving, whether they bring the missiles, whether the missiles were launched. They can even post the interceptions of pilots from the Russian side."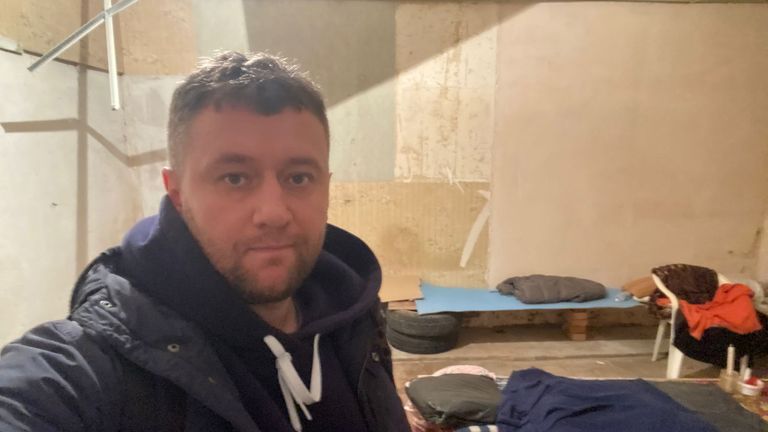 On 5 December, Russia attacked Kyiv with yet another barrage of missiles. Ilyas, like many Kyiv residents, used apps to track the attack from point of origin to eventual execution.
"Today [5 December] they have warned in advance that this air raid is dangerous and there is a massive take-off of their planes which were bringing the missiles on board," Ilyas continues.
"The other application is the air raid map. It's a map of Ukraine and each region turns red when the air raid is on in that particular region. We had an air raid starting from the eastern parts of Ukraine. And gradually all of the regions from the east to west to the north and to the south, all over were getting red… if an air raid is growing and covers most of the regions on the map, I will start packing things…and get ready to go to the basement. Sooner or later it will come to Kyiv.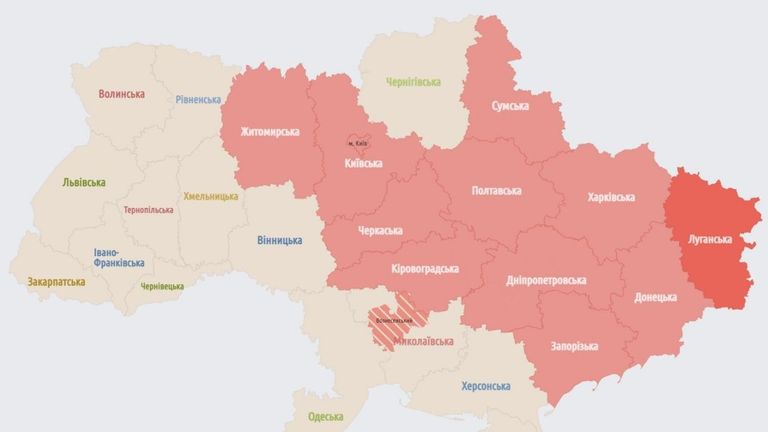 "Simultaneously, you can hear the actual siren outside your apartment, and the same time, you have a notification which sounds exactly like a siren on your mobile.
"I can actually make some plans – how to act, what to do, where to go. I can warn my parents in advance – they should be ready to go to the corridor or to a safer place."
From the creators of Sky News' award-winning StoryCast, Ukraine War Diaries is a weekly podcast following those living on Europe's new frontline, and those who have escaped it.
Producer: Robert Mulhern
Digital promotion and additional writing: David Chipakupaku
'It's terrifying to live like this': Ukrainians under relentness bombardment in one of the world's most dangerous places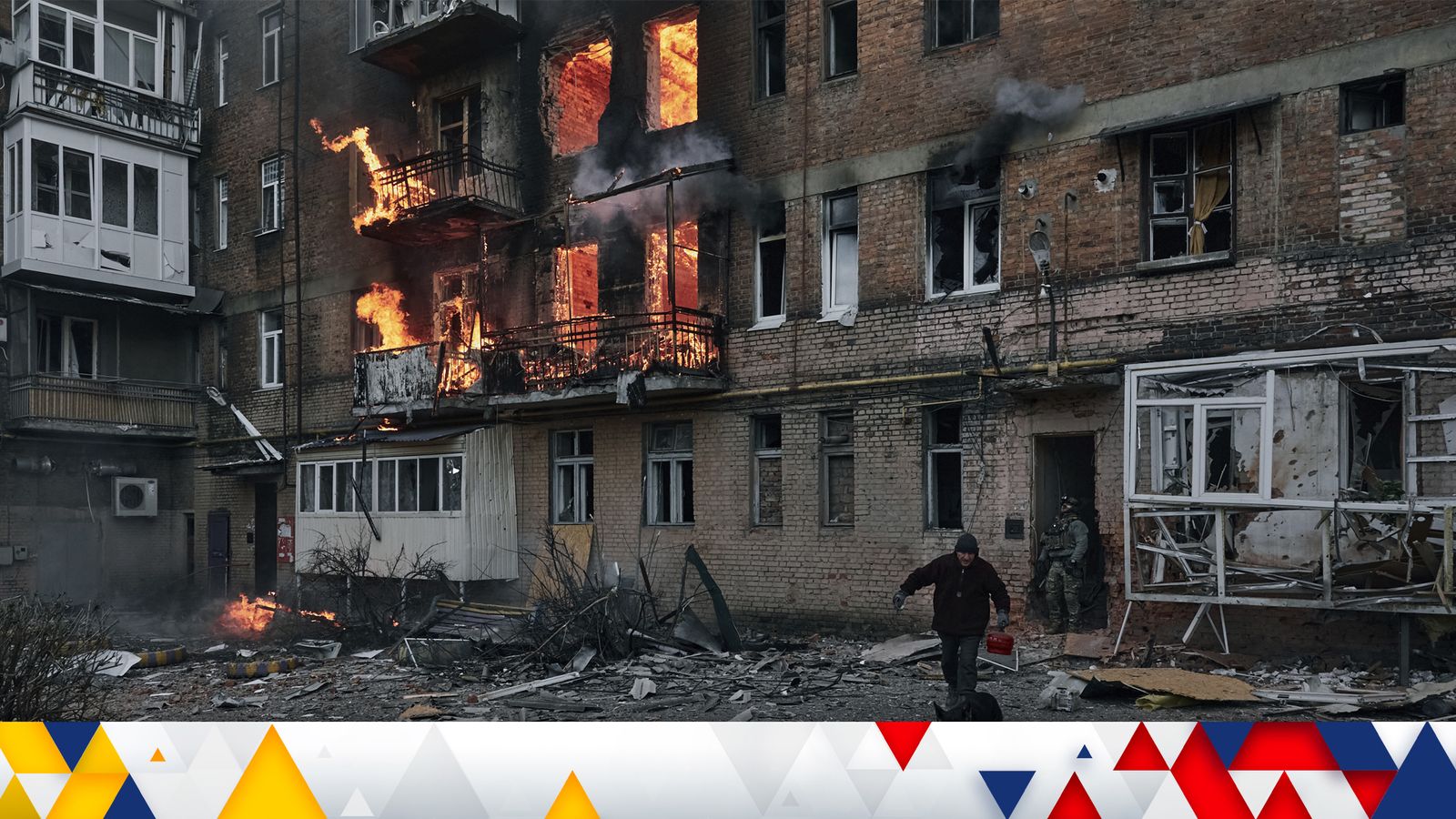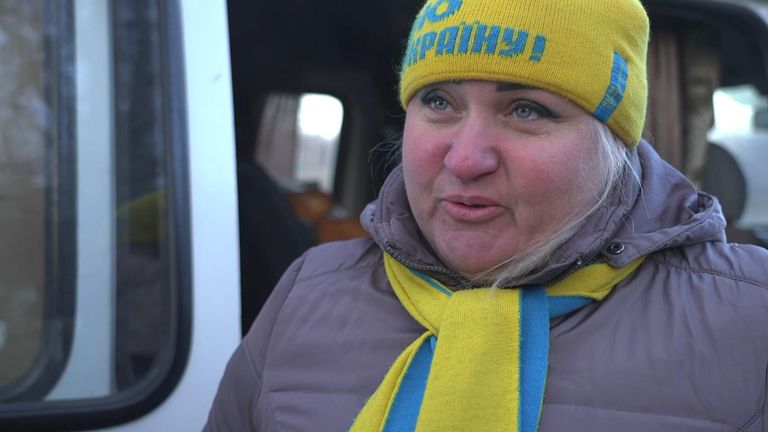 A middle-aged woman with a bright yellow hat stepped out of a white van close to the frontline Ukrainian town of Bakhmut, one of the most dangerous places on the planet.
Smiling cheerfully, Liudmyla Bila handed out a jumble of supplies – from woollen socks and metal pans to dried noodles and cans of beans – to a small group of grateful soldiers.
She even gave them periscopes – useful to peer over the top of a trench – and heart-shaped biscuits.
"The guys are helping us [the troops gave her fuel] – and we are helping them", Liudmyla, 45, said, before jumping back into her van, with two other companions, and heading into Bakhmut.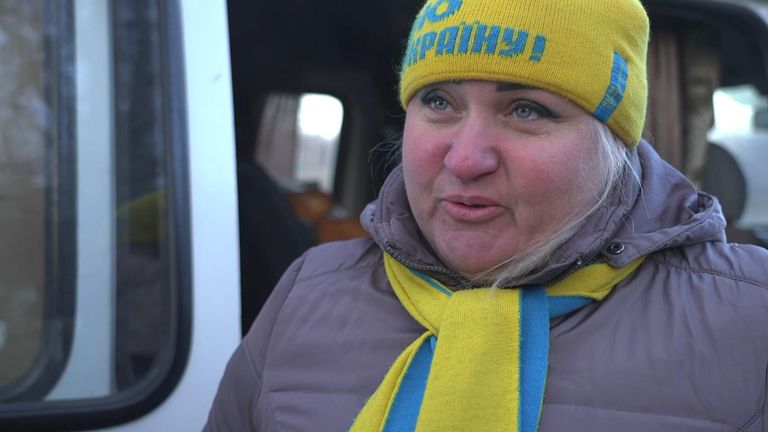 The trio is among a band of volunteers that braves the treacherous journey to distribute aid to the few thousand residents who are still living in the town despite months of relentless bombardments by Russian forces that have prompted most people to flee.
As well as providing supplies, the volunteers try to convince remaining residents to be evacuated, offering to drive them out to safety themselves.
There is no electricity or running water in Bakhmut and the threat of death from incoming rounds is constant.
Russia is desperate to take the town, in Donetsk region, eastern Ukraine, after suffering humiliating defeats elsewhere.
Ukrainian troops are defending hard but the bloody battle – one of the fiercest of the war – has been dubbed a "meat grinder" because of the huge and growing number of casualties.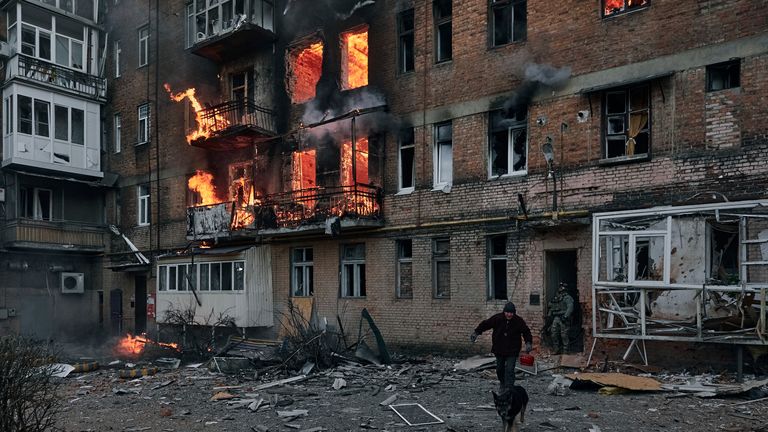 For local people caught in the middle, there is an added danger as winter falls and temperatures drop below freezing.
The active combat means even entering the town is high risk.
But Liudmyla said her only son, 22, is a soldier fighting around Bakhmut. She said she wanted to be nearby, adding: "I am not afraid."
Her voluntary group of some 20 people is called Wings of Liberty, based in the city of Dnipro, about a five hour drive from Bakhmut.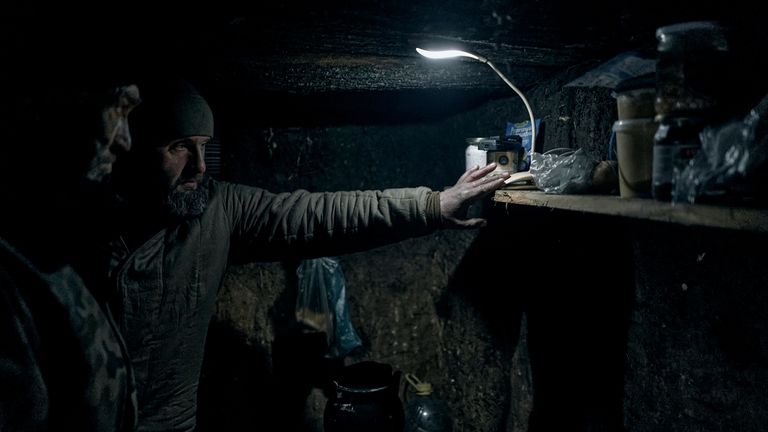 She makes the round trip to the town every week.
Sky News followed her and her team – 35-year-old Olha Ekzarkhova, whose brother was killed on the frontline two months ago, and Ian Boiko, 39, who drives the van – into Bakhmut on Wednesday morning.
They stopped in a residential area, surrounded by large, concrete apartment blocks.
Glass was shattered across the ground – evidence of past blasts having blown out windows.
The volunteers had to work quickly – wanting to minimise their time on the ground. The sound of distant explosions and gunfire could be heard.
"People!" shouted Liudmyla as she and Olha darted from the van to one of the blocks, carrying bottles of water, candles, blankets and food.
No one immediately appeared.
'Ferocious' battle for Bakhmut

They left the aid at the top of a short flight of steps leading down to a shelter in the basement. Liudmyla said people are living in there.
We knocked on the door to the shelter but there was no reply. It turned out they had gone to another spot in town where it is still possible to pick up mobile phone signal.
A tired-looking man was shuffling around the entrance of the apartment block next door.
Sky News approached him, but he did not want to speak and said no one else was around.
Aid delivered, Liudmyla and her team headed further into town.
We peeled off to speak with people in a small crowd on the side of a main road.
Desperate and weary, they queued at a window to try to receive stoves to heat their homes.
Read more:
Eyewitness | Ukrainians fight Russian mercenaries and plummeting temperatures in the Battle for Bakhmut
One woman moved away from the window empty handed.
Asked how life is in Bakhmut, Oksana, 75, said: "Very difficult. Very difficult."
Then her face crumpled and her voice broke.
It is "impossible, cold – without blankets", she said.
"This is bad. We are freezing. The temperature is only 3 to 5 degrees inside our home.
"We are waiting here for a stove. They told us to put your names on a list and wait. When will it end? When will it end? Oh God.
"Why are they [Russians] so stubborn when it comes to our Bakhmut? And here: war, war, war. They have been hitting us all the time for more than half a year already."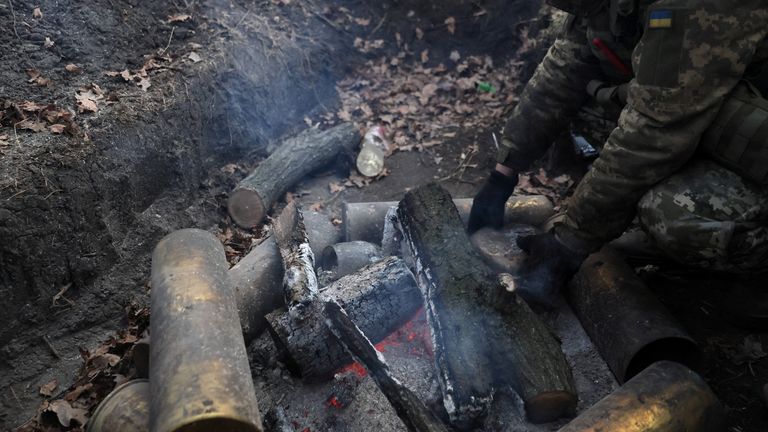 She explained that she lived with her husband who is 82 and too frail to be evacuated.
"How can I leave him? There are no doctors here. No nurses. Nothing is here."
Oksana said she was worried about having to live through the winter. As she spoke booms from incoming rounds could be heard, again in the distance.
"We are in the Stone Age. It is terrifying to live like this in the 21st century. And no one in the world can help us. How can it be?"
With the sound of explosions growing louder, we decided to leave.
Click to subscribe to Beth Rigby Interviews… wherever you get your podcasts
On the way out of town, an artillery round or some other form of munition exploded up ahead. We did not see the impact but could see the smoke.
Suddenly, there was a loud blast and our vehicle shook.
A second round had smashed into the ground to the right of us, sending shrapnel across the road. It narrowly missed a small car that was just ahead of ours – a reminder of the reality and the randomness of this war.
'They beat the hell out of us and stripped us naked': Asylum seekers 'abused in cage' by Bulgarian forces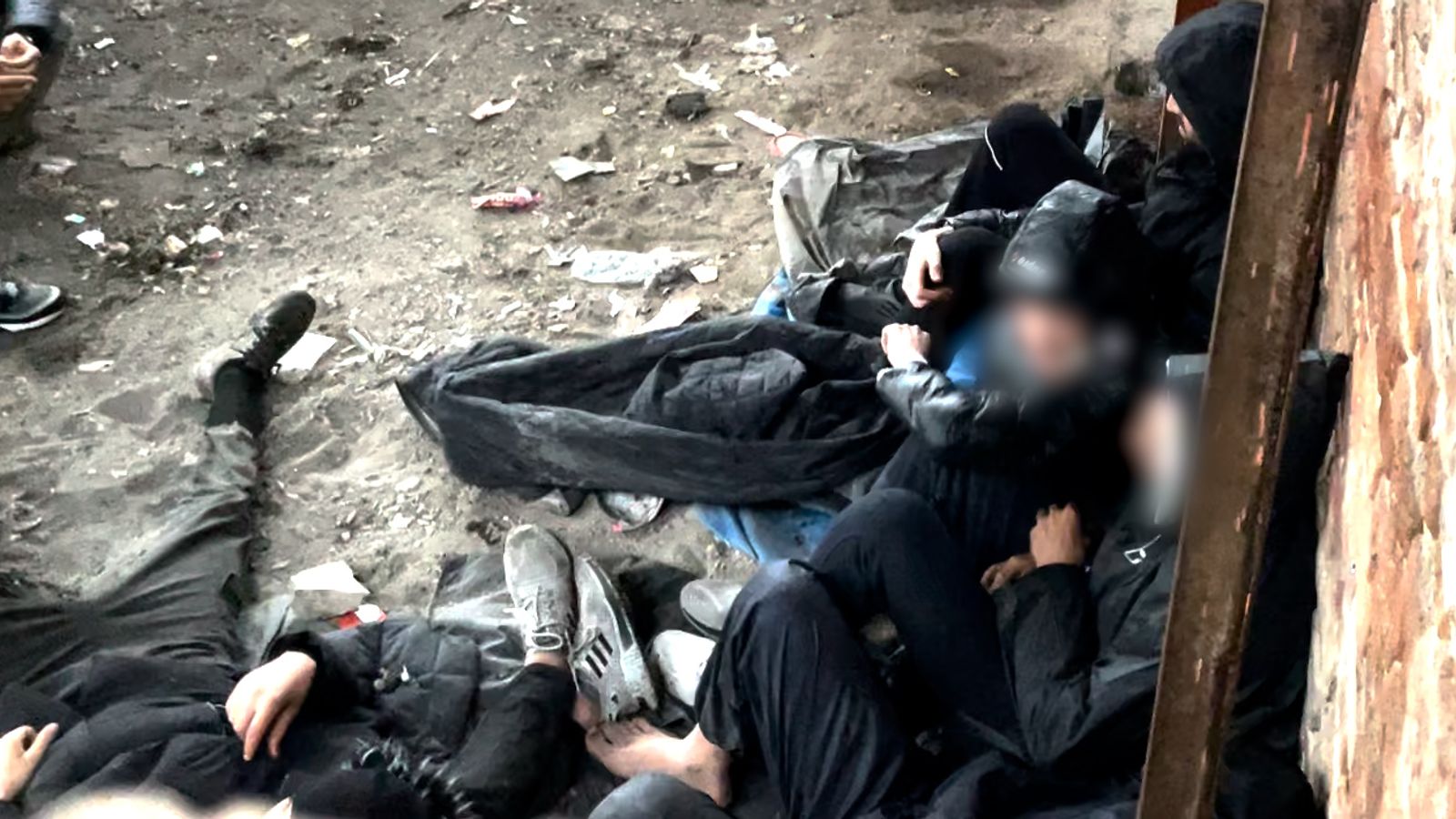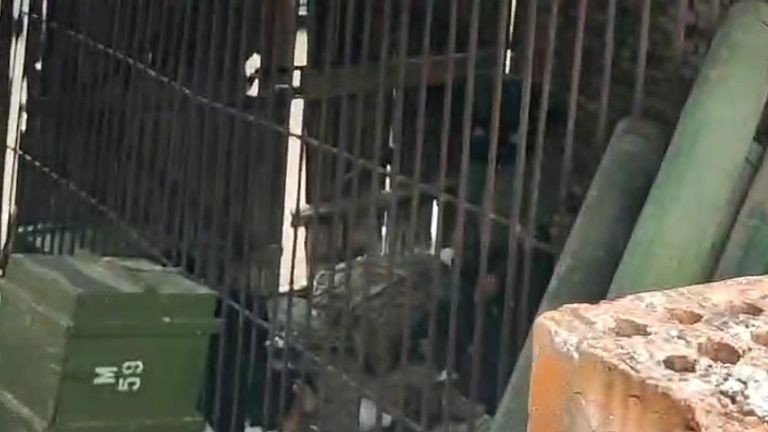 They call it the "cage" or the "jail". Tucked away in the small Bulgarian town of Sredets is a crumbling outbuilding on the edge of a compound where border forces are stationed.
The floor is often covered with litter, there are no proper beds and at one side are metal bars.
The squalid room is no ordinary prison. People who say they've been held inside deny they're criminals.
Instead, they are asylum seekers who claim they were detained in a makeshift jail by Bulgarian border forces before being forced back to Turkey.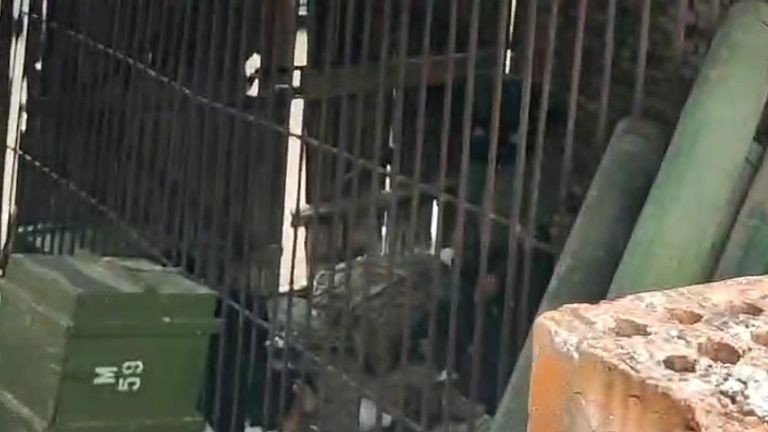 "When they caught us, they beat the hell out of us… they stripped us naked… shaved our brows with a Gillette razor," said Nackman, a 34-year-old refugee who claims he was detained for several hours in the cage.
"Then there was this wooden room that could only fit 20 people, but they forced 60 people into it; even an animal couldn't survive in that wooden room. It has the worst odour ever, so if you need to use the toilet, you'll just go to the side. They won't look at you with human eyes."
As part of joint investigation by Sky News, Lighthouse Reports, Der Spiegel, Le Monde, Monitor, Domani, SRF and RFE/RL Bulgaria, we filmed the outbuilding five times in October and November 2022.
Every time there were people inside. On one occasion, a Bulgarian border force officer is recorded opening the door and leading the people out.
We showed the video of the outbuilding to refugees near the Turkish-Bulgarian border. Kenan, 31, instantly recognised it.
"We slept in this jail for three days. They insulted us. When we asked them for bread, they pushed us back, cursed us and I didn't know what they said. They hit us," he recalled.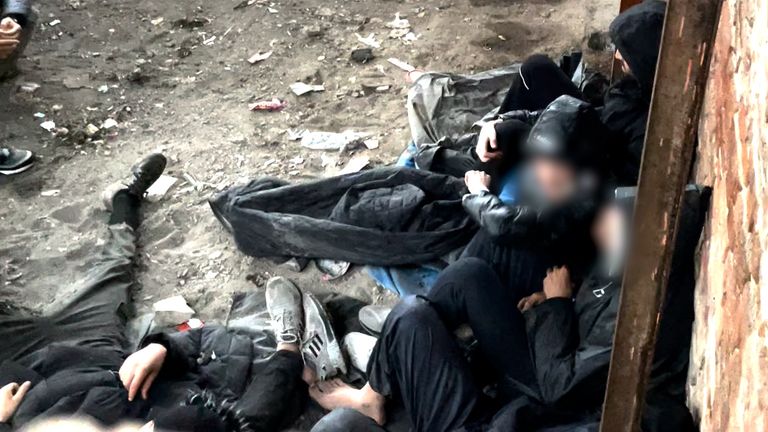 'They unleashed the dogs'
Another man said he was held there before being pushed back over the border to Turkey.
"After they threw me in the container, they unleashed the dogs. It was me and a young child. He was 12 years old. He was bitten by the dogs and so was I," he said.
Claims of abuse at the border by Bulgarian authorities are common. A Syrian refugee named Shaddi said on one occasion he was caught by authorities trying to cross through Bulgaria to Serbia.
"They took off our clothing and they put us in very cold water, maybe 10 minutes. And they threw sticks… and they shoot us by plastic shoot revolver. It's plastic shot," he said. "It's unhuman I think… because we are human. We are not animals. We are not terrorists."
Read more: Refugee shot near Bulgarian border
As part of the investigation, reports of illegal pushbacks and abuse were recorded at several EU borders. In Hungary, refugees reported being held for hours tied up outside or in containers.
Speaking anonymously, one man said he was badly beaten by Hungarian police and detained for two days. Similar reports have been told to aid workers at Doctor Without Borders.
"What we started hearing more and more is that people were kept inside such containers up to 12 hours just before being forcibly returned to Serbia. Often kept up to 60 people in such a contained space, in a standing position or in physical stressing positions," said Alessandro Mangione from the medical NGO.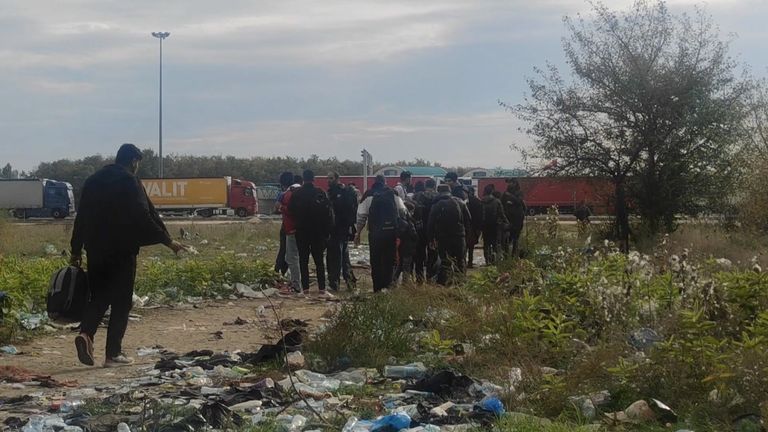 Hungary 'utterly rejects allegations'
He said aid workers regularly treat refugees for beating injuries caused by officials.
In response to the allegations, the Hungarian authorities issued a statement saying its officials carry out their duties lawfully, professionally, humanely and proportionately.
"The government of Hungary utterly rejects allegations which are once more seeking to discredit personnel on duty at the border. Hungarian police officers and soldiers are protecting the EU's Schengen borders lawfully and in compliance with EU and Hungarian regulations," it added.
The Bulgarian government denied any wrongdoing by border officials and said it followed international and domestic laws. It said officials were facing increasing attacks from people trying to cross illegally into Bulgaria.
The European Commission said it took all allegations of wrongdoing at the European external borders seriously, that violence and loss of life was unacceptable, and it expected national authorities to investigate any allegations and to follow up swiftly and effectively.
But the revelations are concerning; people seeking protection are reporting abuse and detention in clandestine prisons – alleged black sites in Europe.