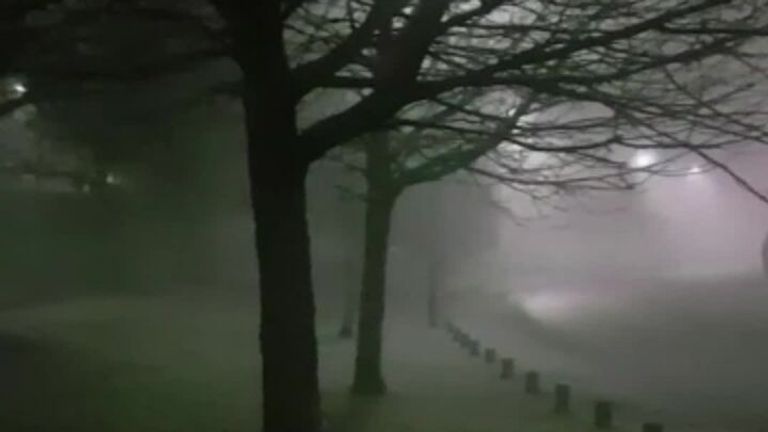 Parts of southern England have seen lows of -9C this morning – as the UK experiences an unusual divide in the weather.
Some places saw freezing fog this morning – and the UK Health Security Agency has now extended a level three cold weather alert until 9am on Friday.
Temperatures hit lows of -9.8C in the West Suffolk village of Santon Downham on Monday – East Anglia's coldest night in 10 years – but not everywhere is shivering through January.
Check the weather forecast where you are
Thick fog shrouds parts of Britain

A change in wind direction means it is pretty mild in Scotland, and temperatures could reach 12C or 13C (53.6F to 55.4F) in Aberdeenshire later today.
Met Office forecaster Craig Snell said: "Further south across the rest of England and Wales we're still under the colder conditions, so there could be some fog again which will be quite slow to clear, so a very similar start to Monday.
"When there is cloud it's going to feel pretty cold, but in the sunshine, although it will be cold, the sun will help negate the cold a little bit, so all in all a pretty similar day to Monday."
While the current Arctic blast will give way to warmer air from the Atlantic, it will take longer to reach the South – and the rest of the week is set to turn a little damp.
"Going into Wednesday we do see a change as the day goes on, we've got a cold front coming down from the North so that will move across Scotland and Northern Ireland during the morning and then gradually move across England and Wales during the afternoon," Mr Snell added.
"There will be some rain with it, turning brighter after it moves in, and the front will then pass on Thursday."
Read more from Sky News:
Firefighter critical after department store blaze
Man found dead in Topman T-shirt pictured in bid to solve cold case mystery
'Radical' fix needed for 'broken' care system, bishops warn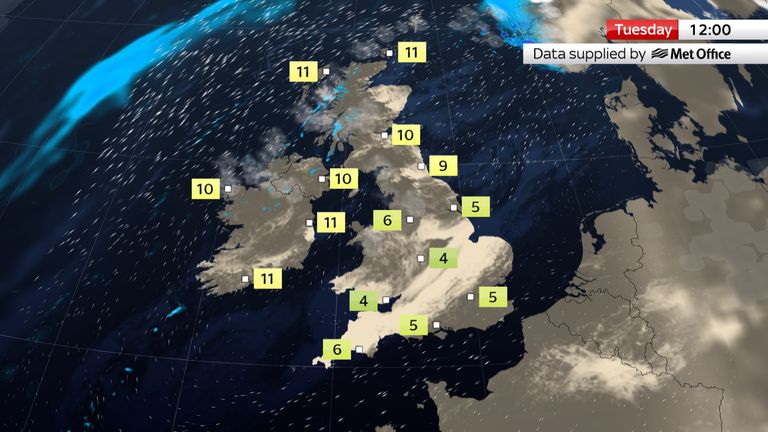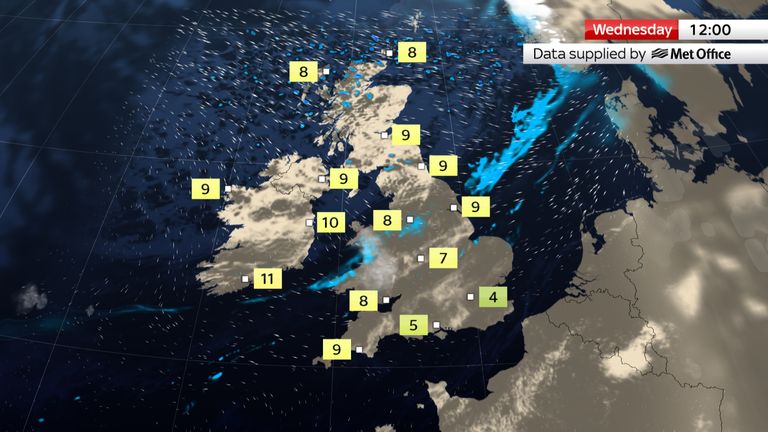 The UKHSA's cold weather alert means people are being urged to keep warm and check in on family and friends who may be vulnerable.
Vulnerable people in areas where average temperatures are recorded as – or forecast to be – below 0C for seven consecutive days are now eligible to receive cold weather payments to help with heating bills.
The government says payments will be made to homes across North East England, Cumbria, west Wales and Oxfordshire.
The Environment Agency currently has 34 flood warnings in place across England, meaning flooding is expected and action to prevent it should take place.
And in London, Mayor Sadiq Khan has issued a high air pollution alert – with commuters urged to avoid making unnecessary car journeys and use public transport or cycle if possible.
Advice for road users when travelling in freezing fog
• Avoid travel if possible
• Drive very slowly with dipped headlights as full-beam lights reflect off the fog causing a 'white wall' effect
• Keep an eye on your speed as fog can give the illusion of moving in slow motion
• Use fog lights, but remember to turn them off when the visibility improves
• Don't hang on the lights of the car in front. Rear lights can give a false sense of security
• Watch out for freezing fog which is made of water droplets that freeze on contact with objects such as the pavement, road, car, etc. It can quickly form a layer of ice
Information provided by the Met Office in conjunction with the Highways Agency
Teachers' strike to go ahead after education secretary 'squandered the opportunity' to avoid action, union says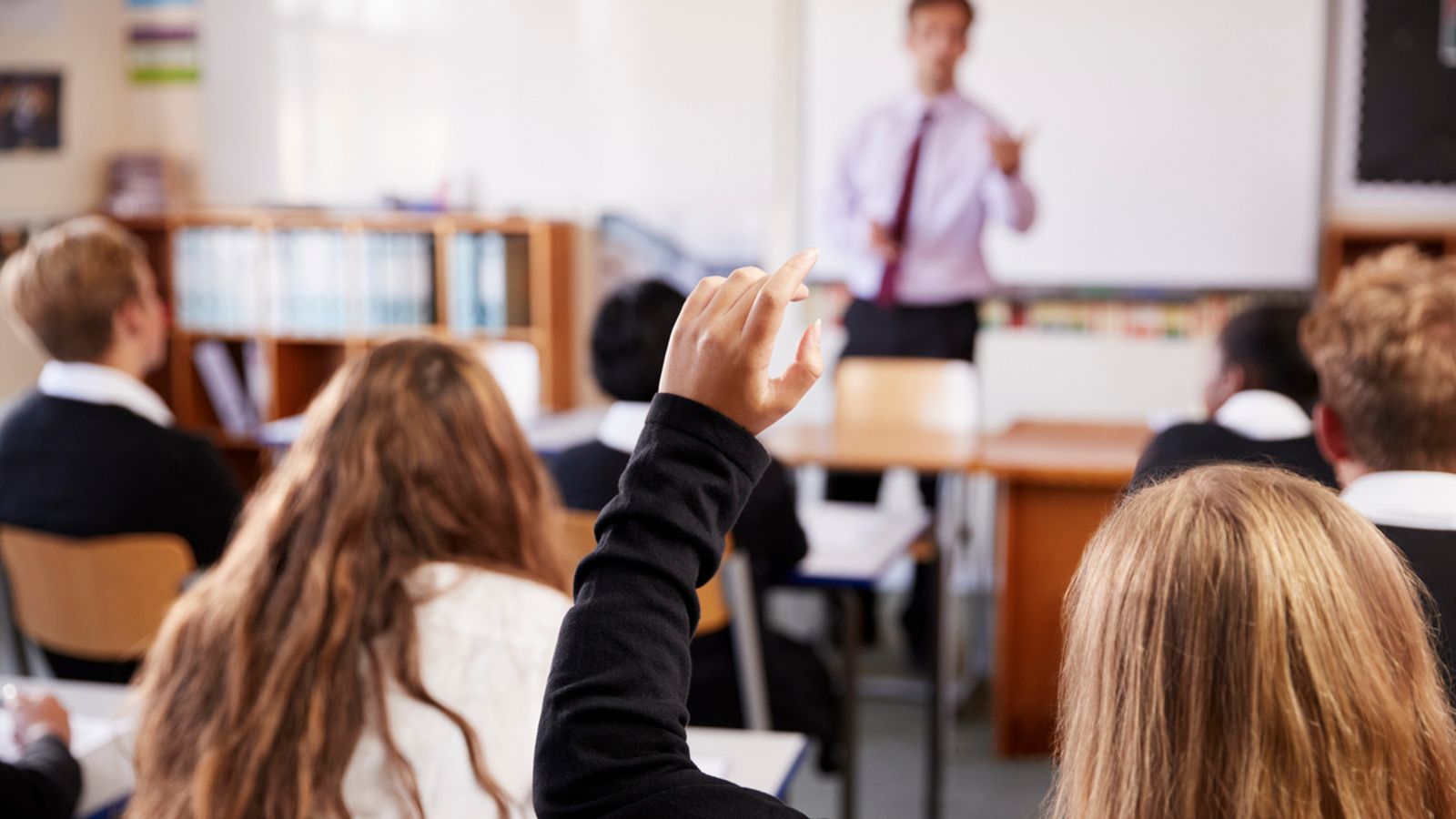 Talks between the education secretary and the teaching unions have failed and the biggest teachers' strike in years will go ahead.
Last-minute talks were held by Education Secretary Gillian Keegan on Monday in a bid to resolve a teachers' pay dispute ahead of planned strikes this week.
Members of the National Education Union (NEU) in England and Wales will now walk out on Wednesday, with more industrial action planned in the following weeks.
The strike on Wednesday is expected to encompass up to half-a-million workers, with teachers due to be joined by train drivers, civil servants, university lecturers, bus drivers and security guards from seven trade unions in what will be the biggest day of industrial action in over a decade.
The NEU has announced seven days of strikes in England and Wales in February and March, with the walkout on Wednesday expected to affect over 23,000 schools.
Mary Bousted and Kevin Courtney, joint general secretaries of the NEU, said: "Gillian Keegan has squandered an opportunity to avoid strike action on Wednesday.
"The government has been unwilling to seriously engage with the causes of strike action.
"Real-terms pay cuts and cuts in pay relativities are leading to a recruitment and retention crisis with which the education secretary so far seems incapable of getting a grip.
"Training targets are routinely missed, year on year. This is having consequences for learning, with disruption every day to children's education."
Read more:
Fresh wave of strikes this year- who is taking action and when
Firefighters set to strike for first time since 2003 after real-terms earnings 'drop by 12%'
In a separate comment, Mr Courtney said: "I regret to say that we didn't hear anything that enables us to say that the strike shouldn't go ahead on Wednesday.
"There's no offer from the secretary of state trying to bridge the gap between us."
Meanwhile, a headteachers' union boss has described the talks with Ms Keegan as "deeply disappointing".
Following the meeting with the education secretary, Geoff Barton, general secretary of the Association of School and College Leaders (ASCL), said: "Parents will have been looking for the government to avert the planned strike on Wednesday.
"Instead, the government continues to talk around the issues rather than putting anything on the table which allows for any meaningful negotiation.
"It is deeply disappointing."
Mr Barton added: "We are sorry to report that there is therefore no resolution to the dispute and the strike is set to go ahead."
The teachers' strike was confirmed shortly before British firefighters voted to carry out nationwide action in a dispute over pay.
About 88% of members of the Fire Brigades Union had voted in favour of strike action, on a 73% turnout, the union said.
Its members had rejected a 5% pay offer in November.
Rishi Sunak says he acted 'decisively' in sacking Nadhim Zahawi following tax affairs row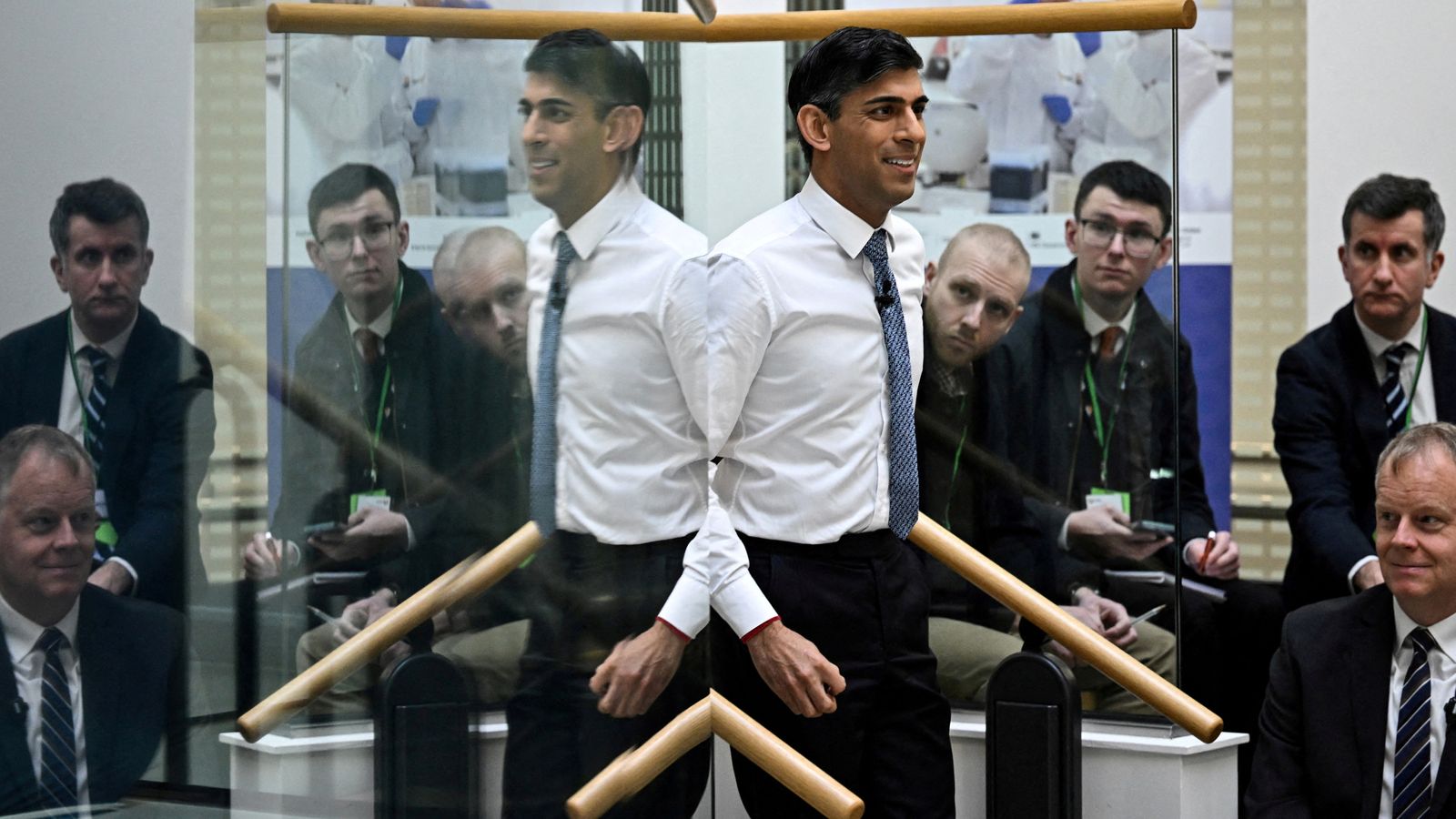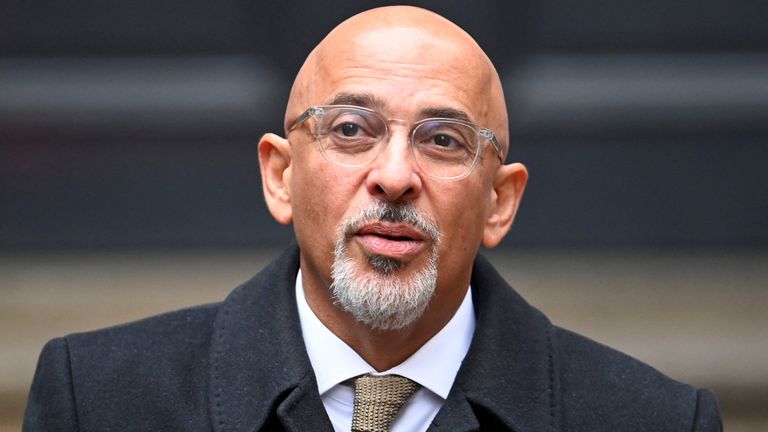 Rishi Sunak has insisited he acted "decisively" in sacking Nadhim Zahawi as chairman of the Conservative Party after a row over his tax affairs.
Speaking in Country Durham at the launch of his government's emergency care plan, the prime minister defended his handling of situation and stressed his commitment to "integrity" and the need to follow proper processes.
"What I have done is follow a process, which is the right process," he said.
"Integrity is really important to me – all of you guys want to see that government is run properly, that it is run with integrity and there's accountability when people don't behave in the way that they should or if something doesn't go right, and that's what we've done."
Labour asks if Tories can be 'trusted' with UK defence – politics latest
Mr Sunak also promised he would "take whatever steps are necessary to restore the integrity back into politics".
"The things that happened before I was prime minister, I can't do anything about," the prime minister said.
"What I think you can hold me to account for is how I deal with the things that arise on my watch.
"And as you've seen, you know, when it came to Nadhim Zahawi, I asked the independent adviser to look at it straight away, acted on his findings straight away.
"That should give you some confidence that these things matter to me, and that I will take whatever steps are necessary to restore the integrity back into politics, and you can have confidence that the process works."
Mr Zahawi was sacked as Tory party chairman on Sunday after an ethics inquiry into the handling of his tax affairs found a "serious breach" of the ministerial code.
Mr Sunak had resisted earlier calls from opposition parties to fire Mr Zahawi following reports that he had paid a penalty as part of an estimated £4.8m settlement dispute with HMRC.
But following the conclusion of an inquiry into the matter by his new ethics adviser Sir Laurie Magnus – which found that Mr Zahawi had "shown insufficient regard for the general principles of the ministerial code" – Mr Sunak swiftly removed the former Tory chairman from his post.
Zahawi sacked over tax row

Critics of Mr Sunak have said he should have acted sooner in dismissing Mr Zahawi.
But the prime minister said it was on the basis of the facts contained in Sir Laurie's report released on Sunday morning that he was "able to make a very quick decision that it was no longer appropriate for Nadhim Zahawi to continue in government".
The PM's official spokesperson reiterated to reporters on Monday that Mr Zahawi's tax penalty was not disclosed to Mr Sunak upon his appointment.
Read more:
Who is Nadhim Zahawi? The politician sacked over his tax affairs?
Rishi Sunak: From Zahawi and Raab to seatbelt gaffe – the U-turns and scandals of his first months as PM
Yesterday, Labour's deputy leader Angela Rayner and chairwoman Anneliese Dodds wrote to Mr Sunak asking him to give the public "full transparency" about what he knew about the investigation into Mr Zahawi's tax affairs and when.
Ms Dodds described Mr Sunak as "weak" for not sacking Mr Zahawi "when this murky affair first surfaced".
Ms Rayner added: "Rishi Sunak shouldn't have needed an ethics adviser to tell him that Nadhim Zahawi's position was untenable, but instead he continued to prop up the man he appointed to cabinet."
Speaking to Sky News earlier today, shadow international trade secretary Nick Thomas-Symonds suggested the PM could have been lying about what he knew about Mr Zahawi's tax affairs.
'PM must come clean on Zahawi'

Asked whether he believed Mr Sunak has lied about what he knew of the matter, Mr Thomas-Symonds replied: "How could the prime minister not have known about the fact of the investigation when Mr Zahawi declared it in July?"
The row surrounding Mr Zahawi had centred on a tax bill over the sale of shares in YouGov – the polling firm he founded worth an estimated £27m – which were held by Balshore Investments, a company registered offshore in Gibraltar and linked to Mr Zahawi's family.
Mr Zahawi had insisted he was "confident" he had "acted properly throughout".
Liberal Democrat deputy leader Daisy Cooper has called on Mr Sunak to withdraw the Conservative whip from Mr Zahawi "if he refuses to stand down as an MP" as he is "simply not fit to represent his constituents".
Click to subscribe to the Sky News Daily wherever you get your podcasts
In a letter to Mr Sunak following his sacking – in which he made no apology for his actions – Mr Zahawi told the PM he can be "assured of my support from the backbenches in the coming years".
Speaking to Sky News on Monday, health minister Helen Whately said she thought the PM followed a "fair" process when deciding to sack the former Conservative party chairman.
Major search for missing 45-year-old who vanished while walking her dog in Lancashire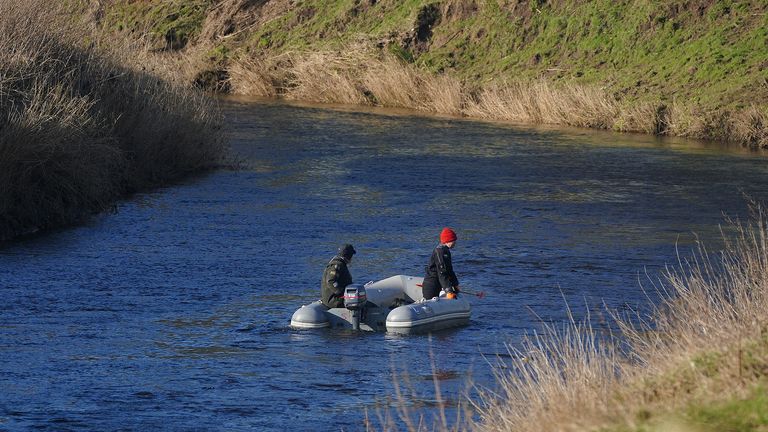 A major search is under way to find a 45-year-old woman from Inskip, Lancashire, who vanished while walking her dog.
Nicola Bulley was last seen three days ago – on Friday 27 January – at around 9.15am on a towpath by the River Wyre off Garstang Road in the village of St Michael's on Wyre.
Police say her mobile phone was found on a bench near the riverbank and they are "extremely concerned" about her, and have urged anyone with information to get in touch.
Emergency crews including Lancashire Police, Lancashire Fire and Rescue, Bowland Pennine Mountain Rescue team and the North West Underwater Search Team have joined the search.
Police dive teams, fire service drones, search dogs, helicopters and mountain rescue volunteers have been sent to the area.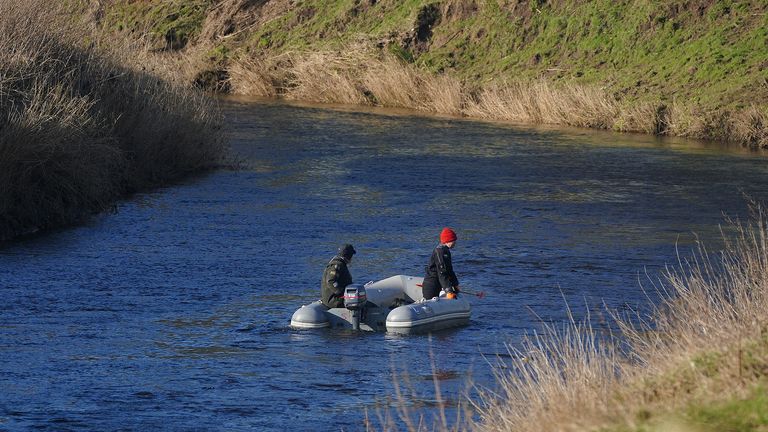 Lancashire Police earlier said Ms Bulley's dog – a brown Spaniel – was also found close to where she was last seen and hope this might help jog the memory of anyone who saw her and may have information relating to her whereabouts.
She is described as white, 5ft 3ins tall, with light brown shoulder-length hair and she speaks with an Essex accent.
Ms Bulley was last seen wearing a long black gilet jacket with a hood, black jeans and olive green ankle wellies. Her hair was tied into a ponytail.
As well as Inskip and St Michael's on Wyre, she also has links to Thornton Cleveleys.
In an update on Monday, Superintendent Sally Riley appealed for motorists who may have been driving through the area where Ms Bulley was last seen to come forward with any dash cam footage that could help officers.
The force said it is keeping an open mind about where she may be, and detectives investigating the circumstances around her disappearance are following a number of lines of enquiry.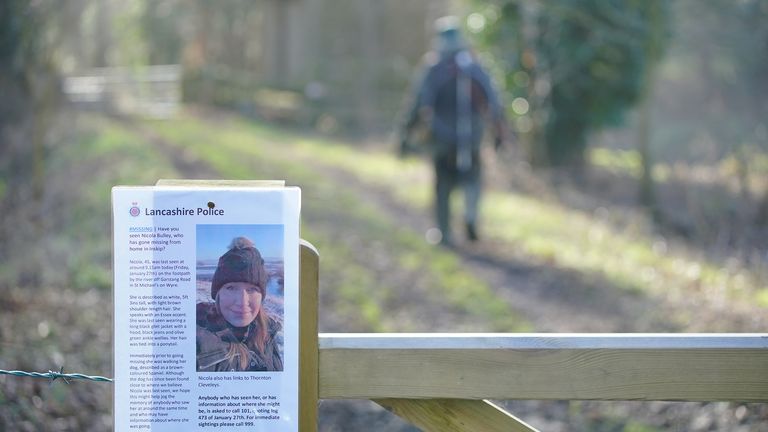 Read more on Sky News:
Six children found in abandoned wine cellar
24 star Annie Wersching dies
Sunak urged to 'come clean' over Zahawi tax scandal
Chief Inspector Chris Barton said on Sunday: "Nicola has now been missing for two days and we are extremely concerned about her.
"Firstly, if anybody saw her on Friday morning and has not yet been spoken to by police, or if anybody has any other information about where she might be, please get in touch with us straight away.
"Enquiries are very much ongoing and we have a team of detectives working tirelessly to establish the circumstances around her disappearance, in addition to a large team of police officers, partner agency and volunteer groups on the ground searching the area around where she was last seen."
He added officers are aware a large number of people from the local community have organised a search of the area, and urged them to stay safe.
The River Wyre and its banks are extremely dangerous and searching these areas presents a genuine risk to the public, the force said.