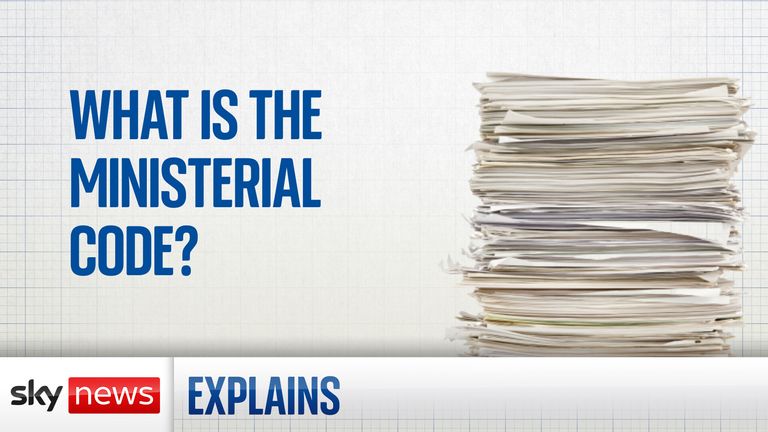 Suella Braverman is to remain in her post as home secretary after the prime minister said "further investigation is not necessary" into her handling of a speeding offence.
In his letter to the home secretary, the prime minister said he had consulted with his independent ethics adviser, Sir Laurie Magnus, who advised that "on this occasion further investigation is not necessary" and that he had "accepted that advice".
Mr Sunak had been facing pressure to take action against Ms Braverman after The Sunday Times reported that she allegedly asked civil servants to arrange a private one-to-one awareness course after she was caught speeding last summer – a move critics said could amount to a breach of the ministerial code.
What is the ministerial code?

But Mr Sunak said that after receiving a letter from Ms Braverman – in which she apologised for causing "distraction" – "my decision is that these matters do not amount to a breach of the ministerial code".
However, acknowledging the row that ensued following the reports, he added: "As you have recognised, a better course of action could have been taken to avoid giving rise to the perception of impropriety."
'A better course of action could have been taken' – politics latest
Mr Sunak immediately came under criticism for his decision, which the Liberal Democrats branded a "cowardly cop-out".
In the exchange of letters, the home secretary admitted that "if faced with a similar situation again, I would have chosen a different course of action".
She said she had "at all times been truthful and transparent, and taken decisions guided by what I believed was right and appropriate given my office, not by any personal motivation".
The Sunday Times reported that instead of signing up for an in-person speed awareness course with other motorists, or completing one online that would show her name and face to other participants, Ms Braverman allegedly asked civil servants to arrange a private one-to-one course.
PM asked home secretary for 'further info'

When the civil servants refused, she reportedly sought help from a political aide, who requested for the course organiser to provide a private session, or allow her to use an alias or turn her camera off.
When the course provider refused, Ms Braverman opted to take the three points on her licence, the paper reported.
Ms Braverman said she "sought to explore whether bespoke arrangements were possible" due to her "personal circumstances" and the security she receives as a government minister.
Click to subscribe to the Sky News Daily wherever you get your podcasts
"I recognise how some people have construed this as me seeking to avoid sanction – at no point was that the intention or outcome," she said.
"Nonetheless, given the fundamental importance of integrity in public life, I deeply regret that my actions may have given rise to that perception, and I apologise for the distraction this has caused."
Liberal Democrat chief whip Wendy Chamberlain said that "with every scandal, we see the prime minister dither, delay and flip-flop – never taking decisive action".
"This is not the leadership the country needs during such a severe cost of living crisis. Sunak is too weak to even order an investigation, let alone sack his home secretary," she said.
Read more:
What has Suella Braverman allegedly done wrong?
Raab's exit at next election shows a clear sense of Tory despondency about their prospects
"Sunak had the chance to do the right thing but instead he's once again chosen to be ruled by his own hardline backbenchers. He may be in office but he is barely in power."
Labour MP Angela Eagle said the decision was "weak, weak, weak" – echoing Tony Blair's criticism of John Major when he was prime minister.
Chris Bryant, the Labour chair of parliament's standards committee, tweeted: "This is extraordinary and shows neither professionalism nor integrity."
The Labour MP was referring to a pledge Mr Sunak made on becoming prime minster in which he promised that "integrity, professionalism and accountability" would be at the heart of his government following the scandals that erupted under Boris Johnson and Liz Truss.
Ms Braverman has escaped investigation but the prime minister did launch probes into Nadhim Zahawi and Dominic Raab, who both lost their roles as party chair and justice secretary respectively.
Eamonn Holmes claims there was 'total cover-up' over Phillip Schofield's affair with younger man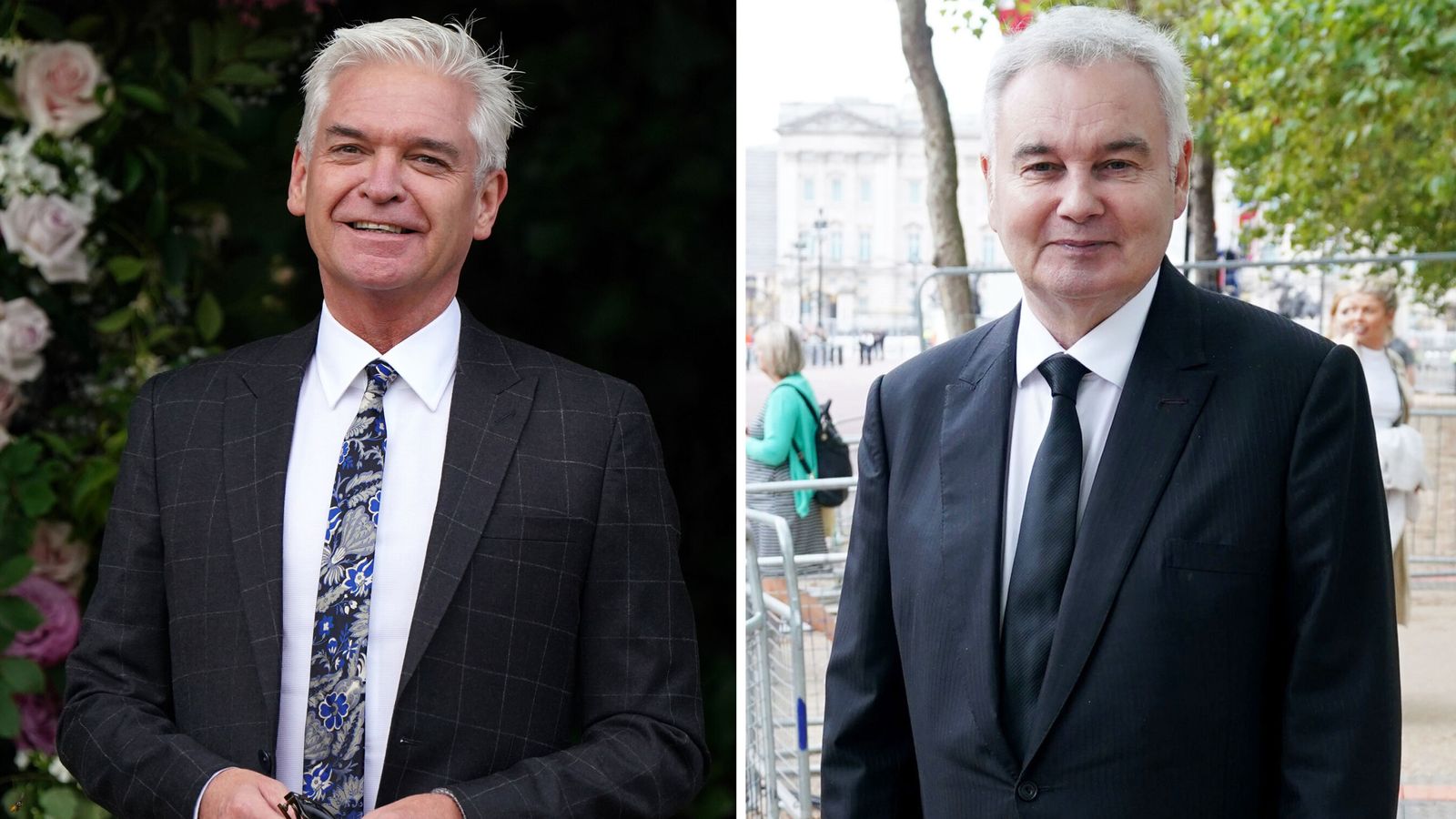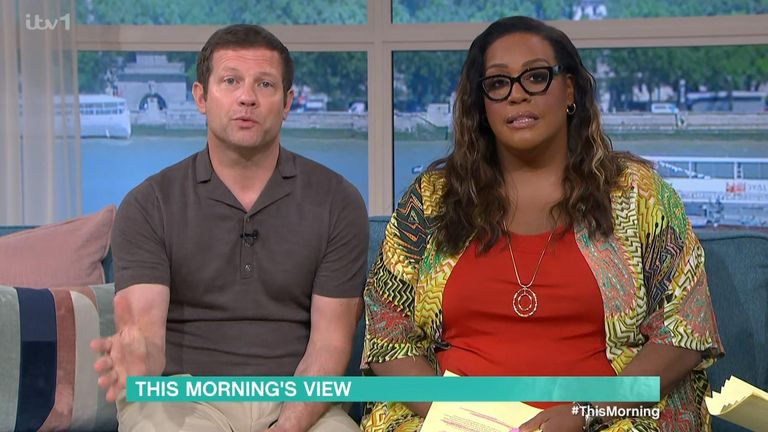 Eamonn Holmes has claimed there was a "total cover-up" over Phillip Schofield's affair with a younger male colleague on This Morning while he was married.
Holmes, 63, who also presented on the show, has accused Schofield of "toxicity" amid the furore over the culture on the ITV daytime programme.
Host Schofield, 61, admitted last Friday to an "unwise, but not illegal" affair with a younger male colleague on the show and has now quit the commercial broadcaster and been dropped by his talent agency YMU.
Schofield on Monday hit back at critics, saying on Instagram there was "no toxicity" on the programme, adding: "I hope you have noticed that it's the same handful of people with a grudge against me or the show who seem to have the loudest voice."
ITV said there had been an investigation in early 2020 when "rumours of a relationship between Phillip Schofield and an employee of ITV first began to circulate" but said it did not find "any evidence of a relationship beyond hearsay and rumour".
A statement from the commercial broadcaster on 27 May said: "Both parties were questioned and both categorically and repeatedly denied the rumours as did Phillip's then agency YMU.
"In addition, ITV spoke to a number of people who worked on This Morning and were not provided with, and did not find, any evidence of a relationship beyond hearsay and rumour… He lied to people at ITV, from senior management to fellow presenters, to YMU, to the media and to others over this relationship."
But Holmes told GB News presenter Dan Wootton: "It's a total cover-up.
"Those in authority had to know what was going on and they thought they would dodge a bullet with this.
"Which they do and they do constantly because with Schofield talking about those who speak out against him, namely me, Amanda Holden and you [Dan Wootton], you'll be included in the toxicity that goes on… Dr Ranj [Singh] of course as well.
"And you simply sit there and think 'no mate, you've had it all your way for too long'."
This Morning presenters address controversy

Read more:
A timeline of the This Morning controversy
ITV responds to rumours around show's future
Why Schofield's admission could kill off his career
Referring to Schofield's comments on Instagram, Holmes said: "I think that Phillip is absolutely right about toxicity.
"But my friend, the toxicity is not with me, Dan Wootton, or anyone else, the toxicity is with you."
Phillip Schofield and Eamonn Holmes social media statements in full
Just before 10am on Monday, Phillip Schofield posts a statement on his Instagram stories.
"Now I no longer work on @thismorning I am free to say this. I hope you have noticed that it's the same handful of people with a grudge against me or the show who seem to have the loudest voice.
"This morning IS the best show to work on, with the best people. In all the years I worked there there was no toxicity. You can listen to those persistently loud voices if you like.
"But the thousands of guests over the years, thousands of staff and crew, hundreds of presenters and contributors all know, it IS a family of wonderful, talented, kind, hard working people."
At 11.10am Eamonn Holmes tweets a response.
"Schofield has just put out a delusional statement. Like Holly he puts it on Insta Stories so if it goes wrong there is no record after 24 hrs.
"I'm reluctant to give the liar any more publicity but believe me Pip if u r looking for a fight , u have picked on the wrong person !"
Earlier in the day, Holmes on social media described Schofield as "delusional" and said he has "picked the wrong person… if you're looking for a fight".
ITV has been approached for comment by Sky News about Holmes's claims.
GB News asked ITV's managing director of media and entertainment, Kevin Lygo, if there was a "cover-up" and if he "protected" Schofield.
Mr Lygo told a GB News producer: "We really have no more to say."
Holmes previously presented This Morning on Fridays with his wife Ruth Langsford.
The programme's former resident doctor Dr Ranj Singh has hit out at the show's "toxic" culture, saying he raised concerns about "bullying and discrimination" two years ago when he worked there and afterwards felt like he was "managed out" for whistleblowing.
Schofield quit This Morning on 20 May after more than 20 years.
Schofield originally said he was stepping down from the show because it had "become the story", following reports of a feud between him and co-host Holly Willoughby.
It came after his brother was recently jailed for 12 years over child sex offences.
Willoughby, 41, is due to return next Monday (5 June), having gone on an early half-term holiday on 22 May.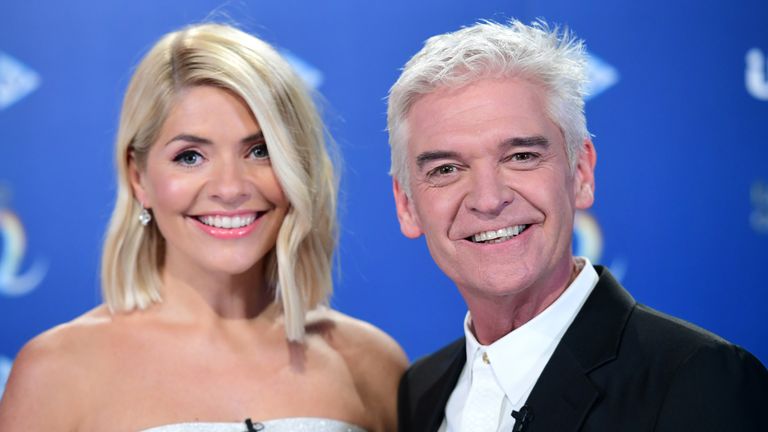 She said that "when reports of this relationship first surfaced, I asked Phil directly if this was true and was told it was not".
"It's been very hurtful to now find out this was a lie," an Instagram statement added.
Schofield has now completely resigned from ITV and been dropped by his agents.
In his statement to the Daily Mail he also admitted lying about his affair to his wife, to ITV, his agents and the media.
The controversy has raised doubts about both Willoughby's and the show's future, but the channel has denied reports it could be axed.
Vape advertising: Government to crack down on promotions 'targeted at children'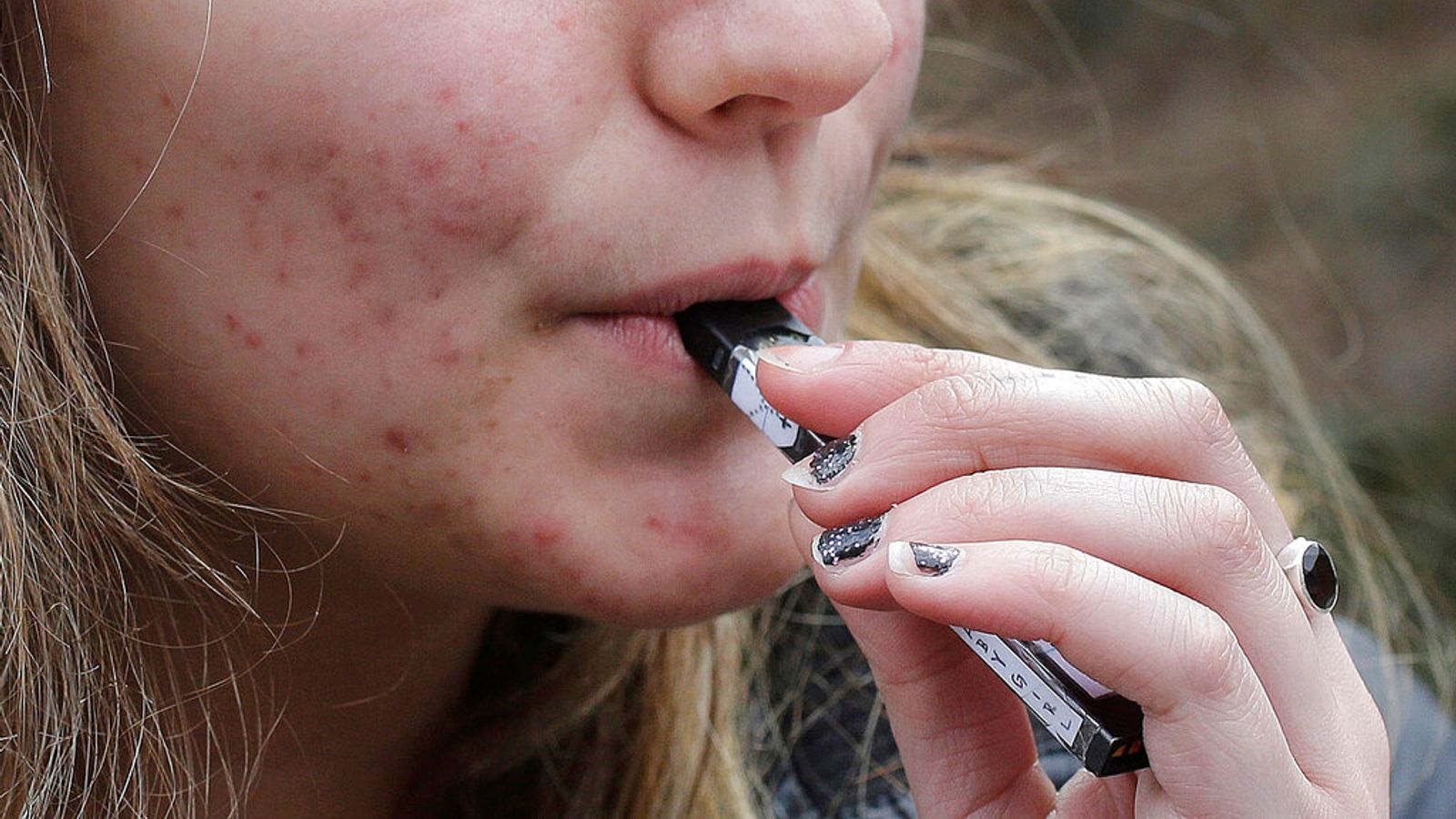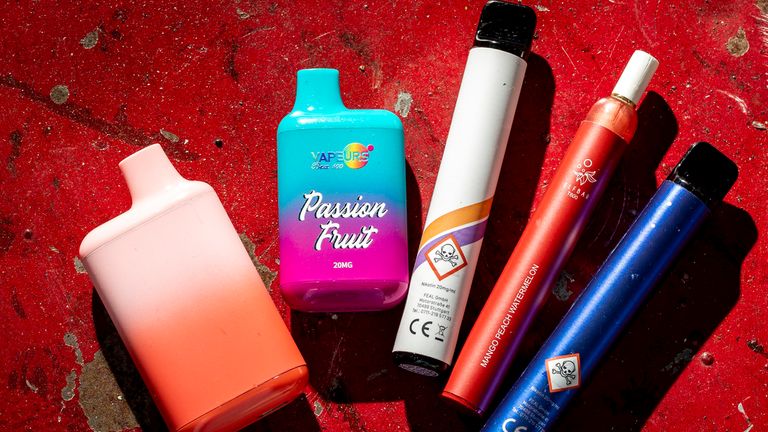 Rishi Sunak has said a new government crackdown on vape marketing will stop the "unacceptable" targeting of children and young people. 
Ministers have pledged to close a loophole that allows shops to offer free samples of vapes to children in England as concerns over the proportion of youngsters trying e-cigarettes mounts.
It comes days after the prime minister expressed concern about his own daughters potentially being targeted by vape marketing during an interview on ITV's Good Morning Britain.
There will also be a review into banning retailers selling "nicotine-free" vapes to under-18s, the government said, as well as a review of the rules on issuing fines to shops that illegally sell vapes to children.
The government said such reviews could make it easier for local trading standards officials to issue on-the-spot fines and fixed penalty notices.
Ministers cited NHS figures from 2021 which revealed 9% of 11 to 15-year-olds used e-cigarettes – up from 6% in 2018.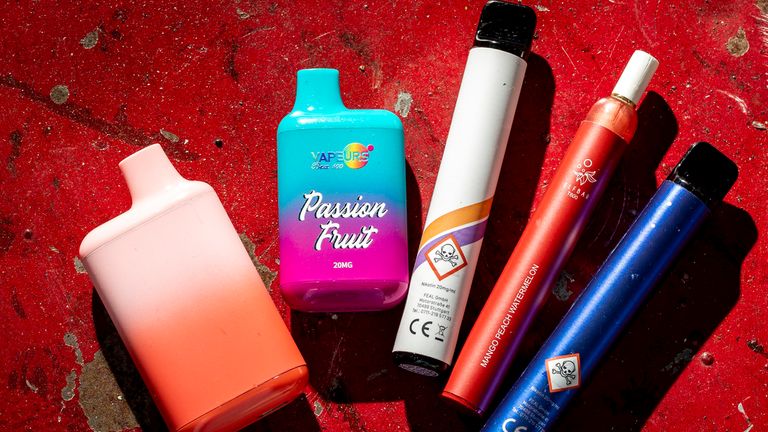 Mr Sunak said he was "deeply concerned" about the increase in children vaping, adding he was "shocked by reports of illicit vapes containing lead getting into the hands of schoolchildren".
"Our new illicit vape enforcement squad – backed by £3m – is on the case but clearly there is more to do," the prime minister said.
"That is why I am taking further action today to clamp down on rogue firms who unlawfully target our children with these products."
He added that the marketing and the illegal sales of vapes to children are "completely unacceptable" and that he will do everything in his power to "end this practice for good".
Meanwhile, Chief Medical Officer Professor Sir Chris Whitty called the decision to close the loophole a "very welcome step".
He said: "Whilst vaping can be an effective quitting tool for smokers, it is important that non-smokers are not encouraged to start vaping.
Sunak on vape 'enforcement squads'

"There has been a particularly worrying rise in the number of children using vapes, with companies clearly marketing these products at children using colours, flavours and cheap disposable options.
"Closing the loophole that allows companies to give out free samples of vaping products to under-18s is a very welcome step in tackling some of the harms caused by the vaping industry."
He added: "We should continue to encourage smokers to swap to vaping as the lesser risk, whilst preventing the marketing and sale of vapes to children."
Read more:
Number of children trying vaping rises 50% in a year in 'tide of experimentation'
Sunak hits out at vape companies for appealing to children
The health risks of vaping will now also be included in Relatonships, Sex and Health Education lessons in schools as part of the ongoing government review of the curriculum.
And the crackdown will also see dedicated police school liaison officers work to keep illegal vapes out of schools.
Health minister Neil O'Brien described any marketing of vaping products to children as "shameful".
He said the government would "review the rules on issuing on-the-spot fines to shops that break the law by selling vapes to underage youngsters, and look into banning the sale of nicotine-free vapes to under-18s – which we know can be a gateway to using nicotine products".
Isle of Man TT: 'Riders know the risks', says event's boss as organisers hope everyone leaves alive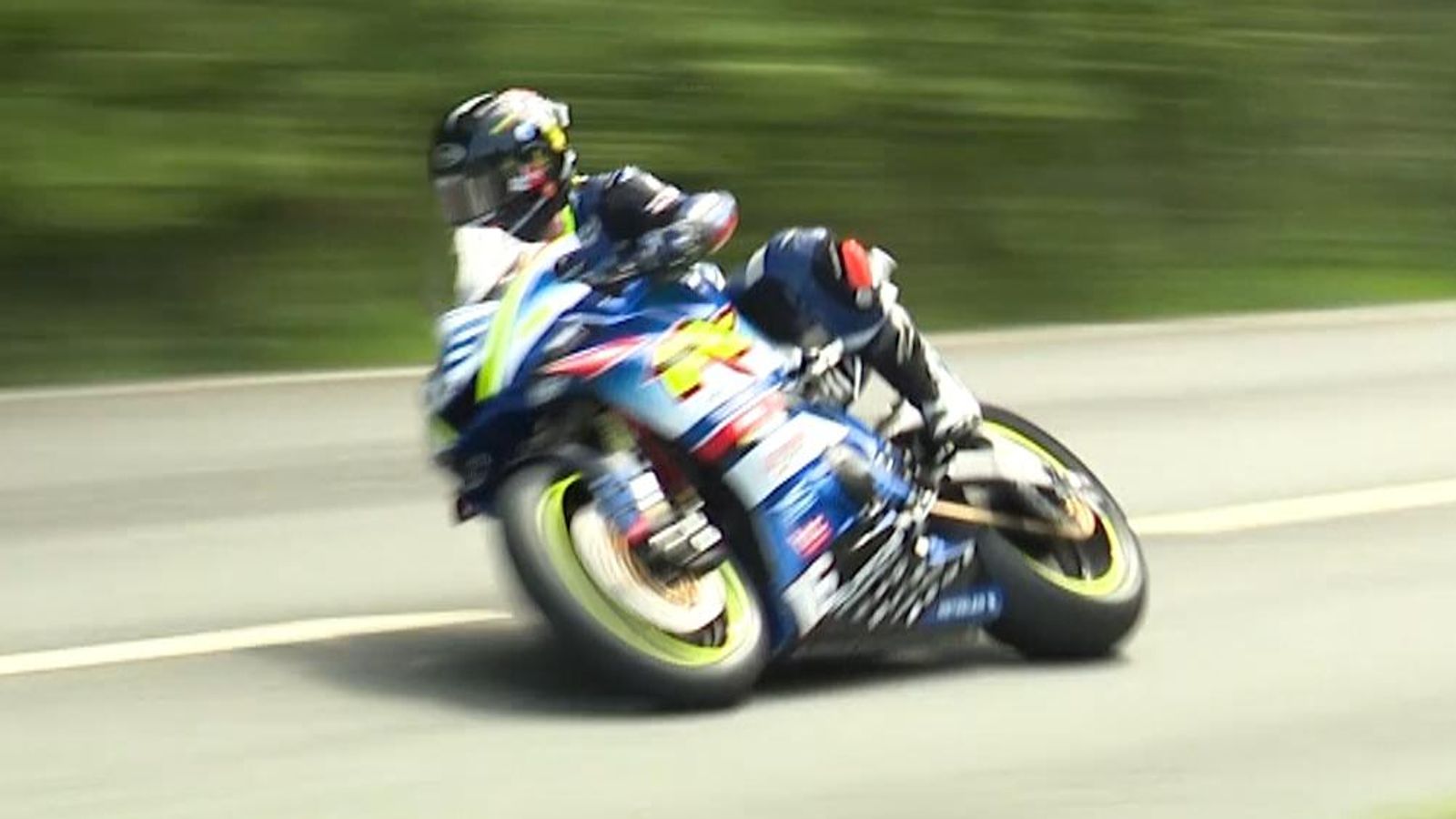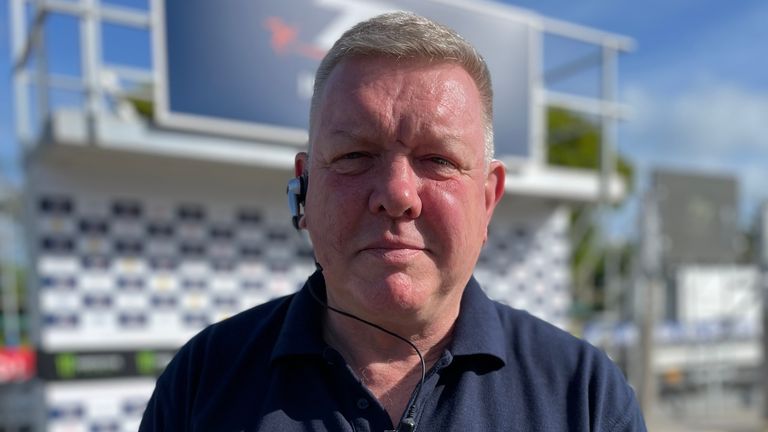 The boss of the world's deadliest motorsport event says riders have to accept risks, while insisting the Isle of Man TT is doing more than ever to improve safety.
This year's two-week motorcycling festival began on Monday with new safety measures after six competitors died last year – equalling a tragic record.
But any talk of banning the event is dismissed on the island despite 266 fatalities now on the mountain course in the 116-year history of the races.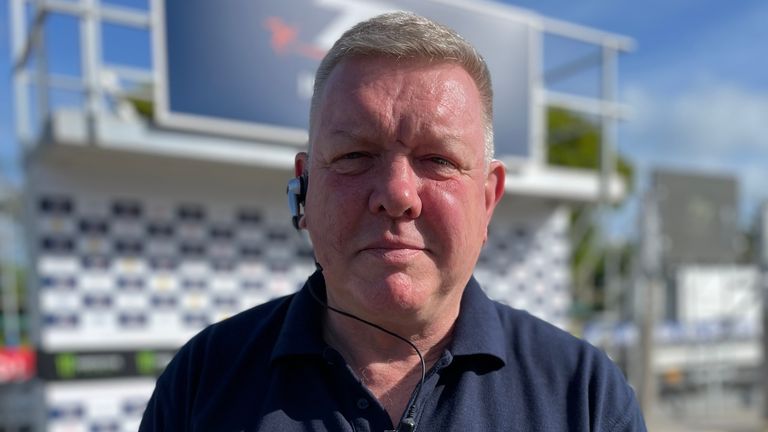 "We try to manage risk much better than was done in the past," clerk of the course Gary Thompson told Sky News.
"The riders sign on, they know that risk. And, almost for them, that's the challenge. For us, we manage that risk without taking away that challenge."
The risks don't bring great financial rewards compared to other sports. Riders compete for the thrill on a circuit winding through towns and villages on narrow roads past houses.
Padding on lamp posts offers minimal protection. But to manage the hazards, there is now GPS tracking of every competitor and a digital red flag system.
It is a celebratory fortnight for the local economy. The TT races can attract 40,000 visitors – around half the population of this British Crown Dependency in the Irish Sea.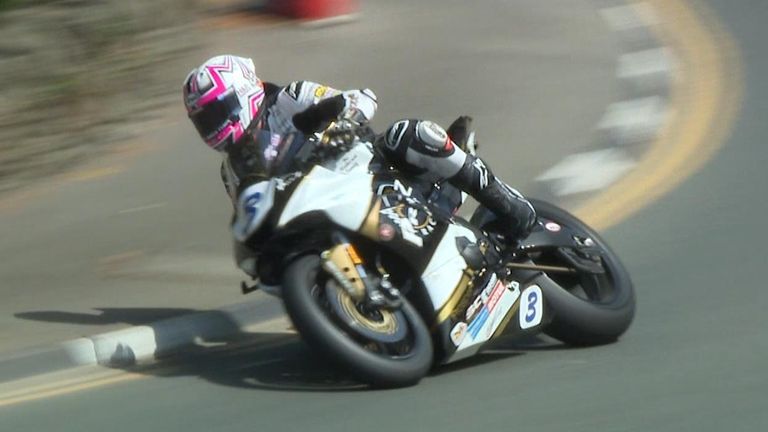 'A lot of people think we're idiots'
And Peter Hickman – who has won nine TT races – told Sky News: "I'm not forced to be here. I want to be here. It's an obvious risk."
Risks helped him set the course record in 2018 and he will continue to take them – undeterred by the fact only one year in the last 85 has seen no deaths in races.
"A lot of people think we're just crazy or idiots," Hickman said as he prepared for the first day of racing. "You take your brain out and put your helmet on."
"It's very, very much the opposite effect. So you've really got to use your brain.
"And you've got to take the risk when you want to take the risk – or if it's necessary.
"So, for example, I hold the outright lap record here and I'm constantly getting asked, 'Are you going to break that record?' And my answer always is 'only if I have to'.
"And by that I mean, I win the race at the slowest possible pace. Because the slower I win the race, the less risk to me."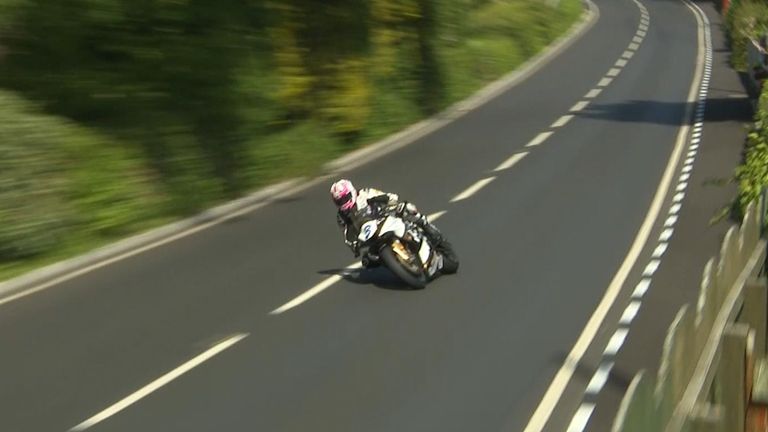 And the challenge of winning at the world's oldest motorcycle event remains exhilarating for the 36-year-old.
"Life is short as it is," he said. "I would rather go away doing something like this."
The hope of organisers is that everyone leaves alive.
Read more:
Dad and son among racers who died in 2022 event
Rider defends Isle of Man TT
Organisers wrongly identified competitor who was killed
Even as we're interviewing the Isle of Man TT medical chief at a hospital, a helicopter lands with a rider injured on the first morning of the competition. His condition was unknown.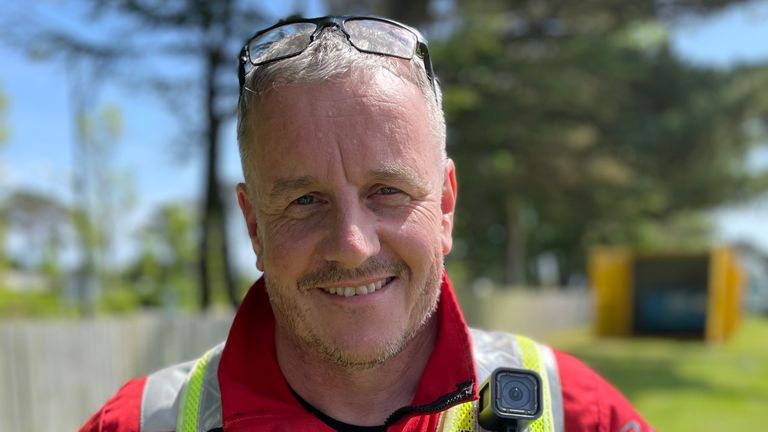 Complex network of medical staff on hand
Dr Gareth Davies said: "We have a system whereby there are trackside medics that will be at the rider's side within a matter of seconds.
"And then we have three different helicopters to support the racing, three response cars, and then about five or six different ambulances. So there's quite a complex network of medical staff there."
How can medics contemplate a sporting event that is so perilous?
Dr Davies said: "In our daily working lives, we see people going to work that are killed, just travelling on a push bike or an accident on the way to work.
"We see people who may be undertaking climbing or other sporting activities. So it's not alien to see people injured.
"From our point of view. I think we very much see the racing as a huge challenge, a huge sort of celebration of the human spirit, and we're here to support them."
Additional reporting by Tyrone Francis, sports producer