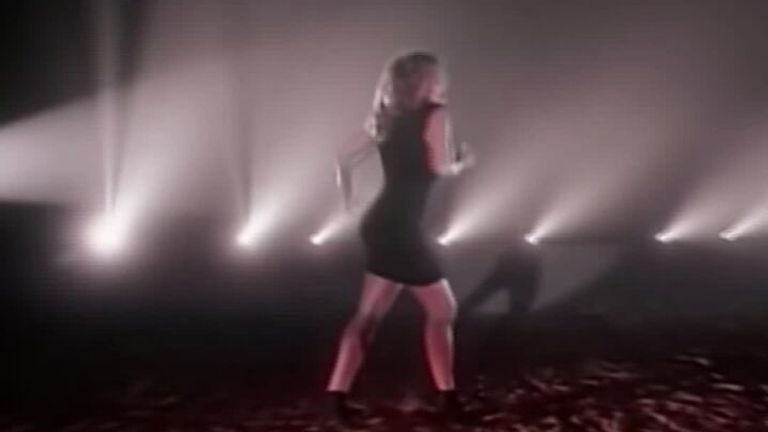 "Look what I have done in this lifetime, with this body," said Tina Turner, in a documentary released about her life in 2021. "I'm a girl from a cotton field, that pulled myself above what was not taught to me."
Tina Turner's life was a story of trauma and triumph – she was the star known for her energetic stage performances and her incomparable soulful, husky voice, who overcame several personal and professional struggles to become the Queen of Rock 'n Roll.
Following her death at the age of 83, tributes have been paid to a "legend", an "icon" and a "remarkable force of nature," from fellow music stars to the White House, with clips of her biggest hits – including Proud Mary, Nutbush City Limits, The Best, We Don't Need Another Hero, and What's Love Got To Do With It – flooding social media.
'The world loses a legend' – tributes to Tina Turner
Throughout her career, Turner won a total of 12 Grammys and was a two-time inductee into the Rock 'n' Roll Hall Of Fame, as a solo artist and as part of the duo she formed with ex-husband, Ike Turner, in the 1960s.
Tina Turner sings The Best

She was the first woman to appear on the cover of Rolling Stone and a record breaker – previously holding the Guinness World Record for the largest paying audience for a solo performer, attracting an audience of 180,000 for her show at the Maracana Stadium in Rio de Janeiro, Brazil, in 1988.
And she also inspired an award-winning musical based on her incredible life – the story of the star who achieved stratospheric success, including sales of more than 100 million records worldwide, after overcoming years of abuse from both her father and ex-husband, and pushback from those who told her she could not make it as a solo star.
Tina Turner was born Anna Mae Bullock in Nutbush, Tennessee, on 26 November 1939, to parents Zelma Priscilla and Floyd Richard Bullock. At the age of 11, she moved to live with her grandmother after her mother left her abusive relationship with her father.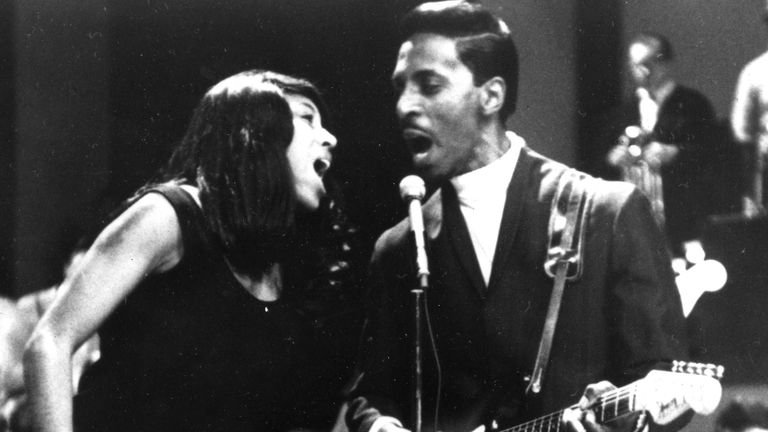 Aged 16, she joined her mother and sister Alline in the city of St Louis in Missouri, which is where she encountered her future husband for the first time.
She soon joined his band The Kings Of Rhythm as its first female member – and when she reimagined herself as Tina Turner in 1960, the group reformed to become the Ike And Tina Turner Revue.
That same year, Turner gave birth to their first child Ronnie and the couple wed in Tijuana, Mexico, in 1962. Ronnie was her second child; her first, Craig Raymond Turner, was with the saxophonist for the Kings Of Rhythm, Raymond Hill.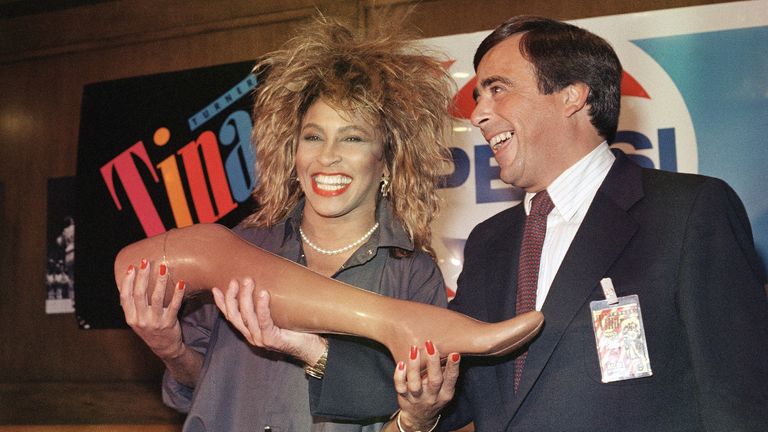 The group produced a string of RnB hits, including A Fool In Love and It's Gonna Work Out Fine, but it was the release of River Deep – Mountain High in 1966 that saw their popularity soar around the world. The release was followed by a UK tour with The Rolling Stones as the band's support act.
Songs such as Come Together, Honky Tonk Woman and Proud Mary helped cement their status, with the latter winning them a Grammy in 1972.
But behind the scenes, Turner was enduring abuse at the hands of her husband.
She stayed with him until 1976, but later revealed she had attempted suicide during their relationship. "I simply couldn't take any more," she wrote in her 2018 memoir, of the moment she hit rock bottom.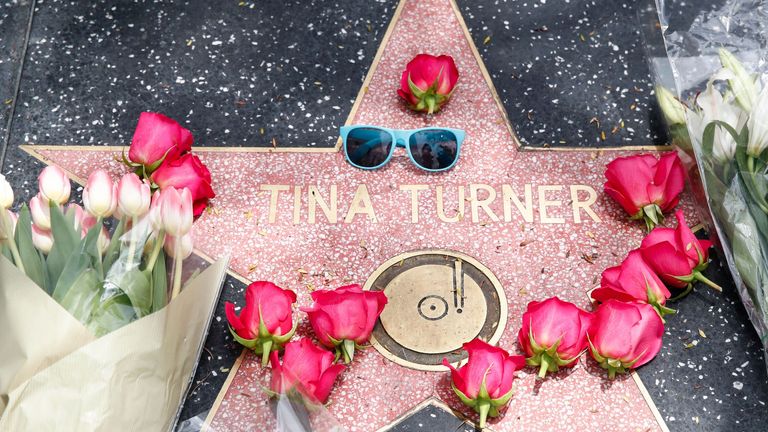 During their divorce, she reportedly asked for nothing more than the right to keep the use of her stage name, and she went on to reinvent herself as a solo star.
It wasn't easy, with a slow start for debut album Tina Turns The Country On! in 1974, followed by Acid Queen in 1975, but Turner pushed back against those who told her that, as a black woman approaching 40, she would never make the transition to rock.
Read more:
Simply The Best: Tina Turner in pictures
Tina Turners most streamed songs
1. The Best
2. What's Love Got To Do With It?
3. Proud Mary
4. What's Love Got To Do With It? (with Kygo)
5. River Deep Mountain High (with Ike Turner)
6. We Don't Need Another Hero (Thunderdome)
7. Nutbush City Limits (with Ike Turner)
8. Private Dancer
9. It's Only Love (with Bryan Adams)
10. Proud Mary (with Ike Turner)
Throughout the 1980s, she rebuilt her career, with a string of hits starting in 1983 with a cover of Al Green's Let's Stay Together, and the 1984 release of her album Private Dancer. Her most recognisable song, a cover of The Best, was released in 1989. By then, her image of big hair and mini-skirts had become iconic, her famous legs becoming almost as famous as her distinctive voice.
In 1986, Turner was honoured with a star on the Hollywood Walk Of Fame. Her first induction into the Rock 'n' Roll Hall Of Fame, for her work with Ike, came in 1991, though neither attended the ceremony. Her induction as a solo artist came some 30 years later, in 2021.
"If they're still giving me awards at 81, I must have done something right," she said in a recorded acceptance speech.
Turner on recognition and achievements

She was inducted by Angela Bassett, the actress who portrayed Turner in the 1993 film What's Love Got To Do With It. Both Bassett and Laurence Fishburne, who played Ike, were nominated for Oscars for their performances.
"Imagine, a black girl from Nutbush, Tennessee, who embodied more talent than her small town could have ever dreamed," Bassett said at the Hall Of Fame ceremony. "Imagine that same girl breaking through every barrier to one day make history.
"People still tell me how much Tina has meant to them. I know exactly what they mean, because she has meant that much and more to me. I too am one of those people blessed by Tina's remarkable gift to inspire."
In the 1990s, Turner joined the list of Bond musicians, voicing the title song for Pierce Brosnan's Goldeneye.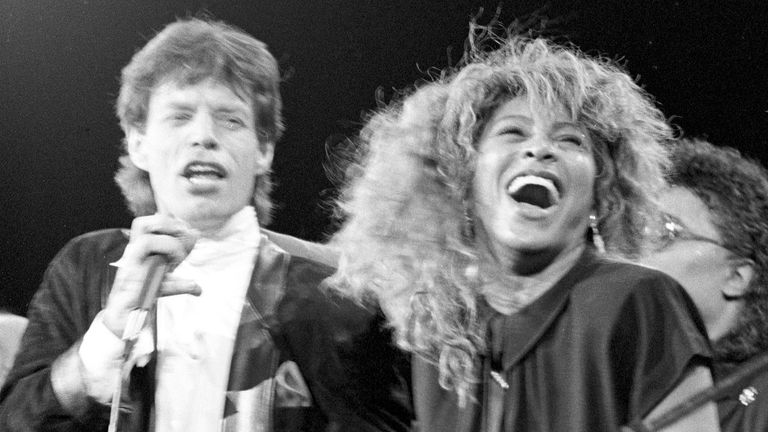 After a brief break from showbusiness, she returned to the limelight in 2008 at the Grammy Awards, where she performed Proud Mary alongside Beyonce. Other notable duets through her career included performing with David Bowie, and with The Rolling Stones during Live Aid in 1985.
In 2008, she embarked on her 50th-anniversary tour, and in 2016 she announced Tina – The Tina Turner Musical.
In 2021, she sold the rights to her back catalogue after reaching an agreement with BMG for an undisclosed sum, and the last of her 34 UK Top 40 hits was released in 2020, when she re-recorded What's Love Got To Do With It with Norwegian DJ Kygo.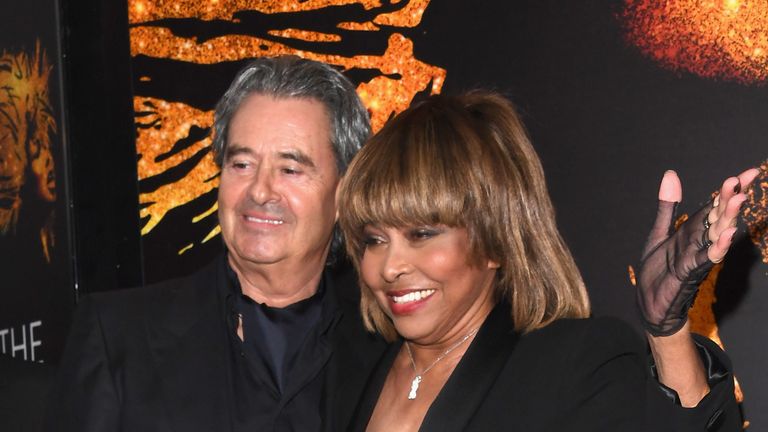 Turner's solo works include 10 studio albums, two live albums, two soundtracks and five compilations, which together have sold more than 100 million records. As well as her music, Turner also starred in films including Tommy in 1975, Mad Max Beyond Thunderdome in 1985, and Last Action Hero in 1993.
In her personal life, she met music producer Erwin Bach in the 1980s and the pair married years later on the banks of Lake Zurich in Switzerland, where they lived. In 2013, Bach saved her life by donating her one of his kidneys, she revealed in her memoir in 2018.
She faced heartache that year, when her eldest son Craig died by suicide, and again in 2022 when her second son Ronnie died of cancer.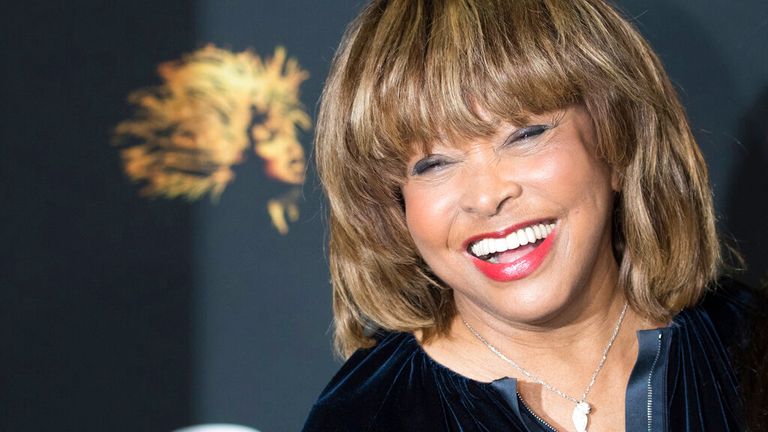 Known for her strength and resilience throughout her life, in an interview with the New York Times in 2019, she said: "I don't necessarily want to be a 'strong' person. I had a terrible life. I just kept going."
Turner always kept going.
And in what must have been one of her last interviews before she died, she told The Guardian exactly how she wanted to be remembered – as the Queen of Rock 'n' Roll. "A woman who showed other women that it is okay to strive for success on their own terms."
New York issues air quality alert as smoke from Canadian wildfires shrouds landmarks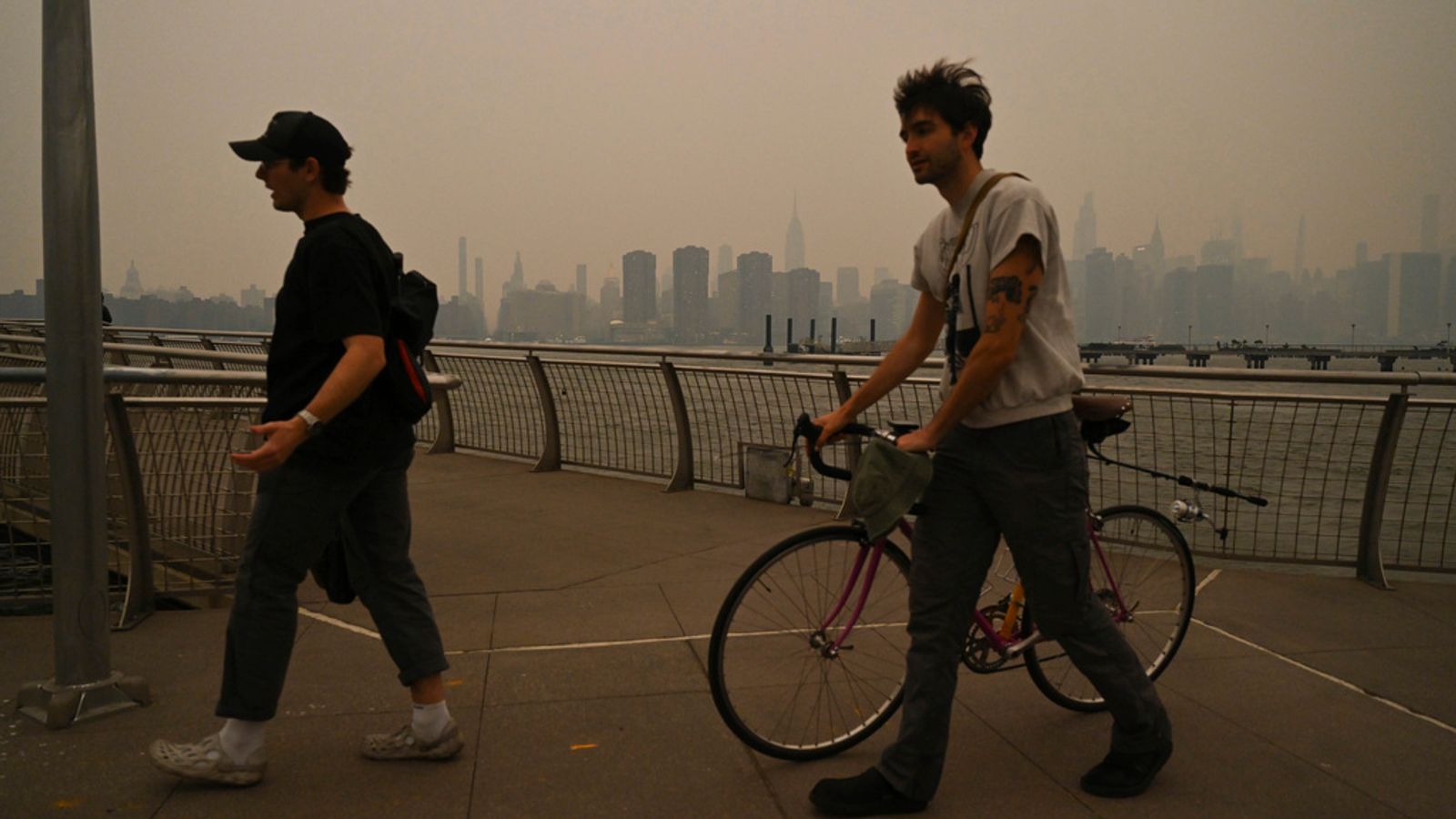 People in New York are being warned to limit outdoor activity as smoke from Canadian wildfires drifts across many areas of the northeastern US.
Air quality in the state is now "unhealthy", according to the Environment Protection Agency, and a murky haze has descended over landmarks such as the Statue of Liberty and Times Square.
Unusually early and intense wildfires in Canada's Quebec province are to blame – more than 150 forest fires were burning on Tuesday – and over 100,000 people have been forced to evacuate.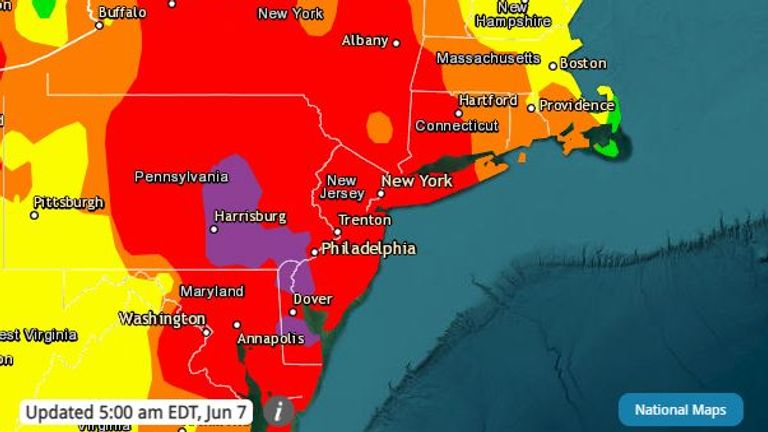 Lightning is said to have started many of the fires.
US authorities said residents with heart or lung disease, older people and children should keep outdoor activities short, and that others should reduce the amount they're active or exercising.
New York state, New Jersey, Pennsylvania and the Washington DC area are among the states with an "unhealthy" fine particulate matter reading (PM 2.5).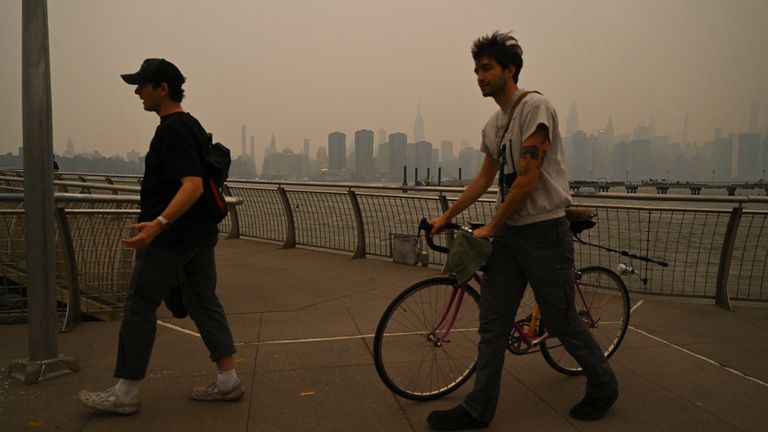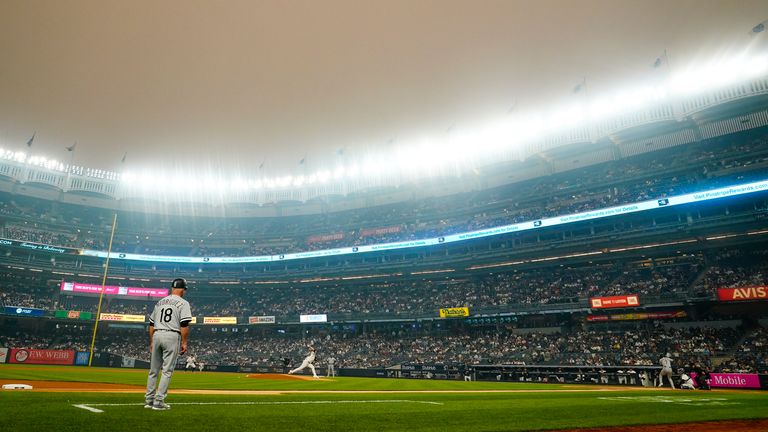 Toronto, Canada's biggest city, also warned residents about the air quality and tourists at the CN Tower were met with a murky orange vista rather than clear early-summer skies.
An eerie haze also hung over the New York Yankees' game against Chicago White Sox on Tuesday night.
There was an even starker air warning in Canadian capital Ottawa, where officials ranked it category 10+, indicating "very high risk".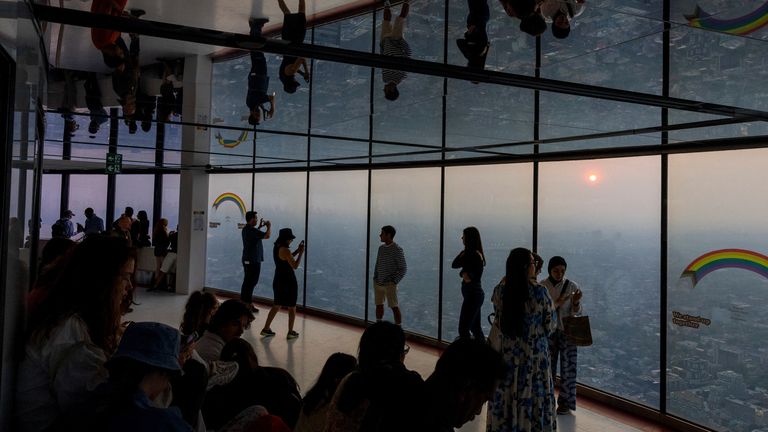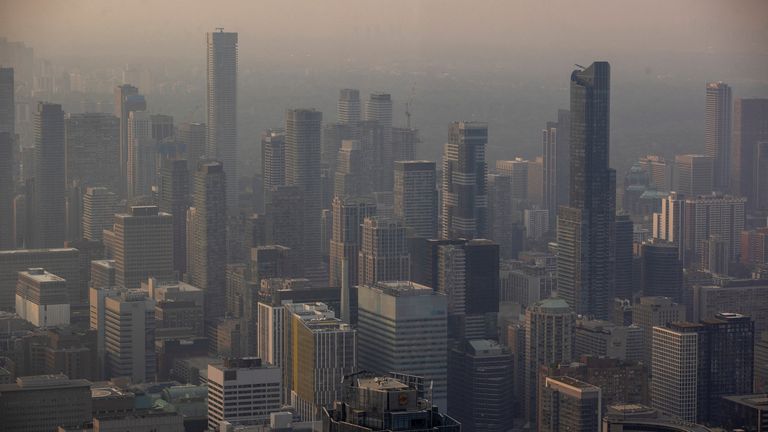 Wildfires are common in Canada's west, but this year the east has seen significant fires – and more than 110 are said to be out of control.
Some 3.3 million hectares have already burned – about 13 times the 10-year average – and more than 120,000 people have been forced to leave home.
Chibougamau, a remote Quebec town of about 7,500, was the latest to be evacuated late on Tuesday.
What's the risk from the pollution?
Fine particulate matter, known as PM 2.5, is about 30 times smaller than the width of a human hair and can be blown long distances.
It can cause throat and lung irritation and worsen conditions such as asthma or heart disease. The particles can also disturb the eyes and nose.
Children can be particularly sensitive as their lungs are still developing and they breathe in more air per unit of body weight. Older people can also struggle more than others.
Where does PM 2.5 pollution come from?
Primarily from vehicle exhausts, but also any other operations that burn fuels such as coal or wood – including forest or grass fires.
How can you reduce the risk?
Try to avoid outdoor exercise or exertion. Consider wearing a N95-rated face mask to reduce your exposure if you have to go outside.
Keep windows, doors and fireplace shut and run any air-con units on a recirculation setting. An air purifier in the home could also help people who are especially vulnerable.
"We're following all of this from hour to hour, obviously," said Quebec Premier FranCois Legault.
"If we look at the situation in Quebec as a whole, there are several places where it is still worrying."
Click to subscribe to ClimateCast with Tom Heap wherever you get your podcasts
He said the Abitibi-Temiscamingue region in the northwest of the province Quebec was a particular concern.
The US, Mexico, France and South Africa are among those who have sent firefighters to help – but no rain is immediately forecast meaning the fires are likely to be tougher to extinguish.
Man armed with four handguns kills two after high school graduation ceremony in Virginia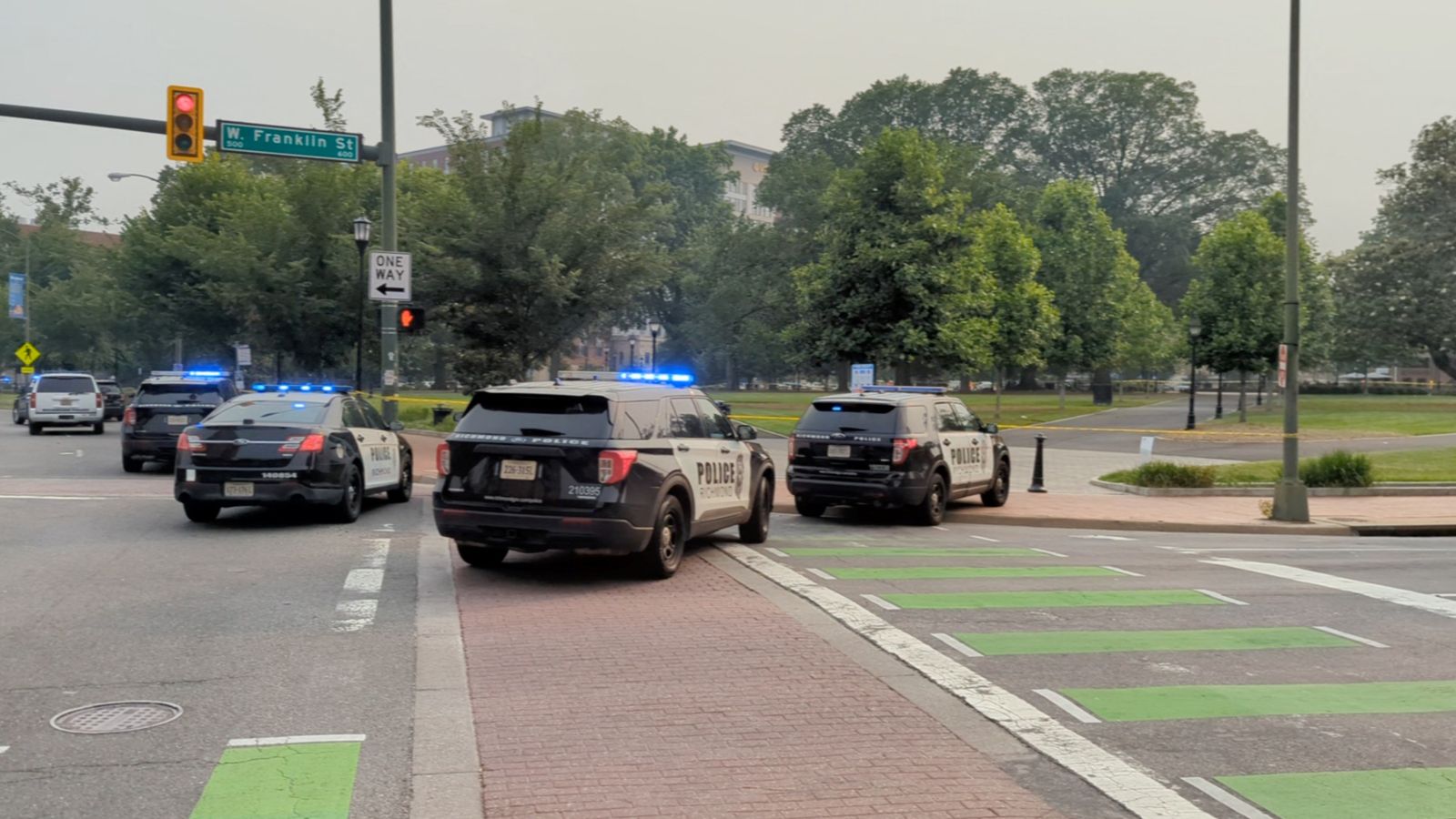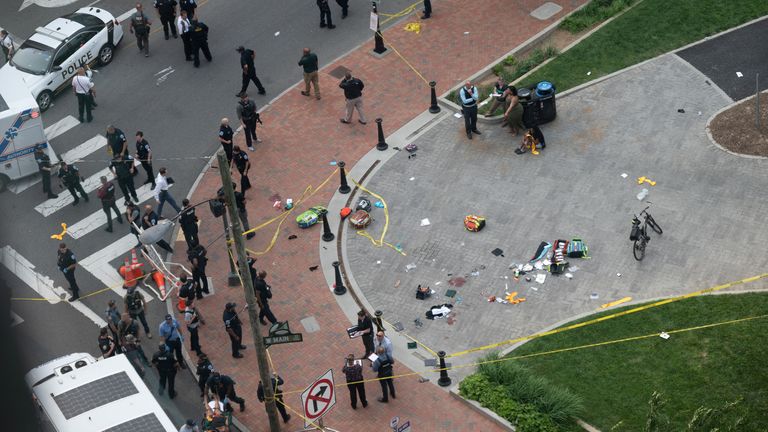 A man armed with four handguns killed two people and wounded five others by firing into a crowd outside a high school graduation ceremony in Virginia, causing hundreds to flee in panic, police said.
A 19-year-old man, who is believed to know one of the victims, was arrested in Richmond shortly after the incident outside the Huguenot High School's commencement ceremony on the campus of Virginia Commonwealth University.
The suspect is expected to be charged with two counts of second-degree murder in addition to other offences, interim Richmond Police Chief Rick Edwards told a news conference.
He called the shooter's behaviour "disgusting and cowardly", since his dispute appeared to be with just one person.
"When you have a crowd like this, innocent people are going to be caught up in the mayhem, and that's what happened today," Mr Edwards said.
"Obviously, this should have been a safe space… It's just incredibly tragic that someone decided to bring a gun to this incident and rain terror on our community."
The mass shooting was the 279th to take place in the US in the first 157 days of 2023, according to the Gun Violence Archive. It defines a shooting as a mass shooting when four or more people are shot or killed in a single incident, not including the shooter.
Among those killed was an 18-year-old male student who had just graduated and a 36-year-old man, Mr Edwards said.
He did not confirm a local TV report saying the victims were father and son.
A 31-year-old man suffered life-threatening injuries and four other males aged 14, 32, 55 and 58 were expected to survive, he added.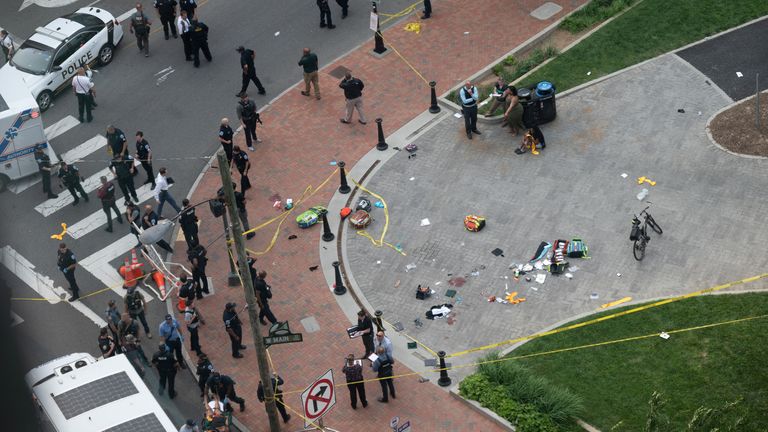 Read more:
One dead and six injured after attack at Chicago memorial
Four killed in shooting in New Mexico
Winnie The Pooh characters used in US school district's mass shootings safety book
Nine-year-old injured in chaos
Mr Edwards said a nine-year-old girl was struck by a car in the ensuing chaos and several other people were injured in falls or suffered from anxiety.
The suspect fled the scene on foot and was captured in possession of four handguns, three of which may have been fired, Mr Edwards said.
The school district said a different graduation scheduled for later on Tuesday was cancelled "out of an abundance of caution" and schools would be closed on Wednesday.
Prince Harry's admitted drug use cited in push to release his US visa records by conservative think tank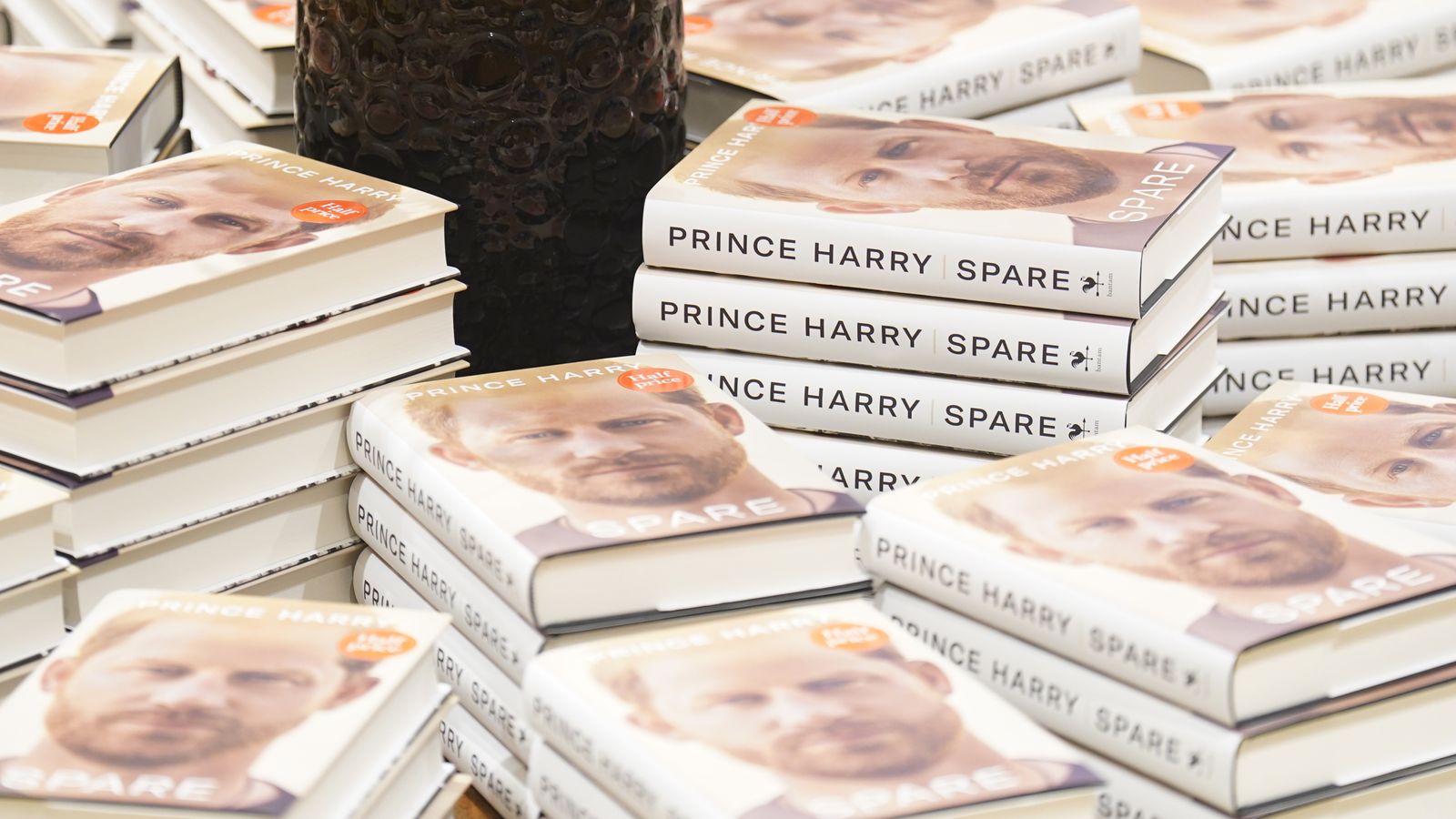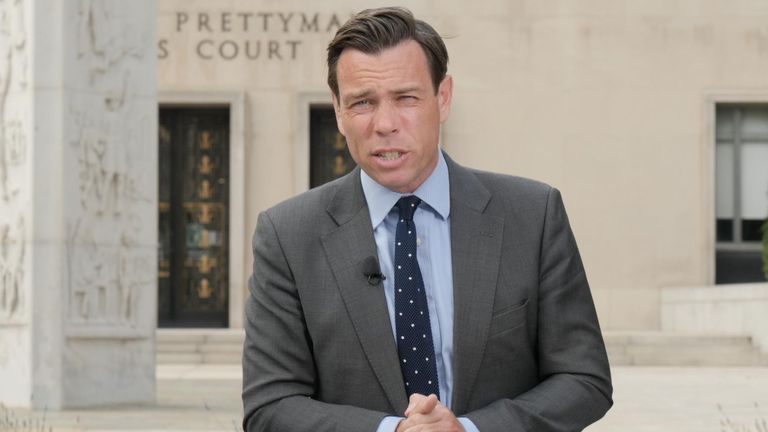 Prince Harry's past drug use detailed in his explosive memoir should lead to the release of his immigration paperwork, an American conservative think tank has argued in a Washington court.
The Heritage Foundation appealed to US District Judge Carl Nichols for a quicker response to a records request the US government has so far deemed private.
Mr Nichols told the foundation and the Department of Homeland Security to work on the speed of the response and said he would rule if they could not reach an agreement on their own.
The Duke of Sussex moved to Southern California with his wife Meghan Markle and their young family in 2020 after they left royal life.
Read more:
Prince Harry's US court case could land him in very hot water with the authorities
In his memoir Spare he detailed his past drug use, saying he took cocaine several times starting around age 17 in order "to be different".
He also admitted using cannabis and magic mushrooms.
The US routinely asks about drug use on its visa applications.
This has led to travel headaches for several celebrities including chef Nigella Lawson and singers Amy Winehouse and Pete Doherty.
Acknowledgement of past drug use does not necessarily bar people from entering or staying in the country.
Read more about Harry's UK case:
Prince Harry blames tabloids for casting him as a 'thicko' and a 'playboy'
The key people named in Harry's witness statement
Which articles have been brought up?
Why is Prince Harry's US visa under scrutiny?

Request denied because group lacks Harry's permission
The Heritage Foundation sent a public information request to the Department of Homeland Security asking for Prince Harry's immigration records.
They argue there is "intense public interest" in whether the prince got special treatment during his application process.
The conservative think tank also linked those questions to wider immigration issues in the US such as those surrounding the southern border with Mexico.
The request has largely been denied since the group does not have Prince Harry's permission to get the private information.
"A person's visa status is confidential," said John Bardo, an attorney for the Department of Homeland Security.
The agency's policy allows the release of information about issues of public interest, but the agency argued media coverage of how Harry's drug use connects to his visa status in the US has not been widespread among mainstream American publications.
Click to subscribe to the Sky News Daily wherever you get your podcasts
'This is about accountability and transparency'
"This case is all about the enforcement of US Immigration Law and certainly Prince Harry is one of the most high profile figures, one of the most well-known figures in the world right now including here in the United States," Dr Nile Gardiner from the Heritage Foundation told Sky News's US correspondent Mark Stone.
"But at the end of the day, this is about accountability and transparency and openness on the part of the US administration, with regard to an immigration application by a high-profile individual.
"There is a US public interest in this. But without a doubt, I think that a key factor here has been Prince Harry's memoir Spare and his revelations about his own drug use; he's put it all out there.
"Let's see whether that exactly matches what he put on his immigration application. Because if it doesn't, that's perjury, that's a criminal offence, actually, and everyone should be held to account before the law. No one should be treated any differently."