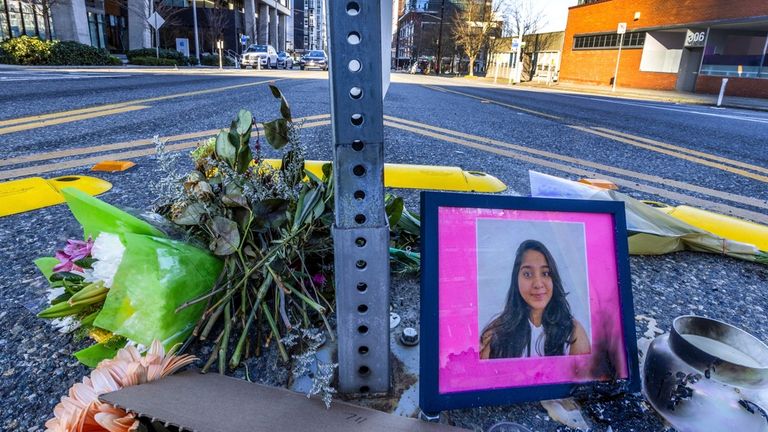 A Seattle police officer is under investigation after being recorded joking about a woman hit and killed by a police car.
Jaahnavi Kandula, 23, died after being struck by a vehicle, driven by officer Kevin Dave, as she was crossing a road in January.
After responding to the incident, officer Daniel Auderer was recorded on bodycam footage describing details of the incident, saying that the student's life had "limited value".
"He was going 50mph, that's not reckless for a trained driver," Mr Auderer, a Seattle police department union leader said, appearing to address the speed of the police car which hit Ms Kandula.
According to The Seattle Times, the officer driving the car was going at 74mph while on the way to respond to an overdose call. The impact meant Ms Kandula was thrown more than 30m (100ft).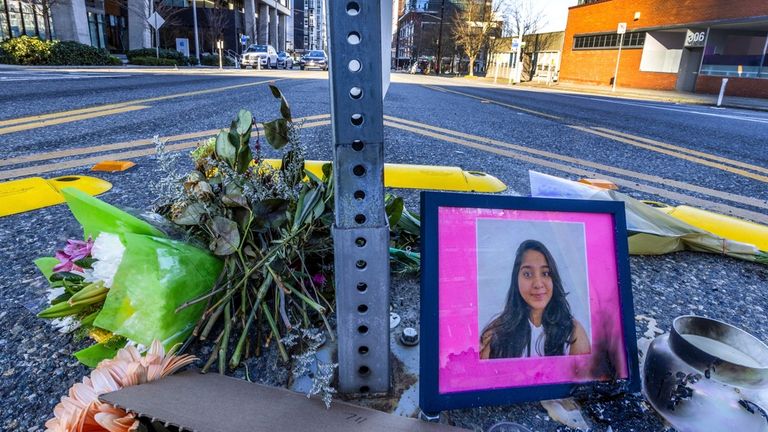 "But she is dead," Mr Auderer told Mike Solan, president of the Seattle Police Officers Guild, before he lets out a prolonged laugh.
"It's a regular person," the officer joked.
"Just write a cheque. She was 26 anyway. She had limited value."
Police said they have handed the matter over to the Office of Police Accountability, which is looking into "the context in which" the statements were made and whether any policies had been violated.
Mr Auderer also reported himself after realising his comments had been recorded.
The audio recording was called "heartbreaking and shockingly insensitive" by the Community Police Commission.
Read more:
Police arrest petrol-drinking burglar
Woman punched her way out of garage cell after being kidnapped
In a written statement, reportedly obtained by KTTH-AM radio host, Jason Rantz, Mr Auderer said that his comments were not made with "malice or a hard heart" but were intended to mimic how lawyers might try to minimise liability for the incident.
"I laughed at the ridiculousness of how these incidents are litigated, and the ridiculousness of how I watched these incidents play out as two parties bargain over a tragedy," he wrote, according to KTTH-AM.
He acknowledged that anyone listening to his side of the conversation alone "would rightfully believe I was being insensitive to the loss of human life".
Ms Kandula's family told The Seattle Times "a life is a life" and wondered if "these men's daughters and granddaughters have value".
Hollywood writers reach 'tentative' deal to end strike over AI and compensation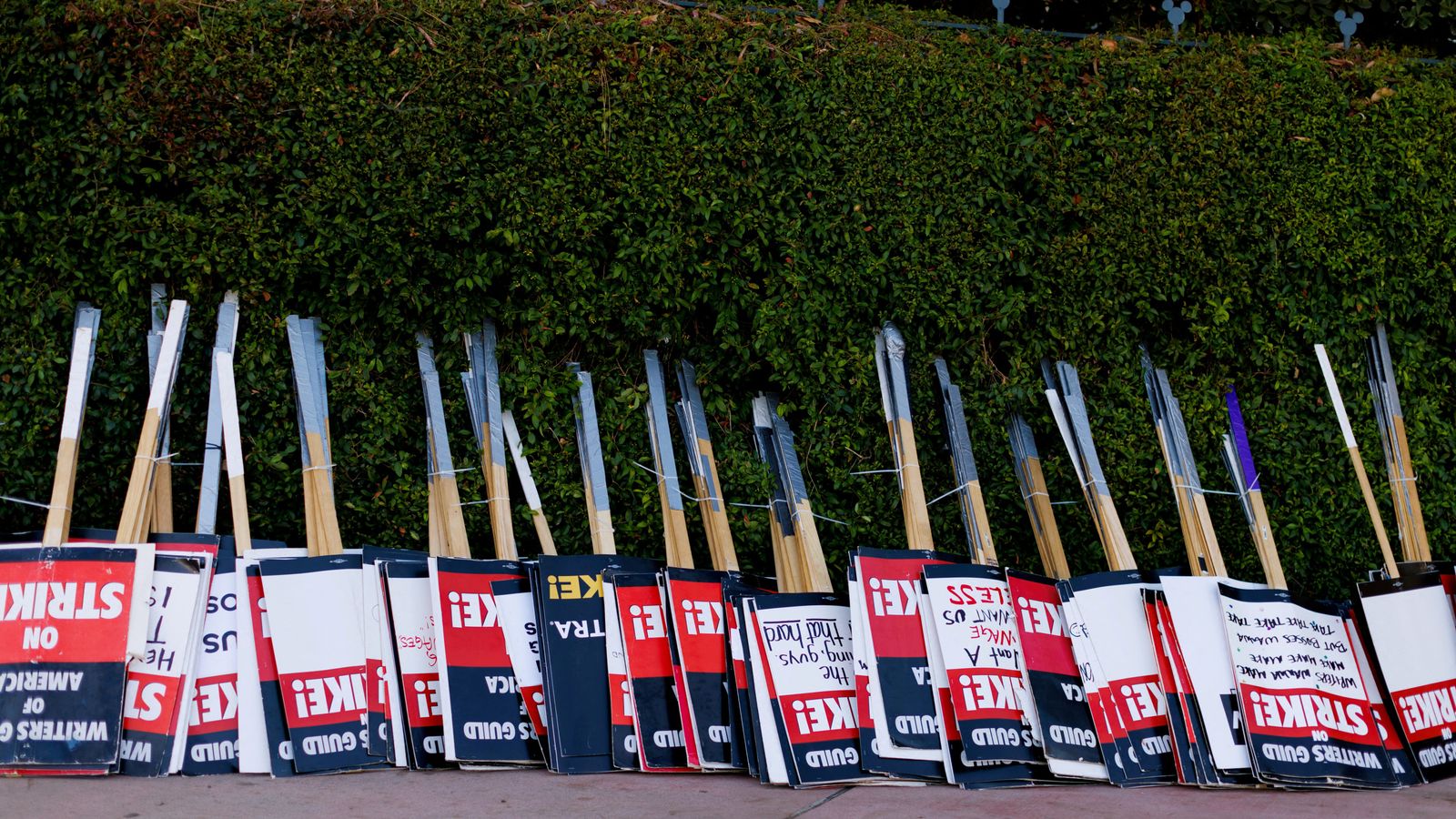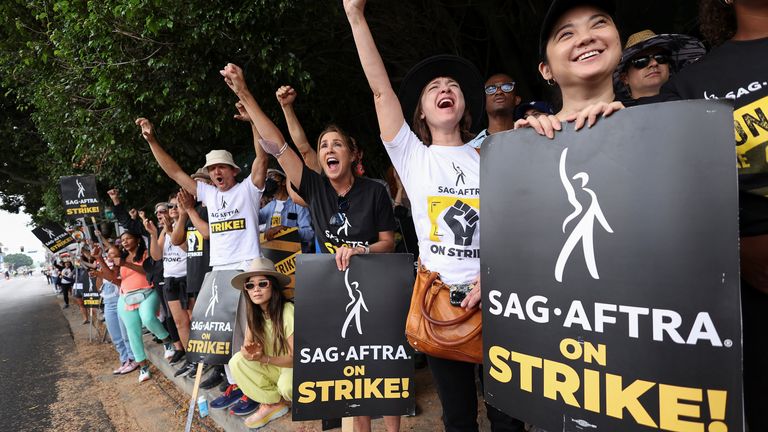 A "tentative" deal has been reached to end a long-running strike by writers in Hollywood.
A statement from the WGA (Writers Guild of America) said: "We have reached a tentative agreement on a new 2023 MBA, which is to say an agreement in principle on all deal points, subject to drafting final contract language.
"We can say, with great pride, that this deal is exceptional-with meaningful gains and protections for writers in every sector of the membership."
The three-year contract agreement – settled on after five days of renewed talks by negotiators WGA and the AMPTP – must be approved by the guild's board and members before the strike officially ends.
Read more on Hollywood strikes:
How much of a threat is AI?
The terms of the deal were not immediately announced.
The statement added: "To be clear, no one is to return to work until specifically authorized to by the Guild.
"We are still on strike until then. But we are, as of today, suspending WGA picketing. Instead, if you are able, we encourage you to join the SAG-AFTRA picket lines this week."
The agreement comes just five days before the strike would have become the longest in the guild's history, and the longest Hollywood strike in decades.
About 11,500 members of the Writers Guild of America walked off the job on 2 May over issues of pay, the size of writing staffs on shows and the use of artificial intelligence (AI) in the creation of scripts.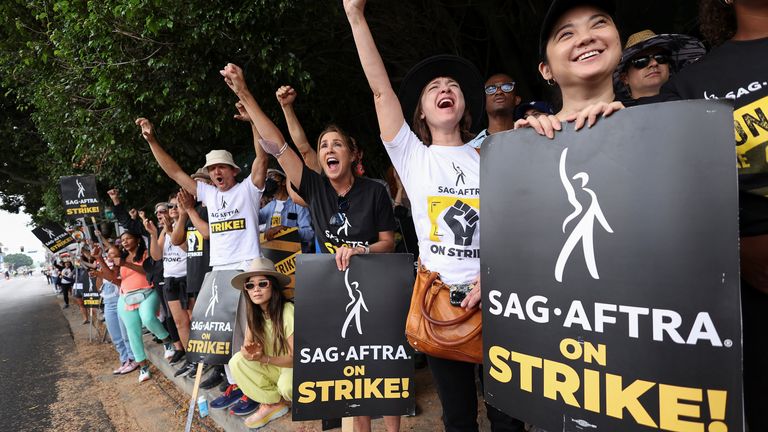 In July, the SAG-AFTRA actors' union started its own walkout which is yet to be resolved.
It said in a statement: "SAG-AFTRA congratulates the WGA on reaching a tentative agreement with the AMPTP after 146 days of incredible strength, resiliency and solidarity on the picket lines.
While we look forward to reviewing the WGA and AMPTP's tentative agreement, we remain committed to achieving the necessary terms for our members.
"We remain on strike in our TV/Theatrical contract and continue to urge the studio and streamer CEOs and the AMPTP to return to the table and make the fair deal that our members deserve and demand."
Toddler and two adults shot dead in Jacksonville during row over dog sale, police say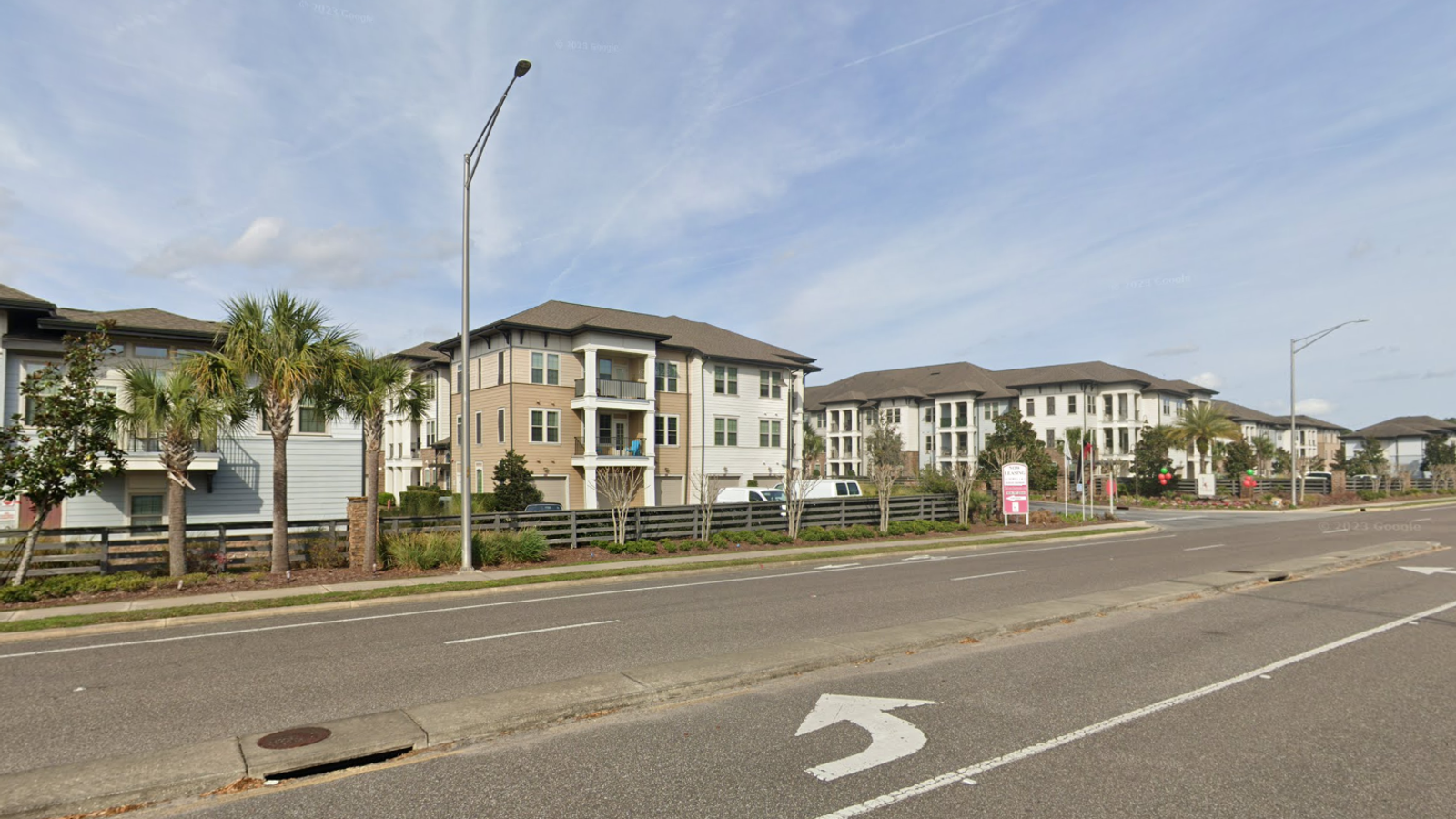 A three-year-old child and two adults were fatally shot during an argument over an apparent dog sale in Florida, according to police.
Five people – including the toddler – had gone to a luxury apartment complex at around 10pm on Saturday to meet with some people about the sale of a dog, said Jacksonville Sheriff's Office Assistant Chief JD Stronko.
Gunfire broke out during an argument, with three victims were fatally hit and a third adult wounded.
Two men fled in a car, witnesses told police.
Read more from the US:
Family sues state over dreadlocks row
Death row inmate executed
Mr Stronko said the two adults killed and the one wounded were all in their 20s. Their names have not yet been released.
No further details were given about the condition of the wounded victim.
Migrant surge at US border pushes Texas city to 'breaking point'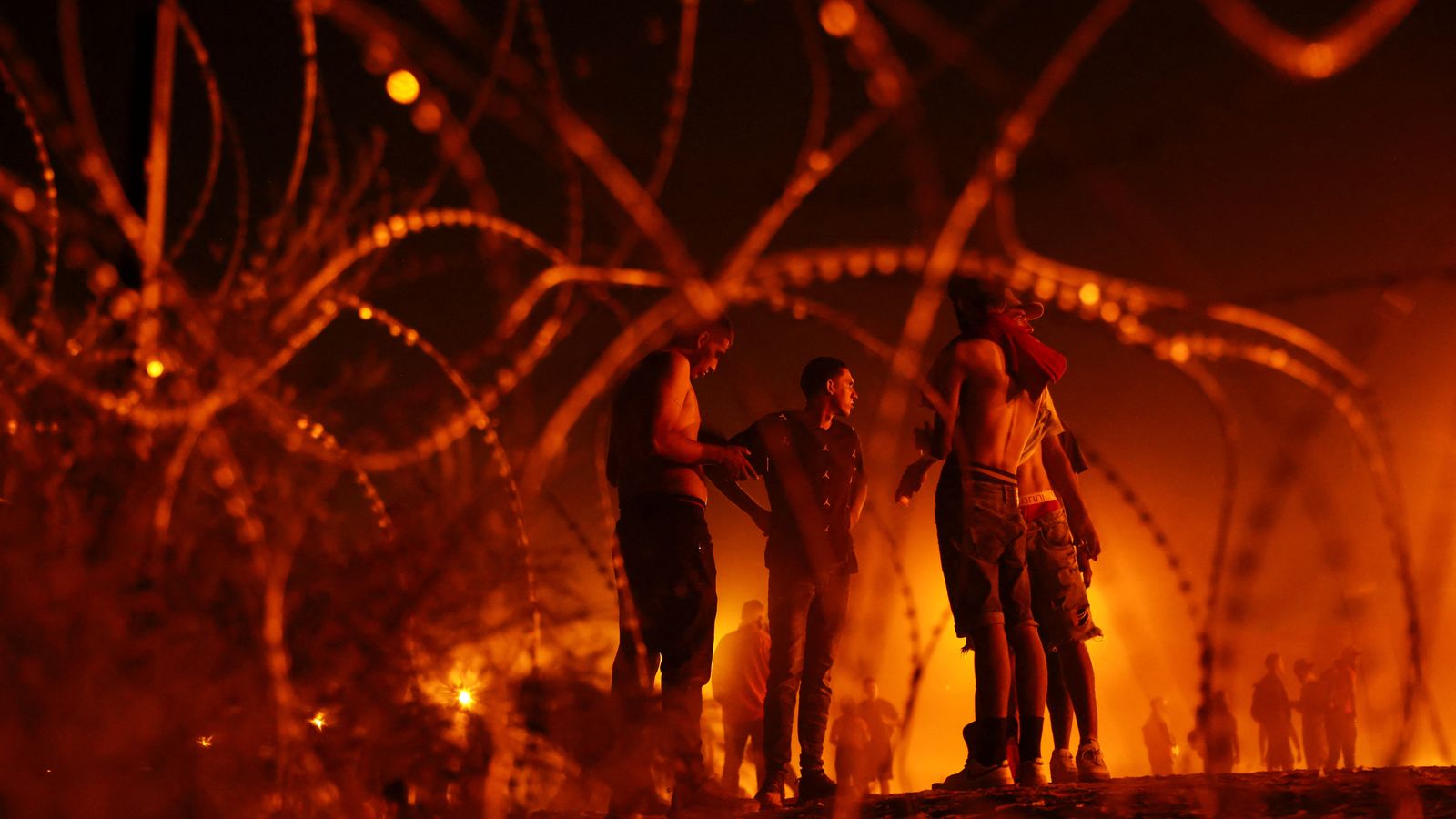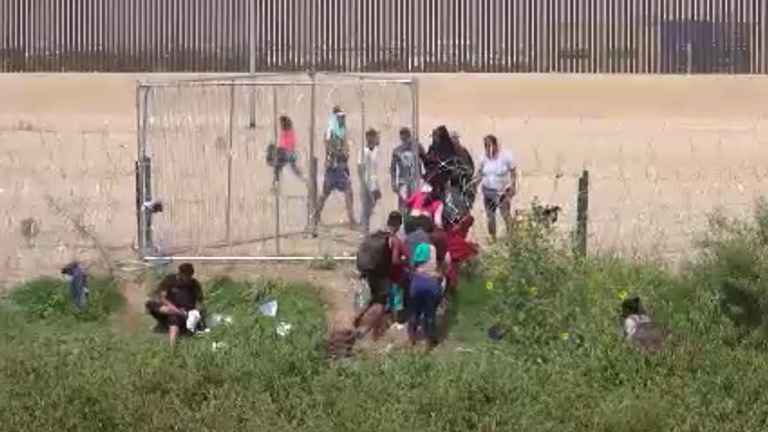 A sharp rise in migrants crossing the US border from Mexico has pushed a Texas city to "breaking point", its mayor has warned.
With more than 2,000 people a day seeking asylum, services in El Paso have been overwhelmed, leaving the authorities struggling to cope.
The influx has also hit the Texas border city of Eagle Pass, where more than 8,000 migrants arrived this week, leading authorities to declare an emergency.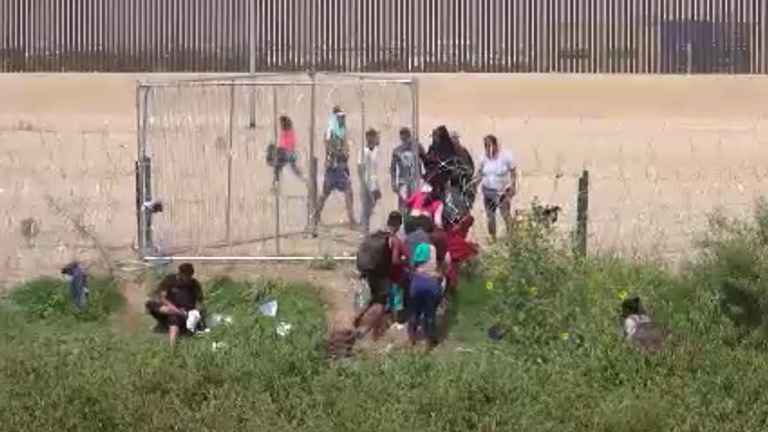 After a dip in illegal crossings following new asylum restrictions in May, the large number of recent arrivals has sparked a fresh wave of political attacks on US President Joe Biden ahead of the 2024 election.
It comes as Britain's Home Secretary Suella Braverman questioned whether international migration rules designed more than a century ago are "fit for purpose" ahead of a major speech in the US.
The UK has been dealling with its own migrant issues, with people crossing in small boats from France, while southern Italy has also seen arrivals from North Africa.
While just six weeks ago, about 350 to 400 people were crossing into El Paso per day, this has recently surged to 2,000 or more.
Mayor Oscar Leeser told a news conference: "The city of El Paso only has so many resources and we have come to… a breaking point right now."
He has chartered buses to take migrants to New York, Chicago and Denver.
Republican governors in Texas and Florida have been criticised for sending migrants to cities seen as liberal, such as New York and Sacramento.
But Mr Leeser, a Democrat, said all of the migrants on the El Paso buses were going voluntarily to the cities of their choice.
He said: "I think it's really important to note that we have a broken immigration system.
"It's the same thing over and over again."
Read more:
Europe does not have migrant 'emergency', Pope says
Home Office told to stop work at former RAF base
Italy PM tells EU it has 'responsibility' to help tackle migrant surge
In August, border patrol officers made 181,509 arrests on the Mexican frontier, up 37% from July, according to latest figures.
People in families with children fuelled the increase, with 93,999 arrests – the highest on record – up from 60,454 in July and 31,487 in June.
Troy Miller, acting US Customs and Border Protection chief, said: "Our operational tempo along the border has increased in response to increased encounters, and we remain squarely focused on our broader security mission and enforcing US immigration laws."