Libya floods: The horrifying moment a girl's body was found in a city facing a truly awful aftermath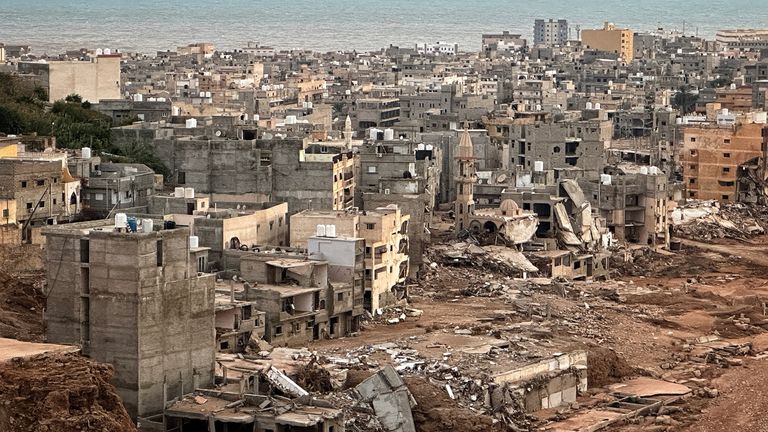 The centre of the eastern Libyan city of Derna is like one big graveyard – a mass of flattened buildings, wrecked lives and upended vehicles amid torn trees.
Huge nine-storey buildings have been ripped off their foundations and smothered by volumes of mud.
From where I stood, I could see at least three huge bridges in the city centre were levelled.
As we walked through the mountains of rubble, boulders and rocks, we had to keep reminding ourselves these were once people's homes, this was once a street packed with shops and malls. Even the road was non-existent.
Desperate search for survivors continues – latest updates
A few hours after daybreak there were small groups of civilians, some with just pickaxes, trampling over the boulders and rubble left in the centre in the wake of Storm Daniel.
They told us they travelled from Tobruk, Misrata and Benghazi to help in what must be a truly awful task.
Six days on, they were among several small groups setting out to try to locate their missing relatives who are included in the more than 10,000 still unaccounted for.
There were a few groups of soldiers, too – as well as pockets of health workers dressed in blue hospital gowns and wearing masks to save them from the stench of death that hung over this whole area.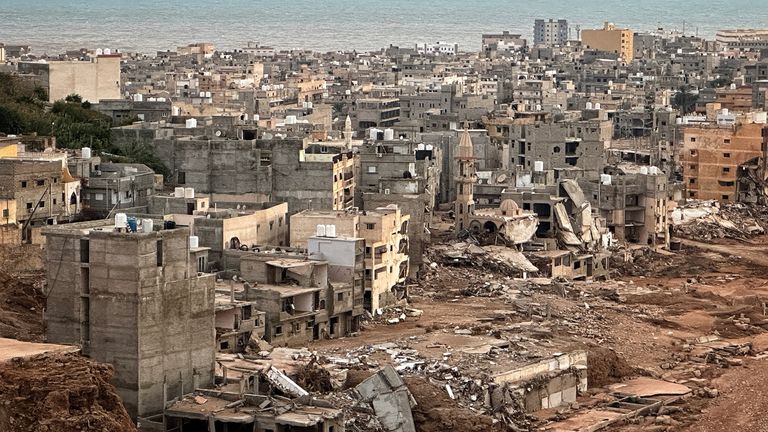 The steaming heat has meant the corpses they found were putrid after nearly a week of decomposing.
They carried body bags.
Few here still held out hope of finding anyone alive.
Read more:
Before and after pictures show devastation
What caused the sheer scale of destruction?
How the flooding cut through the city

Mediterranean turned a murky brown by ugly leftovers of tragedy
There was a lot of activity down at the port in Derna.
The normally blue Mediterranean sea had turned a murky brown.
There were clusters of relief workers gathered around watching a digger tear into the mountains of flotsam at the water's edge.
Among the debris were upside-down smashed-up cars in different twisted states.
They looked as if some angry giant toddler had thrown them all there in a childish rage.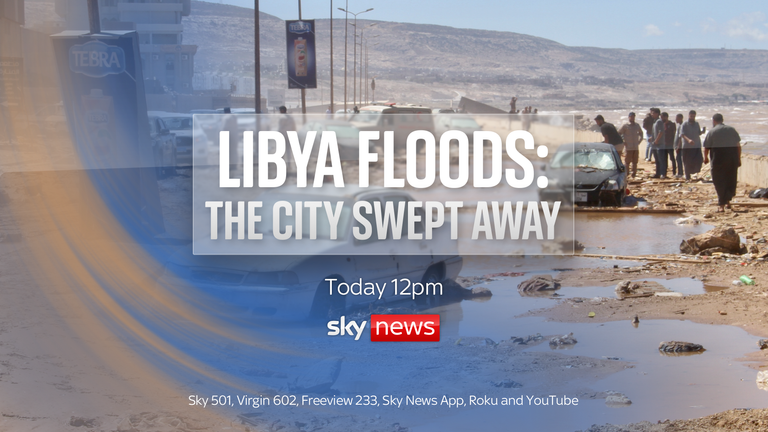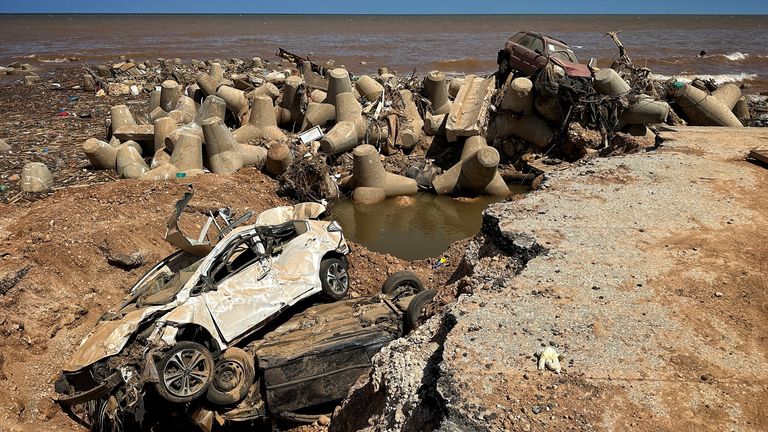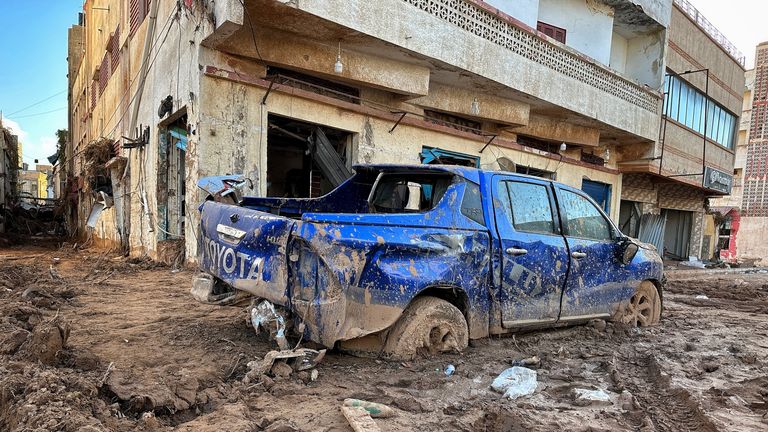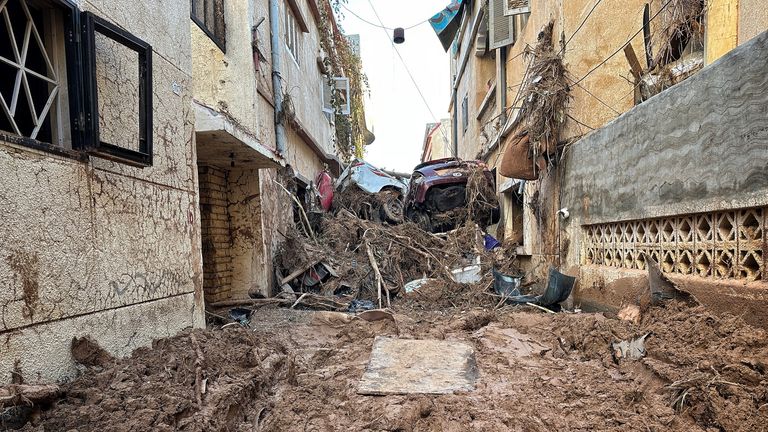 We watched as the metal bucket of the digger sifted through the ugly leftovers of this tragedy.
The sea was covered in a blanket of chipped wood, broken-off metal, bits of wardrobe, and folded sodden mattresses.
Much of the debris bears no resemblance at all to its original state.
The digger operator was methodically trying to toss this all to one side as he looked for bodies.
There were divers on dinghies bobbing up and down on the waves who were also scouring the water.
Further out, an Italian naval ship was positioned off the coast. It had been helping recover those washed out to sea as the water smashed its way down Derna's valley.
Stunned silence as body of young girl recovered from water
As various relief workers hung off the side of his cab and stood like sentinels on the back of the metal casing, the scoop was suddenly filled with the unmistakable shape of a small human.
There was a collective intake of horror as the momentum of the machine caused two thin legs to flop over the teeth of the digger's scoop for a brief yet completely horrifying few seconds before falling back in.
It was the corpse of a young child – maybe 10 or 11.
Everyone witnessing this truly awful scene was stunned into silence.
It was entirely and utterly dreadful.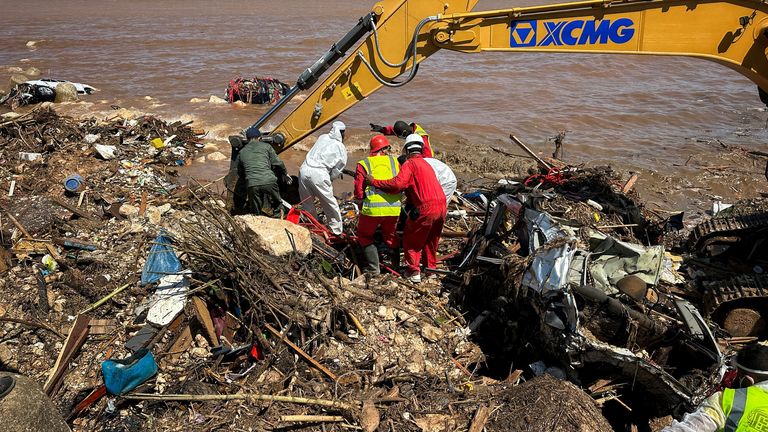 Two relief workers raced down carrying a black body bag and the child – who looked like a girl – was hurriedly tucked into it.
They raced back up the hill to deposit the body into the back of an ambulance.
It was not clear why they were scrambling but it crossed my mind they might just be saving those looking on from further trauma after a monumentally traumatic six days.
It's estimated more than 10,000 are still unaccounted for – there is so much trauma yet to come.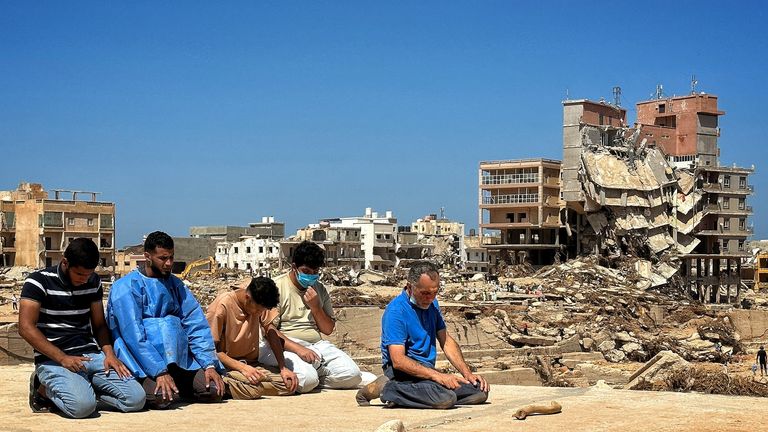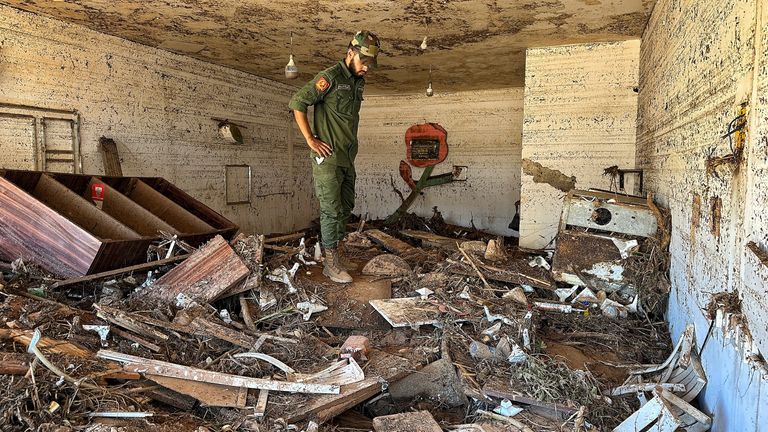 'They should have known'
A structural engineer told Sky News the catastrophic disaster was down to negligence.
"They should have known," Gandi Mohammed Hammoud told us.
He said he watched as his neighbours and friends screamed in terror as the torrent of water tore apart their homes and flats.
"Then it went silent – which means they died," he told us. "We saw some friends literally being swept away in front of us."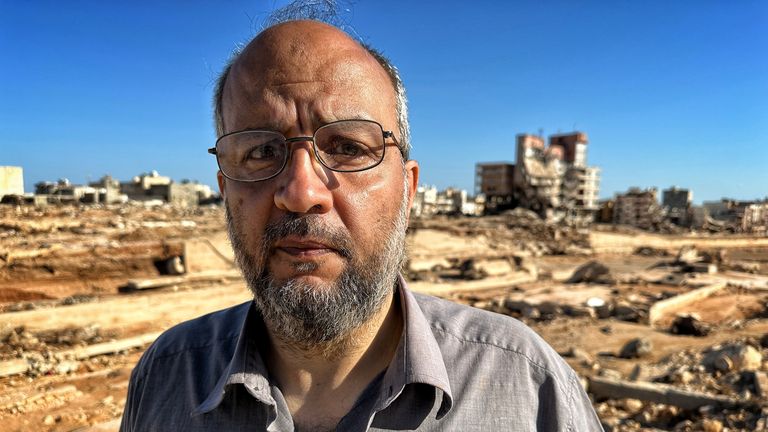 Mr Hammoud said there'd been plenty of warnings from engineers about the poor state of the city's two dams and how several more needed to be built to halt the water caused by increasingly heavy yearly rainfall.
"Nothing has been done since 2008 and after the revolution to strengthen the two dams," he told us.
Click to subscribe to the Sky News Daily wherever you get your podcasts
The instability, poor governance, corruption and mafia-style politicking here – including a network of people-smuggling gangs – have all conspired to make this tragedy possible.
Many Libyans believe the bombing during the NATO-backed military campaign to oust Libyan dictator Muammar Gaddafi also weakened the structures.
"Someone should pay for these deaths," Mr Hammoud said. "Someone should be held accountable for what happened here."
Viktor Sokolov: Top Russian admiral appears in video call – after Ukraine claimed he was killed in missile strike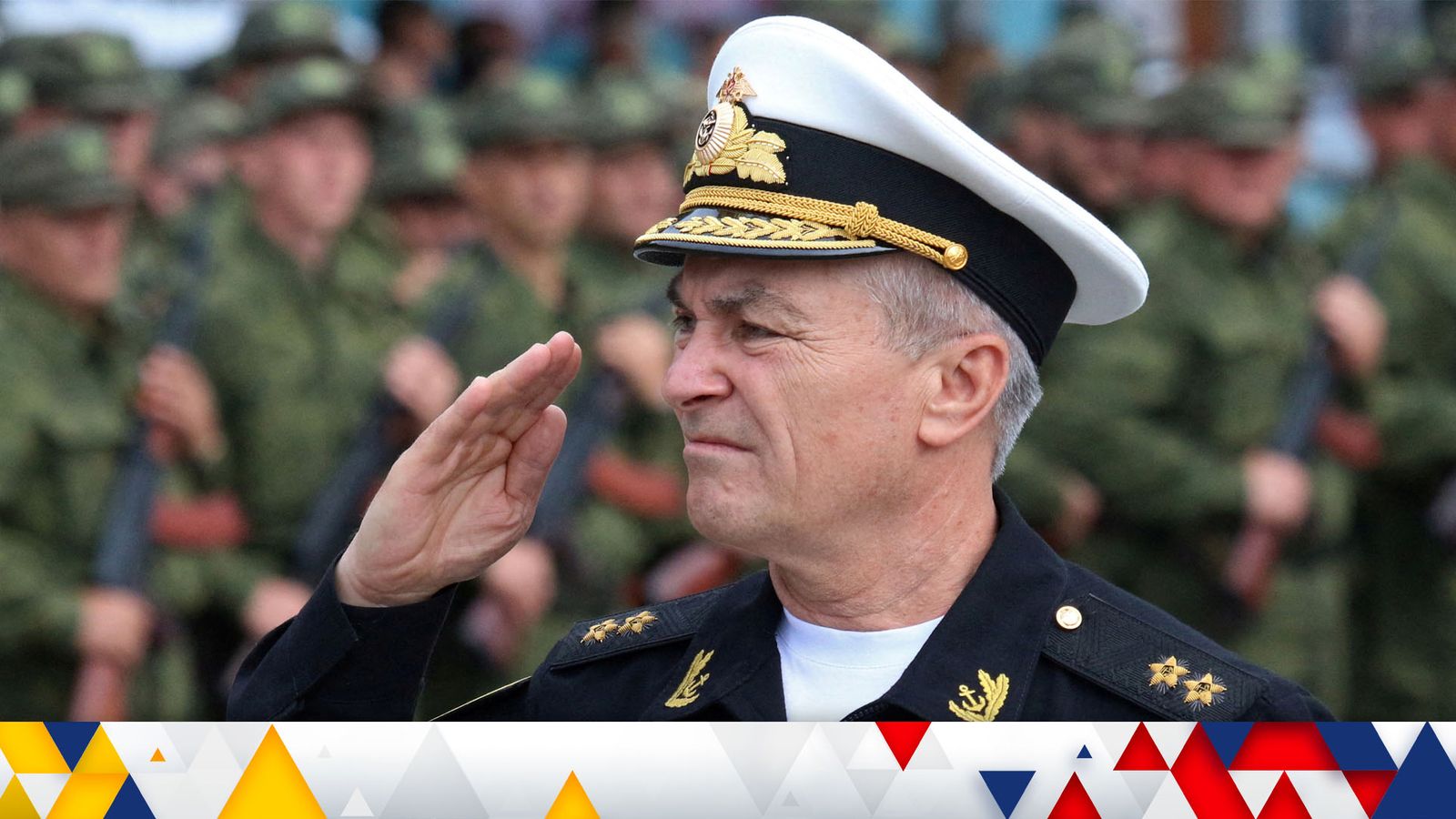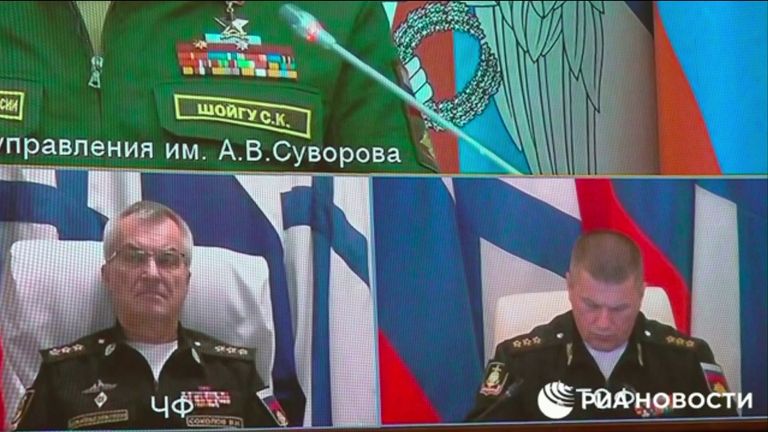 A top Russian admiral has appeared in a video call – a day after Ukrainian special forces claimed he had been killed in a missile strike.
Admiral Viktor Sokolov – the commander of Russia's Black Sea Fleet and one of Russia's most senior naval officers – was reportedly killed in last week's strike on the naval port of Sevastopol, according to Ukrainian officials.
The Russian Defence Ministry did not immediately respond when asked by news agencies to confirm or deny if Mr Sokolov had been killed.
However, the ministry released a video on Tuesday appearing to show Mr Sokolov attending a conference with other top Russian military officials via video link.
Mr Sokolov was not seen speaking in the footage of the conference – led by Russia's defence minister Sergei Shoigu.
It is not clear when the footage was filmed, though Russia's defence ministry claimed the meeting took place on Tuesday.
Ukraine war latest: Russia attacks area bordering NATO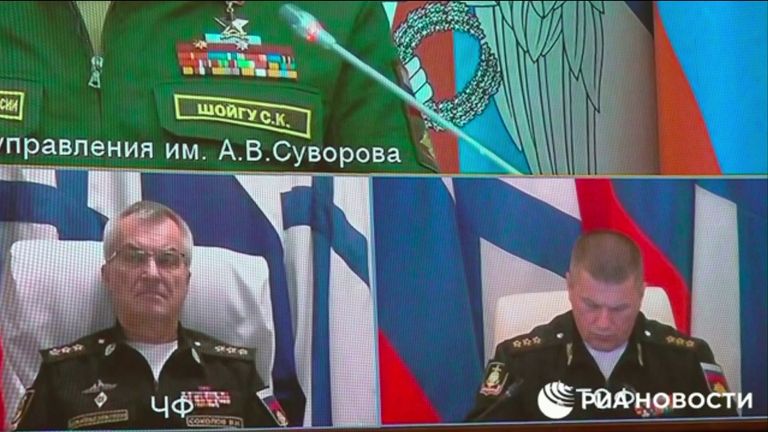 Ukraine special forces said on Telegram: "Since the Russians were urgently forced to publish a response with Sokolov allegedly alive, our units are clarifying the information."
In the video, Mr Shoigu said more than 17,000 Ukrainian soldiers had been killed in September and that more than 2,700 weapons, including seven American Bradley fighting vehicles, had been destroyed.
Both Russia and Ukraine have at times exaggerated enemy losses in the war, while also saying little about their own losses.
Michael Clarke: It is possible Admiral Sokolov lives – but Russia needs to produce more convincing evidence
Sky News' defence and security analyst Professor Michael Clarke says: "We've looked at the video, it's not very clear and it jumps around quite a lot.
"We've located the person on the video who looks most like Sokolov, and it may be him, but it's not a completely clear match.
"It could be Sokolov, looking at previous photographs of him. On the other hand, there's still no proof that this video is really current.
"There's a lot of evidence that Sokolov was in the building that was hit on Friday by a couple of Storm Shadow missiles.
"So it is possible that Sokolov lives. But I think the Russians would have to produce more convincing evidence than this if they want to be taken seriously on this particular issue.
"And it's odd that producing a rather vague video and saying he's here somewhere and leaving it to news organisations like us to try to work out who it might be is less than clear in the message they were trying to send."
On Monday, Ukraine's special forces claimed they had killed Mr Sokolov and 33 other officers in last week's missile attack on the headquarters of Russia's Black Sea Fleet in Sevastopol.
"After the strike on the headquarters of the Russian Black Sea Fleet, 34 officers died, including the commander of the Russian Black Sea Fleet," Ukraine's special forces said on the Telegram messaging app.
Read more:
US delivery of long-range missiles could prove pivotal
What does North Korea want from Vladimir Putin and Russia?
"Another 105 occupiers were wounded. The headquarters building cannot be restored."
Kremlin spokesman Dmitry Peskov declined to comment on Ukraine's claim that it had killed Mr Sokolov, instead referring reporters to the defence ministry.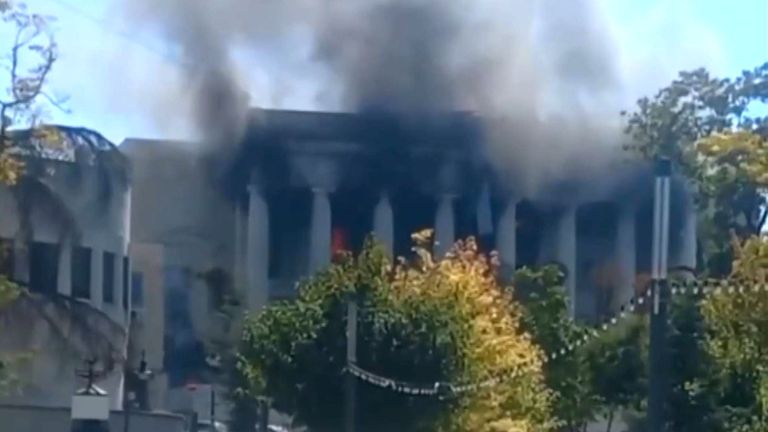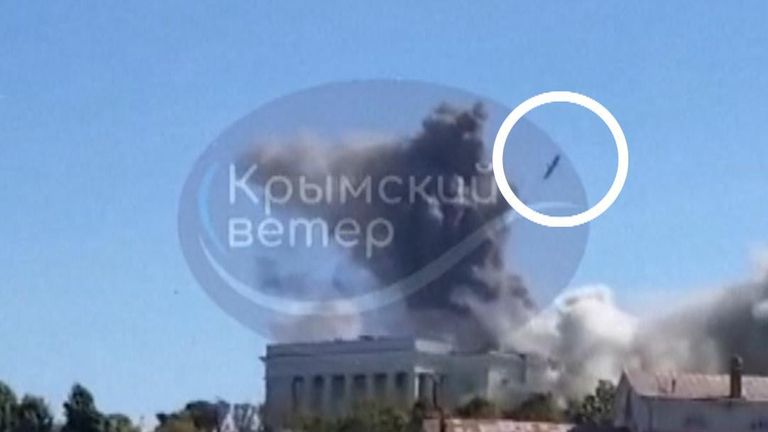 In a statement after the attack, the Russian defence ministry said one serviceman was missing, revising an earlier statement that the man had been killed.
Moscow-installed authorities in Sevastopol also said they were taking extra measures to address Ukraine's increased attacks on Crimea.
The attack came after an earlier strike on Sevastopol, in which a Russian submarine and warship were damaged.
A Ukrainian and a Western source said that British Storm Shadow cruise missiles were deployed in the attack on the port of Crimea, which Russia annexed in 2014.
Alexei Navalny: Russian opposition leader loses appeal against extra 19-year prison sentence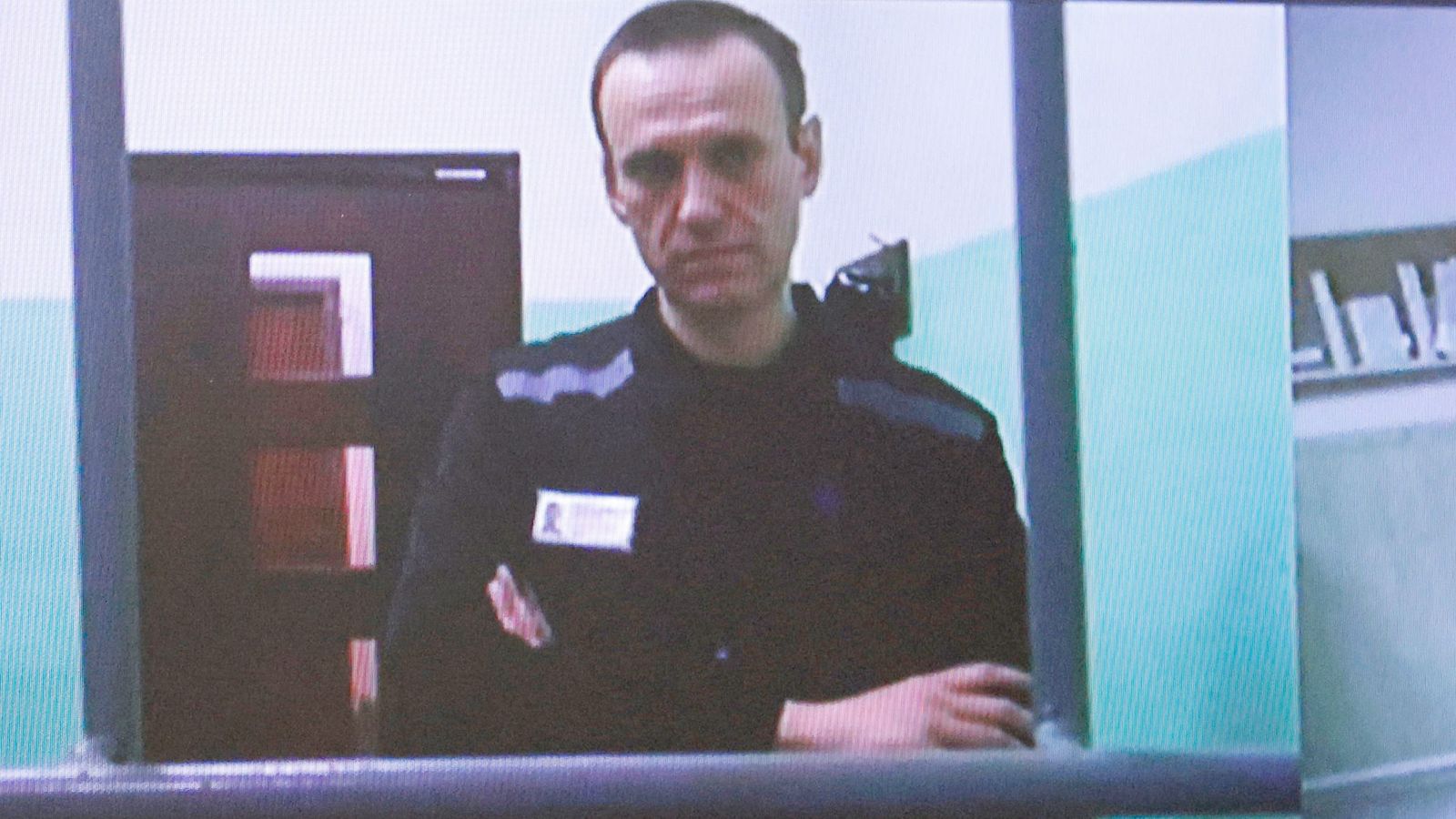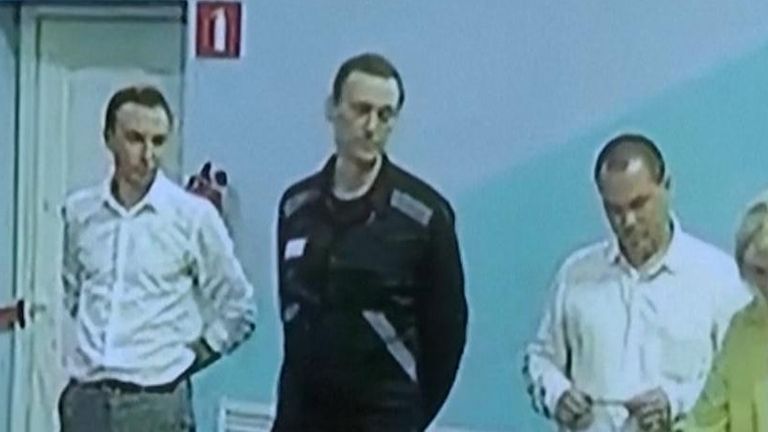 Russian opposition leader Alexei Navalny has lost his appeal against a 19-year sentence added to his existing jail term.
It was imposed in August after he was convicted on six charges related to alleged extremist activity – which he denied.
The appeal was rejected by a judge in Moscow, with Mr Navalny – wearing a black prison uniform – joining by video link from prison.
Media were not allowed to witness proceedings apart from the reading of the verdict.
The 19-year sentence was imposed on top of 11 and a half years that he was already serving after being convicted of fraud and other charges.
Mr Navalny has said all the charges are politically motivated and an attempt to silence his criticism of President Vladimir Putin's repressive regime and the war in Ukraine.
His political movement has been outlawed and declared "extremist", with its main players either being jailed or fleeing Russia.
President Putin makes a point of never referring to Mr Navalny by name as part of an attempt by authorities to portray him as irrelevant.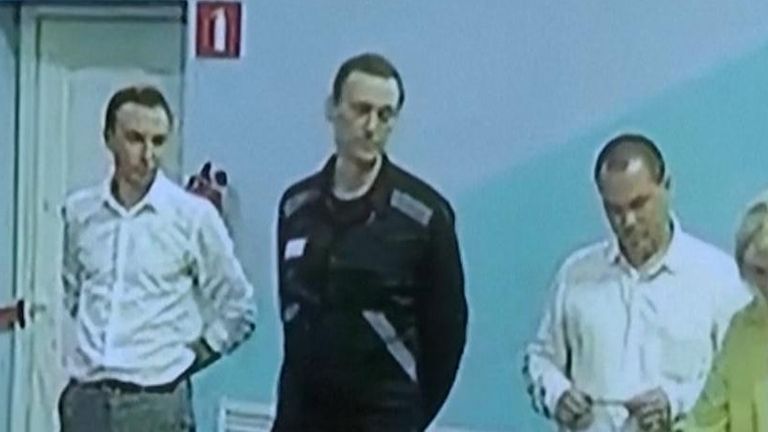 The 47-year-old politician returned to the country voluntarily in 2021 after nearly dying when he was poisoned with a nerve agent in a suspected Russian plot.
He was immediately arrested when he landed and is imprisoned in Melekhovo, about 145 miles (235 km) east of Moscow.
Read more:
Who is the man some hope will overthrow Putin?
Mr Navalny said in the summer that he had been forced to listen to the same speech by President Putin for more than 100 days in a row.
A TV technician who worked for Mr Navalny, sentenced at the same trial in August, also had his appeal against an eight-year sentence rejected on Tuesday.
Daniel Kholodny shouted "Alexei, see you!" just before the video feed of the hearing ended, with Mr Navalny waving his hand in response.
Body of migrant found on Sangatte beach near Calais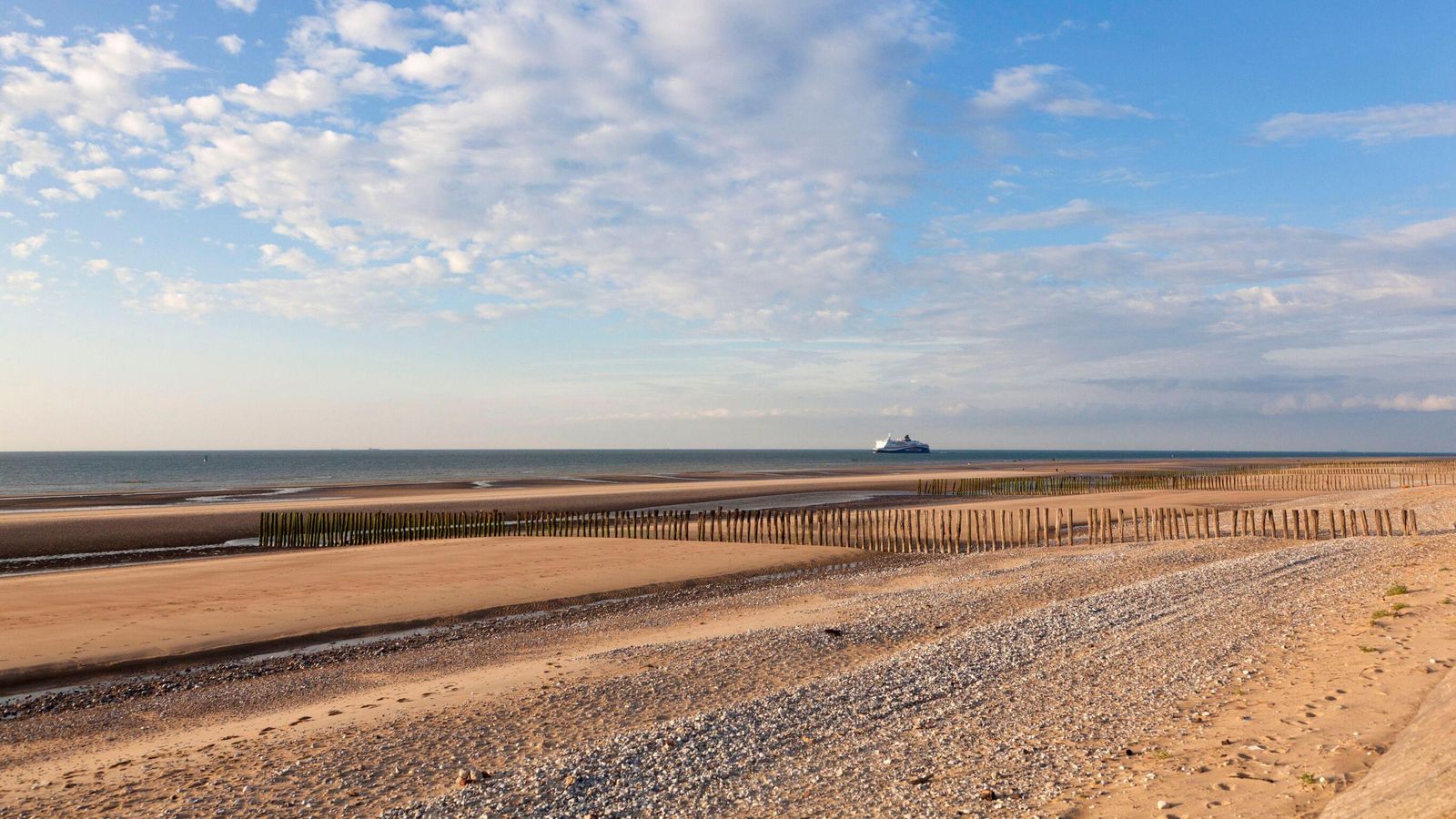 A body of a migrant was found this morning on Sangatte beach near Calais.
The authorities confirmed she was a 24-year-old Eritrean woman.
In August, at least six people died and dozens more were rescued after a migrant boat crossing the English Channel capsized.
The incident took place off Sangatte in northern France.
A vigil was held in the port town of Folkestone for the victims as participants called for "safe routes" and "enough deaths".
This breaking news story is being updated and more details will be published shortly.
Please refresh the page for the fullest version.
You can receive breaking news alerts on a smartphone or tablet via the Sky News app. You can also follow @SkyNews on X or subscribe to our YouTube channel to keep up with the latest news.