Florida State will retire Jameis Winston's jersey in the home finale Saturday against North Alabama as the Seminoles honor the 10th anniversary of the 2013 national champions.
Winston won the Heisman Trophy in 2013 as a redshirt freshman, leading Florida State to a 14-0 record after throwing 40 touchdown passes and setting the national freshman record for passing yards with 4,057.
He also led Florida State to the first College Football Playoff in 2014, with the Seminoles losing to Oregon in the semifinals. Winston passed for 7,964 yards (fourth in FSU history) and 65 touchdowns (second) during his two seasons
"The retirement of Jameis' jersey will certainly be a great event on our campus," FSU athletic director Michael Alford said in a statement. "He had a huge impact on Florida State football, and his place as one of our all-time greats is unquestioned. I know we all look forward to seeing his No. 5 becoming a permanent part of Doak Campbell Stadium."
Winston was the No. 1 pick of the 2015 NFL draft, taken by the Tampa Bay Buccaneers. He spent five seasons there and is now the backup quarterback for the New Orleans Saints. He has completed 1,748 passes for 21,941 yards and 139 touchdowns in nine NFL seasons.
He becomes the 11th FSU football player to have his jersey retired, joining Fred Biletnikoff, Ron Sellers, Ron Simmons, Deion Sanders, Charlie Ward, Warrick Dunn, Chris Weinke, Derrick Brooks, Terrell Buckley and Marvin Jones.
Florida State began retiring jerseys, rather than numbers, in 1997.
College Football Playoff first look: Previewing Michigan-Alabama and Washington-Texas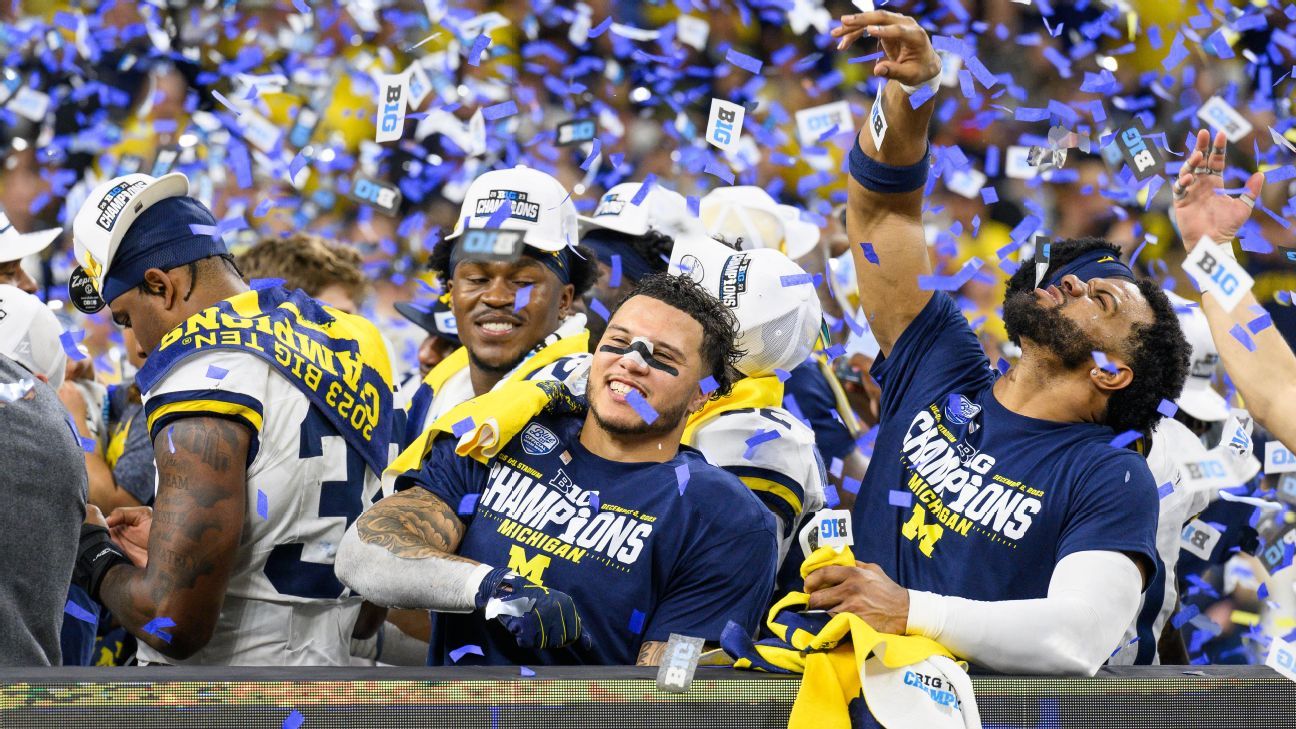 The final four-team College Football Playoff field is set, with the selection committee having to make the toughest decision it had ever faced.
We knew going in that history would be made and that at least one team and its fan base would be left with some serious gripes. Would an unbeaten Power 5 champion be left out for the first time? Would the SEC be shunned? Would the No. 1 team going into the conference championship games fall out?
In the end, Big Ten champion Michigan was awarded the No. 1 seed and will face No. 4 Alabama of the SEC. In the other semifinal, Pac-12 champ Washington, the No. 2 seed, will face No. 3 Texas of the Big 12.
Here's our first look at the four-team field, including key players, X factors and what each team has to do to win it all.
---
No. 1 Michigan vs. No. 4 Alabama
CFP Semifinal at the Rose Bowl Game presented by Prudential
When: Monday, Jan. 1, 5 p.m., ET
Where: Rose Bowl (Pasadena, California)
How to watch: ESPN and ESPN App
Key player: RB Blake Corum
Corum tied Michigan's career rushing touchdown record in the Big Ten championship game with his 55th TD. He has carried the load for the Wolverines the past few seasons and the offense has gone through him. He led all FBS running backs with 24 touchdowns and had his third 1,000-yard season. When Corum is productive, it opens up the rest of Michigan's offense and creates an easier path for the passing game. Corum is a team leader as well, and his two touchdowns against Ohio State put Michigan over the top and propelled the Wolverines toward the playoff.
X-factor: CB Mike Sainristil
Sainristil doesn't get a lot of the attention, but he has been a leader on Michigan's defense. He came up with two forced fumbles in the Big Ten championship game against Iowa and was integral in stopping the Hawkeyes offense. He had 30 total tackles on the season and four interceptions along with six pass breakups. He started his career at receiver before making the switch to corner, and over the past two seasons has built himself into a potential NFL draft pick on defense.
How Michigan wins: The offense performs at its peak
The offense hasn't been at its best the past few weeks, but has done enough to stay undefeated. In the postgame press conference after the Big Ten title game, Jim Harbaugh said the team will have to clean up some things up in pass protection and the run game in order to have success in the playoff. The defense has been outstanding all season, but against the teams that Michigan will face in the playoff, the Wolverines will have to put up more points. That means Corum putting up big numbers and quarterback J.J. McCarthy complementing the run game with the passing attack we saw early in the season. — Tom VanHaaren
Key player: QB Jalen Milroe
Since his benching against South Florida in Week 3, Jalen Milroe has been one of the most dynamic players in college football. He has accounted for 28 touchdowns and turned the ball over just five times in leading the Crimson Tide to 11 straight wins. His ability to scramble for big gains and buy time in the pocket make him extremely difficult to defend for any defense, but he also has a big arm and has repeatedly connected with his receivers on deep throws. Georgia coach Kirby Smart compared the 6-foot-2, 220-pound Milroe to Lamar Jackson last week because of his acceleration in the open field and arm strength to push the ball down the field. Alabama coach Nick Saban said the Crimson Tide wouldn't be in this position had Milroe not responded to his benching the way he did and continued to improve and "be our point guard." Milroe's decision-making has gotten significantly better as the season has progressed, and he said a lot of that is because he's played with more freedom and confidence since Saban told him unequivocally that it was his job.
X factor: OLB Dallas Turner
Turner has been Alabama's biggest disruptor on defense. The junior is the Tide's best pass-rusher and can change the complexion of a game with a big sack or a tackle for loss that kills an opposing offense's drive. Turner leads Alabama with 14.5 tackles for loss, 9 sacks and 13 quarterback hurries. Championship teams need a big-play defender who can cause the opposing offense to get out of its rhythm. The 6-4, 252-pound Turner is that player for the Crimson Tide.
How Alabama wins: By hanging around and being there at the end
Alabama has been one of the more resilient teams in the country. The Tide trailed five times in the second half in SEC games this season and rallied to win. In other words, they know how to win close games, and the more they've played, the more confident they've become in being able to finish games. Alabama's offense isn't necessarily built to get into high-scoring showdowns and having to come back from big deficits. But if the Tide are in the game in the fourth quarter, that's their comfort zone. They don't get rattled, and Milroe has delivered in pressure-packed situations. — Chris Low
---
No. 2 Washington vs. No. 3 Texas
CFP Semifinal at the Allstate Sugar Bowl
When: Monday, Jan. 1, 8:45 p.m. ET
Where: Caesars Superdome (New Orleans)
How to watch: ESPN and ESPN App
Key player: WR Rome Odunze
Even as quarterback Michael Penix Jr. generated Heisman Trophy consideration, Odunze has always been the Huskies' best player. Whenever the team has needed a big play, Odunze has gotten the call. It happened, most notably, in the final minutes against Oregon in the regular season, when he hauled in the game-winning touchdown. And then, again, in the Apple Cup when he took an end around to pick up a monumental first down on fourth-and-1 from the Huskies' 29-yard line. Odunze finished the regular season No. 4 in the country in receiving yards (1,326), No. 6 in receiving touchdowns (13) and is sure to be one of the first receivers off the board in the upcoming NFL draft.
X factor: RB Dillon Johnson
As teams devoted more effort to stopping the Huskies' prolific passing offense as the season went along, Johnson became a more valuable asset. He rushed for 615 of his 961 regular-season yards over the last five games with seven touchdowns in that span. The Mississippi State transfer ran 28 times for 152 yards and two scores to help take down the Ducks on Friday night and should be a key factor in this game.
How Washington wins: Penix finds his early-season form
At the halfway point of the season, Michael Penix Jr. was the clear Heisman front-runner. He had the numbers. He passed the eye test. There wasn't anything, it seemed, that could slow him down. But as the season went along, something felt off. He was still good enough to lead the Huskies to a 12-0 mark and ranked No. 2 in passing yards (3,899), but his accuracy regressed and the big plays weren't as plentiful. When he's at his best, though, Washington can beat anyone, as evidenced by the Huskies' 34-31 win over the Ducks on Friday, when Penix threw for 319 yards and a score. — Kyle Bonagura
Key player: DL T'Vondre Sweat
Sweat came back for a super senior year to try to help Texas complete its turnaround. It's fair to say that decision has been a massive success, as Sweat became a force in the interior as the Big 12 defensive player of the year and helped the Longhorns win the conference championship. At 6-4 and 362 pounds, Sweat is literally a massive piece of the Texas defense. But as big as he is, he's so quick and agile that he wreaks havoc even on passing plays, despite having just two sacks on the season, because he draws so much attention that it frees up other players, including 6-1, 308-pound Byron Murphy II, who plays next to Sweat and was the league's defensive lineman of the year. In the conference championship, Sweat even added a touchdown reception and a Heisman pose. The man contains multitudes.
X factor: TE Ja'Tavion Sanders
With the addition of Adonai Mitchell as a receiving threat opposite Xavier Worthy, Sanders has seen a dip in his production, with a few nagging injuries also a factor. Last season, he caught 54 passes for 613 yards and 5 TDs; this year he settled for 31 catches, 502 yards and one score in the regular season. But at 6-4, 243, Sanders is a nightmare matchup for linebackers and a big target for quarterback Quinn Ewers. He can be a key outlet, particularly near the goal line, where Texas has struggled for most of the season, ranking 104th nationally in red zone offense. Sanders averaged 4.2 catches per game last year, down to 2.6 this year. Entering the Big 12 championship game, he'd caught five passes in a game only twice this year, and both times he went over 100 yards, including 114 yards against Alabama. But against Oklahoma State on Saturday, he had a season-high eight catches for 105 yards and a touchdown. Sanders could be the cure for the Longhorns' woes in the end zone if they keep him going, particularly with Worthy's ankle injury suffered against OSU adding concern.
How Texas wins: The offensive line protects Quinn Ewers
The Longhorns have the heft along both lines to match up with pretty much anyone, but with Jonathon Brooks, who had 1,138 yards in 10 games, lost for the season, they'll have to find a back to make the running game a factor. But it will take a strong performance from quarterback Quinn Ewers and the passing game to key the Texas attack. If the offensive line can protect Ewers and keep him upright, the Longhorns have the speed to make big plays on the outside and the offense has shown the potential to deliver when it's needed most. — Dave Wilson
Michigan, Washington, Texas, Alabama reach CFP
Michigan, Washington, Texas and Alabama have been selected by the College Football Playoff committee to vie for the national championship.
That means Florida State (No. 5) and Georgia (No. 6), two teams with compelling arguments for playoff inclusion, are instead on the outside looking in.
The Wolverines and Huskies as undefeated conference champions were considered virtual shoo-ins to make the CFP. Michigan is in the playoff for the third straight year. Washington, on the other hand, has been in the CFP only once before, losing in the semifinals in the 2016 season.
The path to the playoff was a bit murkier for Texas and Alabama.
Texas is back in the running for the national championship after booking its first trip to the playoff. Led by quarterback Quinn Ewers, the Longhorns went 12-1 and won the Big 12 championship in their first appearance in the conference title game. Texas' lone loss came at the hand of Oklahoma in the Red River rivalry game. Both schools will head to the SEC after this season, but the Longhorns already got an SEC boost this year. Texas notched perhaps the biggest win of the college football season by going on the road in September and beating Alabama in Tuscaloosa.
Alabama proved that one big win can sometimes make up for one early loss. The Crimson Tide are in the playoff a day after ending Georgia's 29-game, 728-day winning streak with a 27-24 victory in the SEC championship game. Nick Saban's squad faced challenges atypical for Alabama, losing at home to Texas in the second game of the season and otherwise scuffling through the early part of the schedule. Part of the issue was uncertainty at quarterback. Jalen Milroe started and finished the season as the team's top QB, but both Ty Simpson and Tyler Buchner were given chances to take control of the position in Tommy Rees' first year as Alabama's offensive coordinator. Bama will now have a chance to win its fourth College Football Playoff national championship in the final year of the four-team format.
Alabama's win Saturday ended Georgia's pursuit of a third straight national championship. The Bulldogs had won 29 straight games, but Saturday's ill-timed loss to Alabama in the SEC title game left Georgia on the outside looking in. As a result, the Bulldogs become the first No. 1 team in the penultimate CFP rankings to fall out of the top four after losing in Championship Week.
Florida State won its conference championship game after an undefeated regular season, but becomes the first unbeaten Power 5 champ to miss out on the CFP, a decision that rankled ACC commissioner Jim Phillips.
"It's unfathomable that Florida State, an undefeated Power Five conference champion, was left out of the College Football Playoff," Phillips said in a statement Sunday. "Their exclusion calls into question the selection process and whether the Committee's own guidelines were followed, including the significant importance of being an undefeated Power Five conference champion. My heart breaks for the talented FSU student-athletes and coaches and their passionate and loyal fans. Florida State deserved better. College football deserved better."
The committee seemed to focus on how competitive the Seminoles would be in the playoff without quarterback Jordan Travis, who suffered a season-ending leg injury in mid-November. FSU started backup Tate Rodemaker in its regular-season finale victory over Florida, but a concussion kept him out of the ACC title game. That forced coach Mike Norvell to go with freshman Brock Glenn on Saturday, a win over Louisville in which the Noles' defense led the way.
Washington will play Texas in the Allstate Sugar Bowl, while Michigan will face Alabama in the Rose Bowl Game Presented by Prudential. Both semifinal games will be played on New Year's Day and aired on ESPN.
The CFP National Championship Presented by AT&T will be played Monday, Jan. 8 on ESPN.
Houston tasks Fritz to lead Big 12 turnaround
Houston has hired Tulane's Willie Fritz to be the Cougars' next football coach, the school announced Sunday.
Fritz led Tulane to one of the best stretches in school history, as the Green Wave have reached a bowl game in five of the past six seasons and have gone 23-4 the past two years. Prior to his arrival, Tulane went to one bowl game from 2003 to 2015.
"No one in the country has been better at leading and developing student-athletes than Willie Fritz," Houston athletic director Chris Pezman said in a statement. "Over his more than three-decades of head coaching experience, he has guided several football programs to historic success."
Offensive coordinator Slade Nagle is set to serve as Tulane's interim coach, sources told ESPN.
Fritz led Tulane to the American Athletic Conference title last year, and the Green Wave lost to SMU in the title game Saturday. His signature win at Tulane came in the Cotton Bowl after the 2022 season, a scintillating 46-45 victory over quarterback Caleb Williams and USC.
Fritz will replace Dana Holgorsen, who was fired after three losing seasons in five years. Holgorsen finished with a 31-28 record and is due a $14.8 million buyout, which is subject to mitigation.
Fritz said in a statement that he was "humbled and honored" for the opportunity to coach at Houston.
"There is no ceiling for success, with the incredible fan support, excellent facilities, talented young men and a collective desire to compete for championships," Fritz said. "We will build a program that all Coogs can be proud of, and I cannot wait to see the results."
Fritz has extensive experience coaching in Texas, as he worked at Sam Houston State in three separate stints, as well as in the high school ranks and as a junior college coach at Blinn.
He has been a head coach since 1993 and has experienced success at every level. That includes two juco national titles at Blinn and postseason appearances at Central Missouri, Sam Houston State, Georgia Southern and Tulane.
Houston is facing a steep climb after posting a 2-7 Big 12 record in its first season in the conference, with one win coming improbably in the final seconds against West Virginia. The Cougars lost to crosstown rival Rice and dropped the final three games of the season against Cincinnati, Oklahoma State and UCF.
Fritz's debut will come against UNLV in 2024 before a Week 2 road game at new SEC member Oklahoma.