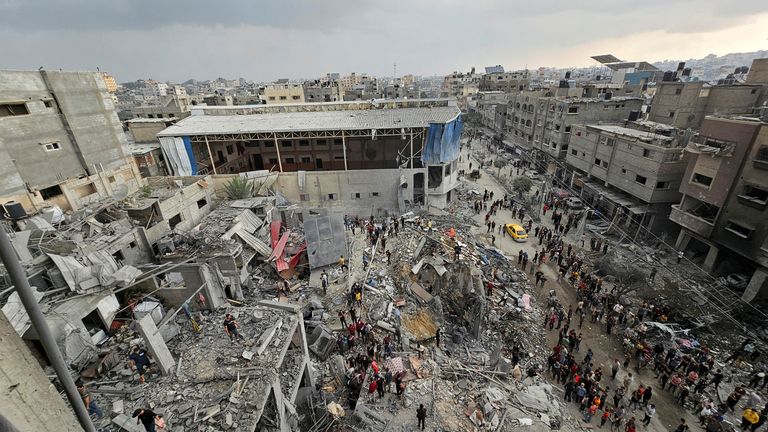 The Hamas-run health ministry has claimed at least 50 people have been killed in an Israeli attack on a school in northern Gaza.
The ministry claimed Israel attacked the UN-run al Fakhoura school, in Jabalia refugee camp, with at least 32 people killed in a separate attack on another building in the same camp, as reported by AFP.
Commissioner general of the UN Palestinian refugee agency (UNRWA), Philippe Lazzarini, said he has seen "horrifying images" of people killed and injured in a school run by the organisation.
Latest as Gaza health ministry says at least 50 killed in attack on school
He did not specify if this was al Fakhoura and Sky News cannot verify these reports.
"Receiving horrifying images and footage of scores of people killed and injured in another UNRWA school sheltering thousands of displaced in the north of the Gaza Strip," he posted on X.
"These attacks cannot become commonplace, they must stop. A humanitarian ceasefire cannot wait any longer."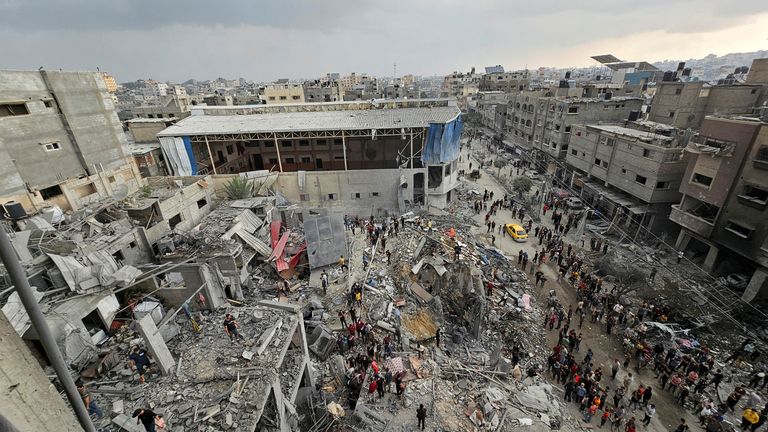 Sky News has geolocated a video from a building at Jabalia refugee camp, where the school is located, which appears to show dozens of dead bodies.
The footage shows women and children among those motionless on multiple floors of the building.
Many people seen were lying still, surrounded by blood, in one damaged room, which appeared to also contain school desks.
The IDF has told Sky News they are looking into reports of the attacks, while the Hamas-run health ministry also claims Tal al Zaatar school, in Beit Lahia, was attacked too.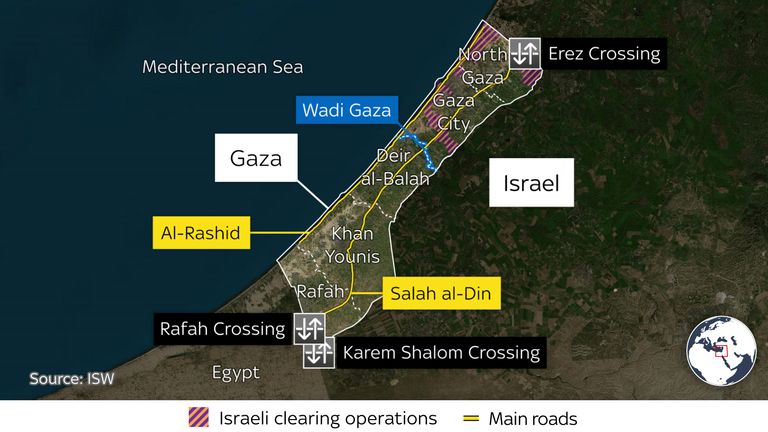 Unicef's director for the Middle East, reacting to the reports, said these "horrible attacks should cease immediately".
"The scenes of carnage and death following attacks on al Fakhoura… in Gaza killing many children and women are horrific and appalling," Adele Khodr posted on X.
"Children, schools and shelters are not a target. Immediate ceasefire needed now!"
Read more:
Israel poised for 'second phase' of war against Hamas – but sympathy is waning
IDF drops leaflets warning Palestinians to flee parts of southern Gaza
Jabalia camp has been converted into a shelter for displaced Palestinians as Israel's bombardment of the territory continues, with Hamas claiming more than 12,000 people have been killed.
Israel's current offensive was launched after Hamas attacked the country on 7 October, which Israel says killed 1,200 people and left 242 taken hostage in Gaza.
Traders were told of Hamas attack on Israel in advance and 'profited from tragic events', researchers claim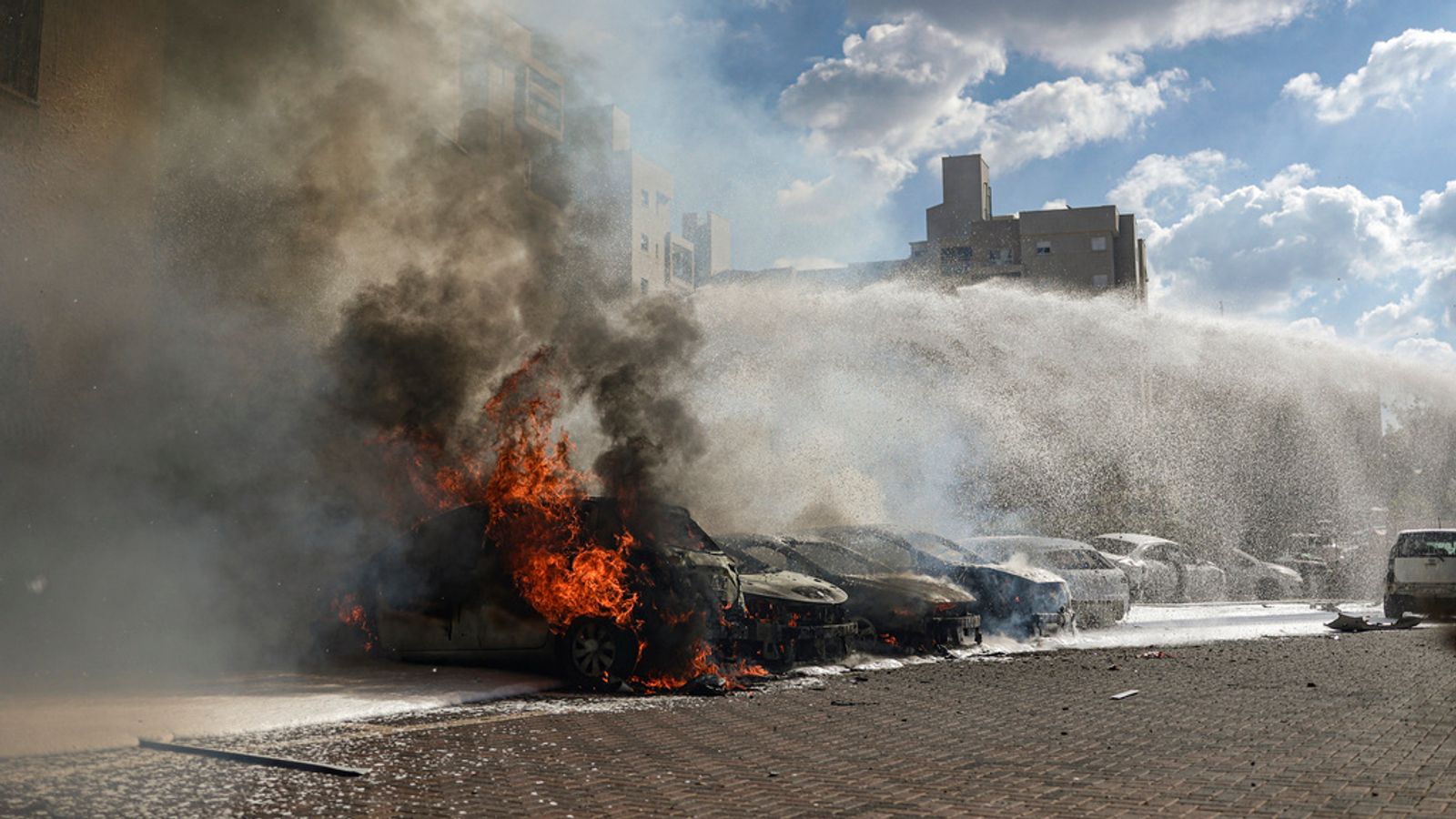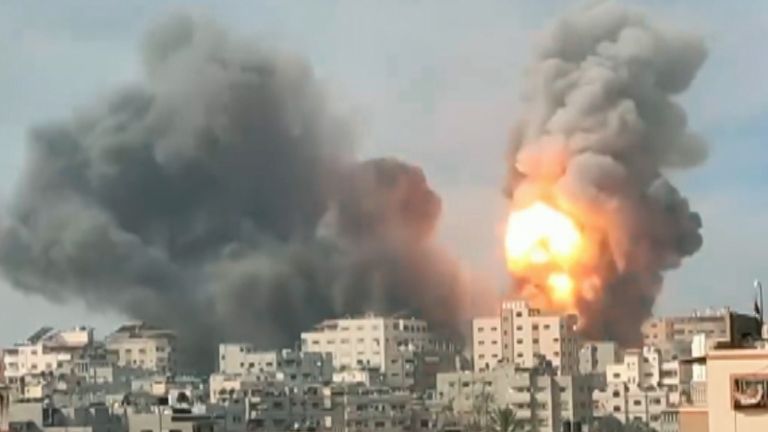 Israeli authorities are investigating claims some investors may have known in advance about the Hamas plan to attack Israel on 7 October and used that information to make hundreds of millions of pounds.
Research by US law professors Robert Jackson Jr and Joshua Mitts, from New York University and Columbia University respectively, found significant short-selling of shares leading up to the massacre, which triggered a war that has raged for nearly two months.
"Days before the attack, traders appeared to anticipate the events to come," the authors wrote, citing short interest in the MSCI Israel Exchange Traded Fund (ETF) they say "suddenly, and significantly, spiked" on 2 October.
"And just before the attack, short selling of Israeli securities on the Tel Aviv Stock Exchange (TASE) increased dramatically," they added.
Israel-Gaza latest: UNICEF plea to stop killing of children
Heavy bombing in northern Gaza

The Israel Securities Authority told Reuters: "The matter is known to the authority and is under investigation by all the relevant parties."
The researchers said short-selling prior to 7 October "exceeded the short-selling that occurred during numerous other periods of crisis", including the recession following the financial crisis of 2008, the 2014 Israel-Gaza war and the COVID-19 pandemic.
They gave the example of Leumi, Israel's largest bank, which saw 4.43 million new shares sold short over the 14 September to 5 October period, yielding profits of 3.2bn shekels (£680m) on that additional short-selling.
"Although we see no aggregate increase in shorting of Israeli companies on US exchanges, we do identify a sharp and
unusual increase, just before the attacks, in trading in risky short-dated options on these companies expiring just after the attacks," they said.
Read more:
Medics 'did not know how to deal with' traumatised child hostages
Gaza 'split into three' as Israel pushes deeper into south
US 'considering all appropriate responses' to Red Sea attack
What is shorting?
Short sellers are investors who bet on a fall in the price of a security, in this case a stock.
They typically do this by borrowing shares in a particular company and then selling them.
If the share price falls, they will then buy those shares back at the lower price, sealing in their profit.
The shares are then returned to the original investor from whom they were borrowed.
Traders 'profited from these tragic events'
The value of the MSCI Israel ETF fell by 6.1% on 11 October, the first day the American market was open for business after the attack, and later dropped by 17.5% over the 20 days following the massacre.
The researchers – who did not name the traders – identified two large transactions on 2 October, adding: "On these two transactions alone, the trader made several million dollars in profit (or in losses avoided)."
They also identified similar patterns in April, when it was reported Hamas was initially planning its attack on Israel.
While the researchers do not identify Hamas as being behind the trades, their paper suggests the information originated from the terror group: "Our findings suggest that traders informed about the coming attacks profited from these tragic events."
Their paper, Trading on Terror?, was published on the Social Science Research Network (SSRN) on Sunday.
Ex-US ambassador Manuel Rocha accused of being Cuban spy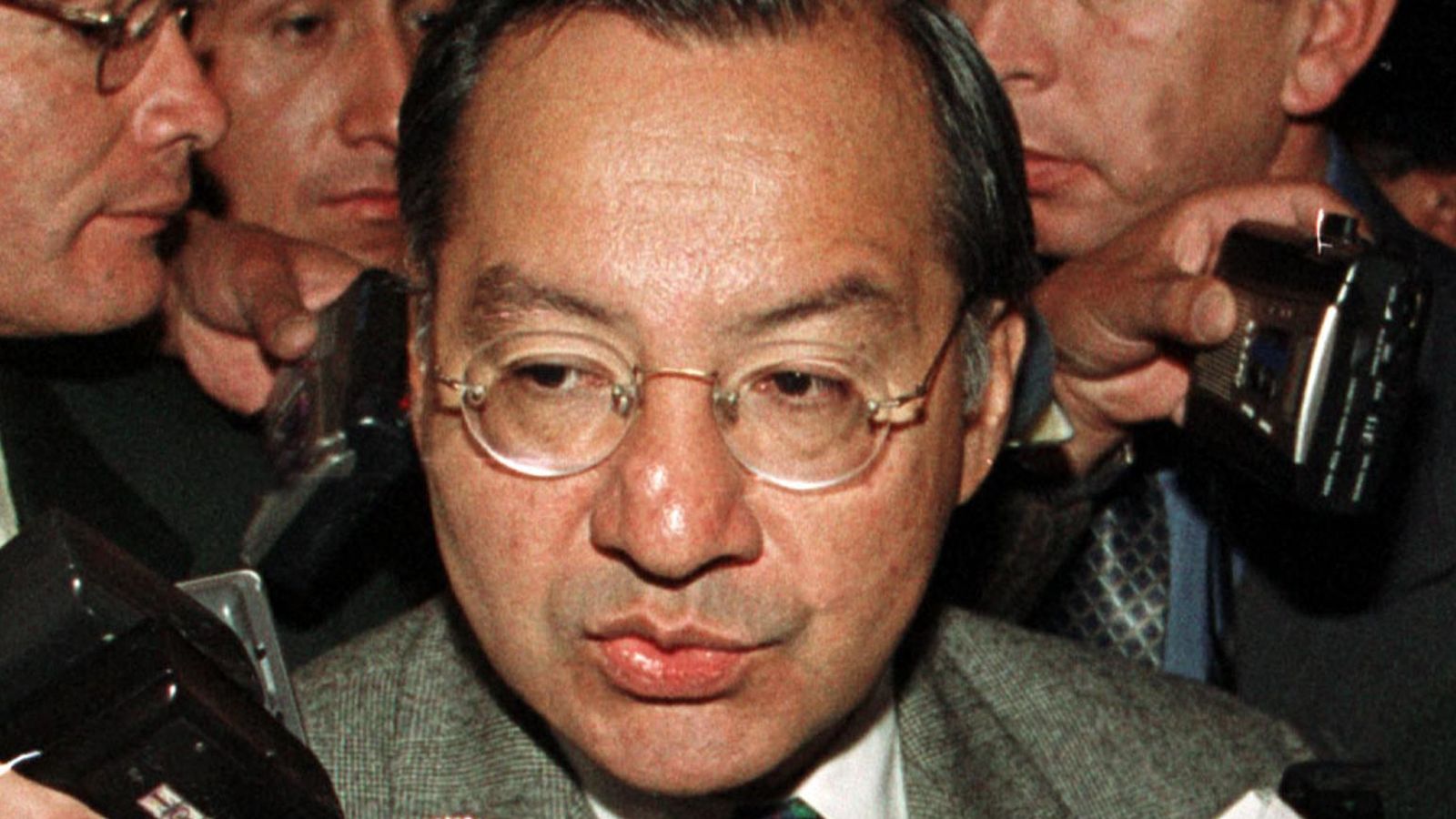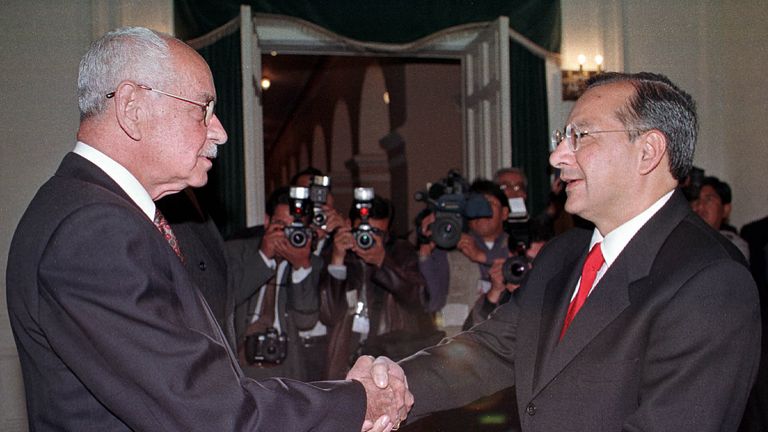 A former US ambassador to Bolivia has been charged with secretly acting as a Cuban agent for "more than 40 years".
Manuel Rocha, who was arrested at his Miami home on Friday, served as the top US diplomat to Bolivia between 2000 and 2002.
Prosecutors from the US Justice Department accuse him of promoting the Cuban government's interests, Sky's US partner NBC News reported.
This is not a crime unless it is done on US soil without registering with the department as a foreign lobbyist, the broadcaster added.
Rocha, 73, appeared in court on Monday and is alleged to have begun his "clandestine activity" on Cuba's behalf in 1981 or earlier.
It was one of the highest-reaching and longest-lasting infiltrations of the US government by a foreign agent, department officials said.
He met Cuban intelligence operators, lied to US government officials about his travels and contacts and used a passport obtained through a false statement, prosecutors claimed in court documents filed in Florida.
The charges reflect a harsher approach by the department towards the prosecution of illicit foreign lobbying.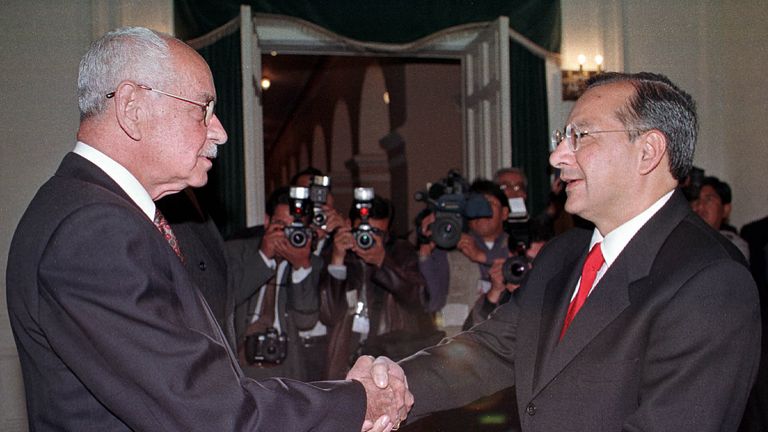 During his 25-year career as a US diplomat, Rocha served as ambassador to Bolivia and held another senior post – head of mission – in Argentina.
He worked for the US Interests Section in Havana in the mid-1990s, a time when the US lacked full diplomatic relations with Fidel Castro's communist government.
Prosecutors claim Cuba's notoriously sophisticated intelligence services first began using Rocha in 1981 when he first joined the US State Department.
They added that the alleged links continued well after he left government service more than two decades later.
The FBI learned about the relationship last year, it is alleged, and arranged a series of undercover meetings with an agent posing as a Cuban intelligence operator.
In one encounter in Miami last year, Rocha is alleged to have said: "I always told myself, 'The only thing that can put everything we have done in danger is – is … someone's betrayal, someone who may have met me, someone who may have known something at some point'."
Read more from Sky News:
British teenager killed in Gaza while fighting for IDF
Singer hits out at magazine for 'outing' her
Woman dies after shark attack while swimming with daughter
Born in Colombia, Rocha joined the US foreign service in 1981.
As ambassador to Bolivia, he warned Bolivians that if they voted for Evo Morales in the upcoming election, the US would cut off aid to the poor South American country.
Rocha also served in Italy, Honduras, Mexico and the Dominican Republic, and worked as a Latin America expert for the US National Security Council.
Mother, 26, dies after attack by shark in Mexico while swimming with daughter
A 26-year-old mother has died in Mexico after being bitten in the leg by a shark.
The woman, who lived locally, was swimming with her five-year-old daughter when the attack happened.
She is understood to have died from blood loss from the massive bite wound on her leg. Her daughter was unharmed.
The attack happened in the waters off the beach town of Melaque in the state of Jalisco in western Mexico on Saturday, authorities said.
Rafael Araiza, the head of the local civil defence office, said the woman and her daughter were swimming towards a floating play platform about 25m (75ft) from the shore when the attack happened.
She is said to have been trying to boost her child onto the platform when the shark bit her.
Read more on Sky News:
Man mauled to death by tiger shark off Egypt's Red Sea coast
Australian man killed in shark attack at New Caledonia beach
Mr Araiza said despite their quick response, rescuers were unable to save her.
Authorities closed the beaches in Melaque and the better-known beach town of Barra de Navidad to swimmers in response.
Shark attacks are understood to be relatively rare in Mexico. A US diver survived a shark bite on the forearm in Magdalena Bay off the Baja California Sur coast in 2019.