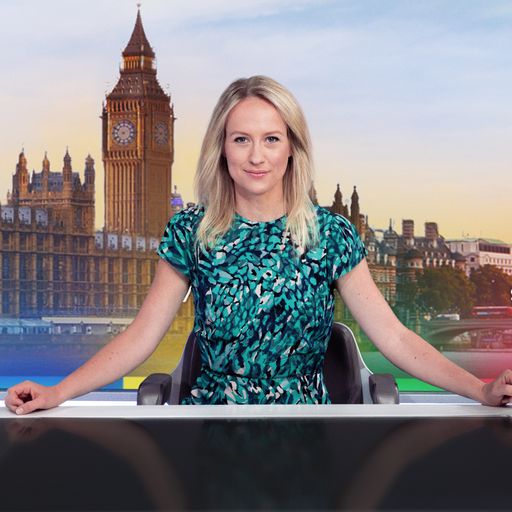 The national living wage will rise to £11.44 per hour from April.
Chancellor Jeremy Hunt has announced he is accepting the recommendation from the Low Pay Commission – an increase of £1.02 from the current rate of £10.42.
According to the Treasury, it is the largest ever cash increase to the rate – and is equivalent to £1,800 a year for those on the lowest income.
Politics news: Whitty makes lockdown admission at COVID inquiry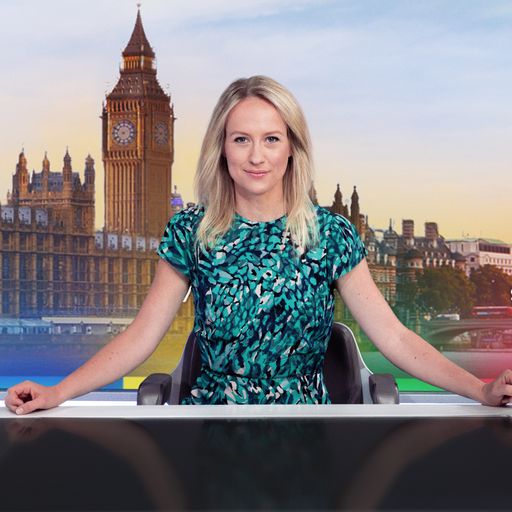 Politics Hub with Sophy Ridge
Sky News Monday to Thursday at 7pm.
Watch live on Sky channel 501, Freeview 233, Virgin 602, the Sky News website and app or YouTube.
Until now, the national living wage has only been in force for Britons over the age of 23 – but from next year, it will apply to 21 and 22-year-olds for the first time.
The changes are expected to impact about two million people.
The minimum wage rate is also going up, as is the lowest legal pay for apprentices.
Those aged 18 to 20 will get at least £8.60 an hour from April – a bump of £1.11.
For those 16 and 17, and apprentices, the minimum pay will be £6.40 – a rise of £1.12 on last year.
Mr Hunt said: "Next April, all full-time workers on the national living wage will get a pay rise of over £1,800 a year. That will end low pay in this country, delivering on our manifesto promise.
"The national living wage has helped halve the number of people on low pay since 2010, making sure work always pays."
Read more:
Public have 'duty' to work, says minister
Hunt to focus statement on cost of living and growth
Can Tory tax cuts change polls?

Laura Trott, the chief secretary to the Treasury, would not be drawn on whether measures like tax cuts being offered by the government was being done due to the Tories languishing in the polls.
She said Mr Hunt and Mr Sunak "have made some really difficult decision in the national interest" to try and get inflation down.
The national living wage was introduced in 2016. The Treasury claims that, by raising the living wage to two-thirds of average earnings, they have ended low hourly pay.
A Treasury spokesperson said: "Since 2010, the proportion of workers on low hourly pay has more than halved from 21.3% to 8.9%, supported by increases to the national living wage.
"Personal tax thresholds have been doubled, meaning a working person can now earn £1,000 a month tax-free for the first time."
Click to subscribe to Politics at Jack and Sam's wherever you get your podcasts
The announcement comes ahead of Wednesday's autumn statement, where Mr Hunt will update the UK on the state of country's economy.
Nye Cominetti, the principal economist of the Resolution Foundation thinktank, said: "The more than £1 an hour increase in the national living wage next year is huge – the third-biggest rise ever in both cash and real terms. At least 1.7 million workers across Britain will benefit from this latest rise, and many more will see their wages boosted indirectly.
Can the chancellor lift the gloom? Watch live coverage on Sky News of the autumn statement from 11am on Wednesday
Cost of Christmas dinner set to rise in 'record-breaking' festive grocery spree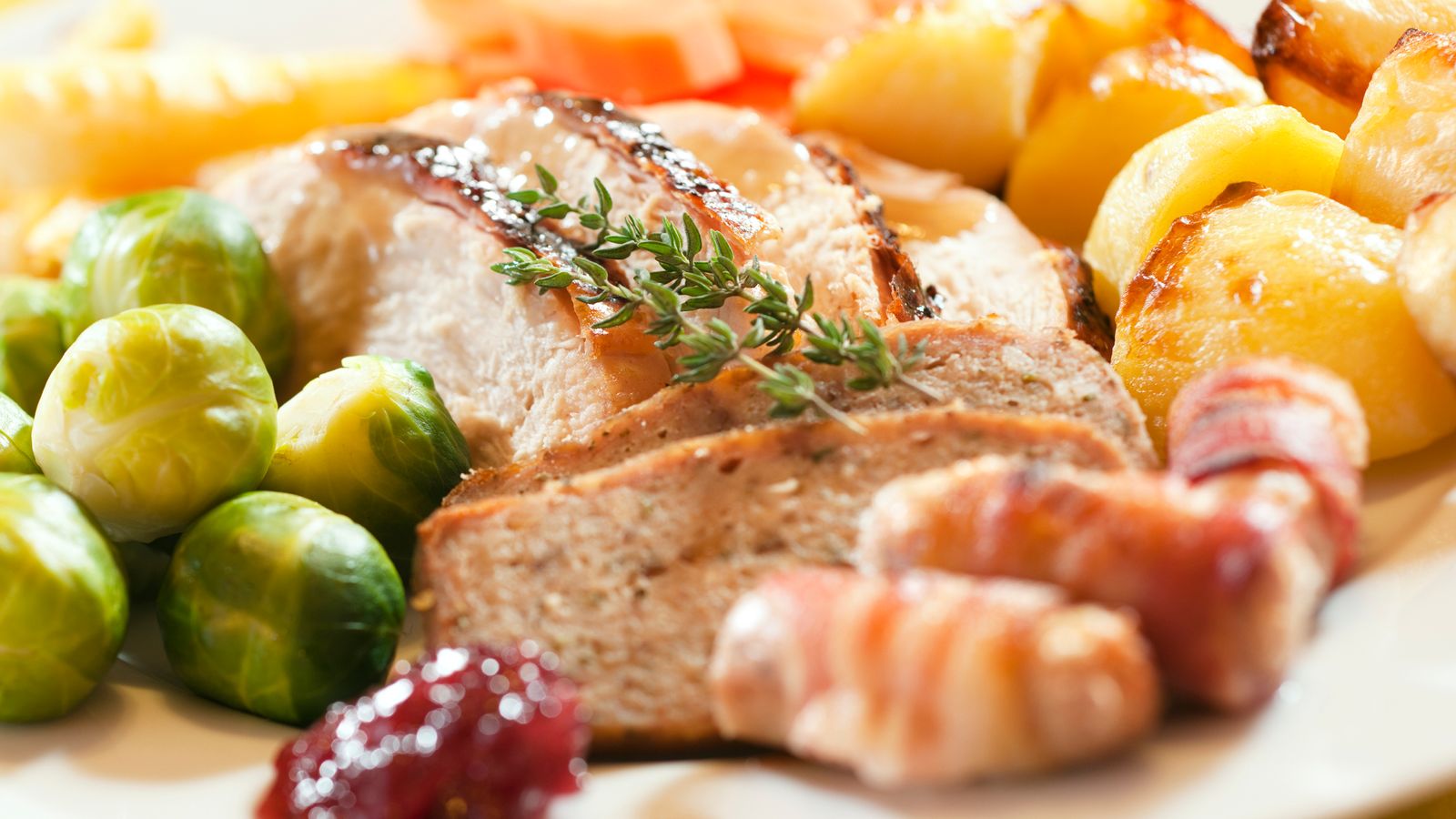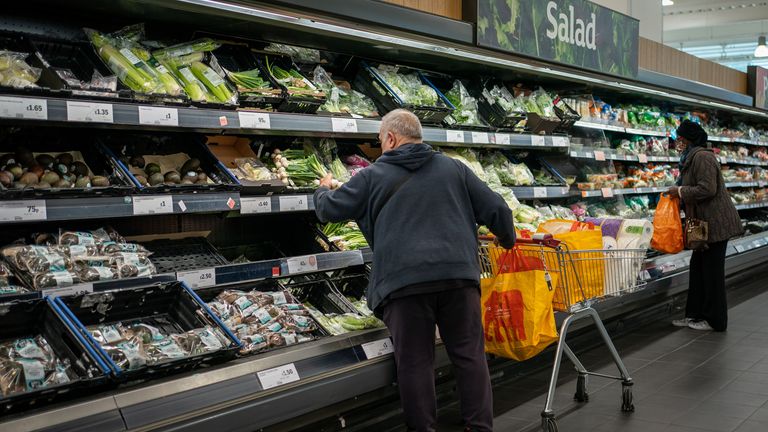 The cost of a traditional Christmas dinner will rise on last year, according to a closely-watched report that is also forecasting record sales for supermarkets over the festive season.
Kantar Worldpanel, which tracks sales and prices at supermarket chains, said its annual measure for the cost of the typical main meal stood at £31.71 for a family of four.
The value of the list of goods, which comprises a frozen turkey along with vegetables – including potatoes and sprouts – and a Christmas pudding, was 1.3% higher compared to the lead-up to Christmas 2022.
While up, the figure is well below the UK's rate of inflation which currently stands at 5.6%.
The Christmas dinner item which has shot up the most in price was cranberry sauce, Kantar said, which is more than 26% more expensive than last year.
The sparkling wine element of the meal was almost 6% lower than in 2022, with sprouts and the pudding also cheaper.
The report said that discounting by supermarkets in the run-up to the festive season, aimed at locking in customer loyalty for the big Christmas shop, continued to help push its measure of grocery inflation to ease over the four weeks to 26 November.
It stood at 9.1% compared to 9.7% over the previous month.
The report said that chains could collectively rake in more than £13bn for the first time over Christmas – a consequence of the higher prices we are being asked to bear.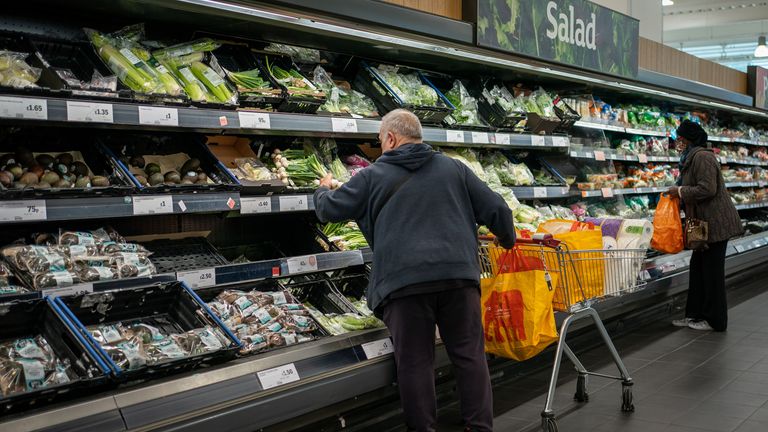 Fraser McKevitt, head of retail and consumer insight at Kantar, said: "The scene is set for record-breaking spend through the supermarket tills this Christmas.
"The festive period is always a bumper one for the grocers with consumers buying on average 10% more items than in a typical month.
"Some of the increase, of course, will also be driven by the ongoing price inflation we've seen this year.
"While the rate at which grocery prices are rising is still well above the norm, the good news for shoppers is that inflation is continuing to come down."
Nov: 'People are starting to spend a bit less'

The Kantar report was released as industry body the British Retail Consortium (BRC) expressed further concern about sales volumes more widely in the run-up to Christmas, fearing that cost of living pressures are taking their toll on budgets.
After official figures showed sales at COVID lockdown levels during October, the BRC suggested that encouraging signs for spending in early November did not hold up for the month as a whole despite widespread early Black Friday discounting.
Its latest Retail Sales Monitor showed total sales by value were 2.7% up last month, easily lagging the rate of inflation.
Food and drink, health, personal care and beauty products continued to drive growth, while jewellery and watches saw the biggest decline in sales on the high street.
BRC chief executive Helen Dickinson said: "Black Friday began earlier this year as many retailers tried to give sales a much-needed boost in November.
"While this had the desired effect initially, the momentum failed to hold throughout the month, as many households held back on Christmas spending.
"Retailers are banking on a last-minute flurry of festive frivolity in December and will continue working hard to deliver an affordable Christmas for customers so everyone can enjoy some Christmas cheer."
Read more:
Escaped reindeer who blocked dual carriageway recaptured
'Where's the other half?' Trafalgar Square tree mocked
Festive meal favourites at risk after washout harvest
It may not be all bad news for stores and the wider economy, though.
Separate data from Barclays showed confidence in spending on non-essential items reached its highest level since April last month.
Its latest report on card spending pointed to strong demand for fashion on the high street.
Thames Water reveals leap in pollution incidents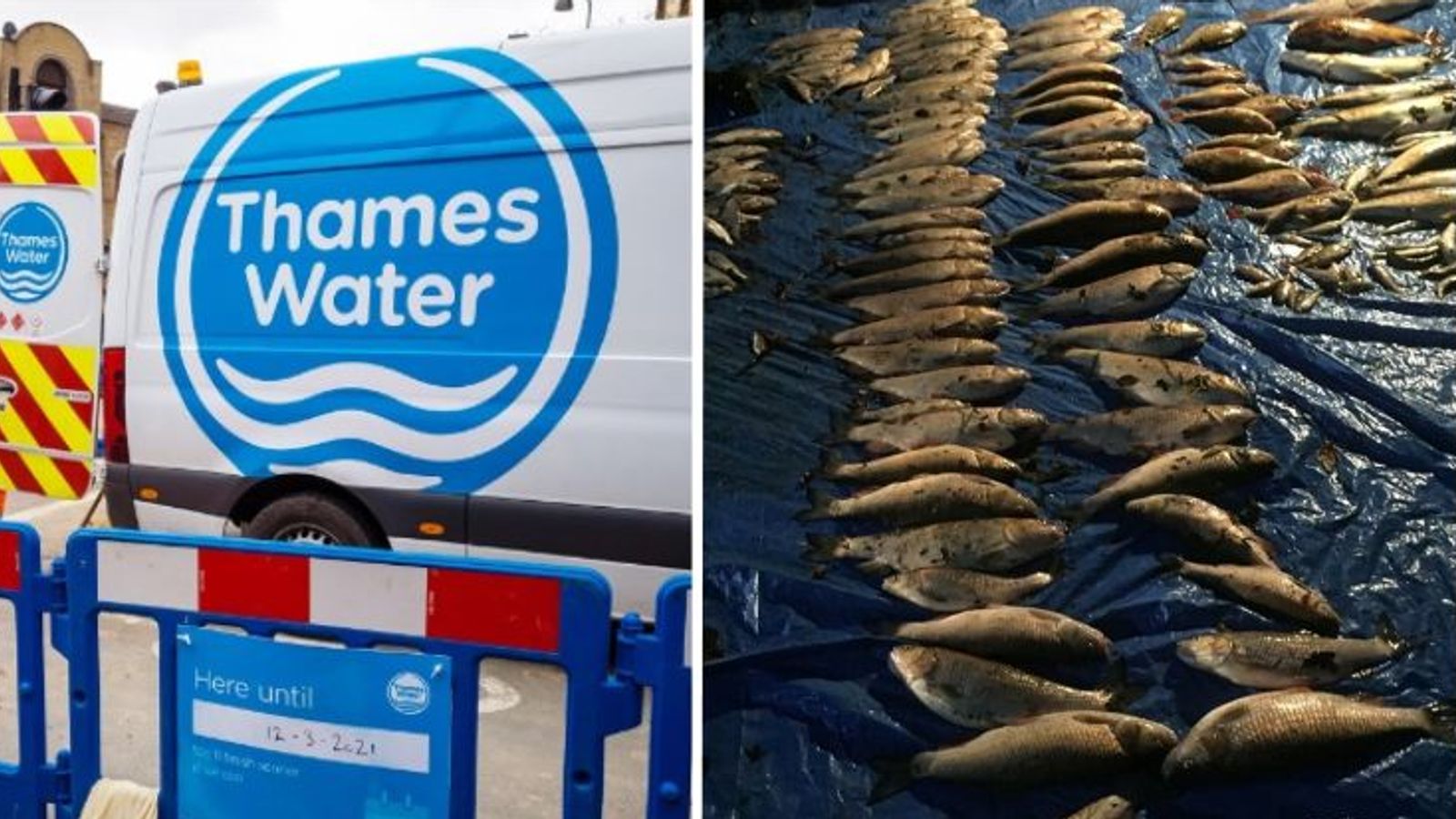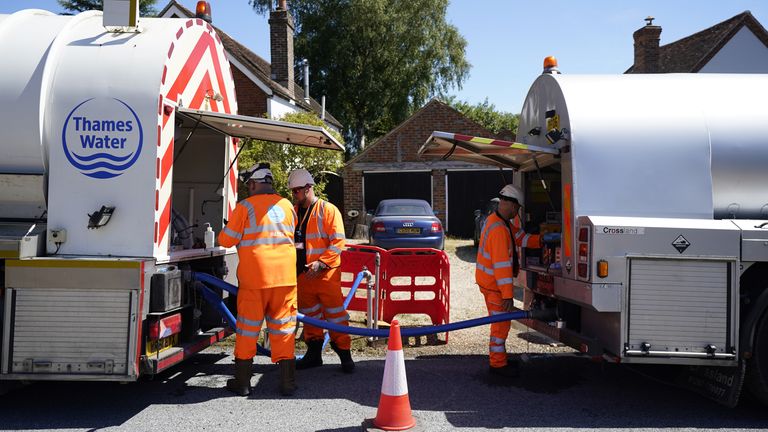 Thames Water has revealed an 18% rise in pollution incidents during the first half of its financial year.
The country's largest household supplier reported 257 category one – the most serious – to category 3 pollutions over the six months to the end of September.
It said that action to prevent these incidents was a core part of a three-year action plan to improve customer service that had been approved by its board.
Thames, which is looking to raise bills to help pay for much-needed investment in its ageing infrastructure, said: "Our turnaround plan addresses and mitigates the major drivers of pollutions across our wastewater network and sewage treatment works, including more proactive network cleaning and monitoring, and better prioritised reactive responses.
"Consequently, blockages, which cause over 40% of network pollutions, reduced by 5% in the first half of the year.
"As we look ahead, changes our regulators are making to the definition of pollutions are expected to increase the overall number of pollutions we report, even if there is no change in the impact we have on the environment.
July: 'Get rid of this lot'

"Notwithstanding this, we are committed to tackle the root causes of pollutions to meet the expectations of our communities and the needs of the environment."
UK water firms have faced a backlash following a spate of sewage discharges.
In the case of Thames, it was fined more than £3m in the summer over an incident that saw human waste flow into rivers for more than six hours un-noticed.
Performance at Thames has been under particular scrutiny.
In June, Sky News revealed how fears that Thames could be swept away under the weight of its £14bn debt pile had prompted the government to ready a rescue plan.
Its investors later agreed a further £750m of investment.
Earlier this autumn, regulator Ofwat fined the company £51m for failure to reach its performance targets.
That money will be paid back through reductions to customer bills.
Thames is pushing for the watchdog to allow an increase in bills from 2025 to help fund its investment plans, with the focus on six key areas including tackling leaks, customer complaints, supply interruptions and pollution.
Interim co-chief executives Cathryn Ross and Alastair Cochran warned the turnaround would take time.
"Whilst business resilience remains fragile with frequent failures in our ageing infrastructure, we have taken a risk-based approach to improve reliability by more closely managing core assets and we have started to bring greater rigour to maintenance practices.
"We have also developed long-term asset plans to build resilience and redundancy that will ultimately restore operations to a level our customers expect."
Thames revealed an 11% rise in revenues to £1.2bn over the six month period.
While underlying profits rose 22% to £627m, its bottom line profit before tax came in more than 50% lower at £246.4m.
Traders were told of Hamas attack on Israel in advance and 'profited from tragic events', researchers claim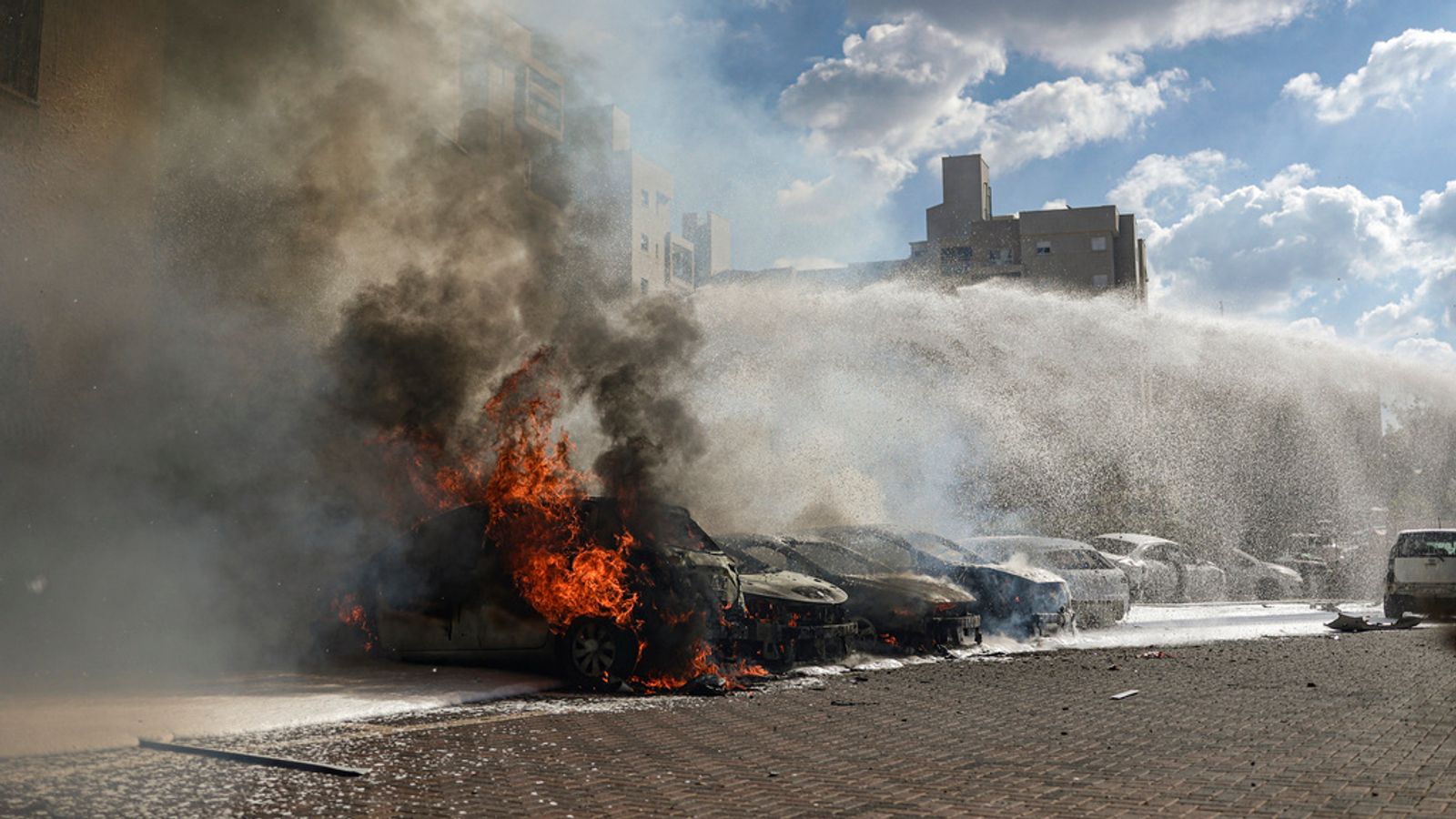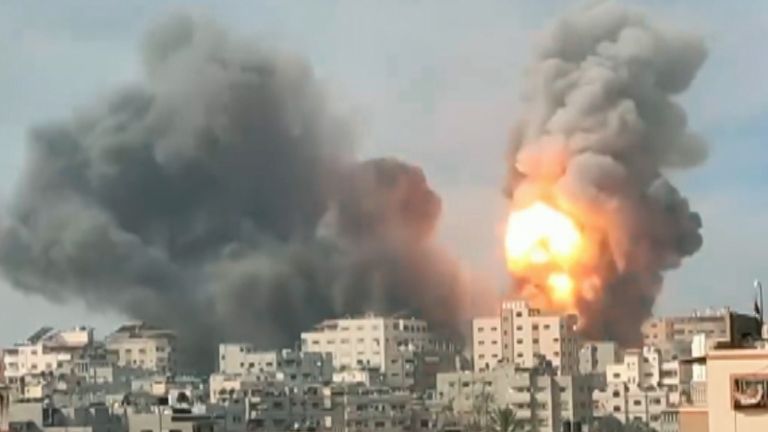 Israeli authorities are investigating claims some investors may have known in advance about the Hamas plan to attack Israel on 7 October and used that information to make hundreds of millions of pounds.
Research by US law professors Robert Jackson Jr and Joshua Mitts, from New York University and Columbia University respectively, found significant short-selling of shares leading up to the massacre, which triggered a war that has raged for nearly two months.
"Days before the attack, traders appeared to anticipate the events to come," the authors wrote, citing short interest in the MSCI Israel Exchange Traded Fund (ETF) they say "suddenly, and significantly, spiked" on 2 October.
"And just before the attack, short selling of Israeli securities on the Tel Aviv Stock Exchange (TASE) increased dramatically," they added.
Israel-Gaza latest: UNICEF plea to stop killing of children
Heavy bombing in northern Gaza

The Israel Securities Authority told Reuters: "The matter is known to the authority and is under investigation by all the relevant parties."
The researchers said short-selling prior to 7 October "exceeded the short-selling that occurred during numerous other periods of crisis", including the recession following the financial crisis of 2008, the 2014 Israel-Gaza war and the COVID-19 pandemic.
They gave the example of Leumi, Israel's largest bank, which saw 4.43 million new shares sold short over the 14 September to 5 October period, yielding profits of 3.2bn shekels (£680m) on that additional short-selling.
"Although we see no aggregate increase in shorting of Israeli companies on US exchanges, we do identify a sharp and
unusual increase, just before the attacks, in trading in risky short-dated options on these companies expiring just after the attacks," they said.
Read more:
Medics 'did not know how to deal with' traumatised child hostages
Gaza 'split into three' as Israel pushes deeper into south
US 'considering all appropriate responses' to Red Sea attack
What is shorting?
Short sellers are investors who bet on a fall in the price of a security, in this case a stock.
They typically do this by borrowing shares in a particular company and then selling them.
If the share price falls, they will then buy those shares back at the lower price, sealing in their profit.
The shares are then returned to the original investor from whom they were borrowed.
Traders 'profited from these tragic events'
The value of the MSCI Israel ETF fell by 6.1% on 11 October, the first day the American market was open for business after the attack, and later dropped by 17.5% over the 20 days following the massacre.
The researchers – who did not name the traders – identified two large transactions on 2 October, adding: "On these two transactions alone, the trader made several million dollars in profit (or in losses avoided)."
They also identified similar patterns in April, when it was reported Hamas was initially planning its attack on Israel.
While the researchers do not identify Hamas as being behind the trades, their paper suggests the information originated from the terror group: "Our findings suggest that traders informed about the coming attacks profited from these tragic events."
Their paper, Trading on Terror?, was published on the Social Science Research Network (SSRN) on Sunday.