Six people, including a 13-year-old boy, have been arrested on suspicion of murder after a 14-year-old was chased and stabbed to death in Birmingham.
Police said a post-mortem examination confirmed the male victim died from a stab wound to the chest.
A 33-year-old man was arrested from an address in Kingstanding, Birmingham, on Tuesday afternoon.
A 13-year-old boy was later detained in the Walsall area.
Police said another man aged 38 and a 14-year-old boy were arrested from a vehicle in Cheshire while two men, aged 36 and 35, surrendered to separate police stations in the West Midlands.
All six suspects remain in custody, police said.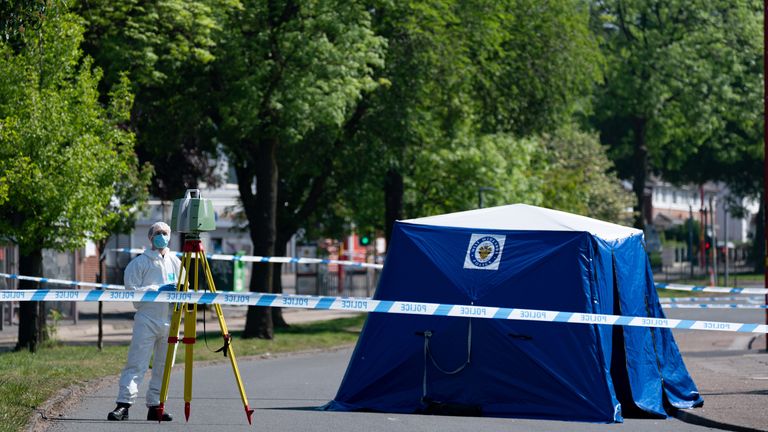 The young victim is thought to have been chased into College Road in the Kingstanding area of Birmingham at around 7.30pm on Monday before being stabbed.
An ambulance arrived at 7.35pm but the boy was confirmed dead at the scene a short time later.
The arrests come after West Midlands Police said there is "nothing to suggest" the stabbing was racially-motivated.
Officers later added they are "keeping an open mind" about the motive for the attack.
'A horrible situation' – local resident

The force has voluntarily referred the case to the Independent Office for Police Conduct (IOPC) after "looking at previous incidents involving the victim".
Two groups of youths clashed in front of police near to the scene around an hour after the stabbing.
Sky correspondent Frazer Maude has said police quickly dealt with the incident and the two groups were separated.
Some were placed in handcuffs but police have said no arrests were made.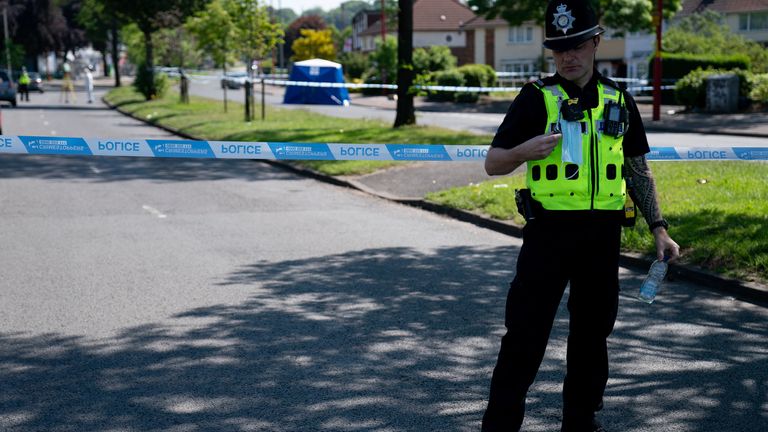 Detective Chief Inspector Stu Mobberley, leading the investigation, said: "We've made rapid progress on the investigation so far and these arrests are a significant step forward.
"Our officers have executed a series of warrants in the region and we've worked with police forces outside the area to apprehend suspects.
"We're still speaking to witnesses and really need to hear from anyone who has seen or heard something, even if they think we may already know or they're not sure how important it is.
Police clash with youths in Birmingham

"We are aware of many different rumours circulating about the motive for the murder but we are keeping an open mind and pursuing all lines of enquiry. We ask people not to speculate on social media."
Labour MP Jack Dromey, whose Erdington constituency includes the area where the stabbing happened, said: "Truly shocking that a 14-year-old teenage boy in Kingstanding was stabbed to death this evening."
Anyone who can help the investigation is asked to contact police by Live Chat on the force's website, calling 101 quoting log 3313 of 31/5, or calling Crimestoppers anonymously on 0800 555 111

Frank Skinner breaks down in tears on live radio as he reveals friend Gareth Richards is fighting for his life after crash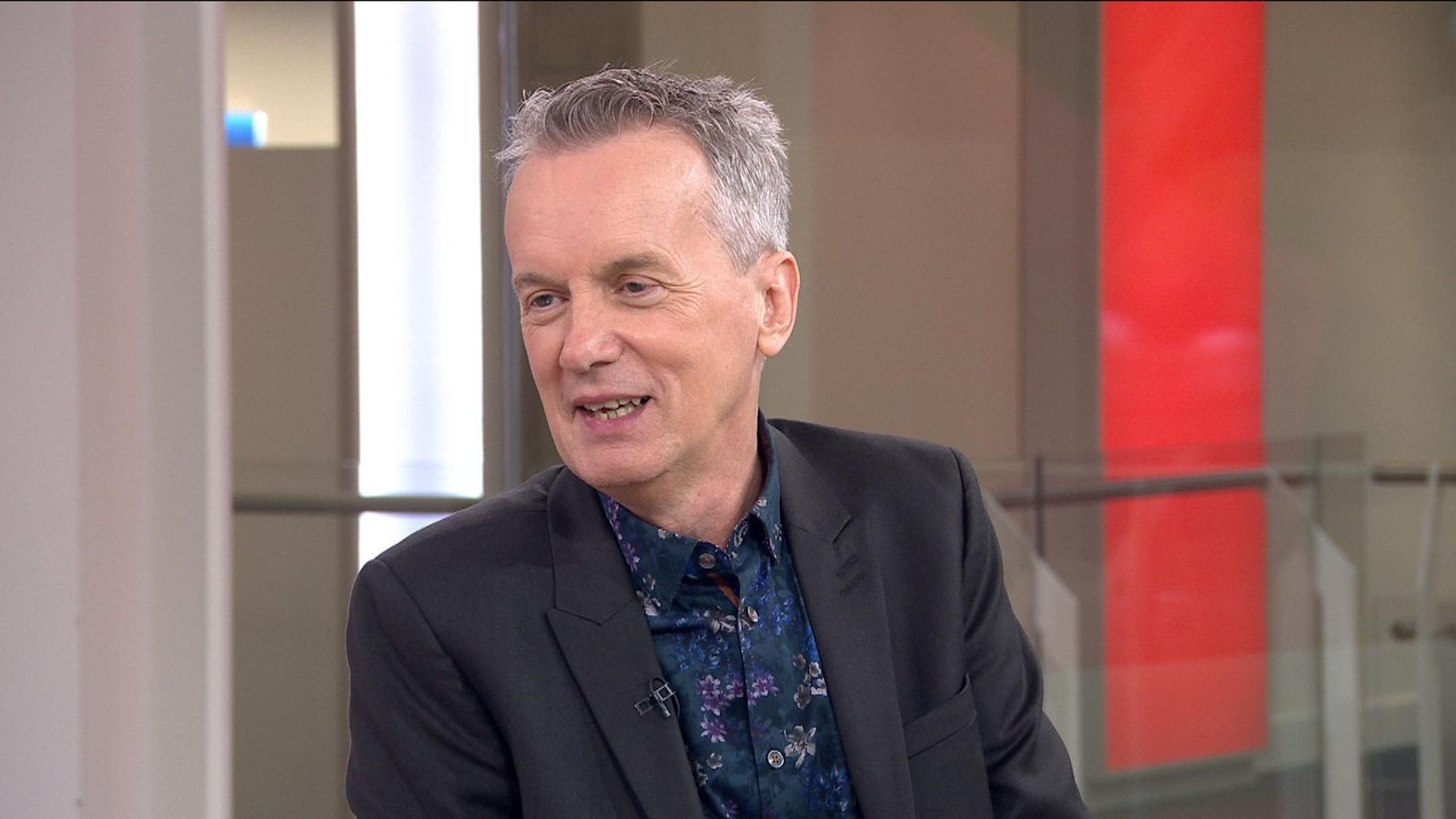 Frank Skinner broke down in tears live on his radio show as he told listeners that his former co-host Gareth Richards is fighting for his life after a crash.
The comedian struggled for words as he revealed that his friend was in a "very big road accident" this week and was fighting for his life.
Mr Richards is believed to have been involved in a serious collision on the M25 near Heathrow Airport on 27 March.
The crash between a lorry and two cars happened on the motorway between Junctions 14 and 15, Surrey Live reported.
A man was cut free from his vehicle by firefighters before being treated by the London Ambulance Service for head and chest injuries. The Met Police previously said he was in a "life-threatening" condition.
Read more UK news:
Huge surge in charity donations after Paul O'Grady's death
Former world champion boxer dies
'He's a fantastic bloke'
During the closing moments of his show on Absolute Radio on Saturday, Mr Skinner recalled how Mr Richards had co-hosted with him and Emily Dean when the show first started out.
Breaking down in tears, he continued: "And Gareth was in a very big road accident this week and… it's not looking great for Gareth.
"He's in hospital and he's fighting but it's not looking great and I didn't want to do this show – we didn't want to do this show without mentioning him…"
He added: "He's a fantastic bloke and I dunno if any of you do pray, if you do give one for Gareth this week."
Man, 61, arrested on suspicion of murder after woman's body found in marina in Reading
A man has been arrested on suspicion of murder after a woman's body was found in a marina in Reading, Thames Valley Police have said.
Police were called just after 10.30am on Saturday to reports of a body in the water at the Thames and Kennet Marina in Caversham.
Officers recovered the body from the marina and the suspect, 61, was arrested. He remains in police custody.
The woman's next of kin have been informed, the force said.
Read more UK news:
Man dies after white collar boxing match
Stabbing death after violent attack in taxi
Frank Skinner breaks down in tears on radio
Detective Inspector Richard Pickering said: "We are in the very early stages of this investigation, and although we have made an arrest, I would urge the public not to speculate on the circumstances of the woman's death, which is being treated as unexplained at this time.
"There is currently a scene-watch in place at the location and will be in place for some time while our investigation continues.
"Although the death is being treated as unexplained, we do not believe there to be any danger to the local community, and we are conducting a full and thorough investigation to ascertain the full circumstances of this tragic incident."
Port of Dover delays: Passengers stranded for hours as 'critical incident' declared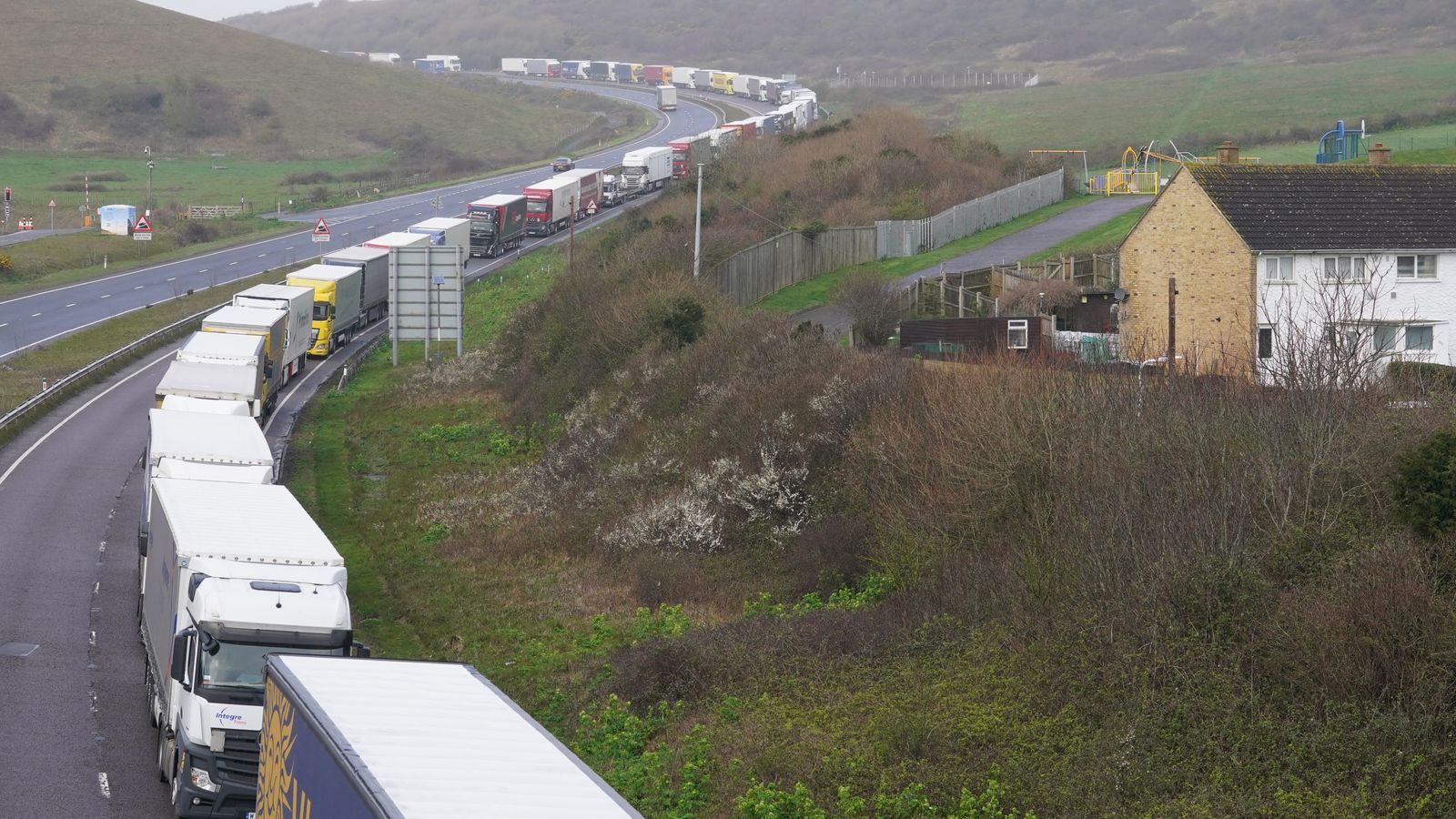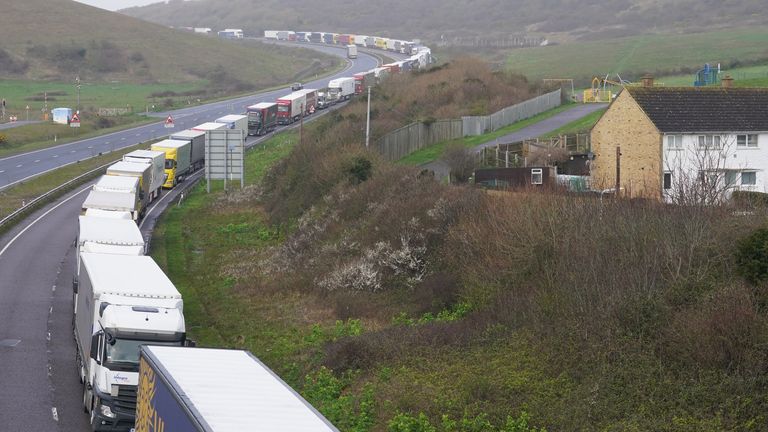 Passengers have told of their ordeal after being stranded for hours at the Port of Dover as delays triggered a "critical incident".
One woman told Sky News she had been waiting on a bus for "12 hours already", while concerned parents reported on Twitter that their children had been stranded for longer than that, delaying the start of their school trips.
The port said coach processing times inside the terminal are "improving" and are now between one to hours, with one hour waits for cars.
In a statement, it blamed "lengthy French border processes" and the "sheer volume" of traffic on the first day of the school Easter holidays.
Port chief executive Doug Bannister told Sky News that although plans for the holiday period were in place months ago it had 15% more coaches than anticipated and bad weather on Friday caused further delays.
He said that with only half the number of coaches booked in for Sunday, he hopes the backlog will clear "overnight or into tomorrow morning".
Rosie, a woman travelling on a coach with her family, said they were "left overnight" with "no idea how long we'll be here".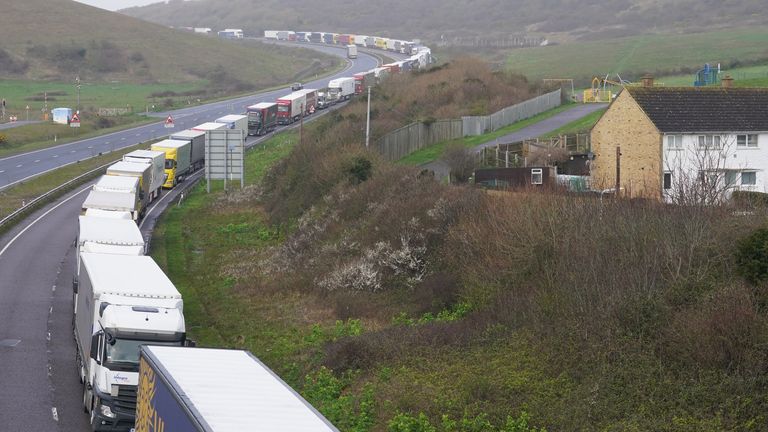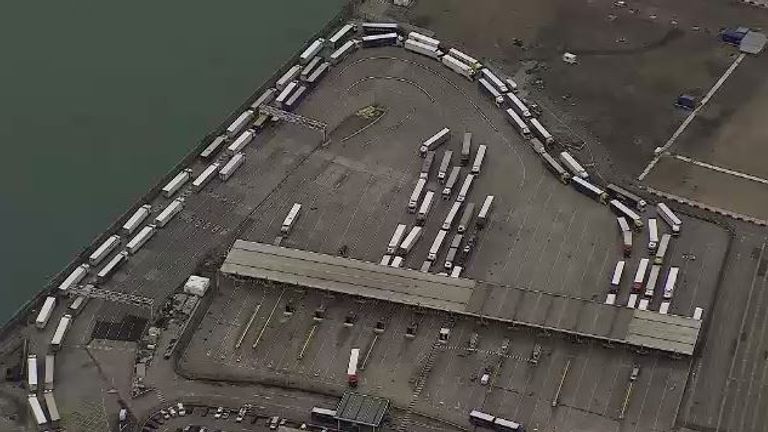 "We've been waiting for 12 hours already and it'll be at least another two or three before we get on the ferry," she told Sky News on Saturday morning.
"It's very frustrating. I'm an environmental campaigner, I forced my family to get on this bus instead of flying.
"It's supposed to be an easy overnight trip, but it's absolute carnage and there's no excuse for it at all."
Up to 40 coaches stranded in parks overnight
Mr Bannister said between 20 and 40 coaches were rediverted to local coach parks overnight.
"We started calling them through in the early hours of the morning as soon as there was space," he said.
Simon Lyons, who is taking his son's football team to Amsterdam, has been stuck in the coach queue at Dover for "a couple of hours".
'There is a lack of French border staff'

He told Sky News the group of teenagers are 48th in the queue to be checked, but there are currently no ferries departing due to the build up of traffic.
"There's a real lack of French border staff," he said.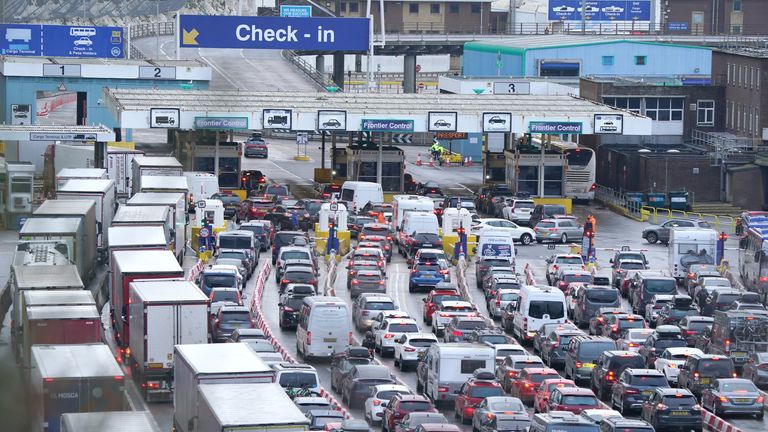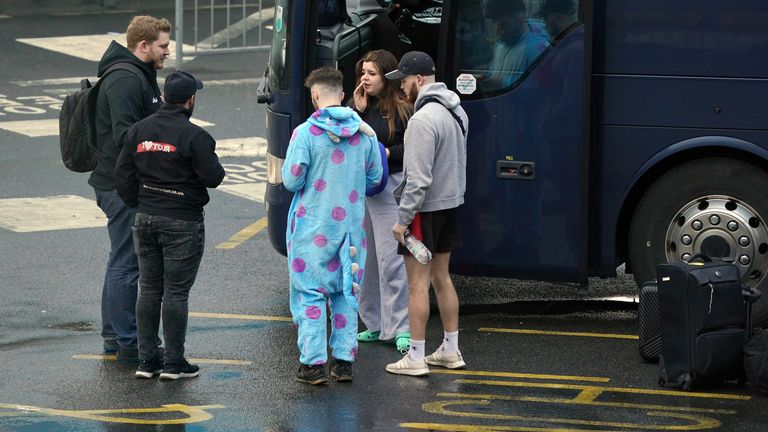 "We thought coach and ferry was the way to go, but the situation on the ground is not good.
"Speaking to the staff here and they say it's entirely down to what happened with Brexit. Each individual passport needs to be individually stamped and that's why it's taking so long."
One person posted on Twitter: "My children have been sat on their school coach overnight and are still awaiting news from P&O on when they can move from the buffer zone!"
While another wrote: "My daughter has been in a queue since midnight. Still no idea when the coach will be allowed to board."
Asked whether the delays were the result of Brexit, Mr Bannister added: "It does make processing more challenging."
Port staff 'deeply frustrated'
The port – which declared the critical incident – said in a statement: "The Port of Dover is deeply frustrated by last night's and this morning's situation and particularly so on behalf of all the ferry operators' coach passengers who have had to endure such a long wait at the port.
"Whilst freight and car traffic was processed steadily regardless of the additional challenging weather conditions and high seasonal volumes, coach traffic suffered significant delays due to lengthy French border processes and sheer volume."
The port added that "additional coach bookings taken by ferry operators for Easter has impacted operations for the port".
P&O Ferries said that after a two or three-hour wait, coach passengers will be "on the next crossing to Calais… as soon as you are through passport control".
It added that it is providing refreshments to coach passengers who have been stuck at the cruise terminal for hours and also trying to get food and drink to people in the buffer zone.
The company blamed "the time it is taking to process each vehicle at French border controls" for the delays.
DFDS Seaways apologised for waits of "up to 120 minutes" for coaches and cars.
It said it is "operating a cross channel shuttle service" so "all passengers can be shipped on the first available departure upon arrival at check in".
The company added in a tweet that traffic is "flowing freely" at Dover but "car traffic is very busy".