Who will be the best player of the 2023 MLB season?
Opening Day is almost here, which means it's time to break down how baseball's elite stack up against each other.
To create our annual MLB Rank list of the top 100 players in the sport, we presented a panel of ESPN baseball experts with pairings upon pairings of the biggest names in the game and asked one simple question: Which player will be better in 2023?
But it raises the question: How do you compare a player like Shohei Ohtani to Mike Trout? Or Aaron Judge? And where do baseball's best pitchers land? It seems impossible to pit these stars against one another, but we did it — and one player came out on top.
Our list features Cy Young Award winners, MVPs, veterans building Hall of Fame résumés and young megastars who could dominate MLB for years to come. But who's No. 1? And where does the best player on your team rank?
ESPN MLB experts Alden Gonzalez, Dave Schoenfield, Joon Lee, Jesse Rogers and Brad Doolittle broke down why each player is ranked where they are and what to expect from them in the upcoming season.
Watch: "Baseball Tonight" MLB Rank special, Sunday at 4 p.m. ET on ESPN

More: Snubs, surprises
---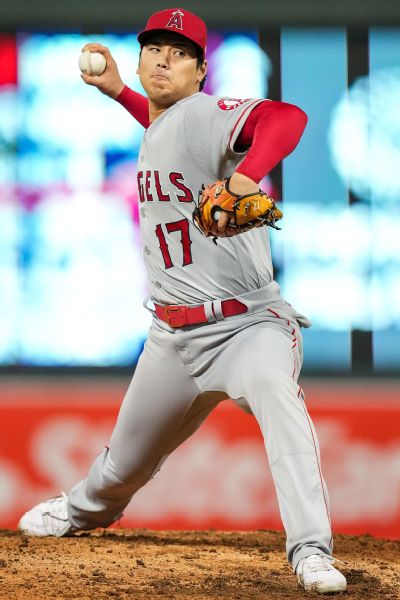 It shouldn't surprise anyone that Ohtani ranks first heading into the 2023 season. He is the most uniquely talented player in baseball history, and it took a historic offensive season from Aaron Judge to prevent him from becoming a back-to-back MVP. Ohtani, still only 28, is both one of the most dominant starting pitchers and one of the most feared hitters in the sport, along with being one of the fastest runners. (And if he wanted to be an outfielder, coaches believe he could become an excellent defender, too.)
From 2021 to 2022, Ohtani put up a higher wRC+ than Jose Ramirez, Mookie Betts and Manny Machado, and a lower xFIP than Max Scherzer, Max Fried and Sandy Alcantara. Outside of Babe Ruth, briefly a two-way player more than 100 years ago, nobody has even attempted both traits at this level, let alone excelled at it. — Gonzalez
Season prediction: As the years go on, Ohtani seems to grow more comfortable in a two-way role. His command on the mound continually evolves, his familiarity with opposing pitchers only grows. It has become clear while watching him perform in the World Baseball Classic that Ohtani is the best baseball player in the world. Expect another MVP-worthy season — with a $500 million-plus contract to follow. — Gonzalez
---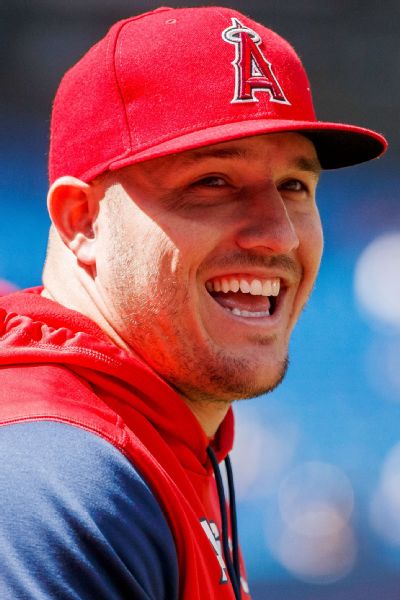 CF | Los Angeles Angels
Perhaps the only man who can challenge Ohtani as the game's best player is a healthy Mike Trout. Health, though, has been an issue of late. Trout has played in fewer than 70% of the Angels' games over the last five years, most notably missing the last four and a half months of the 2021 season with a troublesome calf. When he does play, however, he resembles the best player on the planet.
Last year, Trout appeared in only 119 games but still managed 40 home runs and a .999 OPS and won his ninth Silver Slugger. His 81.4 FanGraphs WAR since his first full season in 2012 is laughably beyond anybody else's grasp (second place is Max Scherzer, at 60.1). At 31, Trout should still have a few prime years left. He just needs to stay off the injured list.
Season prediction: Trout is still fully capable of standing out even among the game's best players, and he should continue to do so. If he stays healthy, he might lead the majors in every major offensive category. Just don't expect a bunch of stolen bases or acrobatic catches; Trout, rightly, has become conscious of the importance of preserving his body. — Gonzalez
---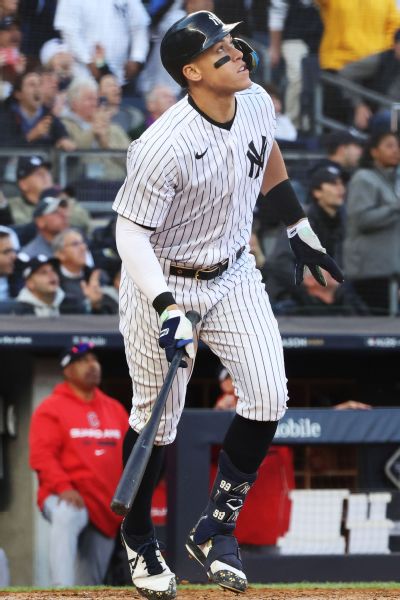 Putting together a historic season is going to vault someone right up this list. Judge captivated the sports world by breaking Rogers Maris' American League home run record. Now, armed with an enormous contract, Judge enters the second phase of his career. While he is one of the sport's most recognizable faces and biggest stars, a World Series title has eluded him. And while Judge will always be remembered for his historic 2022 season, the success of the Yankees during this contract will ultimately determine his legacy.
Season prediction: Judge lives up to his new contract by continuing as the heartbeat of the Yankees' lineup. That lineup went where Judge went last season. In the moments where he struggled, so did the entire offense. When he flourished, so did the Yankees. The outfielder has put together two straight seasons of strong health and New York will need him to continue that, especially as the rotation is plagued by injuries. — Lee
---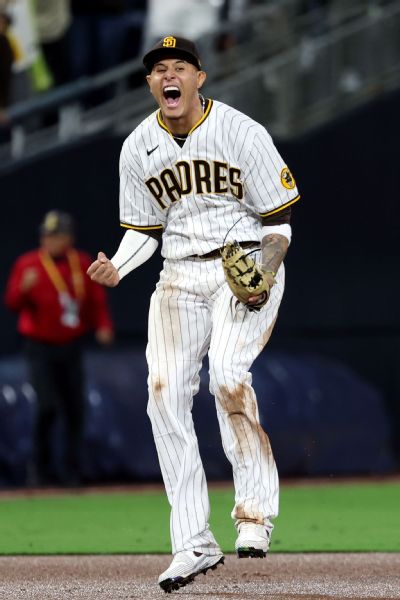 Machado turned 30 during the 2022 season, and if that midcareer performance was any indication, he's well on his way to Cooperstown. Machado is one of baseball's most consistent stars, not just in terms of production but also — and perhaps more importantly — durability.
On his way to finishing second in National League MVP balloting, Machado created more runs than ever in 2022 and reached triple digits in both runs and RBIs in the same season for the first time. His defense isn't as off-the-charts as it once was, but he remains an excellent defender with the arm and speed to suggest he's not going to have to move off the hot corner any time soon. Also, Machado's sprint speed has remained largely unchanged and, over the past two seasons, he has stolen 21 bags in 25 attempts. Thus, the new rules could portend a career season on the basepaths for him.
Season prediction: Given the way the ball was flying off Machado's bat during the WBC, he seems poised for another run at his first MVP award. He has continued to evolve as a hitter, adding more launch without becoming too pull-oriented. Machado's RBI count in this particular San Diego lineup could be eye-popping, and if he does tack on some steals, his stat line in the context of a Padres run to the NL West title will be too much for NL MVP voters to ignore. — Doolittle
---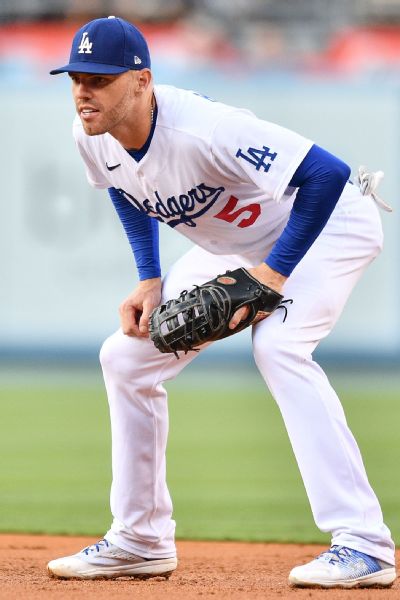 Freeman put together one of the best seasons of his career in the first year of his new contract in Los Angeles, hitting .325/./407/.511 with 21 homers and a 5.9 bWAR, the third-best mark of his 13-year career. The Dodgers' lineup will be leaning on him even more this season with the departures of Trea Turner and Justin Turner. Freeman has been among the most durable players in baseball since he entered the league in 2010, playing fewer than 147 games just twice, in 2015 and 2017 (with the exception of the COVID-shortened 2020 season). Freeman's exceptional ability to make contact will likely have him aging better than most hitters heading into their mid-30s.
Season prediction: Freddie Freeman continues being Freddie Freeman. Since 2013, he has hit below .300 just thrice. The Dodgers will need him to keep that level of production up, as the division gets tougher with the Padres' recent big-ticket additions. — Lee
---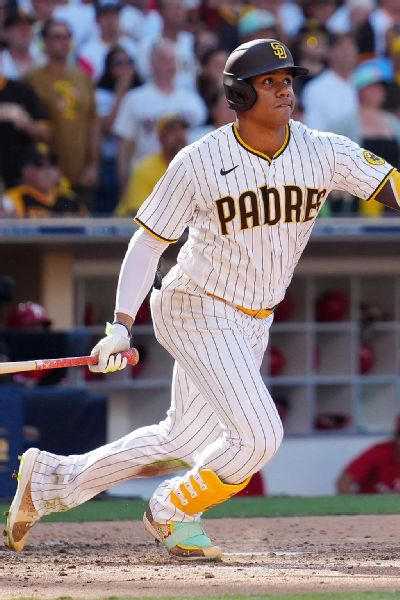 RF | San Diego Padres
How do you know you're a future Hall of Famer? When you post clearly the worst season of your five-year career and you still have a .401 on-base percentage, an OPS+ that rates you as 49% better than a league-average hitter and you win your third straight Silver Slugger award.
Soto's NL-leading 135 walks were paired with just 96 whiffs, underscoring his status as the game's most disciplined hitter. But it's not just take, take, take. When Soto gets a pitch to hit, he makes contact, usually hard contact. His dip in 2022 can be traced to a BABIP (.249) that was 60 points under his career mark. Part of that was because he became a little more launch-and-pull oriented but that need not be a permanent change. And even if it is, his in-play numbers in a post-shift world could be frightening.
Season prediction: Soto looked like he was in midseason form during the WBC — as in the middle of a career season — and after last season's flirtation with playing like a mere mortal, expect a monster campaign as his future free agency (or a record contract extension before then) looms. What does a monster season look like for this guy? Something like .340, 45 homers, 150 walks, 8.0 WAR. And those estimates could be modest. — Doolittle
---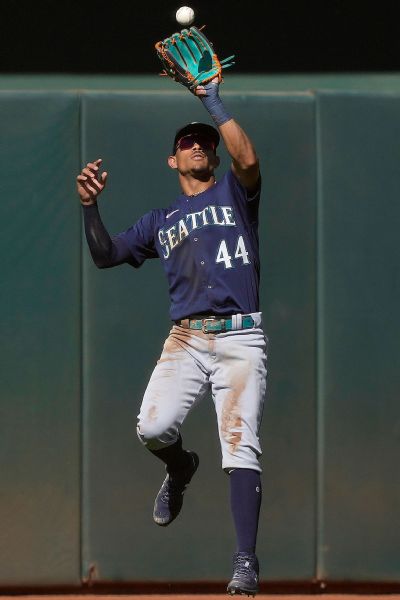 It's hard not to go there. He was one of the game's biggest stars as a rookie. He plays center field for the Mariners. He hits tape-measure home runs and makes impossible catches. He has the million-dollar megawatt smile. Ken Griffey Jr. had his own candy bar; J-Rod has his own cooking show.
At age 21, Griffey produced a 155 OPS+; Rodriguez, in his rookie season at age 21, produced a 147 OPS+. Griffey finished ninth in the MVP voting; J-Rod finished seventh. After going homerless in April and hitting just one in his first 34 games, Rodriguez hit .297/.358/.567 the rest of the way with 27 home runs in 99 games. Now imagine that over a full season. Enjoy, Mariners — and baseball — fans.
Season prediction: It's hard to predict an MVP award in a league with Ohtani, but let's go with Rodriguez hitting 35-plus home runs and finishing in the top three while leading the Mariners to — surprise! — a division title. — Schoenfield
---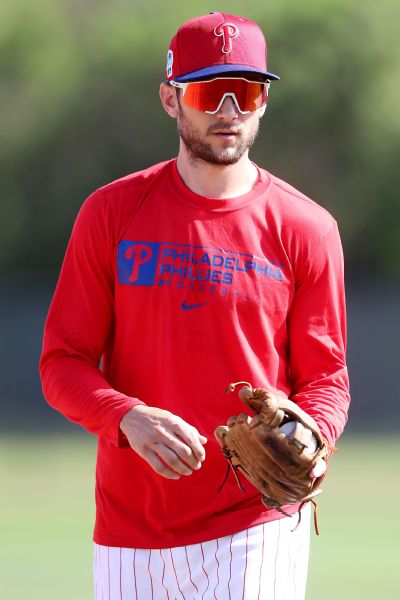 Turner is the complete package. His combination of speed and power at shortstop is the reason why the Phillies invested $300 million in him. At various times in his career, he led the league in games played, plate appearances, at-bats, stolen bases, triples, batting average and total bases.
Last year might have been his best on the basepaths, as he stole 27 of 30 — good for a 90% success rate. He also hit 21 home runs, producing yet another season with an OPS over .800. He's done it in four consecutive years, helping him to his huge new contract.
Season prediction: The new rules — starting with the bigger bases — will be a godsend for the speedy Turner. He'll set a career high in steals with at least 50. — Rogers
---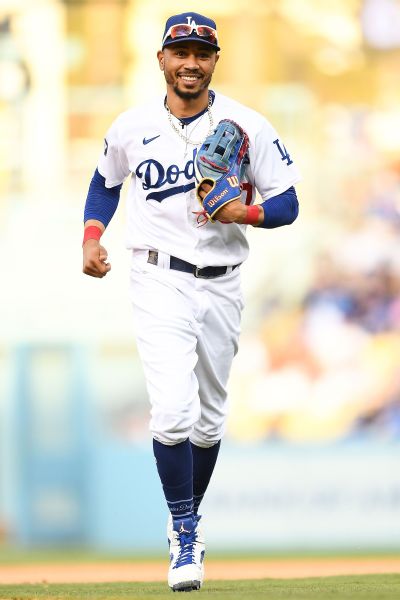 RF | Los Angeles Dodgers
Betts, venturing into his age-30 season, is among the few legitimate five-tool players in the sport, despite being listed at 5-foot-9 and 180 pounds. He's a gifted defender with a cannon for an arm, but he's also one of the game's fastest players and best all-around hitters, bringing elite bat-to-ball skills and, yes, power. Betts has finished within the top five in MVP voting four times over the past seven seasons, including last year, when he won his sixth Gold Glove and his fifth Silver Slugger. He is the only player to accumulate more than 200 home runs and more than 150 stolen bases from 2015 to 2022. The Dodgers will play him some at second base this year — and he'll probably be great at that, too.
Season prediction: Two traditional numbers to keep an eye on with Betts: stolen bases and RBIs. Betts hasn't reached 20 stolen bases since swiping 30 in 2018, but the bigger bases and the limited pickoffs should present more opportunities. He hasn't driven in 100 runs since 2017, but the Dodgers would love to put him in more run-producing situations this season — if they can find someone else to lead off. — Gonzalez
---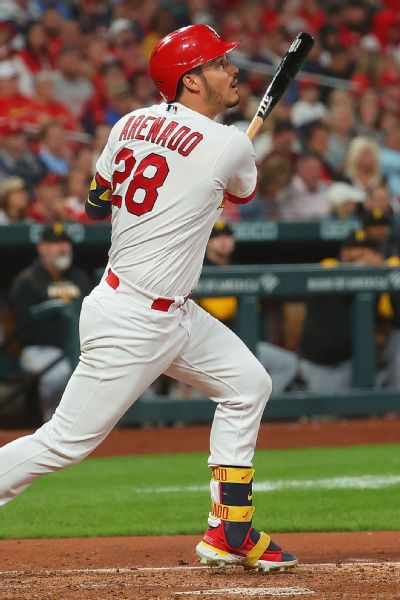 Pitchers fear Arenado as much as anyone in the game: He's hit at least 30 home runs in seven consecutive seasons (not including 2020). He also only struck out 72 times in 2022 while drawing 52 walks. In this era of baseball, that's a great ratio for a power hitter.
There are some pitchers that like him: His own. It's because he's a vacuum at third base, winning the Gold Glove there in every year he's been in the league. He also has five silver slugger awards, including last season when he finished third in MVP voting.
Arenado is arguably the best combination of offense and defense in the entire game — easily placing him in the top 20 players in MLB.
Season prediction: Arenado will swap with teammate Paul Goldschmidt and win the MVP in 2023. — Rogers
---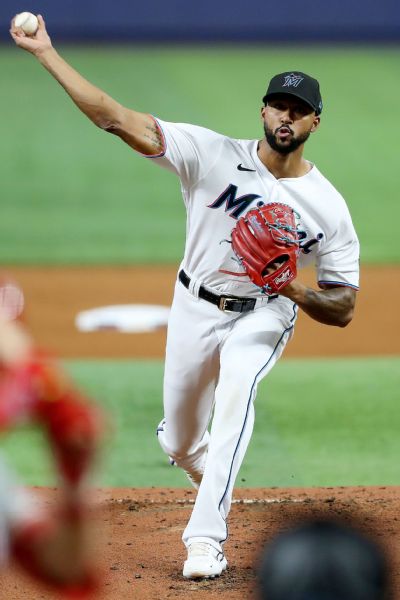 There was an early-20th-century pitcher known as Iron Man McGinnity. We might as well start calling the Marlins ace Iron Man Alcantara. He easily led the majors in innings pitched last season and is the only pitcher to top 200 innings each of the past two seasons. That's fun, but you have to dominate to rank high on this list.
In 2022, Alcantara transformed from quality innings-eater to Cy Young winner — and don't bet against him repeating. It all starts with a beautiful delivery from a lean, 6-foot-5 frame. If Michelangelo were to sculpt a pitcher, Alcantara would be his model. He throws 98 mph and that helps set up one of the most devastating pitches in baseball, his unhittable, nod-your-head-and-walk-back-to-the-bench changeup. Batters went 36-for-248 against it with 78 strikeouts and nary a home run.
Season prediction: Alcantara leads the majors once again in innings pitched, makes the All-Star Game and finishes in the top five of the Cy Young voting, although his ERA rises half a run (thanks, shaky Marlins defense!). — Schoenfield
---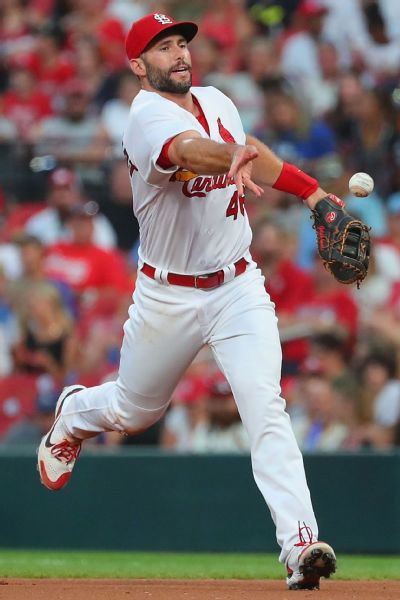 1B | St. Louis Cardinals
At 34, baseball's perennial MVP bridesmaid finally broke through with a season that really was another representative campaign for a player who posts nothing but terrific stat lines. Now a first-time reigning MVP, Goldschmidt will have his own tough act to follow after landing in the top three of the NL in all the slash categories and leading in slugging, OPS and OPS+ (a career-best 180). He also finished the season with an MVP-esque 7.8 WAR, according to Baseball Reference. While that 180 OPS+ is a high bar, don't expect a collapse: Goldschmidt has posted 140 or better nine of his 11 full seasons. He'll spend the next few years burnishing what is shaping up as a Hall-worthy resume.
Season prediction: Goldschmidt turned 35 late last season and eventually, his game will start to fray. There was no sign of that last season, but expecting a repeat of those numbers is probably unrealistic. Expect more of an "average" Goldschmidt season — 140-145 OPS+ — which is still awfully good. — Doolittle
---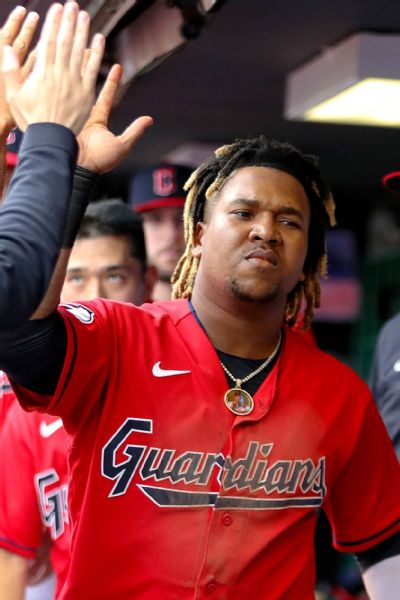 Mr. Consistency. Ramirez is a baseball player in the way grizzled old scouts might describe a player who isn't the strongest or the fastest or the biggest or the flashiest. Other than an inexplicable slump in the first half of 2019, he has been one of baseball's best hitters — and best all-around players — since 2017. We can see that respect in his results in the MVP voting: third, third, second, sixth and fourth in five of the past six seasons. Ramirez already has 2.54 MVP Award Shares in his career — more than Rickey Henderson, Chipper Jones or Cal Ripken Jr.
He's durable, he steals 20 bases every year, he strikes out fewer than 100 times a season, he swats doubles and home runs and he's a solid defender. Nobody ever seems to call him one of the top 10 best players in baseball, but at the end of the season, he's always right there.
Season prediction: This one is easy. Ramirez hits 32 home runs (give or take a few), drives in over 100 runs, leads the league in doubles for the third time and finishes in the top six in MVP voting. — Schoenfield
---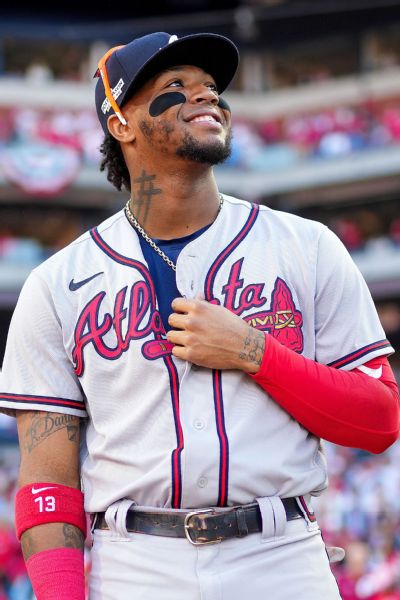 His sublime 2019 season at 21 years old — when he hit .280 with 41 home runs while leading the NL in stolen bases (37) and runs (127) and played with the frenetic enthusiasm of a pack of Shiba Inu puppies — is now a few years in the rearview mirror, but this ranking shows we haven't forgotten about him.
When Acuña tore his ACL on July 10, 2021, he ranked fifth in the majors in home runs, fourth in stolen bases and fourth in OPS. When he returned last season, he wasn't that same player. He had trouble elevating the ball and his power declined. By the end of August, he described his knee as "terrible," but played through it. He now says he's completely healthy — the Braves even let him play in the World Baseball Classic — and we're betting on him finding that power stroke again and returning as one of the sport's elite all-around talents.
Season prediction: I'd love to be bold here and say 40-40 — he did steal 29 bases last year despite not being 100% — but let's go with a 30-30 season and his third All-Star Game start (and fourth appearance). — Schoenfield
---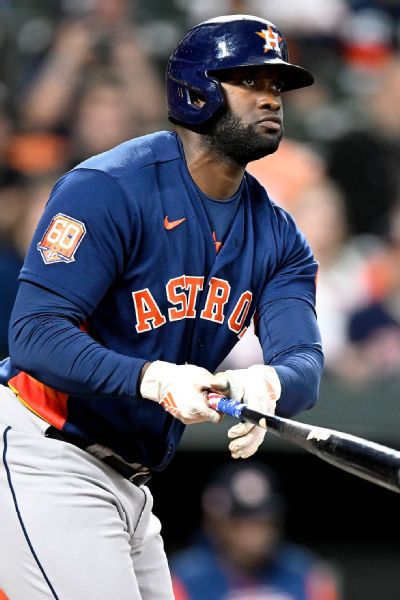 At the All-Star break last season, a case could have been made for Alvarez to win the AL MVP. Judge changed all of that, but the fact remains, Alvarez has become one of the most dangerous lefties in the game. He and Judge were the only two players in baseball last season with an OPS over 1.000. And now he has done that twice in his career — not an easy stat line to achieve even one time.
Alvarez isn't a great outfielder, but he has improved over time. With Jose Abreu entrenched at first base — and needing some at-bats at DH — it's possible Alvarez plays more in left field. But he's not being paid for his defense. The former rookie of the year will certainly have multiple chances at winning his first MVP because of his offensive prowess after finishing third in 2022.
Season prediction: Alvarez will lead the league in hit by pitches and intentional walks. — Rogers
---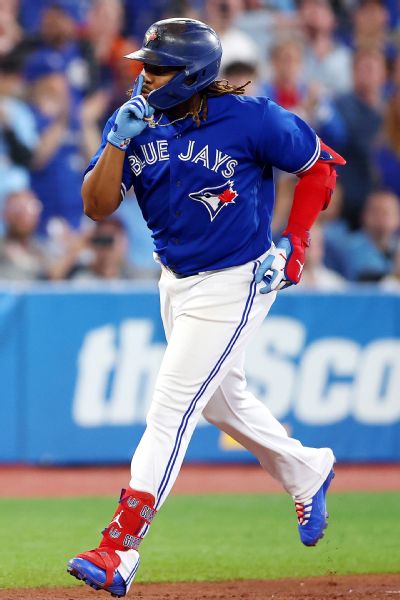 Guerrero was one of the more difficult players to assess: Is he the absolute basher of 2021 when he was the best hitter in baseball and finished second in the MVP voting? Or the mere masher of 2022 who dropped to 29th among qualified hitters in wRC+ (weighted runs created)? That level of production greatly affects his value. A first baseman who is the 29th-best hitter isn't one of the top 20 players in the game.
Guerrero does present a high offensive floor, however, and few batters can match his combination of power (94th percentile in hard-hit rate) and contact ability (79th percentile in strikeout rate). He ended up chasing out of the zone more often last year, leading to more weak contact, especially on the ground. He's only 24, so our panel predicts he'll make the necessary adjustments.
Season prediction: I'm going with the middle ground here between his superlative 2021 season and 2022, so that gives us 40 home runs with a .293 average and over 100 ribbies. That should make him one of the top 10 hitters in the game. — Schoenfield
---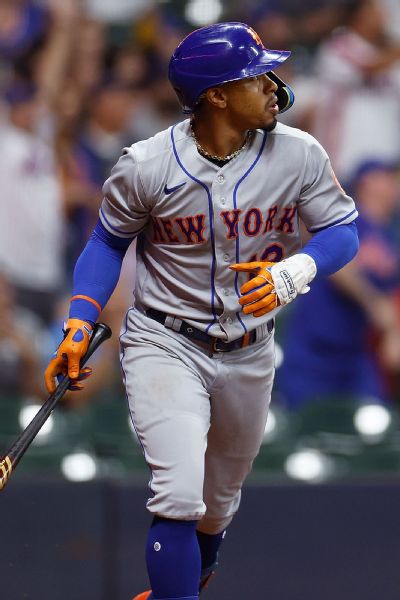 After putting together the worst season of his career in 2021, Lindor looked much more like himself in 2022, slashing .270/.339/.448 with 26 homers and 16 stolen bases while putting together a strong season defensively. Since he entered the league in 2015, Lindor has been the game's best shortstop with a 42.0 fWAR, which is 8.0 WAR more than Xander Bogaerts, the second-most productive shortstop in the same time period. While we still haven't seen the 30-homer shortstop Lindor was in Cleveland, he remains among the most impactful players in the game and someone who will be critical for New York's success if the team hopes to live up to its massive payroll.
Season prediction: Now with three seasons in New York under his belt and fully comfortable in that setting, Lindor puts together his best season as a Met. The dynamic shortstop finds more of a power stroke and continues his reign of elite defense. — Lee
---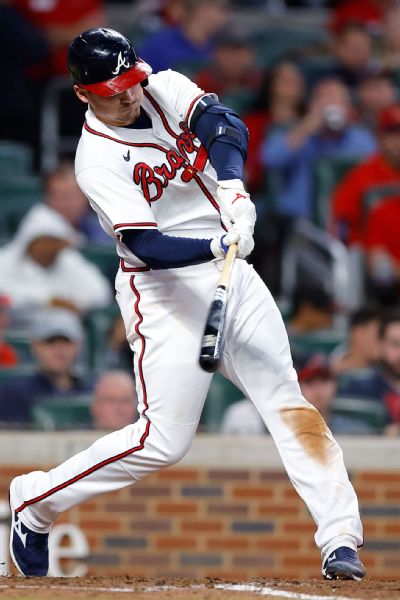 3B | Atlanta Braves
When Riley broke out with a .303/.367/.531 season in 2021, that sparkling line was underpinned by a .368 BABIP. So what would a season look like if that number returned to earth? It would look like Riley's 2022 season in which he led the NL in total bases, made the All-Star team and finished sixth in MVP balloting.
After two seasons of this, there's no doubt that Riley has become one of the game's shining stars and is perhaps even a little underrated from an attention standpoint. He is a pure basher who ranks in the top five percentile in Statcast metrics like exit velocity, barrel rate and hard-hit percentage. He swings big to generate that power and has the strikeout and swing-and-miss rates to show it. Those are the last dominoes to fall before Riley really makes a push for MVP and the time is right — he's just hitting the prime of his career.
Season prediction: Now at a lofty, established performance level, expect Riley to make additional marginal gains. Look for him to tack on 20-25 walks and for a few more of his doubles to clear the fence, allowing him to reach the 40-homer mark for the first time in his career. — Doolittle
---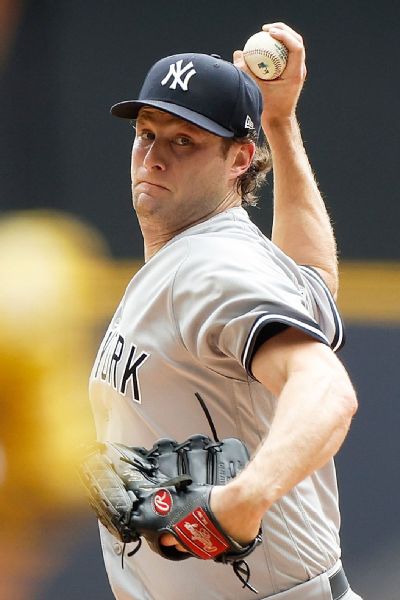 SP | New York Yankees
The Yankees signed Cole to a nine-year, $324 million contract in December 2019 and — in the aggregate, at least — have received everything they could have hoped for in a staff ace pitching within the nation's largest market. Cole finished fourth, second and ninth, respectively, in AL Cy Young Award voting from 2020 to 2022. During that time, he has ranked first in the AL in wins (36) and innings (455), fourth in strikeout-to-walk ratio (5.50), fifth in WHIP (1.02) and 19th in ERA (3.28). He's in his early 30s now, but his fastball velocity has maintained itself in the upper 90s. He hasn't been able to match the eye-popping strikeout rates of his Houston days, but he has come close.
Season prediction: Cole was helped by a stellar defense behind him and gave up more home runs than anybody in the AL last year. At 32, he's still a legitimate ace; but he might be starting to fade in the conversation for the game's best pitcher. Others might replace him in 2023. — Gonzalez
---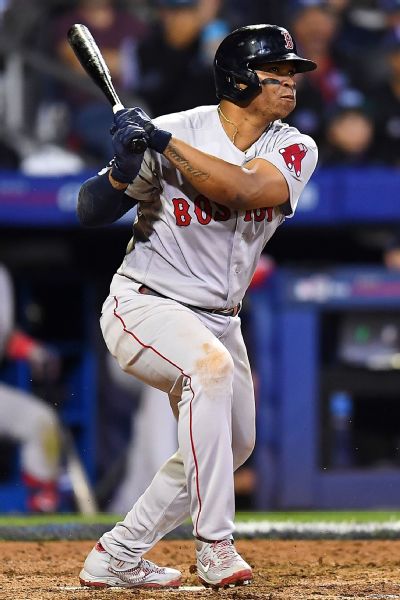 While the Boston front office had felt hesitant in the past to give out long-term contracts, Devers is the homegrown star entering 2023 with a 10-year, $313.5 million deal. The reason is simple: Boston views his bat as a generational talent and something that will age well as he enters his age-26 season in the big leagues. While Devers has shown a power stroke at the plate early in his career, his ability to hit the ball to all fields is what makes him one of the game's biggest offensive threats, slashing .295/.358/.521 in 2022. While his defense still ranks average among third basemen, he made large strides last season by improving his range and consistency on throws to first base.
Season prediction: Devers will keep chugging along as one of the game's most dynamic offensive hitters. He'll continue to work hard on improving his defense, so another step forward could be possible. — Lee
---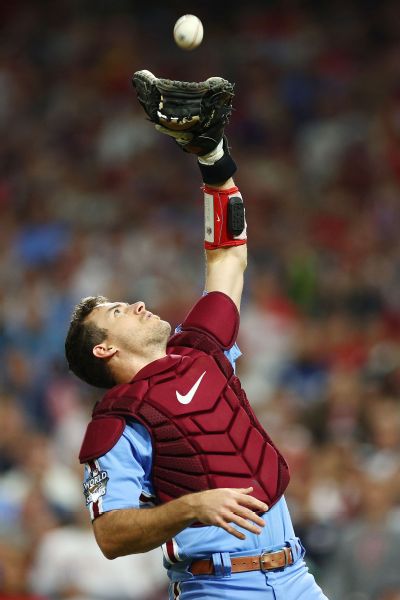 C | Philadelphia Phillies
The best catcher in the game isn't far off from being a top-20 player but it won't be his defense he needs to improve on to make the leap. As much as he provides at a weak offensive position, Realmuto will probably have to produce a near .900 OPS season to jump into that top 20. His career high is .840, achieved in the shortened 2020 season. Again, a great number for a catcher but below the top hitters in the game. He finished seventh in MVP voting in 2022, a career year where he won the gold glove and silver slugger award. It's why he's on the verge of being one of the best 20 players in the game.
Season prediction: With the new rules in play and Bryce Harper out of the lineup for several months, the Phillies might run more — and that would include Realmuto, who stole 21 last season. In 2023, he'll become just the third catcher in MLB History to steal 30 bases in a single season. — Rogers
---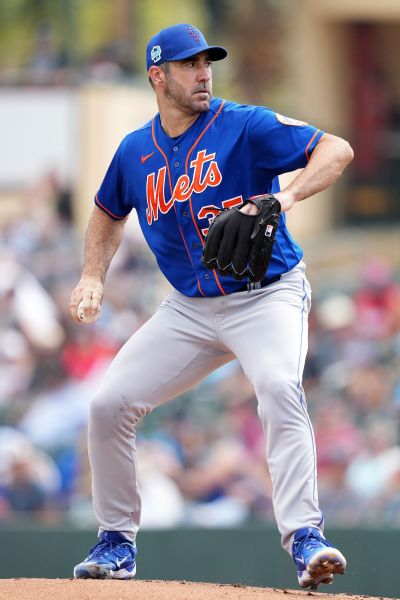 SP | New York Mets
Verlander won a Cy Young Award as a 39-year-old coming off Tommy John surgery. That alone should be enough to crack the top 25 on this list. What Verlander did as a member of the Astros in 2022 should go down as one of the most impressive seasons in baseball history. He did so while striking out more than a batter per inning, throwing his fastball in the mid-90s and accumulating 175 innings, during which he boasted a major league-best 1.75 ERA. The list of power pitchers who have excelled into their 40s is predictably short, featuring the likes of Nolan Ryan and Randy Johnson and Roger Clemens. There's no reason Verlander can't join them.
Season prediction: There wasn't really anything from 2022 that would indicate Verlander is anything but a top-shelf starting pitcher again in 2023. But this is still his reality: He's 40 years old, coming off a season in which he pitched into November and accumulated nearly 200 innings when you count the playoffs. Expect some regression. — Gonzalez
---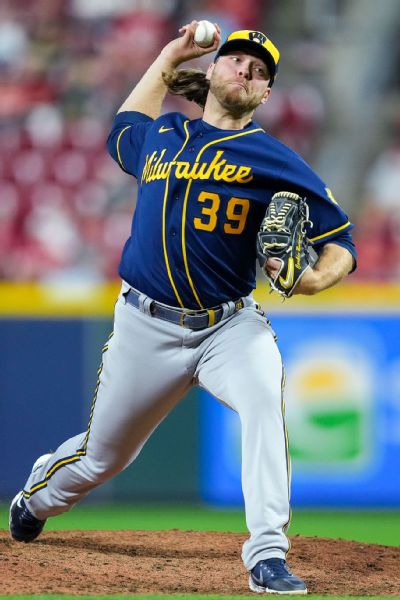 Since the beginning of the 2020 season, only four pitchers have more bWAR than Burnes and only Cole has struck out more batters. While Burnes wasn't quite as dominant last season as he was during his Cy Young campaign of 2021, he still managed to lead the NL with 243 strikeouts while topping 200 innings for the first time. He improved his third-time-through-the-order numbers and perhaps because of that, he worked deeper into games. Burnes' homer rate more than doubled but some of that might have been some ill luck with his homers-per-flyball ratio. If that comes back in line and the workload stays as high, he could post his best season yet and push even farther up this list.
Season prediction: Burnes will be eligible for free agency after the 2024 season. Because of that, this will be a key campaign for his future earnings potential. He was terrific last season but his velocity was down a half-tick and he was hit hard more often. With a lot on line, look for Burnes to clean that up and once again figure prominently in NL Cy Young balloting. — Doolittle
---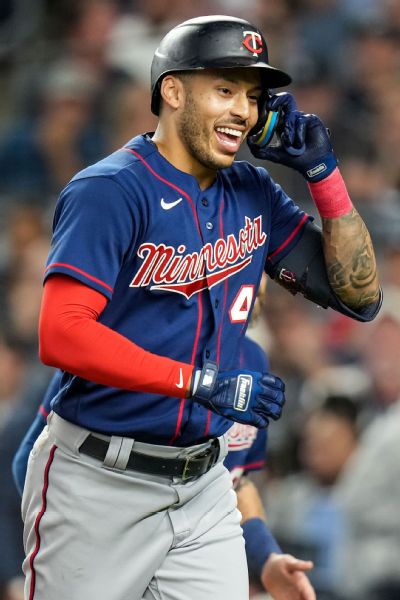 Correa's offseason adventure makes him one of the most intriguing players to watch in 2023. After all, the Twins were his default third choice. Everyone seems happy with the reunion, however, and the Twins end up getting an elite player at a discount — as long as the old ankle injury that scared off the Giants and Mets doesn't prove problematic.
It's hard to believe Correa is still just 28 years old. He remains in the prime of his career and shows the value of a player who hits — and hits for some power, at that — and plays good defense at a premium position: He has averaged 7.2 bWAR per 162 games in his career. His raw OPS last season was only the fifth highest of his career, but his adjusted OPS was the second highest. He has batted 600 times just twice in his career; if he can do that, he can be a top-20 player.
Season prediction: Correa plays 150 games for the first time since 2016 and sets a career high in home runs — and steals his first base since 2019. — Schoenfield
---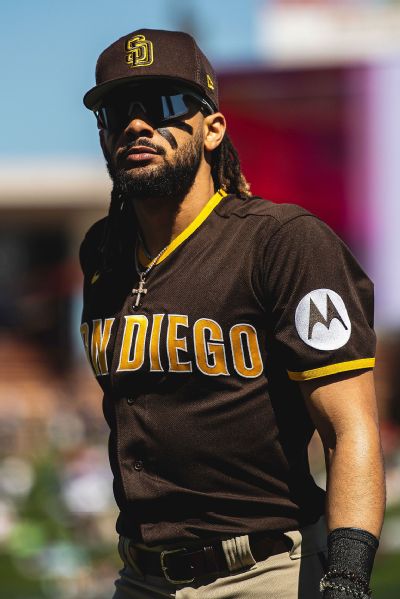 RF | San Diego Padres
We're a society that tends to move on quickly, always so fast to focus our attention on what's next. And that might especially be true for one Fernando Tatis Jr. "I think a lot of people are forgetting how special he is," Tatis' teammate, Jake Cronenworth, said in the days leading up to spring training.
It'd be understandable given the circumstances. But before missing the entire 2022 season — first with a wrist injury, then with a steroid suspension — Tatis was one of the most electrifying players in the sport, accumulating 81 home runs, 52 stolen bases and 13.2 FanGraphs WAR within his first 273 major league games. He's only 24 and still perfectly capable of providing the most elite combination of power and speed, defense and overall baseball excellence. But he's also coming off shoulder and wrist surgeries, a full year off and he'll be transitioning from shortstop to right field.
Season prediction: People around the Padres expect an inspired, motivated, energetic Tatis in 2023, undoubtedly eager to get back to elite production after all the (self-imposed) negativity that surrounded him last year. Contending for an MVP might be unrealistic considering the shoulder and wrist surgeries and all the time off, but he'll come close. And at times he'll look like a Gold Glove-caliber outfielder. — Gonzalez
---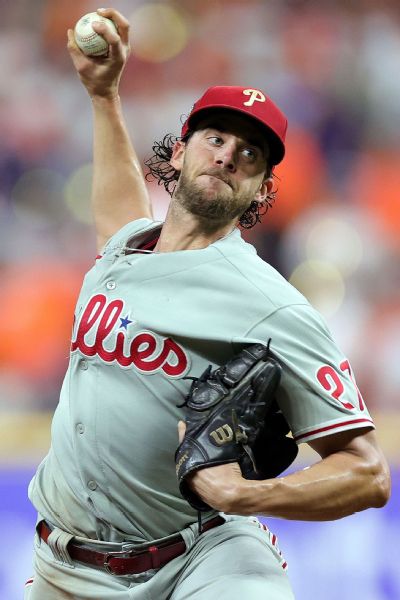 SP | Philadelphia Phillies
A stalwart during his eight-year career, Nola has made at least 32 starts in each of the past four full seasons. He even made 12 in the shortened 2020 campaign. That durability alone puts him among some of the best pitchers in the game. The 2022 regular season might have been his best, as he led all pitchers in strikeout-to-walk ratio, whiffing 235 batters while walking only 29.
He also finished fourth in Cy Young voting but didn't perform well late in the playoffs. The first two rounds were great for Nola but his NLCS and World Series numbers weren't very good — he gave up 14 runs in 13 innings. A repeat regular season with a solid postseason would elevate him to a top-20 player in the game, but right now, he's on the outside looking in.
Season prediction: Austin Nola will join a rare group of hitters to homer off their brother when the Phillies and Padres face off this season. They opposed each other in the playoffs last year, with the elder brother going 1-for-2 off the younger one in the NLCS. — Rogers
---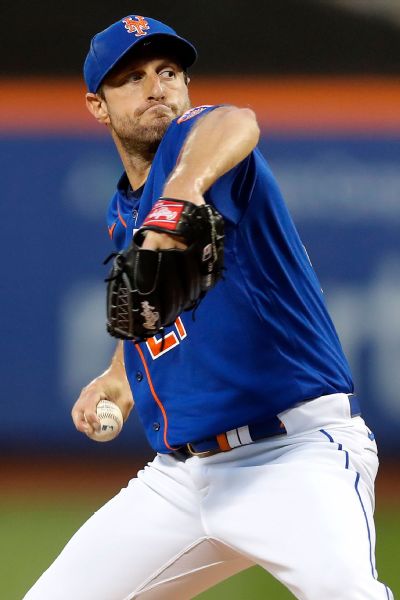 SP | New York Mets
He's now 38 years old but Mad Max is as dominant as ever, even if he has lost a little in fastball velocity relative to the rest of the league. Indeed, his 2.29 ERA in 2022 was a career low (although with 145⅓ innings, he failed to qualify for the ERA title for the first time since his rookie season) and his 169 ERA+ was the second best of his career.
His command, deep arsenal of five pitches and ability to keep batters guessing remains supreme — and you have to admire that he still loves to just rear back and challenge hitters at times with the old No. 1 down the middle. His strikeout rate ranked in the 89th percentile, his walk rate in the 95th percentile and his whiff rate in the 83rd percentile. He's no longer a 220-inning pitcher, but if Scherzer goes back to his usual 30 starts, don't rule out Cy Young contention.
Season prediction: There's nothing in the metrics that suggest Scherzer is slowing down. The only seasons since 2013 he hasn't finished in the top five of the Cy Young voting were 2020 and last season (and that was only because he missed some time). It's hard to predict health, but let's go with 200 K's, an ERA under 3.00 and another top-five Cy Young finish. — Schoenfield
---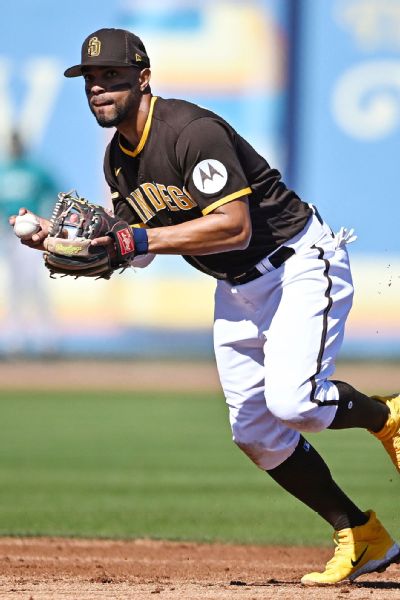 SS | San Diego Padres
The 30-year-old shortstop now joins a Padres team where he is expected to be an offensive focal point, alongside Machado, Soto and Tatis. Bogaerts solidified his place among the game's best shortstops in a contract season, hitting .307/.377/.456 with 15 homers and a 5.7 bWAR. Since he entered the majors in 2013, he ranks second in fWAR among all shortstops, trailing just Lindor and ahead of Trea Turner and Correa. Bogaerts has also made large strides as a defender throughout the course of his career, qualifying as a Gold Glove finalist in 2022. Given his skill set and strong abilities as a hitter, expect his game to age well into his 30s.
Season prediction: Bogaerts' power numbers go down a notch in the spacious Petco Park, but he'll stay one of the game's best contact hitters. He'll be a consistent doubles threat for the Padres while also making defensive strides. — Lee
---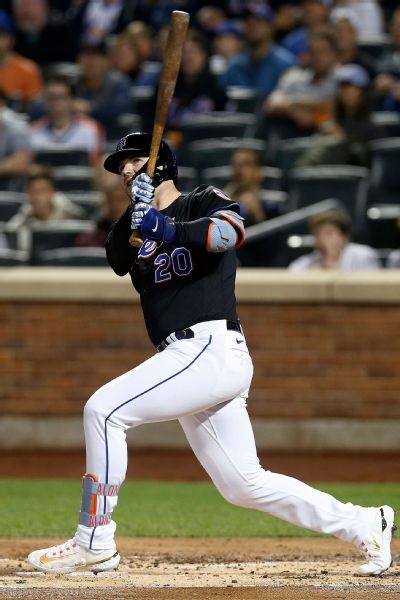 1B | New York Mets
Alonso topped the NL with a Mets-record 131 RBIs, tying Judge for most in the majors. OK, RBIs are more than a little team-dependent and according to the Bill James Handbook, Alonso led the majors with 308 RBI opportunities. Still, his 42.5% RBI rate ranked in the top 10 of the majors. In other words, he clears the bags. It's not hard to understand why, since Alonso is a highly aggressive hitter who averages 45 homers per 162 games during his career.
The downside of that approach is that he chases too many pitches and given the care with which pitchers work him (he led the NL in intentional walks and among 130 qualified hitters, only eight saw a lower rate of pitches in the strike zone), that lack of selectivity is what stands in the way of him ranking with the game's elite overall hitters.
Season prediction: Expect Alonso to hit around .267/.348/.518 with 40-plus homers and 100-plus RBIs, which is roughly an average of what he did over the past two seasons. While there are some obvious areas in which Alonso could improve, at 28 he is what he is. And for the Mets, that's plenty good. — Doolittle
---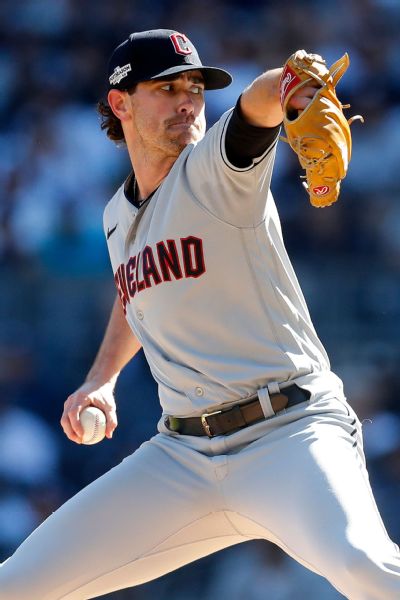 SP | Cleveland Guardians
The 2022 season brought with it an evolution for Bieber, the AL's Cy Young Award winner in 2020. Bieber had seen the velocity on his four-seam fastball continually diminish, from 94 mph in 2020 to 93 mph in 2021 to 91 mph in 2022. But he has altered his pitch mix in order to combat it, beginning to use his slider more often than his curveball, and he has seen results. Bieber finished the 2022 season seventh in Cy Young voting, posting a 2.88 ERA and reaching precisely 200 innings. Alarm bells were ringing in Cleveland when Bieber got shelled by the Blue Jays on May 7, allowing seven runs with a fastball that barely cracked 90 mph. From that point forward, he posted the 10th-lowest ERA in the sport.
Season prediction: You probably wouldn't be surprised to learn that Bieber's strikeout rate has dropped over time, from 41.1% in 2020 to 33.1% in 2021 to 25% in 2022. But his walk rate last season, 4.6%, was barely more than half what it was the year before. Bieber is a different pitcher, but still a very effective one. Expect that to continue. — Gonzalez
---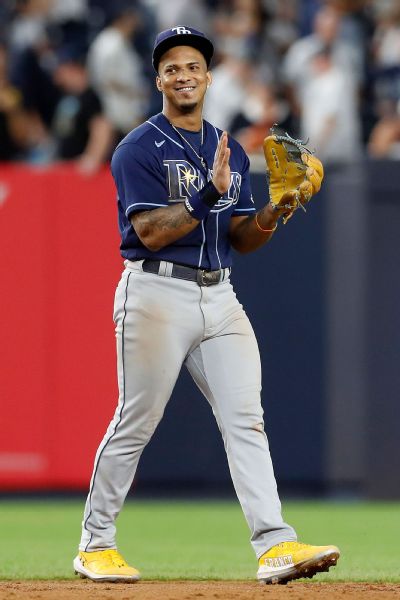 Few prospects over the past decade — maybe none since Bryce Harper — reached the majors with as much fanfare as Franco when the Rays called him up in 2021 as a 20-year-old who oozed future batting champ with his sweet line-drive stroke and exquisite contact ability. No, he hasn't hit .300 … not yet anyway (he just turned 22). After hitting .331 in his first 28 games to start the season in 2022, he battled some injuries that affected his production and eventually landed him on the IL. He returned in September to hit .322 with more walks than whiffs. With this ranking, we're still buying into that .300 potential and ability to smoke lasers all over the park while playing a solid shortstop.
Season prediction: After hitting .288 in his 2021 rookie season and .277 last season, the projection systems see Franco in the .280 to .285 range. I'm going a lot higher: .322 and the AL batting title. — Schoenfield
---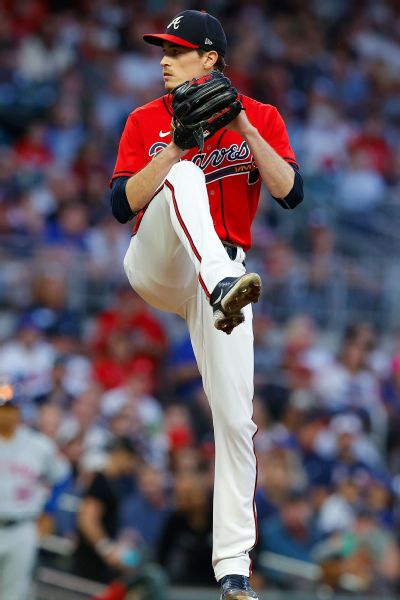 SP | Atlanta Braves
Only an epic season by Miami's Alcantara stood in the way of Fried landing his first NL Cy Young Award. Still, the lefty ace keeps inching his way to new heights with each passing season. He was on the mound more in 2022, with 30 starts and a career-high 185⅓ innings while slicing his walk rate and allowing fewer homers.
Fried's consistency and dominance for the annually contending Braves has allowed him to go 52-20 since 2019, a .722 winning percentage. His 32 games over .500 during that span is matched only by the Yankees' Cole. Fried's career strikeout rate (8.8 per nine innings) is a touch below the game's top starters in this high-strikeout era and if anything is unnecessarily keeping him out of the conversation around baseball's top pitchers, that's probably the reason. It's not hard to argue that he should maybe rank higher on this list.
Season prediction: According to Statcast, Fried's use of his changeup went from 2.2% in 2021 to 14.1% last season. Hitters hit just .173 with a .218 slugging percentage against that offering. Fried is a hard worker and intense competitor who continues to evolve his arsenal with experience. That he keeps getting better is no accident. If he's able to do that again in 2023, and he finished second in the Cy Young voting in 2022, where would that leave him? Exactly. — Doolittle
---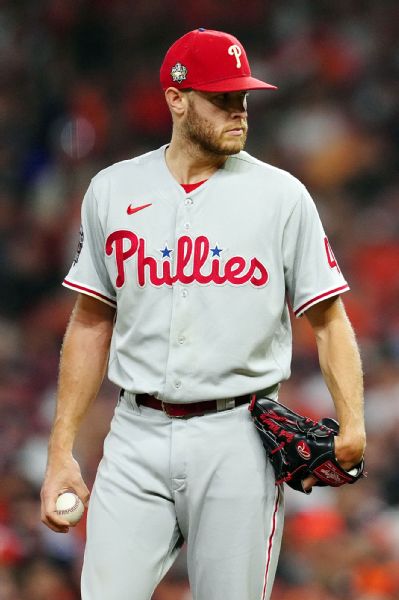 SP | Philadelphia Phillies
Injuries have slowed Wheeler at various times of his career but when he's healthy, he's a borderline top-20 player. In fact, he hasn't produced an ERA over 3.00 since 2019. Wheeler finished second in Cy Young Award voting in 2021 and probably would have been closer to the award last season if not for an arm ailment that sidelined him for several starts in 2022. He made 26 starts overall and dealt with some fatigue in the World Series. A repeat of that 2021 season, when he made 32 starts, would probably return Wheeler to top-20 status. His fastball/curveball combination is among the best — and so is Wheeler.
Season prediction: Wheeler will join Nola as the only teammates to throw 200 innings this season. — Rogers
---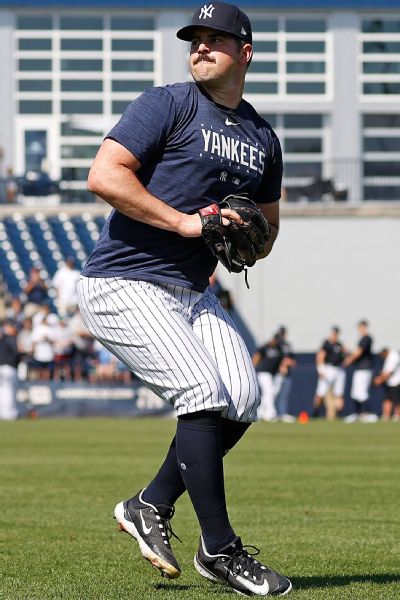 SP | New York Yankees
There's no doubt that when Rodon is healthy, he's one of the best in the game. Over the past two seasons, he has lived up to the potential that made him a top-3 pick in the 2014 MLB draft out of NC State. With the Giants, he had 31 starts with a 2.88 ERA and 1.03 WHIP while striking out 237 in 178 innings. The major question mark will be health, though. A forearm strain has already put him on the IL to start the 2023 season. Last year marked the first time in Rodon's career that he made more than 30 starts in a season. Whenever he is on the mound, he will certainly show why he earned himself a six-year, $162 million deal, but the question is how many times he will actually toe the rubber.
Season prediction: When healthy, he takes the Yankees rotation to another level. What's harder to predict is how many starts the lefty will actually make. If the Yankees make a deep run this postseason, Rodon will play a major role. — Lee
---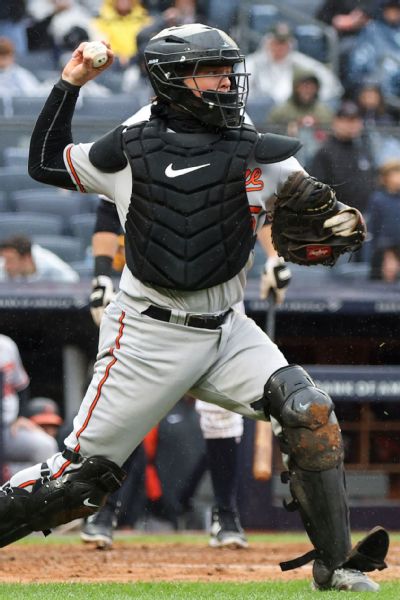 Baltimore needed Rutschman to live up to the hype as one of the top prospects in baseball and he exceeded all expectations, displaying a strong ability to get on base while providing some of the best defense in baseball behind the plate. In 113 games, Rustchman hit .254/.362/.445 with 13 homers and a 5.2 bWAR, placing him second in all of baseball behind Realmuto. If the Orioles expect to take another step forward, they will need Rutschman to continue looking like one of the best catchers in the sport.
Season prediction: Rutschman will keep building on his status as one of the game's best defensive catchers while taking a step forward offensively as he continues adjusting to big league pitching. Any increased production will make him among the game's most valuable players. — Lee
---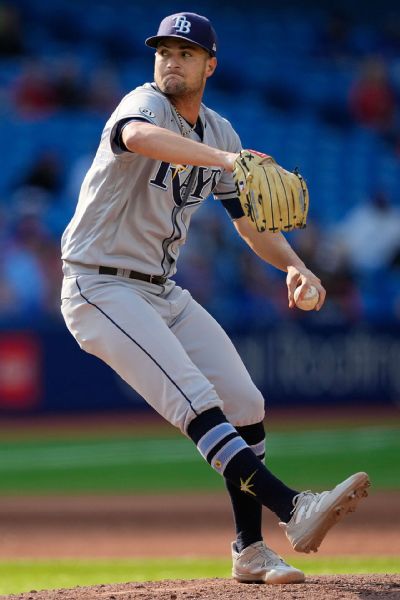 SP | Tampa Bay Rays
There was perhaps no more dominant pitcher in last year's first half than McClanahan. Armed with a devastating four-pitch mix, McClanahan posted a 1.71 ERA in 110⅔ innings, striking out 147 batters while walking only 19 and starting the All-Star Game. But the second half featured a non-serious shoulder injury and mediocre results, including four starts in which he gave up more than three runs and didn't get into the sixth inning. So McClanahan went about working on his body this offseason. He stretched more diligently and improved his diet, and the Rays believe the 25-year-old right-hander can be even better in 2023. There's no reason why his first-half success can't extend for a full season. The stuff is there.
Season prediction: McClanahan will rise to another level in 2023 and contend for the AL Cy Young Award, displaying some of the best stuff in the sport and tapping into more consistency throughout the year. — Gonzalez
---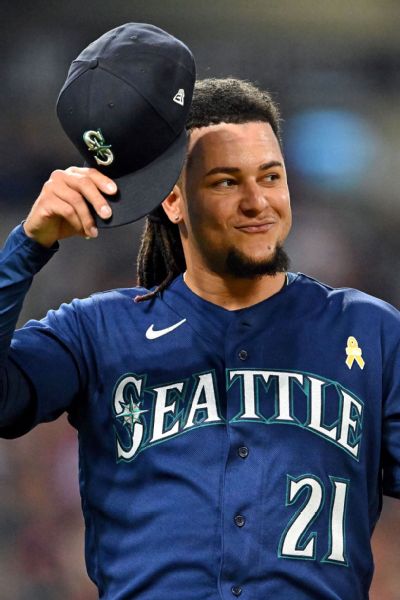 SP | Seattle Mariners
During Castillo's years with the Cincinnati Reds, there were frustrating bouts of inconsistency and control lapses, though he was an All-Star in 2019 and then again in 2022 before his trade to the Mariners. He seemed to put everything together last season, going 8-6 with a 2.99 ERA and the best strikeout-to-walk ratio of his career.
It took less than two months for the Mariners to love what they saw and sign him to a five-year, $108 extension and then give him the ball for the franchise's first playoff game in 22 years. He promptly dominated the Blue Jays with 7⅓ scoreless innings. He throws 97 with a great changeup and wipeout slider, and with a full year at T-Mobile Park — it must feel like the Columbia River Gorge after all those years in Cincinnati — he's primed for his best season yet.
Season prediction: Castillo has won just 16 games the past two seasons combined. He's going to win 16 in 2023 and pick up some down-ballot Cy Young votes for the first time in his career. — Schoenfield
---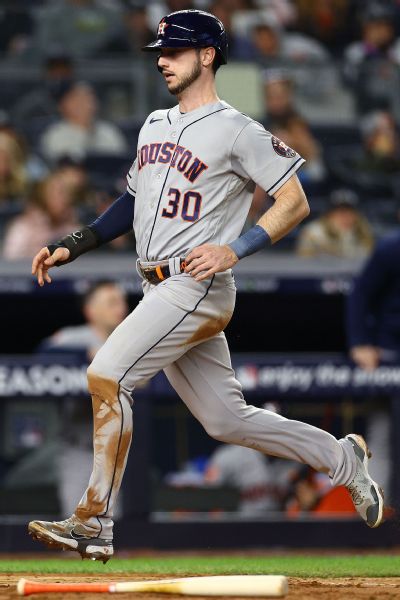 RF | Houston Astros
Tucker is slowly advancing up the list of most dangerous lefties in the game, in part because of his ability to hit lefties. His career .808 OPS against left-handed pitching isn't all that different from his .853 one vs. righties. Of course, that was all achieved with the shift in place. Without it, Tucker's 2023 batting average should go up after hitting .257 in 2022.
Tucker just keeps getting better. He has an 11 bWAR combined over the past two seasons, finishing 20th in MVP voting in 2021 and then 15th in 2022 to go along with his first All-Star appearance and first Gold Glove for his outfield defense. More of the same will keep Tucker rising in the ratings. It's not impossible for him to be a top-20 player going into 2024. He has the talent.
Season prediction: Tucker takes another leap, repeating as Gold Glove winner while hitting 35-plus home runs with a batting average at least 20 points higher than his 2022 mark. — Rogers
---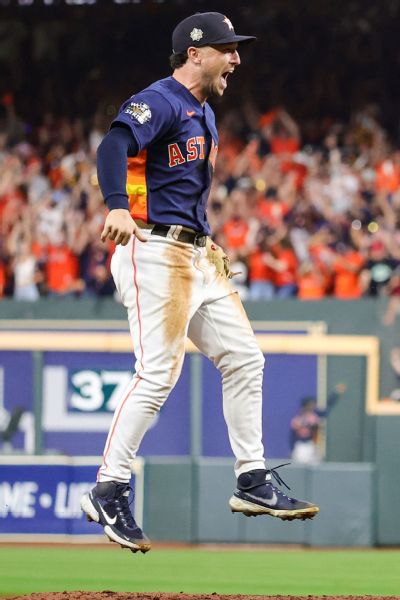 3B | Houston Astros
When we last ran MLB rank in 2021, Bregman was a top-15 fixture. He was sixth in 2019, 12th in 2020 and 13th in 2021. But after three solid seasons that were well off his peak in 2018-2019, he's landed here. It seems about right given what his new level of play seems to be after three years and over 1,200 plate appearances. Peak Bregman was the full package — elite power, lots of walks, elite run run production, even some steals. The new version has similar strike-zone mastery and exit velocities but the BABIP results just haven't been the same. Though he hits righty, the shift has been a bane for Bregman and perhaps its departure will be a boost.
Season prediction: While Bregman might not have any more 40-homer seasons in him, it would be surprising if there isn't another MVP-level season or two in his future. The Astros will be fine either way: Houston has advanced at least to the ALCS in all six seasons since Bregman became a regular. — Doolittle
---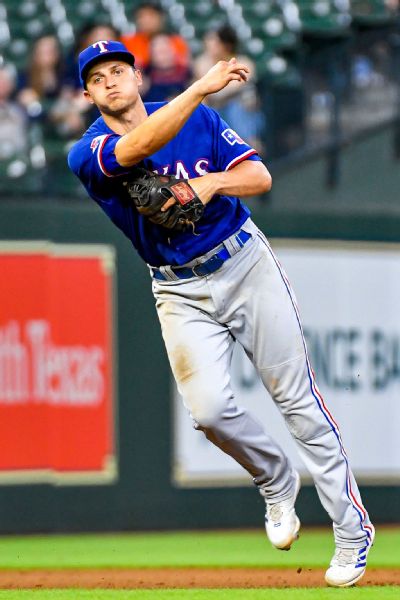 If you want a poster boy for how the elimination of the shift might help some hitters, Seager is your guy. According to Baseball Info Solutions, Seager hit .112 on ground balls and short line drives hit between first and second base in 2022. As a result, Seager, who hit .297 in seven seasons with the Dodgers, saw his average plummet to .245 in his first year with the Rangers. BIS estimates Seager would have gained 29 additional hits under 2023 rules — and his average would thus climb to .293. Look for better numbers from Seager with the new rules and perhaps an even higher ranking in 2024 as he tops 30 home runs again and hits much closer to .300.
Season prediction: Look for better numbers from Seager with the new rules and perhaps an even higher ranking in 2024 as he tops 30 home runs again and hits much closer to .300. — Schoenfield
---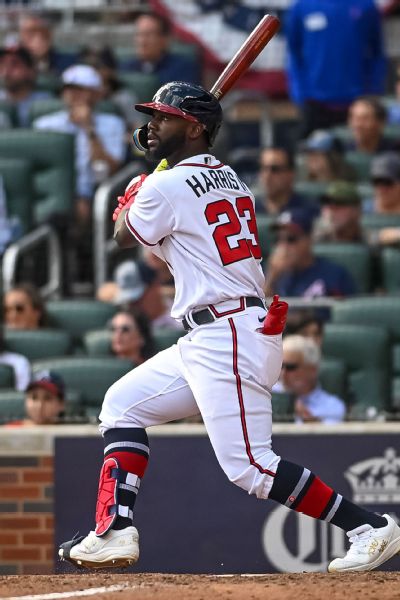 CF | Atlanta Braves
No young player had as meteoric a rise in 2022 as Harris. While he was a consensus top 100 prospect entering the season, his highest ranking was ESPN's Kiley McDaniel at No. 38 and he had played all of 2021 in High-A. It looked like he would spend the season at Double-A Mississippi.
Nobody expected this: just 43 games in Double-A, a rushed promotion to the majors when the Braves needed a center fielder, a sudden development in his power and, frankly, emerging as one of the best players in the league over the final four months. He finished at .297/.339/.514 with 19 home runs, 20 stolen bases, excellent defense and a nice Rookie of the Year trophy. Some expect pitchers to figure out how to exploit his aggressive approach, but Harris can flat hit. Imagine what will happen if he improves his plate discipline.
Season prediction: If there's a Michael Harris fan club, sign me up. The computers forecast regression, but I'm predicting more of the same: Let's go with a 30-30 season, a trip to the All-Star Game and a Gold Glove. — Schoenfield
---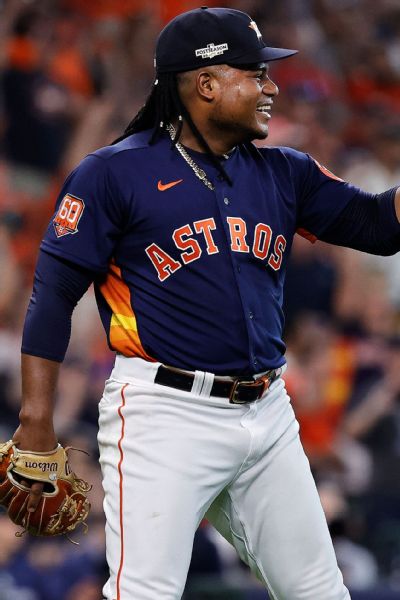 SP | Houston Astros
With three wins in three starts and just two runs allowed over 19⅓ innings in the ALCS and World Series, Valdez is a big reason why the Astros are the reigning champions. He really came into his own in 2022, leading the AL in innings, while completing three games and winning 17, all while putting up an ERA+ of 137. For all of that, Valdez finished fifth in the AL Cy Young balloting and made his first All-Star team.
Valdez didn't do much differently last season in terms of arsenal, he was just a better, more precise pitcher who attacked the bottom of the strike zone, rarely missed in the middle of the plate and routinely put away hitters with his outstanding curveball. All Valdez really has to do to move up the rankings from here is to do it all over again. This time, he'll get a chance to show his stuff as the ace of the Astros' rotation now that Verlander has moved on.
Season prediction: Valdez sat out the WBC rather than pitching for the Dominican Republic after his jump in regular-season innings was followed by the heavy load he carried in October. The Astros might not overwork him early in the season, but beyond that, there is no reason to think that Valdez will fall off from last season's form. Expect more of what we saw in 2022. — Doolittle
---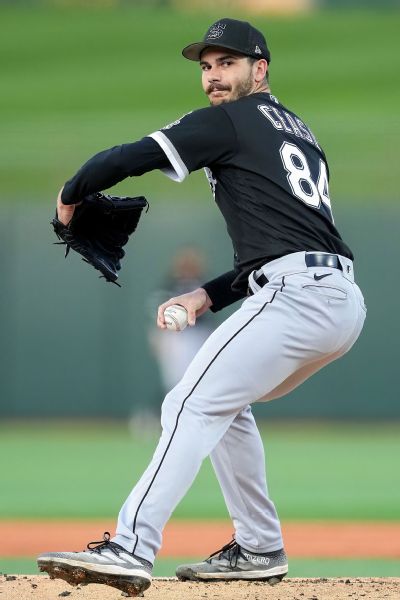 Cease needs more exposure. He nearly became one of those rare pitchers to miss out on the All-Star team but win the Cy Young award in the same season (he ended up finishing second in Cy Young voting to Verlander last year). Playing for the underachieving White Sox didn't help matters. It's partly why he's not in the top 20 despite coming off a dominant 2022 campaign.
Cease has one of the most devastating sliders in the game, which led him to strike out an AL-best 227 batters last season. But he also walked the most in the AL, 78, though not many of those runners came back to haunt him considering his 2.20 ERA for the year. A reduction in walks while keeping his other numbers intact will continue to open eyes around the league for Cease.
Season prediction: Cease's batting average against on balls in play has fluctuated greatly throughout his career. He's due for a higher one in 2023, which could cause his ERA to rise. He won't repeat the 2.20 mark in 2022 — it'll be closer to 3.00 this year. — Rogers
---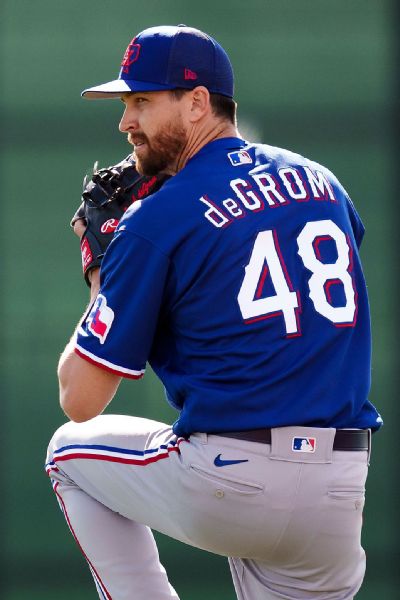 SP | Texas Rangers
Nobody doubts that deGrom is one of the best pitchers of his generation, but his health remains a concern. DeGrom made 26 total starts across 2021 and 2022. While he still showed the stuff that made him one of the most feared pitchers in the entire sport, the 34-year-old righty took a step back in terms of his product, posting a 3.08 ERA and 0.75 WHIP in 64⅓ innings pitched. How deGrom ages as he heads into the back half of his 30s will play a monumental role in the success of Texas in 2023 and beyond.
Season prediction: When he's healthy, deGrom remains a nightmare for hitters, but this availability remains the biggest question. The righty has not thrown more than 20 games per season since 2019 (including the shortened 2020 season), and he is not getting any younger. — Lee
---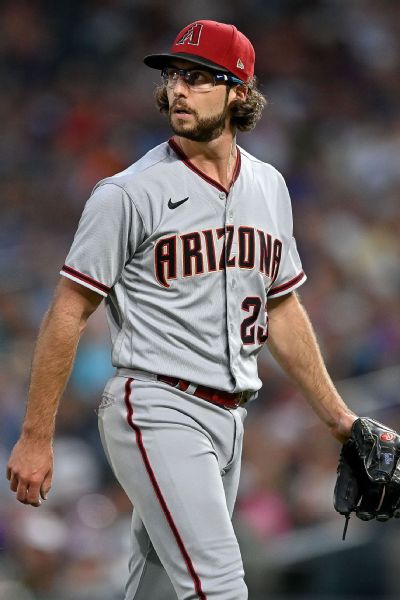 You rarely hear on-base percentage quoted in regards to pitchers, but Gallen was the anti-OBP hurler in 2022. He led the NL in WHIP and hits allowed per nine innings while holding opponents to a measly .252 OBP. He also sliced his home run rate in half and sliced more than a walk per nine innings from his 2021 season.
The end result was a new pitching star rising in the desert as Gallen posted a 2.54 ERA over 185 innings and finished fifth in NL Cy Young balloting. He mostly ditched his slider last season and developed a four-pitch arsenal built off a wickedly effective, high-spin four-seamer and the metrics of all of his offerings were excellent. He does this without elite raw velocity, though he did add a tick of zip in 2022. At 27, he's just getting rolling.
Season prediction: Gallen's .237 BABIP will be hard to repeat but his career mark (.264) is well below last season's MLB average (.293), so he has plenty of room to allow for a little regression. Even if Gallen's ERA and WHIP rise because of a higher BABIP, don't despair, because he's a complete pitcher who should remain one of the NL's top hurlers. — Doolittle
---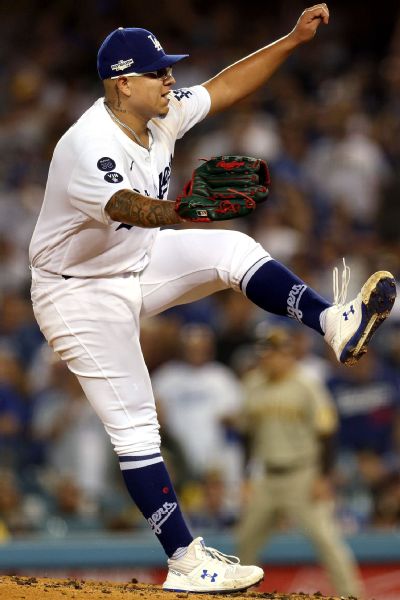 SP | Los Angeles Dodgers
After years of innings restrictions and occasional bullpen assignments, the Dodgers finally let Urias ride as a full-time, no-questions-asked starting pitcher in 2021 and watched him instantly become one of the game's best. Urias led the majors with 20 wins in 2021 and led the NL with a 2.16 ERA and a 194 ERA+ in 2022. If not for the incredible dominance of Alcantara, he could have won the Cy Young. And yet, Urias finished third in the voting. He is criminally underrated, partly because he plays on the West Coast and partly because he doesn't light up a radar gun like some of his peers. But few have better command. And when he becomes a free agent next offseason, few will be more coveted.
Season prediction: Urias' success as a pitcher continues to trend in the right direction, and the 2023 season, his last one before free agency, could be his biggest one yet. If he remains healthy, expect him to make his first All-Star team — yeah, that's right, he hasn't made one yet — and vie for the Cy Young once more.
At times it feels as if Urias has been in the big leagues for a long time, but he's only 26 and has accumulated less than 600 career regular-season innings. There's plenty left to tap into. — Gonzalez
---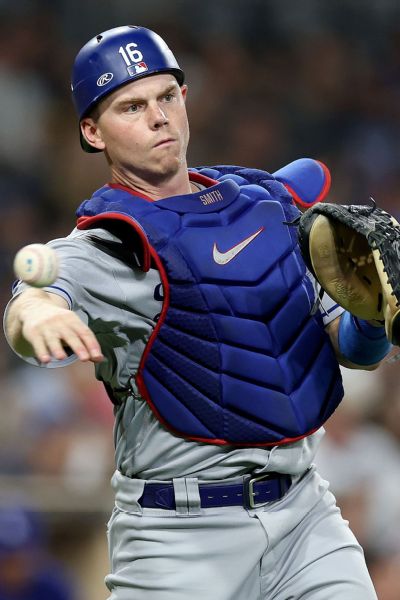 C | Los Angeles Dodgers
Smith has accumulated 9.7 fWAR since settling in as a regular behind the plate in 2020, a total surpassed by only two catchers — Realmuto and Sean Murphy. At 27 years old, Smith has established himself as one of the game's best at his position, particularly on the strength of his bat. Smith has a .261/.356/.501 slash line in nearly 1,500 career major league plate appearances, even more impressive when considering the physical demands of his position. He slugs, but he is also patient. Smith boasted the 14th-lowest chase rate in the majors last year at 21.2%.
Season prediction: Smith will be more important to the Dodgers' lineup than ever, with Justin Turner and Cody Bellinger gone and Max Muncy and Chris Taylor coming off down seasons. He's currently slated to hit third, right behind Freeman. Expect him to DH more often this season, given the presence of Austin Barnes and top prospect Diego Cartaya. The Dodgers need his bat in the lineup as often as possible. And this could be Smith's best year from a run-production standpoint. — Gonzalez
---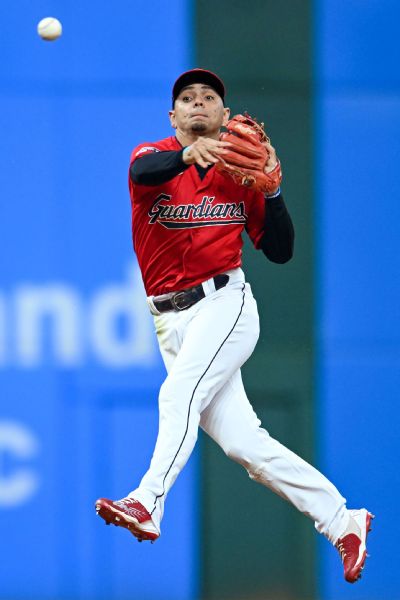 2B | Cleveland Guardians
The 24-year-old second baseman put together a breakout season in 2022, hitting .297/.371/.466 with a 7.2 bWAR. Gimenez's defense catapulted him into one of the game's more valuable players, but there are some questions about whether the Guardians' infielder can repeat the success given the 40-point differential in his expected batting average (.257) and actual average (.297). While his 17 homers last season look like an outlier compared to his career numbers, expect him to make an impact on the basepaths after stealing 20 bases in 2022.
Season prediction: Gimenez will still be an above-average hitter but expect his power numbers to take a step back while his production equalizes with the expected sabermetric numbers given his contact rate and exit velocity. — Lee
---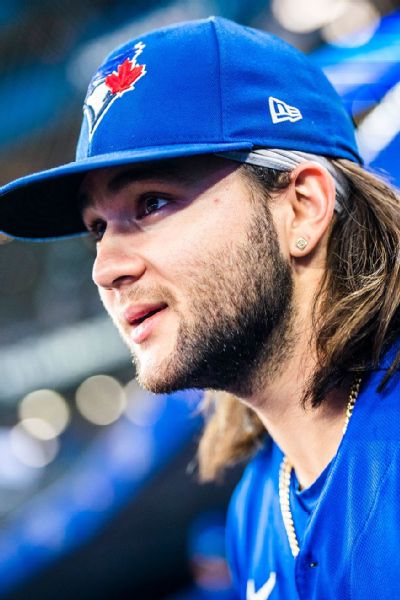 SS | Toronto Blue Jays
In totality, Bichette's 2022 season — .290/.333/.469 slash line, 24 home runs, 13 stolen bases and the AL lead in hits for a second straight year — was a profound success. But the 25-year-old shortstop navigated his fair share of peaks and valleys offensively and once again struggled with errors defensively. Bichette's 47 errors trail only Javier Baez for the most among shortstops since the start of 2021. But that's the kind of thing that tends to get cleaned up as a player matures. So do pronounced highs and lows. Bichette showed down the stretch what kind of premier talent he is, while OPS'ing 1.105 after the start of September.
Season prediction: Bichette probably won't OPS above 1.000 for a full season, but he certainly has the talent to do so. He is a superstar navigating a portion of his career when players typically are still getting significantly better. FanGraphs projects a 4.4 WAR from him this season. If he's healthy, his 2023 WAR should start at least with a 6.0. — Gonzalez
---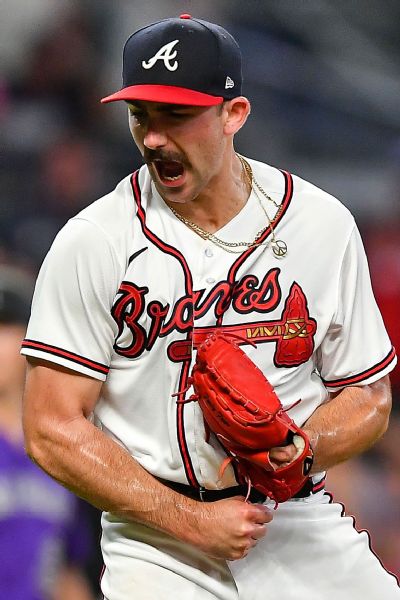 SP | Atlanta Braves
It was quite a year for Strider, who started the season in the Atlanta bullpen, soared once he hit the rotation, nearly won the NL Rookie of the Year award and capped it all by signing a six-year, $75 million extension. How was your 2022?
Strider emerged as one of baseball's most dominant young pitchers, flashing a fastball that averages 98 miles per hour and a strikeout rate (13.8 per nine innings) that looks like a typo. The only downside for him was a late-season oblique injury that might have cost him NL rookie honors (won by teammate Harris) and limited his contribution to Atlanta's playoff effort. Strider is mostly a two-pitch pitcher at this point, though he'll sprinkle in a changeup against lefties, so it's raw power that is currently earning him his bread. Obviously the Braves have seen more than enough to believe he can build off his dazzling rookie campaign.
Season prediction: Strider's stuff is so overpowering that for now, it's all he needs to get through an order a couple of times. To become a bedrock starter who can sometimes work deep, he'll need more than two pitches. His spring work didn't suggest he has that, so for now, expect more sharp, dominant outings. — Doolittle
---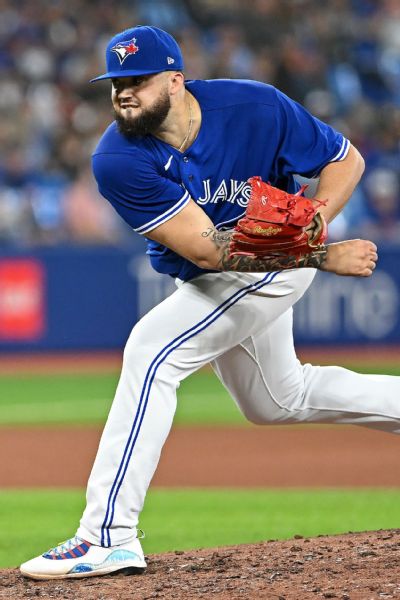 SP | Toronto Blue Jays
Manoah is clearly a pitcher getting better with every season. He dropped his ERA by a run from 2021 to 2022 and increased his innings pitched by 85. He's emerged as the Blue Jays' ace, though his one postseason start (last year) wasn't a good one. Still, Manoah is likely to be a Cy Young candidate again as he continues to mature. His sweeping slider is effective against both righties and lefties, as hitters have a hard time producing hard contact and slugging off of him. Players slugged .314 against him in his first two seasons — and that number alone makes him worthy of his position in the rankings.
Season prediction: Manoah puts it all together in 2023 and wins his first Cy Young award while surpassing 200 innings pitched for the first time in his career. — Rogers
---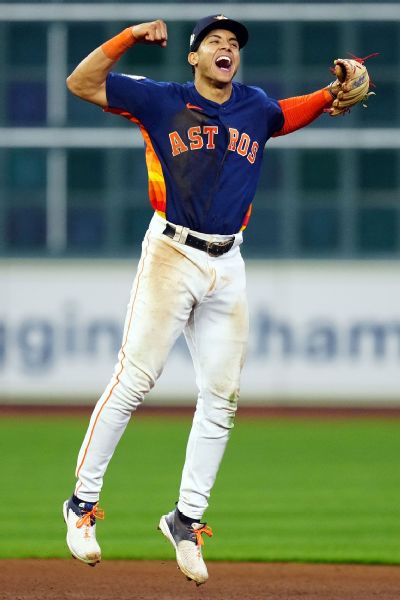 SS | Houston Astros
His strong rookie season and World Series MVP award helped Astros fans quickly move past the departure of Correa. Peña lived up to his reputation as a strong fielder, but he also displayed more power than expected, hitting 22 homers in 136 games with a .253/.289/.426 batting line. There's certainly room for growth with the young shortstop, but he ranked alongside Trea Turner and Ha-Seong Kim in terms of their impacts on the field, hovering around a 4.8-4.9 bWAR.
Season prediction: Peña takes a step forward with his batting average while maintaining his elite glove, solidifying himself as one of the game's most valuable shortstops. — Lee
---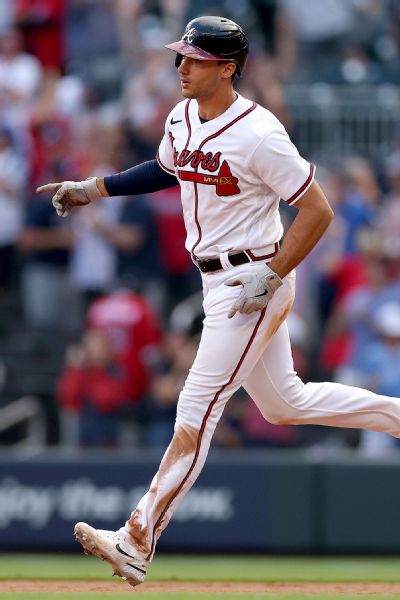 1B | Atlanta Braves
Every generation needs that big, slugging lefty first baseman who swats impressive home runs and swings from his heels with absolutely no remorse. Olson wasn't quite as good in his first season with the Braves as he was with the Oakland Athletics in 2021 — due to a higher strikeout rate that cut into his batting average — but still belted 78 extra-base hits and drove in 103 runs. He showed in 2021 that he can be more than a "Three True Outcomes" slugger, although that's what he became in the second half of 2022, when his average fell to .219 and his doubles rate fell way off. We've seen him play at an All-Star, top-10 MVP level, but there's enough inconsistency here to keep him out of the top 50.
Season prediction: So far, his low strikeout rate in 2021 looks like a career outlier as his swing-and-miss rate was much higher against fastballs in 2022. I'd bet on a batting average closer to .240 again as opposed to the .271 mark in 2021, but in this Braves' lineup, he's a good bet to once again crack 100 RBIs with his 30-homer power. — Schoenfield
---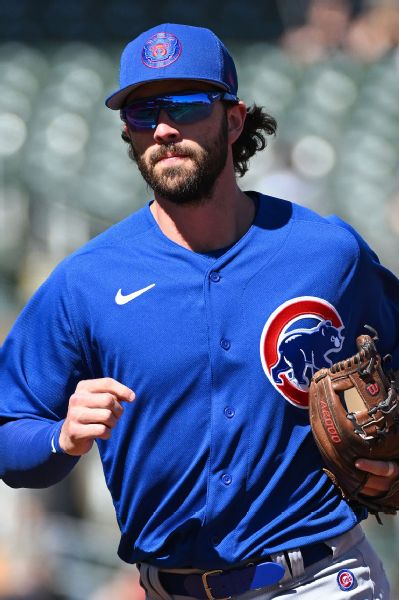 There's a reason Swanson signed for $177 million with the Cubs during the offseason: He's a really good player. There's also a reason it was way less than what three other star shortstops signed for. Swanson is good, especially on defense, but he has yet to prove offensive consistency. His home run totals have increased over the years, but so have his strikeout numbers. Even he admits he needs to find the right balance between contact and power.
The Cubs are also paying for leadership. Swanson is known for wanting one thing out of his baseball life: to win. He did that in Atlanta, and now he'll pave the way for a new roster of Cubs trying to find their way back to the postseason.
Season prediction: There might be some early struggles as Swanson tries to live up to his big contract — it happens all the time — but he should find his power stroke to left field once the summer hits Wrigley. Thirty home runs is not out of the question — but neither is 150 strikeouts (again). — Rogers
---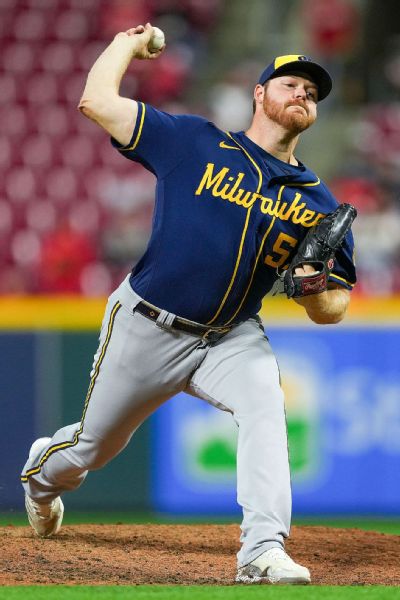 SP | Milwaukee Brewers
Woodruff has been one of the game's most consistent starters over the last four seasons, a span in which his per-inning production has been truly elite. At 6'4″ and 244 lbs., Woodruff has the look of a classic top-of-the-rotation starter. He has the repertoire and stuff to dominate consistently and enough diversity in his offerings to remain effective deep into games. And yet Woodruff's career high in innings as he enters his age-30 season is 179⅓. Injuries have usually diverted his run to the top ranks of big league starters, though arm injuries, strangely enough, haven't been the issue. As such, it feels like his career season is still in his future.
Season prediction: Like co-ace teammate Burnes, Woodruff has not been extended by the Brewers and has one more season of arbitration eligibility before he hits free agency. Over the second half of last season, Woodruff was as good as any pitcher in the game. If the intersection of momentum and motivation means anything, the portents for 2023 are lined up in his favor. — Doolittle
---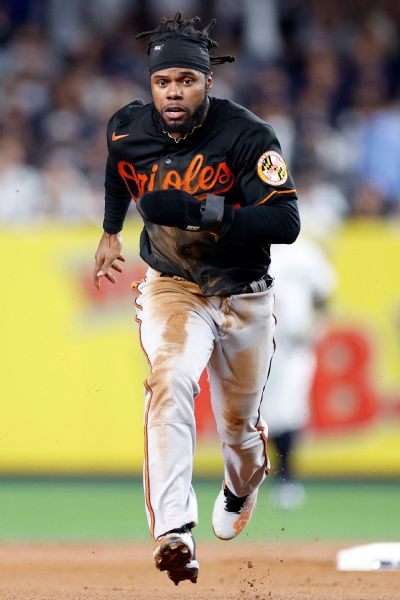 CF | Baltimore Orioles
Mullins' offensive numbers took a slight dip from 2021 to 2022, with his OPS going from .878 to .721. He walked less, didn't slug nearly as much and produced slightly fewer line drives. But he also produced elite center-field defense, contributing nine outs above average, and added 34 stolen bases. In other words: He hit enough to still be considered one of the sport's best all-around players at his position. His 9.3 fWAR over the last two years ranks fifth among outfielders, topped only by Judge, Soto, Betts and Alvarez. That's pretty good company.
Season prediction: Mullins isn't an elite exit-velocity guy, and his numbers will often be susceptible to batted-ball luck. Is he the hitter of 2021 or 2022? Something in the middle is probably a safe bet, though his 2022 drop in barrel percentage should warrant some concern. He should still be young enough (28) to bring all the other speed-related elements that make him stand out. — Gonzalez
---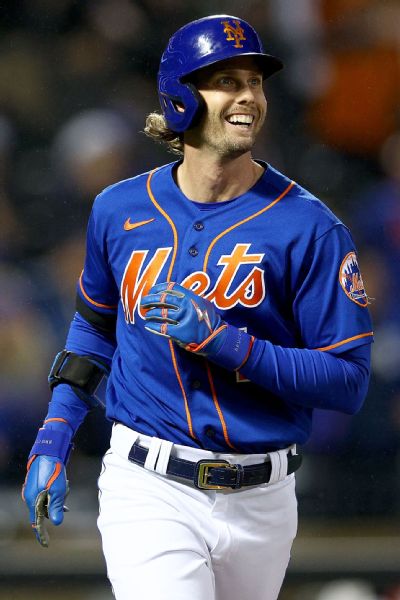 2B | New York Mets
McNeil put together one of the best seasons of his career in 2022, hitting .326/.382/.454 with nine homers, winning the batting title and posting a career-high 5.7 bWAR. The Mets rewarded his success with a new four-year, $50 million contract, locking up a key member of New York's core lineup. The second baseman is one of the best contact hitters in the sport, striking out just 242 times in 2,039 career plate appearances, bested by just nine players with at least 1,000 plate appearances since his debut in 2018. His versatility continues to be an asset as well, with 100 games at second base and 46 in the outfield in 2022.
Season prediction: McNeil's game figures to age well — he turns 31 in April — given his reliance on contact over power. While it's unfair to expect him to win the batting title again in 2023, he has just one season in the big leagues where he has hit below .300, and the Mets expect him to be a lineup catalyst for a group hoping to compete for the World Series. — Lee
---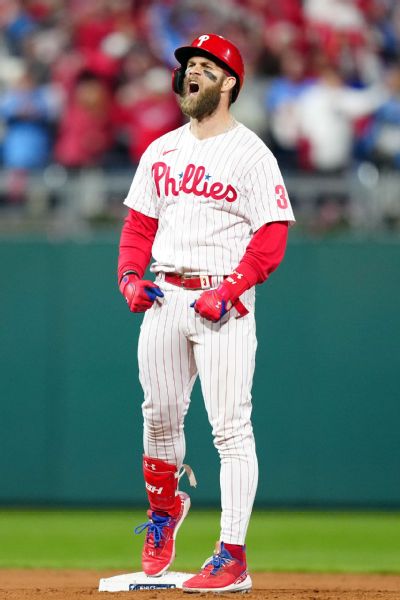 RF/DH | Philadelphia Phillies
It doesn't take a baseball expert to understand why Harper is where he is on the list, as he'll be out more than half the season while recovering from Tommy John surgery. His return will certainly boost the Phillies' chances, and he'll undoubtedly continue as one of the most feared hitters in the game. But for the rankings, availability is as important as productivity, so for now Harper is on the outside of the top 50 — though, he easily could be in a different place going into next season.
Season prediction: Harper returns with a bang in late July but struggles to find his footing. He'll be a .230 hitter while hitting 12 home runs in the second half. — Rogers
---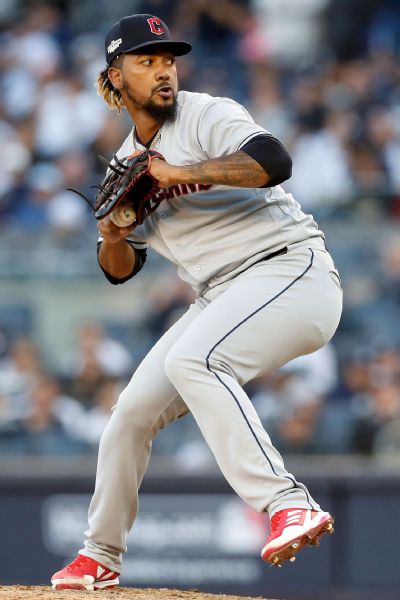 RP | Cleveland Guardians
In the original incarnation of our rankings, there were but two relievers so dominant that they earned a spot on the list. Edwin Diaz then suffered that devastating knee injury in the WCS, so now Clase, who won last year's Mariano Rivera AL Reliever of the Year award, stands alone as baseball's top fireman entering the season. He's earned that status by becoming one of the rarest of baseball phenomenons: The consistent reliever.
In his case, Clase isn't just consistent — he's consistently dominant. Over the last two seasons, Clase has a surreal 1.33 ERA over 142⅓ innings. In 2022, he saved 42 games in 46 chances and earned wins in two of the games in which he blew the save. He does this with a cutter-slider combination so unhittable that to describe it as "nasty" hardly seems sufficient. The cutter in particular is almost — dare we say? — Rivera-esque.
Season prediction: There is zero reason to think that Clase's game is going to tail off any time soon, especially when a "bad" season for him at this point would be a two-something ERA. — Doolittle
---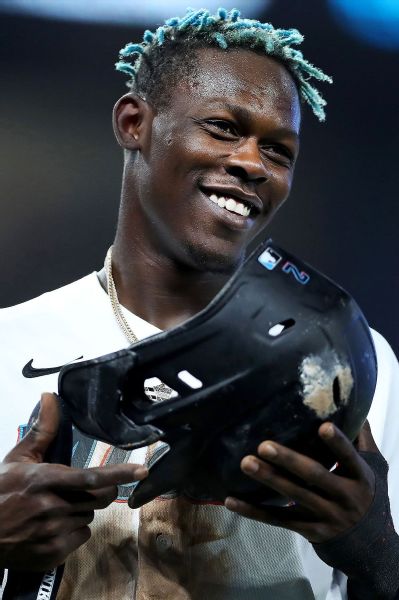 CF | Miami Marlins
He's on the cover of "MLB The Show" video game, he was named to his first All-Star Game in 2022 and he popularized the ice cream-themed glove. Now, Chisholm has to stay healthy after missing the second half with a stress fracture in his lower back and adjust to a new position as the Marlins move him from second base to center field. To his credit, it was Chisholm who went to the Marlins with the idea, so he has embraced the change with enthusiasm. There's no doubting the massive upside here after he hit 14 home runs with 45 RBIs and slugged .535 in 60 games. Those numbers over 150 games: 35 home runs and 112 RBIs. That sounds like an All-Star center fielder.
Season prediction: Hey, don't dismiss that 35-homer potential. He's averaged 27 per 162 games in his short career, and he's just 25 with only 205 career games. With his tools, there's still a chance he could explode if everything comes together. I'll go 30 home runs and 25 steals, and if he can cut down on the K's, he has superstar potential. — Schoenfield
---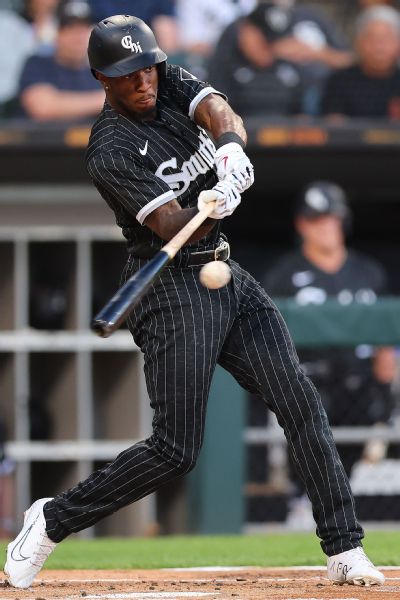 SS | Chicago White Sox
There was a time when Anderson would have ranked higher on the list, since he has a batting title under his belt. But injuries zapped some of his ability last season and though he hit over .300 for the fourth consecutive year, it came in only 79 games. A healthy, available Anderson may move him back up the rankings.
Meanwhile, playing in the WBC this spring can only help raise his game and potentially his leadership. During the tournament, Trout said that Anderson had the best opposite field swing in the game. That's some high praise. If he's on the field the entire season, he may win another batting title yet.
Season prediction: Anderson hits over .320 while he and Elvis Andrus make a surprisingly good double play combination. Anderson might even get some time at second base, where he shined during the WBC. — Rogers
---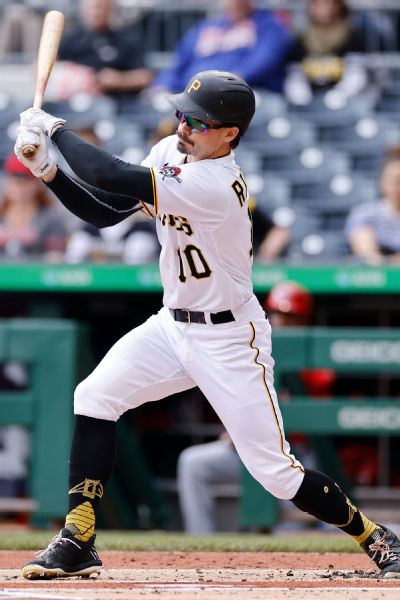 In four months, Reynolds — one of few baseball players to publicly request a trade — is expected to be one of the most coveted players from executives looking to solidify their teams for the stretch run. Toss aside a fan-less shortened 2020 season, and he has been about as productive as they come, slashing .292/.371/.496 in his three full major league seasons. The Pirates have expressed a desire to keep Reynolds long term, but there are no indications that the two sides are close on an extension. He is coming off a sluggish — by his standards — 2022 season, one that saw his OPS drop by more than 100 points and his defensive metrics fall off even more dramatically. But several GMs would undoubtedly line up to trade for him nonetheless.
Season prediction: Reynolds' strikeouts picked up and his walks declined in 2022, which is usually a troubling sign. He chased more often, particularly against fastballs. He saw more high fastballs last year, and he struggled mightily against them, slashing .074/.133/.185. Reynolds won't get back to his 2021 self until he makes that adjustment. — Gonzalez
---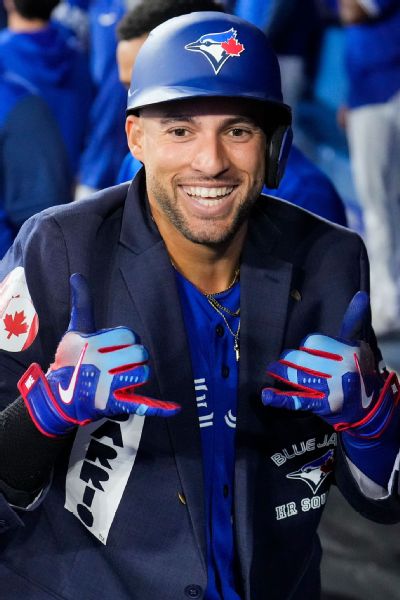 OF | Toronto Blue Jays
Springer remains a top-of-the-lineup catalyst with his blend of power, speed and patience. Among 64 hitters with at least 100 plate appearances from the lead-off spot last season, Springer ranked in the top five in hits, runs, homers and RBIs, while landing at 14th in OPS. He still plays the game with panache via his big swings at the plate and daring dives on the basepaths.
Still, after finishing in the top 40 of the last five editions of these rankings, Springer fell down the pecking order mostly because he just can't stay on the field enough. He hasn't played in more than 140 games since 2018 and made it into just 133 contests last season for Toronto. During his two seasons with the Blue Jays, Springer has hit the IL with an oblique strain, a strained quadriceps, a sprained knee and an inflamed elbow. This last malady resulted in surgery last fall to remove bone spurs.
Season prediction: Now 33, Springer's playing time has to be carefully managed, especially as it seems unlikely that the abandon with which he has always played is going to disappear. The injuries will come, and rest will be needed. That's all fine for the Blue Jays if Springer is right when October comes around and he gets another shot to show why he's one of the great postseason players of his generation. — Doolittle
---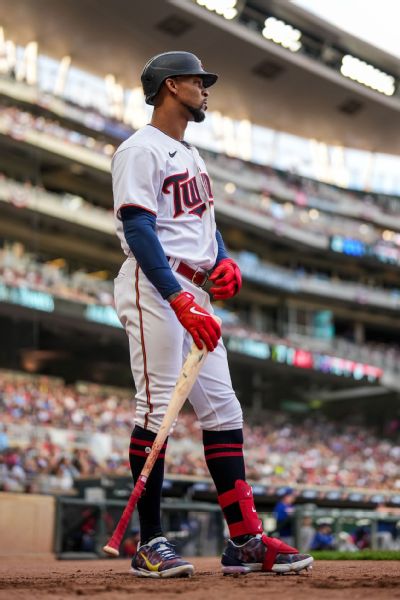 CF | Minnesota Twins
We all know the story. Over the past four seasons, Buxton has hit .258/.316/.558 while playing Willie Mays defense in center field. He has averaged an incredible 8.3 WAR per 650 plate appearances since 2019 — except that's more PAs than he had in 2021 and 2022 combined. Of his 28 home runs in 2022, 11 of them went more than 425 feet, including two over 450. The power/defense combo is so impressive that if he could play 130 games, he'd be one of the best players in baseball with top-15 overall potential. But he's now 29 and played 100 games just once in his career. There have been players who had careers ruined or shortened with injuries, but Buxton's career is turning into a weird, one-of-a-kind "what if?"
Season prediction: Yeah, right — you may as well ask me to make my stock picks for the next 12 months or predict the weather for the first game of the World Series. There's 40-homer power here if he stays healthy, but I wouldn't count on that. — Schoenfield
---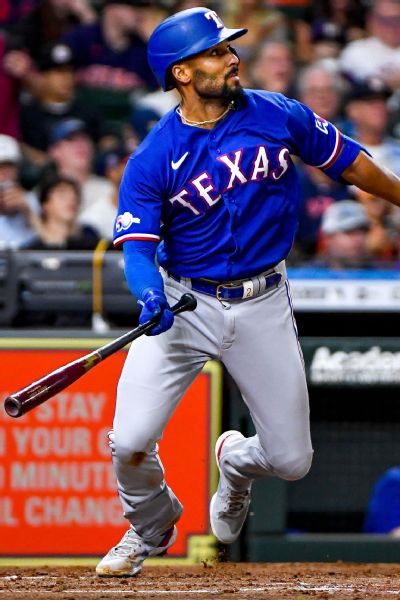 2B | Texas Rangers
After a very slow start for his new team in 2022, Semien brought the lumber. All but one of his 26 home runs was hit after June 1. That kind of volatility might be expected for a player joining a new organization with a big contract. Semien isn't going to go up the rankings as he enters his mid-30's, but that doesn't mean he has to go down either. He should age well playing second base after giving up on shortstop in signing with Texas a year ago. His power at that position makes him special, though he's not likely to repeat his 2021 performance, when he hit 45 home runs for Toronto.
Season prediction: Semien's power numbers will continue to decrease playing in pitcher-friendly Globe Life Field. He'll hit under 20 home runs in a full season for the first time since 2018. — Rogers
---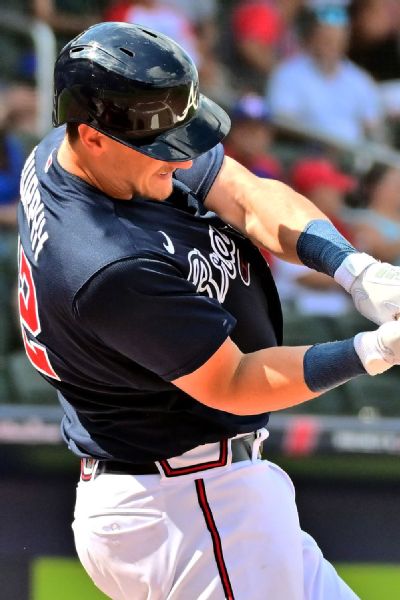 C | Atlanta Braves
As much as anything, the Braves seem to believe in certainty when it comes to their long-term design. Find a young player you like and keep that player for as long as you can in an exchange of security (for the player) and team-friendly terms. And so Murphy becomes the latest example of that design after Atlanta acquired him in a hot stove trade and almost immediately inked him to a six-year, $73 million extension to become Atlanta's backstop now and for the foreseeable future.
This ranking, which is well-deserved, illustrates why the Braves have such faith in a player who has yet to play a regular season inning for them. Murphy is one of the game's top two-way backstops who hits for power, draws walks, handles his position so well that he was the AL's Gold Glove catcher in 2021 and even has some postseason experience. He's also durable and hits well enough that he can help out frequently at DH on days he isn't catching.
Season prediction: The only catchers to have won a Gold Glove in both leagues are Bob Boone and Tony Pena. Supplanting Realmuto in the NL won't be easy for Murphy, but he's got a chance to join the list. He frames well and with an elite pop time, his ability to gun down would-be base thieves could be accentuated under the new rules. — Doolittle
---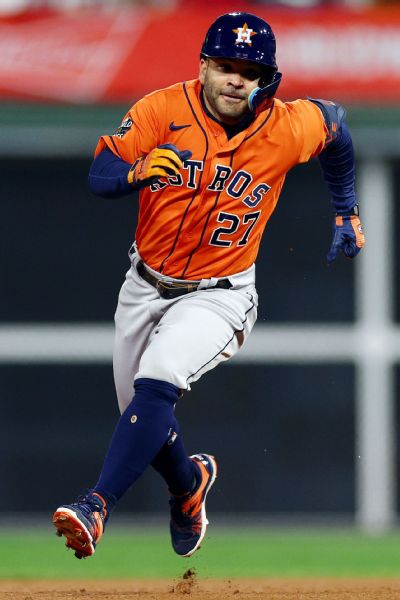 2B | Houston Astros
As with Harper, Altuve would have ranked a lot higher, but the broken thumb he suffered in the World Baseball Classic will keep him sidelined indefinitely and well into the season. When Altuve scuffled through a rough COVID-shortened 2020 season, it appeared Father Time might have been starting his victory lap, even if it was just a 48-game sample. Altuve has proven every skeptic wrong throughout his career and did so again. The 2022 season was one of his best, as he matched his MVP year of 2017 with a 160 OPS+ and finished fifth in the AL MVP voting.
Even without the injury, Altuve was a good bet to regress, at least a little. He turns 33 in May, and despite launching 39 doubles and 28 home runs last season, his hard-hit rate was the lowest of his career. That's cause for concern, although he doesn't swing and miss much, and he did show sudden growth in his plate discipline, with big improvements in chase rate and walk rate. If that holds, he'll continue to age well.
Season prediction: Altuve's .300 batting average last year was 31 points higher than his expected batting average going into the season. We don't know how the injury will ultimately affect his power, but his launch angle and ability to pull everything is ideal for home runs. I think the average takes a dip back into the .270 range that it was in 2021. — Schoenfield
---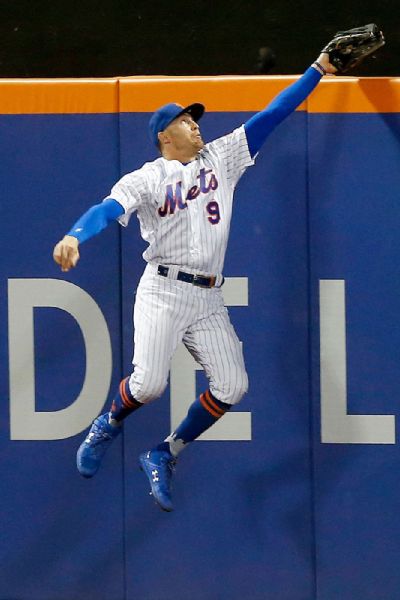 CF | New York Mets
Nimmo had the best season of his career in 2022, earning him an eight-year, $162 million contract to stay in New York. The 29-year-old outfielder put together a strong offensive season, hitting .274/.367/.433 with 16 homers while continuing to make big strides as a defensive player. He represents one of the backbones of the Mets' lineup as one of their most consistent producers. As important as his production is, so is his leadership in the clubhouse as a tone-setter — he brings energy to Citi Field on a daily basis.
Season prediction: Nimmo will continue to be a catalyst near the top of the lineup while providing solid outfield defense. The Mets don't need him to be anything more than what he's been throughout the last few seasons: solid and dependable. — Lee
---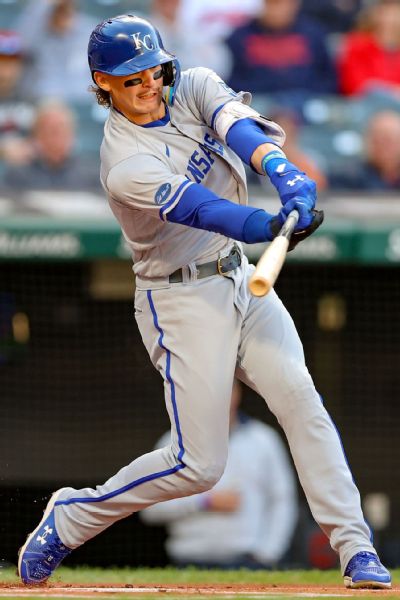 What follows is a partial list of players who appeared in at least 120 games in their age-22 season or younger and put up less than 2.3 fWAR: Jimmy Rollins, Altuve, Arenado, Freeman, Adrian Beltre, Robinson Cano, Bogaerts. And that's just dating back to 2000. So, don't ring the alarm bells on Witt just yet. Thriving in the major leagues at that age is exceedingly difficult. Witt's rookie season — 20 home runs and 30 stolen bases, but also a .254/.294/.428 slash line and more than four times as many strikeouts as walks — was a disappointment when considering the hype that surrounded him. But it doesn't mean he won't be a star. It didn't for any of those other names.
Season prediction: The Royals knew Witt wouldn't play much in the WBC, but they wanted him to experience that environment. They thought it could speed up his development and turn him into a better player. It'll work. Witt will take a big leap in 2023 and vie for the All-Star team. — Gonzalez
---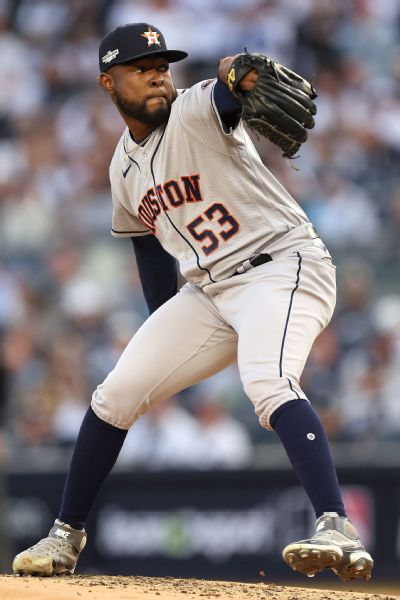 SP | Houston Astros
Javier keeps inching his way towards a monster season. He appeared as a starter and reliever both in last year's regular season and postseason. That's how valuable he was to the Astros' run to a title. This year, he may find his way to the top of the Astros' rotation or at least right behind Valdez. His fastball has so much life on it, he should blow past 200 strikeouts in 2023. As is, he had 194 in 148 innings last season, good for an eye-popping 33.2% strikeout rate. One of every three batters went down by strikeout against Javier. He could be a Cy Young candidate if those numbers continue over the course of 32 starts.
Season prediction: If healthy, Javier will lead the league in K's with over 250. — Rogers
---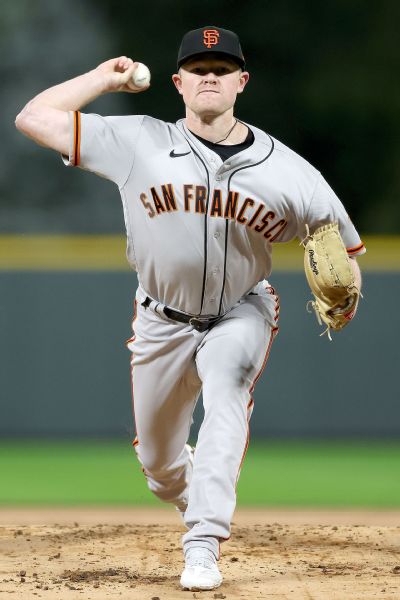 He was my pick for NL Cy Young winner in 2022, and while that didn't happen, he proved his terrific run down the stretch in 2021 was no fluke as he went 15-9 with a 2.90 ERA and just 11 home runs allowed in 192⅓ innings. Webb is the antithesis of modern pitchers: He throws a low-spin sinking 91-mph fastball that produces grounders instead of strikeouts, and he gets batters to chase his slider and changeup. We'll see if the shift ban hurts him more than other pitchers, but I expect his throwback style, pitch efficiency and command will lead to another strong season.
Season prediction: More of the same. He's had two back-to-back excellent seasons, and while I'm a little worried about the Giants' defense at second base without the shift, I'm looking for an ERA around 3.00 with close to 200 innings once again. — Schoenfield
---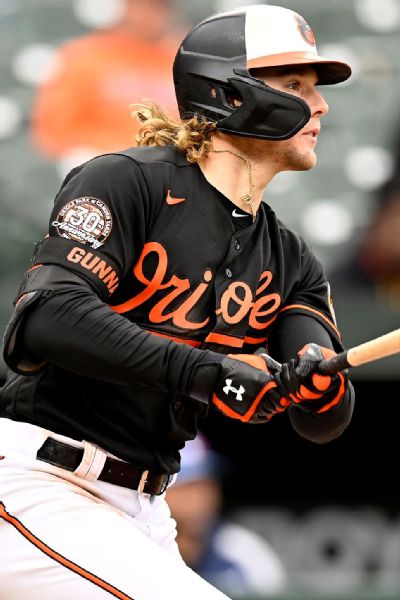 3B | Baltimore Orioles
How does a player with all of 132 plate appearances and a .259 batting average end up in our top 100? Faith. Faith in the prospect hype and faith in the flashes of brilliance we saw from him during his 2022 debut as a proof of concept. As Henderson retains rookie status, he's still eligible in the prospect rankings and thus landed the coveted top spot in this year's edition of Kylie McDaniel's Top 100. He's got power, defense, a strong arm, the speed to steal 20 bases or more and minor-league OBPs that suggest an advanced approach at the plate. Along with fellow phenom Rutschman — last year's top prospect — Henderson is at the vanguard of what looks like a dawning era of contention in Baltimore.
Season prediction: Henderson enters the season as a leading AL Rookie of the Year candidate. At the same time, his minor-league line jumped from a .258 average and .826 OPS in 2021 to .297 and .946 a season ago. Some regression wouldn't be a shock, both because of that leap and because development doesn't usually happen in a linear fashion. And yet he's so good, he might be the ROY anyway. — Doolittle
---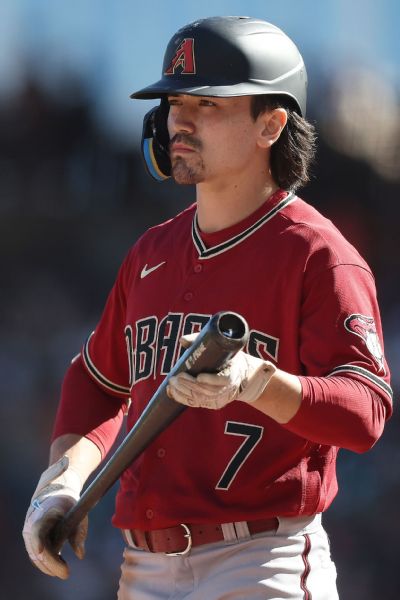 OF | Arizona Diamondbacks
Carroll has played in only 32 major league games and already looks like one of the most exciting players in the sport. He can hit for average, slug, provide elite defense and run with the best of them — and he brings that level of enthusiasm every time he plays. The COVID-19 pandemic wiped out minor league baseball in 2020 and shoulder surgery robbed him of most of 2021, but Carroll looked like a man who hadn't missed a beat in 2022. In what amounted to his first full season of professional baseball, Carroll scorched through Double-A and Triple-A, OPS'ing 1.036 with 24 home runs and 31 stolen bases in only 442 plate appearances. The D-backs had no choice but to call him up late in the season, and Carroll accumulated 1.4 fWAR in about a month. He'll maintain rookie eligibility for 2023 and should be a clear favorite for ROY.
Season prediction: Carroll will win the NL Rookie of the Year Award and turn a lot of heads in 2023, helping the D-backs make a surprising run for a playoff spot. — Gonzalez
---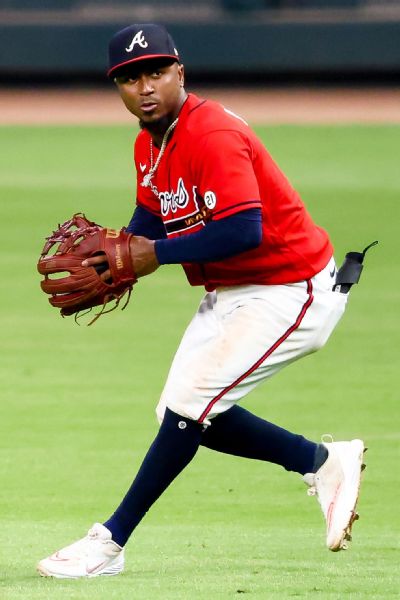 2B | Atlanta Braves
Last year was a frustrating one for Albies, as he played just 64 games because of a broken left foot and broken right pinky, and his offense was down when he did play. At his best, he generates surprising power from his small frame, hitting 30 home runs and ranking fifth in the majors in extra-base hits in 2021 (when he also drove in 106 runs) and tied for 15th in 2019. Albies has his mind set on a big season … very big: "I'll take 30-30," he told The Athletic, referring to 30 home runs and 30 steals (his career high is 20). "But my goal is to go 40-40." The Braves will happily take 150 — as in 150 games played.
Season prediction: I'm a little concerned here even though Albies is just 26. He's been injured in two of the past three seasons, and his plate discipline hasn't gotten any better, despite the Braves' best efforts (and, in fact, he had a career-worst chase rate last season). Still, he has a knack for pounding out those extra-base hits. I'll go .250 with 25 home runs and 35 doubles — a little below what we saw in the rabbit ball years of 2019 and 2021. — Schoenfield
---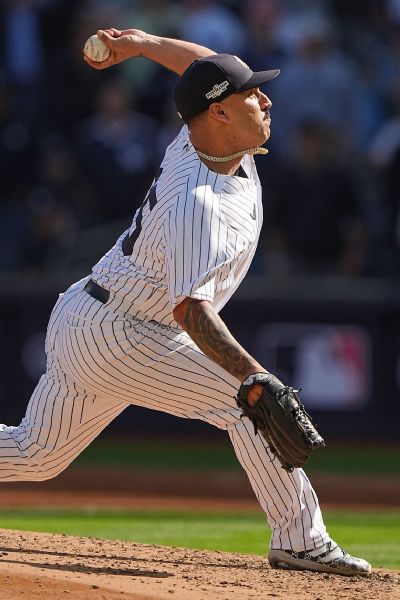 SP | New York Yankees
There's a reason why Nasty Nestor emerged as a fan favorite during the 2022 season. The crafty lefty put together a breakout 2022 campaign, posting a 2.44 ERA and 0.92 WHIP in 28 starts en route to making his first All-Star team. In a year where Cole was inconsistent, Cortes proved to be one of the team's most reliable performers. The Yankees were cognizant of not overusing him last season — he had never pitched more than 93 innings in the big leagues — so with a full offseason under his belt and a secure rotation spot, Cortes could take another step forward in 2023.
Season prediction: Cortes will keep proving there's a way to succeed as a starter in the big leagues without top-tier velocity. He'll need to make sure his command remains on point, but the creative mix of pitches, arm slots and windup movements makes him a dynamic pitcher for the Yankees' rotation. — Lee
---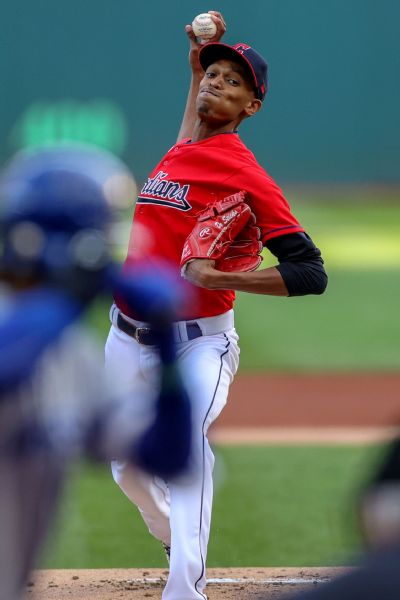 SP | Cleveland Guardians
By trying to do a little less in 2021, McKenzie accomplished a whole lot more in 2022. His strikeout rate dropped from 27.5% to 25.6% of opposing batters, but he more than offset that dip by slicing his walk rate and managing his effort to work deeper into games. He averaged 4.8 innings per start in 2021 but that figure soared to 6.3 last season as he finished with 191⅓ innings pitched and doubled his quality start count. McKenzie leaned less frequently on his fastball, even though he still has just a three-pitch mix. Even without a deep arsenal, McKenzie's numbers remain strong even as he gets into the third time through an opposing lineup.
Season prediction: From here, it's a matter of fine tuning the command. While McKenzie was much better at attacking the strike zone last season, he did go through spates where he caught the middle of the plate too often, and his homer rate would spike. Given his rate of improvement so far, the Guardians can look to further gains in this area. — Doolittle
---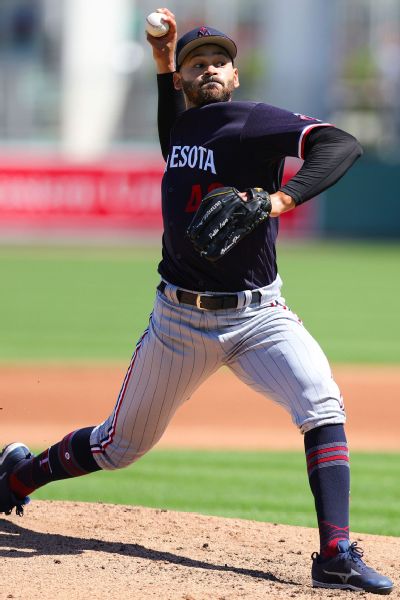 SP | Minnesota Twins
It will be interesting to see how a former Marlins pitcher performs knowing he'll have more offense backing him. Lopez should get a boost from playing with the Twins over the offensively-challenged Marlins. He put together a solid season in 2022, but there's room to grow. The biggest step in his game last season was simply making all 32 starts, cementing him as a mid-rotation guy in the big leagues. Righties hit .218 off him last season, fifth lowest in the NL. His cutter is becoming an often-used pitch and his change-up is already really good.
Season prediction: Lopez surpasses 200 innings for the first time in his career while getting over five runs of support per game. — Rogers
---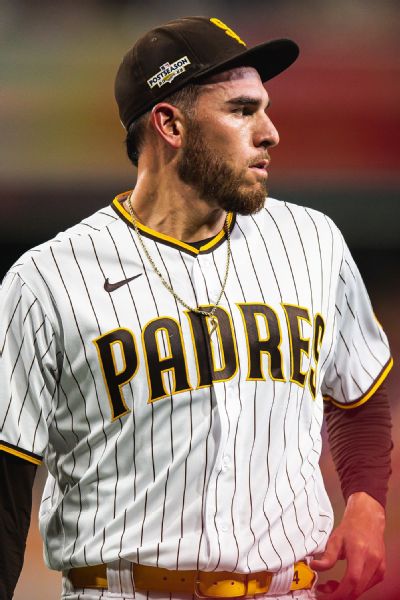 SP | San Diego Padres
Some players struggle with the pressures of starring for their hometown team. Musgrove has embraced it, using it as motivation to elevate himself to a higher level. The 30-year-old right-hander has posted a 3.06 ERA and accumulated 362⅓ innings in his first two years with the Padres, while helping to front the rotation of a star-studded team with grand expectations.
Rather than venture into the open market this offseason, Musgrove signed a five-year, $100 million extension with two months left in the 2022 regular season. He is now one of the faces of the team he grew up rooting for — right up there with Machado, Tatis and Bogaerts — while the Padres navigate the most exciting time in franchise history. And he wouldn't have it any other way.
Season prediction: The last four years have represented steady growth for Musgrove. In 2022, he was an All-Star for the first time. In 2023, he'll be in the Cy Young discussion for the first time — as long as he wears sneakers in the weight room. — Gonzalez
---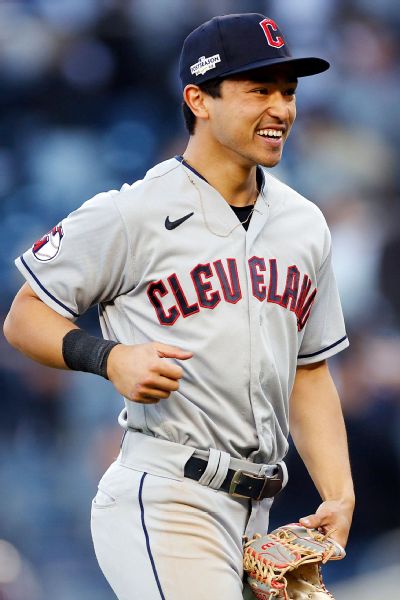 LF | Cleveland Guardians
We've been so indoctrinated by today's power-driven game that sometimes we forget that players like Kwan can not only still exist but excel, too. He hit .298/.373/.400 and won a Gold Glove in left field despite one of the lowest hard-hit rates in the game. His 5.5 bWAR was the best by a Cleveland rookie since Kenny Lofton in 1992. He makes it work because of impeccable strike-zone judgment — he swung and missed just 91 times out of 1,006 swings. Only Luis Arraez had a better contact rate.
The projection systems forecast regression, however, his contact ability, defense, speed and plate discipline give him a high floor of 3 WAR even if the average drops 20 points. But here's betting on .300 in 2023.
Season prediction: Hey, I just said .300! Let's go with .304 with 100 runs scored and another Gold Glove. — Schoenfield
---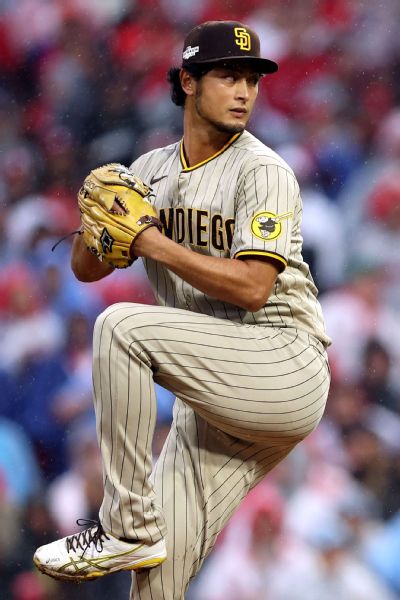 SP | San Diego Padres
The Padres, throwing money around at a neck-breaking pace, signed Darvish to a six-year, $108 million extension, a deal that will amazingly pay him through his age-41 season. "If anybody is able to pitch a little bit later in their career and get this type of an extension, it certainly is him," Padres manager Bob Melvin said.
Over these last two years, Melvin has gained a deep level of respect for the way Darvish works and cares about his craft, a trait that could allow him to overcome the issues that plague pitchers in their late 30s and early 40s. From 2017 to 2022, the 36-year-old ranks ninth in the majors in strikeouts and 17th in innings while posting a 3.66 ERA.
Season prediction: Darvish's expansive repertoire allows him to adjust better than anybody, and last year was no different. He featured the lowest strikeout rate of his career, but also one of his lowest walk rates. His cutter, fastball and slider continue to make up the vast majority of his offerings, but Darvish can constantly change their sequencing and introduce several other pitches that continually keep hitters honest. With such a potent offense behind him, he can be an All-Star for the second time in three years in 2023. — Gonzalez
---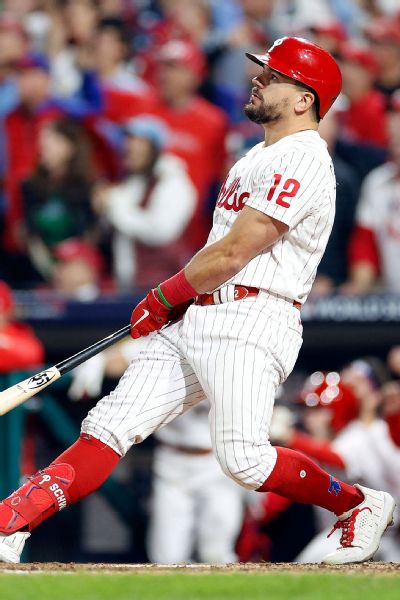 LF | Philadelphia Phillies
Schwarber went from being DFA'd after the 2020 season to hitting 46 home runs last year for Philadelphia. He's played in the postseason for three different teams and just completed his first stint on Team USA in the WBC. That's why he's a top-100 player. But unless he reduces his strikeouts — he had exactly 200 last year — and raises his career .233 batting average, he'll remain in the lower half of these rankings. He has vowed to address the former stat, and the elimination of the shift should address the latter one. As is, Schwarber is a valuable power hitter with playoff experience up-and-down his resume.
Season prediction: The elimination of the shift will indeed raise his batting average — one scout said as high as .270 — but the strikeouts and home run totals will remain the same. — Rogers
---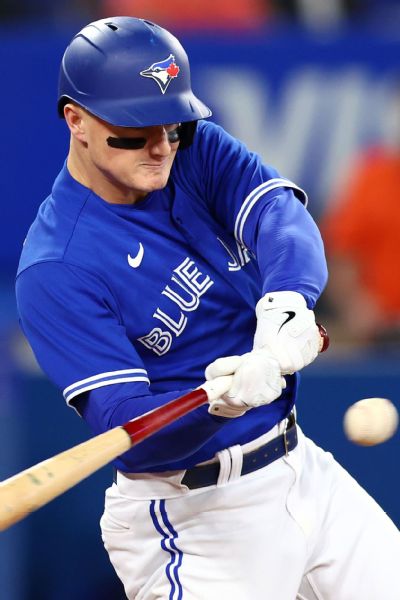 3B | Toronto Blue Jays
Chapman has not replicated his breakout 2018 season, but he maintained his status as one of the game's best defensive third basemen in 2022 while providing power at the plate, hitting 27 homers and slashing .229/.324/.433. He is entering a contract year, and with the free-agent market hitting a new apex this past offseason, he could be poised to receive a major payday if he puts together a strong season — especially if he improves his batting average, which has not been above .232 since the 2019 season. Chapman will be the biggest name on the third base free-agent market with Machado having already signed an extension.
Season prediction: Chapman will continue his reign as one of the game's premier defenders. Many around the Blue Jays believe that 2022 represented Chapman's floor, and that with a major incentive to improve at the plate this season, the third baseman could put together his best year since 2018. — Lee
---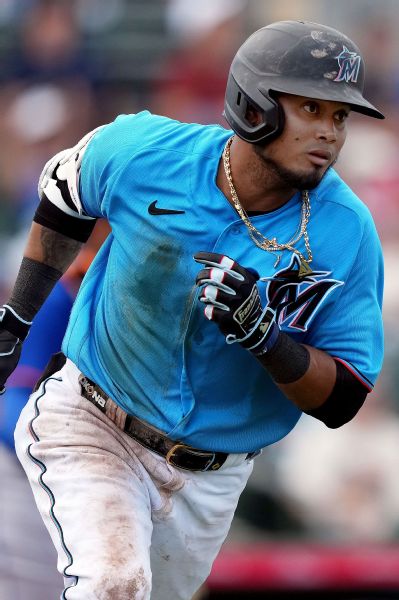 2B | Miami Marlins
Any Marlins fan in attendance at the WBC quarterfinal in Miami might have gotten the wrong idea when Arraez mashed a pair of homers for Venezuela against the U.S. That's not the player they'll see for the most part now that he's joined the Fish. Instead they'll see a hitter with such elite bat control and contact ability that in his Minnesota days, one could compare him to Rod Carew without being scoffed at. Arraez won his first batting title last season, hitting .316 for the Twins in the AL. Miami, in case you're wondering, has had two batting champs: Hanley Ramirez and Dee Strange-Gordon. Arraez will be a strong candidate to join the list as long as he's in Miami.
Season prediction: DJ LeMahieu is the only hitter to win a batting crown in both the AL and the NL. Arraez owns a career average of .314, a number good enough to win the crown in the senior circuit twice in the last five years. Now that he has switched leagues, LeMahieu may have company on this very short list a year from now. — Doolittle
---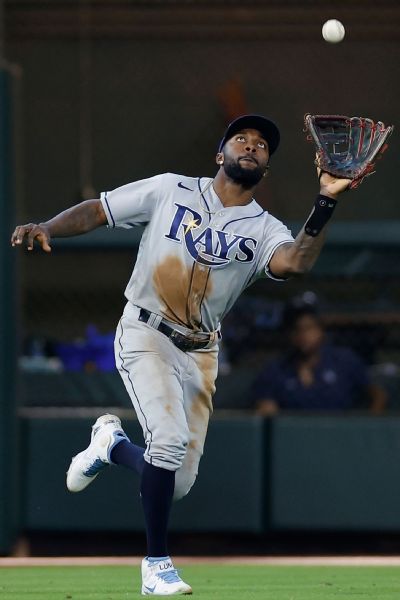 LF | Tampa Bay Rays
First it was the 2020 MLB playoffs, then the 2023 World Baseball Classic. There is something about this guy in big moments. Arozarena will spend the rest of his career in the shadow of his postseason exploits of 2020 when he homered 10 times in 18 games, but he has settled into a solid all-around player who does a little bit of everything, posting seasons of 4.1 bWAR in 2021 and 2.9 in 2022. He had 41 doubles, 20 home runs and 32 steals last season. Yes, that's a bit of statistical spaghetti, but that was just the 25th time that has been done, and the first since Mookie Betts did it in 2018. He cut his strikeout rate 4% last season, and if he can cut it another 4%, he can climb a little higher on this list.
Season prediction: Arozarena is already 28, so you wouldn't really expect improvement at this point. His swing and launch angle are more conducive to doubles than home runs, so I'll stick with 20 home runs. It will be interesting to see if the Rays let him run, as he loves to be aggressive on the bases (sometimes TOO aggressive). Don't rule out 40 steals. — Schoenfield
---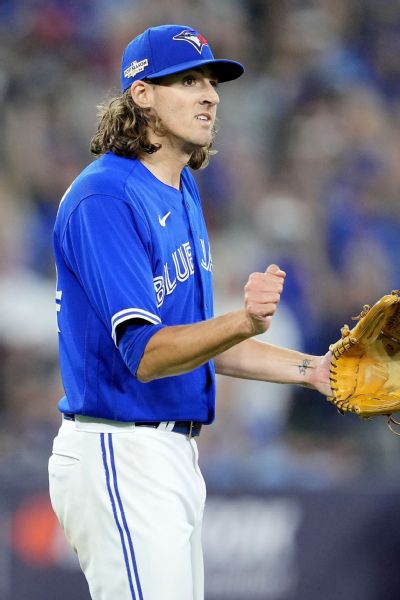 SP | Toronto Blue Jays
Gausman was solid in his first season with the Blue Jays in 2022, but the numbers didn't necessarily pop the way they did with the Giants in the prior season. Look closer, though. Gausman had a 3.35 ERA that ranked 25th in the majors, but a 2.38 FIP that ranked second. Opponents' batting average on balls in play against Gausman was .364, by far the highest for any qualified pitcher (second, interestingly enough, was Gausman's teammate, Jose Berrios). The Blue Jays essentially needed better defense. And they took major steps there by adding Kevin Kiermaier and Daulton Varsho to their outfield.
Season prediction: Backed by a better defense, Gausman will make one of the biggest leaps in the sport, ERA-wise, and re-establish himself as a top-flight pitcher for a team that will contend for a division title. — Gonzalez
---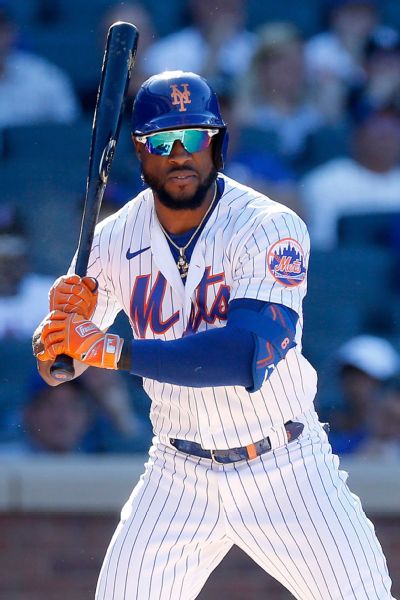 RF | New York Mets
If Marte could put together an injury-free season, he might be higher on this list. Nagging injuries have kept him from his full potential the last couple of seasons, though he continues to produce .800-plus OPS seasons through them. After having offseason surgery on his groin, it remains to be seen if he'll be fully healthy come Opening Day. Even this spring, he had a scare after getting hit in the helmet by a pitch. Marte still has three years remaining on his deal with the Mets, who could use a big season out of him considering injuries they've incurred elsewhere on the roster. Marte dropped from 47 stolen bases in 2021 to 18 last season. Will that number increase again if he's healthy for a full season?
Season prediction: Marte will steal 30 bases again, providing at least a 20/20 season for the Mets — if he's healthy. — Rogers
---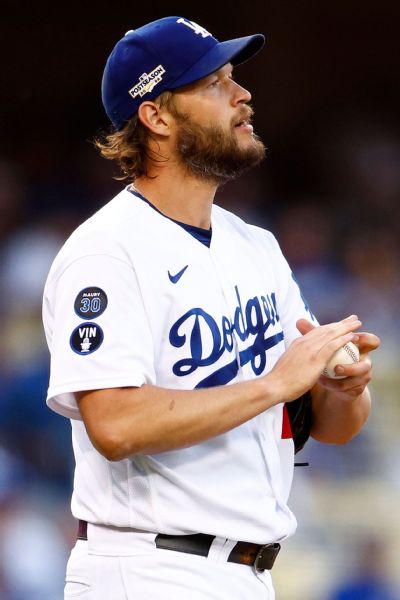 SP | Los Angeles Dodgers
The fastball velocity erodes, the back continues to be a problem, and yet Kershaw is still pitching at a Hall of Fame level. Take just these last two years, when the proverbial thought was that he had fallen off. There were 105 pitchers who made at least 40 starts from 2021 to 2022. Only 13 had a lower ERA, only three had a lower WHIP and only two had a higher strikeout-to-walk ratio. When he's on the mound, few are better than Kershaw. He's 35 now, and there's no reason why that still wouldn't be the case. The only question is how much longer he wants to do this.
Season prediction: Kershaw has basically settled into who he is at this point. He'll be susceptible to home runs and perhaps spend a stint or two on the IL, but he'll pound the strike zone, prevent runs and, when he's out there, continue to perform at an elite level, even if the radar gun indicates that he shouldn't. — Gonzalez
---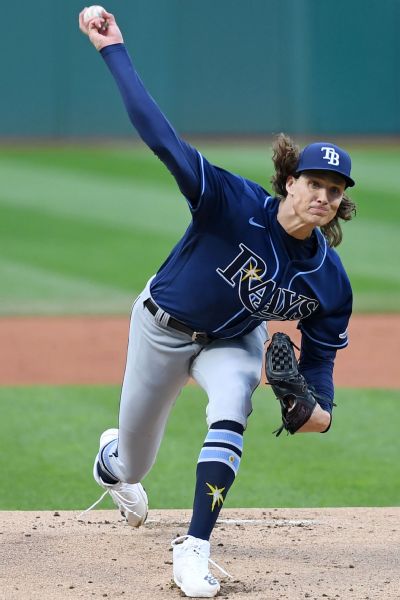 SP | Tampa Bay Rays
There's an argument to be made that Glasnow's torn UCL was the difference between the Rays making a run to the World Series in 2021 versus exiting in the first round after a 100-win season. A healthy Glasnow still holds that potential. The 29-year-old righty returned in 2022 after recovering from Tommy John surgery and started Game 2 of the wild-card series between the Rays and the Guardians, allowing two hits and no runs in five innings while striking out five. If Glasnow stays healthy, he's a critical part of Tampa's success, but he's started more than 20 games just once in his career.
Season prediction: It's undeniable that Glasnow is one of the best pitchers in the game when he's on the mound, but how much he's on the mound is the actual question. He's already missing the start of the 2023 season with a strained oblique, and his career numbers suggest that making more than 20 starts is an anomaly rather than a trend. But if he stays healthy, watch out for the Rays. — Lee
---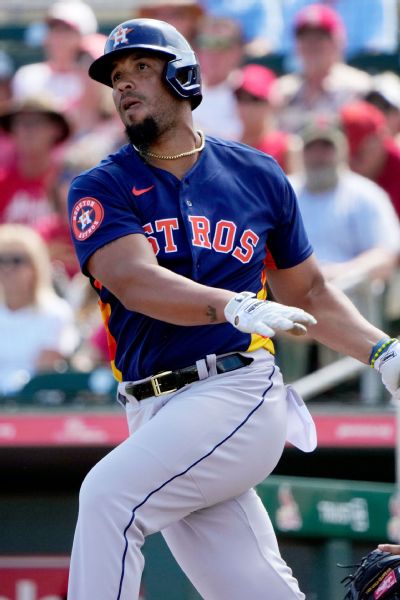 1B | Houston Astros
If all you knew about Abreu was that he was two years removed from an MVP award and just signed a three-year free agent contract, you'd think the champion Astros just snagged themselves an in-his-prime superstar. That might not be precisely the case, but even at 36, Abreu remains a premier run producer who will likely slot right into the cleanup slot in Houston.
His RBI count dropped to 75 last season, and it wasn't just a function of diminished opportunity, as his RBI percentage fell from 42% to 31%. His homers fell from 30 to 15 and isolated power fell from .219 to a career low .141. Still, Abreu hit .304, and his exit velocities and barrel rates remained largely unchanged. Clearly, the Astros noticed.
Season prediction: Abreu is a hard worker, remarkably consistent, a leading clubhouse voice and enters the coming season on a quest for his first World Series ring. You can pretty much count on another 100-RBI season even if his power doesn't rebound all the way back to pre-2022 levels. — Doolittle
---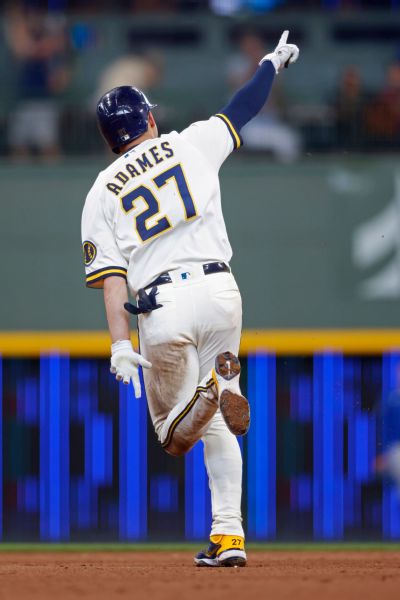 SS | Milwaukee Brewers
Adames continued his ascent as one of the game's best shortstops in his first full season with the Brewers, hitting 31 homers with a .238/.298/.458 batting line in 139 games. Adames has been especially lethal in high-leverage situations, hitting .306/.333/.514 in 120 plate appearances in 2022. Additionally, the shortstop has been strong with runners in scoring position with two outs, hitting .302/.429/.603 in 77 plate appearances in 2022. And that's before you factor in his glove. Adames has one of the best arms for a shortstop in baseball and ranks among the best NL shortstops in outs above average and runs prevented.
Season prediction: The biggest variable is the batting average. Expect Adames to hit for power, but if he's also able to add hitting for a higher average to his repertoire, he will be flying up these charts, especially considering his defensive prowess. — Lee
---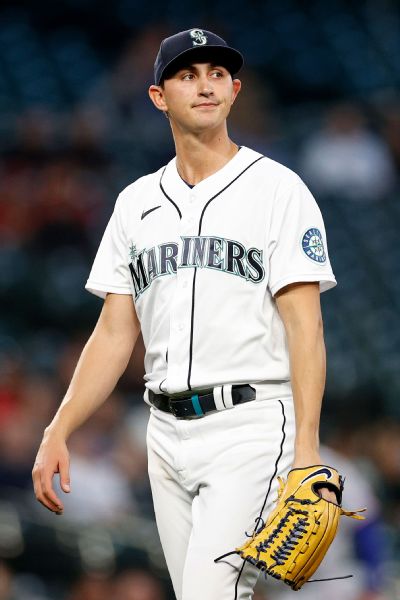 SP | Seattle Mariners
After a strong rookie season in which he went 8-5 with a 3.39 ERA in 25 starts, Kirby is a popular breakout candidate for 2023 — especially after posting a 3.02 ERA in a second half in which he allowed just one home run. With excellent control (just 22 walks), a 95-mph fastball that he can dial up to the upper 90s and a six-pitch repertoire (he threw each at least 8% of the time), it's easy to see why many expect a big season.
He needs to get better against right-handers after they hit .324 against him, and he's working on a new splitter since six pitches apparently aren't enough. Improving the slider to give him a better swing-and-miss pitch against right-handed batters will be vital in order for him to make a leap.
Season prediction: If the new splitter and the new slider that he started late last season prove effective, Kirby is a great sleeper Cy Young pick. I won't go that far yet, but look for 15 wins and an ERA around 3.00. — Schoenfield
---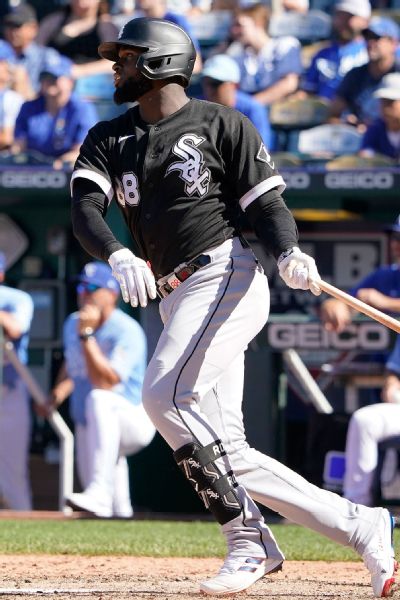 CF | Chicago White Sox
Perhaps the most talented player to be this low on the top 100, Robert simply has yet to put it all together in the big leagues. Injuries have stopped him in his tracks — he's played the equivalent of one season over the last two. He just hasn't been impactful in any meaningful way, but few can deny his talent. On paper, Robert is a five-tool player but nagging ailments have limited his ability to hit or run. For now, he's a top-100 talent, but that may be all he'll be unless he can stay healthy.
Season prediction: Robert made it through the WBC without injury, so that's a good sign. A 30-30 season isn't out of the question if he stays on the field. — Rogers
---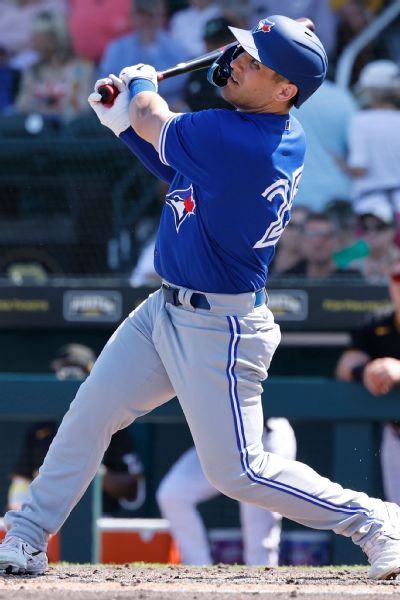 OF | Toronto Blue Jays
Varsho's days behind the plate are probably over. He's just too good of an outfielder. He contributed a major league-best 18 outs above average last year for the D-backs, who dealt him to the Blue Jays because they simply had too many young, promising, left-handed-hitting outfielders. The 26-year-old also contributed some with the bat, adding 27 home runs and 16 stolen bases to finish with a 4.6 fWAR. The Blue Jays, though, need him mostly to cover ground in their outfield. They're hoping the steps they took on the run-prevention side — adding Varsho, Kevin Kiermaier, Chris Bassitt and Erik Swanson — will be enough to take the AL East.
Season prediction: Varsho will once again be basically a league-average hitter, but he'll steal at least 20 bases, play Gold Glove-caliber defense and be worth somewhere in the neighborhood of 5.0 WAR. The Blue Jays will gladly take it. — Gonzalez
---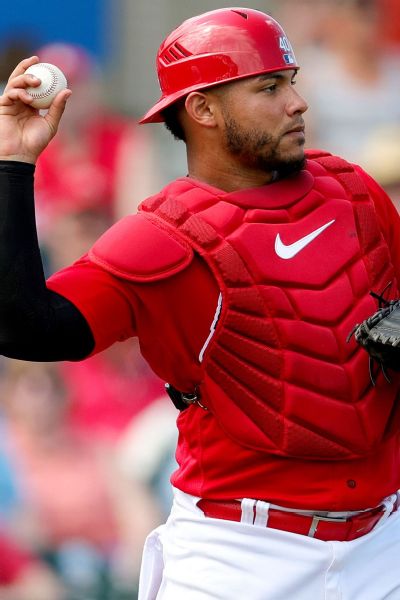 C | St. Louis Cardinals
The project of Contreras stepping into the proverbial shoes of retired Redbirds legend Yadier Molina has many levels. He's replacing the best catcher in franchise history. He's replacing a nine-time Gold Glover. He's replacing one of St. Louis' most beloved athletes and the leader of the clubhouse. And, in Contreras' new partnership with Adam Wainwright, he's taking Molina's place in baseball's most prolific battery. On top of all that, Contreras has to live up to a five-year, $87.5 million contract in an intense baseball city. It's a lot. But if any player has the make-up to fill all of those shoes, it's the hyper-competitive Contreras. It won't take long for Cardinals fans to realize they now have their best everyday offensive catcher since Ted Simmons.
Season prediction: From a numbers standpoint, it is all but certain that Contreras will be a sizable offensive upgrade from Molina because of his combination of power and patience. But initially, the focus will be on Contreras' defense and ability to work with the St. Louis pitching staff. Don't expect him to fail. — Doolittle
---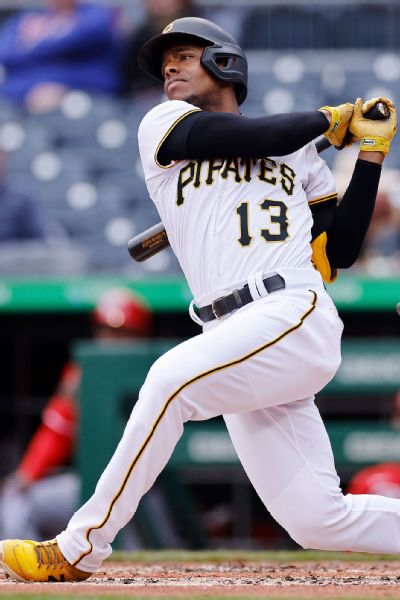 3B | Pittsburgh Pirates
Hayes represents the hope that Pirates fans have for the future of the ballclub. The 26-year-old third baseman put together a strong season in 2022, posting a 4.3 bWAR while hitting .244/.314/.345 with seven homers and 20 stolen bases in 136 games. He added muscle to his frame this offseason in hopes of improving his power numbers. While Hayes certainly has room for improvement offensively, he's already among the league's best defensively at the hot corner, routinely making highlight reel plays.
Season prediction: Hayes takes a big step forward, developing his power stroke while continuing to improve the strides he's made as a base stealer in the major leagues. He represents a potential franchise cornerstone if he can keep improving in the manner he has over the last few seasons. This could be the year he goes from one of the game's most overlooked players to a top-tier star. — Lee
---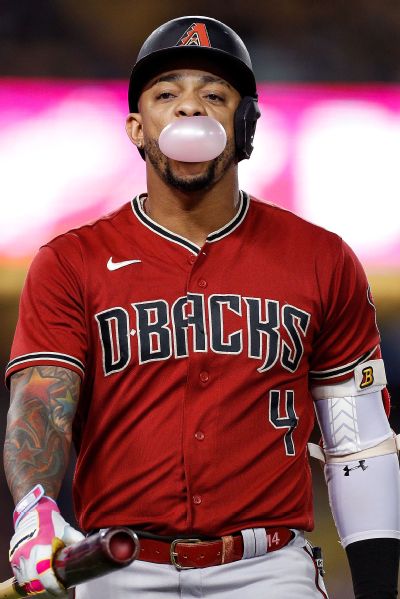 2B | Arizona Diamondbacks
One more season like 2022 and Marte will find himself outside the top 100. His OBP dipped to .321 last year (his lowest since 2016), he struck out over 100 times for the first time in his career and his defense declined. A hamstring injury may have contributed to his struggles, but he was scuffling before he got hurt. The Diamondbacks are counting on Marte to lead their team to postseason contention, and while some of his underlying numbers are worrisome, he remains a candidate for a rebound season.
Season prediction: Marte improves on some of his offensive numbers but remains a high strikeout player. He'll whiff over 100 times for the second consecutive season and second time in his career. — Rogers
---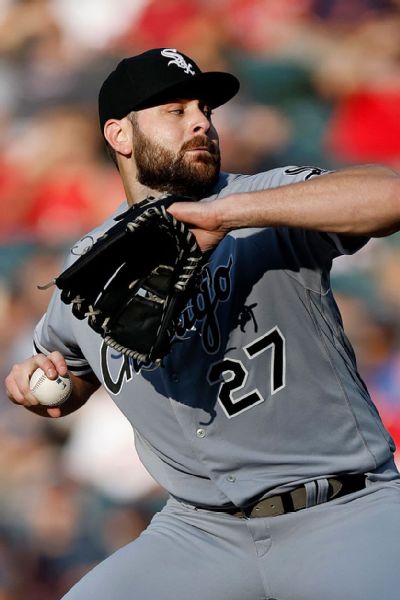 After getting down-ballot Cy Young votes each season from 2019 to 2021, Giolito thought it was a good idea to add more mass. The 6-foot-6 right-hander weighed a hulking 280 pounds in 2022, but it didn't lead to better results as he went 11-9 with a 4.90 ERA. He's back to his old weight, dropping 35 pounds, but it was a decline in fastball velocity that was perhaps what hurt him most last year. His four-seamer averaged 94.2 mph in 2019, but it has steadily dropped since then and was down to 92.6 in 2022. In 2019, batters hit .203 and slugged .364 against it; in 2022, they hit .283 and slugged .449. He's going to have to regain some fastball mojo to stay in the top 100.
Season prediction: That fastball velocity is trending in the wrong direction. He wasn't as bad as that 4.90 ERA indicates, and he should be better in 2023, but I wouldn't put him at the top of my Cy Young contenders. — Schoenfield
---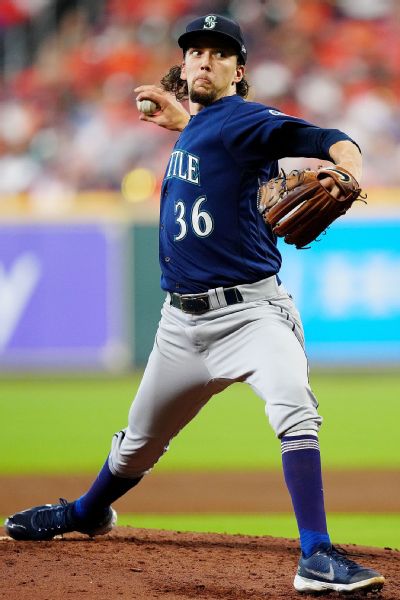 SP | Seattle Mariners
Gilbert made some encouraging strides in his second season as a major league starting pitcher, lowering his ERA from 4.68 to 3.20 and accumulating 185⅔ innings. But his exit data — 91 mph average exit velocity, 45.6% hard-hit rate — offered up some troubling signs. Gilbert rose through the ranks largely off his fastball command; however, it's the development of his slider that is going to elevate him. A curveball with more depth has been incorporated to offer another variation from the two pitches.
Season prediction: Expect another step forward for Gilbert in his age-26 season, but also some ups and downs. His exit data has been consistently subpar the last two years, with hitters slugging both his fastball and his slider. Those offerings need to improve. — Gonzalez
---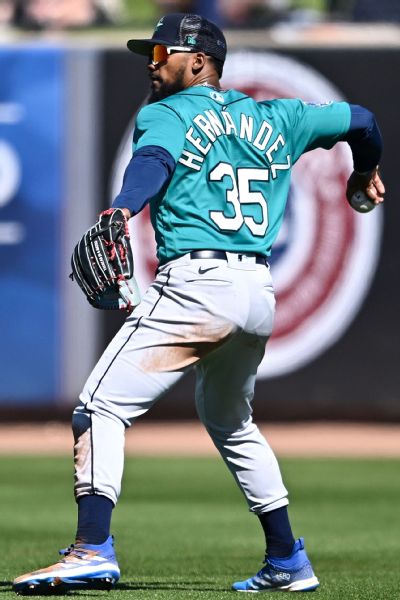 RF | Seattle Mariners
Calling an established big league player "toolsy" can almost be looked at as a pejorative, but the label works for Hernandez because he's paired his strengths in tools with enough skill to build up a solid track record of production. He ranks in the top five percentile in exit velocity and hard-hit percentage, per StatCast, and also ranks high in barrel rate, sprint speed and arm strength. There are holes in his game, to be sure. He chases too much and has a high swing-and-miss rate. His metrics as a defender lag behind his tools. But over the last five seasons, he's averaged 34 homers, 97 RBIs and 89 runs per 162 games with a 121 OPS+. After moving from Toronto to Seattle via trade over the winter, he'll now try to help the Mariners get over the hump in their pursuit of their first AL pennant.
Season prediction: There will be a lot on Hernandez's shoulders in 2022. Not only will he be hitting cleanup for a new team, the coming season will be the platform campaign before his first foray into free agency. He's already 30, which is not a great age for a first-time free agent, so he, and the Mariners, have a lot riding on a big season. A forecast: He'll get it. — Doolittle
---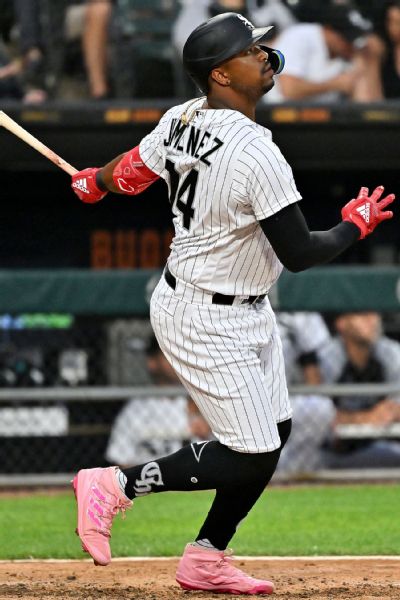 OF/DH | Chicago White Sox
The former top prospect came into spring training on a mission, after having lost 25 to 30 pounds this offseason. Jimenez changed his diet, giving up red meat while eating more chicken and salmon in an effort to replicate the body that helped him emerge as one of the game's most promising young players in the minor leagues. The White Sox outfielder is still just 26 years old, although he has yet to show the superstar production many expected out of him as one of the game's best young prospects, struggling with injuries in 2021 and 2022. When he was on the field in 2022, Jimenez looked solid, hitting .295/.358/.500 with 16 homers in 84 games.
Season prediction: Jimenez takes a step forward after an offseason of hard work. Health will be the biggest x-factor, but his success is one of the focal points of Chicago's progress in 2023, with a clubhouse of young players struggling to fulfill their true potential. — Lee
'Holy s—, this is really going to suck to do this': Inside the CFP committee's most controversial decision
GRAPEVINE, Texas — It was between 1:30 and 2 a.m. CT on Sunday after the conference championship games when the 13 members of the College Football Playoff selection committee finally left their meeting room. They had been sequestered for hours as they determined the top four teams in the country.
They knew what they could potentially wind up with — and it didn't feel good.
As difficult as it was for them to remove their emotions from the process, the sinking feeling about excluding an undefeated Power 5 conference champion was tempered by the belief that they did what they were tasked to do — vote for the four best teams.
"All of us had the emotional tie, like, 'Holy s—, this is really going to suck to do this,'" one committee member told ESPN. "We talked about that over and over, and we just kept coming back [to] are they good enough with what they have to win a national championship, and it just kept coming back [to] we didn't think they could."
There wasn't any discussion about the SEC being left out because the committee maintains that it talks about teams, not conferences. There wasn't any serious consideration to include Alabama without Texas because there was so much respect in the room for the Longhorns' Week 2 win in Tuscaloosa. There also wasn't enough support in the room to deem Georgia "unequivocally" one of the four best teams in the country — the standard for teams that don't win their conference title.
Instead, the crux of the debate into the wee hours of Sunday morning centered on how to evaluate Florida State, which beat Louisville with its third-string quarterback after both Jordan Travis and his backup, Tate Rodemaker, were sidelined by injuries. While the Seminoles' defense impressed the committee — and had all year — there were significant concerns about FSU's offense.
Undefeated Michigan had won the Big Ten. Undefeated Washington won the Pac-12. Alabama knocked off the selection committee's No. 1 team, Georgia, to win the SEC, and one-loss Texas, which easily won the Big 12, had knocked off the SEC champion in September.
And now Florida State had found a way to win — again.
It was the final layer of complication in what was already the most difficult, controversial decision any CFP committee has had to make in a decade of the four-team playoff. Never before has an undefeated Power 5 conference champion been excluded from the CFP — but never before have seven Power 5 teams finished the regular season with one or fewer losses. "We've never had a year with eight teams at the top as good as these are, and the five conference champions 1 through 5, we've never had it come out that way," CFP executive director Bill Hancock said. "My feeling is it probably was the toughest."
---
FOR 2½ DAYS on conference championship game weekend, the CFP's selection committee hid in plain sight.
While families clad in Christmas-themed clothes infiltrated the sprawling Gaylord Texan resort for its annual ice sculpture exhibit, the most powerful people in college football went nearly unnoticed, save for one cardboard sign bearing the CFP logo that some fans paused to look at as they exited the elevator and headed to their rooms.
"Is Bama in?!" one man asked a security guard sitting on a stool outside the meeting rooms Saturday night after the Tide's SEC championship win against No. 1 Georgia.
The guard just shrugged.
As it turned out, one-loss Bama was in — at the expense of undefeated ACC champion Florida State. It was an unprecedented decision that sparked outrage throughout the sport. FSU coach Mike Norvell said he was "disgusted and infuriated." ACC commissioner Jim Phillips said, "It's unfathomable." Travis, the Seminoles' injured quarterback, said he wished he had broken his leg earlier in the season so the committee could have seen that the team was still great without him.
The committee is steadfast in its belief it got the decision right.
"At the end of the day, everybody had the same goal in mind — do we have the four best teams?" a committee member said. "And we all felt pretty good that we do."
It wasn't until the ACC championship game began to unfold, though, that the members' opinions began to truly take shape. The group grew concerned as it watched the Noles struggle to get a first down in the first half. There is a section in the committee's protocol that specifically refers to the "unavailability of key players … that may have affected a team's performance during the season or likely will affect its postseason performance." That allowed the committee to do something it intentionally avoids every other week: look ahead.
"People really wanted to talk about it," a committee member said. "We don't really have that conversation while we're watching games. But we've got to talk about the elephant in the room. What just happened? We talked about 13-0. We talked about the teams they beat. And they were a conference champ. All of that. It took a while."
Hancock rarely, if ever, shares voting results with the people in the room, though sometimes he'll mention if they were close or not. The votes are cast privately on each committee member's laptop. The committee members simply hover their mouse over a team and click to vote. If a committee member is recused from voting for a certain team, it's shaded in gray on his or her laptop, making it impossible to click on.
They vote on the teams in small batches and continue through the process of voting and debating in groups until the entire list of 25 is compiled. So it's not as if they begin talking about Texas and Alabama and vote around them to make it fit.
"People may not believe it, but we don't say, 'Oh gosh, if we vote this way, the SEC is going to be left out," one source said. "That never came up. Ever. We literally look at teams, put them up against each other, and say, 'Who did they beat? Who did they not beat? Who have they beaten on the road? What's their strength of schedule?' Look at the matrix and all the data."
The only time the committee members know the vote is when it's a tie, because they have to vote again. There was a sense within the room Saturday night, though, that the more they voted, the closer the group came to agreeing that Florida State should be No. 5.
Boo Corrigan, the chair of the committee and the athletic director at NC State, said the group voted six to eight times on the top four, and there was "never a moment of rushing it." One source said the conversations were "tense" at times. Another said it "never got heated, never got ugly," but it was "way more complicated and way more agonizing than some people may think."
The committee met again at 8:30 a.m. CT on Sunday morning and began discussions and voting again.
Because the selection committee is composed of people from different backgrounds — former coaches, players, sitting athletic directors and a former sports reporter — there are different perspectives in the room.
Kentucky athletic director Mitch Barnhart is one of them, and he had the unique experience of having seen Alabama, Georgia and Louisville, FSU's title game opponent, in-person because his Wildcats faced them, too. He was given opportunities to share his thoughts on each of those teams with the group. Corrigan said the coaches had conversations about: "Who do they want to play? Who do they not want to play?"
"They've got a significant voice in the room," he said.
In the end, though, the difference between Alabama and Florida State boiled down to the committee's written protocol, particularly the emphasis on strength of schedule — which gave Alabama the edge — and the section that allowed committee members to project what Florida State might look like in a semifinal without their star quarterback.
Not having Heisman hopeful starter Travis "changes their offense in its entirety," Corrigan said, "and that was really a big factor with the committee as we went through everything."
So was the Longhorns' double-digit win at Alabama in Week 2. The committee had been consistent in honoring the head-to-head result all season and felt it was important to be consistent with that on Selection Day — even though they believed Alabama had improved since that September loss.
"That's something you just can't ignore," one person said. "At the end of the day, they scheduled them, they played them at their house, they won and they beat them — and that was big."
It wasn't just the committee's decision to exclude Florida State that drew criticism Sunday afternoon.
The group rewarded undefeated No. 23 Liberty with a New Year's Six bowl bid instead of two-loss No. 24 SMU, which beat a ranked team in its AAC title game. In addition to voting multiple times at the top of the ranking, the committee also voted repeatedly at the bottom, which pushed the morning meeting to its cutoff time of 11 a.m. CT. The results kept flipping between Liberty and SMU, but ultimately, the group deemed Liberty better.
American Athletic Conference commissioner Mike Aresco was fuming.
"For a decade, that committee used an unfair strength of schedule argument against our great undefeated UCF, Cincinnati and Houston teams, which played genuinely tough schedules with P5 opponents," he told ESPN, "and then they apply a clear double standard to this situation."
One former selection committee member was stunned and said the inconsistencies in this year's ranking were "glaring."
"This may need a complete reset before next year," the former committee member said. "If Liberty is a Group of 5 playoff team over others, that's a problem. No Power 5 opponents on the schedule, and the record of teams they've beaten is weak."
---
NOT SINCE 2014, the inaugural season of the CFP, has the committee generated anything close to this much controversy. That year, the committee dropped TCU from No. 3 to No. 6 in the final rankings in large part because the Big 12 at the time didn't have a conference championship game.
Now, in the final season of a four-team system, an entirely different group of 13 committee members snubbed an undefeated team that won its conference title. The backlash, according to multiple sources, has been significant, including some from colleagues, friends and peers, in addition to vitriol from Florida State fans.
This would have been the perfect season for the new 12-team playoff format to begin. Next year, the CFP will include the five highest-ranked conference champions and the next seven highest-ranked teams, assuming the proposed new format is rubber-stamped by the presidents and chancellors at their annual meeting before the national championship game in Houston. That guarantees a spot for each power-conference champ and a Group of 5 conference champion. As excited as fans might be for the more inclusive system, Hancock warned that it won't solve the problem of a talented team being left out.
"People look for perfection, and there will be some teams that don't quite make it in 12 who are going to be asking some serious questions," said Hancock, who will retire after this season. "I laugh because the easy answer is to say, 'Yeah, I wish we had 12.' But that's not going to be the panacea that some of us might think it might be. It's going to be great, don't get me wrong, but it won't be perfect."
Daniels, Harrison, Nix, Penix to vie for Heisman
LSU's Jayden Daniels, Oregon's Bo Nix and Washington's Michael Penix Jr., transfer quarterbacks who have all played at least five college seasons, and Ohio State receiver Marvin Harrison Jr. were announced as the Heisman Trophy finalists on Monday night.
The Heisman has been given to the nation's most outstanding college football player since 1935. This year's winner will be announced Saturday in New York (8 p.m., ESPN). The top four vote-getters determined by more than 870 voters, which include members of the media and former Heisman winners, are selected as finalists.
With Nix and Penix, the Pac-12 has two Heisman finalists for the first time since 2010, when Stanford's Andrew Luck was the runner-up to Auburn's Cam Newton and Oregon running back LaMichael James finished third in the voting.
The Pac-12 is in its final season with its current membership before 10 schools depart, including Oregon and Washington to the Big Ten.
Daniels is trying to become the third LSU player to the win the Heisman and first since Joe Burrow in 2019 — another transfer quarterback in his second season in Baton Rouge, Louisiana. Daniels had one of the most prolific seasons in SEC history for the 13th-ranked Tigers (9-3), his second at LSU and fifth overall after starting his career at Arizona State, passing for 3,812 yards and 40 touchdowns and running for 1,134 yards and 10 TDs.
While Daniels went from the Pac-12 to the SEC and found stardom, Nix went the opposite way. After three years at Auburn, the former five-star recruit transferred to Oregon in 2022 and became one of the best players in the country, leading the eighth-ranked Ducks (11-2) to the Pac-12 title game.
Nix has completed 77.2% of his passes, which is slightly behind the major college football record, and has thrown for 4,145 yards and 40 TDs.
Buckeyes standout Harrison has 67 catches for 1,211 yards and 15 touchdowns, and his trip to New York gives No. 7 Ohio State (11-1) Heisman finalists in five of the past six seasons. His overall numbers lag behind those of some of the other star receivers around the country, but he was the most consistent threat for a Buckeyes offense that was breaking in a new starting quarterback and dealt with injuries to its supporting cast all season.
Penix is in his sixth college season after four injury-filled years at Indiana. He transferred to Washington in 2022 to play for coach Kalen DeBoer, his former offensive coordinator at Indiana, and has guided the second-ranked Huskies to 23 victories, a Pac-12 title and their second College Football Playoff appearance with 4,218 yards and 33 touchdowns this year.
The Huskies play Texas in the CFP semifinal, with the winner playing either Michigan or Alabama in the final.
Live college football transfer portal updates: Latest news on who's in and out

College football's 30-day winter transfer portal window is officially open, as players have until Jan. 2, 2024, to enter the portal for their one-time transfers. It doesn't mean they have to find their new schools by then — or that they can't return to their previous schools — but they have 30 days to decide whether they want to be in the portal.
More than 2,100 NCAA football players entered the portal in last December's transfer window — the most of any month since the transfer portal was created in fall 2018.
This year, we've already seen several players announce their intentions to enter the portal, some of whom were eligible to enter early because their head coach was fired (or left the program) or because they already have undergraduate degrees. A few of the quarterbacks who already are in the portal include Ohio State's Kyle McCord, Washington State's Cam Ward, Duke's Riley Leonard, Oregon State's DJ Uiagalelei and UCLA's Dante Moore.
Who's next to enter the portal? We're tracking notable players entering (and exiting) the portal, with the latest news and updates on how the 2024 season could be transformed:

coverage:
Ranking best players in portal
Top available transfer QBs

Latest transfer portal entries

Portal entrants from before the window officially opened
Christian-Lichtenhan is a 6-foot-10, 315-pound junior, originally from Davis, California. He redshirted in his freshman season at Colorado in 2020, but played in five games along the offensive line during the 2021 season. He started in eight games in 2022, and was the starting left tackle this season for coach Deion Sanders. He is departing from an offensive line that struggled mightily in pass protection during 2023.
---
Ward transferred into the WSU program from Incarnate Word prior to the 2022 season, where he was a second team FCS All-American player and the Southland Conference offensive player of the year. He went 10-3 in 2021 with Incarnate Word and threw for 4,648 yards, 47 touchdowns and 10 interceptions.
He continued that success in 2022 at Washington State and was an All-Pac-12 Conference honorable mention player. He started all 13 games and threw for 3,231 yards and 23 touchdowns.
---
After starting his career at Notre Dame, Pyne transferred to Arizona State last season. But because of injuries, he was sidelined for the most of 2023, only appearing in two games in September. In those two appearances, he threw two touchdowns and three interceptions. Pyne expects to have three seasons of eligibility left once he graduates with his degree.
---
The South Alabama wide receiver had over 1,300 receiving yards for the Jaguars this season to pair with seven touchdowns. He's in the portal as a graduate transfer.
---
Moore was the No. 2 prospect overall in the 2023 class out of Detroit, Michigan. He originally committed to Oregon out of high school, but flipped to UCLA and signed with the Bruins. Moore appeared in nine games this season as a true freshman and threw for 1,610 yards, 11 touchdowns and nine interceptions. Prior to his commitment, he showed interest in Michigan State, Texas A&M, LSU, Miami and Michigan among others.
---
The former Clemson QB, who was one of the big names in the portal last season is planning to leave the Beavers. In his lone season in Corvalis, DJU was improved in almost every category compared this previous two seasons starting at Clemson. In 2023, Uiagalelei threw for 2,638 yards and accounted for 27 total touchdowns.
---
Morris, a sophomore, began the season as NC State's backup with plans to be a backup and redshirt. He ended up starting four games before opting to sit out the rest of the season to preserve his redshirt. Morris played last season as a true freshman after Devin Leary went out for the season with an injury. Morris has thrown for 1,367 yards with 14 touchdowns and six interceptions, completing 57.8 percent of his passes during his career at NC State.
Clark was a starter on the defensive line for the Wolfpack. He had 22 tackles in 2023.
---
Collins, a junior, will be immediately eligible for his final year. He has caught 91 passes for 1,290 yards and 11 touchdowns over three seasons.
---
Leonard, a junior, started all 13 games for the Blue Devils during the 2022 season and threw for 2,967 yards, 20 touchdowns and six interceptions. He also had 699 rushing yards and 13 rushing touchdowns and was an All-ACC honorable mention selection for his performance. He played in seven games this season, missing games because of a toe injury suffered against Louisville, and finished the season with 1,102 yards passing, three touchdowns and three interceptions. He added on four rushing touchdowns and 352 yards on the ground.
---
Coastal Carolina starting quarterback Grayson McCall entered his name in the transfer portal as a grad transfer on Wednesday. McCall dealt with an injury this season that allowed him to play in just seven games where he threw for 1,919 yards, 10 touchdowns and six interceptions under new coach Tim Beck. McCall threw for 2,700 yards, 24 touchdowns and two interceptions in 11 games during the 2022 season. He has 10,005 career passing yards and 88 career touchdowns.
---
Peebles, a graduate transfer, played 411 snaps this season, racking up four sacks, 40 total tackles and a forced fumble. He had 3.5 sacks over the 2021 and 2022 seasons.
---
Bedford, who started 10 games this season and played both right guard and right tackle, is the 17th Hoosiers player to enter the portal since Nov. 27, according to ESPN's Tom VanHaaren. That includes four of their starting offensive linemen. Bedford allowed just one sack in 2023.
---
The Owls' sophomore quarterback is moving on after starting two years for Temple. He was AAC rookie of the year in 2022. In his career, he has thrown for 6,104 yards with 41 touchdowns and 24 interceptions.
---
Cincinnati defender Deshawn Pace announced that he will enter the transfer portal. He plays the STAR position for the Bearcats, a safety and linebacker combination, and led the team in total tackles in 2023 with 80 tackles. Pace also led the team in tackles for loss with 11 and had five pass breakups on the season.
---
Rudolph, who had 46 catches for 499 yards and two touchdowns this season, intends to enter the transfer portal, a source told ESPN's Pete Thamel. Rudolph caught 51 passes for 892 yards and seven scores in 2021.
---
Kaliakmanis had 1,838 passing yards with 14 touchdowns and nine interceptions, while completing 53.1% of his attempts for Minnesota, which finished 5-7. He added two rushing touchdowns. He took over as Minnesota's top quarterback after starting five games as a freshman in 2022, going 3-2 with 946 passing yards and three touchdowns. He has two seasons of eligibility left.
---
After replacing Sam Hartman, who transferred to Notre Dame last year, Griffis struggled this season. He went 124-for-207 for 1,553 yards with nine touchdowns and seven interceptions as Wake Forest finished 4-8. Wake Forest backup QB Santino Marucci also announced he would be transferring.
---
A sophomore from Minnesota, Burks has decided to leave Purdue. With 47 catches for 629 yards and seven scores, Burks was the Boilermakers' leading receiver in 2023. Burks was a three-star recruit in the Class of 2021.
THANK YOU PURDUE
FOREVER A BOILERMAKER 🖤 pic.twitter.com/6JErgcHWop

— 𝐃𝐞𝐢𝐨𝐧 𝐁𝐮𝐫𝐤𝐬 (@deionkburks) November 28, 2023
---
After an up-and-down career with the Hurricanes, Van Dyke entered the transfer portal, saying, "I am looking forward to the next chapter and what my future holds." A fourth-year junior, had been the starter since the 2021 season. He threw for 2,931 yards, 25 touchdowns and six interceptions in 10 games in 2021. His performance that season earned him ACC Rookie of the Year and ACC Offensive Rookie of the Year honors. Injuries and inconsistency hampered his next two seasons as Van Dyke threw 17 interceptions over the last two seasons and has played for three different offensive coordinators.
Chaney, a sophomore, had 478 yards rushing this season and two touchdowns. He was, at certain times, the Canes' feature back, and he had double-digit carries in three games and 106 yards against Georgia Tech and 85 yards against Florida State.
---
Correll, who started 10 games for the Irish this season, enters the portal as a graduate transfer and will have one year of eligibility remaining. Correll was a veteran presence on the Notre Dame line but missed the final two games of the season with a concussion. He was a four-star prospect, ranked No. 148 in the 2019 ESPN 300.
Osafo-Mensah started one game this season before finding a reserve role on the Irish defense. In five seasons in South Bend, he had 47 tackles and five sacks.
---
A sophomore receiver, McAlister had a big season for the Broncos in 2023. He had 47 catches for 873 yards and five scores. He averaged 18.6 yards-per-catch in 2023.
---
Brown, a sophomore who saw limited action in 2023, has decided to leave USC. He had only three catches on the year. He was a highly ranked recruit in USC's 2022 recruiting class. Ranked No. 64 overall, Brown was the highest-ranked offensive recruit in the class.
---
Part of an exodus of Hoosiers players after the firing of coach Tom Allen, Indiana has four of five starting offensive linemen entering the portal. Benson and Carpenter will be graduate transfers, while Smith and Bedford have multiple years of eligibility left.
---
Howard, who led Kansas State to a Big 12 title in 2022, has decided to move on as a graduate transfer. Howard led Kansas State with 2,643 passing yards and 24 touchdowns with eight interceptions, completing 61.3% of his passes. After sharing time with Adrian Martinez to begin the 2022 season, he emerged as the Wildcats' top quarterback for their run to a conference title. Howard, who will have one year of eligibility left, has 5,786 career passing yards with 48 touchdowns — a team record — and 25 interceptions, as well as 934 career rushing yards and 19 touchdowns.
Ward will move on as a graduate transfer after four seasons at Florida State before playing for the Wildcats in 2023. He has had more than 500 yards rushing in a season the past three seasons and 17 career touchdowns.
---
After starting 23 games over three seasons in Waco, Shapen has decided to transfer. As a true junior this season, he will have at least one season of eligibility remaining. He had 2,188 yards passing with 13 touchdowns in 2023. Shapen is a former four-star recruit from the Class of 2020.
---
Will Rogers, who has thrown for 94 career touchdowns, is leaving Starkville after the Mississippi State coaching change. Rogers played in every game in the 2021 and 2022 seasons before injuries limited his 2023 season. In eight games this season, Rogers threw for 1,626 yards, 12 touchdowns and four interceptions. In four seasons with the Bulldogs, Rogers threw for 12,315 yards, completing 69.4% of his passes.
— Will Rogers (@Wrogers__2) November 24, 2023
---
Houser, a redshirt freshman, who played in seven games this season, plans to transfer and has three years of eligibility remaining. He played in 11 games this season and finished with 1,132 passing yards with six touchdowns and five interceptions.
---
A day after the Hoosiers fired coach Tom Allen, their starting QB is moving on as well. Sorsby, who started parts of the 2023 season, played in 10 total games and finished with 1,587 yards, 15 touchdowns and five interceptions. He also had 286 yards rushing and four touchdowns on the ground. He was a three-star recruit in the Class of 2022.
---
With Cam Rising returning for a seventh year and Bryson Barnes, who started for for most of the 2023 season also back, Utah freshman signal-caller Johnson has decided to move on. Johnson started three games this season, going 2-1, and accounting for 734 total yards and 12 touchdowns. From Clovis, California, he was a four-star recruit and ranked 93rd overall in the 2022 ESPN 300.
---
Johnson, who started 12 games at LSU in 2021, then eight over two seasons at Texas A&M, is entering the portal as a graduate transfer. He was the Aggies' starter in 2022 for three of their first four games before being injured and redshirting. Johnson then battled Conner Weigman for the starting job this season. After Weigman was injured in late September, Johnson was again the starter for the next five games before injuring his ribs. In total, Johnson has thrown for 5,853 yards and 47 touchdowns over four collegiate seasons. Johnson was a four-star recruit in the Class of 2020, ranked No. 129 overall in the ESPN 300.
---
Shough started his career at Oregon before going to Texas Tech. He has accounted for 36 touchdowns in five collegiate seasons and was an ESPN 300 recruit in the Class of 2018.
---
Cottrell entered the portal after the firing of Aggies coach Jimbo Fisher. Cottrell, a freshman from Milton, Florida, had just one catch for 13 yards (it went for a touchdown) this season. A four-star recruit in the Class of 2023, Cottrell was the 23rd overall receiver in the class.