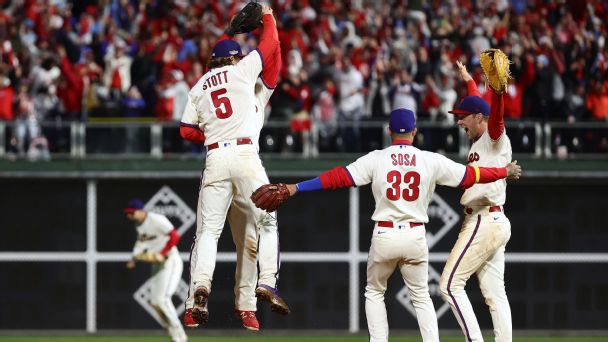 Seventy minutes after hitting the most important home run of his life Sunday, a two-run blast that won the Philadelphia Phillies the National League Championship Series, Bryce Harper was at the center of the clubhouse, surrounded by his teammates as beer and champagne soaked anyone within spraying range.
"Give me all of it, give me all of it," the series MVP shouted to his teammates. His wish was instantly granted, as beer poured down on him from every direction.
Harper's place in the middle of the celebration was only fitting, as was the fact that he manufactured the moment that sent his Phillies to the World Series. He has been the face of the franchise since the 2019 day he committed to the city for 13 years after owner John Middleton wrote a $330 million check to bring him to Philadelphia.
Despite plenty of moments when he might have doubted he made the right choice in leaving Washington for Philadelphia as a free agent, Harper has always embraced his new home. Even when his old team, the Washington Nationals, won the World Series in 2019. Even when Philadelphia changed GMs and managers more than once during a turbulent first four years with the franchise — including when Rob Thomson took over for Joe Girardi after a 22-29 start this season.
"I don't like looking back," Harper said after the game, with his MVP trophy sitting next to him. "I like looking forward and moving forward. This game is 'what have you done for me lately?'"
He never lost faith, always believing what Middleton had promised him: The organization would always put winning above all else.
Not long after the Sunday home run, owner and star met on the field amid celebratory chaos. Their hug lasted longer than the flight of the ball — which left the playing field at 108.9 mph. Middleton was asked if the embrace meant something extra special.
"You bet it did," he said. "$330 million later, and mutual promises of being committed to winning and doing whatever it took to win. He did that."
The home run that sent Philadelphia back to the World Series for the first time since 2009 justified the Phillies' spending on Harper, as well as the free agent deals this spring that brought in Kyle Schwarber and Nick Castellanos — both of whom had front-row views of Harper's blast; Schwarber from the dugout, and Castellanos from the on-deck circle. "It looked like I was having an exorcism on the dugout rail," Schwarber said in a beer-soaked locker room. "Man, he's nasty."
Castellanos marveled at how different the celebration felt from when Harper had hit a walk-off home run against Castellanos' Cubs three years earlier.
"The way he ran around the bases [in 2019] was crazy and energetic," Castellanos said. "Tonight, he was the calmest person in the stadium. I think that's a lot of growth on his part.
"Watching him [tonight] was a big lesson for me. The way he was able to immerse himself in the moment and stay focused and calm was f—ing incredible. Please use those exact words."
This clubhouse littered with empty bottles of Budweiser and champagne was always the goal when Castellanos and Schwarber signed with Philadelphia within days of each other after the lockout, giving Harper some much-needed thump around his own power bat in the lineup.
For Castellanos, this is the winning team he has been on a mission to find ever since being drafted by Detroit in 2010. After going 10 major league seasons without winning a postseason series, he has enjoyed three champagne celebrations just this month.
"We both want to win so bad," Castellanos said when asked what he learned of Harper this season. "That's one thing we have in common."
For Schwarber, winning has never been an issue. He has done it everywhere he's been his entire career. Praised as the ultimate glue guy in the Phillies clubhouse throughout this postseason, Schwarber has appeared in six league championship series for three different teams. But he was hurt for the only pennant-clinching win of his career, when the Chicago Cubs won it all in 2016. He never got the full playoff experience until now.
"It was cool for me," he said Sunday between puffs of a cigar. "To be with them the whole year, from day one, has been awesome. Last time [in Chicago] I was down for the whole year."
This was also a first for the longest-tenured Phillies position player, first baseman Rhys Hoskins. Hoskins had four home runs in five games this series and might have been named MVP if not for Harper's heroics — but couldn't bring himself to care about that while he celebrated his first pennant win.
"It's a dream," Hoskins said, wide-eyed on the field afterward. "This organization is the one that believed in me and gave me an opportunity to impact the city of Philadelphia in any way I could."
Harper's arrival signaled to Hoskins that the organization was serious about winning after years of frustration. Until this season, Hoskins had never played in a postseason game, instead having to hear stories of glory about teams from the past. Every time he looked up at the video scoreboard during this series, there was another Phillies great looking down from the stands: Ryan Howard, Jayson Werth and Shane Victorino — all members of the team's 2008 World Series-winning squad.
The dream of joining those former players as champions became realistic once Harper arrived. Hoskins wasn't surprised that it was Harper who delivered the big play that finally got him there.
"It's probably something that he's had in his head since the time he picked up a bat," Hoskins said. "It's been a while. He changed cities and had to get used to a new organization. For him to come through in that moment is storybook stuff."
Later, in a hallway underneath the stands behind home plate, Harper shared a moment with actor Miles Teller, a huge Phillies fan, while still clutching his MVP trophy. He sat in the media room and said all the right things: The team isn't satisfied with just winning the pennant and has four more games to win from here. But Harper looked most comfortable back in the clubhouse, allowing beer to be poured on him while sharing a victory that ended the series — instead of packing up to head across the country for Game 6.
"I didn't want to get back on that flight back to San Diego," he said. "I just didn't want to get on a 5½-hour flight. I wanted to hang out at home and enjoy this at home with these fans and this organization and this fan base."
The Phillies are headed to the World Series because of Harper. This is his team and now his city — and it was his heroics that allowed his home fans to celebrate the win in their ballpark.
Bautista (AL), Williams (NL) named top relievers
NEW YORK — Baltimore's Félix Bautista was a unanimous winner of the Mariano Rivera American League Reliever of the Year Award and Milwaukee's Devin Williams won the Trevor Hoffman National League honor on Wednesday.
Bautista, a 28-year-old right-hander, was 8-2 with a 1.48 ERA and 33 saves in 39 chances for the AL East champion Orioles. He made his final appearance on Aug. 25 and had Tommy John surgery on Oct. 9, which likely will cause him to miss the 2024 season.
Williams, a 29-year-old right-hander, was 8-3 with a 1.53 ERA and 36 saves in 40 opportunities for the NL Central champion Brewers. Williams also won the award in 2020 and joined former teammate Josh Hader, Edwin Díaz, Liam Hendriks, Kenley Jansen and Craig Kimbrel as the only multiple winners of the honor, known as the Delivery Man of the Year Award from 2005-13.
Rivera and Hoffman were among the six voters, joined by fellow Hall of Famers Dennis Eckersley and Rollie Fingers along with John Franco and Billy Wagner. Balloting was based on the regular season and used a system in which the first choice got five points, the second three and the third one.
Cleveland's Emmanuel Clase was second in the AL after winning last year and Toronto's Jordan Romano was third.
Pittsburgh's David Bednar was second in the NL and San Diego's Josh Hader third.
Sources: Severino to crosstown Mets for $13M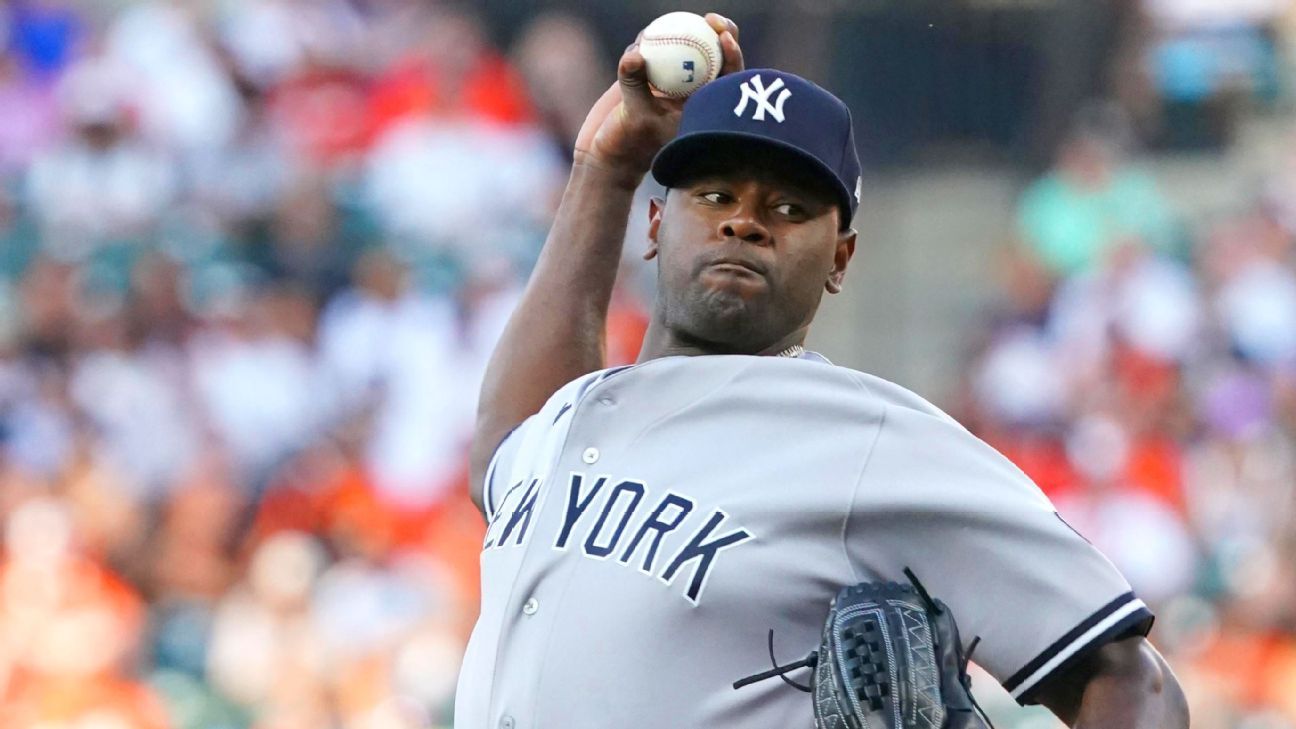 Right-hander Luis Severino and the New York Mets are finalizing a one-year, $13 million contract, sources familiar with the deal told ESPN's Jeff Passan on Wednesday.
Severino, 29, will join the Mets and a rotation in significant need of help after spending his eight-year career with the New York Yankees.
He struggled this season with a 6.65 ERA, but posted a 3.39 ERA in 638 innings over his previous seven seasons. If Severino thrives, he'll hit free agency again next year, and he can earn up to $2 million in performance bonuses from the Mets.
Utah St. QB to skip final season for SEAL training
LOGAN, Utah — Utah State quarterback Levi Williams will not return for his senior season in 2024, intending to apply for Navy SEAL training following the Aggies' upcoming bowl game.
Williams revealed in a radio interview with a Salt Lake City radio station on Monday he intends to skip his final year of collegiate eligibility with the goal of becoming a SEAL officer in 2025.
"I just want to be in a spot where I can protect this great country where we get to play football with the freedom to do that," Williams told KSL 97.5 FM. "I think this is the best country in the world, so I'd like to keep it that way and protect it as long as I can."
The junior quarterback plans to take a SEAL qualifying fitness test after the season. It is a rigorous test that features a 500-yard swim, maximum push-ups, pull-ups, and curl-ups done in separate two-minute intervals, and a 1.5-mile run. The individual time for either the swim or the run cannot exceed 12 ½ minutes.
Williams said he embraces the challenge and is eager to follow in the footsteps of parents and grandparents who served in the military before him. Being a SEAL specifically appeals to him because of the chance to be in a team-oriented environment.
"What I love about their ethos and their motto is that no one guy is better than the other," Williams said. "It takes all of them to complete a mission."
Williams spent three seasons with Wyoming before entering the transfer portal following the 2021 season. He joined Utah State and has appeared in 16 games for the Aggies over two seasons.
The seldom-used Williams began the season as Utah State's third-string quarterback but made his first start since 2021 in the Aggies' regular season finale against New Mexico. He played mostly on special teams during the season, but injuries to Cooper Legas and McCae Hillstead forced Aggies coach Blake Anderson to turn to the former Wyoming transfer to run the offense.
Williams tallied 351 all-purpose yards to help Utah State edge the Lobos 44-41 in double overtime. He accounted for five touchdowns — culminating in a game-winning 13-yard run after retrieving a snap that went behind him — to help the Aggies become bowl eligible for a third consecutive season.