'Skeletons everywhere' – Last surviving Soviet soldier who helped liberate Auschwitz dies aged 98
The last surviving Soviet soldier involved in liberating the Auschwitz concentration camp has died aged 98 in a Munich hospital.
David Dushman was a young Red Army serviceman when he flattened the site's electric fence with his tank on 27 January 1945.
More than a million people, mostly Jews sent there from all over Europe, had been murdered by the Nazis at the camp in Poland during the Second World War.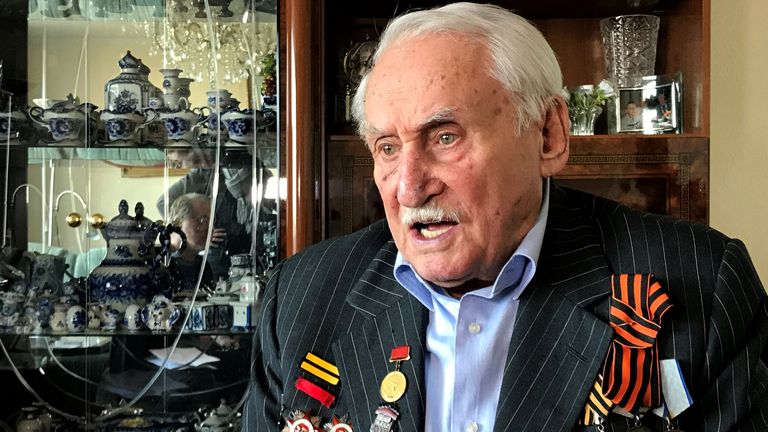 In an interview many years later, he admitted he and his comrades did not immediately realise the full horror of what had happened in the camp.
"Skeletons everywhere," he recalled in 2015.
"They stumbled out of the barracks, they sat and lay among the dead. Terrible."
"We threw them all of our canned food and immediately drove on, to hunt fascists," he told Munich newspaper Sueddeutsche Zeitung.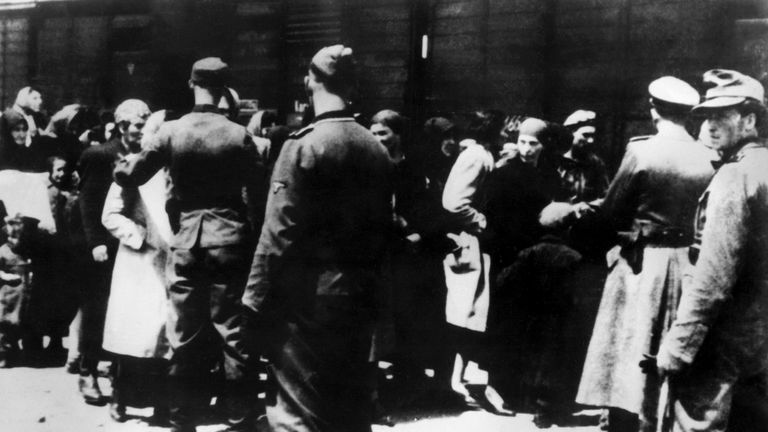 Mr Dushman had earlier taken part in some of the deadliest battles of the war, including in the cities of Stalingrad and Kursk.
He was seriously wounded three times but survived – one of just 69 soldiers in his 12,000-strong division.
After the war ended, he helped train the Soviet Union's women's national fencing team and survived the attack on the Munich Olympics.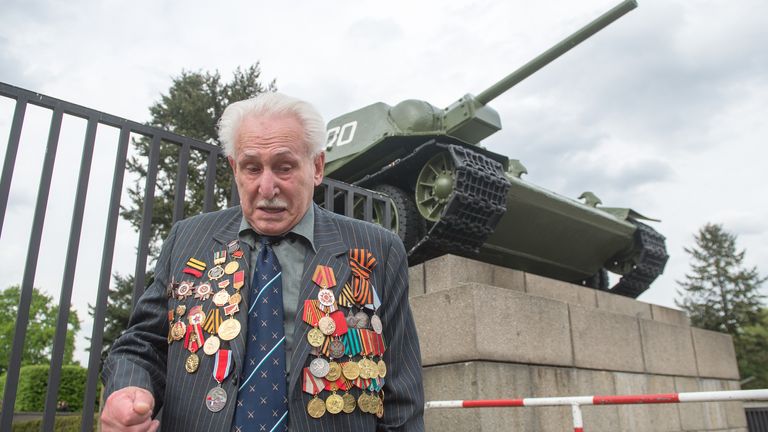 Later in life, Mr Dushman visited schools to educate pupils about the war and the Holocaust.
"Every witness to history who passes on is a loss, but saying farewell to David Dushman is particularly painful," said Charlotte Knobloch, a former head of Germany's central council of Jews.
"Dushman was right on the front lines when the National Socialists' machinery of murder was destroyed."
Along with other heroes of Auschwitz, Mr Dushman saved many lives, she said.
International Olympic Committee president Thomas Bach also paid tribute to him, praising his fencing skills.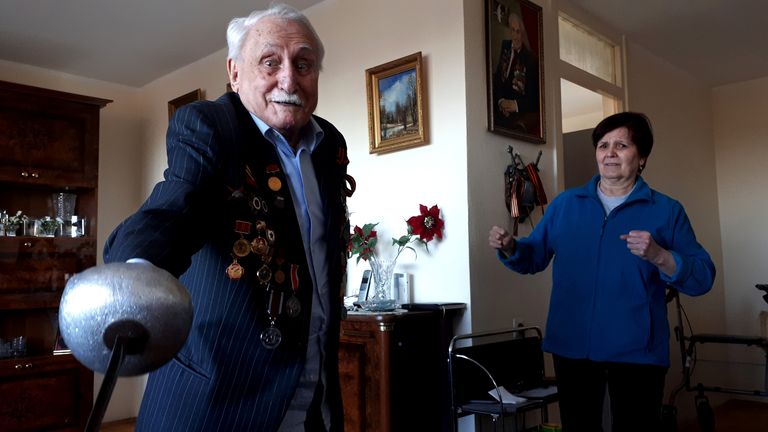 Mr Bach recounted how as a young fencer for West Germany he was offered "friendship and counsel" by the veteran coach in 1970 "despite Mr Dushman's personal experience with World War Two and Auschwitz, and he being a man of Jewish origin".
"This was such a deep human gesture that I will never ever forget it," Mr Bach added.
He died on Saturday and details on funeral arrangements were not immediately known.
Mr Dushman's wife, Zoja, died several years ago.
Jerusalem: Boy, 13, suspected of 'terror attack' hours after gunman killed seven outside synagogue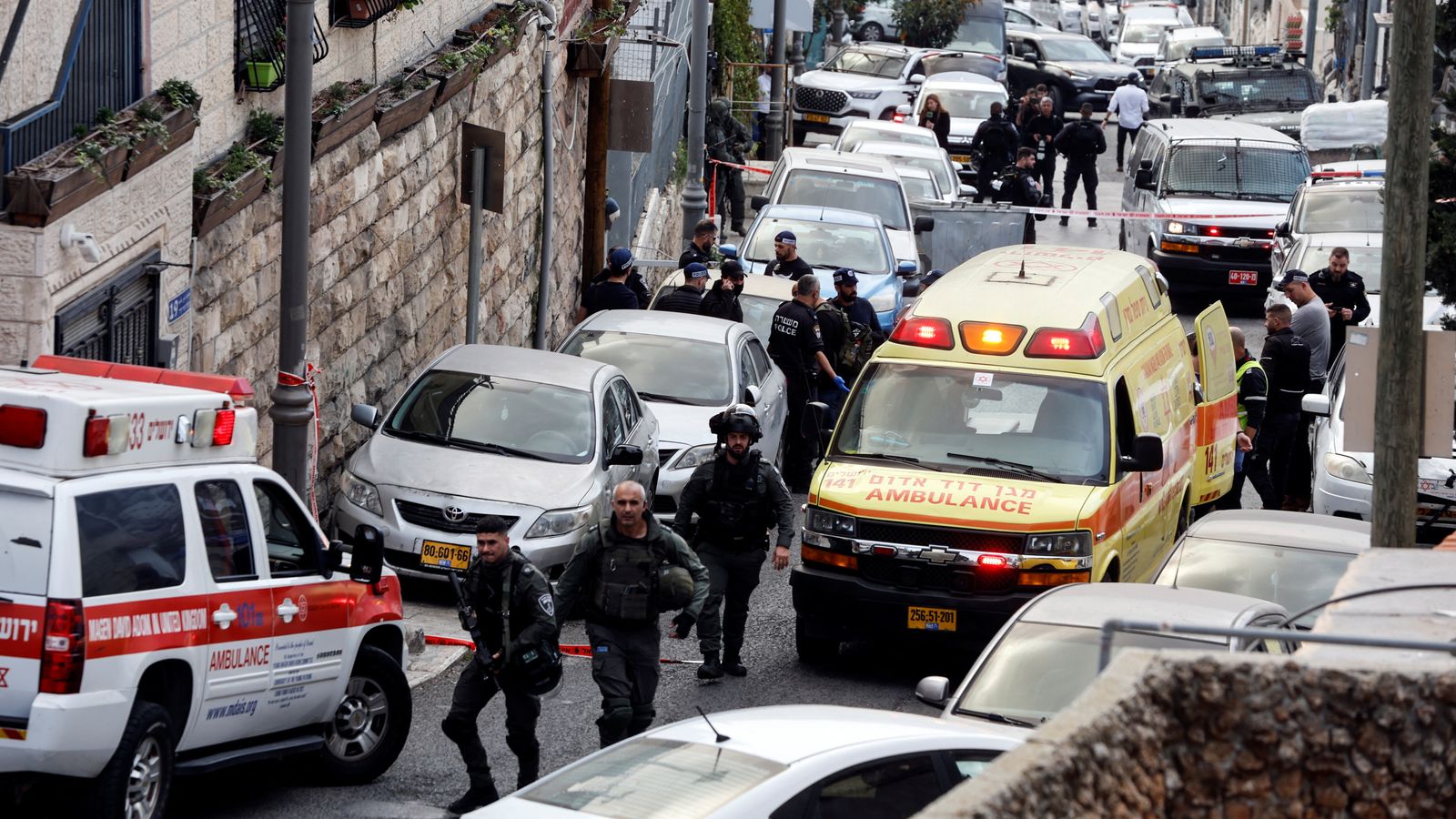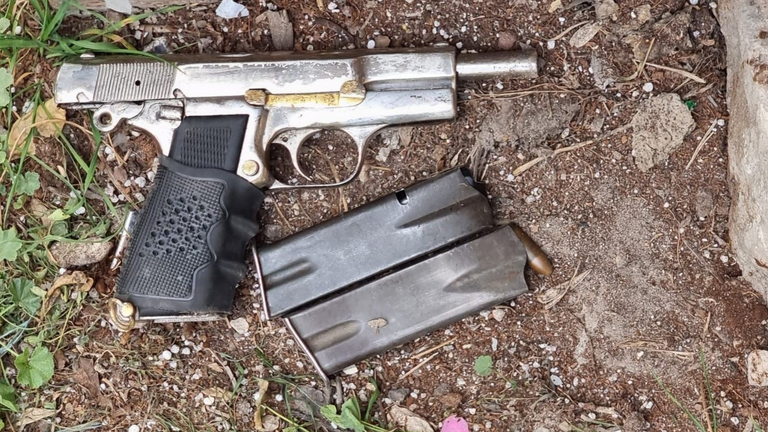 Two people have been wounded in a suspected terror attack in Jerusalem, hours after a deadly shooting outside a synagogue.
Israel's national emergency medical and ambulance service said it was called to a "shooting terror attack" in the Palestinian neighbourhood of Silwan, in east Jerusalem, on Saturday morning.
Police say they sent a "large" force to the scene and that a "shooting suspect", said to be a 13-year-old boy from east Jerusalem, was "wounded and overpowered".
Officers said a handgun used by the boy, described by police as a "terrorist", was recovered at the scene.
Two men, aged 23 and 47, and believed to be a father and son, were wounded in the incident. They were both taken to hospital in a "moderate to serious" condition, according to medics.
It comes after a Palestinian gunman shot seven people dead near a synagogue on the outskirts of the city on Friday.
Three others were injured in that shooting, including a 15-year-old boy who was recovering from surgery, hospital officials said.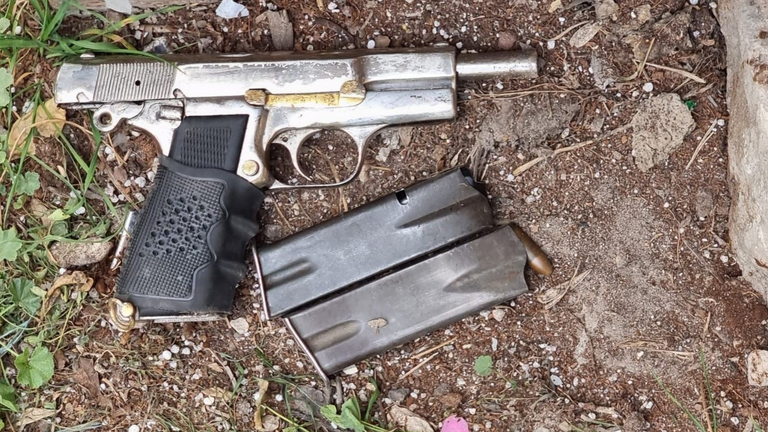 Police said the gunman arrived at about 8.15pm local time (6.15pm UK time) and described the shooting as a "terror attack".
They added it took place outside a synagogue in Neve Yaakov, considered by Israelis to be a neighbourhood within Jerusalem.
Palestinians and much of the international community consider it occupied land illegally annexed after the Six-Day War in 1967.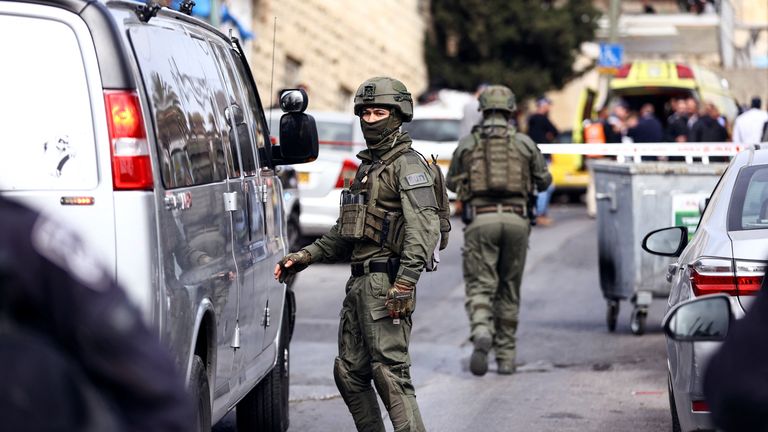 Police said the gunman fled in a car after opening fire and officers gave chase and after an exchange of fire killed him.
He was described as a 21-year-old resident of east Jerusalem who "carried out the attack at the scene alone".
Israel Police said on Saturday that officers had arrested 42 people – including relatives of the gunman – as part of their investigation.
Read more:
Palestinian militants 'ready to die' as chance of all-out war increases
Israel's most far-right government hardens policies towards Palestinians
Israel's Prime Minister Benjamin Netanyahu said he had held a security assessment and decided on "immediate actions" following Friday's shooting.
Mr Netanyahu urged people not to take the law into their own hands and said Israel would act with "determination and composure".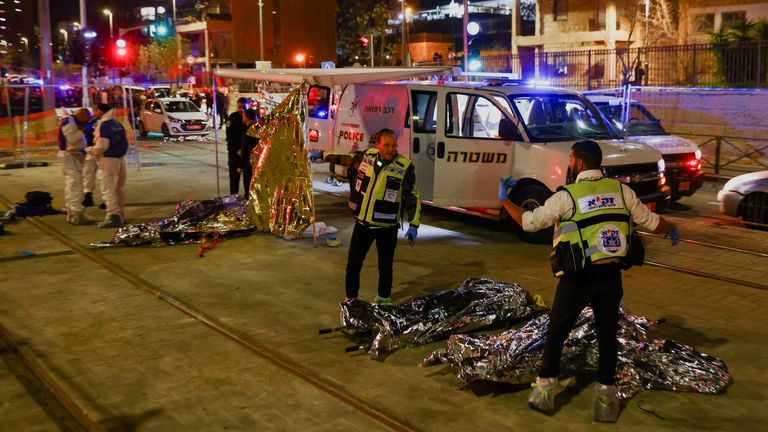 It comes after a deadly raid by the Israeli military on Thursday that killed nine Palestinians in the occupied West Bank. A 10th was later killed north of Jerusalem.
Gaza militants then fired rockets and Israel responded with air strikes overnight. There were no reports of injuries.
UN spokesman Stephane Dujarric said UN Secretary-General Antonio Guterres was "deeply worried" by the escalation of violence and urged "utmost restraint".
Faction of Tory members feel 'disconnected' after being 'denied a vote' when Rishi Sunak became PM, ex-party chair says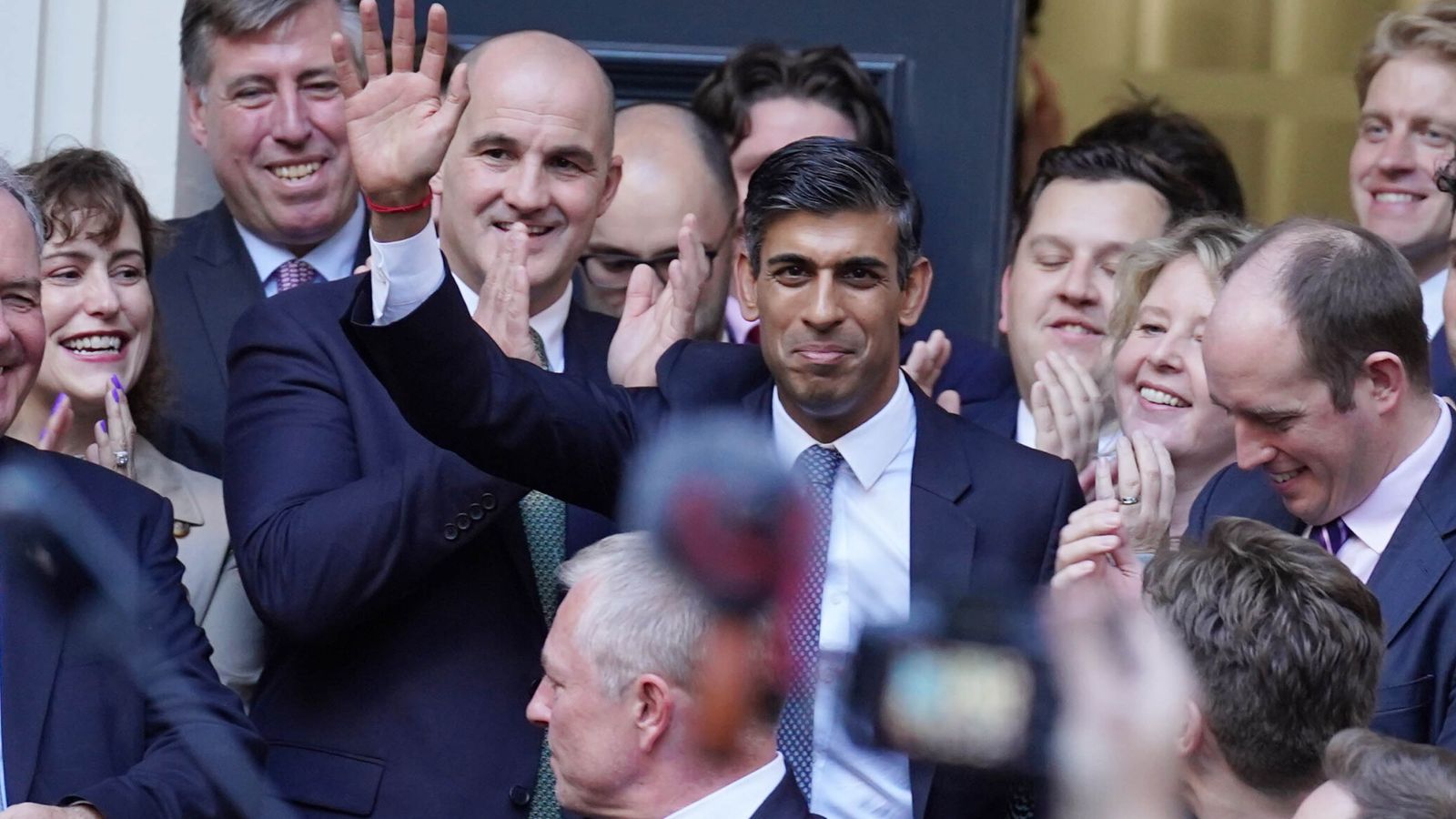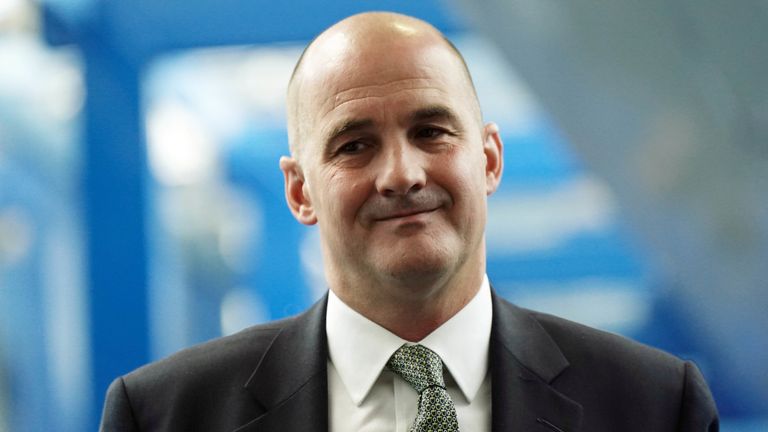 A proportion of Conservative members feel "disconnected" from the party as they were "denied a vote" when Rishi Sunak became prime minister, a former Tory chairman said.
Sir Jake Berry, who was chair under Liz Truss, said Mr Sunak should have held an "endorsement vote" to show he had the support of the membership.
Instead, Mr Sunak automatically became PM after Boris Johnson and Penny Mordaunt dropped out of the contest to replace Liz Truss and Mr Sunak passed the 100-nomination threshold, leaving him as the only remaining candidate.
As a result, there is a "perception", Sir Jake said, that Tory MPs are "disconnected from our membership".
Mr Sunak entered Downing Street just weeks after coming second to Ms Truss in the summer leadership contest after Tory members voted for her over him – despite MPs being in favour of him.
"I actually think it's a great pity for Rishi Sunak that we didn't have a vote of members," Sir Jake told GB News.
"Because in the summer, fine Conservative that he is, he struggled actually to get the support of Conservative Party members – as, funnily enough, did Jeremy Hunt in the previous leadership election.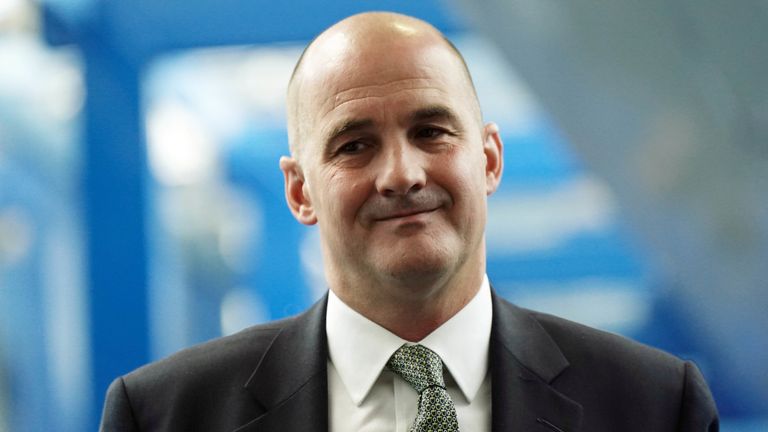 "And I think even though he absolutely got the majority of the Conservative members of parliament – and I support him as prime minister in everything he does – the challenge he has is, even if it's not true, there's a perception of the Conservative Parliamentary Party now being disconnected from our membership."
Read more:
Hunt dismisses economic 'gloom' as he dashes hopes of tax cuts
Sir Rod Stewart 'reflected country's mood' when he called for Labour government
Sir Jake added that he thinks Mr Sunak "would have won it well" if a vote had gone to the membership.
But, he said a narrative has been allowed to develop about members being "denied that vote".
Click to subscribe to the Sky News Daily wherever you get your podcasts
'War room' in the dying days of Truss leadership
The former Northern Powerhouse minister revealed what the last days of the Truss premiership were like.
He was part of a "war room" in Number 10, with Ms Truss, ex-chief whip Wendy Morton and former deputy PM Therese Coffey who were all trying to stabilise her leadership after the now-infamous mini-budget.
Sunak becomes prime minister


Just before Ms Truss resigned, Sir Jake said "two of the most senior civil servants in the Treasury" tried to press him on "why there could be no long, protracted leadership election in the Conservative Party".
"They asked me at the end of it, 'Do you agree?'," he said.
"And I said, 'Well, I hope you don't mind me saying, I don't really think it's any of your business, as civil servants, about how political parties choose their leader'."
Tyre Nichols: Bodycam footage shows father-of-one calling for his mother as he is beaten by officers before his death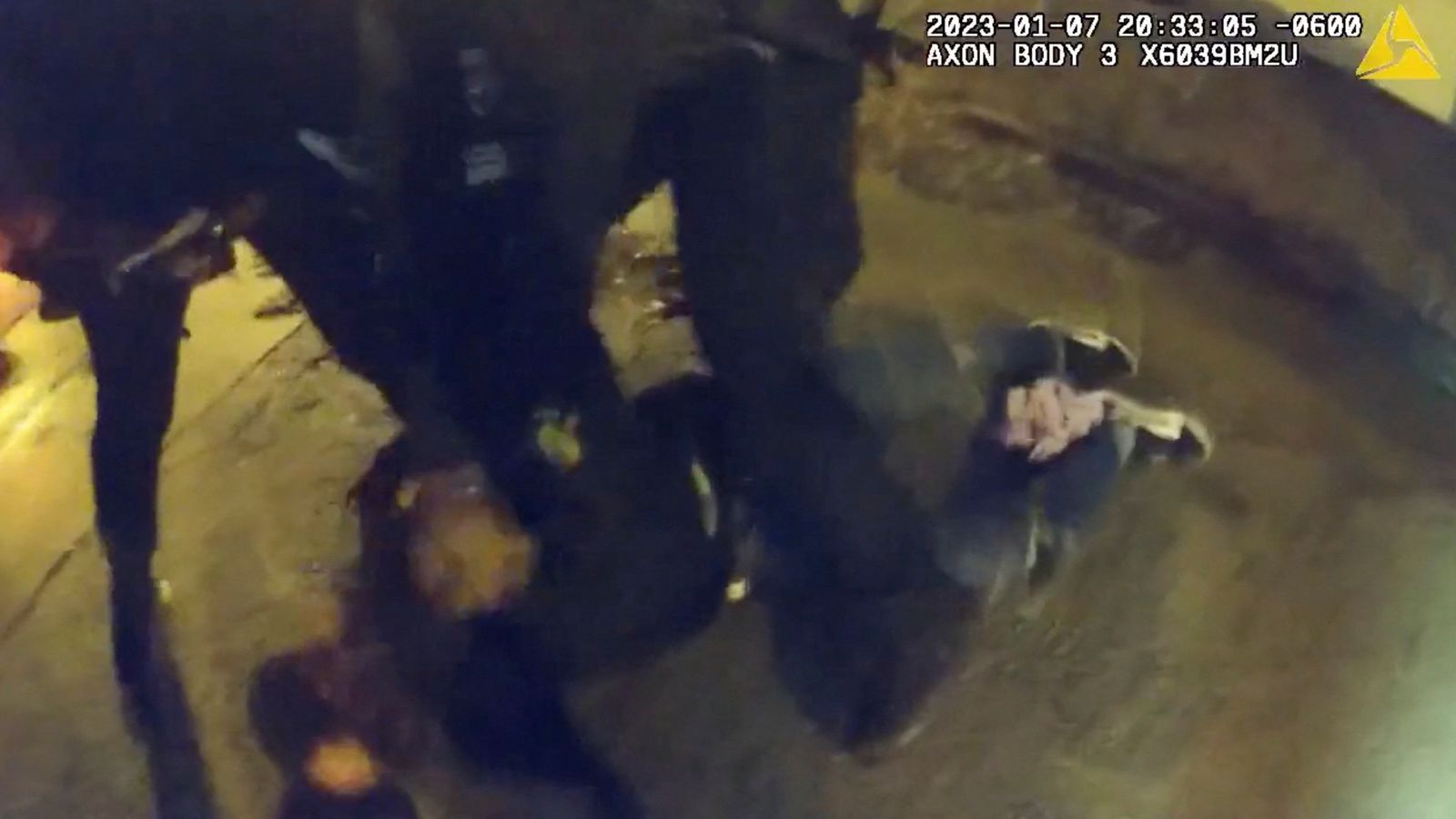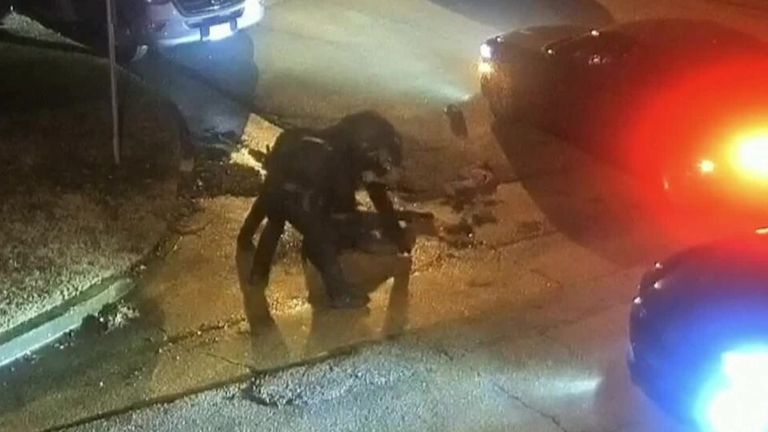 Memphis Police has released bodycam footage showing the moment Tyre Nichols called for his mother as he was beaten by five officers before he died.
The footage shows police beating the 29-year-old for three minutes while screaming profanities at him throughout the attack.
Police have released four separate videos cut into one hour-long clip, including police bodycam footage and footage from a CCTV camera.
Memphis police chief Cerelyn Davis asked for calm before the video footage was made public.
"I expect you to feel what the Nichols family feels," she said. "I expect you to feel outrage in the disregard of basic human rights."
Read more:
Arrest video is sickening indictment of policing that night
Five sacked officers, who are all black, have been charged with second-degree murder and other crimes, including assault, kidnapping, official misconduct and official oppression, over Mr Nichols' death.
In the footage of the attack, one camera shows the initial police stop at an intersection in Memphis, Tennessee.
"I'm going to baton the f*** out of you," one officer can be heard saying. His body camera shows him raise his baton while at least one other officer holds Mr Nichols.
After the first officer roughly pulls Mr Nichols out of his car, the FedEx worker can be heard saying "I didn't do anything" as a group of officers begins to wrestle him to the ground.
Police 'gang' intent on confrontation

"Get on the ground!," one officer yells, as another is heard shouting: "Tase him! Tase him!"
The father-of-one calmly replied soon after being wrestled to the pavement: "OK, I'm on the ground."
Moments later, as the officers continue to shout, Mr Nichols says: "Man, I am on the ground."
An officer yells: "Put your hands behind your back before I break your (expletive)."
Moments later an officer shouts: "Put your hands behind your back before I break them."
"You guys are really doing a lot right now," Mr Nichols says loudly to the officers. "I'm just trying to go home."
"Stop, I'm not doing anything," he yells moments later.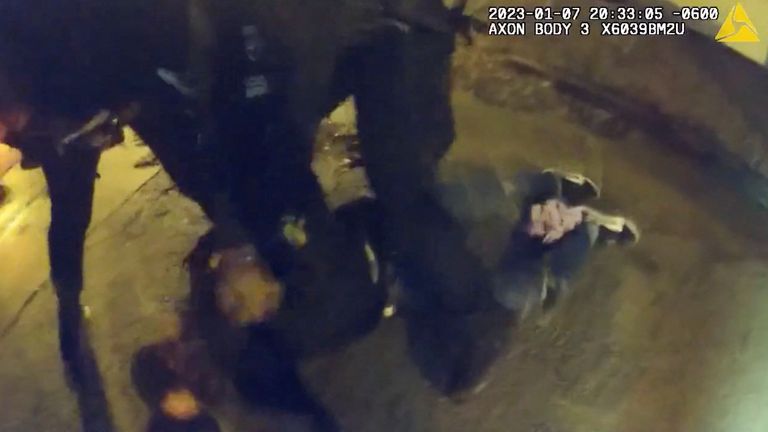 Pepper-sprayed and punched in face
The camera is briefly obscured and then Mr Nichols can be seen running as an officer fires a Taser at him. The officers then start chasing Mr Nichols.
After the beating, officers milled about for several minutes while Mr Nichols lay propped up against the car, then slumped onto the street.
In footage from one of the cameras, Mr Nichols is heard shouting for his mother while police attack him.
Mr Nichols is then pepper-sprayed and punched in the face.
He died on 10 January, three days after the violent arrest.
The five officers who have been charged are named Demetrius Haley, Desmond Mills Jr, Emmitt Martin III, Tadarrius Bean and Justin Smith.
Martin's lawyer, William Massey, and Mills' lawyer, Blake Ballin, said their clients would plead not guilty. Lawyers for Smith, Bean and Haley could not be reached.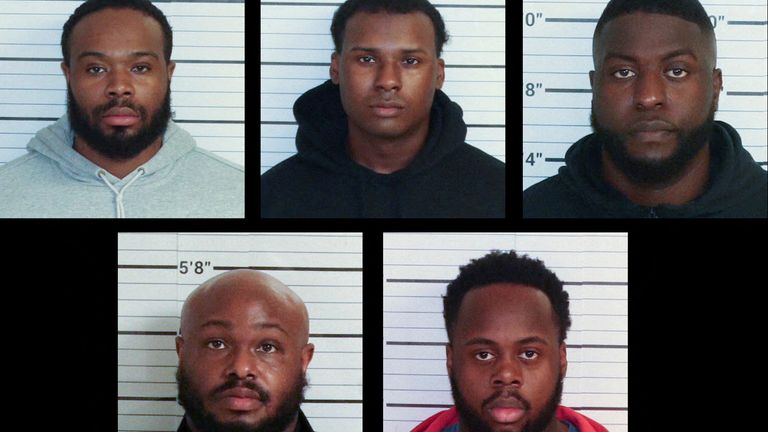 Officers were 'ramped up'
Ms Davis said the officers were "already ramped up, at about a 10" during the initial stop.
She added the officers were "aggressive, loud, using profane language and probably scared Mr Nichols from the very beginning".
The senior officer said: "We know something happened prior to this officer or these officers getting out of their vehicles… just knowing the nature of officers, it takes something to get them amped up, you know, like that. We don't know what happened.
"All we know is the amount of force that was applied in this situation was over the top."
Ms Davis also described the officers' actions as "heinous, reckless and inhumane," and said that her department has been unable to substantiate the reckless driving allegation that prompted the stop.
Tyre Nichols' final words move us to ask important questions
Sometimes, there are no words.
Articulating the loss of a son can stretch the vocabulary in the best of times.
The family of Tyre Nichols find themselves in the absolute worst.
What words can convey how it feels to have a son, your son, battered to death on camera?
As hard as anyone tried at a news conference inside Mount Olive Cathedral in Memphis, maybe the job was done best by Tyre himself.
At the end of the video, he is heard to call out for his mother, three times.
They are his final words on footage that shows him becoming limp, unconscious and clearly in distress.
He was surrounded by police and other medical specialists who stood back rather than stepped in.
His final words were a plea to someone he knew would help, his mum, who lived three blocks from where he was beaten.
RowVaughn, Tyre's mother, wasn't aware of it until it emerged on the video. She only knows now because she's been told – she can't bring herself to watch the images.
"You have no clue how I feel," she told a news conference when asked about her son calling out for her.
And, of course, we don't.
But we are asked to consider how we would feel – by the sense of helplessness and lack of humanity aggravated by the desperate cry of a grown man to his mother.
It helps an audience empathise, as well as sympathise, and that's important amidst the demands for change.
The case of Tyre Nichols moves us to ask important questions around police culture in the United States.
Demonstrations in wake of arrest footage
Protests are taking place in at least nine cities across the US – including Memphis – after the bodycam footage was released.
Mr Nichols' mother, RowVaughn Wells, had earlier warned supporters of the "horrific" nature of the video but pleaded for peace saying "tearing up the streets" is "not what my son stood for".
'They killed a man who looked like me'

US President Joe Biden said he was "outraged and deeply pained to see the horrific video of the beating that resulted in Tyre Nichols' death"
"It is yet another painful reminder of the profound fear and trauma, the pain, and the exhaustion that black and brown Americans experience every single day," he added.