Joe Biden has arrived in the UK on Air Force One ahead of the G7 summit in Cornwall.
His plane touched down at RAF Mildenhall in Suffolk on Wednesday evening, beginning his first overseas trip as US president.
A large crowd of US Air Force personnel and their families were waiting for him inside a hangar, where he addressed them.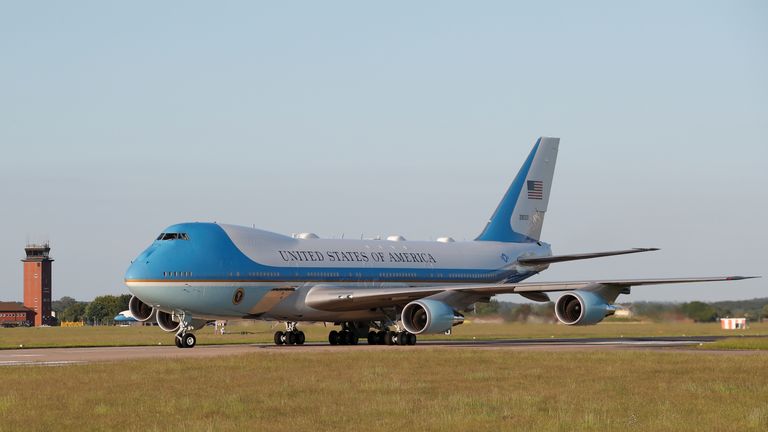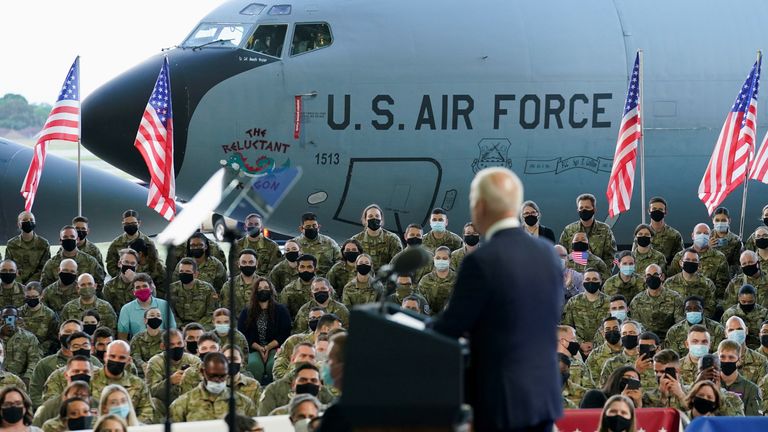 He said: "At every point along the way we are going to make it clear that the United States is back and democracies of the world are standing together to tackle the toughest challenges and the issues that matter most to our future."
The UK and US, as founding members of NATO, were part of "the strongest military and political alliance in the history of the world", he said.
"Now we need to modernise our alliance, investing in our critical infrastructure, our cyber capabilities and to keep us secure against every threat we've faced over the last decade, and the new challenges we are about to face as well."
After his time at Mildenhall, Mr Biden flew to Newquay before travelling on to Tregenna Castle in Carbis Bay.
He will meet Prime Minister Boris Johnson tomorrow before the G7 begins in Carbis Bay on Friday.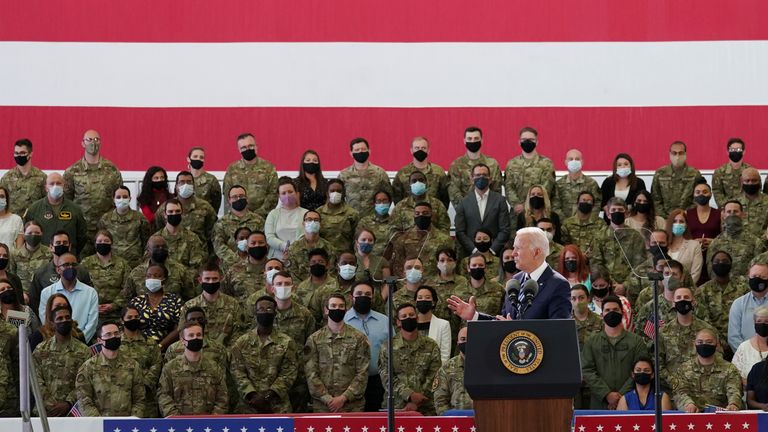 After the summit – which also includes leaders from Canada, Japan, France, Germany, and Italy – Mr Biden and the first lady, Jill Biden, will meet the Queen at Windsor Castle before the president meets NATO leaders in Belgium and then Russian President Vladimir Putin in Switzerland.
Speaking about his meeting with Mr Putin, Mr Biden said the US was not seeking conflict but would respond in a "robust and meaningful way" if Russia engaged in harmful activities.
'I'll be letting Putin know what I want him to know'

Mr Johnson has said he wants to discuss the COVID-19 pandemic and urge other leaders to do more to vaccinate the rest of the world, but it is likely the growing Brexit trade row and its effect on the Northern Ireland peace process will also come up.
Mr Biden's national security adviser Jake Sullivan has warned that the president has "very deep" concerns on the issue, adding that the post-Brexit Northern Ireland Protocol is "critical" to ensuring that the Good Friday Agreement is protected.
During Mr Biden's flight across the Atlantic, his press secretary Jen Psaki and Mr Sullivan told reporters what else is on Mr Biden's agenda:
• Boosting vaccine supply – the US announced on Wednesday evening that it would donate 500 million COVID-19 vaccines to poorer countries
• Following discussions about possible waivers of intellectual property laws allowing more vaccines to be produced around the world, Mr Sullivan said he does not anticipate contention but "convergence" on the issue
• Mr Sullivan said that moves to vaccinate poorer countries faster are "the right thing to do" and the smart thing to do in terms of stopping new variants of the virus. Mr Biden also wants to show that democracies can lead the fight
• Mr Biden will meet Russian president Vladimir Putin in Switzerland where he will discuss the rise in ransomware attacks that have been attributed to Russian hackers
• The conflict in Syria will be discussed, as will concerns about Russia's new nuclear systems
• Mr Biden and Mr Johnson are expected to refresh the Atlantic Charter. The charter was first announced in 1941 by the US and UK, setting out a vision for the post-war world
Joseph Emerson: Attempted murder charges dropped against pilot who 'tried to cut plane's engines'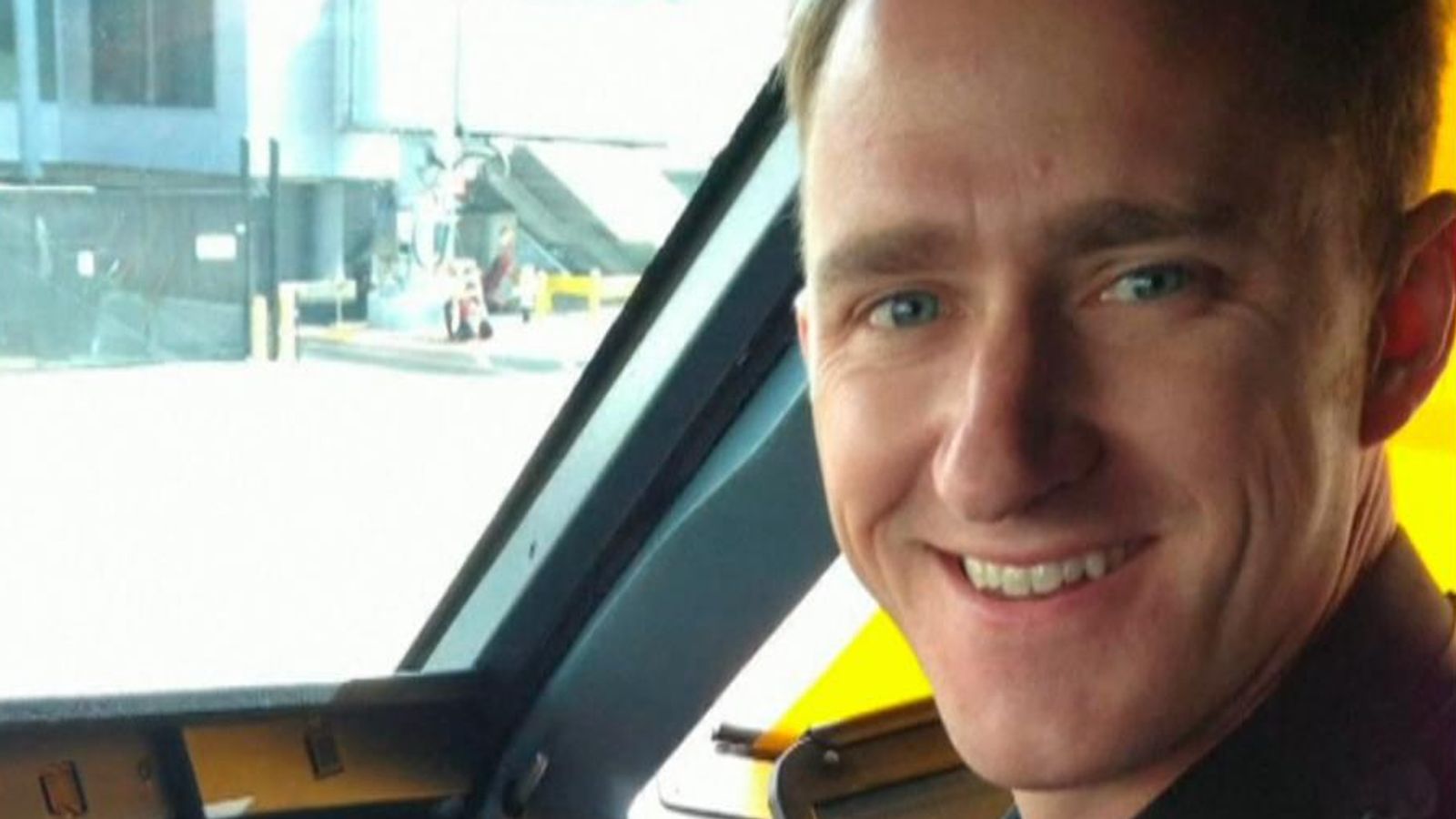 A former Alaska Airlines pilot accused of trying to cut the engines of a Horizon Air flight will not face charges of attempted murder.
Joseph Emerson has been indicted on 84 endangerment charges – for each person on the plane – and one charge of endangering an aircraft.
He previously pleaded not guilty to attempted murder charges filed by state prosecutors and to a federal charge of interfering with a flight crew.
Prosecutors have accused Emerson, 44, of trying to cut the engines on the 22 October flight from Everett, Washington state, to San Francisco while riding in the extra seat in the cockpit.
The FBI said in an affidavit that after a brief struggle, he left the cockpit and attendants put him in wrist restraints and seated him in the back of the aircraft which was diverted to Portland.
According to charging documents, Emerson told Port of Portland police he had been struggling with depression, that a friend had recently died and that he had taken psychedelic mushrooms about 48 hours before he attempted to cut the engines.
He also said he had not slept in more than 40 hours.
Emerson's defence lawyers welcomed the grand jury's decision.
They said: "The attempted murder charges were never appropriate in this case because Captain Emerson never intended to hurt another person or put anyone at risk – he just wanted to return home to his wife and children.
"Simply put: Captain Emerson thought he was in a dream."
Emerson remains in custody in Multnomah County, Oregon.
Texas woman asks court to let her have an abortion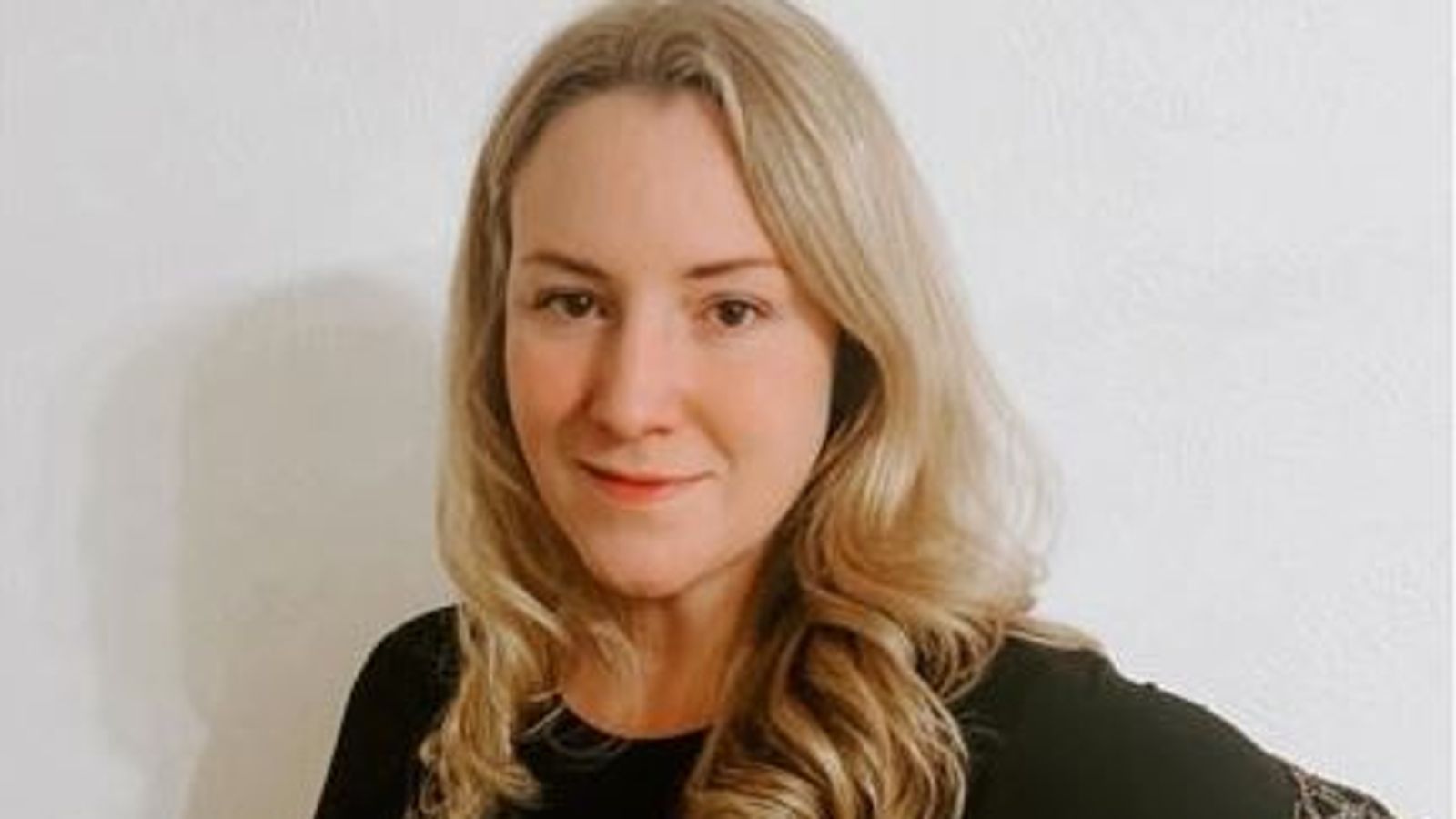 A Texas woman who is 20-weeks pregnant and whose foetus has been diagnosed with a fatal condition has asked a court to allow her to have an abortion.
Texas is one of 13 states that bans abortion at nearly all stages of pregnancy.
Kate Cox recently learned her unborn child is at a high risk of a genetic abnormality called trisomy 18, which typically does not result in a viable pregnancy.
The 31-year-old mother-of-two has started legal proceedings in Austin seeking a temporary restraining order allowing a doctor to perform an abortion without being prosecuted.
Doctors have told Ms Cox her baby is likely to be stillborn or live for a week at most, according to court papers.
The documents also say because she has already had two previous caesarean sections, she would need to have a third one if she continues the pregnancy, which could jeopardise her ability to have more children.
"Yet because of Texas's abortion bans, Ms Cox's physicians have informed her that their 'hands are tied' and she will have to wait until her baby dies inside her or carry the pregnancy to term, at which point she will be forced to have a third C-section, only to watch her baby suffer until death," the court papers said.
"Kate Cox needs an abortion, and she needs it now."
The legal action is believed to be the first time a woman has sought a court order authorising an abortion since the Supreme Court overturned the landmark Roe v Wade 1973 ruling which legalised abortion nationwide.
Click to subscribe to the Sky News Daily wherever you get your podcasts
Although Texas allows exceptions, doctors and women have argued in court this year that the state's law is so restrictive and vaguely worded that physicians are afraid of providing abortions for fear they could face potential criminal charges.
Ms Cox has urged the court to rule "expeditiously".
"It is not a matter of if I will have to say goodbye to my baby, but when," she said in a statement.
"I'm trying to do what is best for my baby and myself, but the state of Texas is making us both suffer."
In July, several Texas women gave emotional testimony about carrying babies they knew would not survive and doctors unable to offer abortions despite their spiralling conditions.
A judge later ruled the abortion ban in Texas was too restrictive for women with pregnancy complications – but that decision was swiftly put on hold after the state appealed against it.
Molly Duane, Ms Cox's lawyer who is also a legal representative for the Center for Reproductive Rights, said: "How many people are going through the exact same thing as Kate is right now but are not in a position to file a lawsuit?
"I think that gives you a sense of the scale of the problem that we're dealing with."
Panera Bread's caffeinated Charged Lemonade drinks blamed for two deaths in US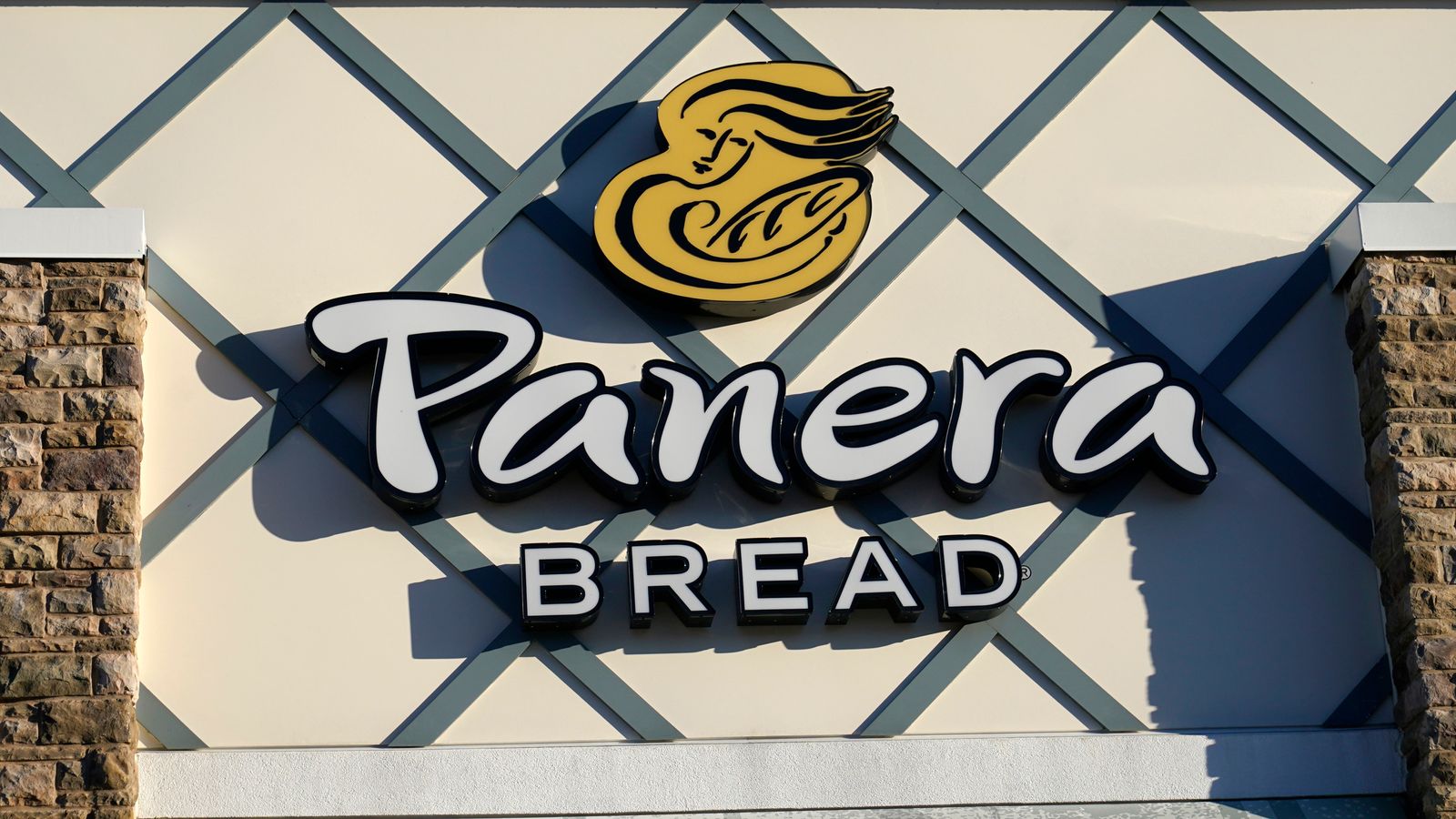 A highly caffeinated drink sold by US bakery chain Panera Bread has been blamed for two deaths after a second lawsuit was filed on Monday.
Dennis Brown is said to have drunk three Charged Lemonades from a Panera Bread on 9 October before suffering a fatal cardiac arrest on his way home in Florida, according to Sky News' partner network NBC News.
The 46-year-old did not normally consume energy drinks because he had high blood pressure, according to lawsuit filed this week.
It adds that it is unclear whether Mr Brown, who had had a developmental delay and a mild intellectual disability, knew how much caffeine and sugar was in the drink because it was available in self-serve dispensers "offered side-by-side with all of the store's non-caffeinated and/or less caffeinated drinks."
Mr Brown's cause of death was cardiac arrest due to hypertensive disease, according to a death certificate seen by NBC News.
'Dangerous'
Panera advertises the beverage as "plant-based an clean with as much caffeine as our dark roast coffee."
The complaints refer to it as a "dangerous energy drink" and argue that Panera fails to appropriately warn consumers about its caffeine contents.
A large cup, the lawsuits allege, contains 390mg of caffeine – more than the caffeine content of standard cans of Red Bull and Monster energy drinks combined.
In a statement provided to NBC News, Panera expressed its "deep sympathy for Mr Brown's family" and said it stood by the safety of its products.
Read more:
Cristiano Ronaldo faces $1bn lawsuit after launching NFT collection
Mother suing building firm RJ McLeod over son's manhole death
"Based on our investigation we believe his unfortunate passing was not caused by one of the company's products," it added.
"We view this lawsuit, which was filed by the same law firm as a previous claim, to be equally without merit. Panera stands firmly by the safety of our products."
The first legal complaint referred to Sarah Katz, who died on 10 September last year after going into cardiac arrest.
The lawsuit filed in October alleges the 21-year-old, who had a heart condition called long QT syndrome type 1, bought a Charged Lemonade from a Panera Bread store in Philadelphia hours before her death.
She did this, it claims, despite the fact she avoided energy drinks at the recommendation of her doctors.
Her roommate and close friend, Victoria Rose Conroy, told NBC News: "She [Ms Katz] was very, very vigilant about what she needed to do to keep herself safe.
"I guarantee if Sarah had known how much caffeine this was, she never would have touched it with a 10-foot pole."
A Panera spokesperson at the time said: "We were very saddened to learn this morning about the tragic passing of Sarah Katz, and our hearts go out to her family.
"At Panera, we strongly believe in transparency around our ingredients. We will work quickly to thoroughly investigate this matter."