'What about Corsica in France?' – Raab attacks EU leaders 'who see N Ireland as different to UK'
Foreign Secretary Dominic Raab has called for "a bit of respect" from EU leaders as he claimed the bloc's senior figures "serially" talk about Northern Ireland "as if it were somehow a different country from the UK".
The UK and EU are currently at loggerheads over the implementation of post-Brexit arrangements for Northern Ireland – known as the Northern Ireland Protocol – ahead of the end of a "grace period" for some border checks at the end of this month.
The row has threatened to overshadow the UK's hosting of the G7 summit in Carbis Bay, Cornwall, this weekend – during which Prime Minister Boris Johnson has claimed some in the EU needed to "get into their heads" that the UK is a single country.
The prime minister's ire is reported to have been raised during his bilateral talks with French President Emmanuel Macron on Saturday morning.
Mr Johnson is said to have attempted to explain his frustration with the protocol by asking what Mr Macron would do if sausages from Toulouse could not be moved to Paris.
The French president was claimed to have responded by arguing the comparison did not work because Paris and Toulouse were both part of the same country, thereby suggesting Northern Ireland is not within the UK.
Asked by Sky News at the G7 summit if those reports were true, Mr Raab said "as a matter of diplomatic profession" he would not "spill the beans".
But he added: "No one should be surprised by these reports and it's not just one figure.
"We have serially seen senior EU figures talk about Northern Ireland as if it were somehow a different country from the UK.
"That is not only offensive, it has real world effects on the communities in Northern Ireland – it creates great concern, great consternation.
"Could you imagine if we talked about Catalonia, the Flemish part of Belgium, one of the Lander in Germany, northern Italy, Corsica in France as different countries?
"We need a bit of respect here and also, frankly, a bit of appreciation of the situation for all communities in Northern Ireland."
Mr Raab claimed the implementation of the Northern Ireland Protocol had been "very lopsided", which had had "real life effects" on people in Northern Ireland.
The irony of Rishi Sunak's long-term vision is the short-term political calculation behind it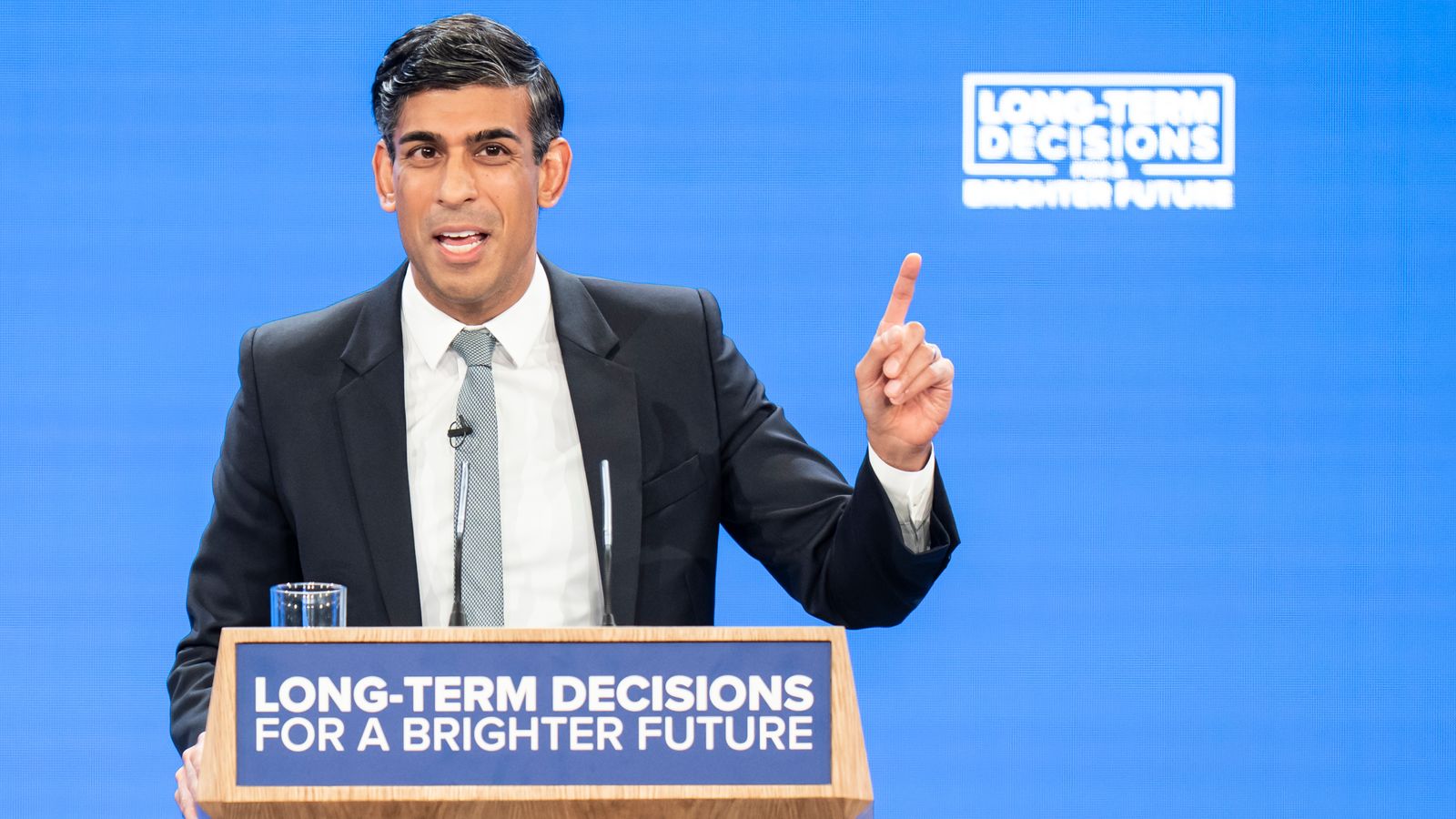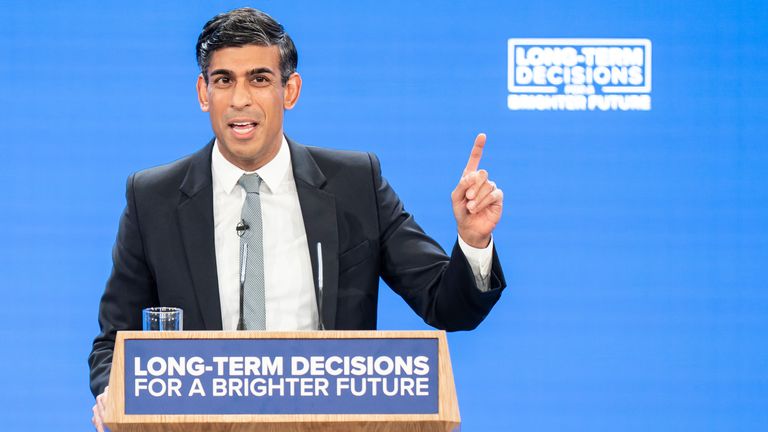 He may have been prime minister for a year, but his speech to the Conservative Party conference in Manchester felt almost like the moment Rishi Sunak introduced himself for the first time.
A speech rich in announcements and packed with messages about Rishi the man and his values.
He and his team knew the speech would be critical to resetting his stuttering leadership.
And you could see that in the overarching theme he returned to throughout – whether it was his description of his childhood, his political priorities or the sort of leader he wants to be, the ultimate message was "take a look at me again".
That theme is a tacit acknowledgement that after nearly a year in office, working tirelessly hard, there has been very little apparent change in the public's appetite for the Conservative Party led by him.
This was the first, and perhaps the only chance, that Mr Sunak will get to lay the foundations of his leadership pitch before a general election.
Politics Hub: Former Conservative PM turns on Sunak – latest updates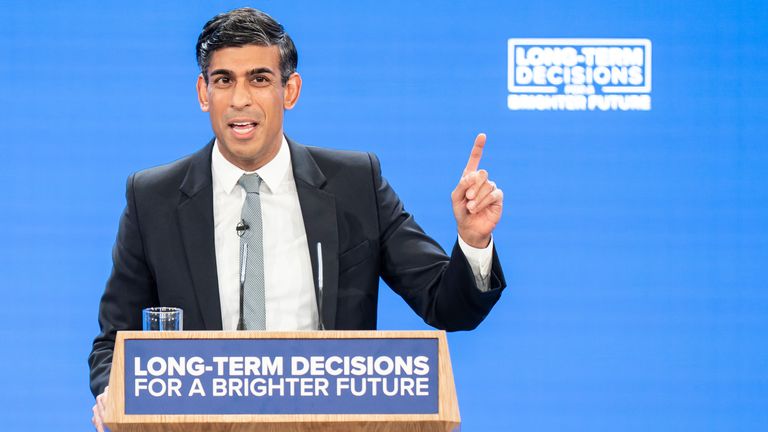 The speech aimed to do three things: First, to define his values and priorities of leadership. Second, to set out priorities that support the assertion that he is willing to take "tough decisions" in the country's long-term interests. Third, to present himself as the 'change candidate' who can take the fight to 'status quo' Labour.
By doing this, his close advisers hoped he would present himself as a leader who wants to "do what works" and as a traditional Conservative who wants to "make things better for the next generation".
He sought to project the values of common sense and social conservatism – drawing parallels between himself and Margaret Thatcher by painting the Conservatives as the party of the "grocer's daughter and pharmacist's son".
At its root was the claim that he is the heir to Thatcher – a leader who will "fundamentally change our country".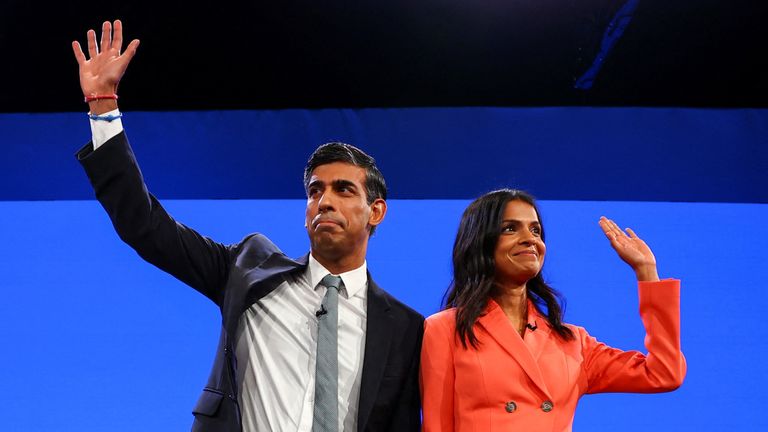 "Where a consensus is false, we will challenge it," he said. "Where a vested interest is placing itself above the needs of the people, we will stop it. And where common sense is under attack from an organised assault, we will defend it."
There was a triad of policies to back up this pitch: the curtailing of HS2, an overhaul of further education and a crackdown on smoking.
The PM confirmed he was scrapping the northern leg of HS2, describing the rail project as "the ultimate example of the old consensus" and sticking with a project even when the "facts have changed". He insisted the £36bn of funds freed up would be reinvested into other transport projects.
On education, the PM promised radical reforms for 16-19-year-olds, with a new "Advance British Standard" that would merge A-levels and the vocational T-levels into one qualification. Students would have to study Maths and English until they are 18 and study five subjects rather than three.
And tacking back to social conservatism, the prime minister also announced the legal age for smoking would be raised by one year, every year so that a 14-year-old would never legally be sold cigarettes.
What all these pledges had in common was their long-term nature.
The smoking ban, which the government is expected to introduce into the King's Speech later this year, will take at least four years to implement, according to Number 10.
Read more:
Why some Tory MPs are worried their party is being changed from within
All the reaction to the PM's decision to abandon HS2 plans
When could the next general election take place?
Greater Manchester mayor Andy Burnham slams HS2 decision

The education reforms, which the prime minister claimed would be his top spending priority, will be a decade-long project.
And the radical ripping up of HS2 and his new Northern network transport plan is an endeavour that would run into the coming decades.
The irony of all of this is that the politics of much of this long-term agenda is based on short-term calculations.
On HS2, he's made a huge decision on a multi-decade project, in part because it gives Labour a real headache.
Do they recommit the money and be framed by the Tories as reckless spenders, or do they follow his lead, with all the backlash that would bring?
What this shows is that, in reality, the speech was far less about the actual policies and all about the politics of a leader who wants to present as a change candidate and paint his opponents as the party of the 'status quo' – unwilling to go against the prevailing political consensus.
Minister says HS2 funds can now be better spent

I do not need to tell you how hard it will be for Sunak to pull this off. He is the leader of a party that has been in government for 13 years and is hugely trailing in the polls. But there are two things that explain the approach.
First, with a Conservative Party truly out of favour with the public, this prime minister has to turn any campaign into one centred on himself – a different kind of leader, disassociated from the Conservative brand.
Second, he doesn't really have a choice. In a country where voters seem desperate for change, he can hardly pitch himself as a continuity candidate or run on a 'stick with us' ticket.
It's an audacious approach, but what does he have to lose? His party is massively behind in the polls and already looking to who comes next.
If we learnt anything today, it was this: if Sunak is going down, he intends to go down fighting.
Opening arguments begin in Sam Bankman-Fried trial
Prosecutors and defense attorneys in the criminal case of former FTX CEO Sam Bankman-Fried, also known as SBF, painted a very different picture for the jury to consider during the trial.
In a New York courtroom on Oct. 4, Assistant United States Attorney Thane Rehn and SBF attorney Mark Cohen delivered opening arguments to a jury of 12 people on the events leading up to the collapse of crypto exchange FTX as well as Bankman-Fried's alleged role. The remarks followed Judge Lewis Kaplan finalizing a selection of 12 members of the jury and 6 alternates after more than a day of questioning.
According to an X (formerly Twitter) thread from Inner City Press at the event, Rehn claimed in court that SBF used FTX customer funds to enrich himself as well as convince lawmakers — through campaign donations and testimony — that he was trustworthy. The Assistant U.S. Attorney reportedly argued that Bankman-Fried repeatedly lied to users, employees, and the general public regarding "the hole" FTX found itself in during November 2022 when financial information on the exchange was released.
"The hole was too big," said Rehn. "So defendant blamed a downturn in the crypto market. But he had committed fraud. That is what the evidence in this trial will show. You will hear from his inner circle. His girlfriend will tell you how they stole money together."
Cohen, who delivered his opening statement after Rehn, reportedly blamed some of the issues leading to FTX's downfall on SBF's former girlfriend and former Alameda Research CEO Caroline Ellison as well as Binance CEO Changpeng Zhao, or CZ. He claimed Ellison had failed to act to hedge some of Alameda's investments despite Bankman-Fried's urging to do so, and CZ's social media posts had directly led to a run on FTX.
SBF's defense team presented the former FTX CEO as someone who "acted in good faith" amid a company growing exponentially in a volatile crypto market. He also pushed back against the narrative SBF was a "bad guy" by spending funds, with a penthouse in The Bahamas and paying celebrities to endorse FTX: "It's not a crime to try to get Tom Brady".
Related: 5 highlights of Sam Bankman-Fried's first day of trial
Oct. 4 marked the second day of Bankman-Fried's first criminal trial, which is expected to last roughly six weeks. He has pleaded not guilty to 7 charges related to alleged fraud at FTX, and will appear in court again in March 2024 for a second trial.
Among the highlights of SBF's first week in court included the former FTX CEO appearing with a new haircut for the first time. Ellison along with other former executives connected to the crypto exchange may testify against SBF as the trial continues.
Magazine: Can you trust crypto exchanges after the collapse of FTX?
This is a developing story, and further information will be added as it becomes available.