Three days of discussions – as well as a beach barbecue – in Cornwall are over for G7 leaders. So what did their summit amount to?
COVID-19
What was agreed: G7 leaders committed to providing one billion doses of COVID vaccines to poorer countries over the next year. They also agreed to initiatives on future pandemic preparedness such as improving virus surveillance systems and a mission to reduce the time taken to develop new vaccines and treatments from 300 to 100 days.
What wasn't agreed: Charities accused G7 leaders of "cooking the books" on their vaccine pledge, with their one billion doses promise made up of only 870 million doses directly donated. The rest will be made up through funding to an international vaccine-sharing scheme. Meanwhile, the World Health Organisation has said 11 billion doses are needed to help end the global pandemic. And G7 countries are still split on whether intellectual property rights should be waived on COVID vaccines, despite the WHO saying it is an "essential" step to inoculating the world.
PM 'rejects' claims of moral failure over vaccine

Climate change
What was agreed: G7 countries committed to net zero carbon emissions no later than 2050 and to halve their collective emissions by 2030. There was also a commitment to conserve or protect at least 30% of land and oceans by 2030. Prime Minister Boris Johnson, the summit's host, said G7 nations were "clear" that "action has to start with us".
What wasn't agreed: Campaigners criticised a lack of action on climate finance to help vulnerable communities and countries. It has been claimed that, without such cash, developing nations will be less inclined to cooperate at the COP-26 climate change summit in Glasgow later this year.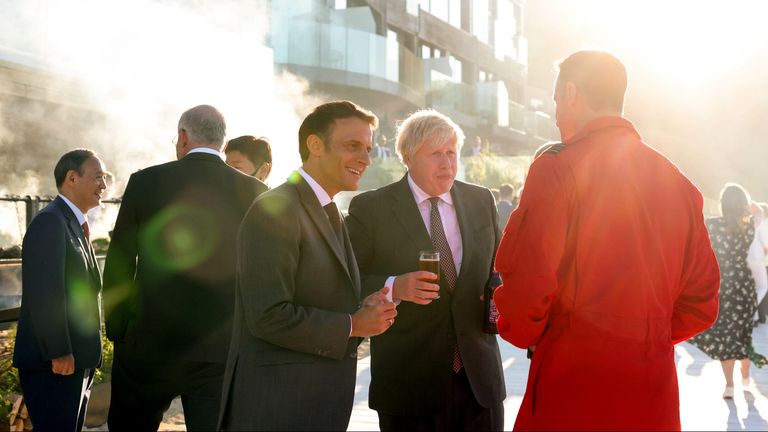 China
What was agreed: The G7 agreed to set up what is being viewed as an alternative to China's belt and road initiative – an infrastructure strategy increasing Beijing's economic and political influence across the world. The G7 plan aims to provide high quality financing for infrastructure such as railways in Africa and wind farms in Asia in order to propel global green economic growth.
What wasn't agreed: Human rights issues in Hong Kong and Xinjiang were highlighted in the summit's communique. But it was noted a section on forced labour made no specific mention of China, which has been accused of the use of forced labour in Xinjiang.
Brexit
What was agreed: The prime minister and EU leaders agreed to continue talking amid the ongoing dispute over post-Brexit arrangements for Northern Ireland. US President Joe Biden also steered away from the row, despite reports the UK had recently received a "demarche" – a formal diplomatic protest – from the US over the dispute about the Northern Ireland Protocol.
What wasn't agreed: Number 10 was keen to stress Mr Johnson did not see this weekend's summit as the forum to agree solutions to the Brexit dispute. Meanwhile, French President Emmanuel Macron denied he had questioned the "territorial integrity" of the UK in bilateral talks with the prime minister. This came after Foreign Secretary Dominic Raab claimed EU leaders had been "offensive" by suggesting Northern Ireland was a different country to the UK.
The SEC is facing another defeat in its recycled lawsuit against Kraken
The legal duel between the United States Securities and Exchange Commission (SEC) and Kraken, a leading cryptocurrency exchange, looks like another misguided attempt by the SEC to exert control over an industry that fundamentally challenges an outdated regulatory playbook. The agency's lawsuit, filed in November, accuses Kraken of operating as an unregistered securities exchange.
The lawsuit isn't just a repeat of the SEC's past failures. It's also a glaring example of regulatory overreach that fails to grasp the essence of cryptocurrency. It mirrors the agency's actions against Coinbase, which mark a pattern of aggressive regulation that is both ineffectual and counterproductive. In its case against Coinbase, the SEC allegations similarly involved operating as an unregistered securities exchange. The approach fundamentally misunderstands the nature of cryptocurrency exchanges.
The lawsuit isn't just a repeat of the SEC's past failures. It's also a glaring example of regulatory overreach that fails to grasp the essence of cryptocurrency. It mirrors the agency's actions against Coinbase, which mark a pattern of aggressive regulation that is both ineffectual and counterproductive. In its case against Coinbase, the SEC allegations similarly involved operating as an unregistered securities exchange. The approach fundamentally misunderstands the nature of cryptocurrency exchanges.
Unlike traditional securities exchanges, platforms like Kraken offer a diverse range of digital assets that do not fit neatly into the securities framework. This misclassification by the SEC reveals a lack of understanding of the unique characteristics of cryptocurrencies, which function as decentralized assets, often with utility or currency-like features rather than conventional securities.
Related: Expect some crypto companies to fail in the wake of Bitcoin's halving
One of the most striking issues is the absence of technological neutrality — the principle that regulatory frameworks should apply equally to all forms of technology, without favoring or penalizing any particular one. By forcing cryptocurrencies into the traditional securities mold, the SEC is not only misapplying laws but also showing a clear bias against digital assets. This lack of neutrality not only hinders innovation but also unfairly targets platforms that are striving to work within the regulatory landscape.
The aggressive stance of the SEC risks driving innovation and business away from the U.S. to more crypto-friendly jurisdictions. This phenomenon, known as regulatory arbitrage, could result in the U.S. losing its position as a leader in technological innovation. The crypto industry is global, and excessive regulation in one country simply pushes businesses to relocate, taking their economic benefits and innovations with them.
Related: 3 theses that will drive Ethereum and Bitcoin in the next bull market
The Kraken lawsuit is set to become another example of the SEC's failure to successfully regulate the crypto industry, akin to the outcome of its actions against Coinbase. This repetitive cycle of aggressive and misinformed regulation is not only futile but also harmful to the credibility of the SEC. It sends a message that the regulatory body is more interested in flexing its regulatory muscle than in understanding and adapting to new technological paradigms.
The case isn't just an isolated legal battle. It is indicative of a broader issue within the U.S. regulatory framework's approach to cryptocurrencies. The SEC must move beyond its current, outdated tactics and engage with the crypto industry in a more informed and constructive manner. Regulation is necessary, but it must be reasonable, well-informed, and designed to foster innovation, not stifle it.
It looks the SEC is set for another resounding defeat, which will serve as one more reminder of the need for a new approach by regulators.
Daniele Servadei is the 20-year-old founder and CEO of Sellix, an Italian e-commerce platform that has processed more than $75 million in transactions for more than 2.3 million customers worldwide. He's attending the University of Parma for a degree in computer science.
This article is for general information purposes and is not intended to be and should not be taken as legal or investment advice. The views, thoughts and opinions expressed here are the author's alone and do not necessarily reflect or represent the views and opinions of Cointelegraph.
Nayib Bukele steps down as El Salvador's President ahead of re-election bid
El Salvador President Nayib Bukele, who was behind legislation recognizing Bitcoin (BTC) as legal tender in the country, has stepped down from office to campaign.
On Dec. 1, Bukele resigned as the President of El Salvador following approval from the country's Legislative Assembly, allowing him to take a leave of absence to focus on his 2024 re-election campaign. He was succeeded by Acting President Claudia Rodríguez de Guevara, who is expected to serve until June 2024. The next general election will take place in February 2024.
"Current state of democracy in El Salvador: the office of the President of the Republic will be occupied by a person for whom no one has ever voted," said Héctor Silva, candidate for the mayor's office of San Salvador, on X.
El legado correcto

The right legacy 
https://t.co/dO2c0ZtQUN

— Nayib Bukele (@nayibbukele) November 29, 2023
Bukele, who first took office in June 2019, quickly became known for his attempts to reduce the homicide rate in El Salvador — one of the highest in the world at the time — as well as his pro-crypto policies. He advocated for the Salvadoran government to adopt Bitcoin as legal tender in September 2021 and pushed for the creation of a volcano-powered 'Bitcoin City' in the country.
Related: Salvadoran pro-Bitcoin President Nayib Bukele launches reelection bid
Though the homicide rate under Bukele has dropped significantly, many critics have pointed to El Salvador violating laws on human rights in its attempts to crack down on gang activity. A United Nations human rights office report from March said the country had implemented "mass detentions" since 2022, in which many people were mistreated or had died in custody.
The President of El Salvador serves for a five-year term. Before September 2021, the country's constitution required presidents to wait ten years before running for re-election. However, El Salvador's Supreme Court ruled at that time that a president may serve two consecutive terms.
Magazine: What it's actually like to use Bitcoin in El Salvador
Sam Bankman-Fried will not file any post-trial motions, say lawyers
Following his conviction on federal fraud charges on Nov. 2, former FTX CEO Sam "SBF" Bankman-Fried will not pursue any post-trial motions.
In a Dec. 1 letter to Judge Lewis Kaplan in United States District Court for the Southern District of New York, lawyers representing Bankman-Fried said they had "decided not to file any post-trial motions" but reserved their rights to pursue claims on appeal. The filing was the latest following SBF's conviction on Nov. 2 as he awaits sentencing on March 28.
It's unclear whether prosecutors plan to move forward with Bankman-Fried's second trial in March. The former FTX CEO's indictment was split in order for him to face 7 counts in October and 5 charges in March, but following a guilty verdict in November, SBF could already be looking at decades behind bars.
Related: What's next for the 'crypto king' Sam Bankman-Fried?
After the jury verdict was handed down, Bankman-Fried returned to the Brooklyn Metropolitan Detention Center, where he is expected to remain until sentencing. On Nov. 30, crypto blogger Tiffany Fong interviewed a former mob enforcer, Gene Borrello, who reported on some of SBF's experiences in jail. Borrello claimed another inmate attempted to extort the former FTX CEO.
Bankman-Fried was one of the first high-profile crypto executives to face criminal charges in the United States. Authorities arrested former Celsius CEO Alex Mashinsky in July, and at the time of publication, he remains free on bail until his September 2024 criminal trial. Changpeng Zhao, who stepped down as CEO and pleaded guilty to one felony charge as part of a settlement between U.S. officials and Binance, will be sentenced in February.
Magazine: Can you trust crypto exchanges after the collapse of FTX?