Brazil is likely to pass the awful mark of 500,000 COVID-related deaths in the next two days. Only the United States has a higher number of dead across the world.
Currently averaging 2,500 deaths a day, Brazil's P1 variant has long been identified as a highly virulent cause for concern, prompting travel bans to most countries.
But researchers in Sao Paulo, one of the worst-hit cities in the country, say the P1 variant has started infecting and killing pregnant women and their unborn children in startling numbers.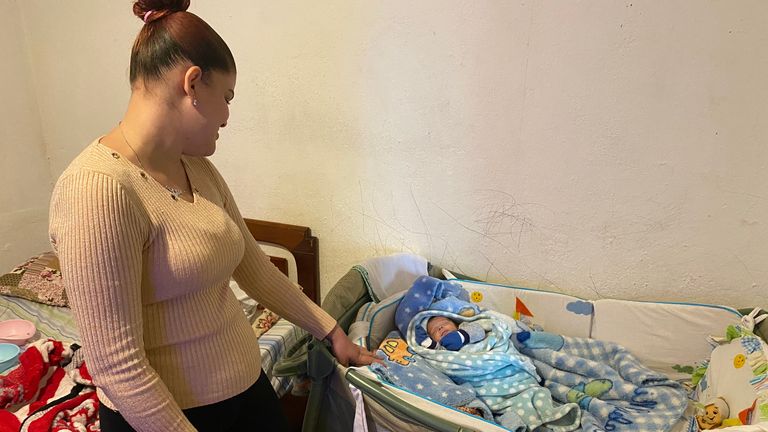 Currently 42 pregnant women die every week from COVID-19; many more women are being intubated and their premature children delivered by caesarean section without consultation with obstetricians, according to medical researchers at the Brazilian Obstetric Observatory.
Dr Rossana Pulcineli Vieira Francisco from the observatory said: "The virus transmissibility is higher with this variant and I think the big problem is that the health system for maternal care in Brazil is very bad.
"In some states the patient starts treatment in one hospital, a general hospital, and when her condition starts to worsen, and she needs to deliver the baby, she will be transported while intubated because they're not at the right hospital to do the delivery."
This, she believes, is part of the reason Brazil is seeing a higher rate of maternal mortality.
She says obstetricians and intensivists should be working together to find the right outcomes for mother and child, otherwise it will be very difficult to stop maternal mortality during COVID.
"I think we have more cases because of the variant, and because our maternal health system is very fragile, we have this result."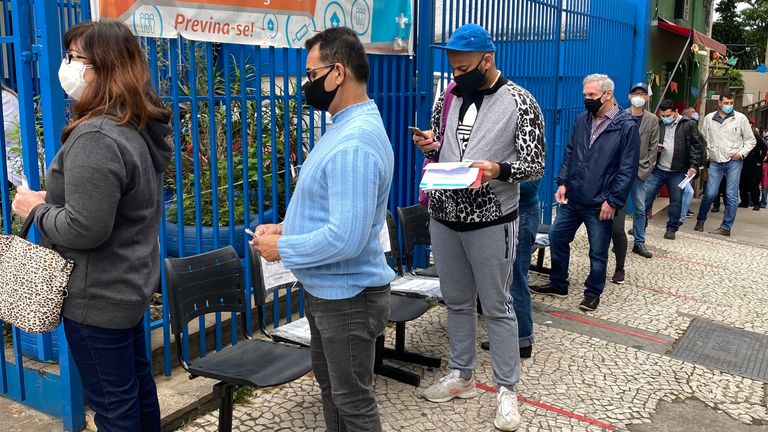 I asked her if it's a perfect storm.
"Yes", she replied, "and I think our only chance to stop this is the vaccine."
The data from her and her colleagues' research reveals that last year 10 pregnant women were dying each week from COVID-19.
This year, with the emergence of the new variant, the new figure is more than 40 per week.
Poor medical care and facilities already contributed to a high death rate for pregnant women in Brazil of 55 per 100,000 women. In Britain the figure is just 9.7.
But Dr Francisco says their research so far indicates that with COVID-19 as a factor the new number could double to over 100 per 100,000 by the end of the year.
The high overall transmission of the P1 variant (it accounts for nine in 10 coronavirus cases in Sao Paulo) combined with an overwhelmed health service, puts pregnant women at extreme risk.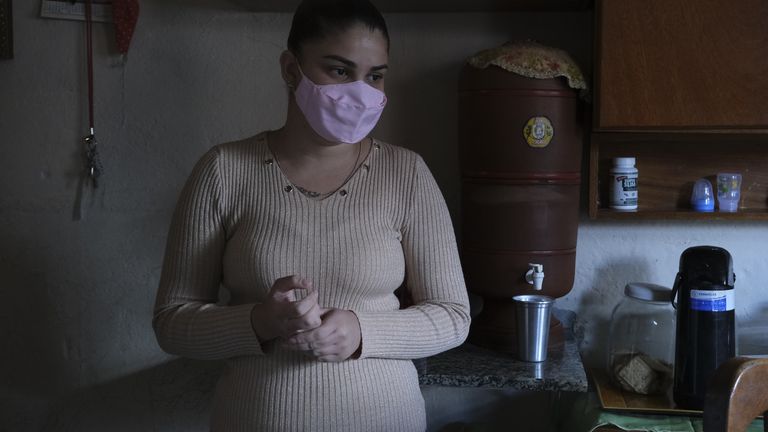 The practice of intubating pregnant women and delivering the baby while the mother is in a highly stressed condition is criticised by the researchers as a "bad outcome" for both the mother and her child.
For their part, doctors working in overstretched public hospitals prioritise the life of the mother over the child and without extensive experience of intubating anyone, let alone pregnant women, they have little choice but to deliver the baby while saving the mother.
In Jardim Almeida Prado, a poor neighbourhood in the south of the city of Sao Paulo, Thais Ferreira de Lomes looks down at her tiny three-month-old baby Ezequiel, who has just been released from hospital.
Ezequiel was born 12 weeks prematurely, after Thais was intubated.
Previously fit and healthy, like most people, Thais and her family thought she was in no danger when the first symptoms of COVID developed, but they were wrong.
When her kidneys failed, the doctors said she wouldn't live to see her third child.
She's still scarred by her near-death experience – her uncle had died of COVID when she first got sick.
"It was great to come home, see my family, and know that God gave me the opportunity to live again," she tearfully told me.
"Seeing so many people dying, so many people dying like my uncle died with COVID. Many people are dying with COVID."
Even though she is over the worst of her experience, she is scared for her and her children's futures, and worries Ezequiel might still get coronavirus.
"Even today I'm afraid because he's tiny, he was born prematurely. I told my mother-in-law that it's hard for me to look at him and not think that something might happen."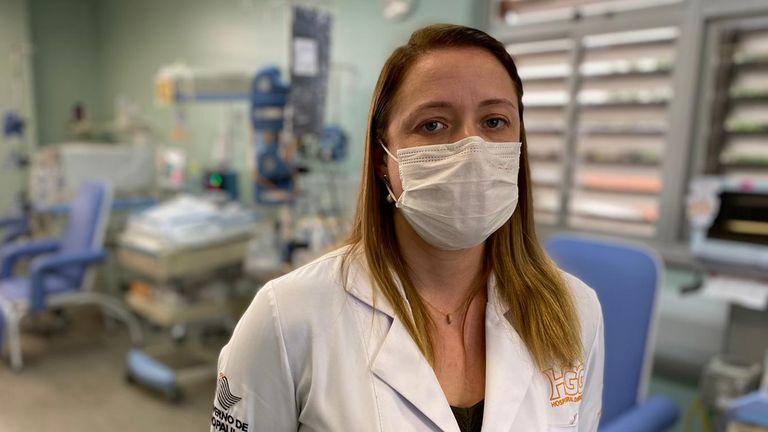 At the Graiau Hospital, the maternity ward and its premature babies section where Ezequiel was cared for, are currently free of COVID cases, but doctors and nurses have no expectation that it is going to stay this way – other hospitals in the city are still treating infants with COVID-19 and their sick mothers.
Dr Patricia Sella, the medical coordinator for gynaecology – and the doctor who treated baby Ezequiel – says she has no doubt that the P1 variant, sweeping across the country, is infecting young pregnant women like she hasn't seen before.
"In 2021 we observed an increase in pregnant women affected by COVID, likely because of the new strain.
"In 2020, in our hospital mainly, we had a very small number of pregnant women with COVID, but this year we have at least one pregnant woman hospitalised with COVID every week," she explained to me, standing in the hospital's neonatal intensive care unit.
She puts this down to the high infection rate of the P1 variant.
"So, actually, I think that with the change in the strain, we saw that the inflammatory process, [and] the vasculitis caused by the virus is much greater, right, and that ended up changing, bringing it to pregnant women.
"[Pregnant women] already have decreased lung compliance due to the pregnancy itself and the evolution of the pregnancy. With the COVID infection, this ends up getting worse.
"What we observed is that this strain ended up infecting pregnant women who do not have any other pre-existing conditions, so they do not have hypertension, and do not have diabetes during pregnancy. We observed that there was an increase and an increase in severity of the cases."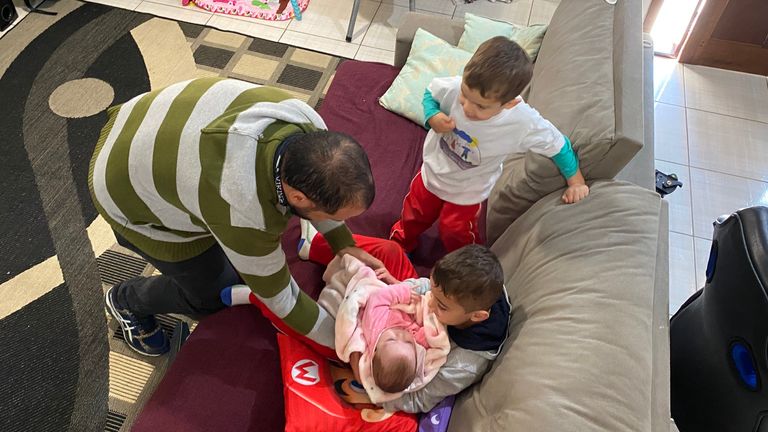 In the middle-class suburb of Jardim America, Douglas Silverio proudly shows off the latest addition to his family, three-month-old Maria Helena.
She has two elder brothers Pedro, five, and Bento, three, who run around their home playing with toys while their grandmother prepares lunch.
She now lives with the family because her daughter and the children's mother, Vanessa, is dead; killed by COVID-19.
Vanessa was just 33 when coronavirus struck.
Within five days she deteriorated and was intubated, and Maria Helena was delivered by caesarean section, coincidentally on her dad's birthday.
Vanessa never recovered.
"I told my sons, 'let's say goodbye to her'.
"Pedro, who is five years old, cried too, and he said, 'goodbye mother, you are going to heaven'.
"The youngest one did not understand what happened. And it was crazy, that was a crazy time, because we had prayed a lot for the baby, a lot of prayers from our family, but I was not ready to bury my wife in this process."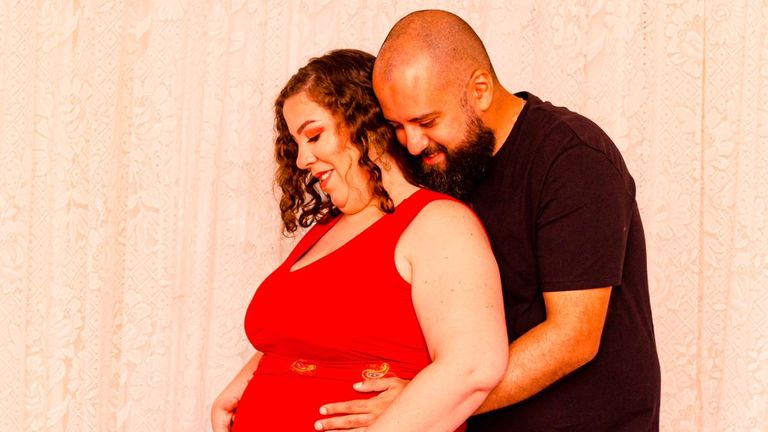 On the day Douglas held mass for his wife's death, baby Maria Helena was released from hospital.
He wants everyone to fear COVID and to listen to the warnings about the disease.
"I miss my wife. And she was my friend, we had a lot of plans together.
"I get scared when I see on the streets some pregnant women without masks. I say to them please take care of yourself."
The entire medical profession in Brazil now acknowledges that the only way to fight the virus and to stop the country being a petri dish for creating COVID-19 variants that will continue to threaten the world, is for the country's vaccination programme to speed up and reach all members of society.
The rollout is currently very slow and so far has only started to include 56-year-olds in Sao Paulo.
Many in the profession directly blame the country's president, Jair Bolsonaro, for the country's poor response to the pandemic.
He still refuses to take the vaccine, has continuously played down the danger of coronavirus and still discourages the use of face masks anywhere.
The identification of the virus as a specific threat to young pregnant women has set off the alarm bells here that COVID-19 variants are attacking younger and younger members of society, who were previously thought to be relatively safe from serious illness.
Israel-Hamas war: The truce has ended – why have negotiations stalled and what will Israel do now?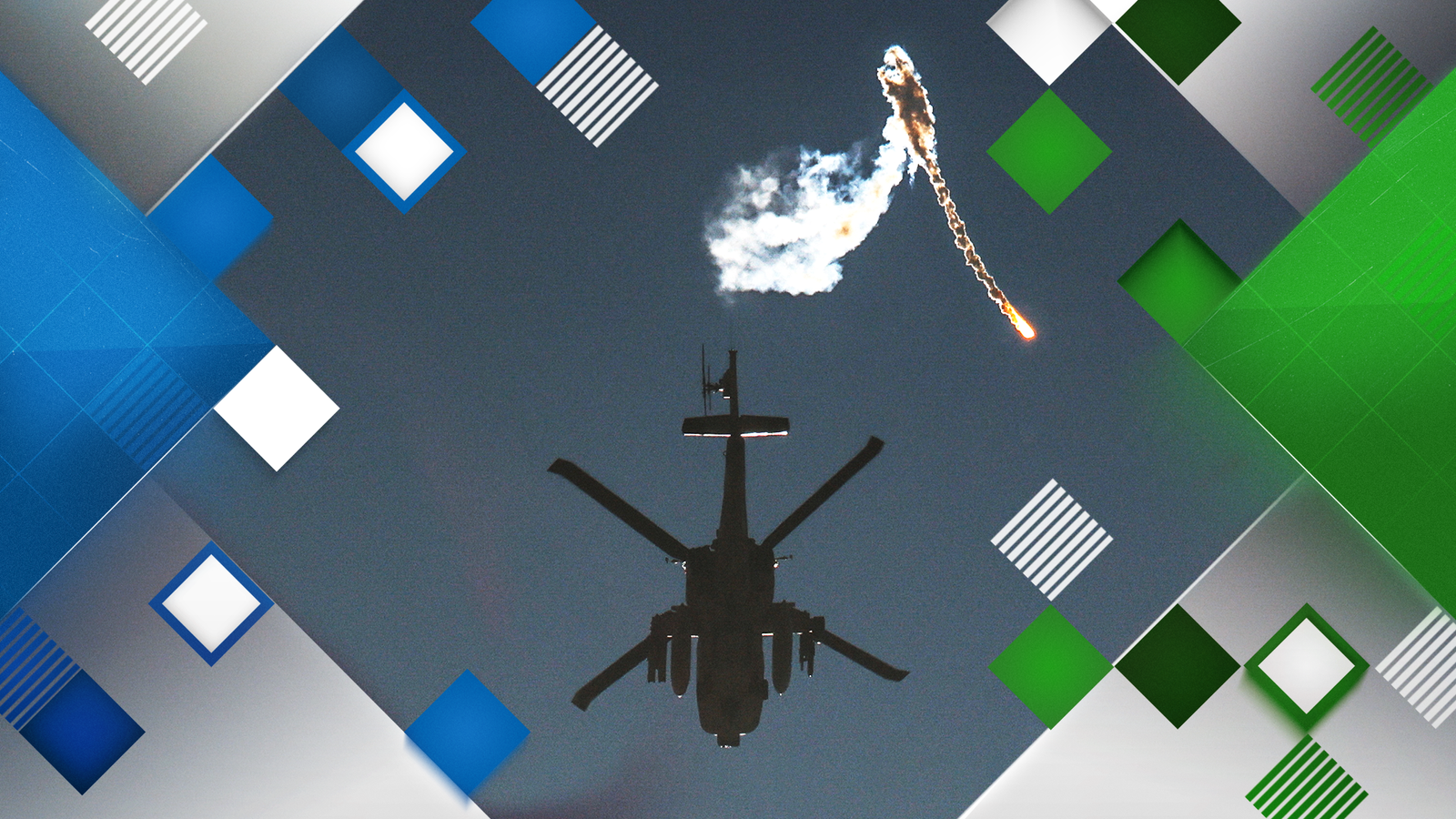 Within half an hour of the latest truce ending on Friday, Israeli fighter jets were bombing Gaza, and Hamas was firing salvos of rockets into Israel.
Although the Israel Defence Forces had been preparing for a resumption of their ground offensive if further truces could not be agreed, both sides are motivated to progress the release of hostages.
So why have the negotiations stalled and war resumed?
One of the IDF's objectives is to liberate hostages, and the truces have proven an effective way to achieve this objective.
However, the IDF also wants to destroy Hamas, and is determined to resume military operations if the hostage negotiations stall.
Hamas knows it is no match militarily for the IDF, but is using the hostages as leverage to ensure its survival through extended ceasefires.
The initial focus was on releasing Israeli women and children, with three Palestinian prisoners released for every hostage liberated.
However, the next category of hostages will include young males and foreign nationals held, and Hamas will place a greater value on these hostages before considering their release.
Israel's military has begun Phase 2 of its offensive

The IDF soldiers will probably be the most prized hostages held by Hamas, and although Hamas might drip-feed their release, they only need a handful of IDF hostages – plus maybe a couple of foreign nationals – to maintain a credible negotiation capability.
Hamas once held an IDF soldier for five years and only agreed an exchange in return for over 1,000 Palestinian prisoners – one of which was Yahya Sinwar, who is now the leader of Hamas in Gaza.
Read more: Who are the first 79 Israeli hostages released by Hamas?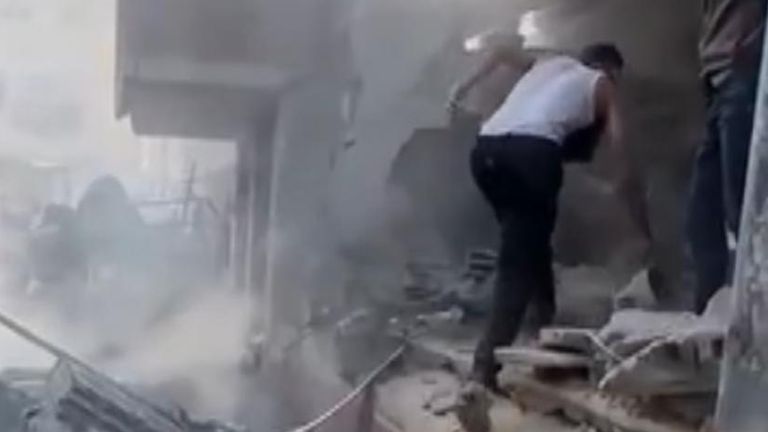 Meanwhile, Israel appears primarily focused on destroying Hamas, and although any truce will be welcome if it liberates hostages, the IDF will not tolerate any prevarication by Hamas.
Although Israel has resumed its combat operations, the military objectives will likely remain unchanged: destroying Hamas and liberating all hostages.
The second phase of its ground offensive appears to be focused on southern Gaza, where the population density is higher.
Israel launches strikes on Gaza as truce ends

The IDF admits the casualties will be greater during Phase 2 – for both the IDF and the Palestinian civilians.
Israel claims to have killed 5,000 Hamas fighters in the first phase of the war, but in total more than 15,000 Palestinians have lost their lives since the start of the conflict – and that ignores those bodies yet to be discovered in the rubble.
If Israel's military objective remains to destroy Hamas and they have killed 20% of the fighters to date, then by extrapolation the next phase of the conflict could result in another 60,000 Palestinian lives lost – not accounting for the increased risk due to the greater population density in the south of Gaza.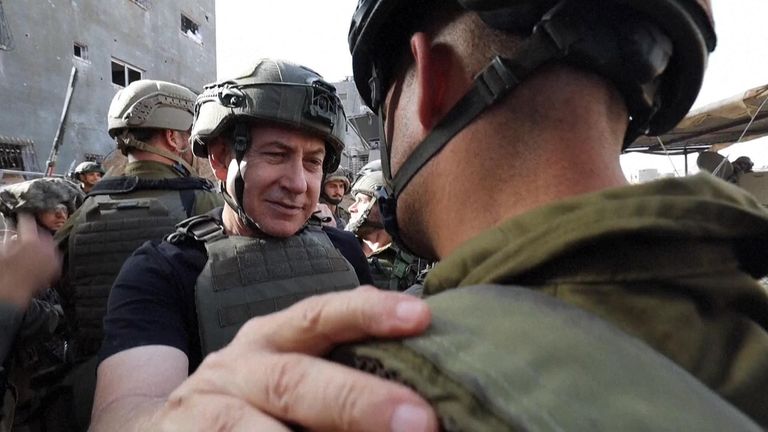 Read more:
Blinken tells Israel it needs 'clear plan' to protect civilians
Israel accuses Hamas of violating truce deal – military operations resume
Any such dramatic increase in the levels of civilian casualties or escalation of the humanitarian crisis in Gaza will be of grave concern to the international community.
Even the US – Israel's closest ally – is using increasingly cautionary language and urging restraint. It will be very difficult for Israel to maintain international support for a prolonged offensive in pursuit of its military objectives.
Regardless, Israel is clearly not prepared to let Hamas seize the initiative.
Israel supports an extension to the truce in exchange for hostages, leaving Hamas to choose between negotiation or war.
Qatari mediators are continuing their efforts to negotiate a fresh agreement, and we should expect periodic pauses in the hostilities as fresh agreements are reached and more hostages are released.
However, these are increasingly frustrating times for Israel who, despite overwhelming military superiority and securing the release of more than 100 hostages, are fast losing the initiative in this conflict.
Despite mounting a determined and aggressive ground offensive into Gaza, Israel has not destroyed Hamas, has yet to free all hostages, and is facing increasing calls to end the war.
Despite the devastation, the conflict has done little to resolve the underlying issues that polarise opinions in the region.
However, from the horrors of war, the opportunities for a lasting peace emerge, but only with international commitment and leadership will lasting progress be made.
The ceasefire between Israel and Hamas is over, and now Gazans have to flee once more for safety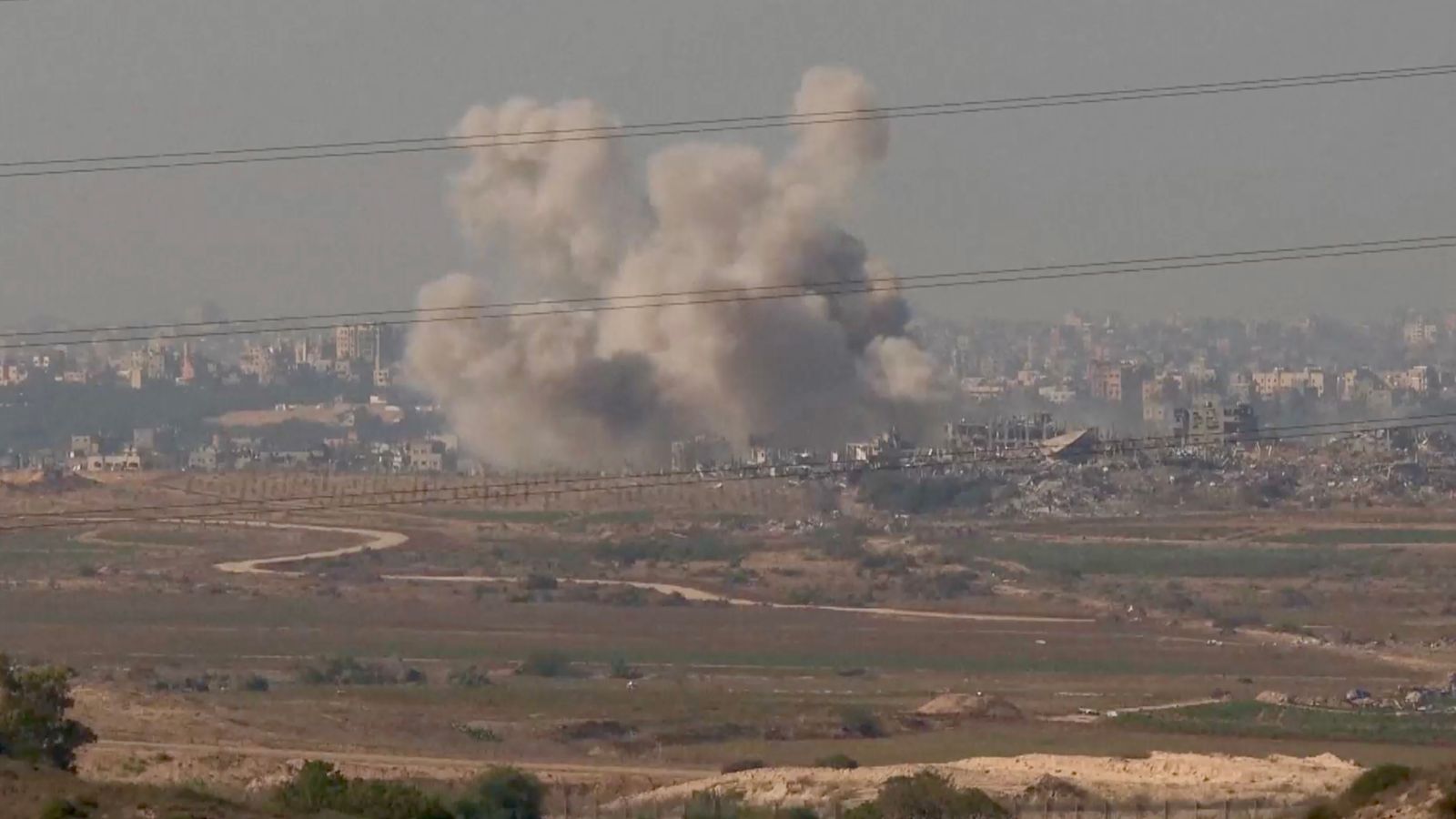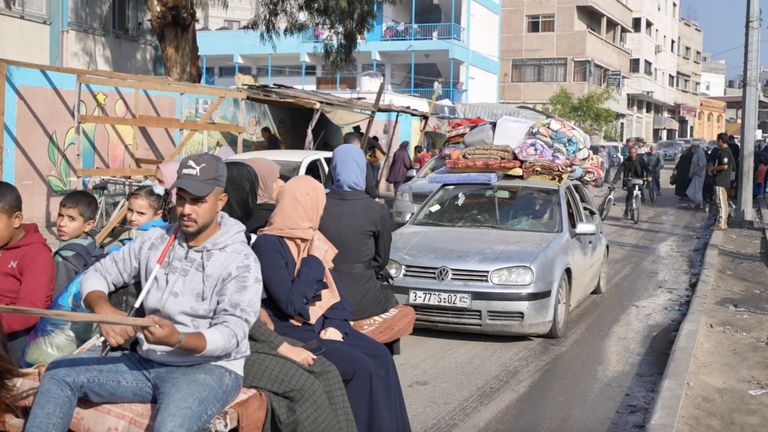 Plumes of smoke rise once again into the clear skies over Gaza.  
Artillery boomed and jets screamed through the skies above us as the skyline to the north of the strip filled with smoke as buildings and Hamas targets were pounded by the Israeli military.
Loudspeakers blared out warnings of incoming Hamas rockets.
Follow the Israel-Hamas conflict live as military operations begin again
We hit the ground as Iron Dome interceptors halted their path – explosions reverberated around the near-deserted streets of the Israeli town of Sderot.
The war has started again. It was always a matter of when not if.
Israel says the ceasefire was broken by Hamas firing the first rockets, while Hamas says Israel kept saying no to the offers they were making during negotiations to extend the ceasefire.
Either way, the war has resumed. And for civilians caught up in it, who started it again is probably of little consequence.
53-year-old Gaza resident Yousif Ligi thought the truce would hold. And then woke up to the bombs in his neighbourhood.
"There is no safe place, we do not know where to go. Wherever we go they bomb it. How long will this bombing continue? Find us a solution with whatever means," he said, looking dazed.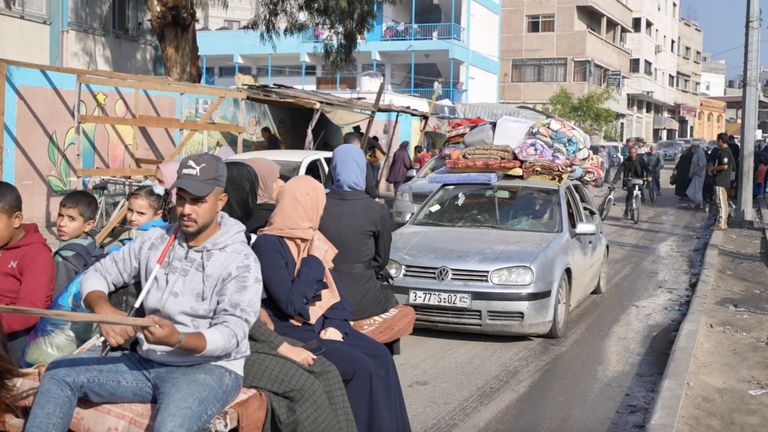 Read more:
Can Israel destroy Hamas without killing thousands more?
Images of the Israelis who've been freed so far
Sky News teams filming in the north and south of the Gaza Strip sent messages saying the intensity of the bombing is as bad as it's ever been.
Soon they began to send us pictures from inside Gaza.
It's a familiar scene now.
Streets filled with smoke and dust as bombs begin to fall, people rushing to search for loved ones and neighbours trapped in the rubble, desperately scrabbling by hand.
Houses and apartment blocks smashed to pieces.
The bodies of the dead, shrouded in white, laid together.
In one scene a woman gently strokes the body of a relative, watched on by a little girl.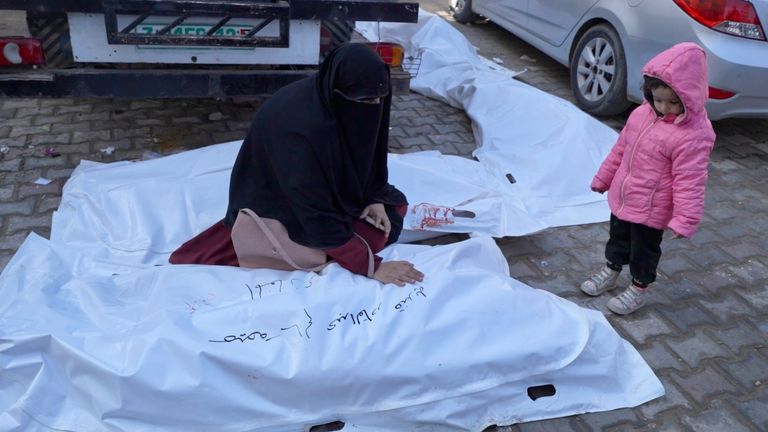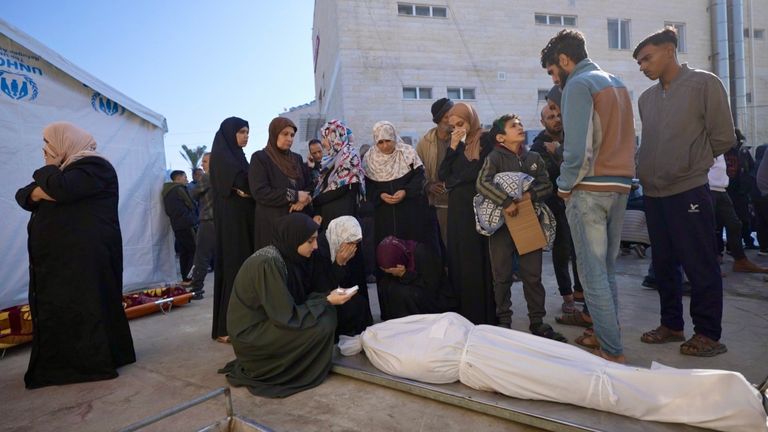 We don't know who they are.
Inside the hospitals the staff struggle to deal with a new influx of injured from the bombardment. Gurney after gurney rushed into the emergency rooms.
The medical centres in Gaza are already stretched to breaking point.
With negotiations around extending the ceasefire deadlocked, in many ways it was inevitable hostilities would resume.
The question now though is what happens to the hundreds of thousands of people in the south.
This is the greatest concern for the international community.
Already there is a mass exodus further to the south.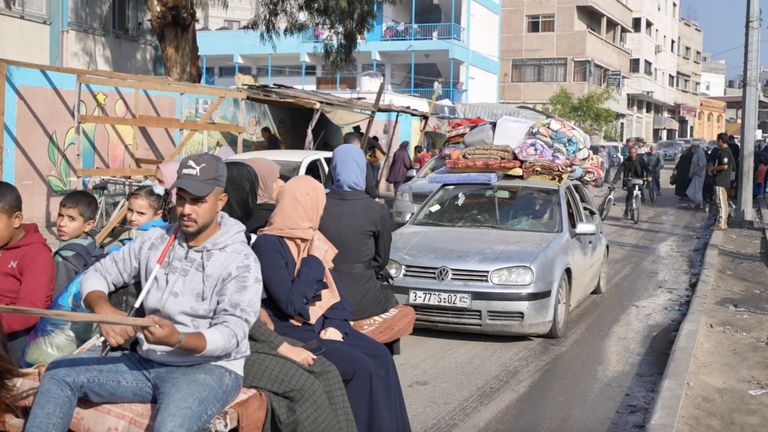 Our team in Gaza filmed as people left the city of Khan Younis, many of them had already been forced from their homes by the fighting in the north at the start of the war.
Some left by horse and cart, others in cars packed full carrying entire families – and any possessions that can cram on board.
Others reduced to escaping by foot.
One displaced Gaza resident, Sana Abdulkarim, walking with her sons and daughters, told us they feel "lost", and don't know where to find safety.
"We are scared that what they have done in the north, they will do in the south as well," she said.
The family plans to go to Rafah, on the border with Egypt.
"We can't find shelter anywhere else, where shall we go? We don't know where to go. We will go to the first school, we don't have to be inside, we can sit in the playground, what else can we do? What else can we do?"
In conflicts like this, the importance of schools as safe zones is inestimable.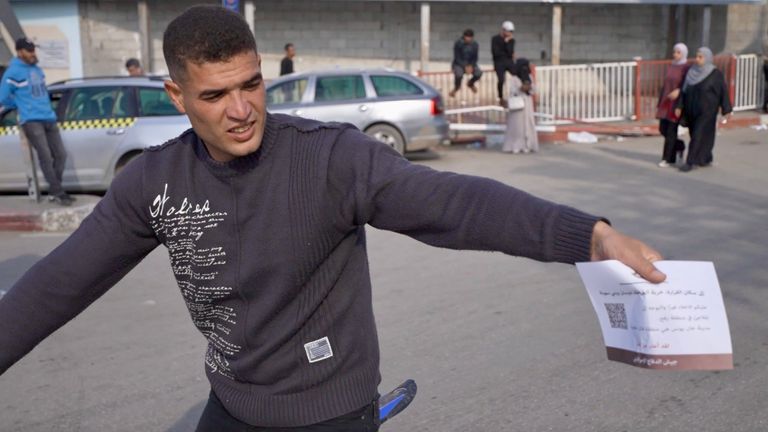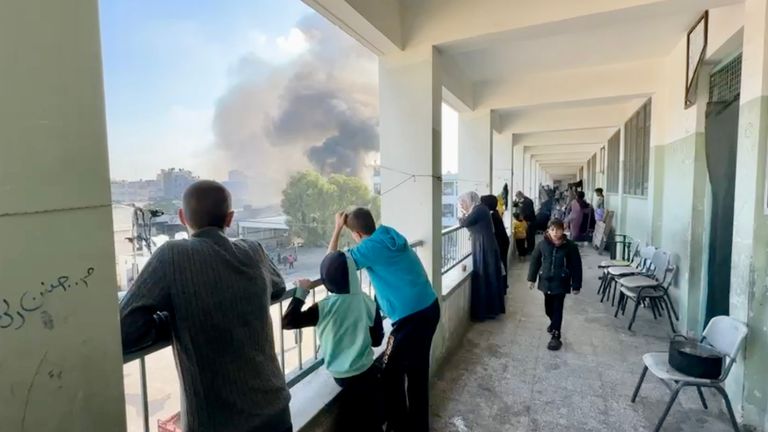 The IDF has been dropping leaflets with a QR code that links to an interactive map that has Gaza divided into block numbers.
They say the map will help residents navigate the war zone and evacuate safely.
But thousands remain in the north.
And at one school in the Jabalia refugee camp near Gaza City, our cameras filmed a fire caused by an Israeli airstrike.
It was next to classrooms now full of people seeking shelter and is far from the relative safety of the south.
As the fighting intensifies, it's hard to imagine how people like this could possibly even move.
Israel accuses Hamas of violating truce deal – military operations set to resume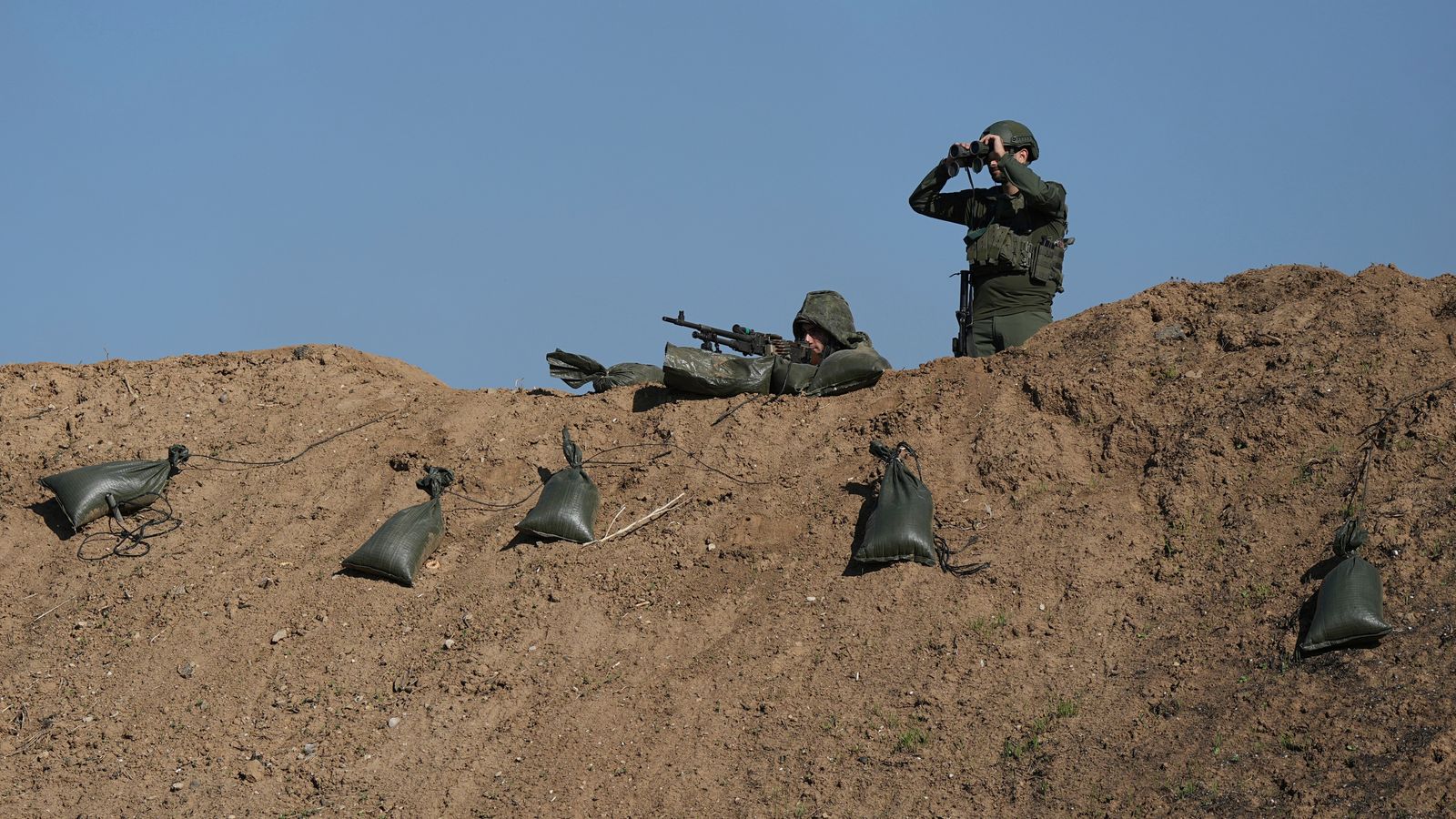 Israel's military has resumed combat in Gaza after accusing Hamas of violating the seven-day truce.
A spokesperson for Israel Defence Forces said: "Hamas violated the operational pause and in addition fired toward Israeli territory."
Around 30 minutes after the ceasefire was due to end, the Israeli military said its fighter jets were striking Hamas targets in the Gaza Strip.
Israel-Gaza latest: Follow live
Images on social media showed large plumes of dark smoke rising over the densely built-up Jabalia refugee camp.
IDF spokesperson Daniel Hagari said multiple rockets had been launched from Gaza towards Israel.
The ceasefire was due to expire at 7am local time (5am UK) on Friday – with the IDF claiming it was "ready" and willing to continue military operations.
A total of 79 Israeli hostages have been released by Hamas over seven consecutive days, with hundreds of Palestinians freed from prisons in exchange.
About 140 hostages remain in Gaza.
Reaching agreements on hostage releases appeared to be getting harder as most women and children had already been released.
International mediators – including diplomats from Qatar, Egypt and the US – had been working to extend the temporary truce.
This breaking news story is being updated and more details will be published shortly.
Please refresh the page for the fullest version.
You can receive Breaking News alerts on a smartphone or tablet via the Sky News App. You can also follow @SkyNews on X or subscribe to our YouTube channel to keep up with the latest news.