Three killed, two missing after dropping over dam in inflatable rings – four rescued after 19 hours
Three people are dead and two are missing after a group of nine people, all believed to be from the same family, went missing after floating down a river on inflatable rings and dropping over the edge of a dam.
Four of the group were rescued and taken to hospital with non-life threatening injuries after the tragedy on the Dan River in North Carolina, Rockingham County emergency services director Rodney Cates said.
The nine people were tubing – an activity which involves travelling across water on inflatable rings.
They went over the Duke Energy dam in the city of Eden at around sunset on Wednesday, Mr Cates said.
He added said the dam is approximately 2.5m (8ft) high.
Mr Cates also said that a Duke Energy employee who saw some of the tubers called 911 to report what was happening.
Rockingham County Sheriff Sam Page identified those rescued as Reuben Villano, 35 – and children Eric, 14, and Irene, 18.
The fourth person rescued was Karlos Villano of LaPorte, Indiana.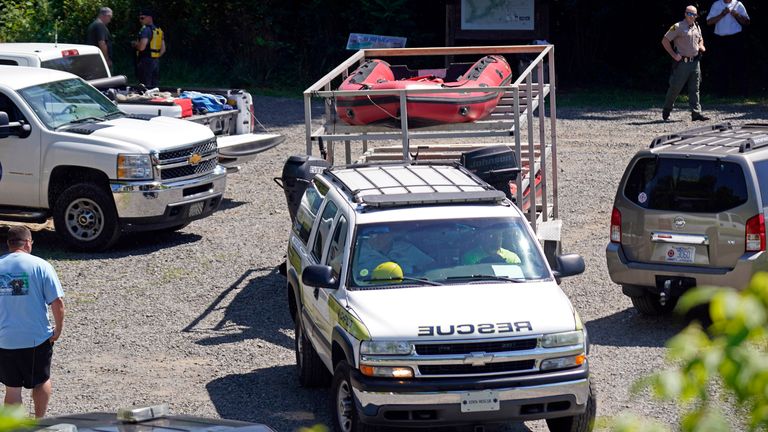 The sheriff's office named those who died as Bridish Crawford, 27, Antonio Ramon, 30, and Sophie Wilson, 14.
The two missing are Teresa Villano, 35, and Isiah Crawford, 7.
Search teams were combing the Dan River on Friday to try and locate those who have not been found.
The search will resume on Saturday, Mr Cates said.
Boats and helicopters have been used in the search in Rockingham County, north of Greensboro along the Virginia state line.
Mr Cates said the rescued people spent the night floating in the water near the dam before they were found clinging to their tubes.
He said they managed to stay afloat for approximately 19 hours, describing them as "very, very fatigued" when they were found.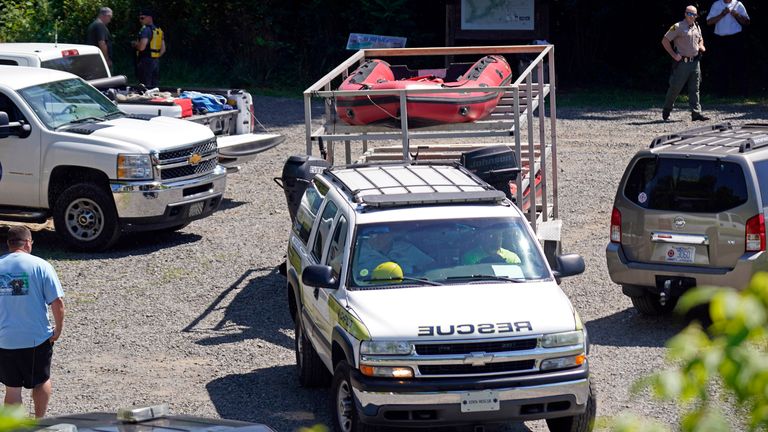 First responders indicated the survivors were caught in fast-moving water near the dam when they were found, according to recordings of scanner traffic on broadcastify.com.
The emergency workers could be heard over public safety radio ordering boats and other swift water rescue equipment to the area shortly after the 911 call came in at around 3:15pm on Thursday.
"We're taking a call on the Dan River at the dam near the Duke Energy plant. Caller is advising five tubers … went over the dam," one person says.
A rescuer says on the recording that some of the tubers were stuck near the dam because of the pull of water flowing over it.
"They're on that side … at the abutment for the dam. And they're all caught in the pull. If you can come over … we can probably pull them out pretty good, hopefully," the rescuer can be heard saying.
Mr Cates told reporters that debris and rocks in the river can puncture tubes or rafts, so it's important for people to wear life jackets. He said it wasn't clear if any of the nine were wearing such a jacket.
Mr Cates said it is not unusual for people to float the river on tubes or rafts in the area, but most get out and walk around the dam, which is marked by signs.
US death row inmate Anthony Sanchez executed for rape and murder of Juli Busken after being caught by his DNA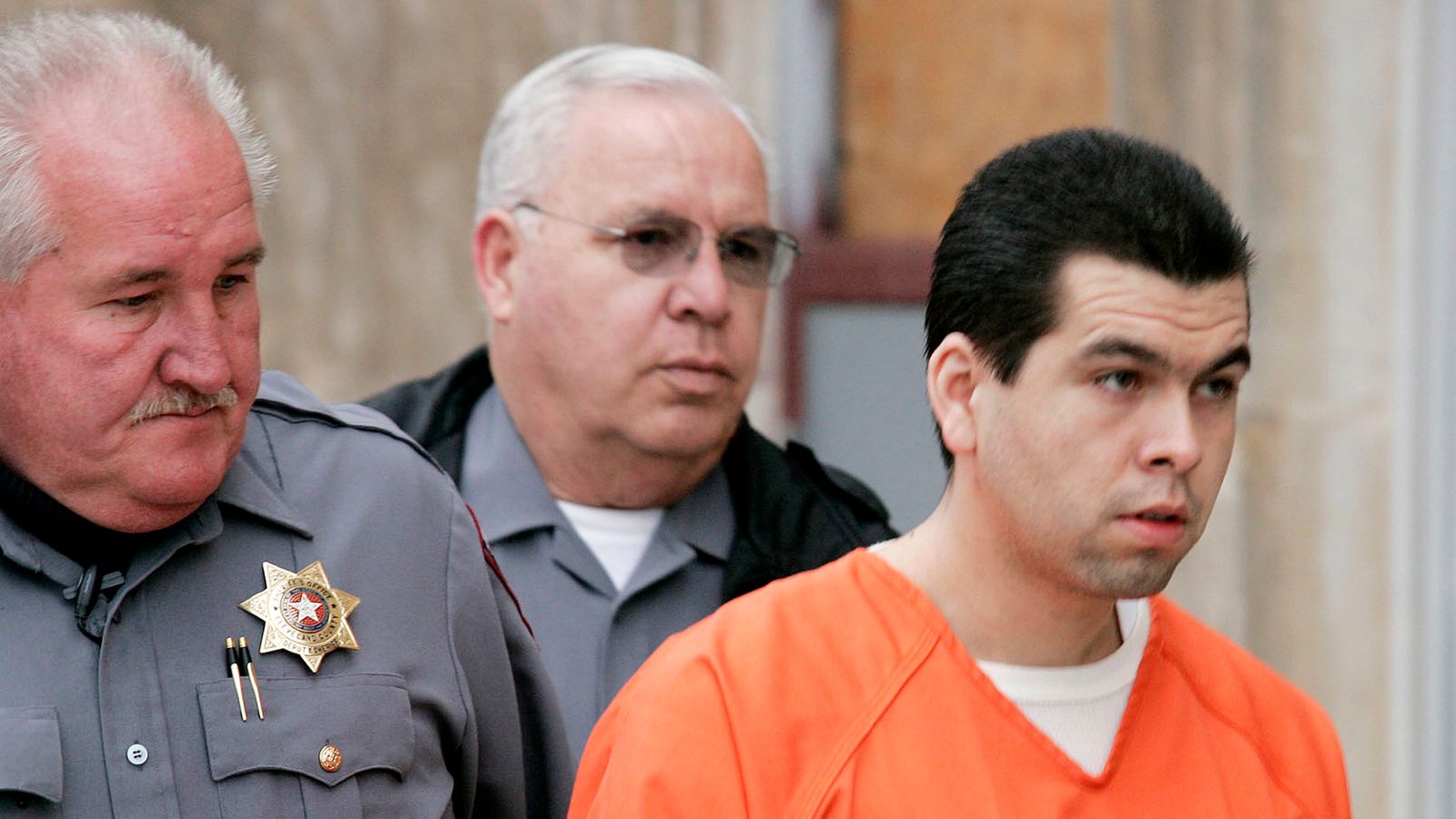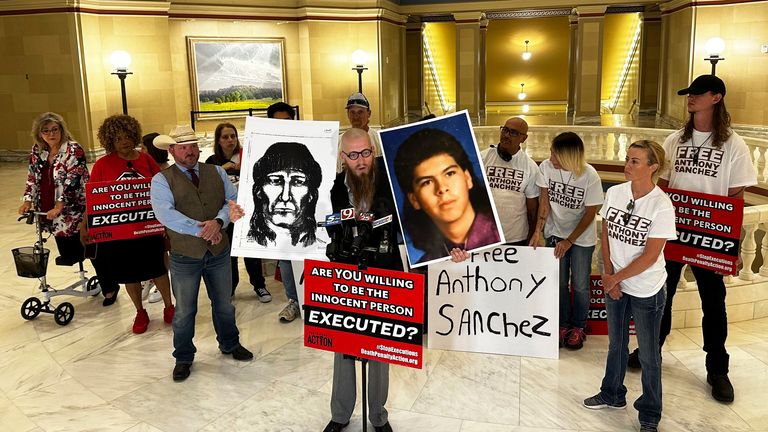 A man has been executed in the US for the rape and murder of a dance student which went unsolved for years until DNA from the crime scene was matched to him while he was in prison for burglary.
Anthony Sanchez, 44, protested his innocence as he was strapped down in the death chamber at the Oklahoma State Penitentiary in McAlester.
He was declared dead 11 minutes after the lethal drugs started to be administered.
While Sanchez maintained he had nothing to do with the 1996 killing of 21-year-old Juli Busken, he took the unusual step of opting not to present a clemency application to the state's pardon and parole board, which many viewed as the last chance to spare his life.
Ahead of his execution, Sanchez criticised his former lawyers and thanked his supporters, including his spiritual adviser who was in the chamber with him.
He said: "I'm innocent.
"I didn't kill nobody."
At one point during the procedure, a member of the execution team entered the chamber and reattached an oxygen monitor that prison officials said had malfunctioned.
Read more:
Star's cause of death revealed after inquest
Man dies driving off collapsed bridge following Google Maps
Shortly before he was put to death, the US Supreme Court rejected a request for a stay of execution submitted by his new lawyer, who had said he needed more time to go through the case evidence.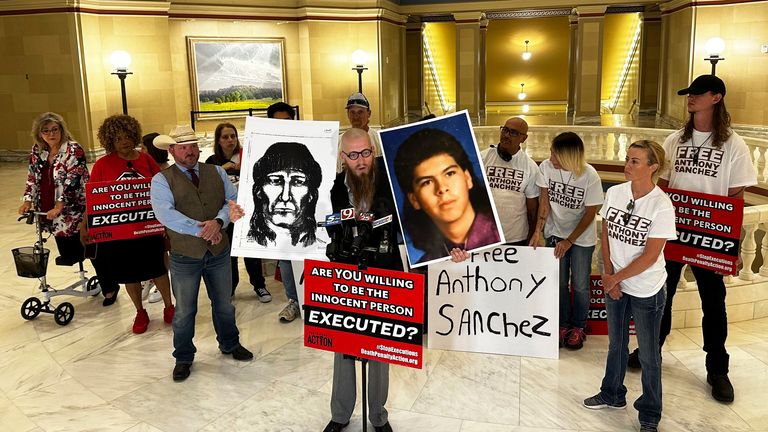 Juli Busken's family 'has found closure and peace'
Ms Busken had just completed her last term at the University of Oklahoma when she was abducted on 20 December 1996, from the car park of her apartment complex.
Her body was found later near a lake on the outskirts of Oklahoma City.
She had been bound, raped and shot in the head.
Busken had performed as a ballerina in several dance performances during her time at the university and a scholarship was set up in her name at the College of Fine Arts.
Years later, Sanchez was in jail for burglary when DNA from the victim's clothing was matched to him.
He was convicted and sentenced to die in 2006.
None of Ms Busken's family attended Thursday's execution, but state attorney general Gentner Drummond said he had spoken to them several times in recent months.
He said: "Juli was murdered 26 years, nine months and one day ago. The family has found closure and peace."
'False DNA'
Sanchez had long maintained his innocence.
In an interview earlier this year from death row. "That is fabricated DNA.
"That is false DNA. That is not my DNA. I've been saying that since day one."
He said he had declined to seek clemency because even when the five-member pardon and parole board takes the rare step of recommending it, governor Kevin Stitt was unlikely to grant it.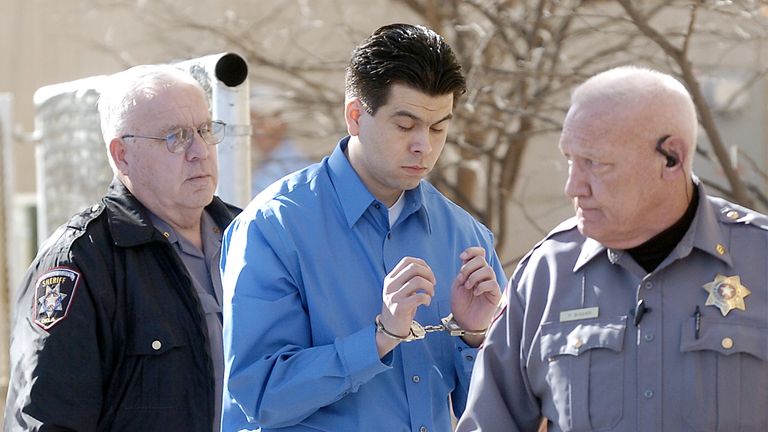 Sanchez said: "I've sat in my cell and I've watched inmate after inmate after inmate get clemency and get denied clemency. Either way, it doesn't go well for the inmates."
Mr Drummond maintained the DNA evidence unequivocally linked Sanchez to Ms Busken's killing.
He said the odds of randomly selecting an individual with the same genetic profile were one in 94 trillion.
'Brutal rapist and murderer'
"There is no conceivable doubt that Anthony Sanchez is a brutal rapist and murderer who is deserving of the state's harshest punishment," Mr Drummond said in a recent statement.
A private investigator hired by an anti-death penalty group argued the DNA evidence may have been contaminated.
Ballistic evidence
But former Cleveland county district attorney Tim Kuykendall, who was the county's top prosecutor when Sanchez was tried, has said while the DNA evidence was the most compelling at trial, there was other evidence linking him to the killing, including ballistic evidence and a shoe print found at the crime scene.
Mr Kuykendall said recently: "I know from spending a lot of time on that case, there is not one piece of evidence that pointed to anyone other than Anthony Sanchez.
"I don't care if a hundred people or a thousand people confess to killing Juli Busken."
Sanchez is the third inmate put to death in Oklahoma this year and the tenth since the state resumed carrying out the death penalty in 2021 ending a six-year moratorium introduced over concerns about its execution methods.
Angus Cloud: Euphoria star's cause of death revealed as accidental overdose
Euphoria actor Angus Cloud died from an accidental overdose from a lethal combination of drugs, a California coroner's report has found.
The 25-year-old was found unresponsive at his family home in Oakland in July.
Cloud died of a lethal mix of methamphetamine, fentanyl, cocaine and benzodiazepines, the Alameda County Coroner's Bureau confirmed to Sky News' partner network NBC News.
Following his death, Cloud's mother said on social media that she believed her son "did not intend to end his life," and said he had been talking about his plans for himself and his family in the hours before he died.
His family also spoke about his battles with mental health, saying, "we hope that his passing can be a reminder to others that they are not alone and should not fight this on their own in silence".
The actor had been mourning the death of his own father from mesothelioma (a type of cancer) and had travelled to Ireland to bury him the week before his death.
Cloud was best known for playing the drug dealer Fezco opposite Zendaya on hit teen drama show Euphoria.
He was working in a restaurant in Brooklyn, New York, when he was scouted for his first acting role by Euphoria's casting director.
Read more:
Lizzo faces new harassment claims from former wardrobe designer
Man dies driving off collapsed bridge following Google Maps
Following his death, Euphoria creator Sam Levinson said: "There was no one quite like Angus. He was too special, too talented and way too young to leave us so soon. He also struggled, like many of us, with addiction and depression.
"I hope he knew how many hearts he touched. I loved him. I always will. Rest in peace and God Bless his family."
:: Anyone feeling emotionally distressed or suicidal can call Samaritans for help on 116 123 or email jo@samaritans.org in the UK. In the US, call the Samaritans branch in your area or 1 (800) 273-TALK.
Missing toddler found asleep in woods with one family dog 'as a pillow' while the other 'kept her safe'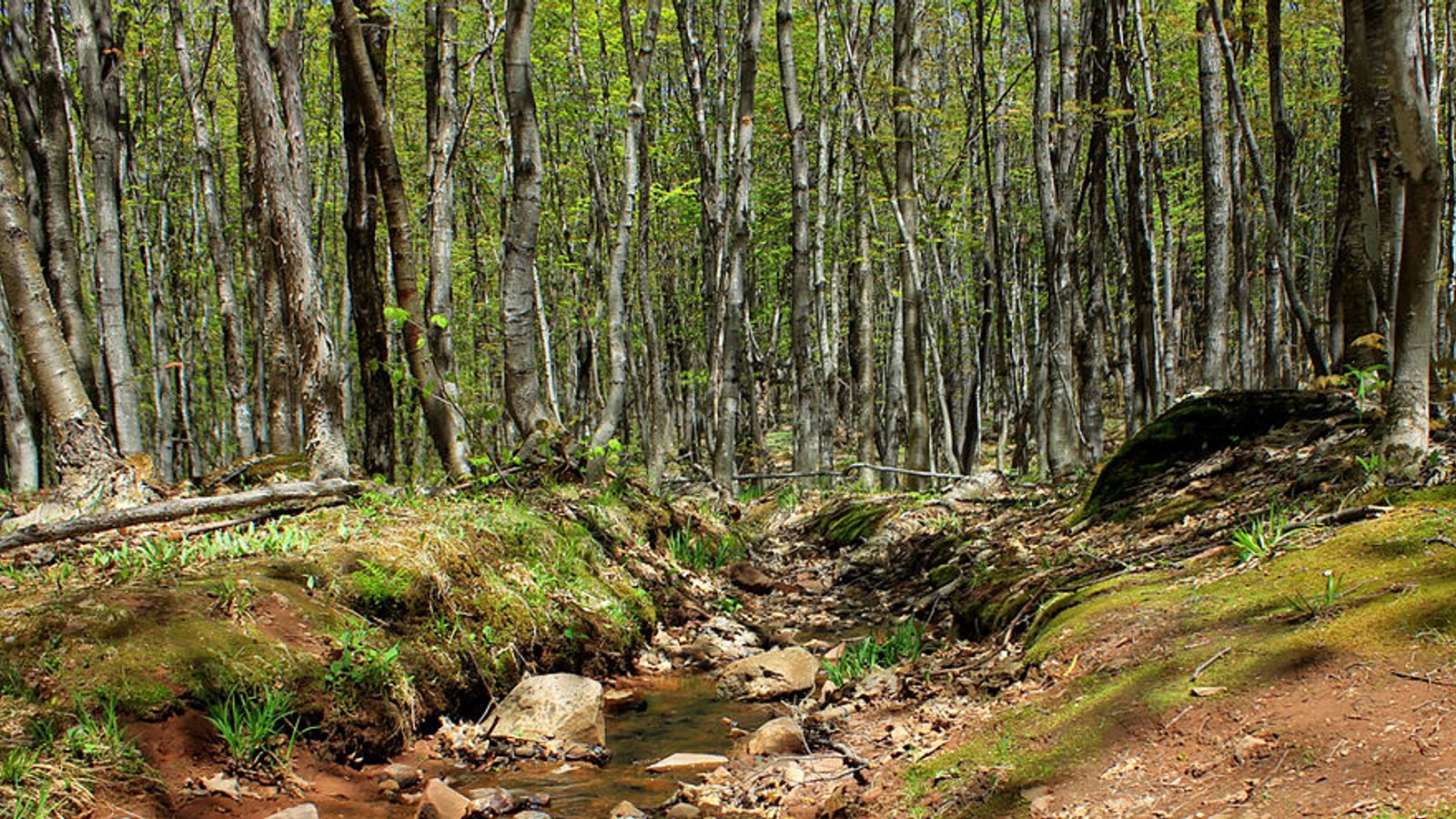 A missing two-year-old girl who got lost in the woods near her home was found asleep on one of her two family dogs like a furry pillow – while the other "kept her safe".
Her disappearance sparked a major hunt, with drones and police dogs joining police and local residents to search the remote wooded area of Michigan's Upper Peninsula, in the US.
She had walked away from her house with two family dogs before being found with both of them, state police said.
"She laid down and used one of the dogs as a pillow, and the other dog laid right next to her and kept her safe," lieutenant Mark Giannunzio said.
"It's a really remarkable story."
Read more from Sky News:
Girl, 8, becomes first UK transplant patient not to need life-long drugs
Fentanyl stash found in New York nursery days after toddler died
Police were called at around 8pm on Wednesday. A local who had joined the search found the girl around midnight, about three miles from her home.
Mr Giannunzio said the girl was checked by medical staff and appeared to be in good health.