KNOXVILLE, Iowa — Austin Hill survived a Friday night demolition derby on the dirt at Knoxville Raceway for his first NASCAR Truck Series victory of the year.
Hill restarted on the inside beside Chandler Smith on the fourth overtime attempt and pulled away in Hattori Racing Enterprises' No. 16 Toyota in the first NASCAR national series race on the historic half-mile dirt oval.
The 27-year-old Georgia driver wrapped up a playoff spot with a race left in the regular season. He has seven series victories.
The 19-year-old Smith was second, 1.207 seconds back in Kyle Busch Motorsports' No. 18 Toyota. He held the top spot through seven late restarts before Hill got the advantage on the final try with the inside position.
The wreck-filled race had 14 cautions and a red flag after a wipeout about a third of the way behind the leaders on the first overtime try. The race went 171 laps, 21 more than scheduled.
Grant Enfinger was third, followed by Todd Gilliland, Derek Kraus and Matt Crafton. Kraus rallied after spinning early in the final segment after starting from the pole and winning the first two stages.
Jessica and Stewart Friensen became the first husband and wife to race against each other in a NASCAR national series event since Elton Sawyer and Patty Moise in 1998 at Atlanta in the Xfinity Series. Jessica was 26th, four laps back. Stewart followed in 27th, nine laps off the pace.
Hill's win locks him into the Truck Series playoffs with just one regular-season race remaining. He joins John Hunter Nemechek, Ben Rhodes, Gilliland and Sheldon Creed on the list of 2021 series winners.
Bautista (AL), Williams (NL) named top relievers
NEW YORK — Baltimore's Félix Bautista was a unanimous winner of the Mariano Rivera American League Reliever of the Year Award and Milwaukee's Devin Williams won the Trevor Hoffman National League honor on Wednesday.
Bautista, a 28-year-old right-hander, was 8-2 with a 1.48 ERA and 33 saves in 39 chances for the AL East champion Orioles. He made his final appearance on Aug. 25 and had Tommy John surgery on Oct. 9, which likely will cause him to miss the 2024 season.
Williams, a 29-year-old right-hander, was 8-3 with a 1.53 ERA and 36 saves in 40 opportunities for the NL Central champion Brewers. Williams also won the award in 2020 and joined former teammate Josh Hader, Edwin Díaz, Liam Hendriks, Kenley Jansen and Craig Kimbrel as the only multiple winners of the honor, known as the Delivery Man of the Year Award from 2005-13.
Rivera and Hoffman were among the six voters, joined by fellow Hall of Famers Dennis Eckersley and Rollie Fingers along with John Franco and Billy Wagner. Balloting was based on the regular season and used a system in which the first choice got five points, the second three and the third one.
Cleveland's Emmanuel Clase was second in the AL after winning last year and Toronto's Jordan Romano was third.
Pittsburgh's David Bednar was second in the NL and San Diego's Josh Hader third.
Sources: Severino to crosstown Mets for $13M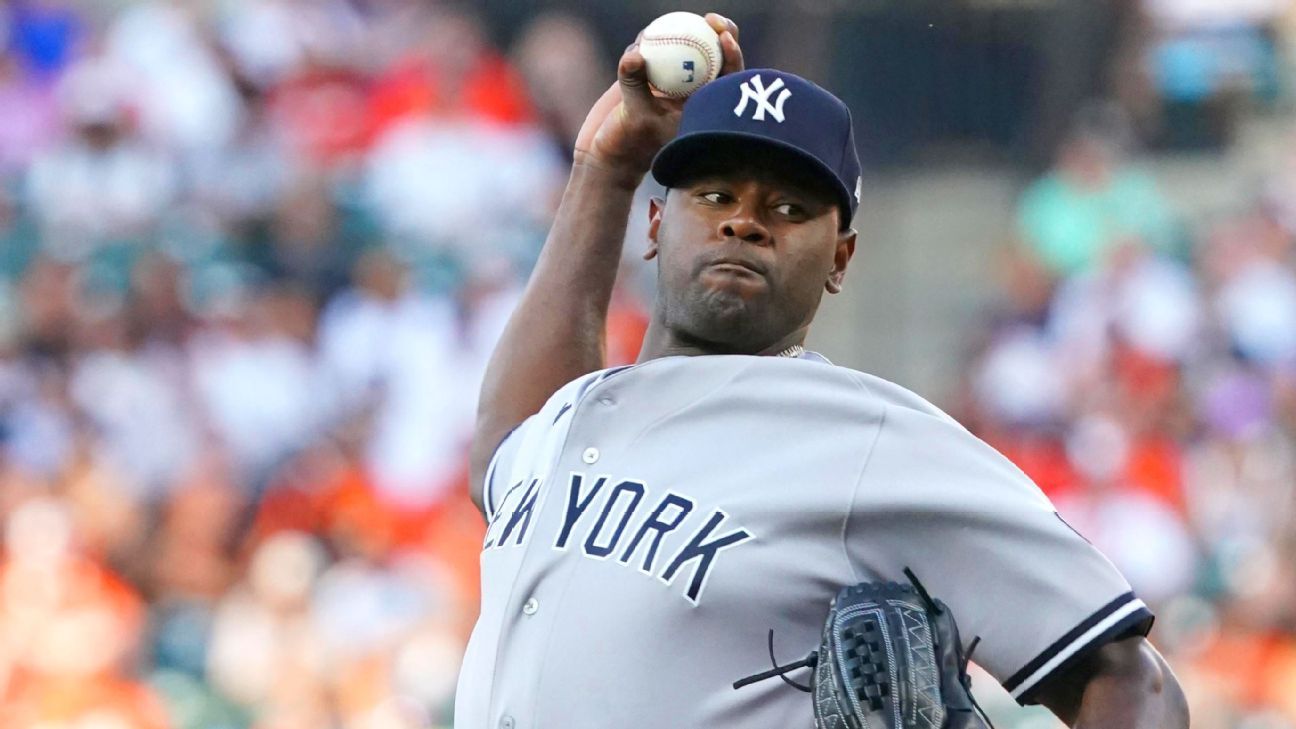 Right-hander Luis Severino and the New York Mets are finalizing a one-year, $13 million contract, sources familiar with the deal told ESPN's Jeff Passan on Wednesday.
Severino, 29, will join the Mets and a rotation in significant need of help after spending his eight-year career with the New York Yankees.
He struggled this season with a 6.65 ERA, but posted a 3.39 ERA in 638 innings over his previous seven seasons. If Severino thrives, he'll hit free agency again next year, and he can earn up to $2 million in performance bonuses from the Mets.
Former Aggies QB Johnson transferring to UNC
Former Texas A&M quarterback Max Johnson announced Wednesday that he is transferring to North Carolina.
Johnson entered his name in the transfer portal as a graduate transfer Sunday, and just three days later he has found his next destination.
Johnson transferred in to the Aggies program from LSU after the 2021 season. He started three games last year and eight this season, when he passes for 1,452 yards, nine touchdowns and five interceptions before suffering an injury.
Johnson is joining a North Carolina team that has starter Drake Maye on the roster for now. Maye is projected as one of the top quarterback prospects in next year's NFL draft, but has not yet announced if he is planning to leave the program.