UEFA rejects request for Baddiel and Skinner to perform Three Lions before Euros final
UEFA has rejected a request for Frank Skinner and David Baddiel to perform Three Lions (Football's Coming Home) on the pitch before the Euro 2020 final.
Skinner claimed the tournament's organisers said performing the song at Wembley before England play Italy on Sunday would be "too partisan and not fair to the Italians".
The comedian pointed out that Italian opera star Andrea Bocelli sang Nessun Dorma at Rome's Stadio Olimpico before Italy took on Turkey in the opening game of Euro 2020.
Skinner told Channel 4 show The Last Leg: "There was a suggestion that we sang (Three Lions) on the pitch before the final on Sunday and UEFA said it was too partisan and not fair to the Italians to have that.
"In the opening game, which was Italy versus Turkey, Andrea Bocelli sang Nessun Dorma before the game."
In a statement to Sky News, UEFA confirmed a request for Baddiel and Skinner to perform Three Lions on the Wembley pitch was received on Friday but the closing ceremony had "already been finalised".
"No additional elements can be integrated at this stage due to the very tight countdown schedule and operational complexities ahead of the kick-off," a UEFA spokesperson said.
UEFA said Three Lions had been chosen as "the fan song" by the FA and it will be played during the players' warm-up with karaoke graphics on giant screens, "as has been the case for England's previous matches".
Baddiel and Skinner will now perform the song with the Lightning Seeds at London's 229 music venue in front of 200 England fans ahead of the Euros final on Sunday.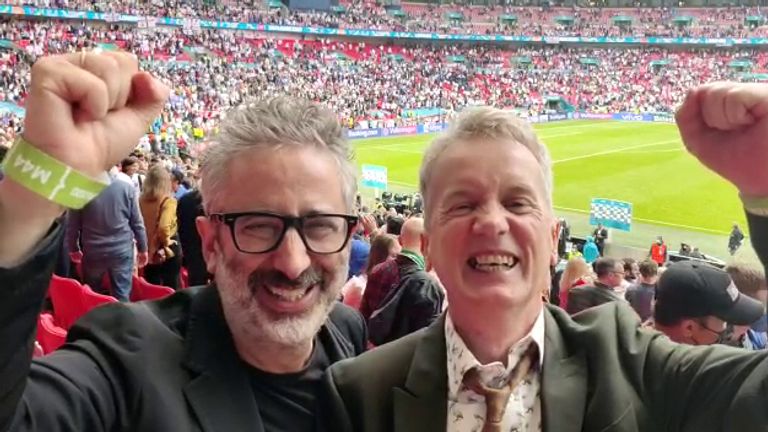 Three Lions (Football's Coming Home) has become an anthem for England supporters since it was first released in 1996.
It is one of the UK's best-selling singles of all time, according to the Official Charts Company, and has had four spells at number one.
It has zoomed up the charts again this week to number four as the England team seek to win their first major trophy since the famous 1966 World Cup victory.
Explaining the intended meaning of the song, Baddiel said: "It's about how we mainly lose but still irrationally believe that this time, hope might triumph over experience.
"It's about yearning and magical thinking. It's about the condition of being a football fan. Admittedly people have taken (Football's Coming Home) to mean all sorts of b******s."
Ahead of the final, government ministers are reportedly being urged not to declare "it's coming home" while supporting the England football team because it aggravates foreign nations.
A briefing note from the Department for Digital, Culture, Media and Sport, seen by PoliticsHome, said the phrase "does not go down well overseas" and might damage a potential UK and Ireland bid to host the 2030 World Cup.
Government sources acknowledged the e-mail and said the song would not be put front and centre of a bid to host the 2030 tournament.
But they added "the song is about us for us, it's been a long old wait for a final".
England manager Gareth Southgate has made an appeal to the country's wartime spirit ahead of their Euro 2020 final, urging supporters to be proud of its achievements both on and off the pitch.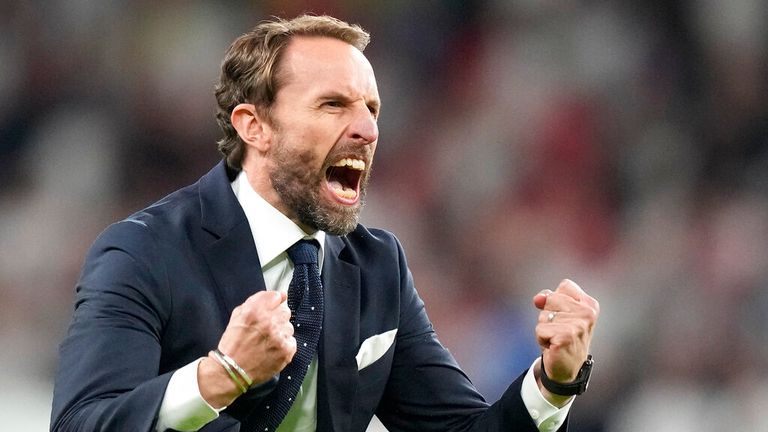 Southgate said the nation has "so much to be proud of" and urged fans to stop "looking at the negatives of our own country".
"People have tried to invade us and we've had the courage to hold that back," Southgate told The Daily Telegraph.
"You can't hide that energy in the stadium against Germany was because of that. I never mentioned that to the players, but I know that's part of what the story was."
'A lot of people were happy': David Beckham defends Qatar ambassador role
David Beckham has insisted he was not upset by the criticism he received over his decision to accept millions of pounds from Qatar to serve as a football ambassador around last year's World Cup, despite its stance on LGBTQ+ rights. 
Pamela Anderson praised by Jamie Lee Curtis for makeup-free appearance at Paris Fashion Week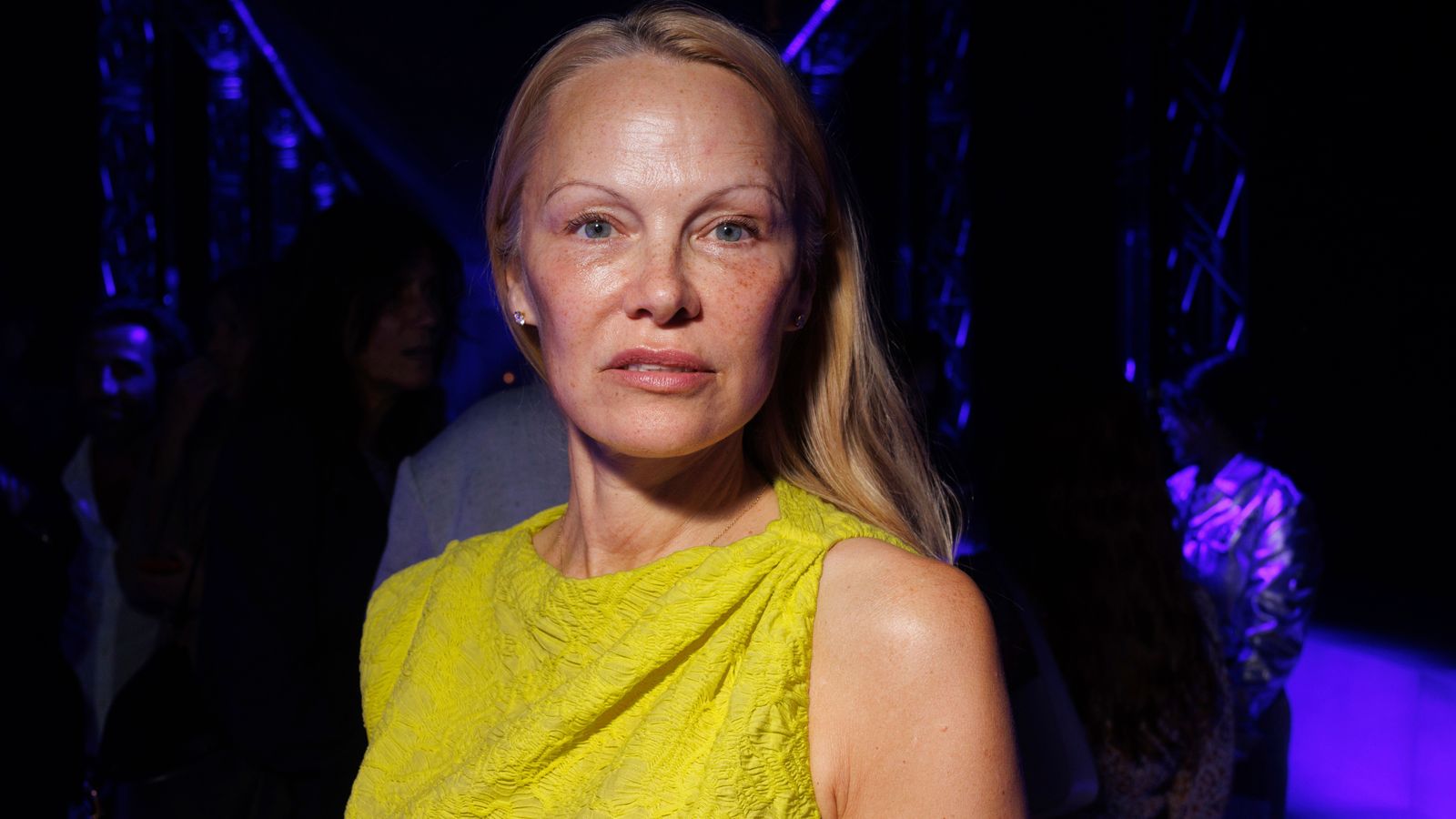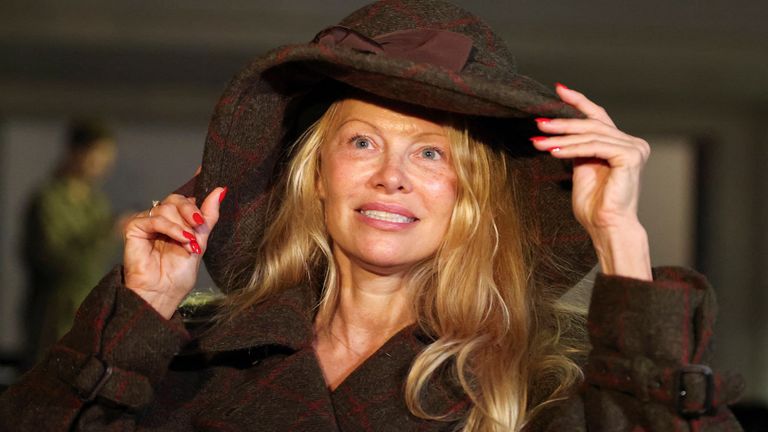 Jamie Lee Curtis has praised Pamela Anderson for showing up to Paris Fashion Week with no makeup on, crediting her with kicking off a "natural beauty revolution".
The Oscar-winning actress shared two pictures of the Baywatch star looking fresh-faced on Instagram.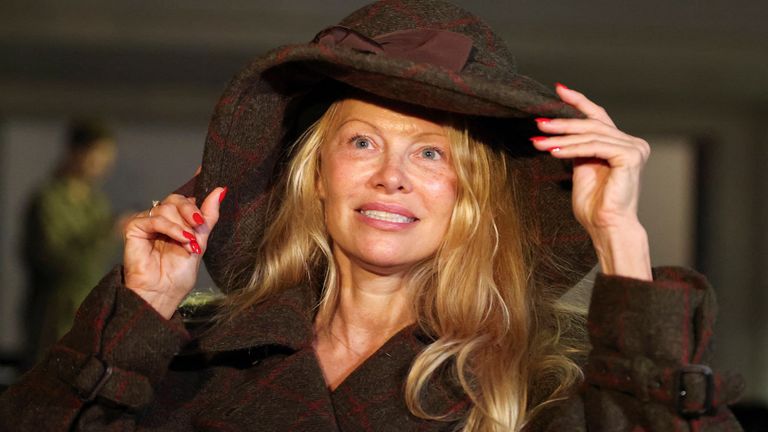 Curtis wrote: "THE NATURAL BEAUTY REVOLUTION HAS OFFICIALLY BEGUN!
"Pamela Anderson in the middle of fashion week with so many pressures and postures, and and and, this woman showed up and claimed her seat at the table with nothing on her face.
"I am so impressed and floored by this act of courage and rebellion."
Actress Selma Blair commented "Love this. Beautiful self-assuredness," while comedian Chelsea Handler wrote, "That's pretty iconic".
Michelle Visage added, "And she was GLOWING".
The images of Anderson were taken on Thursday at the Isabel Marant Womenswear Spring/Summer 2024 show at Place Colette during Paris Fashion Week.
She also attended the Victoria Beckham show the following day.
Anderson, 56, who in her youth embraced cosmetic enhancements to the extreme, has since adopted a more natural look.
She told Elle last year that started going makeup-free after her makeup artist Alexis Vogel sadly died from breast cancer.
Anderson said: "She was the best. And since then, I just felt, without Alexis, it's just better for me not to wear makeup."
Calling her low-maintenance approach "freeing, and fun, and a little rebellious," she went on to joke about "the effects of time, which come to us all".
She said: "I think we all start looking a little funny when we get older. And I'm kind of laughing at myself when I look at the mirror. I go: 'Wow, this is really…what's happening to me?' It's a journey'," she said. "I feel rooted for. I feel good. I'm in a good place."
Click to subscribe to Backstage wherever you get your podcasts.
Meanwhile Curtis has long been a fan of growing old gracefully.
During a conversation with Maria Shriver for the Radically Reframing Ageing Summit in March 2022, she said: "I am an advocate now for natural beauty because I do feel that there has been a genocide on natural beauty.
"This word 'anti-ageing' has to be struck, because what the f*** is 'anti-ageing?' I am pro-ageing. I want to age with intelligence and grace and dignity and verve and energy. I don't want to hide from it."
Easy Life band sued by easyJet owners over use of name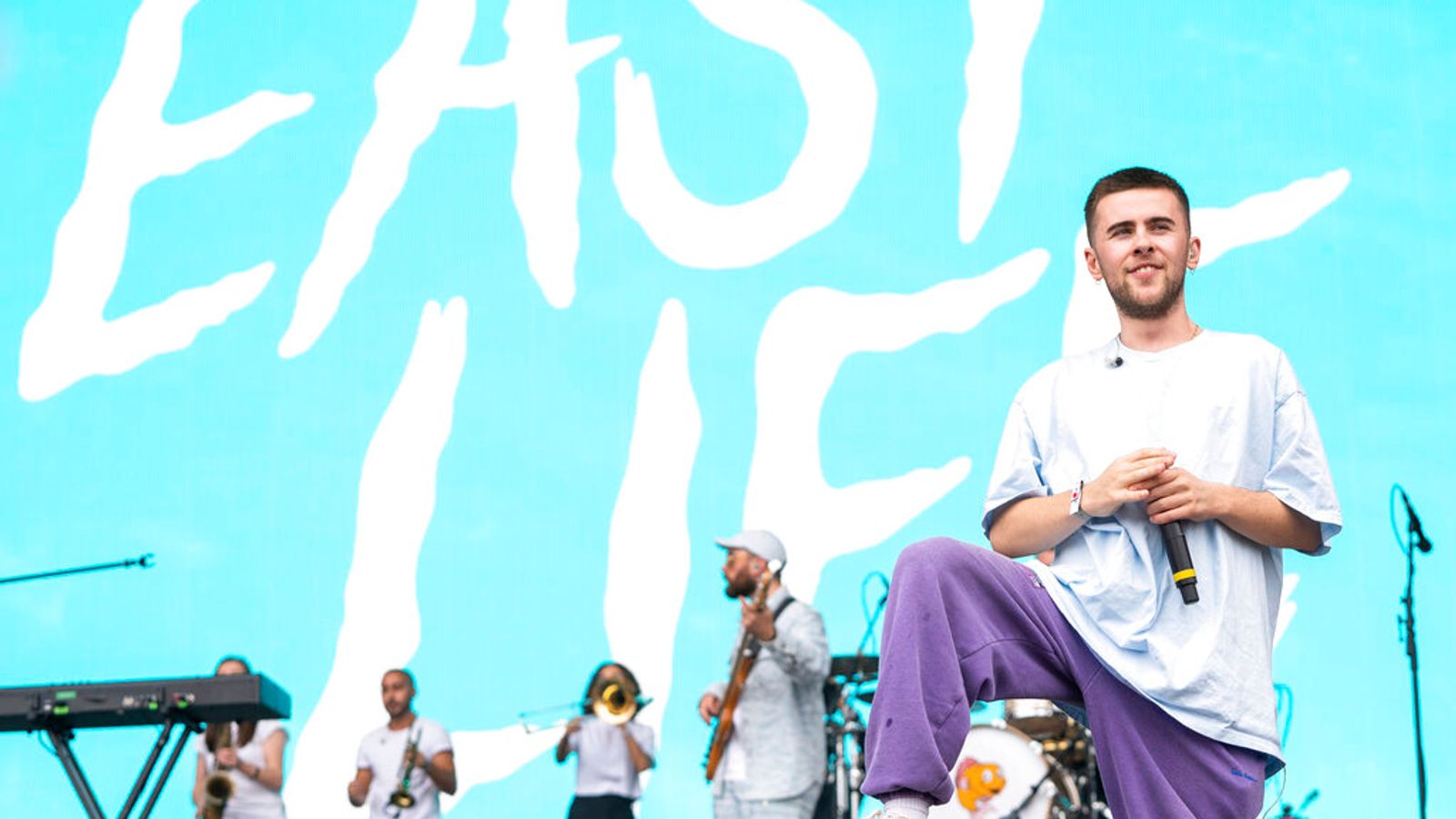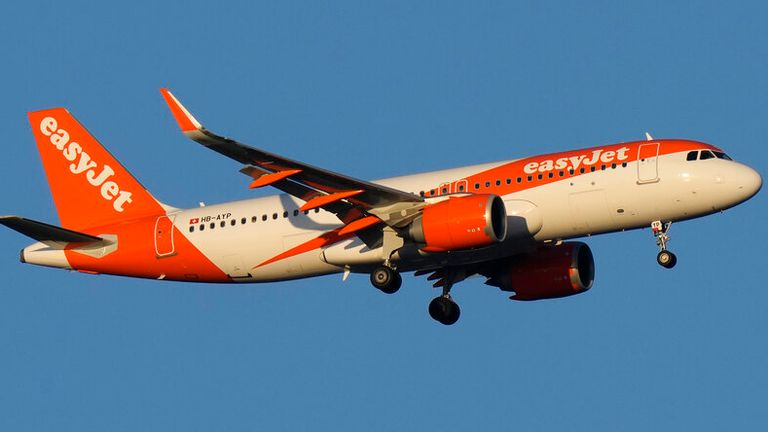 Alternative Indie band Easy Life say they have been left "virtually powerless" as they face a lawsuit over their name by the holding group behind easyJet – whose founder has called the musicians "brand thieves".
The critically acclaimed Leicester band, who formed in 2017 and have had two Top 10 albums, say they are being forced to change their name "or take up a costly legal battle which we could never afford".
Responding to a request from Sky News for comment, founder and chairman Sir Stelios Haji-Ioannou described Easy Life frontman Murray Matravers as a "brand thief". He added that his company has "a long established record to legally stopping brand thieves and I am confident we will stop Mr Matravers".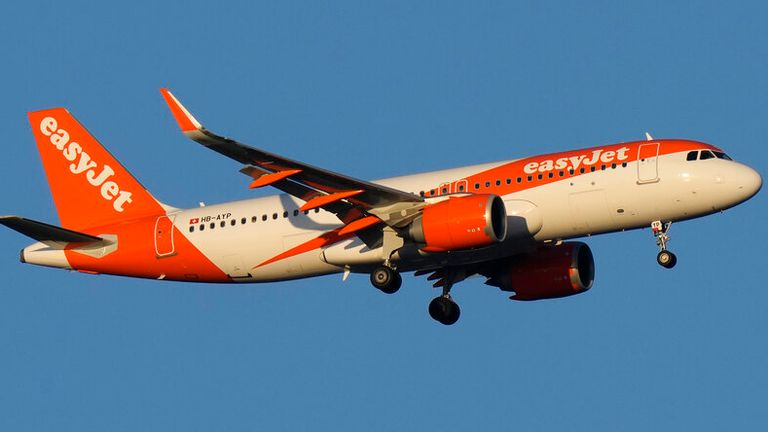 In a filing submitted to the High Court, seen by Sky News, easyGroup claims it "has suffered and/or is likely to suffer loss and damage" as a result of the band's name, as easyLife is among its family brands. The lawsuit states that the financial value of the claim cannot currently be estimated, but it is considered to be "substantial".
Read more:
Orlando Bloom to star in Peppa Pig
Live Aid to be turned into a musical
Posting a statement on social media, Easy Life said: "We've worked hard to establish our brand and I'm certain in no way have we ever affected their business.
"Although we find this whole situation hilarious, we are virtually powerless against such a massive corporation."
easyGroup is the owner of the family of brands under the easy name. It is the private investment vehicle for easyJet's founder, Sir Stelios, but each of the brands, including easyJet and easyHotel, are separate companies.
In their court filing, they say the easylife catalogue retailer is a licensed brand.
The easyGroup, which was set up in 1998 by Sir Stelios, has previously taken legal action against a number of companies over the use of the "easy" brand. It has a section of its website entitled "brand thieves", which includes details of its legal battles over the name.