With all the hype around England it's easy to forget there's another team playing in the final – and Italy's fans are just as passionate about their team winning.
They are singing "Football's coming Rome", modifying the words of the England supporters' ubiquitous chant ahead of the Euro 2020 final.
"1-0" to Italy, says Andrea, the waiter serving us our early morning coffee.
"I actually think it could be 3-0," he says, echoing the confidence of fans we spoke to in Rome. But when pushed, he does admit he's a little bit scared of England.
The confidence may come from Italy's track-record of being better in tournament football than England.
But the memory of 2018 when the country failed to qualify for the World Cup still haunts here. At the time it was unthinkable. Now is the moment to recover, they say.
Italy manager predicts 'wonderful' Euro final

Whereas England will have tens of thousands of fans in Wembley to motivate them, most Italian supporters will watch from afar.
Two fan zones in Rome will accommodate around 3,000 people. Tickets for places went on sale at midnight and were snapped up in seconds.
But other cities have banned public gatherings because of COVID, and Italy's interior minister has advised people to watch from home.
Italian fans' joy as team makes it to Euros final

The Sunday papers here are showing no signs of doing anything but be prepared for victory headlines tomorrow.
Sports paper Corriere dello Sport using the words of a Pavarotti song to say "Un amore cosi' grande", such big love for Italy.
Rome-daily Il Messaggero says: "L'Europa tifa Italia", Europe for Italy.
A sentiment echoed this weekend by the President of the European Commission, Ursula von der Leyen, who said her heart is with Italy.
There will be plenty of support for Italy across the European Union but England will be hoping the presence of the thousands of fans inside Wembley Stadium will do the trick.
Kevin McCarthy: US House Speaker removed from office for first time in history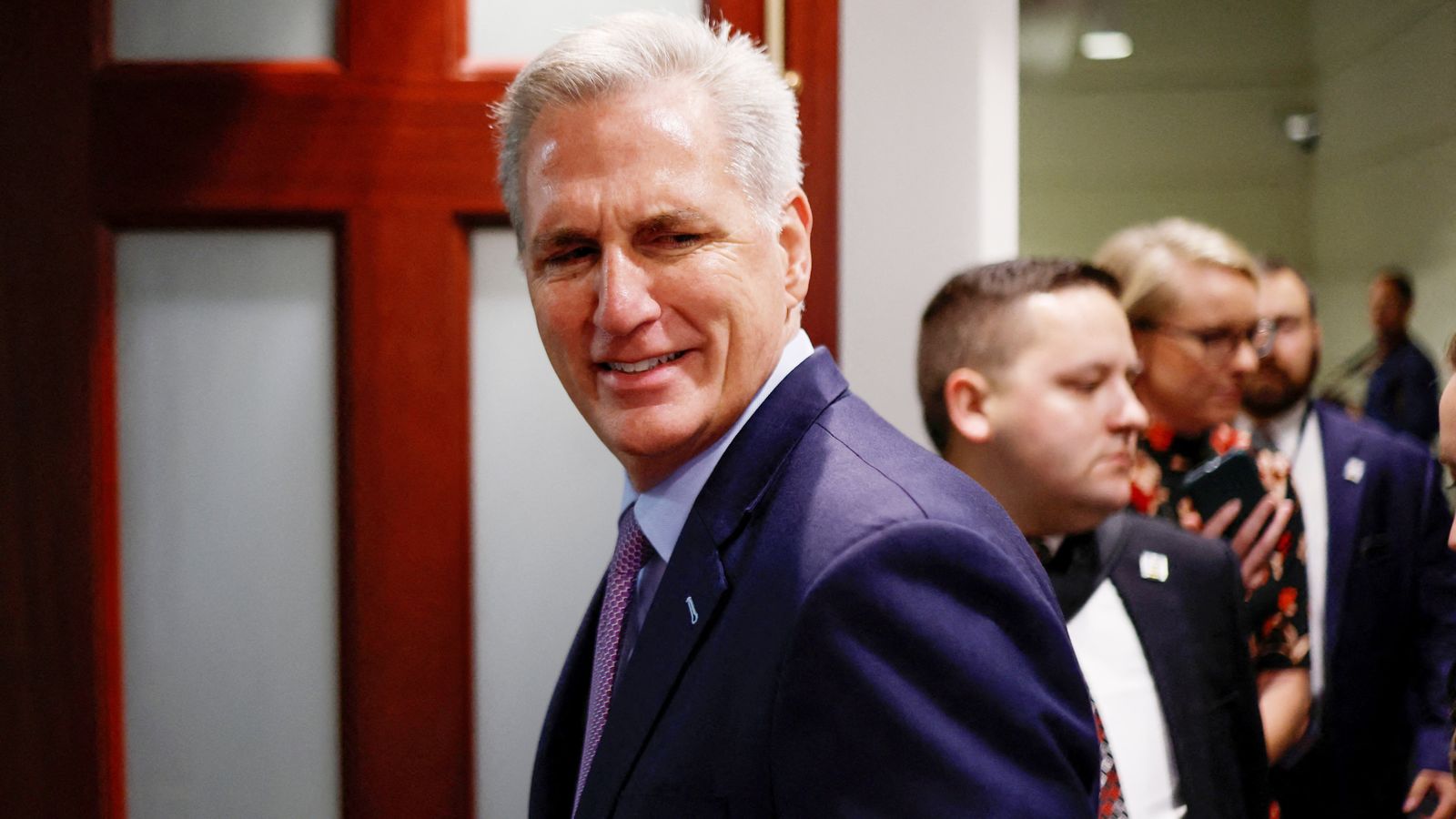 US House Speaker Kevin McCarthy has been removed from office after a historic challenge to his leadership from his own party.
The Republican faced a motion to vacate, which was triggered by Donald Trump ally Matt Gaetz on Monday, just months after securing the position in 15 rounds of voting.
It is the first time in the country's history that House representatives have voted the Speaker out.
Behind closed doors early on Tuesday, Mr McCarthy told fellow Republicans: "If I counted how many times someone wanted to knock me out, I would have been gone a long time ago."
Several Republicans, however, had said they were sticking with Mr McCarthy as they emerged from the meeting, during which they said he received standing ovations.
It follows a decision made by Mr McCarthy over the weekend to cooperate with the Democrats to keep the government running rather than risk a shutdown.
It is a move that angered Mr Gaetz and other far-right Republicans, as Mr McCarthy relied on Democratic votes to pass a temporary funding extension on Saturday that avoided a partial government shutdown.
A band of about 20 Republicans had forced Mr McCarthy's hand by repeatedly blocking other legislation.
Mr Gaetz and his allies said they were frustrated by the slow pace of spending legislation on Mr McCarthy's watch.
Republican Representative Tim Burchett, who said he would vote to oust Mr McCarthy, said: "We took a whole month of August off. I think that that's pretty telling."
Read more:
Hunter Biden pleads not guilty to three firearm charges
Donald Trump generated 'more than $100m' through fraud, court hears
Another day of history in US politics
It's political pantomime, without the laughs.
To look at the House of Representatives is to see the turbulence of America's political ecosystem.
The ousting of Kevin McCarthy leaves the lower chamber of Congress in a state of paralysis.
There will be an interim Speaker but his or her role will effectively amount to finding a permanent replacement.
It is a dysfunction at the heart of power, an extension of the fault lines that fracture the modern-day Republican Party.
Never before has a House Speaker been ejected in this way, another day of history in US politics
The history-makers at the wheel have travelled a distance from the party fringes to positions of influence.
Matt Gaetz is the high-profile House representative who tabled the motion to oust McCarthy.
He's prominent amongst a hard-line conservative core of House Republicans, Trump-aligned, and bent on reshaping party traditions and reorientating its trajectory to the right.
It is a tail that can wag the dog and this episode is clear evidence of it.
The rules dictate that just one representative – Mr Gaetz in this case – can trigger a vote to oust the Speaker.
That arrangement was a deal Mr McCarthy struck in January to appease his party's right wing and enable his accession to the position of Speaker.
It didn't look like clever politics by Mr McCarthy at the time and it looks even less so today.
Today, politics are harder in a party whose politics have changed.
Not all are convinced by Mr Gaetz's intentions, with some Republicans believing he is angling for a change at a higher office.
"It seems very personal with Matt. It doesn't look like he's looking out for the country or the institution," Mr McCarthy said.
Mr Gaetz has denied he is spurred on by a dislike of Mr McCarthy.
'Apocalyptic scene' as coach crashes off overpass near Venice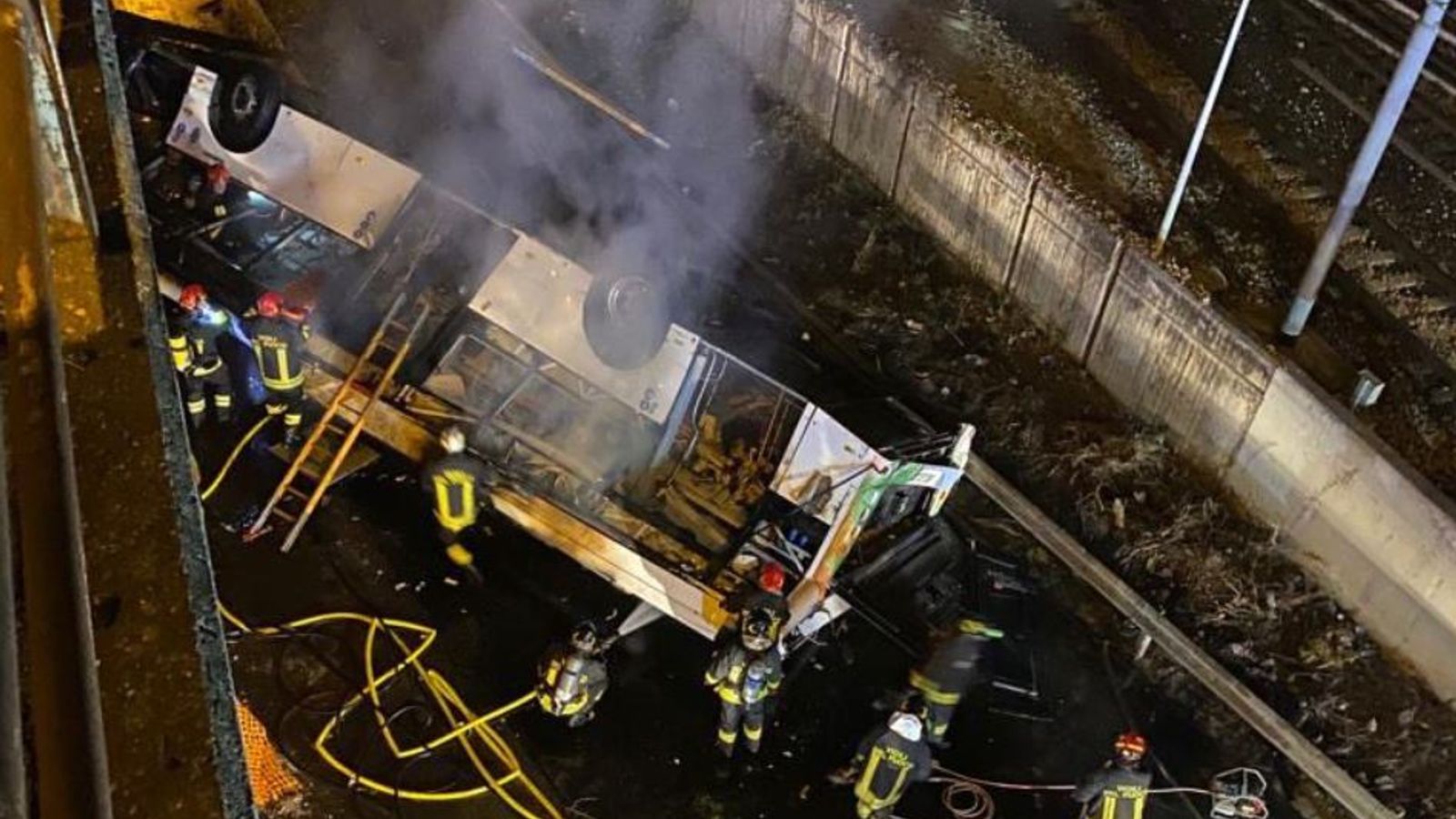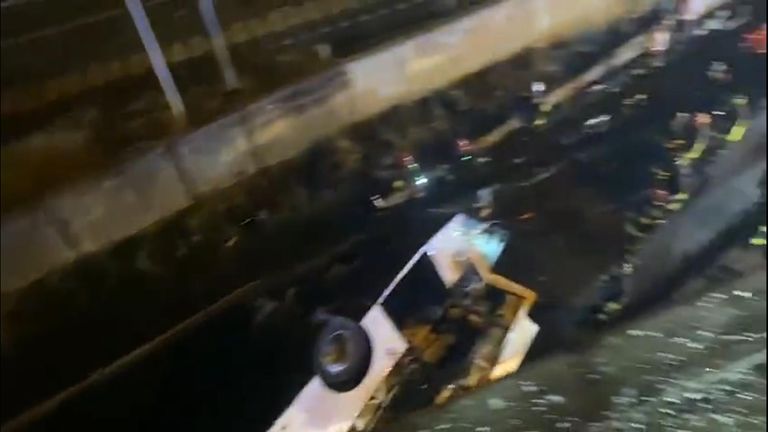 At least 21 people have died in a coach crash near Venice in northern Italy, according to authorities.
Another 18 people were injured in the crash on Tuesday evening, with Italian police confirming there were tourists of "various nationalities" on board.
There were at least two children among the passengers, police added, while Venice's mayor, Luigi Brugnaro, said they found Ukrainian passports at the scene.
"Several of the victims were foreigners, we found Ukrainian passports," he said.
With rescue operations ongoing, the number of deaths could climb higher.
"The bus was rented for its guests by Camping Jolly in Marghera," police said.
"On board, at the time of the accident, there were tourists of various nationalities. Also with them were at least two minors."
Mr Brugnaro described the incident as a "terrible tragedy".
"I immediately ordered the city to go into mourning, in memory of the many victims who were in the crashed bus," he posted on social media.
"An apocalyptic scene, there are no words."
Several people have died in a coach crash near Venice in northern Italy

The coach fell close to railway lines after veering off a road in the district of Mestre, which is connected to Venice by a bridge, Italian television and news agencies reported.
According to Sky Italia, 18 bodies have so far been dragged from the wreckage after the coach fell 15 metres (49ft) onto electricity lines and caught fire.
The cause of the accident was still unclear, but one of Italy's national police forces said officers are on the scene to investigate and to "give aid" to those hurt.
The railway is also "currently interrupted".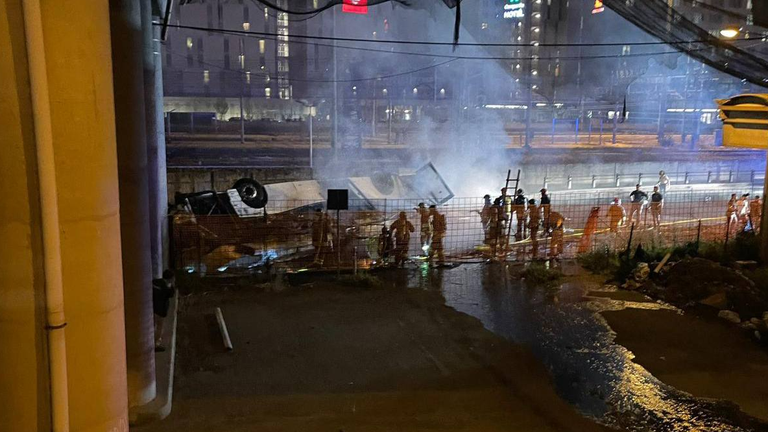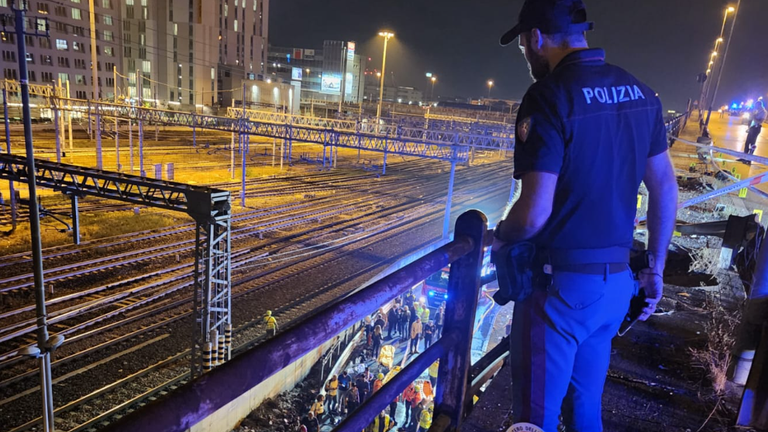 Italy's prime minister, Giorgia Meloni, said her thoughts are with the victims.
"I express my deepest condolences, my personal and that of the entire government, for the serious accident that occurred in Mestre," she posted on social media.
"My thoughts are with the victims and their families and friends. I am in close contact with the Mayor Luigi Brugnaro and with the Minister (of the interior) Matteo Piantedosi to follow the news on this tragedy."
Italy has suffered a number of deadly bus crashes in recent years.
In 2013, 40 people died when a bus plunged off a viaduct in southern Italy in one of the country's worst road accidents.
Four years later, 16 people on a bus carrying Hungarian students died in an accident near the northern city of Verona.
This breaking news story is being updated and more details will be published shortly.
Please refresh the page for the fullest version.
You can receive breaking news alerts on a smartphone or tablet via the Sky News app. You can also follow @SkyNews on X or subscribe to our YouTube channel to keep up with the latest news.
Thailand: Boy, 14, arrested as three shot dead in Bangkok's Siam Paragon Mall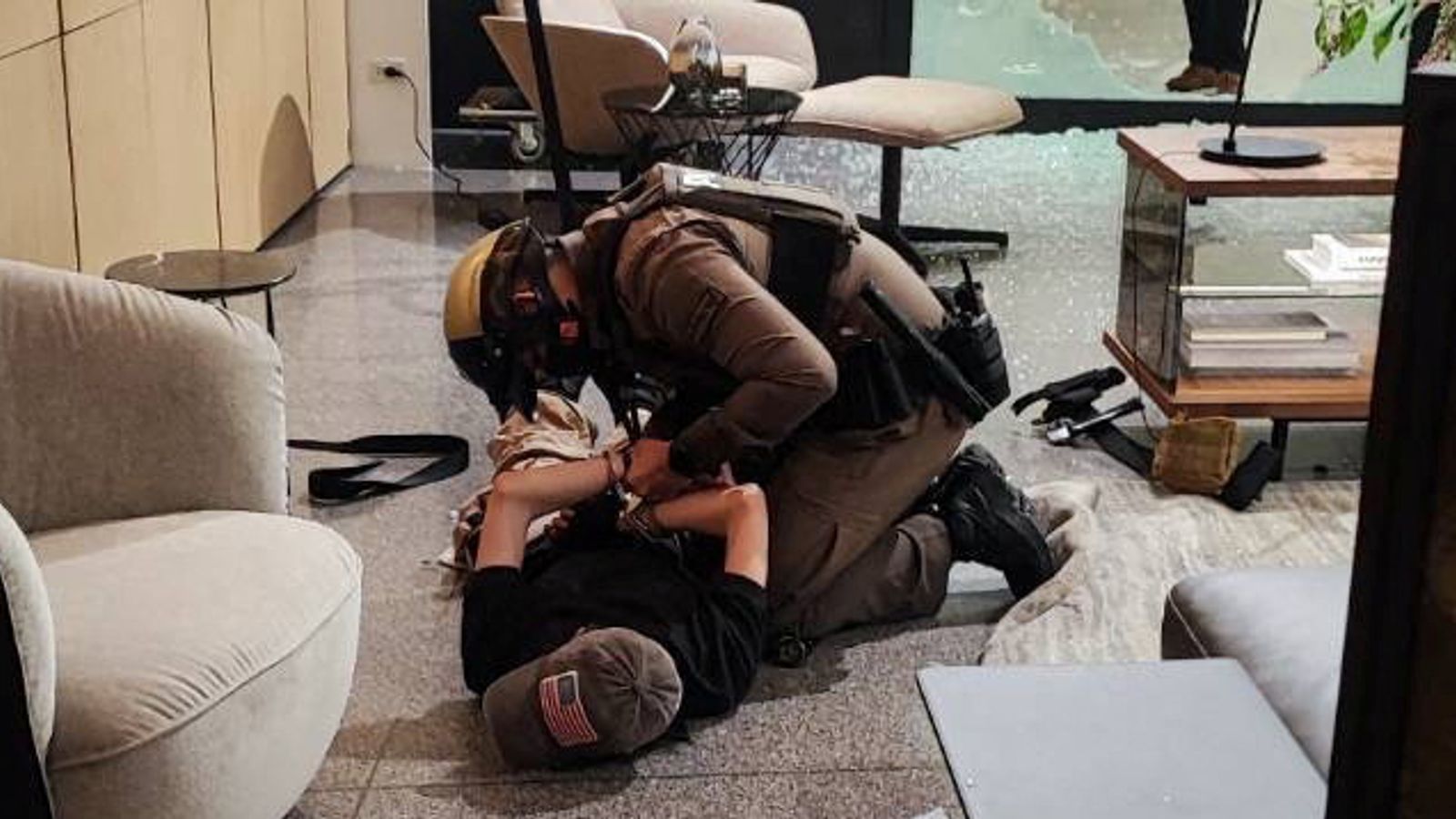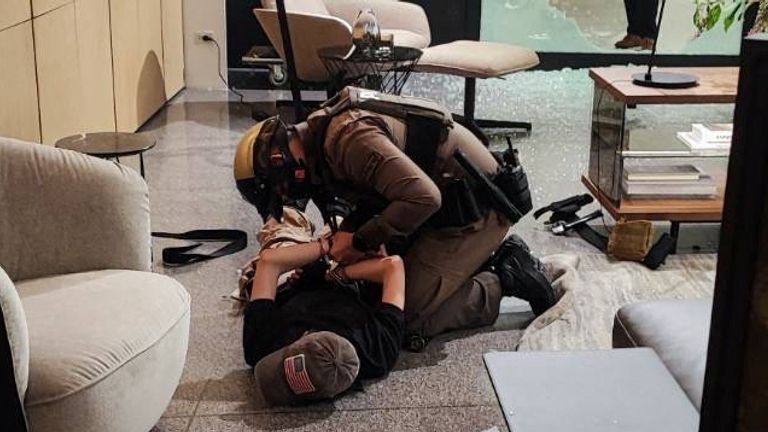 A 14-year-old has been arrested after three people were shot dead in a Bangkok shopping centre.
Footage shows crowds fleeing the Siam Paragon Mall – a luxury complex in the Thai capital – while some hid inside.
Emergency services said three people had been killed and six wounded in the afternoon shooting.
The suspect is just 14 years old, according to police.
Photos show him pinned to the floor and being handcuffed and an officer picking up a gun.
One of the injured is reported to be a foreign national.
The teenager was cornered at nearby Siam Kempinski Hotel at around 5.10pm and surrendered without a struggle, Bangkok Post reported.
The central investigation bureau earlier shared a grainy image of him wearing a cap and khaki cargo trousers.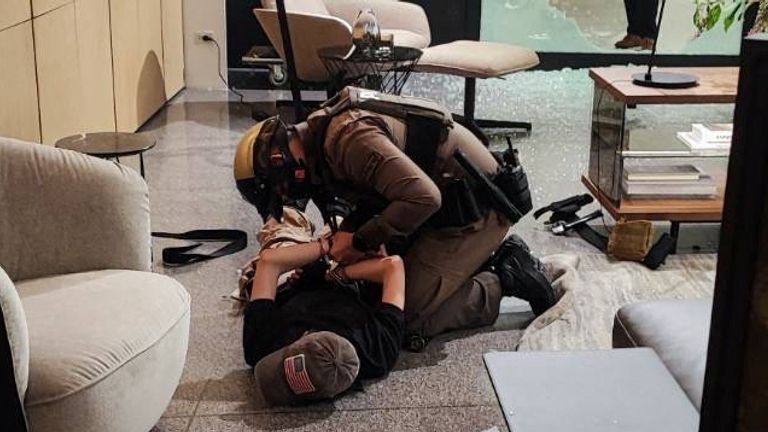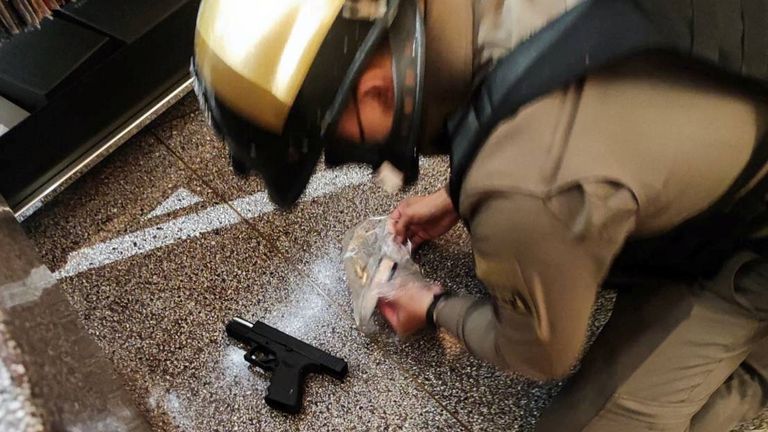 The local Siam train stop was closed and people prevented from leaving the station as emergency services responded.
Read more from Sky News:
Family wants answers over Briton's death in Vietnam
First-ever space debris fine issued
Prime Minister Srettha Thavisin posted on X: "I am aware of the shooting event at Siam Paragon and have ordered the police to investigate. I am most worried about public safety,"
Authorities said later that the situation was under control.
Gun violence is common in Thailand. Last year, an ex-police officer killed 22 children in a nursery shooting.
In 2020, a disgruntled soldier killed at least 29 people and wounded 57 in a rampage in and around the city of Nakhon Ratchasima.