'They're thugs not fans': Met Police Federation condemns England supporters after officers attacked
The Metropolitan Police Federation has condemned England supporters who attacked officers after last night's Euro 2020 final defeat as "thugs not fans".
The body, which represents thousands of London's police officers, tweeted: "These people should be ashamed of themselves.
"They are not fans. They are thugs. We wish our injured colleagues well."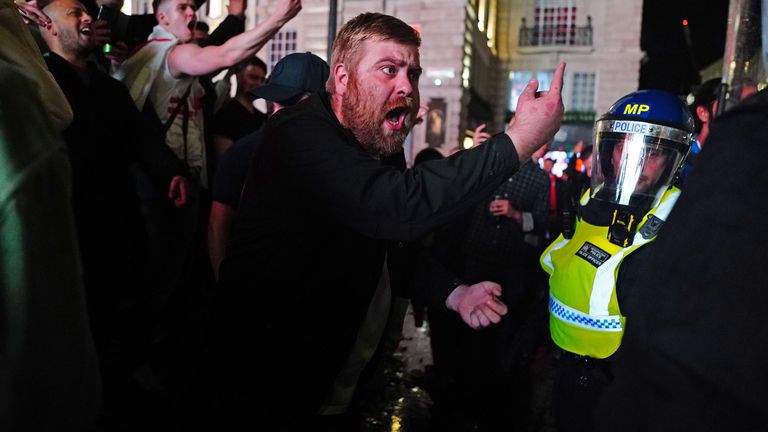 The Met Police said 19 of officers were injured when they "confronted volatile crowds" in the capital after the game and 49 people had been arrested for a "variety of offences".
Earlier on Sunday, fans were pictured in London's Leicester Square throwing bottles and road cones, leaving the area littered with rubbish.
Police said some people in the capital had been "jumping off street lamps or hoardings", something officers warned "could easily end in injury".
Clean-up operations were well underway in the capital by 7.30am following the huge mess left by football fans, with only a handful of diehard England supporters remaining around Leicester Square.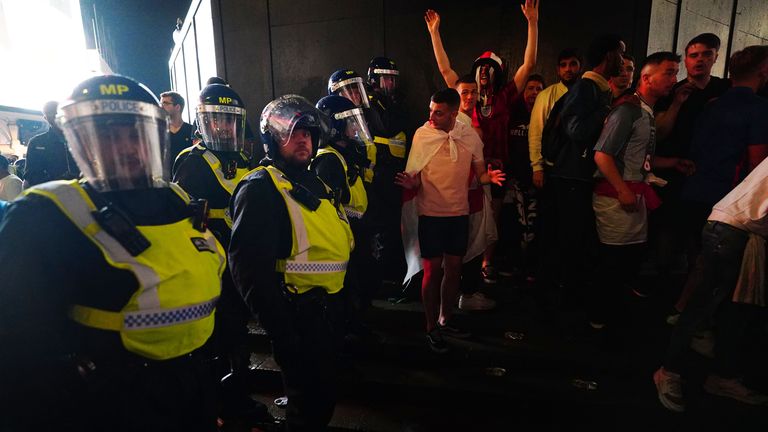 Before kick-off, up to 100 ticketless fans broke through security barriers at Wembley to get into the stadium while there were reports of match stewards being abused.
Footage showed people jumping over walls and running towards the stadium to gain access, with police on a manhunt to track down those who got in without tickets.
There were also scuffles and clashes with officers throughout central London where people gathered to watch the match, including at Leicester Square, Trafalgar Square and Piccadilly Circus.
Junior minister Edward Argar told Sky News that these fans do not represent the majority of supporters.
He said: "I think the police did a fantastic job and sadly we saw a number of police officers, as I understand it, injured last night and I think there have been 45 arrests made so far, and action will be taken against those who have perpetrated these offences, who broke the rules or broke the law.
"The police did, I think, a fantastic job – they know what they are doing, they know how to operationally police events.
"It is sad when a very small number of people, a tiny minority, bring the sport into disrepute by trying to do something like this."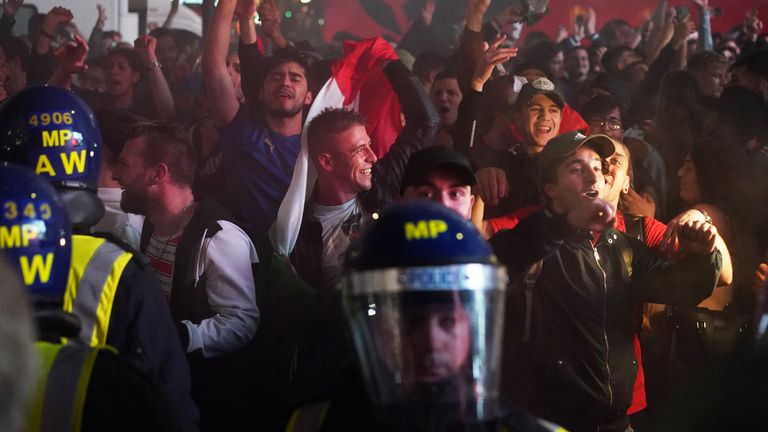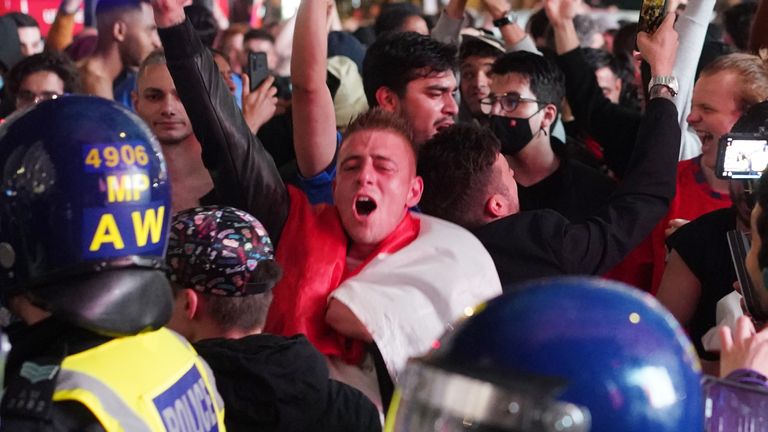 He added: "Again, I would say they are not reflective of the fans of our national game and our national team.
"The police will take, I know, all action necessary against those who have been arrested where they can prove an offence has been committed."
Headteacher to refuse Ofsted inspection after death of fellow principal Ruth Perry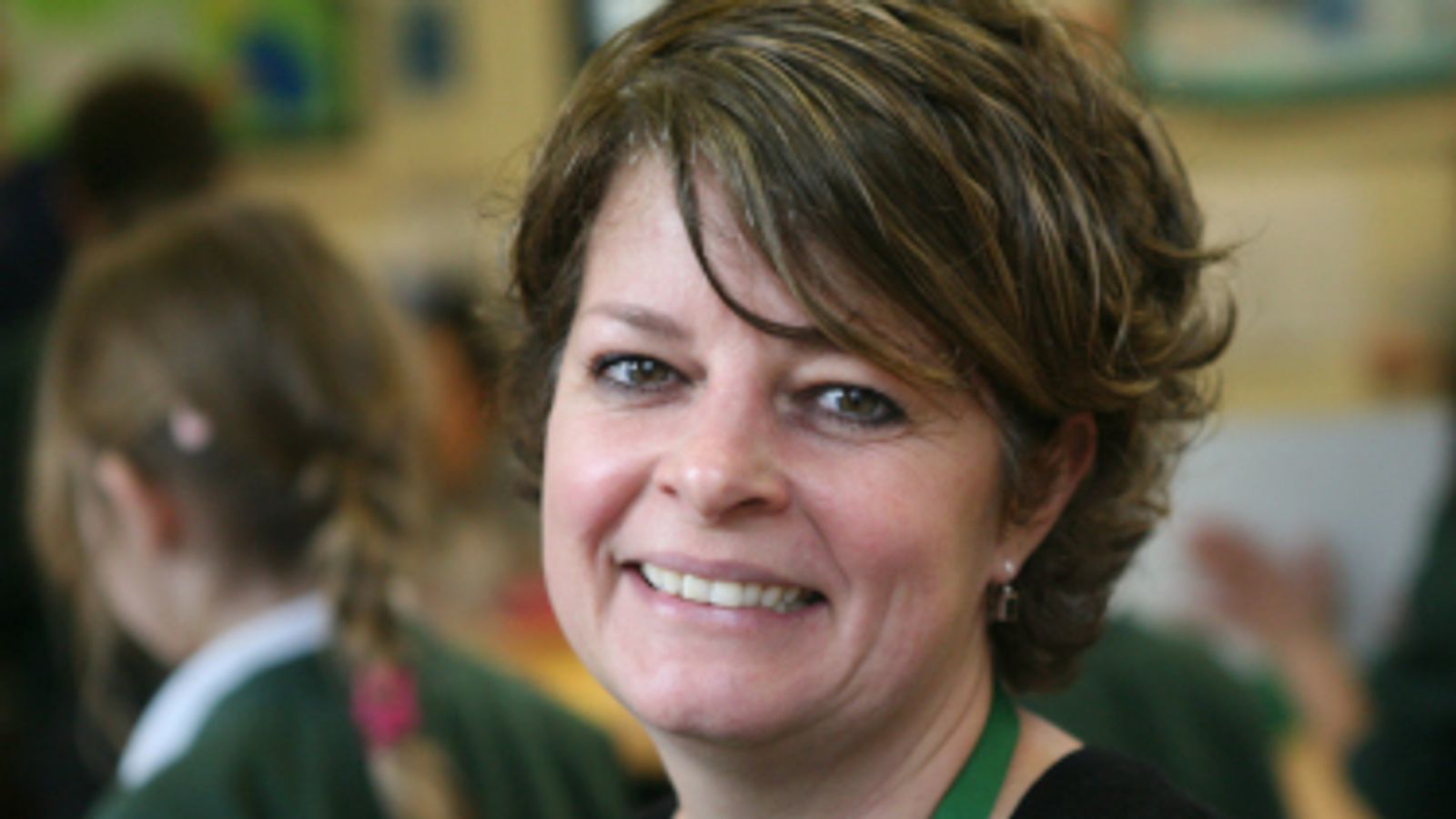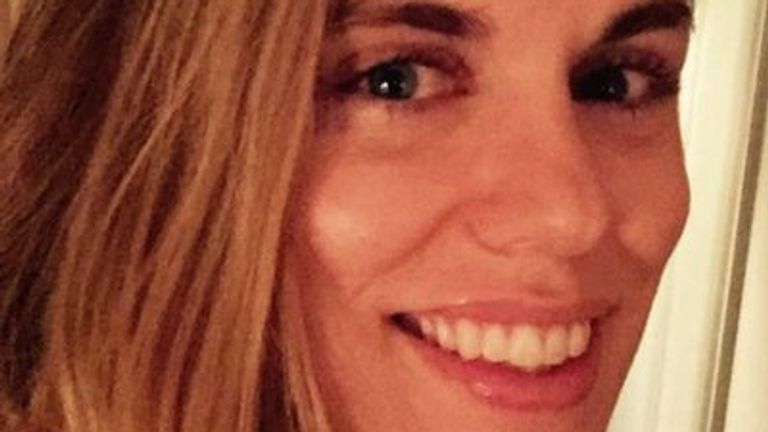 A headteacher says she will refuse an Ofsted inspection following the death of fellow principal Ruth Perry.
Ms Perry, who was head at Caversham Primary School in Reading, killed herself in January while waiting for an Ofsted report which gave her school the lowest possible rating, her family said.
Flora Cooper, executive headteacher of John Rankin School in nearby Newbury, announced she would be "taking the stand" against Ofsted by preventing them from inspecting the school on Tuesday morning.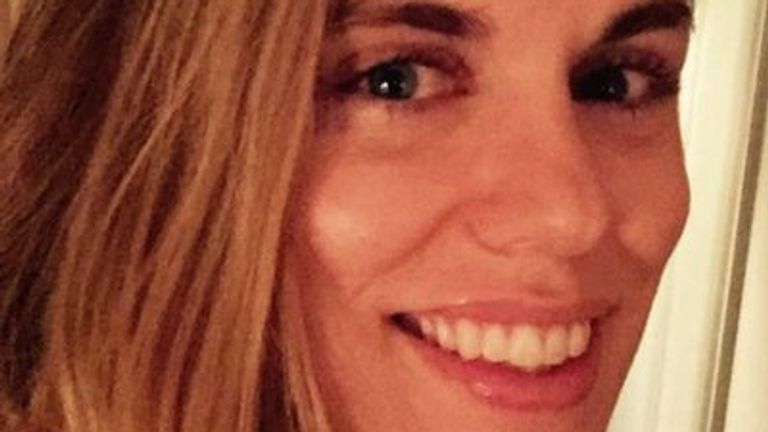 Tweeting her plans, Ms Cooper said: "I've just had the call. I've refused entry. This is an interesting phone call. Doing this for everyone for our school staff everywhere!"
She added: "We have to do this! I'm taking the stand!"
Earlier in the day, Ms Cooper urged "everyone" to come to the school on Tuesday to support her – but she later told people not to turn up.
She tweeted: "Please can people not come to school now in the morning. I have to protect our children, our staff and our community."
Sky News understands Ofsted is in contact with the school to try to resolve the situation.
Calls to boycott Ofsted
At least two unions have called on Ofsted to pause inspections – the National Education Union (NEU) and the National Association of Head Teachers (NAHT).
Dr Mary Bousted, joint general secretary of the NEU, said: "Ofsted should pause all its inspections and reflect upon the unmanageable and counter-productive stress they cause for school leaders, and the impact on leaders.
"That they are phoning leaders this week and initiating inspections speaks to the arrogance of Ofsted and their absolute lack of empathy.
"This is an agency that is completely out of touch, and which is making claims and judgements which are unreliable. This can't go on."
Caversham Primary had previously been rated outstanding but an Ofsted inspection in November 2022 found leadership and management issues related to "safeguarding", causing the rating to plummet – every other category was deemed good.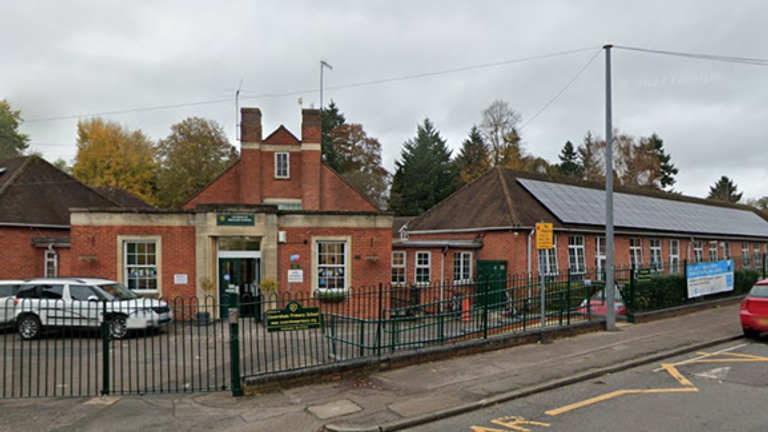 Ms Perry's sister, Julia Waters, said in a Facebook post that schools should "boycott Ofsted until a full and independent review has been conducted".
It comes after she said in a BBC interview that her sibling had experienced the "worst day of her life" when inspectors had reviewed the school.
Ms Perry had been a former pupil of Caversham Primary and Ms Waters said the inspection destroyed 32 years of her vocation and "preyed on her mind until she couldn't take it anymore".
She added: "Ruth took her own life on January 8, all during that process every time I spoke to her, she would talk about the countdown.
"I remember her clearly one day saying '52 days and counting', every day she had this weight on her shoulders hanging over her and she wasn't officially allowed to talk to her family.
"I remember the very first day I saw her, rather than just speaking to her on the phone, a couple of days after the end of the Ofsted inspection, she came, she was an absolute shadow of her former self."
School and staff find Ofsted inspections 'very traumatic'
Geoff Barton of the Association of School and College Leaders said: "Many school and college leaders and their staff find inspections and Ofsted judgements very traumatic, and this is often damaging to their wellbeing.
"This case has brought matters to a head and something has to change. We will be discussing this with Ofsted as a matter of urgency."
Matthew Purves, Ofsted regional director for the South East, said: "We were deeply saddened by Ruth Perry's tragic death. Our thoughts remain with Mrs Perry's family, friends and everyone in the Caversham Primary School community."
A Department for Education spokesperson said: "It is a legal requirement for schools and nurseries to be inspected by Ofsted and they have a legal duty to carry out those inspections.
"Inspections are hugely important as they hold schools to account for their educational standards and parents greatly rely on the ratings to give them confidence in choosing the right school for their child.
"We offer our deep condolences to the family and friends of Ruth Perry following her tragic death and are continuing to provide support to Caversham Primary School at this difficult time."
Anyone feeling emotionally distressed or suicidal can call Samaritans for help on 116 123 or email jo@samaritans.org in the UK. In the US, call the Samaritans branch in your area or 1 (800) 273-TALK
Reece Rodger: Police search for missing man who vanished on camping trip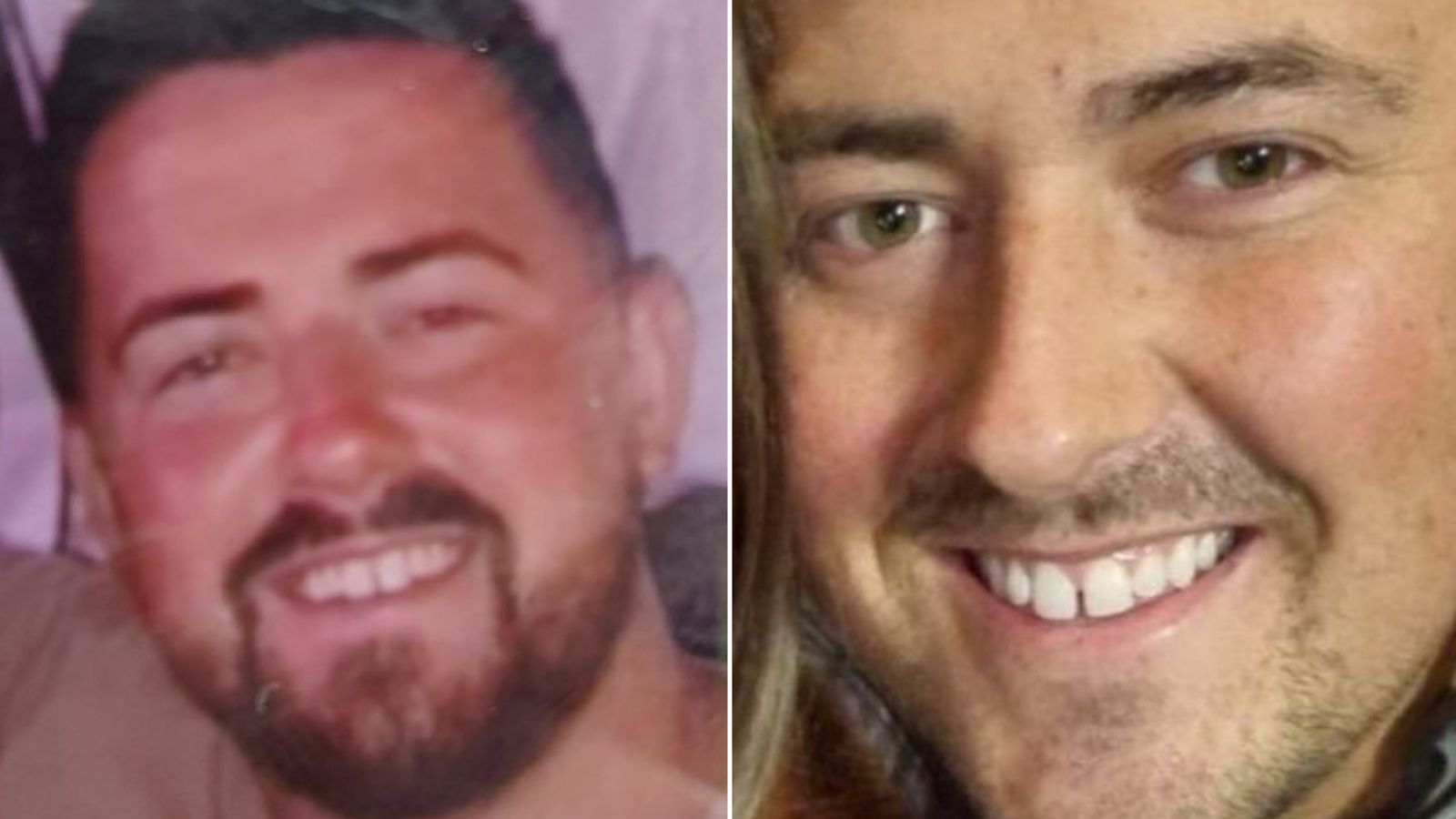 Police are "extremely concerned" over the disappearance of a man who went missing during a camping trip in Perthshire.
Reece Rodger, 28, was last seen in the Kinloch Rannoch area at around 11.30pm on Saturday night.
He was camping on the north shore of Loch Rannoch with friends, who believed he had gone to bed.
However, there was no trace of Mr Rodger on Sunday morning and he was reported missing, Police Scotland said.
Sergeant James Longden, of Pitlochry Police Station, said: "We are extremely concerned for his safety as he is not dressed for the cold weather and he is not familiar with the area.
"Searches and enquiries are ongoing to trace him as soon as possible to ensure that he is safe and well."
Mr Rodger, from Fife, is around 6ft tall and of medium build with dark hair. When last seen he was wearing a black t-shirt, black jogging bottoms and wellington boots.
Sergeant Longden added: "I would urge anyone who has seen Reece, or who has any information on his whereabouts to contact police.
"I would also ask anyone living in the local area to please check their outbuildings or sheds in case he has taken shelter there."
Rich polluting countries like UK must 'fast forward' net zero target by a decade, demands UN chief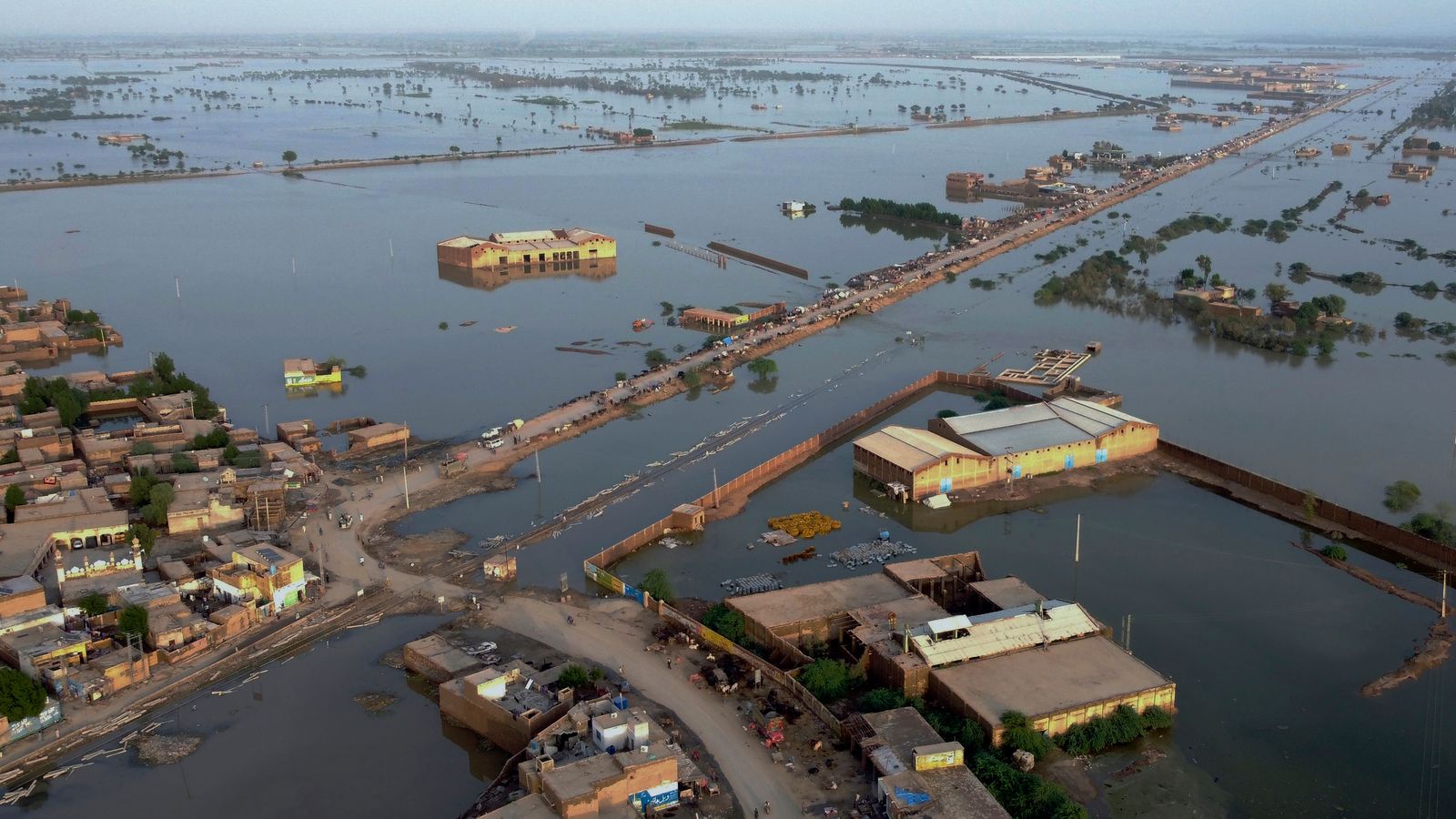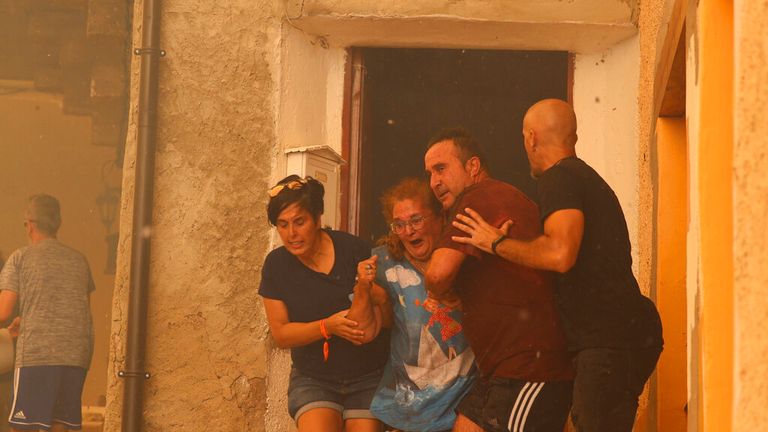 In a controversial move, the United Nations chief is today calling on polluting developed countries like the UK to "fast forward" net zero targets by a decade to 2040, warning the "climate time bomb is ticking".
It comes as the most comprehensive review yet of the state of climate change delivers a bleak picture of humanity's failure to tackle it, warning the window to secure a "liveable and sustainable future" is "rapidly closing".
But climate scientists have rallied to point out there are still grounds for hope.
Today's report from the United Nations' IPCC is the culmination of eight years of work by hundreds of the world's leading climate scientists, summarising six underlying reports.
The final sign-off by all governments was repeatedly pushed back amid a battle between rich and developing countries over emissions targets and financial aid to vulnerable nations.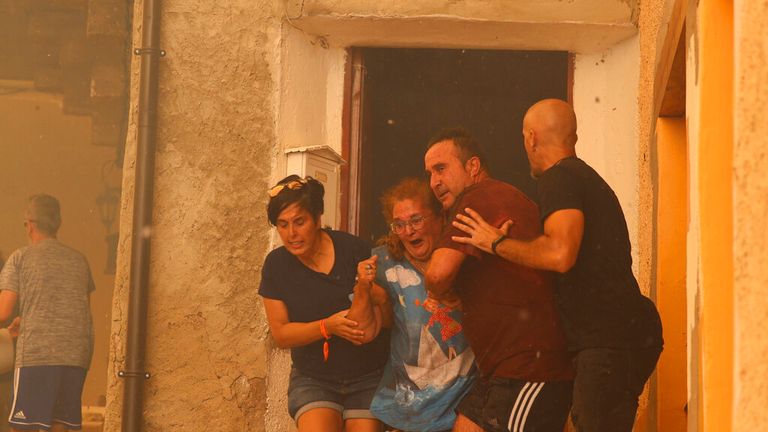 The last similar report in 2014 paved the way for the ambitious Paris Agreement the following year.
The next of its kind won't arrive until 2030, making this effectively the last collective warning and action plan from scientists while the 1.5°C warming is still in reach – though only just.
Key findings of the IPCC report
Human activity has "unequivocally" warmed the planet by 1.1°C above pre-industrial levels.
Emissions must fall 48% by 2030 – the first time such a bold target has been signed off in a global political document.
Climate risks make things like pandemics or conflicts worse.
Emissions from existing fossil fuel infrastructure alone would blow the agreed 1.5°C warming target, unless they are captured via still risky technology.
Global sea levels have already risen by 20cm on average.
At least 3.3 billion people are "highly vulnerable" to impacts including "acute food insecurity" and water stress.
Extreme heat is already killing people in every region.
Vulnerable communities who have historically contributed the least are disproportionately affected.
'Hope not despair'
In the year since the last report in this series, the world has suffered violent flooding in Pakistan, drought across the northern hemisphere and a hunger crisis in the Horn of Africa – all of which were made worse by climate change.
But amid the bleak warnings of lost jobs, homes, crops and lives, scientists insisted there were still grounds for hope.
IPCC chair Professor Hoesung Lee painted a picture of a "liveable sustainable future for all" – though only if we "act now."
"We should feel considerable anxiety," said Professor Emily Shuckburgh from Cambridge University, who recently co-authored a book on climate change with King Charles, but was not involved with this report.
"But hope, rather than despair," she added, highlighting that the IPCC said it's still possible to limit warming to the agreed safer threshold of 1.5°C.
Read more:
UN's latest climate warning channels Hollywood
The report says changes in how we eat, travel, heat our homes and use the land can all cut climate-heating gases, while reducing air pollution, improving health and boosting jobs.
And there is enough global capital to rapidly slash climate-heating pollution.
"Not despair, but not just hope, because there is a lot of work to do," said Dr Friederike Otto, a member of the core writing team and senior lecturer at Imperial College London.
"But we don't need any new magic invention that we have to do research on for the next 30 years or so. We have the knowledge… But we also need to implement this."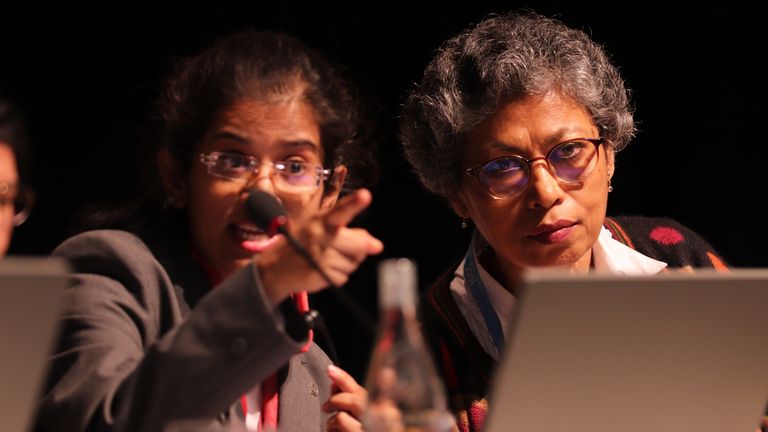 'The wolf is at the door'
But because the window to act is "rapidly closing," the UN Secretary-General Antonio Guterres will today attempt to heap pressure on rich nations to make up for lost time.
In 2018 the IPCC loudly warned of the "unprecedented scale of the challenge required to keep warming to 1.5°C".
Five years later, that challenge is "even greater" due to a failure to cut emissions enough, it said.
"Leaders of developed countries must commit to reaching net zero as close as possible to 2040," Mr Guterres is expected to say shortly.
"This can be done," he will add in an address to launch the report, which he calls "a how-to guide to defuse the climate time bomb".
Mohamed Adow, director of thinktank Power Shift Africa, said it was "only fair that Guterres is setting more ambitious goals for wealthier countries who can make the transition more quickly and who have got rich off the back of burning fossil fuels".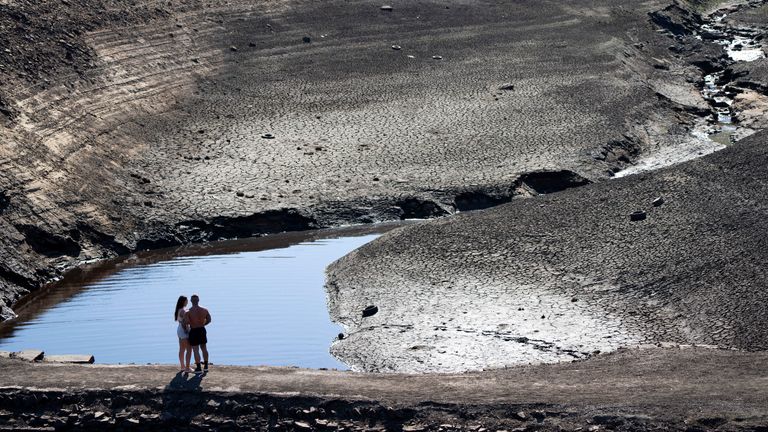 But the proposal may spark some backlash for apparently moving the goalposts. Countries are already struggling to meet the previously agreed target of net zero by 2050.
Asked about the proposed date change, a UK government spokesperson said: "Today's report makes clear that nations around the world must work towards far more ambitious climate commitments."
Britain is currently off track to get its emissions to net zero even by 2050, according to an independent assessment last week, and the recent budget was criticised for falling short on climate policies.
Rebecca Newsom, head of politics at Greenpeace UK, said: "Forget distant tropical islands and future generations – we have already seen what 40°C summers and flash flooding look like here in the UK. The wolf is at the door."
The next COP global climate conference might fail to reach a deal to completely phase out fossil fuels, campaigners warn

Fossil fuel battleground at COP28
The COP28 climate summit will take place in the United Arab Emirates in December.
The findings of the latest IPCC report are supposed to inform those climate negotiations in Dubai.
This year's summit is seen as particularly important, taking a "global stocktake" of how countries have progressed since the 2015 Paris Agreement.
Observers pointed out that every government had signed off on the scientific conclusions released today, which include the call for a "substantial reduction in fossil fuel use".
The necessary approval process by all nations is designed to ensure governments act on the contents.
Yet some countries resist that language in other forums such as the more political COP climate summits, with oil and gas states last year blocking a pledge to "phase down all fossil fuels" from the final agreement at COP27 in Egypt.
"By signing off the IPCC reports all governments, even those of high-emitting countries such as Saudi Arabia, Australia, the US and the UAE, acknowledge that climate change is a real and present danger," said Richard Black from energy thinktank ECIU.
The UN will hope there is similar agreement in December – which needs to result in meaningful action.
Watch the Daily Climate Show at 3.30pm Monday to Friday, and The Climate Show with Tom Heap on Saturday and Sunday at 3.30pm and 7.30pm.
All on Sky News, on the Sky News website and app, on YouTube and Twitter.
The show investigates how global warming is changing our landscape and highlights solutions to the crisis.