More than a quarter of the Amazon basin is now releasing more carbon than it absorbs, according to a comprehensive study.
Brazilian researchers flew an aircraft over the rainforest every two weeks for nine years, taking air samples from just above the canopy all the way up to 4.5km.
They found that the eastern side of the Amazon, which accounts for around 28% of the total area, is losing more carbon as a result of deforestation than is being removed from the atmosphere by the growth of trees.
Some of the carbon is lost through fires, deliberately started to clear the forest for agriculture.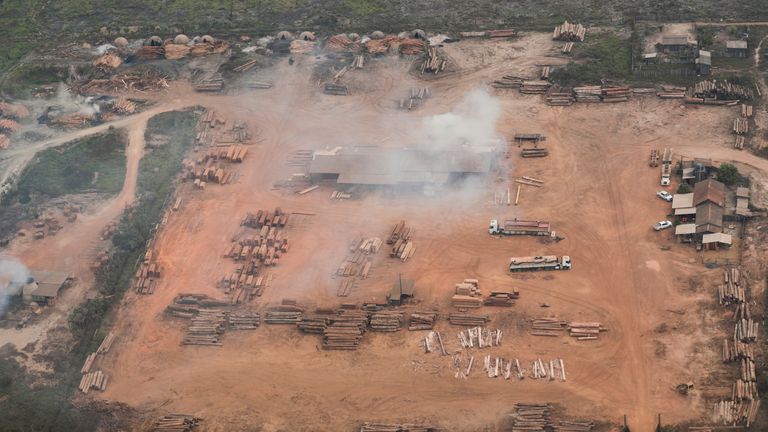 But the knock-on effect of an absence of trees is local climate change, with rising temperatures and reduced rainfall accelerating the decline of surrounding areas of forest. Parts of the Amazon have flipped from being a carbon sink to a carbon source.
Mark Wright, director of science for conservation charity WWF, told Sky News that the research showed the Amazon is at a tipping point, where great swathes of forest could be destroyed by self-perpetuating dieback.
"We're no longer talking about some dystopian future, this is stuff we can see on the ground, these changes are happening here and now," he said.
"It's a warning of what is still come to come.
"We know we are moving towards that inextricable situation where the forest will slowly transform into a more grass-like savannah ecosystem and as a result will push more carbon into the atmosphere."
The world's plants have absorbed 25% of fossil fuel emissions since 1960, helping to reduce global warming.
The Amazon rainforest has taken up a significant proportion, storing an estimated 123 billion tonnes in the trees and other vegetation.
But the new research suggests it can't be relied on in future to mop up carbon dioxide from the atmosphere because human activity is disrupting the delicate ecosystem.
The researchers, led by National Institute for Space Research in Brazil, found that on the lush western side of the Amazon basin slightly more carbon is being absorbed through photosynthesis than is being released by dead trees and human impact on the forest.
But it was a significantly different story on the eastern side, where 27% of the forest has been lost, more than twice the rate in the west.
Results published in the journal Nature show that the area has switched from being a carbon sink to a net source during the nine years of the study, with local climate change destabilising the delicate ecosystem.
The researchers say that in the drier months of August to October the temperature in the eastern Amazon has increased by between 1.9C and 2.5C over 40 years. Rainfall has decreased by between 24% and 34%.
The researchers say there is a direct link between the changing climate and tree loss.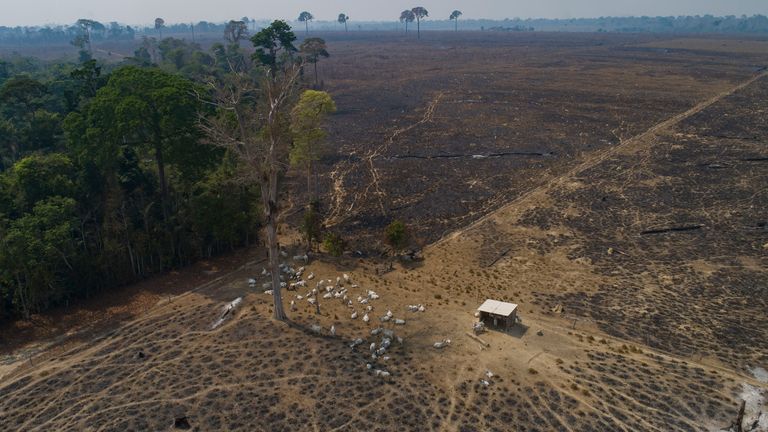 The Amazon receives an average of more than 2m of rain a year, with between a quarter and a third of it resulting from moisture released by trees.
With a shrinking forest in the east the atmosphere is drier, stunting the growth of remaining trees and reducing the amount of carbon they absorb.
Some scientists have predicted that if the Amazon reaches a tipping point it will retreat to cover only a relatively small area in the west, with a devastating impact on biodiversity and atmospheric carbon.
But Mark Wright said: "The future is potentially very, very bleak, but it's not too late.
"If we follow the science, we can clearly see there is scope to do really good agricultural development in Brazil, in a way that will boost their economy, in a way that does not require further degradation.
"If we can concentrate on restoring those lands there is still hope for preventing that kind of runaway process.
"But we have to act now, we can't keep pushing this off."
Daily Climate Show – featuring a 'living laboratory'

Sky News has launched the first daily prime time news show dedicated to climate change.
The Daily Climate Show is broadcast at 6.30pm and 9.30pm Monday to Friday on Sky News, the Sky News website and app, on YouTube and Twitter.
Hosted by Anna Jones, it follows Sky News correspondents as they investigate how global warming is changing our landscape and how we all live our lives.
The show also highlights solutions to the crisis and how small changes can make a big difference.
Turkey election: President Erdogan declared winner with more than 52% of vote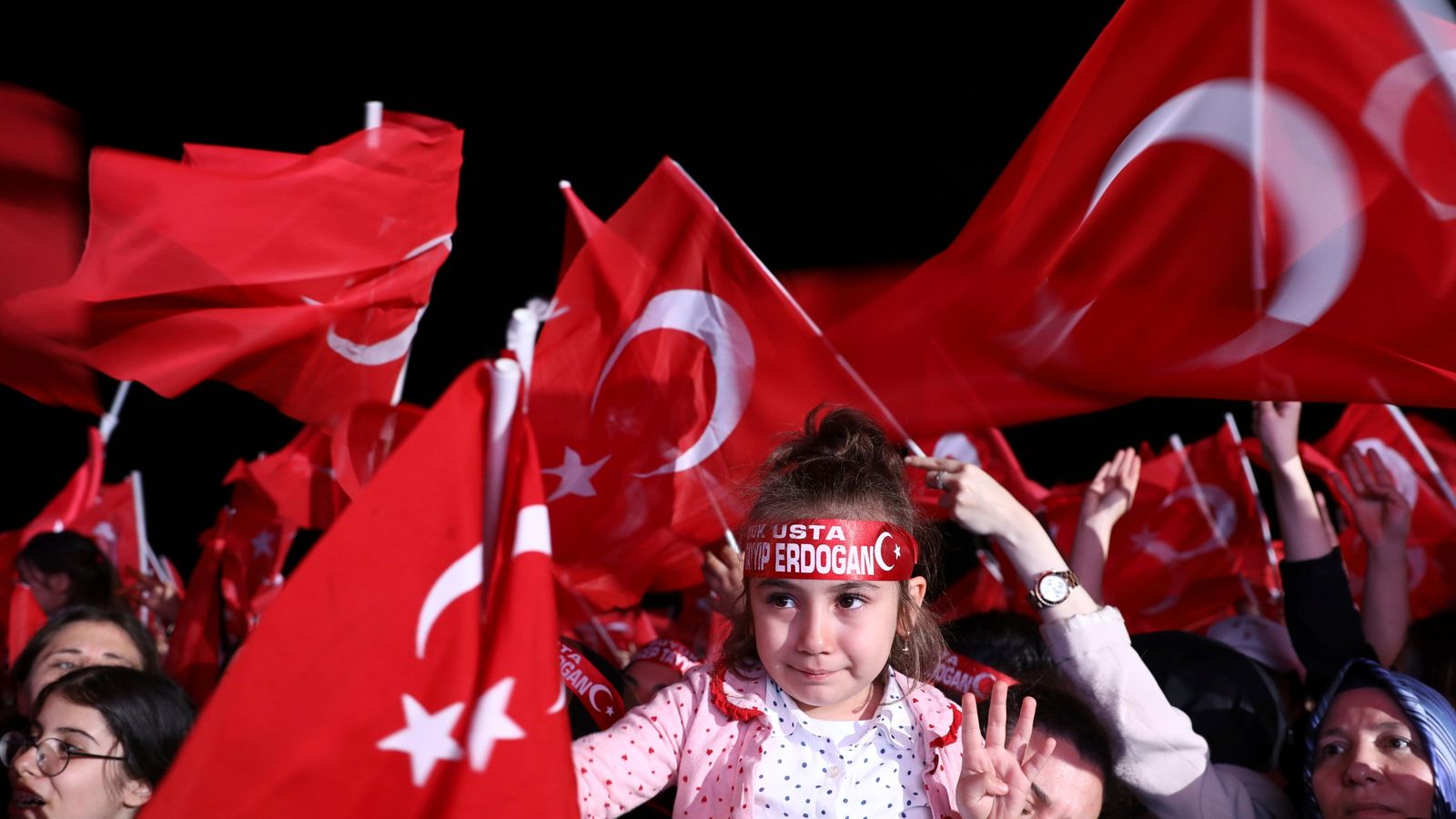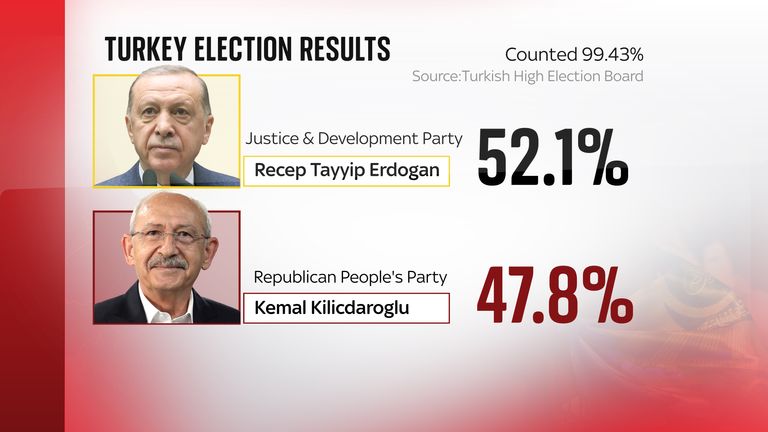 Recep Tayyip Erdogan has won the presidential run-off election, with leaders from around the world congratulating him.
With 99% of the votes counted, Mr Erdogan, who served as prime minister from 2003 to 2014, won with a share of 52.1%.
It means he has secured a record-breaking third term as president and will serve at least five more years in power.
Turkey election latest
Erdogan thanks crowds as election officials declare him winner
Polls closed at 5pm local time (3pm BST) and while votes were counted fast, for hours it remained too close to call. At one point, less than a percentage point separated the incumbent from his rival, Kemal Kilicdaroglu.
Shortly after 8pm local time (6pm BST) Mr Erdogan stepped out of his home and thanked people for "giving us the responsibility to rule for the next five years".
He has been congratulated by a host of world leaders. Among them, Vladimir Putin, who wrote a lengthy message to Mr Erdogan, which concluded: "From the bottom of my heart I wish you new successes in such a responsible activity as the head of state, as well as good health and well-being."
French President Emmanuel Macron also sent well-wishes, as well as reiterating the "immense challenges" both countries face.
"The return of peace to Europe, the future of our Euro-Atlantic Alliance, the Mediterranean Sea," he tweeted.
"With President Erdogan, whom I congratulate on his re-election, we will continue to move forward."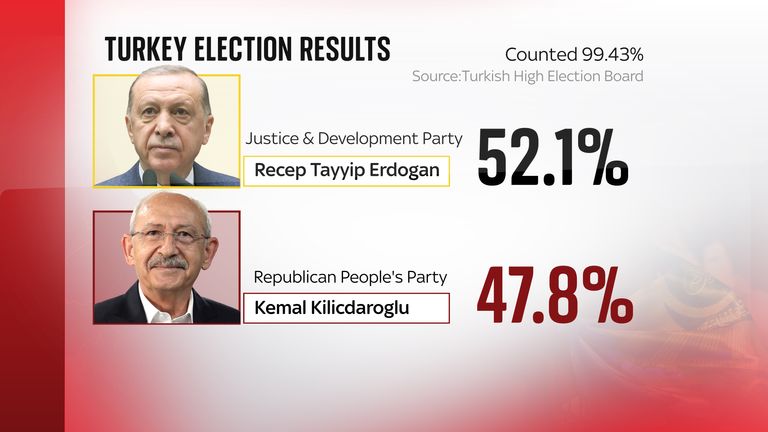 Opponent refuses to admit defeat
Kemal Kilicdaroglu took the stage earlier this evening, and in a rousing speech, he refused to admit defeat.
"I wasn't able to defend your rights," Kilicdaroglu began by saying. "I did not shirk against an unjust structure, I could not be a silent devil and I was not.
"I could not stand quiet against millions of people becoming second-class citizens in this country.
"I could not let them stand all over your rights. For your children to go to bed hungry. For farmers to not to be able to produce. I could not allow these things."
He concluded by thanking the 25 million people who voted for him – and says the "battle continues".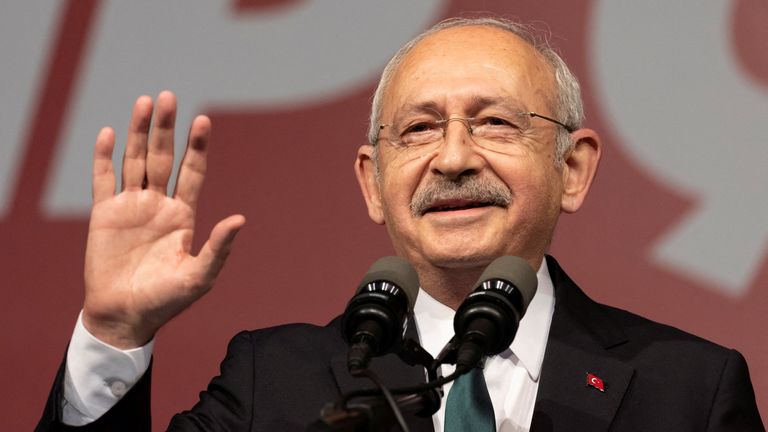 First presidential run-off in Turkey's history
The pair were forced to go head to head when neither reached the required 50% of the vote in the first round on 14 May and Mr Erdogan's win will have profound consequences for Turkey, and the wider world.
The two candidates offered sharply different visions of the country's future and its recent past.
Turkey election: 'This is an historic vote'

Mr Erdogan's government vetoed Sweden's bid to join NATO and purchased Russian missile-defense systems, which prompted the United States to oust Turkey from a US-led fighter-jet project. But it also helped broker a crucial deal that allowed Ukrainian grain shipments and averted a global food crisis.
Meanwhile, Mr Erdogan's 74-year-old challenger promised to restore a more democratic society.
Sudan conflict: Pregnant woman and baby killed in shooting – but husband left unaware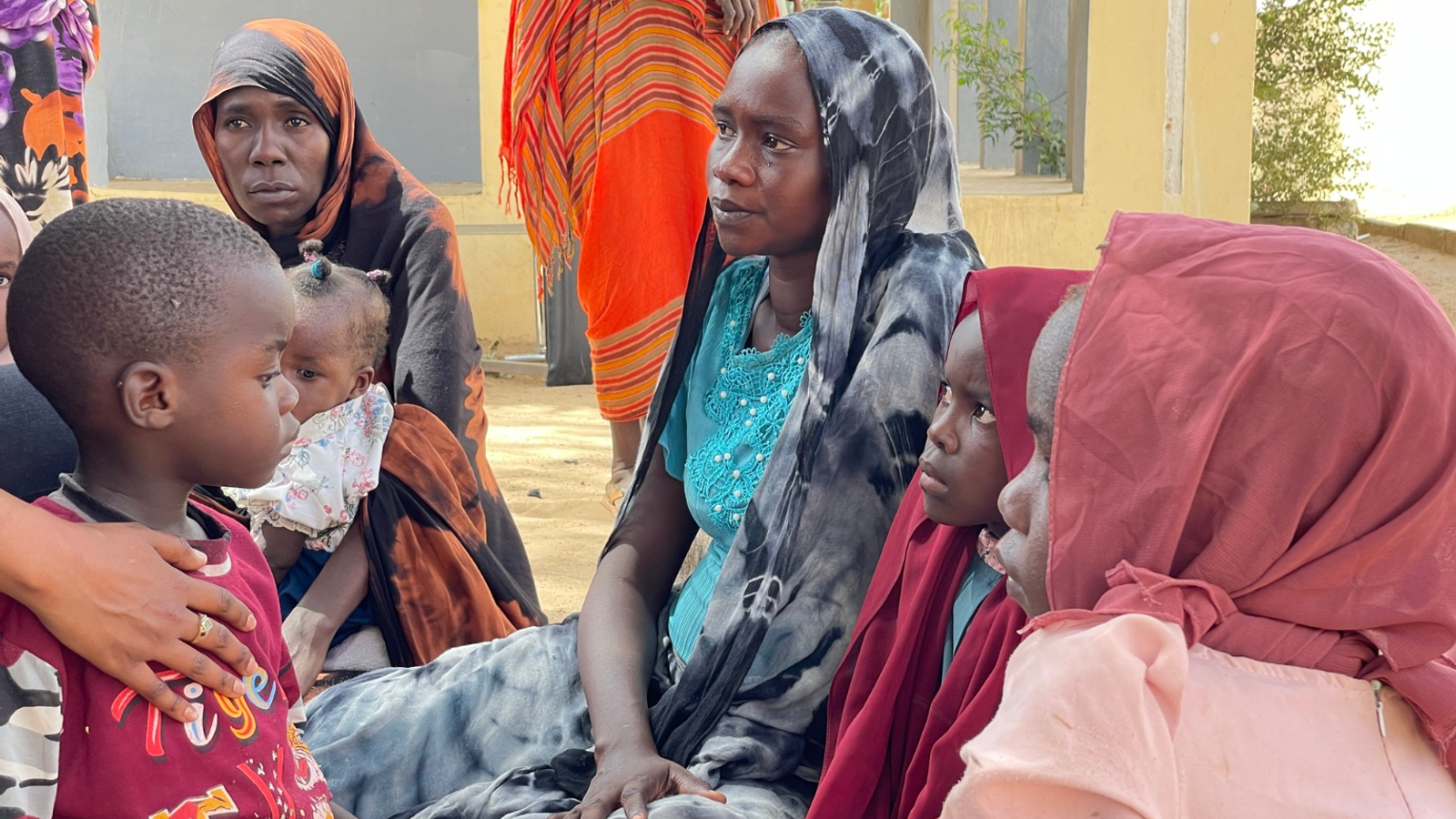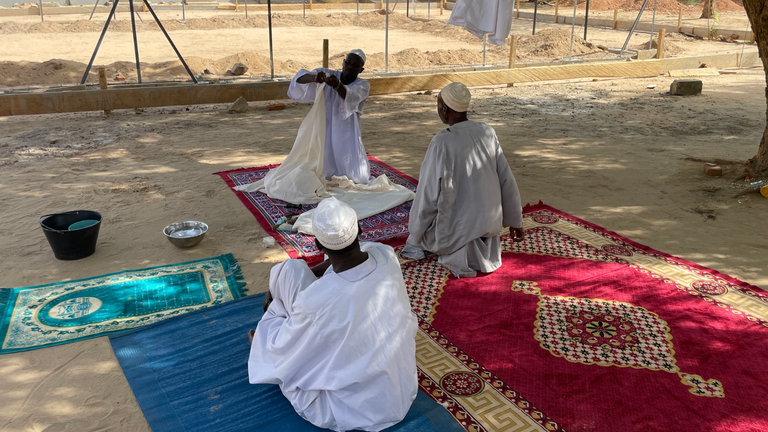 Men in crisp white thobes sit on mats under a leafy thorn tree carefully cutting pieces of white material.
They slowly stitch them together with tender, experienced precision.
Another shroud for another life lost to senseless violence.
More men arrive and they raise their hands in prayer to grieve the recently deceased.
The latest victim of the militias terrorising their community lies in a two room morgue a few metres away.
Fatma was eight months pregnant and travelling on a cart with her young son and daughter to Hajr Hadeed in eastern Chad.
She left her husband in the violence of al Geneina, the state capital of West Darfur in Sudan, where fleeing residents are reporting a citywide massacre.
Fatma's sister Zeinab says her five-year-old nephew El-Sheikh was holding his pregnant mother's body when the cart arrived in the village.
She rushed with close relatives to Adre Central Hospital.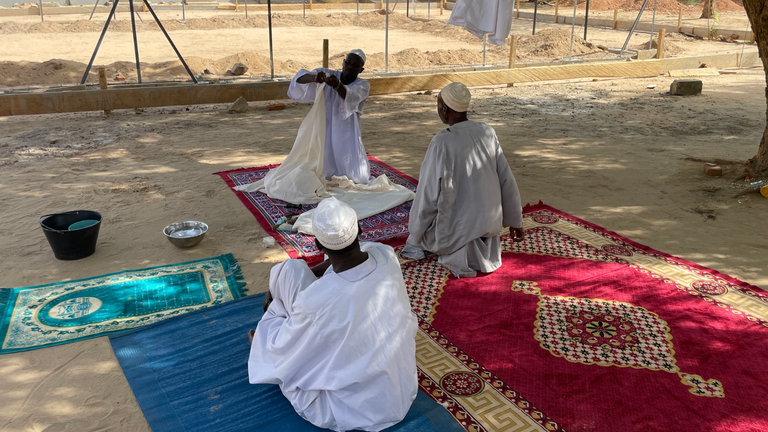 They could feel the heaviness of Fatma's body, but held out hope that the baby in her belly was still alive.
Hospital workers were cleaning the blood from the floor when they arrived at Dr Mahmoud Adam's office.
He said Fatma was dead when she arrived and was quickly able to ascertain that the baby too had died.
"Since the war in Khartoum started so many wounded civilians are passing through the border from Darfur," said Dr Mahmoud, whose hospital now has treatment tents operated by the medical aid agency Medecins Sans Frontieres (MSF) in its grounds.
He recalls the 2003 genocide and observes there is little difference between then and now.
"It is so sad that to see people dying and suffering like this," he said.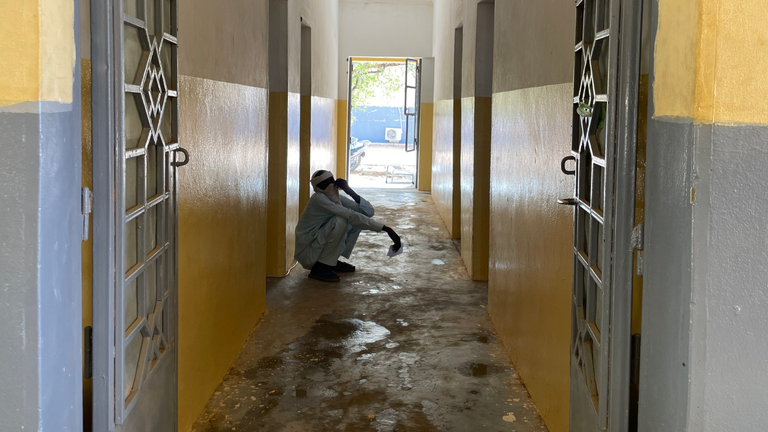 We walk over to the morgue where Fatma lies covered on a cement slab.
"She was shot in the back of the head," he said.
Dr Mahmoud believes she died instantly.
Read more on Sudan crisis:
Scale of destruction in before and after images
The fighting explained
Zeinab sits under a tree just outside the morgue building.
Her eyes are wet and wide and every couple of minutes she muffles her sobs with her dark tobe.
Fatma's small children lie silently across her lap.
More family arrive from their village as the body is prepared for burial.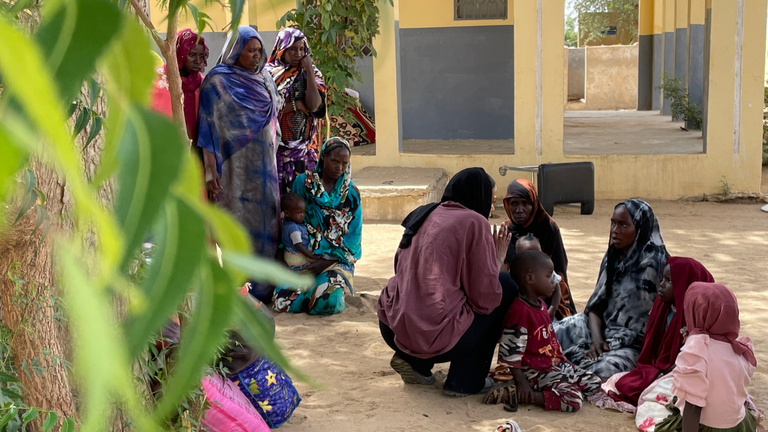 Zeinab is handed different phones as family from across the region call to extend their condolences.
One call that doesn't come is from Fatma's husband Adam in al Geneina where telecommunications have been down for more than a week.
The only information from there is coming from the fleeing residents who have safely made it across the violence-ridden region.
The city 'is on fire'
They say the city is on fire and that there are too many deaths to count.
Deep in the al Geneina blackout, Adam is still unaware that his wife and unborn child have been killed.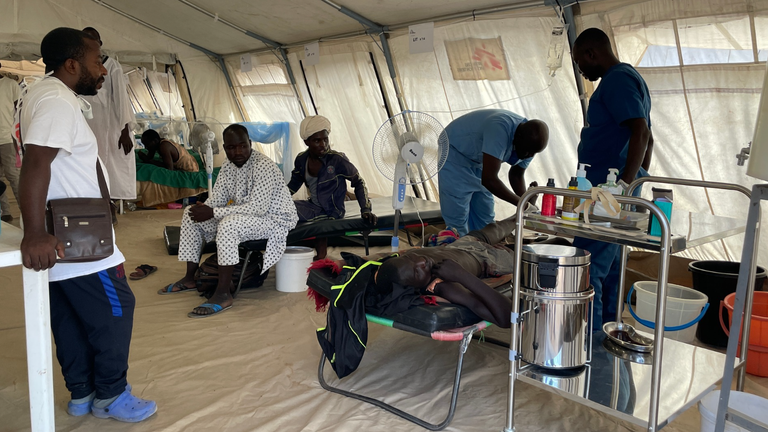 No one can reach him to deliver the news.
Fatma emerges from the morgue wrapped in the white shroud.
She's lifted onto the back of a military grade Toyota pick-up by the men from her family as wailing rings out from the crowd of women.
Dread and panic
The cries carry more than just loss, but notes of dread and panic.
The fearful anticipation that there is more grief to come.
Health Secretary Steve Barclay rules out new pay offer for nurses despite 'constructive' meeting with RCN chief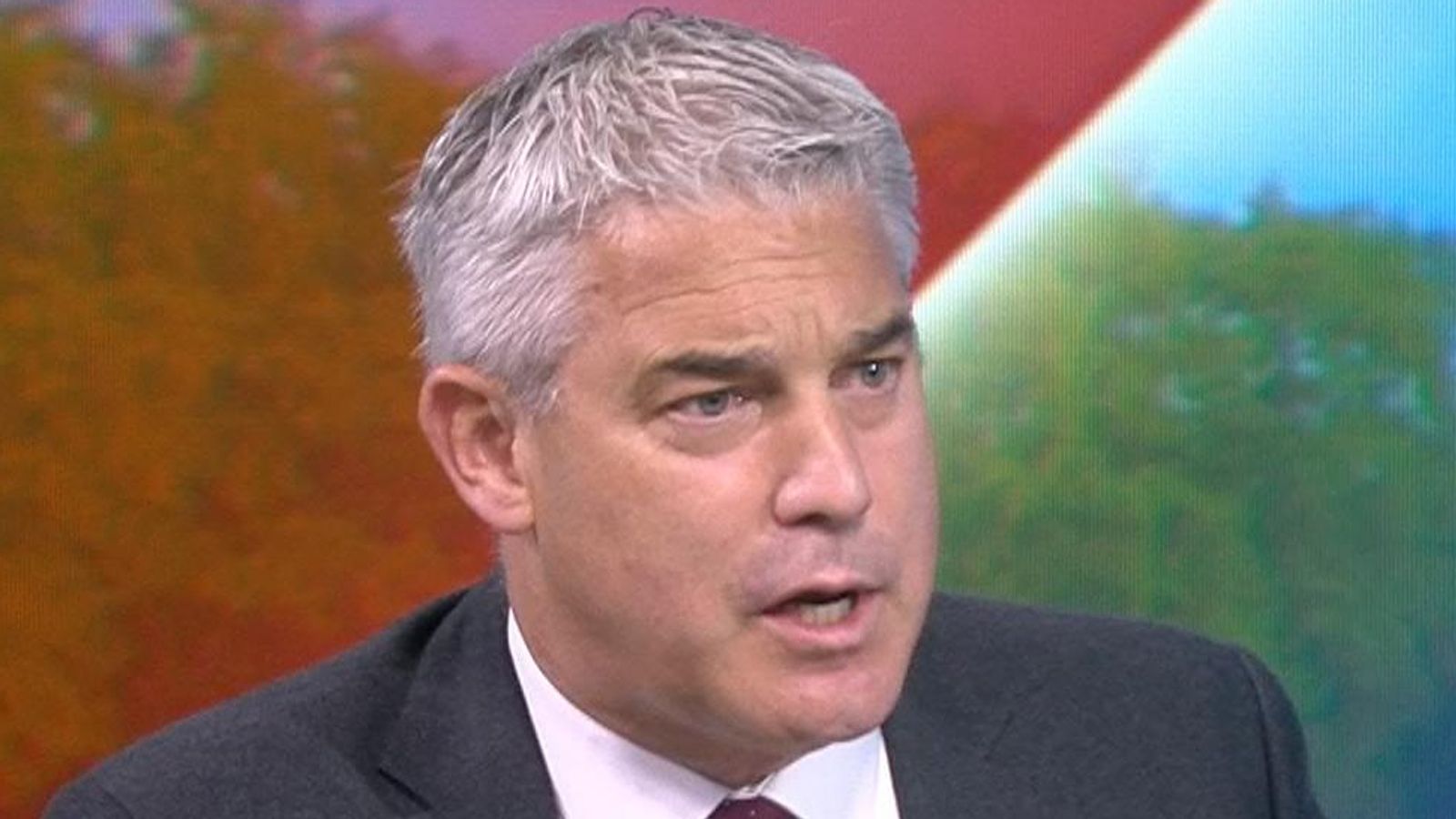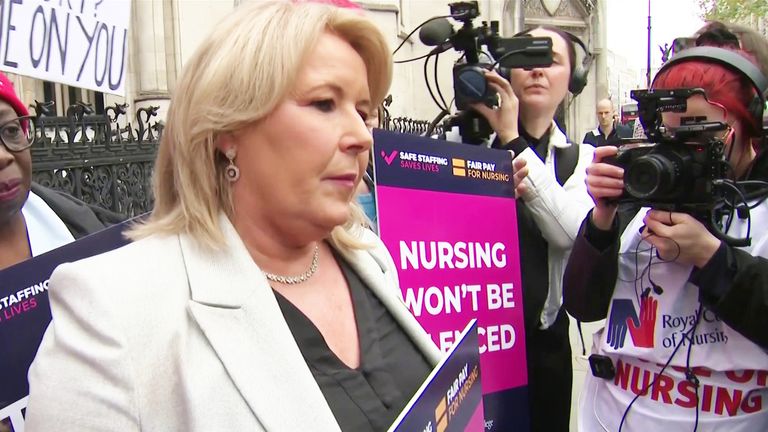 Health Secretary Steve Barclay held a "constructive" meeting with Royal College of Nursing (RCN) chief Pat Cullen – but made clear that a new pay offer for nurses will not be forthcoming.
Ms Cullen previously recommended the members of her union accept the deal agreed with the government, but it was rejected by members.
However, the offer was imposed because a majority of the NHS Staff Council body wanted to take the deal – despite the opposition from the RCN.
Politics latest:
'Manifestly wrong' for MPs to claim driving fines back on expenses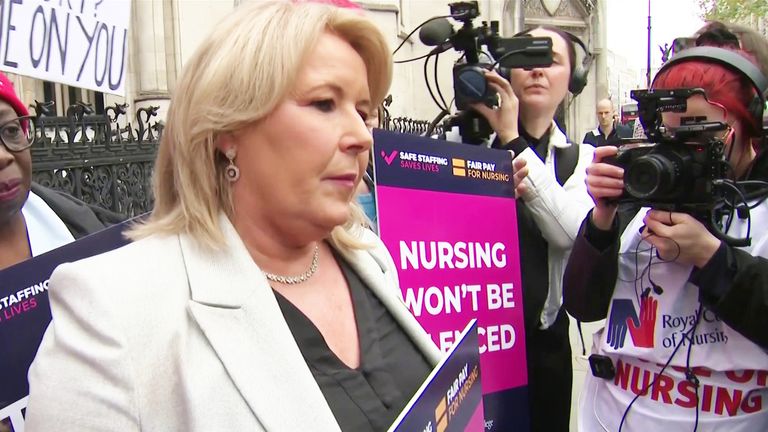 Speaking to Trevor Phillips, who was hosting Sophy Ridge on Sunday on Sky News, Mr Barclay was asked about a recent summit with Ms Cullen.
He said they "had a very constructive meeting this week" – but described what was offered previously and accepted by the NHS Staff Council as a "full and final" offer.
This offer amounted to a 5% pay rise, plus a cash top-up.
Currently, the RCN is balloting over whether to take further strike action, with close to 30,000 members taking part in the vote.
Ms Cullen said previously: "Once again, we have been forced to ask our members if they want to take to the picket lines in their fight for fair pay.
"This is unfinished business and the government can get it resolved without the need for more strike action."
The cost of living crisis saw the RCN take part in nationwide industrial action across England for the first time in its history.
After other health unions also took action, Unison, GMB, the Chartered Society of Physiotherapists and the Royal College of Midwives were all among those who in the end voted to accept the pay increase offered by the government.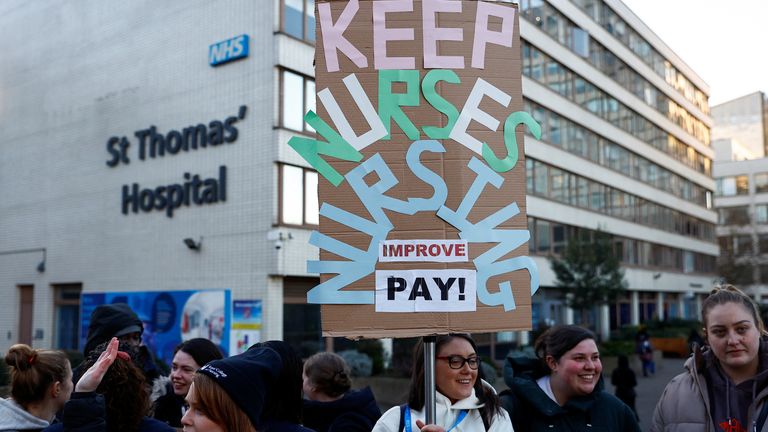 Demands aren't 'legally possible'
Speaking about the deal, Mr Barclay told Sophy Ridge on Sunday: "It means a band six, entry-level nurse gets over £5,000 over the two years – recognising the huge, valuable contribution that NHS staff have made.
"Now what some in the RCN are asking us to do isn't legally possible.
"It's not possible to give a band six nurse different pay to a band six midwife or a band six paramedic."
Unite was another union which rejected the government's offer.
Members at Guy's and St Thomas' NHS Foundation Trust in London, and the Yorkshire Ambulance Service NHS Trust, last week announced they would be downing tools on 1 June – and junior doctors will be walking out for 72 hours on 14 June.
Click to subscribe to the Sky News Daily wherever you get your podcasts
The RCN leadership is encouraging its members to vote in favour of strikes.
While Mr Barclay said the pay element of the deal is closed, there is room for talks about issues like violence against staff and pension abatement, he added.