Troop numbers on South African streets increase to 25,000 amid looting – and more could be deployed
The number of soldiers deployed on the streets of South Africa has doubled to 5,000 as the army and police struggle to quell days of looting and violence.
President Cyril Ramaphosa is considering boosting troop numbers even more, as at least 72 people have been killed in the worst unrest in the country for years.
And some citizens are arming themselves to protect their property and businesses from the rampage, which has hit two of South Africa's nine provinces – KwaZulu-Natal, where Durban is located, and Gauteng, which includes Johannesburg.
In the Mobeni area of Durban, several food warehouses and a rice depot have been "invaded" and "ransacked", according to Sky News correspondent John Sparks.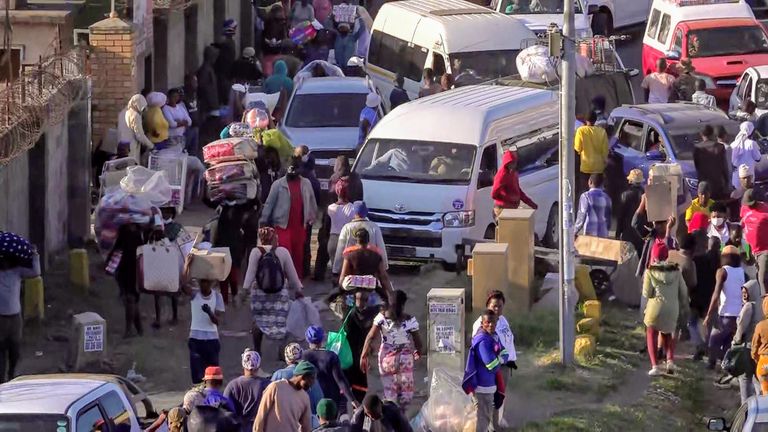 He described the scene as "absolute chaos" and "out of control" as looters have been "carting off" what was inside the facilities.
He said they had brought cars and trucks to fill up their vehicles with what they could get their hands on.
There has been mass looting and rioting in multiple locations in the city and elsewhere in the country, including in some areas of Johannesburg, such as Vosloorus.
The unrest was sparked by the imprisonment last week of former president Jacob Zuma, which has spiralled into days of looting.
At least 1,234 people have been arrested in waves of rioting. The violence has not spread to the country's other seven provinces, where police are on alert.
Many of the deaths were caused by chaotic stampedes as thousands of people stole food, electric appliances, alcohol and clothing from stores, police said.
Thousands of soldiers have been deployed to support officers and try to restore law and order.
But Sparks said the army was nowhere to be seen as people were just "helping themselves".
He added: "This is really out of control."
Extraordinary scenes in Mobeni in Durban as thousands of people loot food warehouses and a rice depot … people are hungry but here, people have brought trucks and cars and stuffed them full with anything they can seize. pic.twitter.com/Z34uHMveqh

— John Sparks (@sparkomat) July 14, 2021
"What we have here is something quite extraordinary. People have broken into food warehouses and they are stripping them, they are emptying them."
Among the items being stolen were mattresses, kitchen appliances and boxes of sardines.
In eastern Johannesburg, some shopping centres continued to be targeted, while in Soweto township, south of the city, police and army units patrolled malls and streets.
Acting minister in the presidency, Khumbudzo Ntshavheni, said the government was working with the consumer council to ensure food security.
Police roadblock in Durban run by a handful (5) officers … looters are stopped but they don't have the infrastructure to arrest them… pic.twitter.com/fguN8Ff9wr

— John Sparks (@sparkomat) July 14, 2021
There have been fears that the anarchy and looting could lead to food shortages.
She claimed putting troops on the streets was beginning to have the desired effect.
She said: "We are getting positive reports that the deployment of additional law enforcement agencies is starting to reap positive results as we are seeing less incidents of violence and looting reported."
She added: "5,000 members of the national defence force have already been deployed on the ground. Law enforcement officers, supported by the military, are working tirelessly to ensure the country returns to peace and stability and that those responsible for the instability are quickly brought to book."
Sparks had earlier been at another mass looting location where people told him they were "hungry".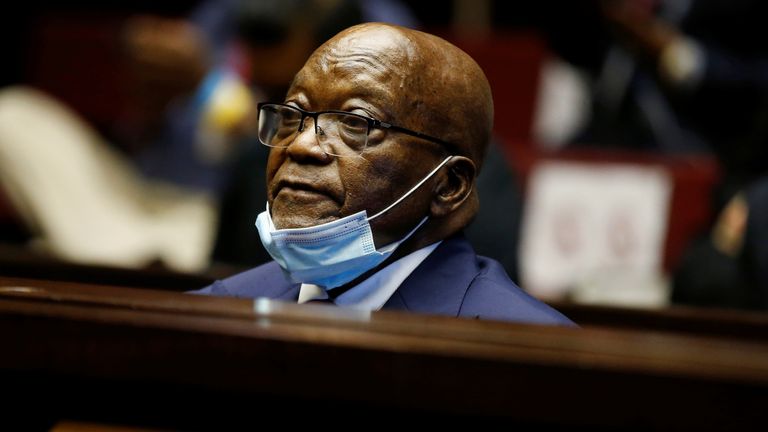 Lots of South Africans have lost jobs in the pandemic, including during lockdowns, and they were living "very much a hand-to-mouth existence".
Sparks said COVID restrictions "have hurt people here".
More than half of the country's 60 million people are living in poverty, with an unemployment rate of 32%, according to official statistics.
Violence broke out after Zuma began serving a 15-month sentence for contempt of court.
He was jailed for refusing to comply with a court order to testify at a state-backed inquiry investigating corruption claims while he was president from 2009 to 2018.
Boris Johnson hands COVID material to Cabinet Office in 'full and in unredacted form'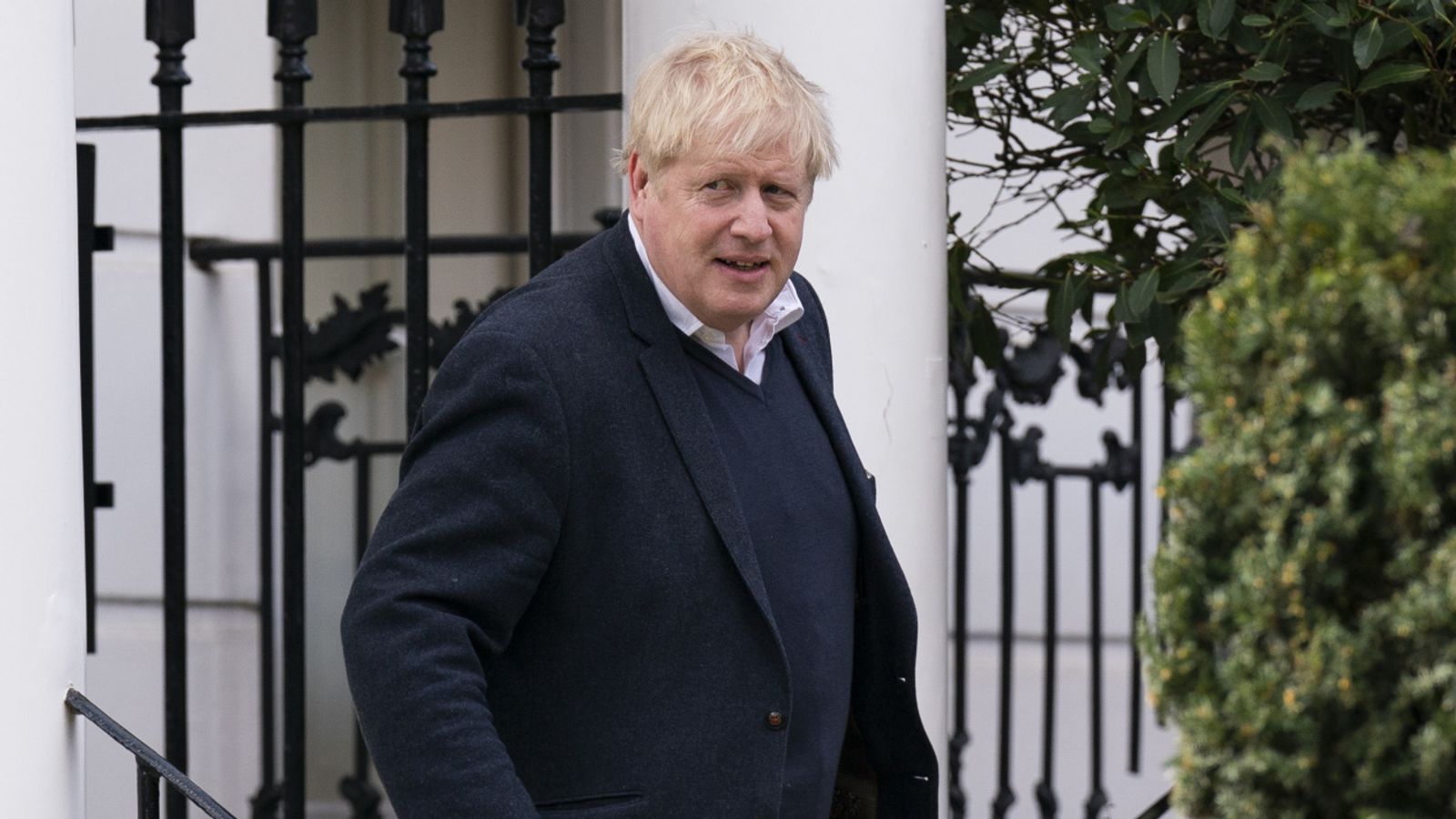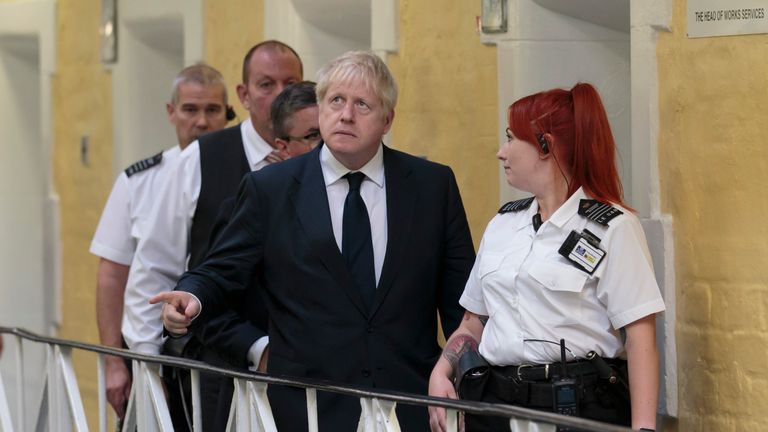 All of Boris Johnson's WhatsApp messages and notebooks that were requested by the COVID inquiry have been handed to the Cabinet Office in "full and in unredacted form", his spokesman has said.
The spokesman said the former prime minister wanted the Cabinet Office to "urgently" disclose the material to the inquiry.
A statement from the former PM's spokesman said: "All Boris Johnson's material – including WhatsApps and notebooks – requested by the COVID inquiry has been handed to the Cabinet Office in full and in unredacted form.
"Mr Johnson urges the Cabinet Office to urgently disclose it to the inquiry.
"The Cabinet Office has had access to this material for several months. Mr Johnson would immediately disclose it directly to the inquiry if asked.
"While Mr Johnson understands the government's position, and does not seek to contradict it, he is perfectly happy for the inquiry to have access to this material in whatever form it requires.
Reaction as Johnson hands unredacted WhatsApps to Cabinet Office – politics latest
"Mr Johnson cooperated with the inquiry in full from the beginning of this process and continues to do so. Indeed, he established the inquiry. He looks forward to continuing to assist the inquiry with its important work."
The intervention by Mr Johnson's team will heap pressure on the Cabinet Office which has come under pressure for holding on to the documents requested by the inquiry chair, Lady Hallett.
Lady Hallett had ordered the government department to hand over the former prime minister's messages – alongside diary entries and notes – by 4pm on Tuesday 30 May.
However, the deadline was later extended and now stands at 4pm on Thursday 1 June.
The Cabinet Office has reiterated its refusal to hand over some of Boris Johnson's WhatsApp messages to the COVID inquiry

It has been confirmed to Sky News that the inquiry has not asked Mr Johnson directly for the material and is waiting for the Cabinet Office to hand over the requested documents by the official deadline tomorrow.
Despite facing accusations of a cover-up, the Cabinet Office last night stuck by its refusal to hand over the documents, arguing that it was "firmly of the view that the inquiry does not have the power to request unambiguously irrelevant information that is beyond the scope of this investigation".
The department said it has already provided "upwards of 55,000 documents, 24 personal witness statements, eight corporate statements" and that "extensive time and effort" had gone into assisting the inquiry over the last 11 months.
But it added: "However, we are firmly of the view that the inquiry does not have the power to request unambiguously irrelevant information that is beyond the scope of this investigation.
Boris Johnson strikes the first blow
Boris Johnson has struck a decisive blow to the government with his decision to hand his full and unredacted WhatsApp messages and documents to the Cabinet Office.
The former prime minister has moved swiftly ahead of the deadline for handing over the material to the COVID inquiry, most likely to the embarrassment of Rishi Sunak and the government.
And opposition MPs are now likely to turn their fire on to Downing Street – who have stood by their decision to refuse to hand over all the material.
Mr Johnson has decided to strike, he has handed over his material and it is up to the government how they respond.
This is a blow struck by Mr Johnson against those who claim he is holding things up and involved in some form of cover-up.
The pressure is now on Rishi Sunak to act.
"This includes the WhatsApp messages of government employees' which are not about work but instead are entirely personal and relate to their private lives."
If the government does not abide by the new deadline on Thursday, Lady Hallett has ordered that a statement be sent by a "senior civil servant" confirming the Cabinet Office does not have the requested information, as well as a chronology of the government's contacts with Mr Johnson about the requests and whether the government has ever had the data.
Breaking a section 21 order could see the government face criminal proceedings, and there is also potential for a court battle over whether the information should be passed to the inquiry.
Speaking shortly before the inquiry's announcement, Prime Minister Rishi Sunak said the "government is carefully considering its position, but it is confident in the approach that it's taking".
Labour and the Liberal Democrats have criticised Mr Sunak for hesitating over the order, with shadow health secretary Wes Streeting accusing the prime minister of being "slippery".
On Tuesday Mr Streeting said Mr Sunak should "comply with the inquiry and do it today".
"One minute the government says the messages they have are immaterial; the next minute they're saying they don't exist. Which is it?"
Rishi Sunak gives his response to speculation surrounding Boris Johnson's messages being given to the COVID inquiry

He said the prime minister's "slipperiness" gave "the impression of someone who is not fully committed to transparency, openness, accountability".
Asked whether he was concerned about a potential "cover-up", Mr Streeting said: "I think the fact the prime minister looks so slippery today will be a cause of deep anxiety to people who are following the inquiry closely – not least those families who have suffered bereavement and just want some honesty and some answers."
The independent COVID inquiry, chaired by Lady Hallet, was announced by Mr Johnson in May 2021 and will examine the government's handling of the pandemic.
Read more:
How Boris Johnson was 'doorstepped' in US – and the key question he failed to answer
Government stands by refusal to hand over Boris Johnson's 'private' WhatsApp messages following criticism
The battle between the parties centres on messages Mr Johnson sent and received, as well as his diaries and his notebooks from during the pandemic.
The row started when the inquiry issued a legal notice to the Cabinet Office last week for not handing over the full contents of Mr Johnson's messages.
While the government believes it has no duty to disclose "unambiguously irrelevant" material, Lady Hallett disagrees -and under the Inquiries Act 2005, she has the final word.
In her response to the government, she rejected their argument about the Cabinet Office deciding what or what isn't "unambiguously irrelevant".
She said in her ruling that all these documents "contain information that is potentially relevant" to how decisions were made during the pandemic.
Ukraine war: Workers at deteriorating Zaporizhzhia plant fear 'devastation' on a scale 'worse than Chernobyl'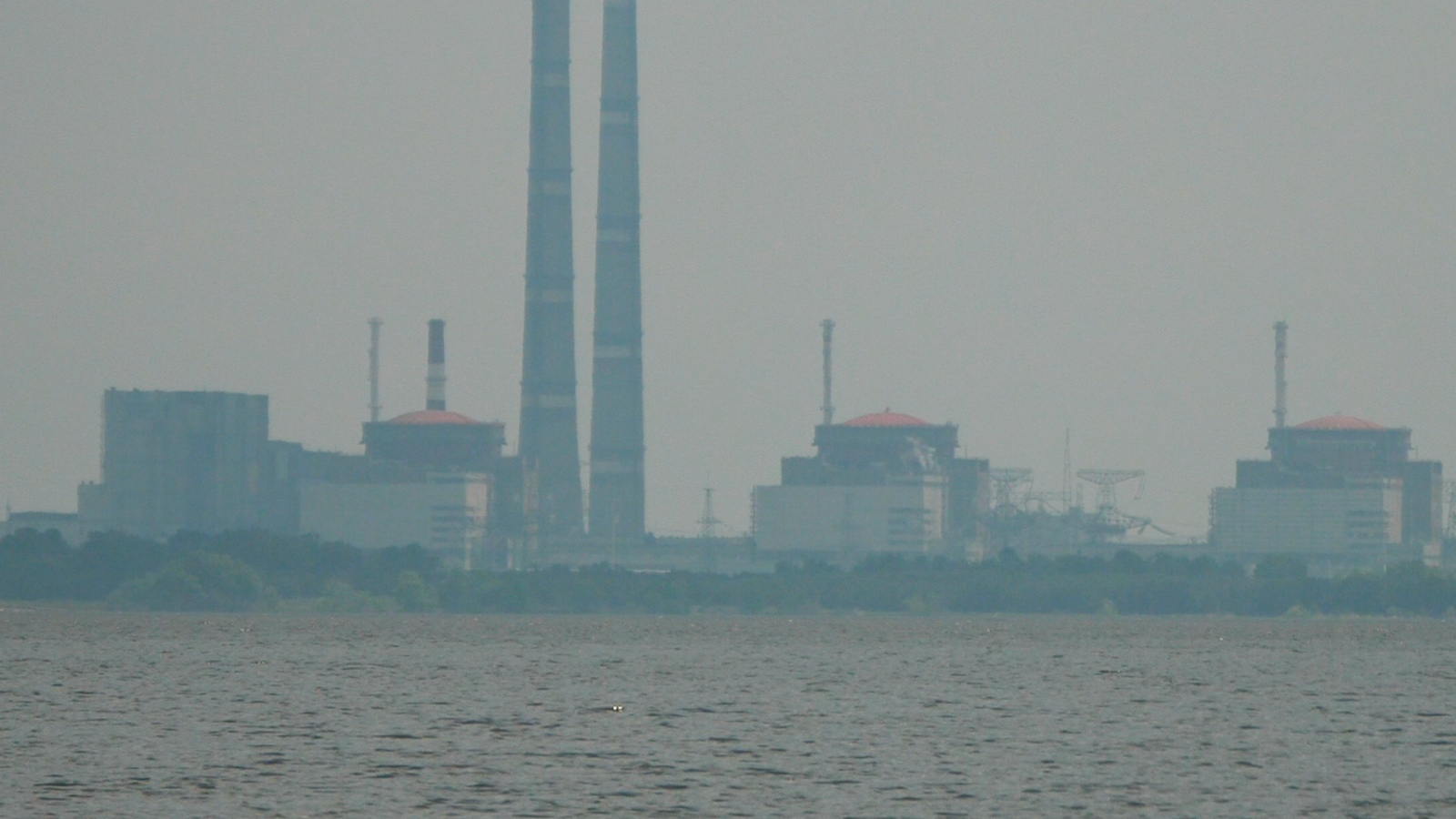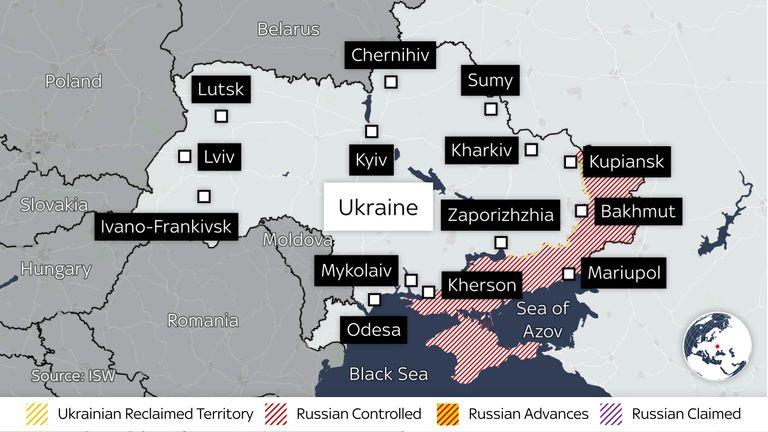 Sitting on the Dnipro River in Russian-occupied Ukraine is Europe's largest nuclear power station – on the frontline of a worsening war.
Over a period of a few weeks we spoke to two workers at the Zaporizhzhia plant.
And the warnings they gave of what could happen should send a cold chill around the world.
The interviews were conducted on the condition of anonymity and at great personal risk to them. They told us that if they were caught, they could be tortured, imprisoned, or worse. They know the dangers but still wanted to be heard.
Ukraine war latest:
UK now in 'undeclared war' with Russia, says Putin ally
Neither of the technicians knew that we were talking to the other. But their testimony of the possibility of a major nuclear catastrophe was worryingly familiar. One of the men, who we will call Serhii, warned the consequences could cause devastation across much of Europe, Russia and the Mediterranean.
"The level of radioactive pollution, and most importantly the area of contamination, will be thousands of square kilometres of land and sea… it would be much, much worse than Fukushima and worse than Chernobyl."
While some nuclear experts think that such an eventuality is unlikely, others have told us it's a possible worst case scenario.
The Zaporizhzhia nuclear plant was captured by Russian forces in March last year at the beginning of Moscow's invasion of Ukraine. Since then there have been major concerns about safety at the plant. Not least of all because heavy weapons, including shells and rockets, have hit the buildings.
Both sides blame each other. But our sources told us that Russia has been deliberately targeting power lines to disrupt the flow of electricity to Ukraine. These lines are essential for plant safety and the cooling mechanism of the reactors.
For 30 years, workers at Europe's largest nuclear power station couldn't imagine that there could be a power outage.
Since Russian forces occupied the site last year it has happened seven times.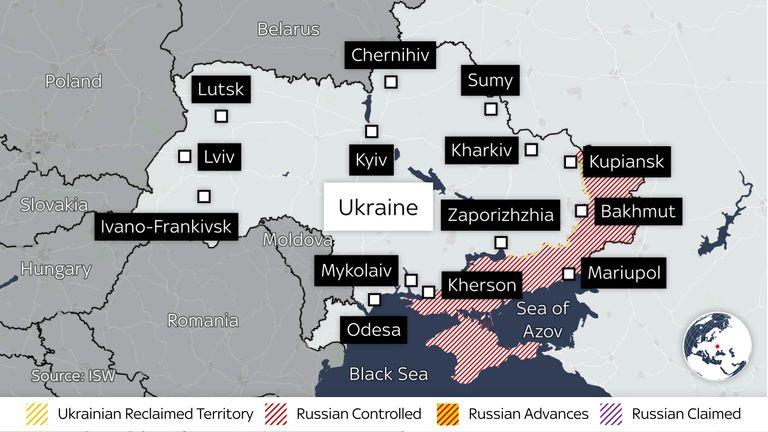 The back-up generators we were told are also not being properly maintained, the other man, Mykola, told us that this was because of staff shortages.
He says that before the war there were 11,000 staff at the plant and now there may be as few as 3,500.
"There is the same deficit of workers for repairs who can actually do the servicing and fix problems. The quality of the workers is lower because the qualified staff left. So generally the situation here is deteriorating."
Five of the six reactors are now in cold shutdown, but there are fears Russia may use the power plant to stage a false flag attack.
Ukraine's defence ministry alleges Moscow could be about to simulate a major accident, such as a radioactive leak, as a way of stopping any Ukrainian counteroffensive in the south of the country.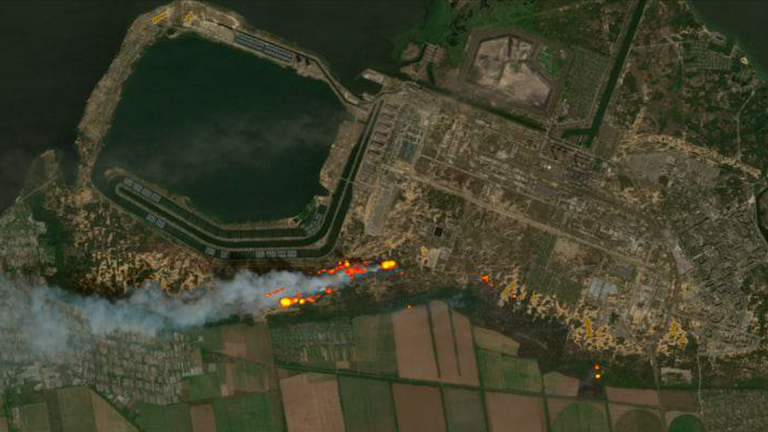 Ukraine is expected to order its troops to reclaim territory lost at the beginning of the war in the coming weeks.
The power station has been under occupation now for 15 months and the technicians have told us that in the last few weeks the level of military activity has increased dramatically.
They've witnessed Russian forces, moving more armour, more ammunition and more guns into place as they fortify their positions.
Serhii says that he thinks it's because they know the nuclear plant is safe from Ukrainian strikes.
"Ukrainian armed forces will not shell the station. That's why they are multiplying the numbers of troops and vehicles here because if they did it in another place they would definitely get shelled by the armed forces of Ukraine.
"The thing is, one month and half ago there were two times less troops on the power station and now there are two times more which means they are definitely preparing for the counteroffensive."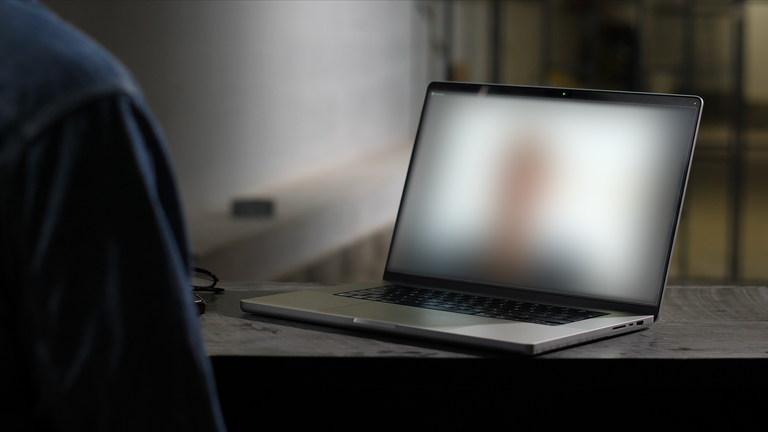 It is hard to know what is exactly going on inside, but we understand technicians are routinely intimidated to keep them silent – effectively held as hostages.
Mykola told us it's a frightening place to work, but he has no choice.
"Everyone has their own story. And I think the most important thing is not to get into their hands because it's unlikely you will get out and still be the human you were when you went in."
The International Atomic Energy Agency is carrying out inspections, but it continues to express grave concerns about the nuclear plant and is calling for the area to be demilitarised immediately.
But there is no sign that will happen. In fact, it's quite the opposite.
China warns over AI risk as President Xi Jinping urges national security improvements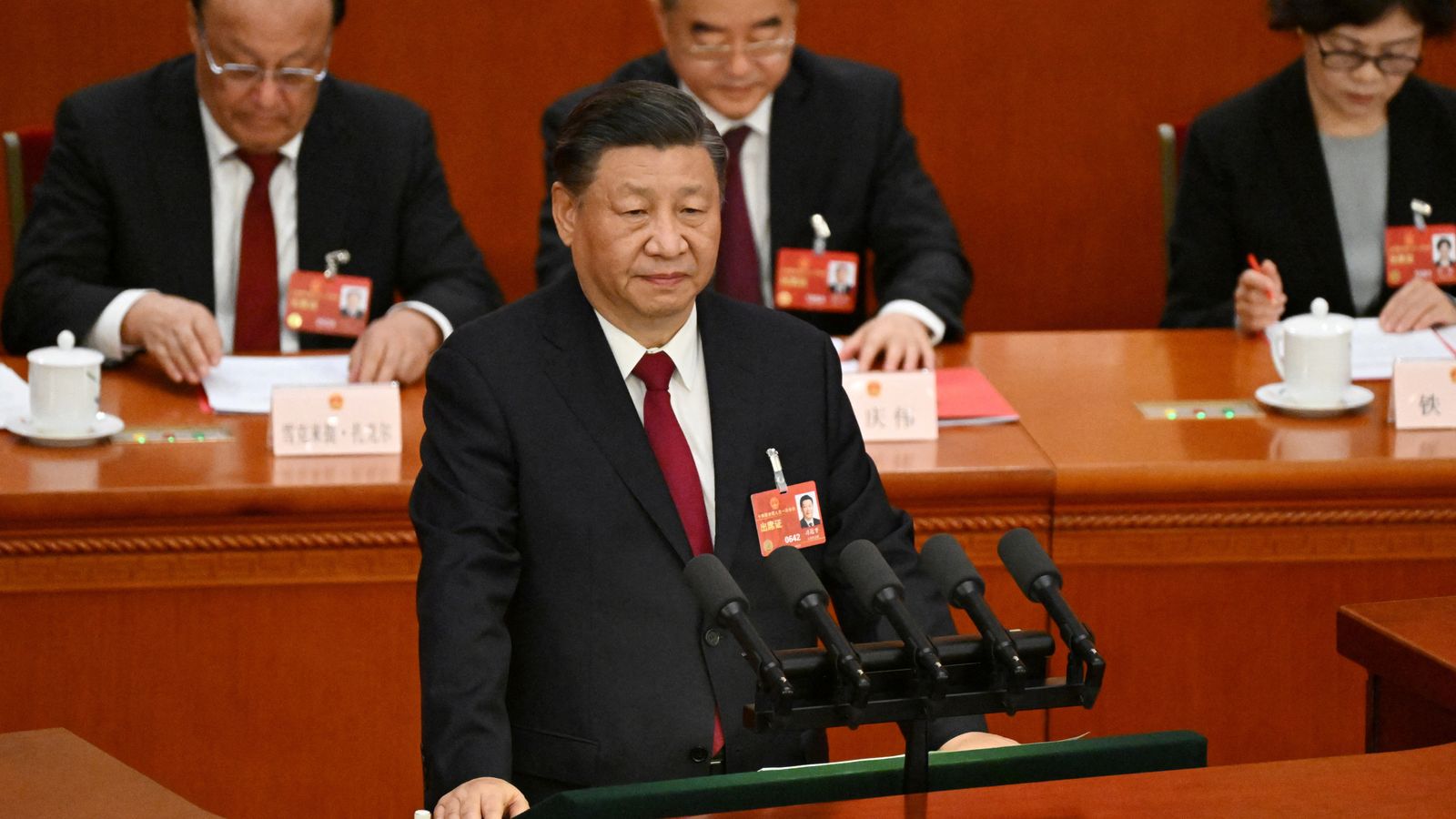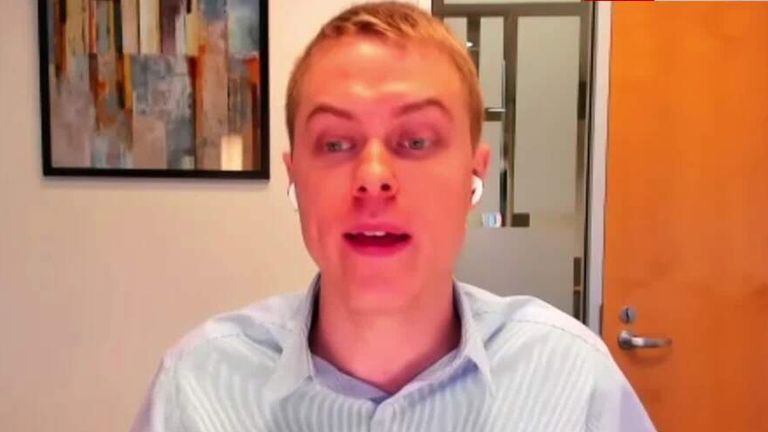 China's Communist Party has warned about the potential risks of AI, a day after experts said it posed a similar risk as nuclear war and pandemics.
A meeting headed by President Xi Jinping called for "dedicated efforts to safeguard political security and improve the security governance of internet data and artificial intelligence", the Xinhua News Agency reported.
With artificial intelligence advancing rapidly, the president urged officials to be "keenly aware of the complicated and challenging circumstances facing national security".
President Xi said China needed a "new pattern of development with a new security architecture", according to Xinhua – apparently reflecting concerns that AI could be harnessed for sabotage and spying.
The risk of human extinction from the technology "should be a global priority alongside other societal-scale risks such as pandemics and nuclear war", AI pioneers warned this week.
The boss of the firm behind ChatGPT and the head of Google's AI lab all signed the open letter, as did several of the "godfathers" of the technology.
The director of the Center for AI Safety, which published the statement, told Sky News that human intelligence would eventually be overtaken by the power of AI.
"That could put us in a more fragile position and we could possibly go the way of the Neanderthals or the gorillas," said Dan Hendrycks.
AI could put us in a fragile position – Dan Hendrycks

Tesla boss Elon Musk joined another group of experts in March to call for a pause in the training of large language AI models – the type used by ChatGPT and similar chatbots.
That letter warned of "profound risks" and said powerful systems should only be developed when it could be assured "their effects will be positive and their risks will be manageable".
The spread of disinformation, the loss of millions of jobs, through to existential threats are often cited as potential dangers if AI continues to evolve rapidly.
Though still in its infancy, it has already received attention for its ability to produce convincing fake images and video, as well as cloned music tracks.
Will this chatbot replace humans?

Read more:
What are the concerns around AI and are some 'baloney'?
Paralysis breakthrough astonishing – and AI is the key
Artificial intelligence to hit workplace 'like freight train'
China's warning comes despite its usual laissez-faire attitude to developing and using new technology.
An article in the Foreign Affairs journal this week warned its "blithe attitude toward technological risk, the government's reckless ambition, and Beijing's crisis mismanagement are all on a collision course with the escalating dangers of AI".
Click to subscribe to the Sky News Daily wherever you get your podcasts
China has been criticised by many in the West for using tools such and facial and voice recognition – and even walking gait analysis – to monitor the population.
Uyghur Muslims in the Xinjiang region have in particular been subject to such monitoring, with more than a million held in "re-education" camps.