Troop numbers on South African streets increase to 25,000 amid looting – and more could be deployed
The number of soldiers deployed on the streets of South Africa has doubled to 5,000 as the army and police struggle to quell days of looting and violence.
President Cyril Ramaphosa is considering boosting troop numbers even more, as at least 72 people have been killed in the worst unrest in the country for years.
And some citizens are arming themselves to protect their property and businesses from the rampage, which has hit two of South Africa's nine provinces – KwaZulu-Natal, where Durban is located, and Gauteng, which includes Johannesburg.
In the Mobeni area of Durban, several food warehouses and a rice depot have been "invaded" and "ransacked", according to Sky News correspondent John Sparks.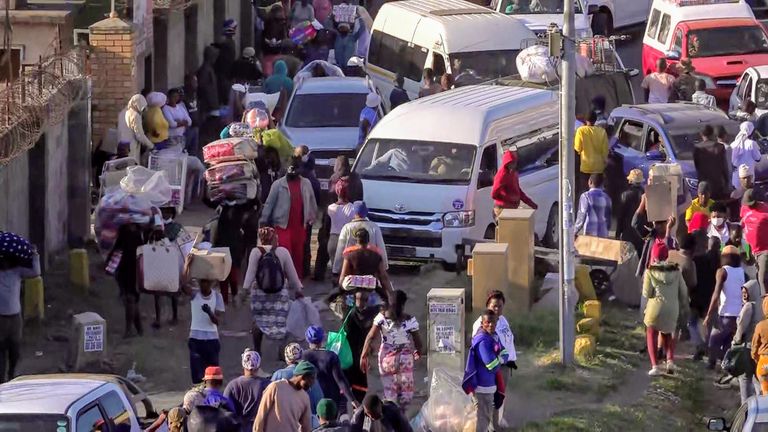 He described the scene as "absolute chaos" and "out of control" as looters have been "carting off" what was inside the facilities.
He said they had brought cars and trucks to fill up their vehicles with what they could get their hands on.
There has been mass looting and rioting in multiple locations in the city and elsewhere in the country, including in some areas of Johannesburg, such as Vosloorus.
The unrest was sparked by the imprisonment last week of former president Jacob Zuma, which has spiralled into days of looting.
At least 1,234 people have been arrested in waves of rioting. The violence has not spread to the country's other seven provinces, where police are on alert.
Many of the deaths were caused by chaotic stampedes as thousands of people stole food, electric appliances, alcohol and clothing from stores, police said.
Thousands of soldiers have been deployed to support officers and try to restore law and order.
But Sparks said the army was nowhere to be seen as people were just "helping themselves".
He added: "This is really out of control."
Extraordinary scenes in Mobeni in Durban as thousands of people loot food warehouses and a rice depot … people are hungry but here, people have brought trucks and cars and stuffed them full with anything they can seize. pic.twitter.com/Z34uHMveqh

— John Sparks (@sparkomat) July 14, 2021
"What we have here is something quite extraordinary. People have broken into food warehouses and they are stripping them, they are emptying them."
Among the items being stolen were mattresses, kitchen appliances and boxes of sardines.
In eastern Johannesburg, some shopping centres continued to be targeted, while in Soweto township, south of the city, police and army units patrolled malls and streets.
Acting minister in the presidency, Khumbudzo Ntshavheni, said the government was working with the consumer council to ensure food security.
Police roadblock in Durban run by a handful (5) officers … looters are stopped but they don't have the infrastructure to arrest them… pic.twitter.com/fguN8Ff9wr

— John Sparks (@sparkomat) July 14, 2021
There have been fears that the anarchy and looting could lead to food shortages.
She claimed putting troops on the streets was beginning to have the desired effect.
She said: "We are getting positive reports that the deployment of additional law enforcement agencies is starting to reap positive results as we are seeing less incidents of violence and looting reported."
She added: "5,000 members of the national defence force have already been deployed on the ground. Law enforcement officers, supported by the military, are working tirelessly to ensure the country returns to peace and stability and that those responsible for the instability are quickly brought to book."
Sparks had earlier been at another mass looting location where people told him they were "hungry".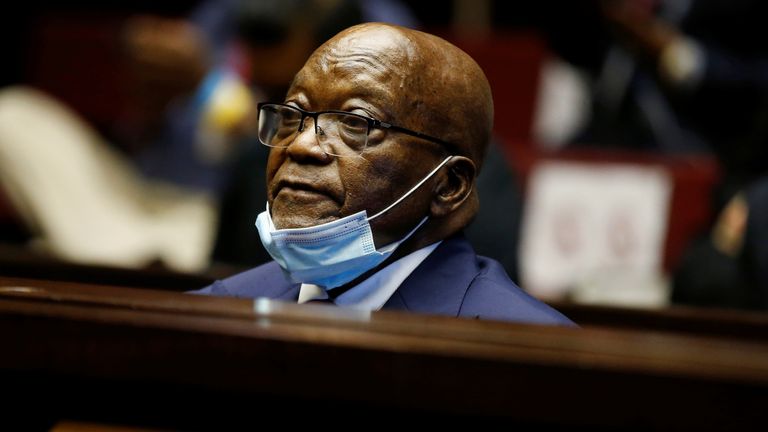 Lots of South Africans have lost jobs in the pandemic, including during lockdowns, and they were living "very much a hand-to-mouth existence".
Sparks said COVID restrictions "have hurt people here".
More than half of the country's 60 million people are living in poverty, with an unemployment rate of 32%, according to official statistics.
Violence broke out after Zuma began serving a 15-month sentence for contempt of court.
He was jailed for refusing to comply with a court order to testify at a state-backed inquiry investigating corruption claims while he was president from 2009 to 2018.
Rishi Sunak plans to ban Channel migrants from appealing deportation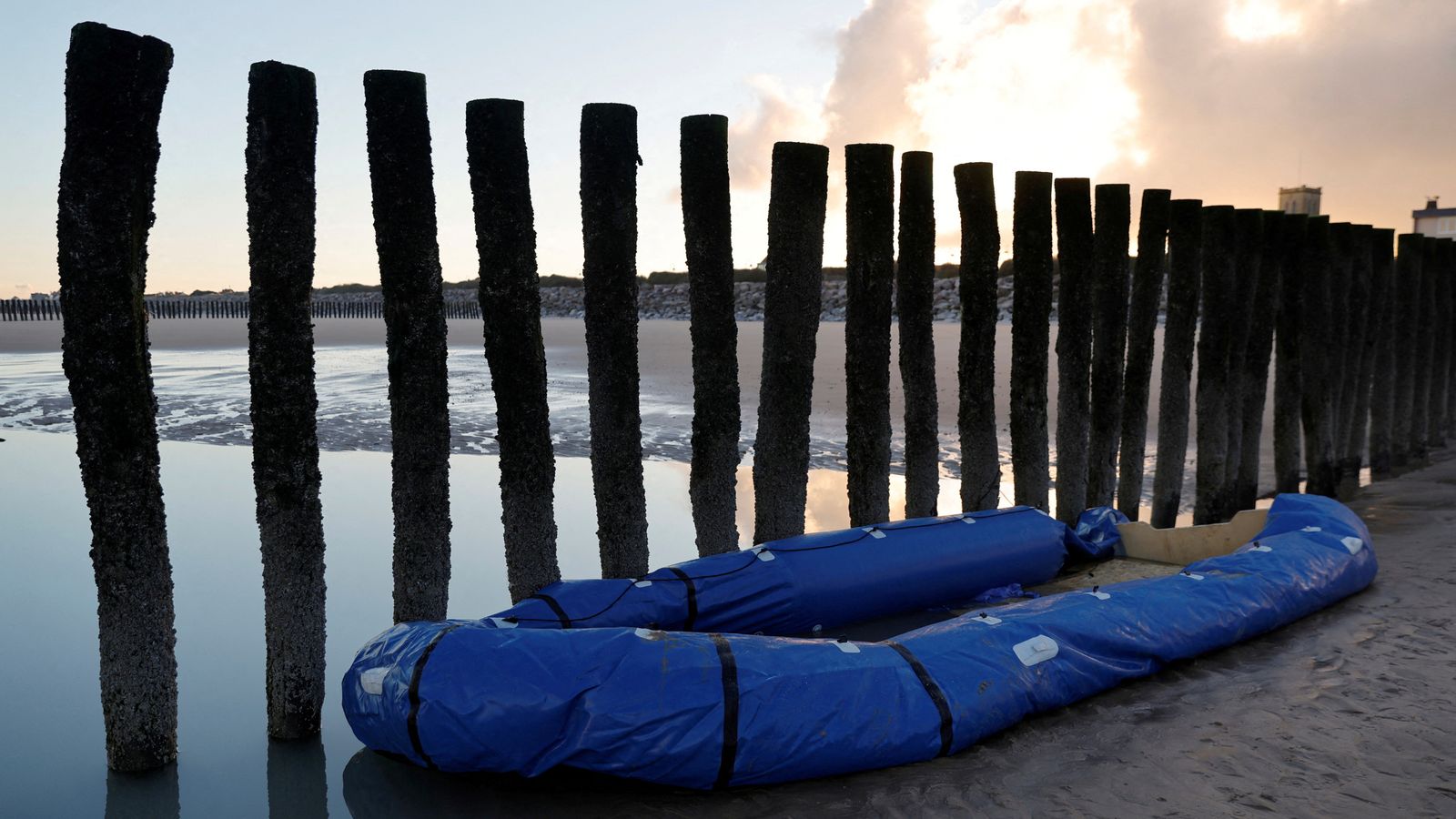 The prime minister is looking to ban people arriving in the UK via small boats from appealing against deportation, Sky News understands.
Rishi Sunak has made stopping Channel migrant crossings one of his five priorities in office, promising to introduce new laws to "make sure that if you come to this country illegally, you are detained and swiftly removed".
Politics latest: Number 10 doesn't deny claim top civil servant may have failed to pass on Raab complaint
A report in The Times said the Home Office has now drawn up two plans to stop people arriving via this route from claiming asylum – either withdrawing the right to appeal against automatic exclusion from the asylum system or only allowing them to appeal after they have been deported.
A third proposal would prevent people from being able to use the Human Rights Act to stop their deportations, such as by claiming their right to family life.
Sky News understands the report to be accurate.
A Home Office spokesperson would not comment directly on the report, but said: "The unacceptable number of people risking their lives by making these dangerous crossings is placing an unprecedented strain on our asylum system.
Read more:
Around 500 migrants cross Channel to UK in one day
PM vows to clear immigration backlog
"Our priority is to stop this and prevent these illegal crossings, and our new Small Boats Operational Command – bolstered by hundreds of extra staff – is working hard to disrupt the business model of people smugglers."
They added: "We are also going further by introducing legislation which will ensure that those people arriving in the UK illegally are detained and promptly removed either to their home country or a safe third country."
Chinese spy balloon: US sec of state Blinken speaks with senior Chinese official over cancelled visit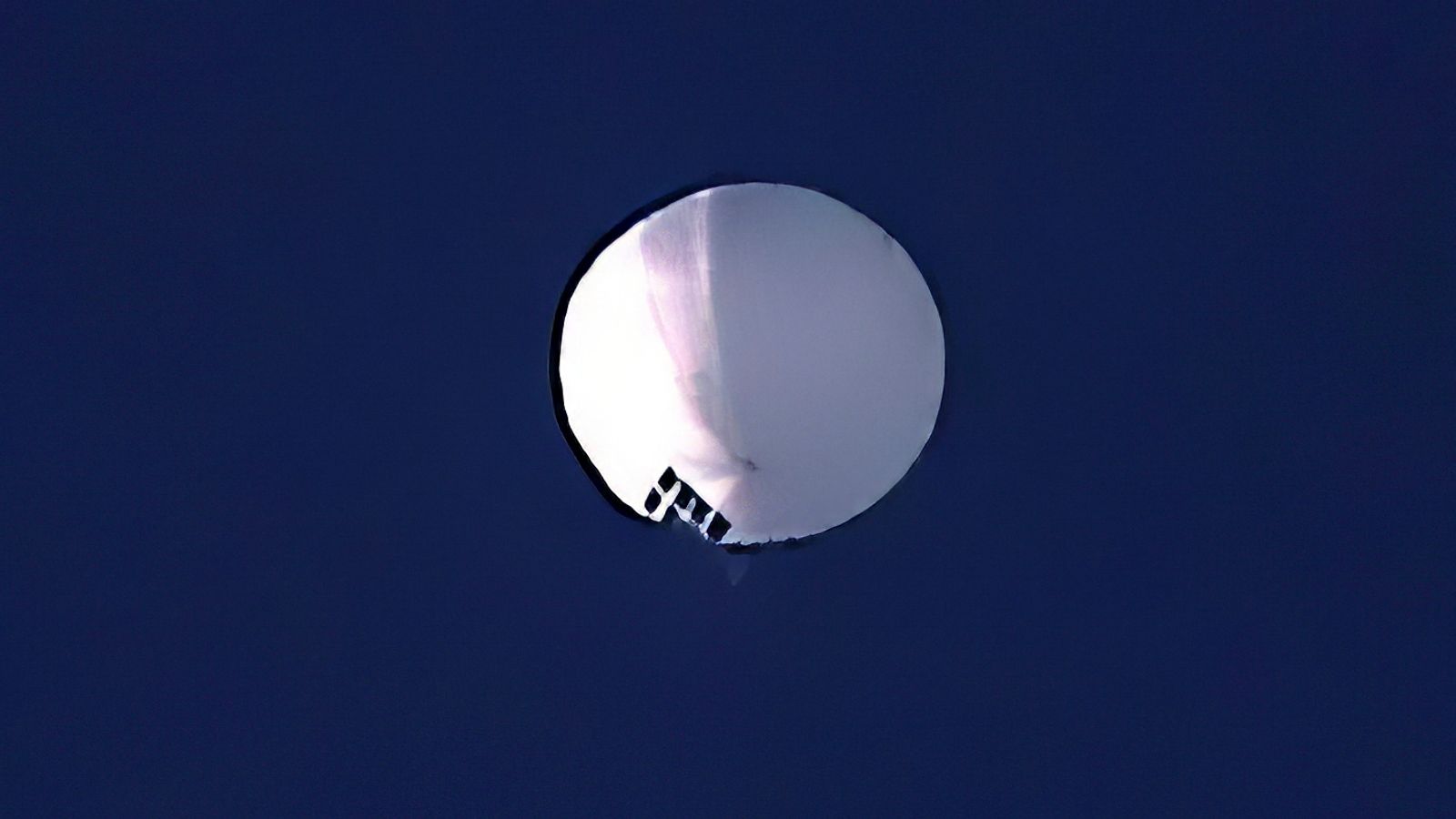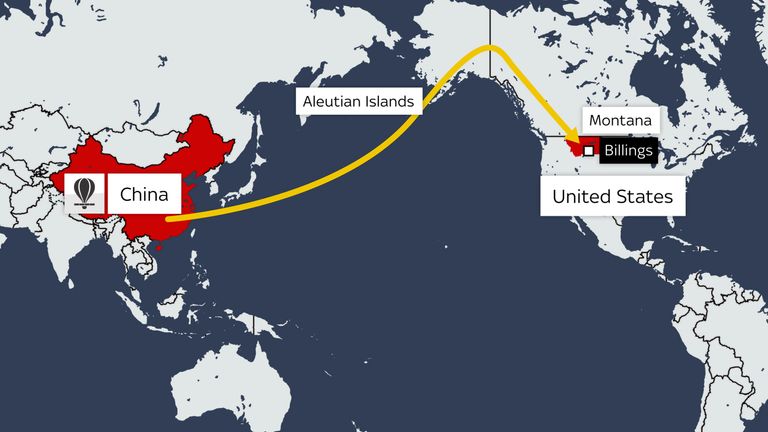 US secretary of state Antony Blinken has spoken with a senior Chinese official about his postponed trip to the country.
US officials said Mr Blinken spoke to the Director of the Central Foreign Affairs Office Wang Yi today postponing the planned visit.
But the secretary of state "indicated he would plan to travel" to China "at the earliest opportunity when conditions allow".
Officials also said they "noted" China's statement of regret but said "the presence of this balloon in our airspace is a clear violation of our sovereignty, as well as international law, and it is unacceptable that this has occurred".
The diplomatic wrangling comes after a Chinese surveillance balloon has been tracked by US intelligence in recent days.
In a press conference today, the US defence department has said the Chinese spy balloon is heading eastwards but poses "no physical or military threat" to civilians.
The Pentagon's press secretary would not confirm the current location of the balloon, which is operating at around 60,000ft.
There is also no evidence of any nuclear or radioactive material on board but it has the ability to be manoeuvred, according to Brigadier General Pat Ryder.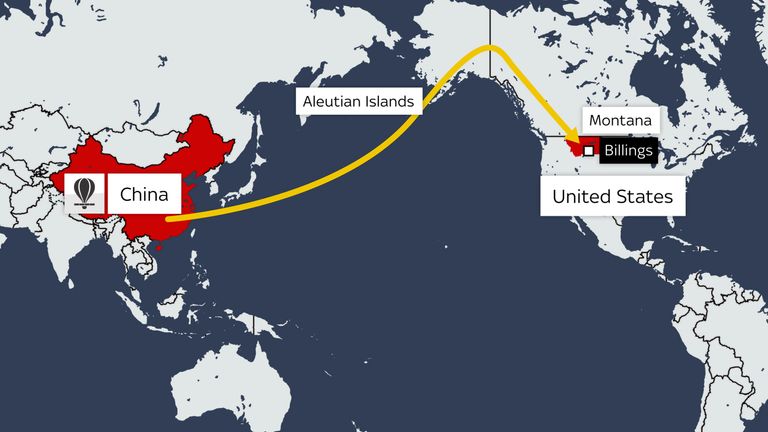 Watch:
Future Wars: Could there ever be a conflict between the US and China?
He also rejected Chinese claims that the balloon was in fact a "civilian airship" that had strayed into American airspace.
The US authorities said it now knows the object – spotted over Billings, Montana, on Wednesday, close to one of the US's three nuclear missile silo fields at Malmstrom Air Force Base – was a Chinese balloon flying over sensitive sites to collect information.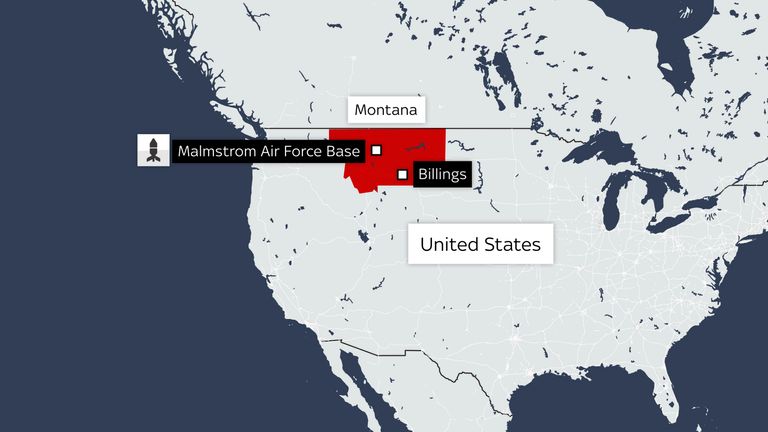 US Secretary of State Antony Blinken postponed a high-profile visit to China which had been due to begin on Sunday.
Senior state department officials described the incident as a "clear violation of US sovereignty and international law" and said conditions were "not right at this moment" for Mr Blinken to travel.
Mr Blinken was prepared to depart for China tonight before the trip was postponed, Sky News understands.
He plans to travel "when conditions allow", according to officials.
Pentagon spokesman said that suspected Chinese spy balloon flying over the US has 'violated international law', adding that it doesn't pose any physical threat for people on the ground.

The Foreign Ministry in Beijing admitted the balloon had come from China – but said it was for meteorological and other scientific research.
The Pentagon spokesperson said it is "monitoring the situation closely and will continue to review options".
Read more:
What are spy balloons?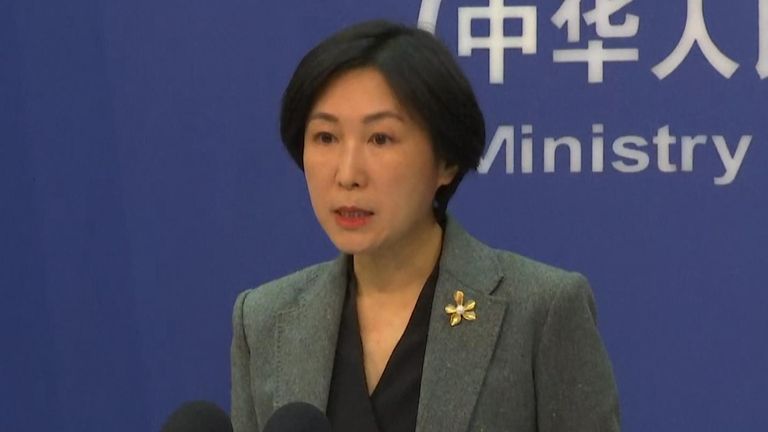 The balloon will probably remain over the US for a few days, the spokesperson added.
US officials also confirmed military intelligence had previously seen similar surveillance balloons elsewhere.
The object is believed to have flown over the Aleutian Islands, off the coast of Alaska, and through Canada before entering the US.
Military and defence leaders had considered shooting the balloon out of the sky but decided against it due to the safety risk from falling debris.
US defence secretary Lloyd Austin convened a meeting of senior military and defence leaders to review the threat profile of the balloon and possible responses, which were presented to US President Joe Biden on Wednesday.
President Biden, speaking at a White House conference about jobs earlier today, refused to answer questions on the topic.
The US has engaged Chinese officials "with urgency" and communicated the seriousness of the situation.
China and the US have experienced tensions of late, clashing over Taiwan and China's human rights record and its military activity in the South China Sea.
Paris Olympics: UK to host summit in bid to ban Russia from games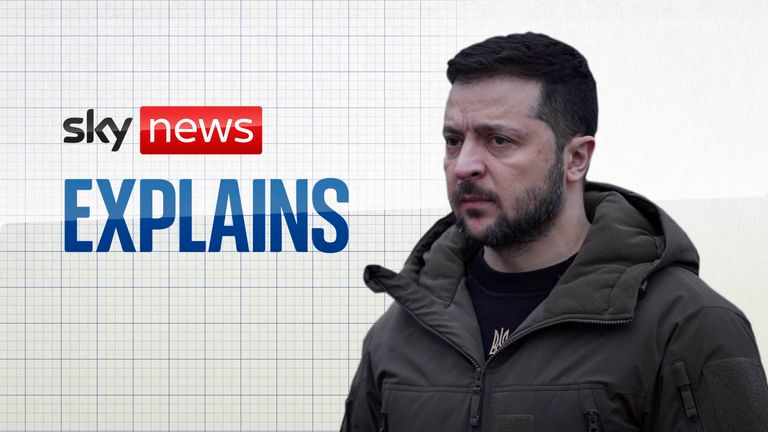 Opposition to Russians being allowed to compete at next year's Paris Olympics is intensifying, as the UK government prepares to convene talks with more than 30 countries.
The summit is due to be held next Friday 10 February.
The International Olympic Committee is facing dissent over its willingness to allow athletes from Russia to compete as neutrals in Paris next year in defiance of pleas from Ukraine, following Vladimir Putin's invasion.
Ukrainian Olympic officials decided on Friday to consult on a possible boycott of the Olympics and an outright ban on Russian athletes – a stance supported by the leaders of Estonia, Latvia and Lithuania which border Russia and gained independence from the Soviet Union in 1991.
Lithuania's sports minister Jurgita Siugzdiniene told Sky News that her British counterpart has organised a virtual meeting next Friday involving more than 30 countries on excluding athletes from Russia and Belarus from the Olympics.
As well as European governments, officials from Canada, Japan, New Zealand and South Korea are among the global participants in the meeting. Poland has said it would be possible to build a coalition of about 40 countries, including the US, Britain and Canada.
"We should do everything [so] Russian and Belarusian athletes would not participate in the Olympics, and even under the veil of neutrality," Ms Siugzdiniene said.
"That's what we should agree and that is very important. And so in that way we wouldn't need to discuss the boycott."
Who is winning the war in Ukraine?

The IOC announced last week that it was open to athletes from Russia and Belarus – which has been used as a staging post for the invasion of Ukraine – competing as neutrals in Paris if they have not actively supported the war.
"I see it as an effort to legitimise and distract attention from Russia's war of aggression against Ukraine," Ms Siugzdiniene said.
"I think they can use this as a platform. So it would be very wrong that we would provide this opportunity for them."
Read more:
Russia preparing for 'maximum escalation', top Ukrainian security official tells Sky News
Ex-commander of Russian mercenary group apologises for fighting in Ukraine
In the last three summer and winter Olympics between 2018 and 2022, Russian athletes have been prevented from competing with the national flag or anthem as punishment for the country's state-sponsored doping scheme.
Ukrainian President Volodymyr Zelenskyy has said any neutral flag for Russia in Paris would be "stained with blood".
At Friday's meeting, Ukraine's sports minister and president of the country's Olympic committee Vadym Hutzait said members were united "against allowing sportspeople from Russia and Belarus from competing".
'Russia will respond to Western arms supplies'

In an appeal to sporting authorities, he said: "As long as the war is going on, as long as our motherland is being bombed, as long as we are fighting for freedom and independence, we have a great wish not to see them [Russians and Belarusians].
"There is a discussion on the international level and we have already some countries supporting us."
He added: "The price of Ukrainians' lives is of the highest value. We have no right for compromise … when our Ukrainians are dying."
Johnson tells the West: 'Give Ukraine planes'

The IOC wants sports federations to allow any Russians or Belarusians who have not been "actively supporting the war in Ukraine" to take part and argues it would be discriminatory to ban athletes based on their citizenship alone.
It has responded to the comparison with Apartheid-era South Africa being excluded from the Olympics for more than 20 years, pointing out that UN sanctions were in place at the time.
"There are no UN sanctions in place against Russia and Belarus at this moment in time," the IOC said.
But Russia, as a permanent member of the UN Security Council, can veto any proposed resolution.
Government pressure on athletes and sports bodies should also be resisted, the IOC said, adding its stated mission is "to unite the entire world in a peaceful competition".