'Many still in danger': At least 100 dead across Germany and Belgium after floods amid warning dam could burst
At least 92 people have been killed and dozens are missing after catastrophic flooding across Germany and Belgium, which has left several villages cut off and sparked fears that a dam could burst.
Officials have warned that communities in both countries "are still in danger" following Thursday's catastrophe, with German Chancellor Angela Merkel expecting "many" more deaths.
The total number killed in Germany alone has already risen to at least 81, according to broadcaster ARD, and around 1,300 people are unaccounted for in Ahrweiler county in Rhineland-Palatinate state.
In Belgium, 11 deaths have been reported.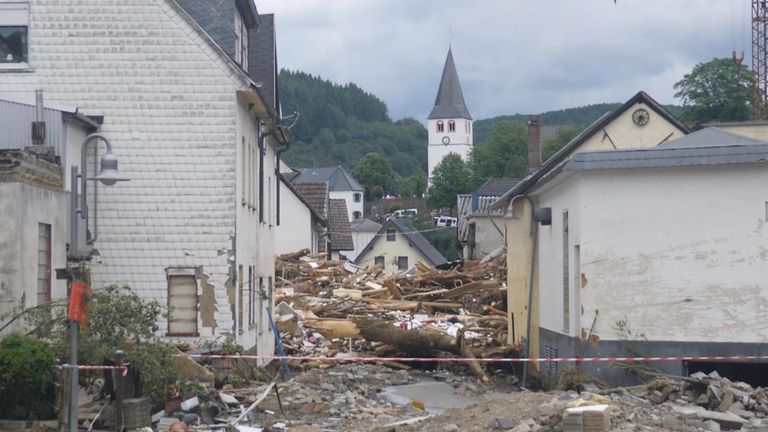 "I grieve for those who have lost their lives in this disaster," said Ms Merkel, during a visit to Washington.
"We still don't know the number, but it will be many."
Entire communities lay in ruins after rivers burst their banks and swept through towns and villages causing scores of homes to collapse and widespread devastation following days of torrential rain.
The full extent of the damage in the regions affected remains unclear as many remote villages remain cut off by flood water and landslides that have made roads impassable.
So far, at least 30 people are confirmed dead in Germany's North Rhine-Westphalia state, and another 28 in Rhineland-Palatinate state to the south.
Four people died in separate incidents after basements were flooded in Cologne, Kamen and Wuppertal, where authorities warned that a dam could burst.
Authorities in Rhine-Sieg county south of Cologne ordered the evacuation of several villages below the Steinbach reservoir amid fears the dam there could break.
The governor of Rhineland-Palatinate state, Malu Dreyer, told the regional parliament: "There are people dead, there are people missing, there are many who are still in danger.
"We have never seen such a disaster. It's really devastating."
Afghanistan: Three British men being held in Taliban custody – including 'danger tourist' who returned after army evacuation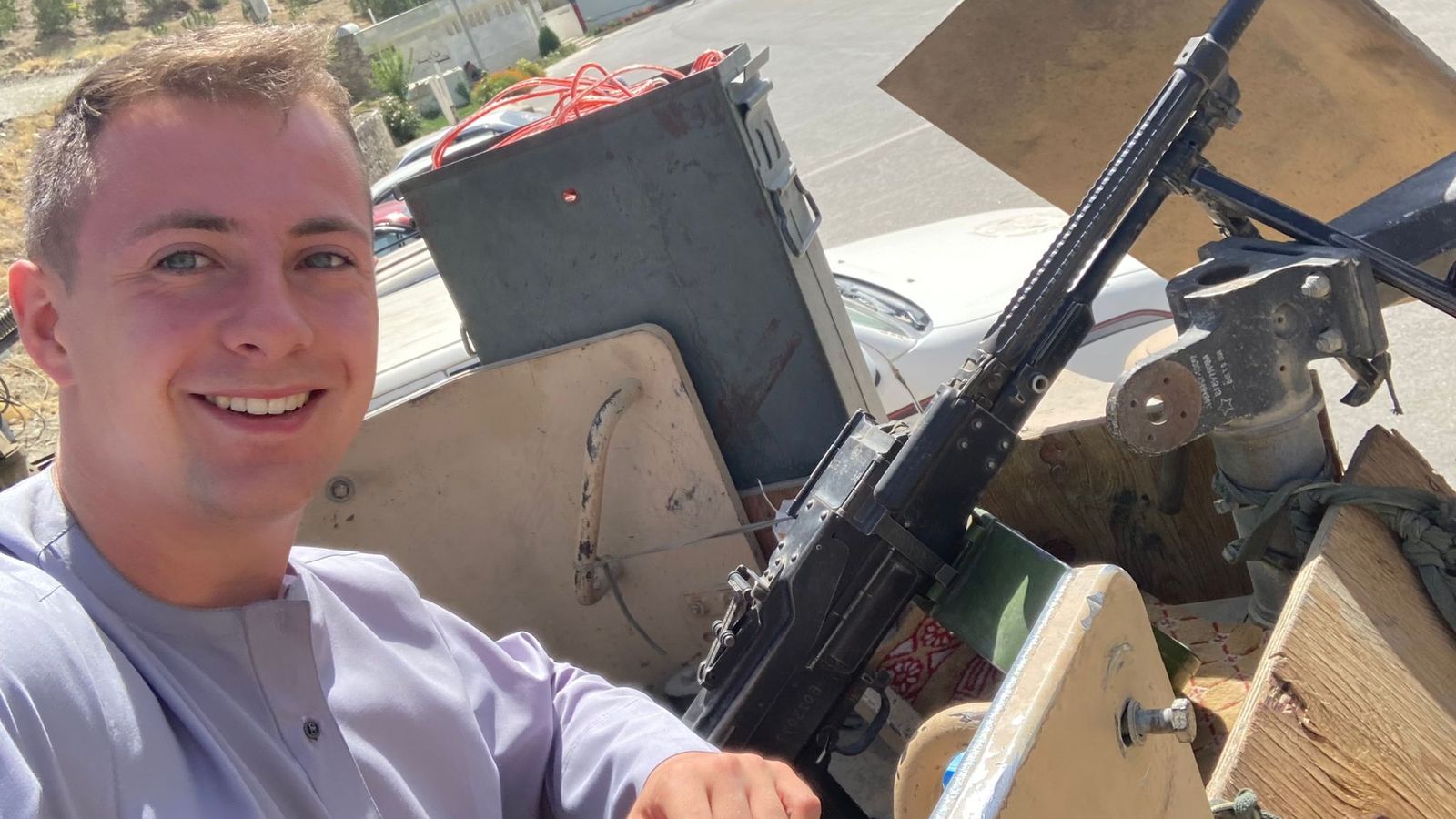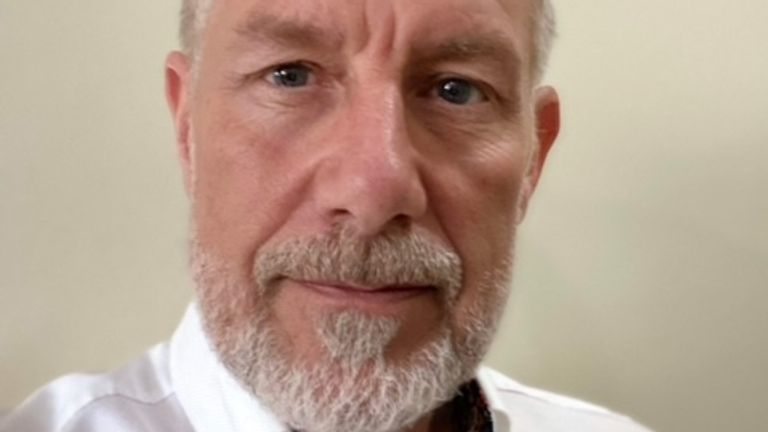 Three British men are being held in Taliban custody in Afghanistan – including so-called "danger tourist" Miles Routledge who returned to the country after being evacuated by British armed forces less than two years ago.
The other two men are charity medic Kevin Cornwell and another unnamed UK national who manages a hotel in Kabul. They are believed to have been held by Taliban secret police since January.
A Foreign, Commonwealth and Development Office (FCDO) spokesperson said: "We are working hard to secure consular contact with British nationals detained in Afghanistan and we are supporting families."
Mr Routledge, 23, has gained fame – and attracted controversy – by travelling to dangerous countries and posting about it online.
In August 2021 he was on a "holiday" in Afghanistan when he was caught up in the chaos in the capital as the Taliban took control of the country.
He chose the war-torn country having looked up a list of the most dangerous places to visit in the world, despite the Taliban taking control of more and more of the country at the time.
Mr Routledge thanked the British Army after he was among those evacuated during the Kabul airlift.
He appears to have returned to the country since then.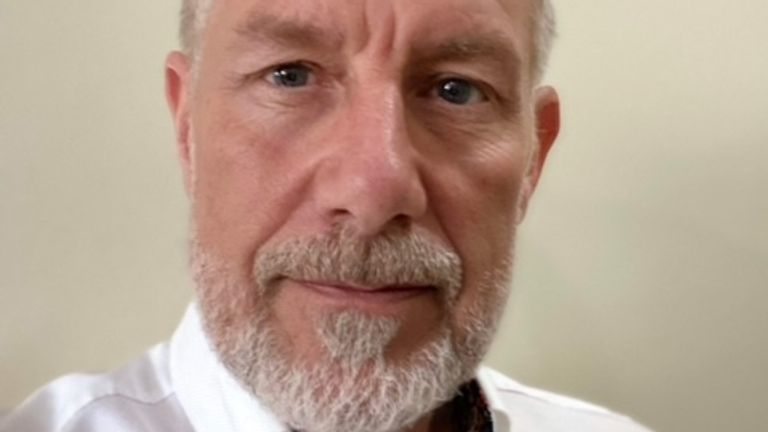 Read more:
Woman fears for her life if she is sent back to Afghanistan
Taliban leader tells officials to sack their sons
Mr Cornwell, 53, was arrested at his hotel by officers from the Taliban's General Directorate of Intelligence (GDI) on 11 January.
He is accused of having an illegal firearm in the safe in his room, but his family say he had been granted a licence for the firearm.
The FCDO continues to advise UK citizens against all travel to Afghanistan based on the security risks involved, including the possibility of detention by the Taliban authorities.
Yoghurt thrown over women in Iran for not covering their hair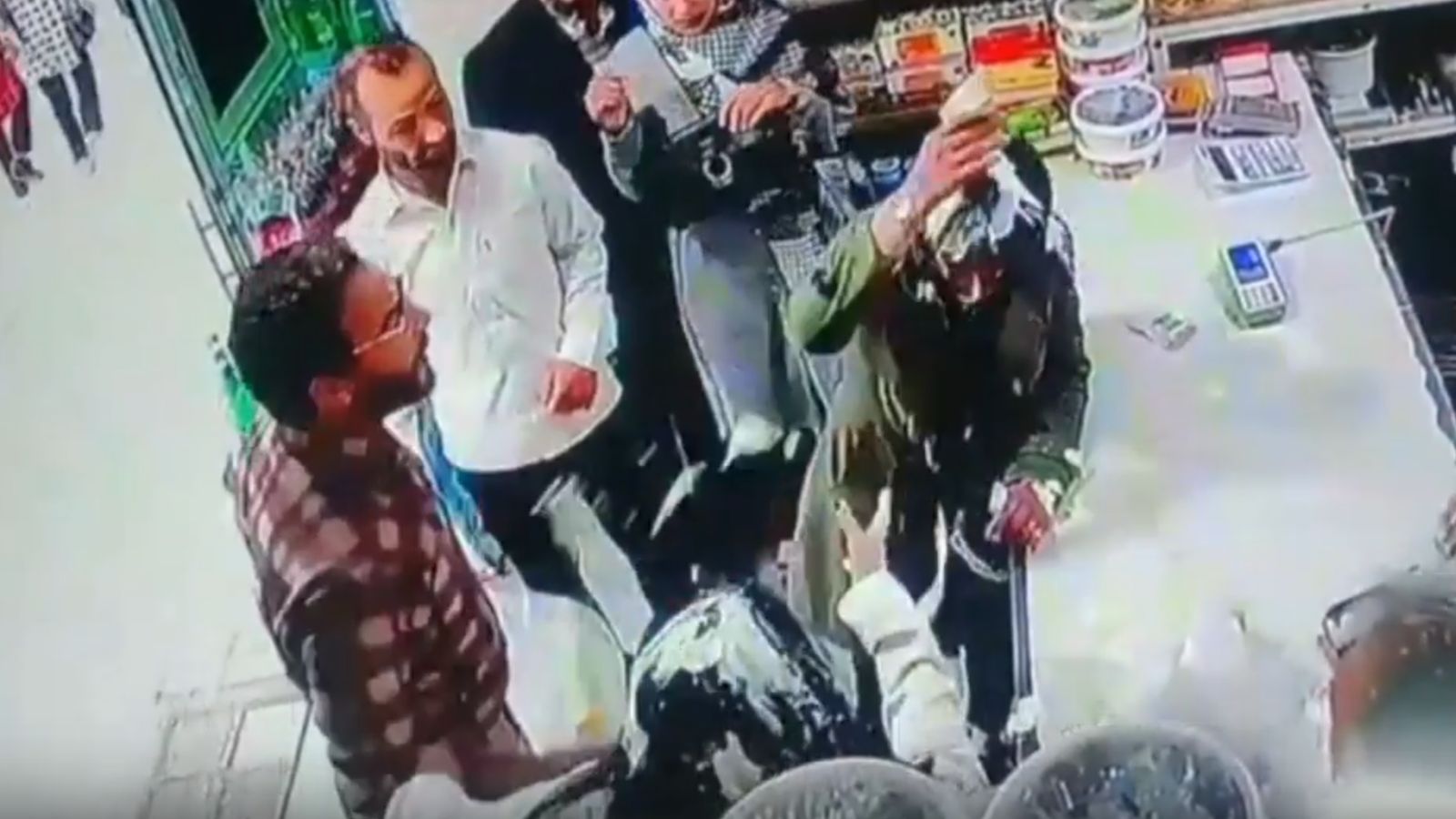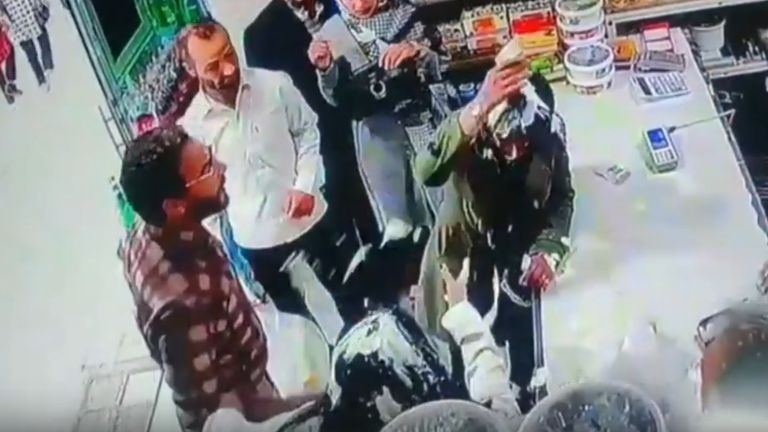 Two women in Iran who went into a store while not fully covering their hair had yoghurt thrown over them by a man, in an incident captured on video.
CCTV footage showing the "yoghurt attack", believed to have taken place in the city of Shandiz in northeast Iran, has been spreading on social media.
Iran's President Ebrahim Raisi insisted that the hijab is the law in the country, in response to the widely shared clip.
It shows a man in a chequered shirt getting increasingly animated as he speaks to one of the women.
He is then seen grabbing a pot of what is believed to be yoghurt and throwing it over the pair before being confronted by another man and pushed out of the store.
Read more on Iran:
Shotgun pellets in activist's back won't end fight for freedom
Following the incident, the two women have been arrested for not covering their hair, according to judicial authorities.
The man has also been arrested for insulting the women, public disorder and "unconventional promotion of virtue".
Authorities said the owner of the dairy shop, who confronted the attacker, had also been warned.
Reports on social media showed his shop had been shut, although he was quoted by a local news agency as saying he had been allowed to reopen and was due to "give explanations" to a court.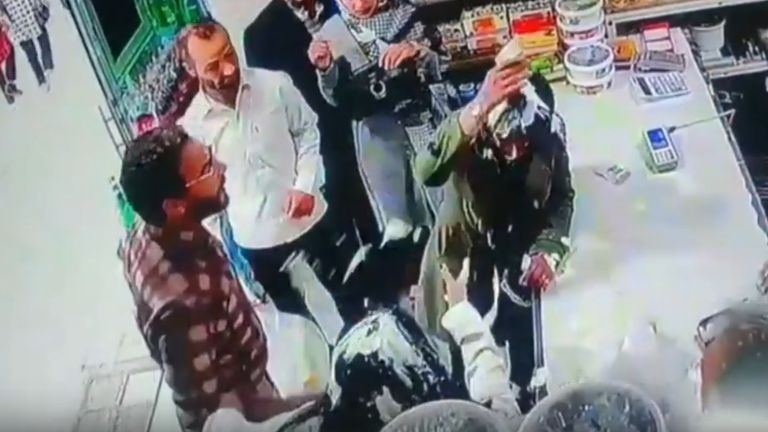 President Raisi said: "If some people say they don't believe [in the hijab]… it's good to use persuasion…
"But the important point is that there is a legal requirement… and the hijab is today a legal matter."
Women in Iran had already been warned by the regime's judiciary chief that they will be prosecuted "without mercy" if they are seen in public without a veil.
Following protests in recent months, Gholamhossein Mohseni Ejei said on Saturday: "Unveiling is tantamount to enmity with [our] values.
"Those who commit such anomalous acts will be punished and will be prosecuted without mercy."
Iran has been rocked by huge waves of protests following the death of Mahsa Amini in September.
The 22-year-old Kurdish-Iranian woman died while in the custody of Iran's morality police.
Women to be prosecuted 'without mercy' for not wearing veils, says Iran's judiciary chief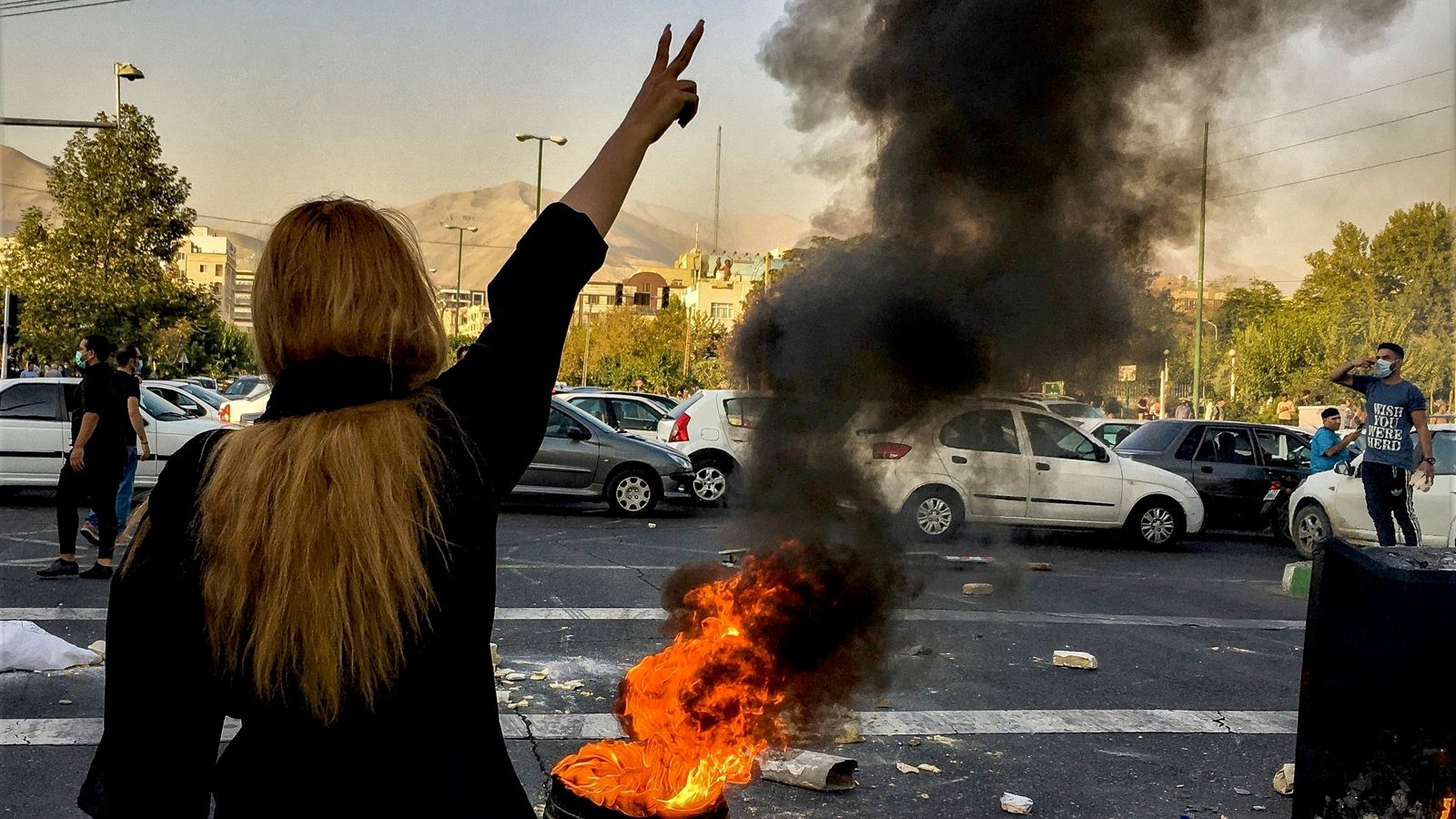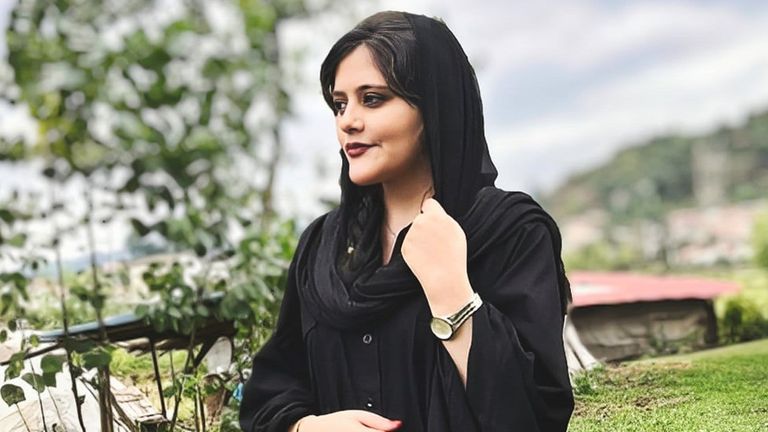 Women will be prosecuted "without mercy" if they are seen in public without a veil, Iran's judiciary chief has warned.
Following protests in recent months, Gholamhossein Mohseni Ejei said on Saturday: "Unveiling is tantamount to enmity with [our] values.
"Those who commit such anomalous acts will be punished and will be prosecuted without mercy."
He did not specify what the punishment would be, but violations of state laws on hijabs have seen people face arrest, fines, imprisonment and even the death sentence.
Women across the country have been refusing to wear their headscarves following the death of 22-year-old Mahsa Amini in September.
Ms Amini had been arrested for allegedly breaking the law on headscarves and died in police custody.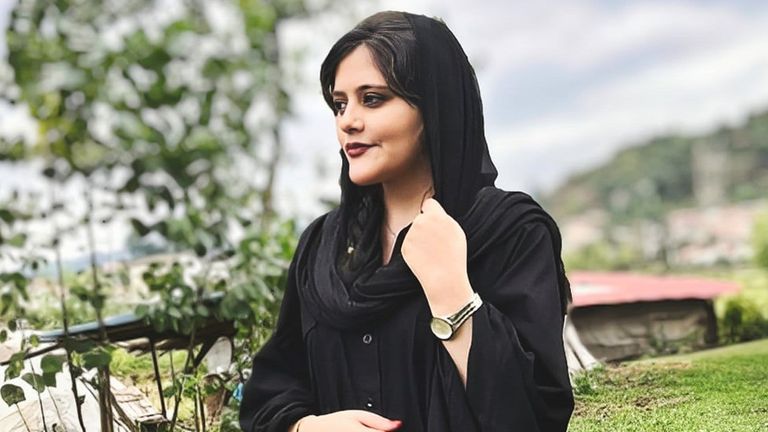 Nationwide street protests were met with a severe police crackdown.
Human Rights Activists, a group that has been tracking the crackdown from inside Iran, has reported more than 19,700 people being arrested during the demonstrations.
Another group, Iran Human Rights (IHR) estimates that 500 of them, including 70 minors, were killed by the regime.
Previously, Mr Ejei said that 22,000 people arrested during recent protests have now been pardoned.
Iran protesters speak about punishment

Read more:
200 shotgun pellets buried in activist's back
Iranian actress posts picture without headscarf
Iranian women have now moved their fight online, with many posting videos of themselves with their hair and bodies exposed.
Under Iran's Islamic Sharia law, women are obliged to cover their hair and wear long, loose-fitting clothes to disguise their figures.
Describing the veil as "one of the civilisational foundations of the Iranian nation" and "one of the practical principles of the Islamic Republic," the interior ministry said in a statement on Thursday that there would be no "retreat or tolerance" on the issue.
The authorities are encouraging people to confront women who break hijab laws – something that has previously seen religious extremists physically attack them in public.