Thousands evacuated as daunting floods recovery effort begins – amid fears dam may still be breached
At least 170 people have now died following "historic" flooding across Germany and Belgium – with fears the death toll could keep rising.
The search and rescue operation is continuing as the deadly flood waters recede and debris is cleared.
Days of torrential downpours left rivers severely overflowing, leading to waters surging through streets – lifting up cars, tearing up power lines and collapsing homes and businesses.
At least 143 people have died as a result of the flooding in western Germany, with officials telling the public that the risk is not yet receding with the floodwaters.
In Belgium, where at least 27 people have died, dykes along a river are threatening to collapse.
Large parts of a dam near Cologne in the North Rhine-Westphalia region, which is Germany's most populous, have broken away and there is "enormous pressure" on the structure because of the high water level, posing "an acute risk" the dam could rupture. More people have been evacuated from the area.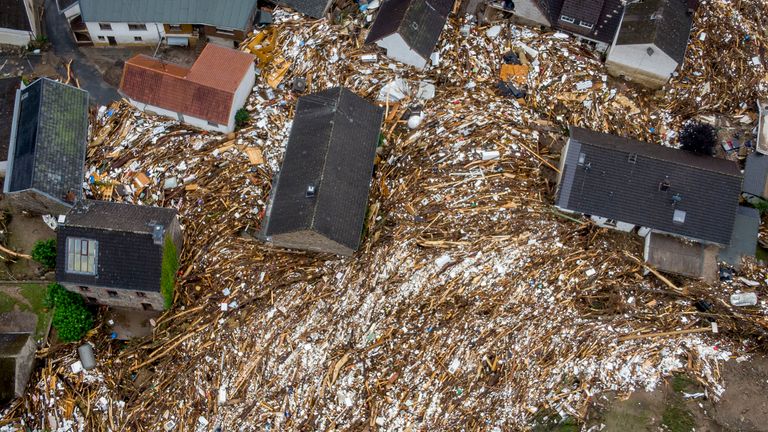 Pictures from across the region – one of the most prosperous in Europe – show homes destroyed and businesses devastated. Astonishing footage from near Frankfurt shows an entire house being carried down the River Ahr.
Sky News visited one area of North Rhine-Westphalia where police are patrolling to ensure people have left their homes amid fears a nearby dam could collapse and consume hundreds of houses.
And officers have also warned people in the Ahrweiler area to be wary of downed power lines, and are asking visitors to stay away as sightseers have blocked roads.
Parts of the town of Erfstadt have been cut off for days, with a huge sinkhole making the rescue operation more difficult.
Residents have been transported out of the area, many left with nothing on the back of flat bed lorries, and have been forced to queue for €200 handouts so they can buy basic amenities.
State minister of North Rhine-Westphalia, Armin Laschet, said: "Hundreds of people are willing to drop everything and help us on the ground, so I want to thank all those volunteers. Germany will do everything possible over the next couple of days to organise the funds necessary."
Flood relief arrives for German victims

Meteorologists said some areas of western Europe had received two months' rain in two days ahead of the floods, with more than 150 litres per square metre falling over 24 hours in parts of western Germany.
Several senior officials have blamed climate change for the disaster.
"Climate change isn't abstract anymore. We are experiencing it up close and painfully," said Malu Dreyer, governor of Rhineland-Palatinate state.
She said it showed the need to speed up action on the issue.
German President Frank-Walter Steinmeier also said it showed that decisive action was the only way "to limit the extreme weather conditions we are now experiencing".
Chancellor Angela Merkel has been in the US but will visit Rhineland-Palatinate – one of the worst affected villages – on Sunday.
Liz Truss admits 'disruption' to UK economy but stands by forecast-free mini-budget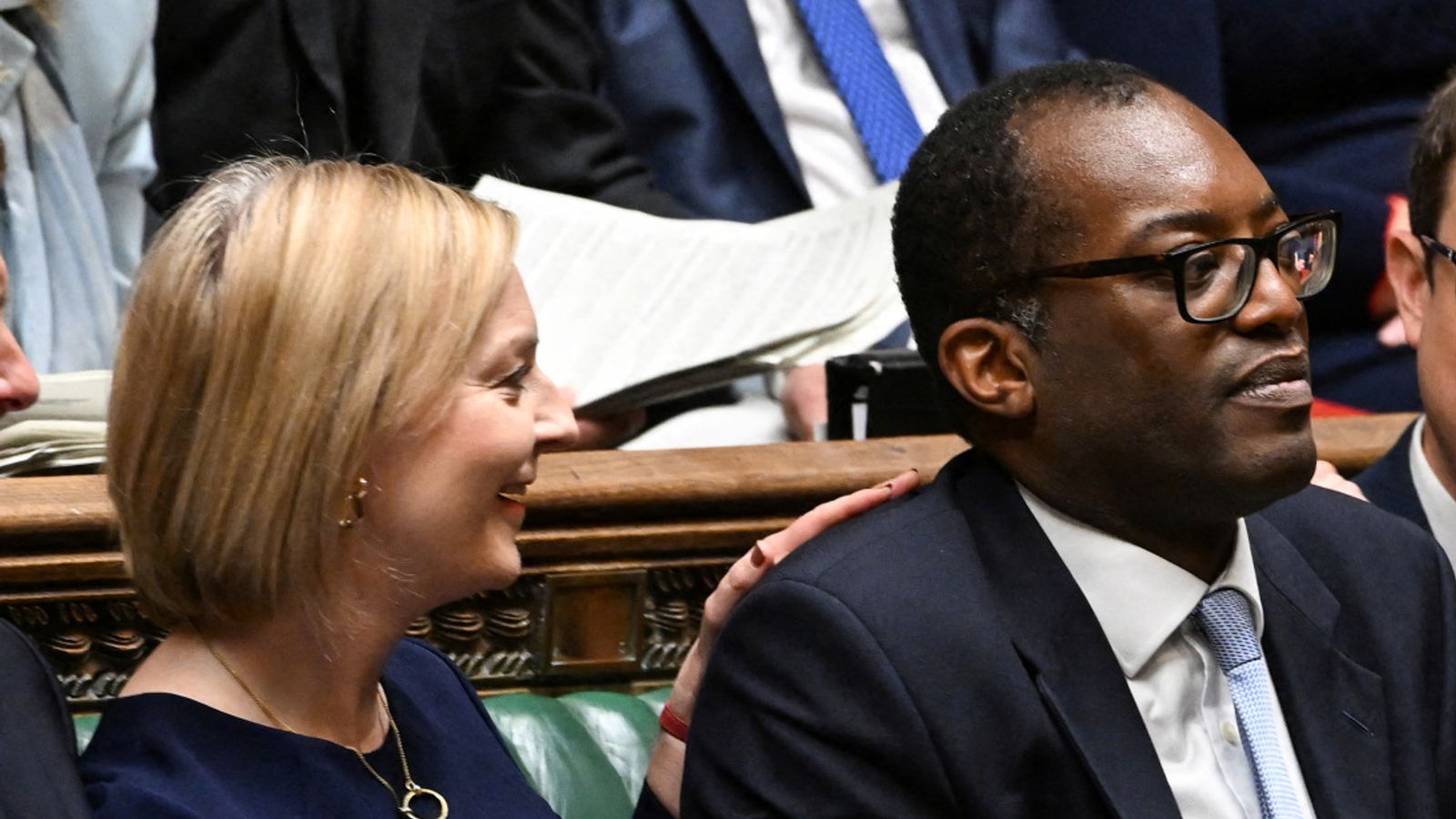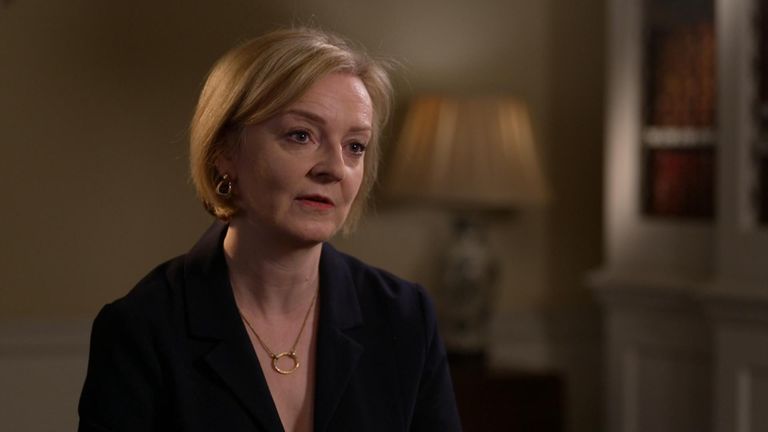 Liz Truss has for the first time acknowledged that "there has been disruption" to the UK economy following last week's mini budget.
Since the chancellor's announcement of £45bn in tax cuts the value of the pound has plummeted, nearly half of mortgages have been pulled and the Bank of England launched a £65bn bail-out to save pension funds from collapse.
Asked on Friday whether she accepted this is largely a crisis of her government's own making, the prime minister said: "It was very, very important that we took urgent steps to deal with the costs that families are facing this winter, putting in place the energy price guarantee for which we've had to borrow to cover the cost… but also making sure that we are not raising taxes at a time where there are global economic forces caused by the war in Ukraine that we need to deal with.
"I recognise there has been disruption. But it was really, really important that we were able to get help to families as soon as possible – that help is coming this weekend.
"Because this is going to be a difficult winter and I'm determined to do all I can to help families and help the economy at this time."
The government's energy price guarantee comes into force on Saturday.
It means the average household shouldn't have to pay more than £2,500 a year on their energy bills.
Ms Truss defended the decision to present last week's mini-budget without an accompanying forecast from the Office for Budget Responsibility (OBR) due to the need to respond rapidly to rising energy prices, amid concerns that average annual household bills could soon reach £6,000.
The lack of such a forecast is blamed by many – including Mel Stride MP, the Conservative chair of the treasury select committee – of contributing to the week's turmoil on the markets.
The OBR said a forecast had been offered to Chancellor Kwasi Kwarteng but was not commissioned.
Truss: Right to 'take decisive action'

On Friday morning, the prime minister and chancellor met the OBR's budget responsibility committee and afterwards issued a statement saying they "made it clear they value its scrutiny".
Read more:
Will the housing market crash? Is my pension safe? Your questions answered
Storm clouds are thickening thanks to Truss and Kwarteng
But Ms Truss did not accept that failing to commission a forecast last week had been a mistake.
"It was important we acted quickly, in that timescale there couldn't be a full OBR forecast. But we are committed to the OBR forecast.
"We are working together with the OBR. There will be an event on 23 November where the policies are fully analysed by the OBR, but it was a real priority to me to make sure we're working to help struggling families."
On Thursday, the chancellor committed to maintaining the triple lock on state pensions, which means they would rise in line with inflation (the triple lock means following whichever is higher consumer price inflation, average wage growth or 2.5%).
But the prime minister declined to offer a guarantee that benefits would also rise in line with inflation, despite a pledge from Boris Johnson's government to do so.
'People have no faith in govt'

Ms Truss said the issue is "something that the work and pensions secretary is looking at, and she will make an announcement in due course, as is the normal practice for the autumn".
But the prime minister argued the reversal of the National Insurance hike and support for businesses' energy bills will help families.
"I had real fears that businesses could go out of business this winter because they were facing unaffordable energy bills," she added.
"We put in place a business scheme, we put in place support for households across the country. That has cost us money, but it was important we acted quickly."
Click to subscribe to the Sky News Daily wherever you get your podcasts
With the latest polls putting Labour more than 30 points ahead of the Conservatives, many backbenchers are concerned about the prospect of losing their seats at the next election.
Senior MP Charles Walker said on Friday the conversation is no longer about winning, but how much the party loses by.
But the prime minister declined to comment on whether her party is heading towards electoral defeat, responding that "100% of her focus" is on supporting "the British public and British businesses through this difficult winter".
Minister issues fraud warning as government energy support package comes into effect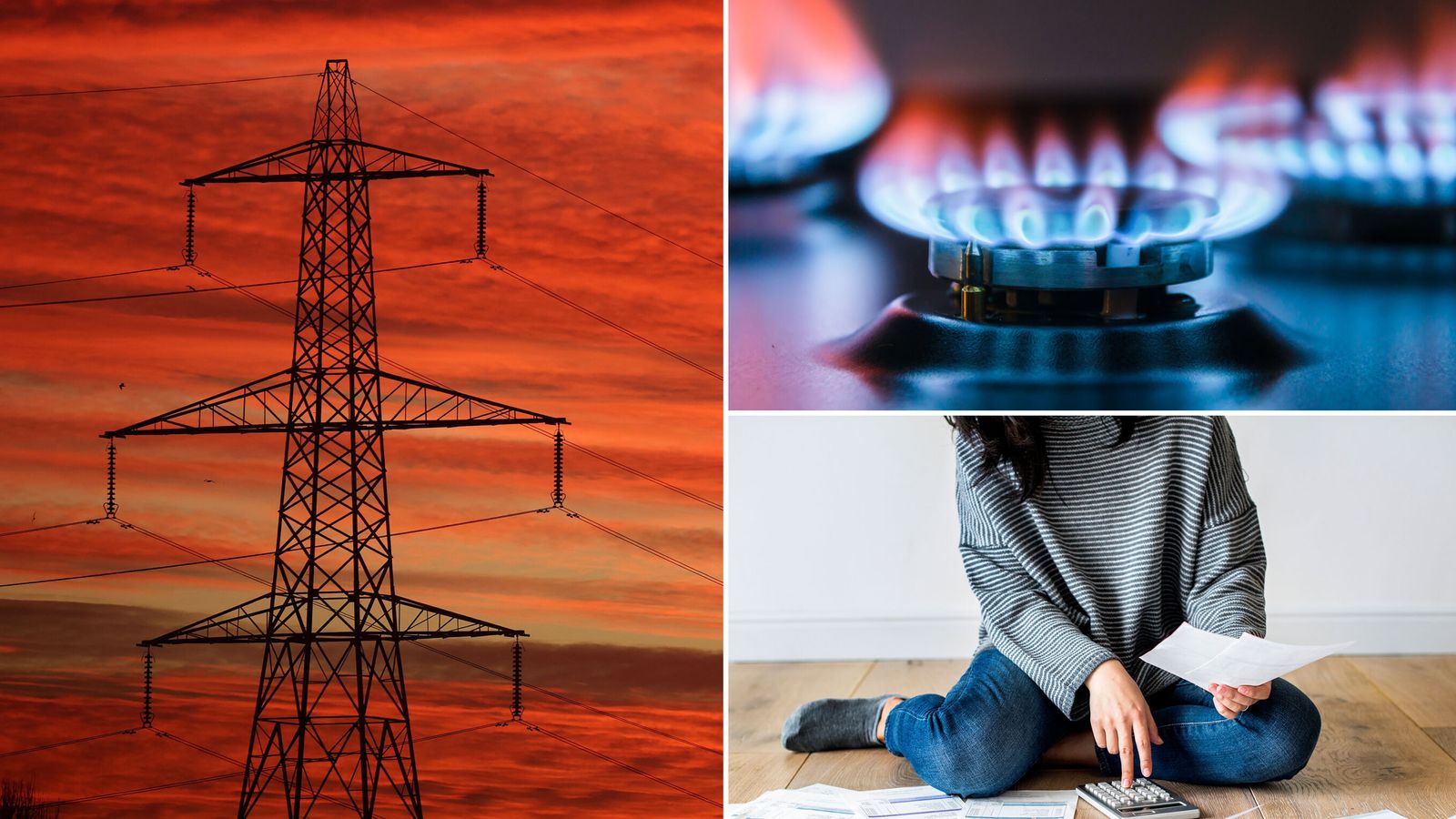 Consumers are being warned they may be targeted by scammers as the government's energy price guarantee comes into effect.
Messages asking for people to provide personal or financial details to receive support should be treated as fraudulent activity, as no applications are required, the business secretary has said.
The £400 Energy Bill Support Scheme will be applied automatically to bills each month between October and next March.
And the Energy Price Guarantee, which will limit the amount households pay per unit of gas and electricity, comes into effect from today.
In a statement, Jacob Rees-Mogg said: "Unprecedented government support is beginning this weekend, protecting families and businesses across the country from what was going to be an 80% increase in energy bills this winter.
"I also urge people today to stay alert to scams. This support will reach people automatically and there is no need to apply."
Earlier this month, Action Fraud – the UK's national reporting centre for fraud and cybercrime – said nearly 1,600 reports had been made to the National Fraud Intelligence Bureau (NFIB) about scam emails purporting to be about energy rebates from regulator, Ofgem.
Ministers say the Energy Price Guarantee should mean a typical household will pay about £2,500 per year, starting this month for the next two years – protecting them against what could have been, on average, an additional £1,000 a year on their energy bills.
The government has confirmed households in Northern Ireland will also receive the same support through the Energy Price Guarantee from November, with support for October bills backdated.
People who live in areas not served by the gas grid or who use alternative fuels such as heating oil will still receive a £100 support payment.
Read more:
Energy bills are going up – here's what you need to know
Spiralling energy bill burden will send UK into catastrophic territory
Even those who've done the right thing won't escape impact of rise in energy bills
For the £400 Energy Bill Support Scheme, customers on pre-payment meters will receive a credit or vouchers direct from their electricity supplier.
Support for businesses, charities and public sector organisations will also come into effect from 1 October through the Energy Bill Relief Scheme.
The scheme will operate for six months and could be extended subject to a review.
Ministers say the discounts it will provide on the price per unit of gas and electricity will result in payments of wholesale energy costs below half of what had been feared.
As the energy price cap comes into force, Prime Minister Liz Truss said: "Livelihoods and businesses were at stake. The government's energy support limits the price they pay for gas and electricity, shields them from massive bill increases, and is expected to curb inflation too.
"The cost of not acting would have been enormous."
Hurricane Ian strengthens and set to make landfall again – number of deaths in Florida is uncertain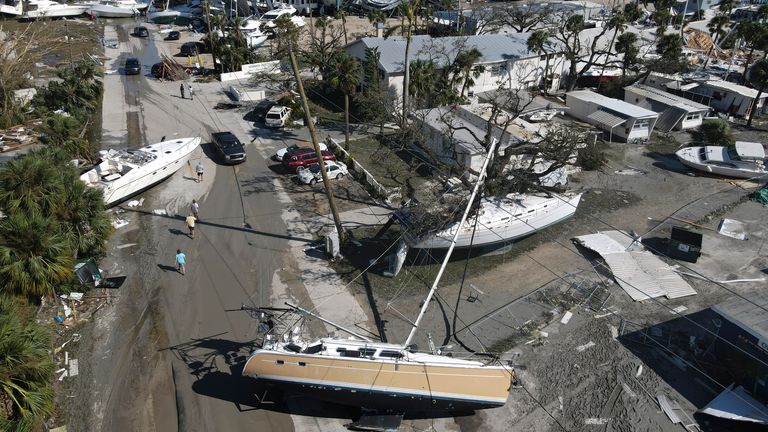 Hurricane Ian is gaining strength and veering towards the Carolinas – with uncertainty over how many fatalities the storm has caused in Florida.
This is one of the strongest-ever storms to hit the US – and emergency crews are trying to reach stranded Floridians after Ian cut a path of destruction across the state.
Early reports of 'substantial loss of life' – Hurricane Ian updates
Over 2.6 million power outages have been reported, with officials warning of treacherous floodwaters.
There was virtually no mobile phone service in some areas, and internet connectivity was also affected.
Florida's devastation seen from above

Florida Governor Ron DeSantis stopped short of confirming how many people have been killed, but said: "We fully expect to have mortality from this hurricane."
And President Joe Biden said: "The numbers are still unclear, but we're hearing early reports of what may be substantial loss of life."
At least nine people have died following Hurricane Ian's vicious lashing throughout Florida, according to an NBC News tally – although some other organisations place the number higher.
Two of the fatalities occurred in Sarasota, according to the county's sheriff's department. One person was confirmed dead in Volusia County and six more in Charlotte County.
Identifications have not been released and the state of Florida has refused to officially comment on fatalities.
Biden: Storm could be 'deadliest in Florida's history'

'It crushed us'
According to NBC News, at least 12 deaths have been linked to Hurricane Ian in Florida so far.
A 72-year-old man died after he went outside during the storm to drain his pool.
The sheriff of one of the hardest-hit areas – Lee County – told US media that deaths could be "in the hundreds" and that he had received thousands of 911 calls.
"It crushed us," Sheriff Carmine Marceno said. "We still cannot access many of the people that are in need."
There are fears that many in the hardest-hit areas were unable to call for help because of the outages to power and mobile phone networks.
Eyewitness: No one expected this storm to be so vicious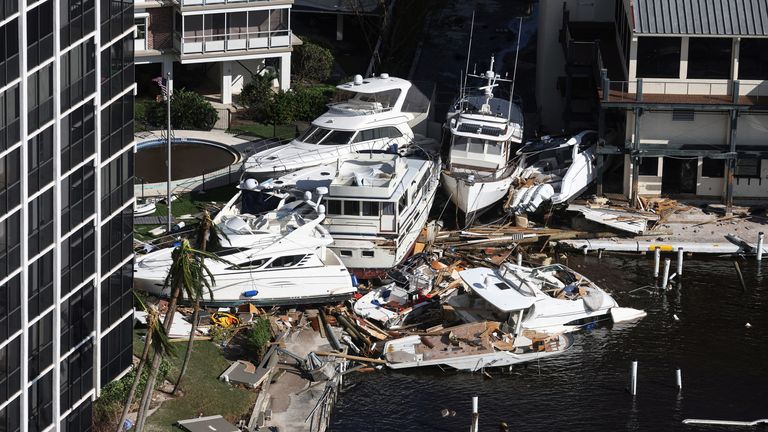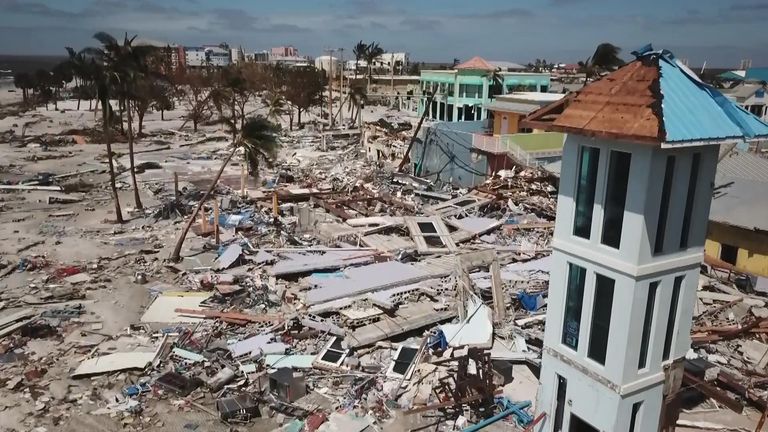 It's not over yet – where is Ian heading next?
Ian is now back in the Atlantic Ocean, but is expected to make landfall again at 2pm local time (7pm UK time) later today as a category one hurricane.
Forecasts suggest it will bring life-threatening flooding, storm surge, strong winds and potentially landslides and tornadoes to Georgia as well as North and South Carolina.
North Carolina Governor Roy Cooper is urging residents to take precautions, and warned: "This storm is still dangerous."
A hurricane warning is in effect for hundreds of miles of coastline.
In South Carolina, the city of Charleston is particularly at risk. A report commissioned by local officials suggests 90% of all residential properties are vulnerable to storm surge flooding.
Read more:
Residents describe escaping the eye of the storm
Dramatic before and after images show scale of destruction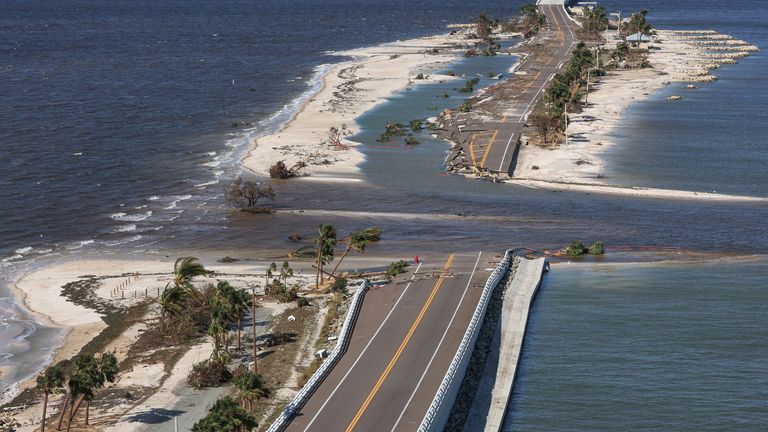 Florida's 'historic' damage
Mr DeSantis called the damage in Florida "historic" – and disaster officials believe thousands could be displaced in the long term.
Walt Disney World and other tourist attractions in central Florida appeared to have avoided severe damage from Ian, but many businesses on the state's southwestern coast – also a tourist hotspot – were destroyed and face a long rebuilding process.
Mr Biden has declared a major disaster, releasing federal funds to pay for measures such as temporary housing for those displaced.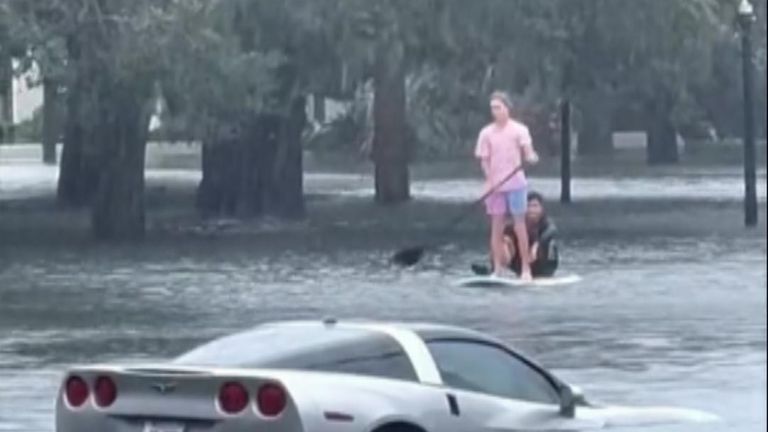 Ian was a category four storm with winds up to 150mph when it struck southwest Florida on Wednesday, making it the joint fifth-strongest hurricane to hit the US.
At least 700 confirmed rescues have taken place across the state, with first responders going from door to door in Ian's aftermath.
Locals are being urged to take care when using chainsaws and ladders – with emergency officials warning the number of "indirect deaths" during the clean-up could exceed fatalities caused by the hurricane itself.
Most schools in Florida are expected to reopen today or on Monday, and flights from Orlando Airport are set to resume in the coming hours.
'Climate change means more storms like Ian'
How climate change is fuelling hurricanes

Preliminary reports from scientists who study extreme weather suggest human-caused climate change increased Hurricane Ian's rainfall by 10%.
A warmer atmosphere can contain more water vapour. Researcher Michael Wehner of Lawrence Berkeley National Laboratory said: "Climate change didn't cause the storm, but it did cause it to be wetter."
MIT atmospheric scientist Kerry Emanuel added: "This business about very, very heavy rain is something we've expected to see because of climate change.
"We'll see more storms like Ian."