Wisconsin plays Wisconsin football. Iowa is Iowa. Northwestern does Northwestern things. Minnesota is increasingly Minnesota. The Big Ten West might have more proven entities than any other division in college football. But for such a reliable division, the West has been pretty difficult to forecast of late.
In 2018, defending champion Wisconsin was voted a runaway favorite to repeat, with only Iowa likely to offer major resistance. Northwestern won the division by three games.
In 2019, turnover prompted a shakeup, and with Scott Frost seemingly ready for a UCF-like second-year leap, Nebraska was voted a slight favorite over Iowa. Wisconsin and Minnesota tied for the title.
In 2020, Wisconsin and Minnesota were picked to once again lead the way. Instead, Northwestern beat out Iowa by a half-game.
We'll see who ends up the media favorite soon enough. My guess is that, with most of last year's starters returning — and with both Iowa and especially Northwestern losing quite a few key contributors — Wisconsin will again get the nod. SP+ projects the Badgers and Iowa as the most likely teams to make a run.
Congrats in advance, then, to Purdue for winning the division. Let's preview the Big Ten West!
Every week through the summer, Bill Connelly will preview another division from the Group of 5 and Power 5 exclusively for ESPN+, ultimately including all 130 FBS teams. The previews will include 2020 breakdowns, 2021 previews and a brief history of each team in one handy chart. The series has thus far covered the Conference USA East and West, the MAC East and West, the MWC Mountain and West, the Sun Belt West and East, the top and bottom half of the AAC, the seven Independents, the ACC Atlantic and Coastal, the Pac-12 North and South, and the top and bottom half of the Big 12.
Jump to a team: Illinois | Northwestern | Purdue | Minnesota | Nebraska | Iowa | Wisconsin
In 2016, Lovie Smith's first year in charge, Illinois ranked 94th in SP+. In 2020, his last, the Fighting Illini ranked 89th. They were starting over then, and they're starting over now.
2021 Projections
Projected SP+ rank: 83rd
Average projected wins: 3.9 (2.2 in the Big Ten)
Likely wins*: Charlotte (81% win probability)

Relative toss-ups: Rutgers (65%), UTSA (60%), Northwestern (53%)

Likely losses: at Virginia (28%), Maryland (24%), at Purdue (21%), Nebraska (21%), at Minnesota (14%), Wisconsin (10%), at Iowa (8%), at Penn State (7%)
* Likely wins are games in which SP+ projects the scoring margin to be greater than seven points, or above about 65% win probability. Likely losses are the opposite, and relative toss-ups are all the games in between.
Bret Bielema inherits a roster with few guaranteed matchup advantages, but the Illini do face five teams projected outside the SP+ top 50. There are some win opportunities.
What we learned about Illinois in 2020
Smith was never the guy. Unlike other NFL-turned-college coaches, Smith never built recruiting inroads; he never built much momentum either. UI never ranked higher than 70th in offensive SP+ and only once ranked higher than 77th on defense. A former Arkansas and Wisconsin head coach, Bielema also comes from the pros, but he has far more (and more recent) college experience, at least.
The running backs and linebackers are good. Bielema likes his lines meaty and dominant, and while he inherits plenty of beef — five primary OL returnees weigh 310-plus, and defensive tackles Roderick Perry II and Calvin Avery are a combined 650 — the dominance part has lacked.
The guys who line up behind said lines, however, are solid. RBs Chase Brown and Mike Epstein each averaged over five yards per carry despite efficiency issues, and Jake Hansen leads a pretty deep stable of aggressive linebackers.
Beyond that, there are more questions than answers. Brandon Peters is the likely starter at QB, but he has been massively inconsistent, and he's without leading WR Josh Imatorbhebhe. (Tight end Daniel Barker's solid.) The secondary is more experienced but no more stable than the passing personnel.
What we didn't learn about Illinois in 2020
Is Illinois a "zig when everyone's zagging" school? In a division with quite a few purveyors of Big Burly Manball, Illinois hired someone who has historically been exactly that. Granted, new offensive coordinator Tony Petersen has some passing success on his résumé, and Ryan Walters is an aggressive, modern defensive coordinator (though he likes to play more man coverage than his charges might be able to offer in 2021). But can Bielema figure out a way to stand out?
Illinois' history in one chart
Led by a linebacker named Butkus, Illinois went 8-1-1 and won the Rose Bowl in 1963. The Illini have been to Pasadena only twice in the 57 seasons since, losing both.

In 1989, Purdue transfer Jeff George threw for 2,738 yards and led John Mackovic's Illini to 10 wins and their first bowl victory since 1963.

Led by Simeon Rice and Kevin Hardy, the Illini ranked in the defensive SP+ top 10 in both 1994 and '95 … and went a combined 12-10-1 because of a paltry offense.

Under Ron Turner, Illinois went from 0-11 in 1997, to 10-2 (with a Big Ten title) in 2001, to 1-11 in 2003. Very few schools have the upside and inconsistency to pull that off.

Ron Zook was fired after leading Illinois to three winning seasons from 2007 to 2011. Winning seasons since: zero.
Much of FBS returns record levels of production; Northwestern does not. If Pat Fitzgerald's Wildcats challenge for another West title, it'll be his most impressive coaching performance yet.
2021 Projections
Projected SP+ rank: 75th
Average projected wins: 4.9 (2.7 in the Big Ten)
Likely wins: Indiana State (94% win probability), Rutgers (68%)

Relative toss-ups: Ohio (65%), at Duke (63%), at Illinois (48%), Michigan State (43%)

Likely losses: Purdue (33%), Minnesota (24%), at Nebraska (16%), Iowa (15%), at Michigan (14%), at Wisconsin (7%)
In the past three years, the Wildcats have won two West titles with a 3-9 campaign in between. This could be another setback season.
What we learned about Northwestern in 2020
Mike Hankwitz was phenomenal. After an incredible 13-year run as defensive coordinator, Hankwitz retired at his peak, with Northwestern ranking third in defensive SP+. The pass defense was almost perfect: The Wildcats ranked fifth in passing success rate allowed and gave up almost no big plays. They almost never blitzed — they just forced QBs into constant mistakes.
Former NFL defensive coordinator Jim O'Neil has huge shoes to fill. He has to replace two awesome cornerbacks in Greg Newsome II and Cameron Ruiz (backups A.J. Hampton, Rod Heard and Cameron Mitchell all thrived when they got the opportunity) and two dynamic run defenders in end Earnest Brown IV and linebacker Blake Gallagher. The floor's pretty high for a Fitzgerald defense, but a drop-off is coming.
What we didn't learn about Northwestern in 2020
Can the offense remain ranked in the double digits? Northwestern has mastered the art of winning despite its offense, but when the Wildcats fell to 123rd in offensive SP+ in 2019, it was too much to overcome.
In Mike Bajakian's first year as offensive coordinator, they improved to 93rd. His love of tempo and physicality was an identity and an issue — Northwestern still couldn't run the ball — but QB Peyton Ramsey frequently bailed the Wildcats out on passing downs. Ramsey and his top four targets are now gone. Sophomore backs Cam Porter and Evan Hull and Bowling Green transfer Andrew Clair have shown potential, but run game consistency is an outright must. It also might be too much to ask for.
The remodeled passing game will likely be crafted around South Carolina transfer and former blue-chip quarterback Ryan Hilinski and receivers JJ Jefferson, Bryce Kirtz, Malik Washington and Kansas transfer Stephon Robinson Jr. That foursome caught a combined 13 balls last year.
Northwestern's history in one chart
Ara Parseghian had NU ranked in the AP top 10 for parts of five seasons and briefly had the Wildcats at No. 1 in 1962. He left for Notre Dame in 1964, and things collapsed quickly.

NU averaged 1.5 wins from 1976 to 1990. What was worse in retrospect: the 34-game losing streak or Dennis Green winning Big Ten Coach of the Year for going 3-8?

After winning eight games in his first three seasons in charge, Gary Barnett led a 10-2 campaign and took the Purple to Pasadena in 1995. They went 9-3 the next year, too.

In 2000, Randy Walker and coordinator Kevin Wilson fielded one of the most influential early versions of the spread offense. Their 54-51 win over Michigan was a classic.

After Walker's tragic passing in 2006, former star linebacker Fitzgerald was named head coach at age 31. Fifteen years later, NU continues to slowly trend upward.
Since famously destroying Ohio State in 2018, Jeff Brohm's Boilermakers are just 8-16. They are constantly competitive but are no closer to turning a corner than they were three years ago.
2021 Projections
Projected SP+ rank: 40th
Average projected wins: 5.8 (3.9 in the Big Ten)
Likely wins: at UConn (95% win probability), Illinois (79%), at Northwestern (67%), Oregon State (66%)

Relative toss-ups: Michigan State (65%), Minnesota (45%), Indiana (43%)

Likely losses: at Nebraska (33%), at Notre Dame (31%), at Iowa (22%), at Wisconsin (18%), at Ohio State (14%)
Look at that road slate! The Boilers play five projected top-30 teams away from West Lafayette, which could keep the win total tamped down pretty far even if they play at a top-40 level.
What we learned about Purdue in 2020
The nibbles are still effective(ish). One of Brohm's calling cards is the use of an extensive array of quick passes as a complement to the customary run game. More than half of Purdue's 43.5 passes per game in 2020 were within 8 yards of the line of scrimmage. Combined with a decent run game, the Boilers had a lot of ways to gain 5 yards on you.
That's important! But gaining 20+ yards is helpful, too, and Purdue didn't do much of that, even before star receiver Rondale Moore opted out to prepare for the NFL draft.
With some combination of quarterbacks Aidan O'Connell and Jack Plummer, wideouts David Bell and Milton Wright and backs Zander Horvath and King Doerue, the efficiency game will again be strong. But unless a young, new weapon — Marshall WR transfer Broc Thompson? Redshirt freshman Collin Sullivan? — provides a boost in the big-play department, long drives will be Purdue's only means of scoring.
What we didn't learn about Purdue in 2020
Will the defense ever bounce back? Since leaping to 32nd in defensive SP+ in Brohm's first year, Purdue's average ranking is 76.7. The Boilermakers tackled well and prevented big plays, but they also ranked 99th in passing success rate allowed. The pass rush was nonexistent — 126th in sack rate — and despite solid output from end DaMarcus Mitchell, they had no hope of creating disruption after star end George Karlaftis was lost to injury/COVID.
Three co-coordinators, led by former Charlotte head coach Brad Lambert, will attempt to add a little more havoc to the equation this year. The return of Karlaftis and seven other starters could produce improvement, but how much?
Purdue's history in one chart
Purdue's high point as a program came under Jack Mollenkopf from 1966 to 1968: The Boilers enjoyed three straight AP top-10 finishes and won the Rose Bowl in 1966.

The key to Purdue's 1960s success: strong QB play and Leroy Keyes, who combined for 1,989 rushing and 1,186 receiving yards and scored 36 times in 1967-68.

Despite solid individual talent — Jim Everett, Rod Woodson, Chris Dishman — Purdue suffered 15 losing seasons over 16 years from 1981 to 1996.

Arriving in 1997, Joe Tiller turned things around immediately. With Drew Brees behind center, Purdue reached its first Rose Bowl in 34 years in 2000.

With nine wins from 2013 to 2016, the Boilers were back to pre-Tiller lows when Brohm arrived. He made immediate improvements but is struggling to make even more.
PJ Fleck's Golden Gophers were two scores from 5-2 and two from 1-6 last season. They aren't far from West contention, but only if the defense rediscovers consistency.
2021 Projections
Projected SP+ rank: 31st
Average projected wins: 7.3 (4.7 in the Big Ten)
Likely wins: BGSU (98% win probability), Miami (Ohio) (96%), Illinois (86%), at Northwestern (76%)

Relative toss-ups: at Colorado (62%), Maryland (59%), at Purdue (55%), Nebraska (55%), at Indiana (42%), Wisconsin (36%)

Likely losses: at Iowa (31%), Ohio State (30%)
Half of Minnesota's games are projected within six points, eight within nine. Which tossups they win and lose will have a massive impact on the West race.
What we learned about Minnesota in 2020
There's probably life after Rashod Bateman. After ranking seventh in offensive SP+ in 2019, the Gophers lost offensive coordinator Kirk Ciarrocca, leading receiver Tyler Johnson and leading rusher Rodney Smith, and monstrous linemen Curtis Dunlap Jr. (injury) and Daniel Faalele (opt-out). They still scored 34-plus points three times, still avoided negative plays and, when required, still enjoyed some passing downs magic from quarterback Tanner Morgan (though he did suffer a couple of sketchy performances).
Their level fell a bit in the last two games after star receiver Bateman opted out — they averaged 5.8 yards per play with him and 5.3 without. But the Gophers return every starter except Bateman in 2021, and Dunlap and Faalele are both scheduled to return. Morgan has big-play receivers Chris Autman-Bell and Daniel Jackson out wide and will share the backfield with Mohamed Ibrahim, who rushed for 100+ yards in every game last year (and 200+ twice). This should be a top-30 offense.
What we didn't learn about Minnesota in 2020
What the heck happened on D? Over Fleck's first three seasons, Minnesota averaged a 32.0 ranking in defensive SP+. But after peaking at 26th in 2019, the Gophers plunged to 64th last fall. (The fall might have been even worse if they'd played a full season.) They ranked a ghastly 121st in success rate allowed and 98th in explosive play rate allowed. And this was despite ranking third in tackle success rate and getting top-notch performances from end Boye Mafe (4.5 sacks) and corner Coney Durr (33.7 QBR allowed)!
The tackles couldn't hold up, the linebacking corps was nonexistent from either a playmaking or play-stopping perspective, and while the Gophers dominated third-and-longs, they couldn't force any. Fleck brought in two tackle transfers — Nyles Pinckney (Clemson) and Val Martin (NC State) — and linebacker Braelen Oliver returns from injury and immediately becomes Minnesota's most proven blitzer. But this was quite a collapse. It's hard to project a fast rebound.
Minnesota's history in one chart
A late-1930s dynasty, Minnesota scored its first national title in 19 years (and its last since) in 1960, thanks in part to final polls being taken before a Rose Bowl loss.

The Gophers enjoyed three straight top-10 finishes from 1960 to 1962, driven by a pair of hall of fame (both pro and college) defenders in Bobby Bell and Carl Eller.

Lou Holtz was head coach for only two years, but he inherited a Gophers team coming off of maybe its worst ever season and had them bowling by Year 2.

He couldn't keep raising the bar, but Glen Mason fielded some stout teams from 2002 to 2005, particularly a 10-win 2003 squad led by RBs Marion Barber III and Laurence Maroney.

Fleck's 2019 squad was UM's first to win 11+ games since 1904 and its first to finish in the AP top 10 since the 1962 squad of Bell and Eller.
In 2020, Nebraska looked good for a while against Ohio State, beat Penn State … and got blown out by Illinois. It's been "two steps forward, two back" for Scott Frost's entire tenure.
2021 Projections
Projected SP+ rank: 30th
Average projected wins: 7.0 (4.9 in the Big Ten)
Likely wins: Fordham (99%), Buffalo (86%), Northwestern (85%), at Illinois (79%), Purdue (67%)

Relative toss-ups: at Michigan State (65%), Michigan (53%), at Minnesota (45%), Iowa (43%)

Likely losses: Ohio State (31%), at Wisconsin (26%), at Oklahoma (17%)
The Huskers are projected favorites in six of their first seven games … and one of their last five. Recommendation: Start quickly.
What we learned about Nebraska in 2020
There might be hope for the defense. NU jumped from 63rd to 38th in defensive SP+ thanks to the combination of disruptive run defense and strong red zone execution. There were still weaknesses — a nonexistent pass rush and the resulting inefficient pass defense — but it was a start.
Nine starters return, but linebacker Will Honas, NU's best pass-rusher, is potentially lost for the season (knee). End Ben Stille and LB JoJo Domann are solid run defenders, while safeties Marquel Dismuke and Deontai Williams and corner Cam Taylor-Britt give the secondary potential. But until the pass rush improves, cracking the top 30 will be difficult.
What we didn't learn about Nebraska in 2020
Will it ever click for Adrian Martinez? In two years under Frost at UCF, McKenzie Milton went from solid true freshman starter to one of the best players in the country. That set an unfair bar for Martinez, who became the day-one starter when Frost arrived in Lincoln. He hasn't cleared it.
Martinez has battled injuries and inconsistency — in 20 games in 2019-20, his passer rating was above 140 10 times and below 105 seven times — and with the departure of leading rusher Dedrick Mills and leading receiver Wan'Dale Robinson, he'll again deal with uncertainty in the skill corps. There's efficiency potential with receivers Zavier Betts and Levi Falck, tight ends Austin Allen and Travis Vokolek and USC RB transfer Markese Stepp, but big plays were minimal last year. A few chunk plays and easy scores would work wonders for a team that has lost six of its past eight one-score games.
Will it ever click for Frost? After what he had done at UCF, Frost, the former NU quarterback, coming home to turn the program around felt like one of the most no-brainer hires of the past decade. Three years in, he's got a 0.375 win percentage. As long as you're still employed, you can still turn things around, but Frost probably shouldn't wait much longer.
Nebraska's history in one chart
When Bob Devaney arrived in 1962, NU had enjoyed one winning season in its past nine years. In 11 seasons he would win two national titles with seven top-10 finishes.

After going 12-8 in 1967-68, Devaney promoted Tom Osborne to offensive coordinator to spruce things up. They went 42-4-2 with two national titles over the next four years.

Osborne was the obvious choice when Devaney retired in 1972. He would engineer 14 top-10 finishes in his first 21 seasons but constantly fell short of a national title …

… until 1994. His Huskers broke through to win the title that year, won a second with one of the best teams ever in 1995, then won a third in 1997, his final season.

Osborne successor Frank Solich enjoyed three top-10 finishes in six years, but he was fired. NU has zero top-10s since and hasn't finished ranked at all since 2012.
After an 0-2 start, Iowa won its last six games and jumped to 10th in SP+, its best ranking since 2008. Should we be talking more about the Hawkeyes as legit Big Ten contenders?
2021 Projections
Projected SP+ rank: 16th
Average projected wins: 8.3 (6.0 in the Big Ten)
Likely wins: Kent State (98%), Colorado State (96%), Illinois (92%), at Northwestern (86%), Purdue (78%), Minnesota (69%), Indiana (67%)

Relative toss-ups: at Maryland (61%), at Nebraska (57%), Penn State (54%), at Wisconsin (38%), at Iowa State (37%)

Likely losses: none
The Hawkeyes have three starters to replace on each line, but if the trenches hold up (and they usually do for Iowa), there are no likely losses on the regular-season slate.
What we learned about Iowa in 2020
Ferentzball can still win. Strong, low-blitz pass rush? Frustrating zone defense? Run-first, efficiency-based offense? The Hawkeyes proved that Ferentz's conservative approach can still reap dividends, winning five games by 14+ and stomping both Penn State and Wisconsin. The run game was as efficient as it's been in a while, and RB Tyler Goodson and two potential all-conference linemen (Tyler Linderbaum, Cody Ince) give them a chance of replicating that.
Losing both offensive and defensive tackles, plus ace pass-rusher Chauncey Golston, hurts. Strong end Zach VanValkenburg returns, but anything less than domination in the trenches will require more of the other units. That could be an issue.
They need more from the QB position. If everything else goes right, the Hawkeyes don't ever need much from their signal-caller. But they got the bare minimum from Spencer Petras last season.
The Hawkeyes ranked 92nd in passing-downs success rate, and Petras ranked 64th in Total QBR, and that was with WRs Ihmir Smith-Marsette and Brandon Smith. They're both gone, and while junior Tyrone Tracy Jr. has shown potential, this is a green receiving corps. If Iowa falls short in the West race, it will almost certainly be because the passing game couldn't produce when it needed to.
What we didn't learn about Iowa in 2020
Could this be the best Ferentz defense yet? The Hawkeyes have ranked sixth or better in defensive SP+ five times in 13 seasons, but they hadn't ranked as high as second until last season. If sturdy tackles emerge — and junior Noah Shannon's the only DT who had 40+ snaps — they might have a shot at first. Linebacker Jack Campbell appears ready for a star turn, and the entire secondary, including dynamic safeties Jack Koerner and Dane Belton, returns intact.
Coordinator Phil Parker became the state of Iowa's first million-dollar assistant coach this summer, and he might have the personnel to back up the salary.
Iowa's history in one chart
The golden era: From 1953 to 1960 under Forest Evashevski, Iowa enjoyed five top-10 finishes and two Rose Bowl wins. They Hawkeyes reached No. 1 late in 1960 but lost to Minnesota.

Things quickly fell apart when Evashevski quit to become AD in 1961. The Hawkeyes didn't enjoy a single winning season between 1962 and 1981.

Hayden Fry turned things around, peaking in 1985. QB Chuck Long nearly won the Heisman, and the Hawkeyes spent more than a month at No. 1 before finishing 10-2.

The end of the long Fry era finished poorly (3-8 in 1998), but Iowa nailed his successor hire. Ferentz has produced five top-10 finishes and six years with 10+ wins.

Per SP+, Ferentz's most successful team (2015's 12-2 squad) was also one of his worst, ranking 42nd but riding a string of close wins to within an eyelash of the CFP.
New quarterback … injuries … more COVID problems than most … we might have learned less about Wisconsin than any other FBS team in 2020. At least, the Badgers hope so.
2021 Projections
Projected SP+ rank: 9th
Average projected wins: 9.4 (6.8 in the Big Ten)
Likely wins: Eastern Michigan (98% win probability), at Rutgers (94%), Northwestern (93%), Army (93%), at Illinois (90%), at Purdue (74%), Michigan (71%), vs. Notre Dame (67%)

Relative toss-ups: at Minnesota (64%), Iowa (62%), Penn State (60%)

Likely losses: none
What we learned about Wisconsin in 2020
Jim Leonhard is fantastic. When head coach Paul Chryst promoted the former Wisconsin safety to defensive coordinator in 2017, Leonhard had just one official year of coaching to his name. He's proved the move astute. The Badgers have ranked in the defensive SP+ top 15 in three of four seasons and climbed to fourth last year.
The Badgers stuff the run on early downs and dominate the pass on passing downs. They blitz well — especially with inside linebackers Jack Sanborn and Leo Chenal — and corners Faion Hicks and Caesar Williams can handle the man coverage Leonhard asks of them. Leonhard does have to replace two of four primary linemen, but he could start as many as 10 juniors and seniors overall.
Graham Mertz could be, too (with help). Talk about all-or-nothing: In four wins, the Badgers averaged 39 points per game, and Mertz, a blue-chip redshirt freshman, produced a raw QBR of 79.6. He completed 20 of 21 passes in his debut against Illinois.
In three losses, however, the Badgers averaged 6.7 points. Mertz's QBR: 24.6. He got less help than expected from a rotating RB corps, and leading receivers Danny Davis III and Kendric Pryor barely saw the field. Wisconsin was entirely overmatched against good Iowa, Northwestern and Indiana defenses.
Davis and Pryor return, along with sophomore Chimere Dike and tight end Jake Ferguson. Mertz should have fewer bad moments, but the run game has a lot to prove.
What we didn't learn about Wisconsin in 2020
The run game isn't infallible. A dominant ground game is in the Wisconsin DNA, but the Badgers ranked just 72nd in rushing success rate, with almost no big-play potential. The line was constantly shuffled, and blue-chip RB Jalen Berger was inconsistent. He hit the corner well but didn't do much damage between the tackles; he'll get a push from Clemson transfer Chez Mellusi and a batch of freshmen, but the job of Wisconsin Workhorse Back is his if he's ready.
And if he's ready, Wisconsin probably is, too.
Wisconsin's history in one chart
In 1962, Milt Bruhn's Badgers led the nation with 32.2 PPG, finished No. 2 in the AP poll and took No. 1 USC down to the wire in a 42-37 Rose Bowl epic.

The Badgers wouldn't get another Rose Bowl shot for decades. From 1964 to 1977, they averaged 3.4 wins per year with one winning season.

After a decent start to the 1980s, things fell apart again. UW won nine games in four years and asked Notre Dame defensive coordinator Barry Alvarez to turn things around.

Alvarez's Badgers from 1993 to 1999: six bowls, three top-10 finishes, three Rose Bowl wins and a Heisman Trophy, via Ron Dayne in 1999. What a turnaround.

Since Alvarez's retirement in 2005, UW has enjoyed five more top-10 finishes and attended three more Rose Bowls. One of the steadiest powers in the sport.
How Jacob deGrom decided to ditch New York and become a Texas Ranger
Chris Young, the head of baseball operations for the Texas Rangers, called Bruce Bochy on Thursday with news that stunned the new manager. "Jacob wants to come with us," Young said.
Bochy's response: "Are you kidding me?"
Bochy knew the Rangers were going to be aggressive in their negotiations with Jacob deGrom, and he had been impressed by the pitcher in a Zoom meeting with deGrom and his wife, Stacey Harris, in the days before Thanksgiving. But Bochy had assumed that the process would play out for days and perhaps weeks to come as deGrom considered the possibility of leaving the New York Mets, the organization that had drafted him in 2010.
Instead, deGrom made his decision quickly, agreeing to terms on a five-year, $185 million million contract without even giving the Mets an opportunity to present a final offer, based on interviews with a dozen sources involved in deGrom's free agency. According to sources, Mets general manager Billy Eppler learned about deGrom's deal with the Rangers on Friday evening, just minutes before the news broke — and more than a day after deGrom had closed his deal with Texas.
For some in the Mets' organization, that last bit of silent treatment from deGrom was confirmation of what they had suspected even during the season: that deGrom, the Cy Young Award-winning pitcher who warmed up to Lynyrd Skynyrd's "Simple Man" before his starts, probably preferred to pitch somewhere other than New York City.
CFP preview: First look at Georgia-Ohio State, Michigan-TCU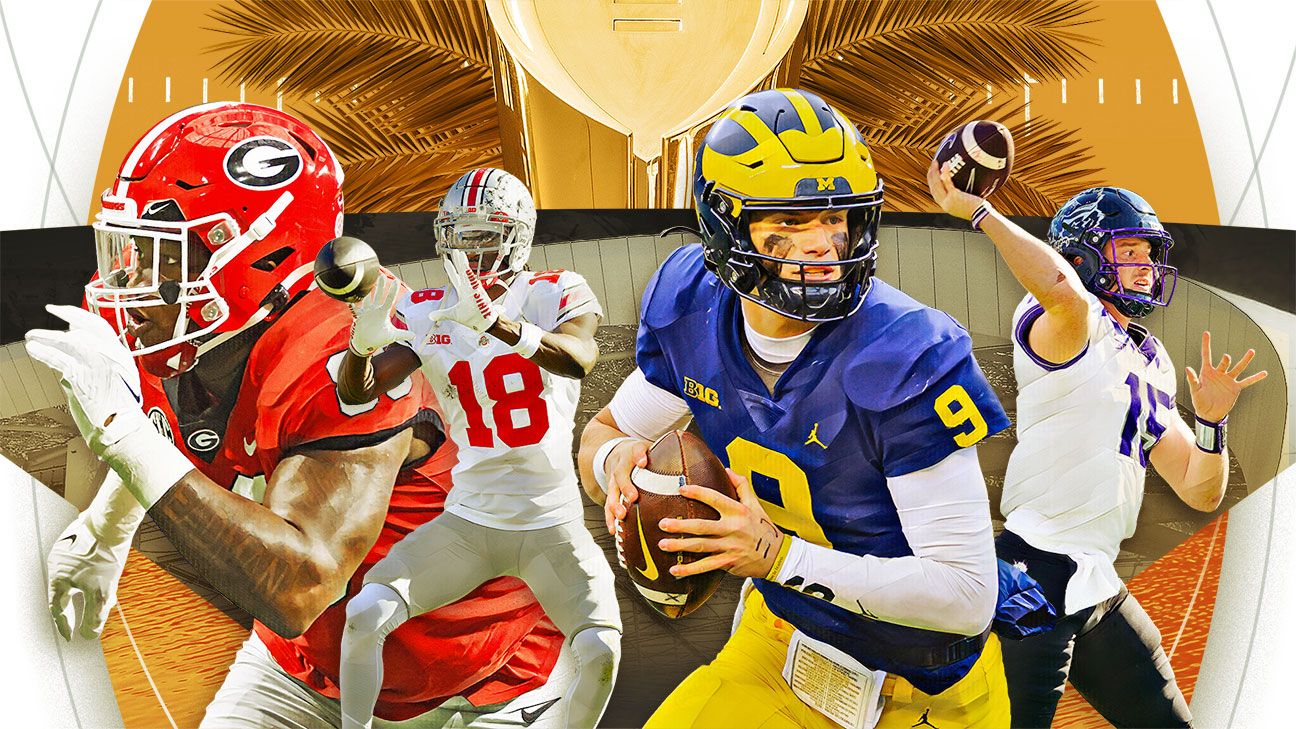 Nick Saban tried. Alabama's coach found whatever megaphone was available to him Saturday night to publicly plead the Crimson Tide's case to make the College Football Playoff.
He suggested looking at the top four through the lens of, "How are they playing at the present?" He asked, "If we played these teams in question, would we be underdogs in the game or not?"
But the committee didn't budge. Betting lines aren't part of their criteria, after all. They meet in Grapevine, Texas, not Las Vegas.
There would be no leapfrogging Ohio State or TCU. In the end, the math was simple: The top three of Georgia, Michigan and TCU remained the same, out went USC by virtue of a second loss in the Pac-12 championship game, and in slipped the Buckeyes, who moved up one spot to No. 4. Which means, for just the second time since the CFP began in 2014, Alabama will not be part of the semifinal round.
So we have new blood: The Horned Frogs become the first team from the Big 12 not named Oklahoma to reach the playoff.
And we have an old rivalry: The Buckeyes and Wolverines will play their respective semifinal games for a chance to meet for the national championship.
And we have a chance for some more history: Georgia is seeking to become the first repeat champion of the CFP era.
Here's a first look at the semifinal games.

No. 1 Georgia vs. No. 4 Ohio State
CFP Semifinal at the Chick-fil-A Peach Bowl
When: Saturday, Dec. 31 at 8 p.m. ET
Where: Mercedes-Benz Stadium, Atlanta
How to watch: ESPN and ESPN App
Opening line via Caesars Sportsbook: Georgia by 7
Georgia
Key player: Georgia's defense shouldn't be this good again. Repeating last season's success would have been hard enough, even if it had not lost five first-round draft picks to the NFL. But maybe the most talented player on that defense from a year ago — Jalen Carter — did come back. And after dealing with nagging injuries the first half of the season, he has showed what a game-wrecker he can be of late. In his past six games, he had 24 tackles, 6.5 tackles for loss, three sacks and two forced fumbles. Big and strong enough to plug the running lanes, and quick and agile enough to rush the passer, Carter must be accounted for.
X factor: Georgia's offense is effective, of course. It has a three-headed monster at running back with Kenny McIntosh, Kendall Milton and Daijun Edwards. And quarterback Stetson Bennett is a threat whether he's throwing from the pocket or scrambling for yards. What's more, he has mismatches at tight end in Brock Bowers and Darnell Washington to lean on. But who's the go-to receiver? Who's the deep threat? Ladd McConkey is solid with 51 receptions and five touchdowns, but those aren't exactly eye-popping numbers, and he's undersized at 6-foot. Fellow receivers Marcus Rosemy-Jacksaint and Dillon Bell have only two touchdowns apiece.
How Georgia wins: The formula isn't terribly complicated. Kirby Smart built the Bulldogs to win the line of scrimmage on both sides of the ball. So start from the inside out. Carter and the defensive line suffocate the running game (2.97 yards per rush during the regular season, sixth lowest in the FBS) and get in the face of the quarterback (31% pressure rate). Meanwhile, the offensive line powers a strong running game (5.5 yards per rush, eighth best among Power 5 teams) and protects the quarterback (seven sacks, tied for second fewest in the FBS). Throw in a savvy veteran quarterback (Bennett) and an All-America tight end (Bowers), and all the ingredients to reach the national championship game are there. — Alex Scarborough
Ohio State
Key player: Quarterback C.J. Stroud had a Heisman-type season going until the Michigan game, with 3,330 passing yards, 37 touchdowns and six interceptions on the year. Stroud threw for 349 yards and two touchdowns against the Wolverines but also had two interceptions. The Buckeyes were dealing with injuries to running back TreVeyon Henderson and Miyan Williams, while freshman Dallan Hayden had just two carries. With converted linebacker Chip Trayanum getting most of the carries, Stroud becomes that much more important if Ohio State isn't fully healthy at running back. He has been the leader of the offense this season, and while the loss to rival Michigan was a big setback, he can make up for it in the playoffs.
X factor: Wide receiver Marvin Harrison Jr. is one of the best receivers in the country. He has continuously made ridiculous catches throughout the season and makes plays most receivers can't. The Buckeyes are dealing with injuries to the ground game and have also been without receiver Jaxon Smith-Njigba, so Harrison is vital to the offense on this stage. If he can provide a reliable target for Stroud and get in the end zone, Ohio State should be able to hang with any of the other semifinalists.
How Ohio State wins: The defense needs to limit big plays. It has done a good job of limiting explosive plays all season but showed some weaknesses against the Wolverines, who were able to score multiple long touchdowns through the air and on the ground. The offense has proved that it can put points on the board, but now the defense has to meet the challenge of playing a top-notch offense and have its best game yet. — Tom VanHaaren
---
No. 2 Michigan vs. No. 3 TCU
CFP Semifinal at the Vrbo Fiesta Bowl
When: Saturday, Dec. 31 at 4 p.m. ET
Where: State Farm Stadium, Glendale, Arizona
How to watch: ESPN and ESPN App
Opening line via Caesars Sportsbook: Michigan by 9
Michigan
Key player: Running back Donovan Edwards had 216 rushing yards and two touchdowns in Michigan's win against Ohio State. With Blake Corum out, Edwards' performance will be key for the Wolverines. The run game is critical to the Michigan offense, and Edwards' ability to establish the run and open up the passing game will be a key for the Wolverines.
X factor: Michigan has been a second-half team all season, with a plus-186 point differential after halftime. That is the second-highest margin for any FBS team through 12 games over the past 10 years. The Wolverines have been able to wear out their opponents in every game and have not shown any signs that they will slow down after outscoring Ohio State 28-3 in the final regular-season game and Purdue 29-9 in the Big Ten championship game. Coach Jim Harbaugh has praised strength and conditioning coach Ben Herbert for those second-half surges, which have been a signature for Michigan all season.
How Michigan wins: If the Wolverines can establish their running game and control the clock as they have all season, plus mix in some big plays through the air from quarterback J.J. McCarthy, they should have a good shot. McCarthy has continuously called this a "smashfest" team, and the Wolverines relish beating their opponents up front. Michigan showed it can strike through the air if it has to against Ohio State, but its ideal scenario is having success on the ground first. — Tom VanHaaren
TCU
Key player: Max Duggan attempted another wild comeback Saturday against Kansas State, but the Frogs came up just short for the first time in six of those scratch-and-claw games this season. But Duggan has been unflappable, never more so than in a late comeback win on the road at Baylor, when he led two fourth-quarter scoring drives without TCU's best running back (Kendre Miller, who has 1,342 rushing yards this season, the most at TCU since LaDainian Tomlinson in 2000), top two receivers (Quentin Johnston and Derius Davis) and no timeouts. Duggan has thrown for 3,321 yards and 30 touchdowns to just four interceptions, and his 25 career rushing touchdowns are in the top 10 in school history. Duggan calmly piloted the Frogs to victory after falling behind by 17 to Oklahoma State and 18 to Kansas State in the regular season. That's why he's a leading contender for the Heisman Trophy.
X factor: Quentin Johnston. The 6-4, 215-pound junior receiver is a big-play threat with first-round draft potential but has been hobbled for much of the season. When TCU has turned to him, he has been huge, including a key third-down catch with the game on the line in the fourth quarter at Texas, and a 55-yard touchdown catch down late against Kansas State. The Horned Frogs were able to rest him against Iowa State to get him ready for the postseason. When he was healthy, Johnston showed his potential with a two-game stretch against Oklahoma State and on the road against Kansas, when he combined for 22 catches for 386 yards and two touchdowns. On Saturday against Kansas State, he caught four passes for 139 yards. A return to that type of threat would be a huge boost for TCU.
How TCU wins: The Frogs have employed a mix of thunder and lightning to keep opponents on the ropes, particularly in the second half. TCU had 17 plays of at least 50 yards this season, second only to Tennessee in the FBS. Duggan ranks third nationally in completion percentage on passes of 20 or more yards downfield at a 54.7% clip with 12 touchdowns on such plays, tops in the country. And Miller rushed for more than 1,000 yards between the tackles and is tough to bring down, ranking third in the Big 12 with 650 yards after contact. If the Frogs can remain patient and pound away with Miller, they'll be able to open up the field for their playmakers and a roster loaded with speed. — Dave Wilson
Georgia, Michigan, TCU, Ohio St. picked for CFP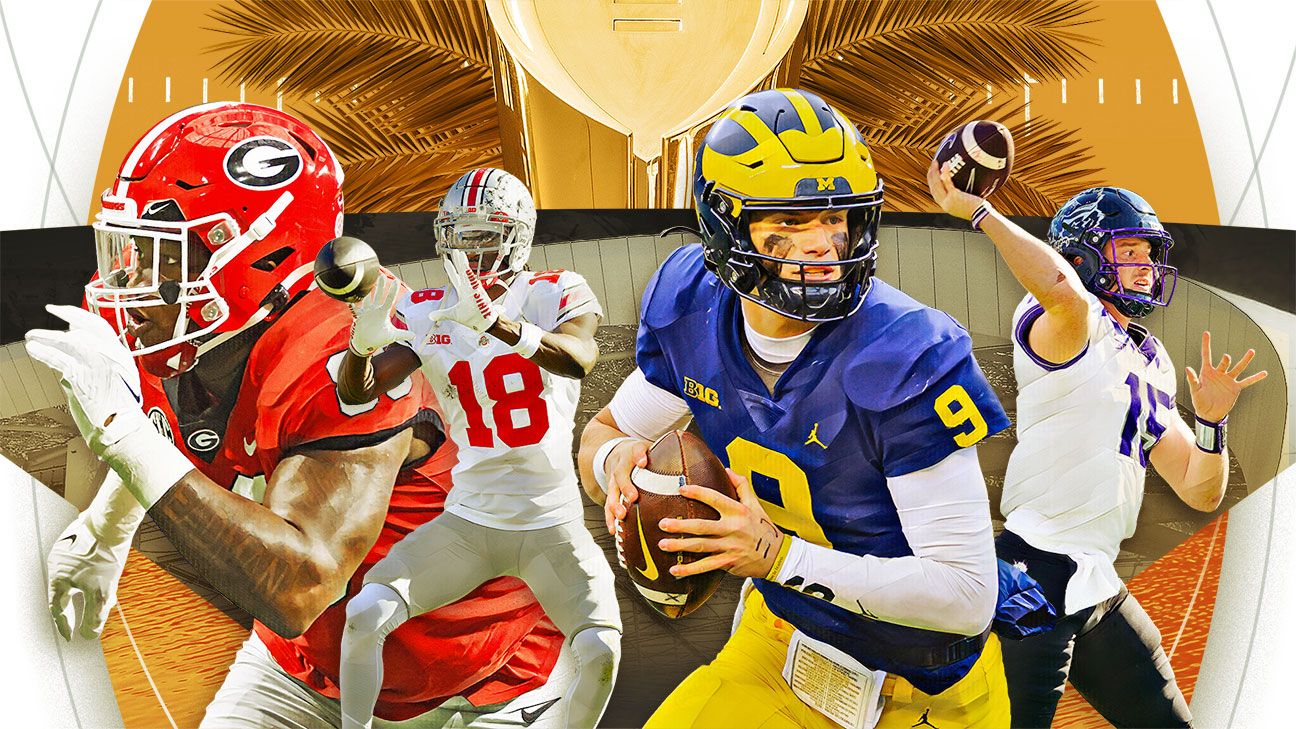 Georgia, Michigan, TCU and Ohio State will play for the national championship after being chosen for the College Football Playoff on Sunday.
After not playing in a conference championship game, the Buckeyes (11-1) moved up one spot following USC's loss in the Pac-12 title game Friday to give the Big Ten two playoff teams for the first time in the format's nine-year history.
No. 4 Ohio State will face No. 1 Georgia in the Chick-fil-A Peach Bowl, and No. 2 Michigan will face No. 3 TCU in the Vrbo Fiesta Bowl on Dec. 31.
The CFP National Championship presented by AT&T will be played Jan. 9 at SoFi Stadium in Inglewood, California.
Georgia opened as a 7-point favorite over Ohio State at Caesars Sportsbook, and Michigan is a 9-point favorite over TCU.
TCU (12-1) held on to its No. 3 ranking after losing in overtime in the Big 12 championship game to Kansas State. The Horned Frogs and Buckeyes are the fifth and sixth teams to make the College Football Playoff without winning a conference title.
Horned Frogs coach Sonny Dykes said he was concerned about his team's playoff status after the loss but added that he had faith in the selection committee.
"I think we're certainly deserving," Dykes said.
At a watch party for TCU players and staffers at its Fort Worth, Texas, campus, cheers broke out when the Frogs landed in the bracket during the announcement show.
Alabama (10-2) had hoped to make a jump into the top four following USC's and TCU's losses, with coach Nick Saban lobbying for his team Saturday.
"If we played any of those teams that are on the edge of getting in, would we be the underdogs or the favorite?" Saban said on Fox at halftime of the Big Ten championship.
The Crimson Tide were ranked fifth by the selection committee.
Committee chairman Boo Corrigan, the athletic director at NC State, said Ohio State's big wins over Penn State and Notre Dame helped push the Buckeyes in over Alabama.
"As we looked at the total body of work, the committee was comfortable with Ohio State at No. 4 and Alabama at 5," Corrigan said in an interview on ESPN.
Georgia (13-0) and Michigan (13-0) are in the playoff for the second straight year. They won their respective conference title games handily Saturday and will look to become the fourth team to win the CFP with an undefeated record.
The only time Georgia and Ohio State have previously played was in the 1992 Citrus Bowl, a 21-14 Bulldogs victory. TCU, whose only national title came in 1938, has never played Michigan.
Corrigan said the committee did not make any special effort to avoid having a rematch of Ohio State and Michigan in a semifinal. The Buckeyes and Wolverines have never played outside of their annual regular-season game in a rivalry that dates back to 1902.
The Associated Press contributed to this report.