On the 10th anniversary of Nebraska's entrance into the Big Ten, interim athletic director Garrett Klassy officially began his term overseeing the Huskers' program.
The irony isn't lost on those who have lived through a jagged first decade in the conference.
Athletic director Bill Moos' abrupt retirement last month isn't the most surprising nor the most damaging thing Nebraska has absorbed since its celebrated Big Ten arrival on July 1, 2011. But Moos' exit epitomizes the turbulence for a football program on its third coach, Scott Frost, and that is welcoming its fourth athletic director, Trev Alberts, since 2012. Alberts, a former All-America linebacker at Nebraska, officially begins his term Monday. But leadership instability has hurt Nebraska in a league, and especially a division, defined by long coaching and administrative tenures.
Other factors have contributed to the Huskers' subpar results. The recruiting adjustment has been rocky at times. The Big Ten also is stronger than when Nebraska arrived, both financially and on the field.
Still, few expected Nebraska to complete its first Big Ten decade at 68-55, 43-41 in conference play. Since 2011, Nebraska ranks 54th nationally in win percentage (.553) and eighth among Big Ten teams. The Huskers have yet to win a league title (their last was in 1999). Their lone division championship came back in 2012, which preceded a 70-31 loss in the Big Ten championship game against Wisconsin, a team only in the game because both Ohio State and Penn State were ineligible.
The extended stretch of mediocrity is jarring for a Nebraska program that won five national titles between 1970 and 1997. From 1963 to 2001, the Huskers captured 22 conference championships (outright or shared) and logged 28 AP top-10 finishes and 22 seasons with 10 or more wins. During the span, Nebraska had only 11 seasons with three or more losses, none with more than four and none with more than three between 1969 and 2001.
The Huskers now have lost five or more games in five of the past six seasons.
"Nebraska is struggling to find its foothold from a leadership standpoint, a style standpoint, a recruiting standpoint," said Damon Benning, a former Huskers I-back who played on national title teams in 1994 and 1995, and now hosts a daily sports talk radio show in Omaha. "Meanwhile, the conference just keeps getting better and better.
"A double whammy."
The question is how much of Nebraska's struggles can be attributed to joining the Big Ten, and how much can be tied to internal reasons. To find out, ESPN spoke to people in and around Nebraska's program since the Big Ten arrival. Some were granted anonymity to speak freely about what they observed. Attempts to interview Frost and Moos were unsuccessful.
Those who spoke describe a program still searching for its identity in an improving conference. Nebraska is rightfully proud of its championship tradition but also somewhat hamstrung by the past, especially as the program navigates recruiting realities and other areas where it no longer holds clear advantages.
The Big Ten has provided the stability Nebraska needed, and the affiliation is still celebrated in academic circles. But others cling to Big Eight nostalgia and haven't embraced Nebraska's position in its newest league.
"You've got to have a plan, and the plan can't be: 'We're going to win a national championship, we're going to get back to national contention," a source said. "The plan has to be: 'Now that we are in the Big Ten, what are the challenges?' I'm not saying temper expectations, but you have to get to: What are we all about, and how are we going to get there?"
---
Nebraska's arrival in the Big Ten was greeted with excitement and exhales.
The Huskers needed a permanent home. The Big 12 had nearly been pillaged by the Pac-12, and teams such as Missouri and Colorado were looking to leave. Plus, the league had become increasingly Texas-centric.
"There was concern at the time as to whether the Big 12 would survive," said Harvey Perlman, Nebraska's chancellor from 2001 to 2016. "I wouldn't call it desperation, but there was certainly some uneasiness about where Nebraska was going to find itself athletically. Finding a stable home in the Big Ten was certainly a relief."
Nebraska's academic community celebrated the move. The Big Ten's Committee on Institutional Cooperation, an academic consortium between top research institutions, provided "a boost to our reputation," Perlman said.
"On the academic side, it's been great; there's a lot of research and collaboration," said Jo Potuto, a constitutional law professor at Nebraska and the faculty athletics representative since 1997. "On the athletic side, for everybody it has been a surprise Nebraska has not been more competitive, certainly not in football."
The football struggles haven't translated to other programs. Nebraska's powerhouse volleyball team won national titles in 2015 and 2017, and owns three Big Ten titles. The baseball team has made five NCAA tournament appearances since 2014 and this spring won its second conference title.
Before the Big Ten move, Potuto attended a meeting athletic director Tom Osborne held with the school's head coaches. Osborne, the Hall of Fame Huskers coach from 1973 to 1997, wanted the coaches' input. Some mentioned recruiting and how it would change in a Midwest-based league. Ideally, they would have liked longer to prepare for the move. But none stated direct opposition, Potuto said.
Nebraska football entered the Big Ten following consecutive appearances in the Big 12 championship, losing second-half leads both times. The Huskers were 29-12 (17-7 Big 12) with two AP top-20 finishes under coach Bo Pelini. They didn't dominate recruiting but had signed ESPN's No. 17 class in 2011, and they did well in key talent areas such as Texas and California.
"We were pretty well into the Top 25 and went to a bowl game every year," Osborne said. "We weren't where we were in the '90s, but we were in pretty good shape at that time."
As a new Big Ten member, Nebraska received a smaller revenue share — $10 million-$11 million less than others for the first three years. This angered some key people around the university, sources said. But money never has been a major impediment at Nebraska. The football team, meanwhile, went 9-4 in its Big Ten debut season, finishing third in the Legends division and No. 24 in the AP poll.
Nebraska won the division the next year, and continued to compete. The Huskers had good to decent records against Penn State (3-0), Iowa (3-1), Michigan (2-1), Michigan State (2-2) and Ohio State (1-1) during their first four years in the Big Ten. They struggled with Wisconsin, going 1-3, including the drubbing in Indianapolis, but went 37-16 overall (22-10 Big Ten) with three top-25 finishes.
Was Nebraska a national contender? No. The team got blown out too often, and Pelini's fiery nature got him in trouble, ultimately leading to his firing after the 2014 regular season. But these days, the Huskers likely would take those records in a heartbeat.
Why has Nebraska backslid so much since 2014, despite being in a division without any teams that match its championship tradition? The answer starts with recruiting.
---
Nebraska entered the Big Ten with some recruiting momentum, but Pelini had built his team for the Big 12, largely with players from the Big 12 footprint. The Huskers' designed their two-gap defense to stop the spread offenses of the Big 12, not the bigger, power-based units of the Big Ten. Nebraska no longer was a national recruiting heavyweight, but the program still knew where to go to find the players it needed.
The Big Ten move has thrown Nebraska's recruiting "out of whack," a former assistant said. Nebraska has tried to pivot toward recruiting the Midwest and East Coast, but hasn't achieved significant traction.
"There's a little bit of a void in terms of a recruiting home," he added. "Where are you located?"
When Mike Riley arrived at Nebraska from Oregon State to replace Pelini, he spent time studying "how to recruit for Nebraska in the world of the new conference." Riley and his staff focused on a 500-mile radius from Lincoln, which included Big Ten hub markets such as Chicago and Minneapolis, but also Kansas City and Denver.
They also prioritized Texas, which Riley had recruited for years while at Oregon State.
"That part of it wasn't the same because you didn't have those yearly games down in Texas, where you could sell that to the parents," Riley said. "The players are so great and there had been a history. But it's hard to keep that history going when you don't have that old connection."
Coaches say Nebraska's location, its conference and an accelerated recruiting cycle all have magnified obstacles. Nebraska isn't the easiest campus to access, and most recruits make their college choices before taking official visits.
"They play in the Big Ten at [11 a.m. Central time]. If [a recruit] played on Friday night, how does he get there for kickoff?" a former assistant said. "You're not flying into Lincoln directly. When you're in the Big 12, you can recruit Texas and Oklahoma and get kids to come."
The coach added that recruits based in areas with other Power 5 schools must elect to "fly over everybody" to reach Nebraska. There are recruiting challenges within the Big Ten, too, being located in the least populated of the league's 11 states.
"You're not going to out-recruit Ohio State, Penn State, Michigan," another former assistant said. "You're not going to out-recruit Michigan State. Minnesota has access to more kids faster because they have a national hub airport. Wisconsin is closer to more population bases."
Riley, who went 9-4 in 2016, thought his recruiting strategy would pay off with Nebraska's 2018 class, which initially included commitments from four-star prospects such as wide receiver Joshua Moore and cornerbacks Brendan Radley-Hiles, Mario Goodrich and Chase Williams. All four would decommit — they signed with Texas, Oklahoma, Clemson and USC, respectively — as Nebraska in 2017 endured its worst season (4-8) since 1961, leading to the ousting of athletic director Shawn Eichorst and then Riley.
New hope arrived with Frost, a native Nebraskan and a quarterback for Osborne's final national championship team in 1997. Frost engineered a historic turnaround at UCF, which went 13-0 with a Peach Bowl victory in 2017, two years after going winless. He also had cut his teeth as an Oregon assistant under Chip Kelly. After spurning Florida to come home to Nebraska, Frost was widely seen as a potential program savior.
Many believed Frost could bridge what worked in the past with what Nebraska needs now, even though he hadn't recruited the Big Ten region.
Frost has generated some recruiting wins. Nebraska signed ESPN top-25 classes in 2019 and 2020. But the Huskers have logged four consecutive losing seasons and three under Frost (12-20 overall), which seemed to impact the most recent class (39th nationally).
"What draws a kid there?" a former assistant said. "When's the last time they won a conference championship? No kid in high school has any idea that they ever won."
---
Before his time on local Nebraska sports radio, Benning played for Nebraska during the end of the Osborne glory era. He also has closely observed the program's path ever since.
His conclusion: What Nebraska became from the early 1960s through the 1990s, capitalizing on two Hall of Fame coaches — Osborne and Bob Devaney — and some structural advantages to become a national force, was not sustainable.
"More of a geographic anomaly than built for the long haul as a blue blood," Benning said. "Nebraska's got a great fan base, they print money, they've got great facilities. They've got to evolve with the times. It's been really hard for me to reconcile that in my head — what they once were versus what they're capable of being. There's a real fine line between understanding history and embracing it but not being held captive.
"Nebraska's still held captive by the success they've had. They need to be comfortable in their own skin. They have to have peace with it."
Nebraska undoubtedly can perform much better in the Big Ten. But part of the path toward future success is acknowledging realistic goals and adjusting to achieve them.
"At a place like Nebraska, you're not going to beat Ohio State every year," one source said. "You don't have the same recruiting base. Iowa's more of a model at Nebraska than Ohio State is, with where you're located and where you're recruiting. You've got to be realistic. At some point, you've got to not be delusional."
The philosophical shift remains difficult for some, especially after decades of competing nationally.
"A state of 1.8 million people, where they're located, and you look at just the West [Division]. Where do you fit with Minnesota, Wisconsin, Iowa, Illinois, Northwestern or Purdue?" one person said. "They didn't want to judge themselves against that group. They wanted to judge themselves against Michigan, Ohio State, Penn State. The sky's falling when you lose to Purdue.
"They have to get self-awareness as to who they are, where they fit."
Osborne thinks Nebraska still can be distinctive, despite its new reality.
"We don't have to be a copycat program," he said. "If you continue to do what everybody else is doing, what the leaders in the league like Ohio State are doing, and you don't have the same talent level, then it's not going to work out well."
The process unquestionably requires more continuity. Between 1962 and 1997, Nebraska had two football coaches and did not have a losing season, winning nine or more games in all but two seasons (1967 and 1968). Since 2002, Nebraska has had five (plus two interim). Pelini and Frank Solich were fired with a combined record of 125-46.
Between 1962 and 2002, the school had three athletic directors. Since 2003, Nebraska has had five (plus three interim).
"That's not a reputation for stability," Potuto said. "I'm pretty sure if I was a coach, it wouldn't be a situation that gives me confidence in what I was doing. I don't know that moving to the Big Ten Conference triggered any of that. I still think the conference was absolutely the right move."
Nebraska's frequent leadership changes stand out in a division where continuity is king. Iowa's Kirk Ferentz is the longest-tenured coach in the FBS (1999), while Northwestern's Pat Fitzgerald ranks seventh (2006). Iowa has had the same athletic director (Gary Barta) since 2006. Wisconsin just made its first athletic director hire since 2004, and Northwestern made its first since 2008.
"The West has the poster programs for stability," said Big Ten Network analyst Gerry DiNardo, the former coach at Indiana, LSU and Vanderbilt. "Iowa, Wisconsin and Northwestern: What other three teams in any division of college football have that kind of stability? The SEC certainly doesn't. I don't think the Pac-12 does."
DiNardo added of Nebraska: "Their identity right now is lack of stability."
Nebraska's fluctuation has coincided with improvement around the West Division. Big Ten television revenue has helped every school make facilities upgrades and invest in coaches and staff.
Since 2011, Wisconsin has logged six 10-win seasons and five AP top-13 finishes, while Iowa has posted four AP top-25 finishes in the past six years. Northwestern is enjoying its best post-World War II stretch (three 10-win seasons, two division titles, five AP top-25 finishes). Minnesota recently has posted two of its three highest wins totals — 11 in 2019, nine in 2016 — since 1905.
"That Western part, early on, before we got there, wasn't really that strong of a division," Riley said. "Now you look at that division, all those guys are great coaches. Every program has improved. The football gained a top-to-bottom competitiveness.
"It's not easy to step in [at Nebraska] and say, 'Let's win like we did in the old Big Eight.' It's quite a chore."
---
Nebraska's Big Ten move affected recruiting and other areas of the program, but how much of the team's performance is because it changed conferences?
"It's been a bad thing," a former assistant said.
Others don't think the Big Ten factored nearly as much in the program's downturn.
"Our football program was transitioning before we went to the Big Ten," Perlman said. "We came off of an extraordinary period of time with an extraordinary head coach, and an environment that was amenable to Nebraska building a great program. We underestimate what a great coach Tom Osborne was. Also, the world has changed. Nebraska's a small state. We've only got 1.8 million people, and with the change in eligibility, the change in number of scholarships, the other things that have impacted our program, I think it's taken time to adjust.
"That would have happened regardless of what conference we were in."
Another person described the Big Ten as "the least of their problems," stressing a need for self-assessment and tackling present-day hurdles, rather than living in the past.
"Their struggles in the Big Ten are exacerbated by the strength of the Big Ten," a former Big Ten athletic director said. "I think Nebraska could have continued to do a little bit better in the Big 12, but I don't know if they would have done appreciably better."
As Nebraska begins its second decade in the Big Ten, those familiar with the first say a refined plan is needed. Before Alberts' hiring, Benning said the athletic director vacancy represents the school's most important hire in 15 years, noting that Nebraska "needs to find stability in the message." Benning and others say Nebraska must stop throwing money at its problems and instead outline a clear philosophy and commit to it.
"It has to be earned," Alberts said at his introduction last week. "We'll go to work. We've got great people. We can do this. But it isn't going to be overnight, and it isn't going to be easy, but we're really going to focus on the fundamentals and mechanics of how we operate. Attention to detail. Work habits."
Part of the shift could involve fully embracing Big Ten culture. Nebraska historically hasn't been a program to bite its tongue, whether about Texas' increasing influence in the Big 12 or the Big Ten's initial decision to cancel the fall football season in 2020. Although Ohio State and other programs also voiced displeasure with the Big Ten last summer, Nebraska's approach drew the most attention (and criticism). Frost floated playing as an independent before the Big Ten officially canceled, and Nebraska's leadership then issued a joint statement expressing disappointment with the league's decision. Eight parents of Nebraska players sued the Big Ten over the decision to cancel. When the Big Ten revived the fall season, Moos expressed frustration about a schedule front-loaded with Ohio State, Penn State and Wisconsin.
Longtime Omaha World-Herald columnist Tom Shatel calls this Nebraska's "independent spirit," borne from years in the Big Eight and Big 12. But the Big Ten historically has settled disputes internally and projected unity. A Big Ten coach said of Nebraska, "It's almost like them against the world, everybody's out to screw 'em."
Frost, speaking last month during Nebraska's Big Red Caravan event, said that while his views haven't changed, he might not have been so bold in expressing them, saying, "It put the crosshairs on us."
"You can tell the relationship is strained," Benning said. "I don't feel like Nebraska has a really firm seat at the table. It's twofold: Nebraska has to do a better job of keeping in-house business in-house. When they have these conversations with the conference, they have to find the happy medium between personalizing what's best for a university and not alienating the conference. It's been quite the juggling act."
Nebraska has plenty of work ahead, but a Big Ten breakthrough remains possible. DiNardo, who faced Nebraska in the Big Eight as a Colorado assistant, knows the program's potential when properly aligned.
"It's a big jump to go from Big Eight to Big 12 to Big Ten," he said. "None of those historic, successful programs have gone through what Nebraska's gone through. But at the end of the day, the right coach and right administration puts them in position to win the Big Ten, which gives them a chance to win nationally."
Osborne, who helped recruit Frost back to Nebraska, attended several spring practices and likes what he sees: an experienced quarterback (Adrian Martinez), capable wide receivers and an ascending defense. He thinks areas that defined Nebraska's dynasty, such as the walk-on program, will start paying off more.
"There's always an ebb and a flow with programs, and we've gone through a difficult stretch, but the basics are pretty good," he said. "We hope we can be long-term Big Ten, and we can be competitive. I don't have a crystal ball. I can't predict what's going to happen five, 10 years from now, but I have a little bit of an idea of what's going to happen this fall, and I think we'll be improved."
How Jacob deGrom decided to ditch New York and become a Texas Ranger
Chris Young, the head of baseball operations for the Texas Rangers, called Bruce Bochy on Thursday with news that stunned the new manager. "Jacob wants to come with us," Young said.
Bochy's response: "Are you kidding me?"
Bochy knew the Rangers were going to be aggressive in their negotiations with Jacob deGrom, and he had been impressed by the pitcher in a Zoom meeting with deGrom and his wife, Stacey Harris, in the days before Thanksgiving. But Bochy had assumed that the process would play out for days and perhaps weeks to come as deGrom considered the possibility of leaving the New York Mets, the organization that had drafted him in 2010.
Instead, deGrom made his decision quickly, agreeing to terms on a five-year, $185 million million contract without even giving the Mets an opportunity to present a final offer, based on interviews with a dozen sources involved in deGrom's free agency. According to sources, Mets general manager Billy Eppler learned about deGrom's deal with the Rangers on Friday evening, just minutes before the news broke — and more than a day after deGrom had closed his deal with Texas.
For some in the Mets' organization, that last bit of silent treatment from deGrom was confirmation of what they had suspected even during the season: that deGrom, the Cy Young Award-winning pitcher who warmed up to Lynyrd Skynyrd's "Simple Man" before his starts, probably preferred to pitch somewhere other than New York City.
CFP preview: First look at Georgia-Ohio State, Michigan-TCU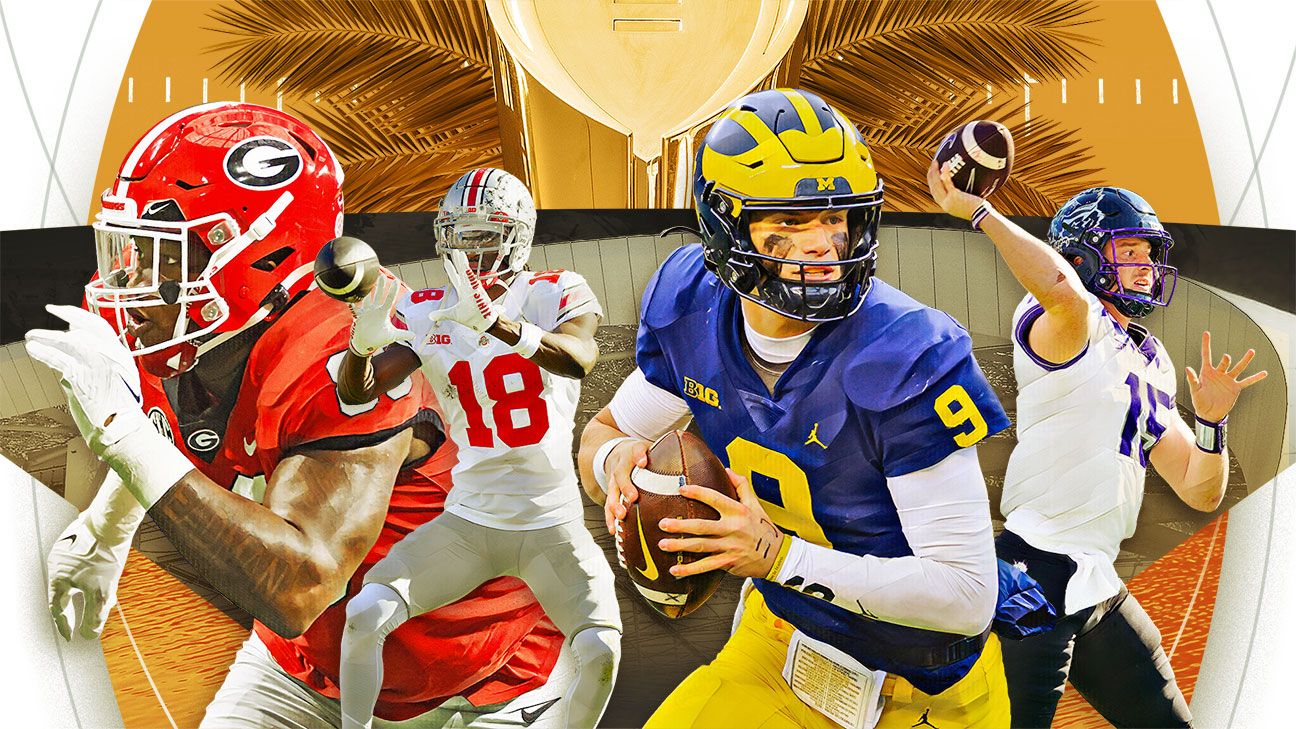 Nick Saban tried. Alabama's coach found whatever megaphone was available to him Saturday night to publicly plead the Crimson Tide's case to make the College Football Playoff.
He suggested looking at the top four through the lens of, "How are they playing at the present?" He asked, "If we played these teams in question, would we be underdogs in the game or not?"
But the committee didn't budge. Betting lines aren't part of their criteria, after all. They meet in Grapevine, Texas, not Las Vegas.
There would be no leapfrogging Ohio State or TCU. In the end, the math was simple: The top three of Georgia, Michigan and TCU remained the same, out went USC by virtue of a second loss in the Pac-12 championship game, and in slipped the Buckeyes, who moved up one spot to No. 4. Which means, for just the second time since the CFP began in 2014, Alabama will not be part of the semifinal round.
So we have new blood: The Horned Frogs become the first team from the Big 12 not named Oklahoma to reach the playoff.
And we have an old rivalry: The Buckeyes and Wolverines will play their respective semifinal games for a chance to meet for the national championship.
And we have a chance for some more history: Georgia is seeking to become the first repeat champion of the CFP era.
Here's a first look at the semifinal games.

No. 1 Georgia vs. No. 4 Ohio State
CFP Semifinal at the Chick-fil-A Peach Bowl
When: Saturday, Dec. 31 at 8 p.m. ET
Where: Mercedes-Benz Stadium, Atlanta
How to watch: ESPN and ESPN App
Opening line via Caesars Sportsbook: Georgia by 7
Georgia
Key player: Georgia's defense shouldn't be this good again. Repeating last season's success would have been hard enough, even if it had not lost five first-round draft picks to the NFL. But maybe the most talented player on that defense from a year ago — Jalen Carter — did come back. And after dealing with nagging injuries the first half of the season, he has showed what a game-wrecker he can be of late. In his past six games, he had 24 tackles, 6.5 tackles for loss, three sacks and two forced fumbles. Big and strong enough to plug the running lanes, and quick and agile enough to rush the passer, Carter must be accounted for.
X factor: Georgia's offense is effective, of course. It has a three-headed monster at running back with Kenny McIntosh, Kendall Milton and Daijun Edwards. And quarterback Stetson Bennett is a threat whether he's throwing from the pocket or scrambling for yards. What's more, he has mismatches at tight end in Brock Bowers and Darnell Washington to lean on. But who's the go-to receiver? Who's the deep threat? Ladd McConkey is solid with 51 receptions and five touchdowns, but those aren't exactly eye-popping numbers, and he's undersized at 6-foot. Fellow receivers Marcus Rosemy-Jacksaint and Dillon Bell have only two touchdowns apiece.
How Georgia wins: The formula isn't terribly complicated. Kirby Smart built the Bulldogs to win the line of scrimmage on both sides of the ball. So start from the inside out. Carter and the defensive line suffocate the running game (2.97 yards per rush during the regular season, sixth lowest in the FBS) and get in the face of the quarterback (31% pressure rate). Meanwhile, the offensive line powers a strong running game (5.5 yards per rush, eighth best among Power 5 teams) and protects the quarterback (seven sacks, tied for second fewest in the FBS). Throw in a savvy veteran quarterback (Bennett) and an All-America tight end (Bowers), and all the ingredients to reach the national championship game are there. — Alex Scarborough
Ohio State
Key player: Quarterback C.J. Stroud had a Heisman-type season going until the Michigan game, with 3,330 passing yards, 37 touchdowns and six interceptions on the year. Stroud threw for 349 yards and two touchdowns against the Wolverines but also had two interceptions. The Buckeyes were dealing with injuries to running back TreVeyon Henderson and Miyan Williams, while freshman Dallan Hayden had just two carries. With converted linebacker Chip Trayanum getting most of the carries, Stroud becomes that much more important if Ohio State isn't fully healthy at running back. He has been the leader of the offense this season, and while the loss to rival Michigan was a big setback, he can make up for it in the playoffs.
X factor: Wide receiver Marvin Harrison Jr. is one of the best receivers in the country. He has continuously made ridiculous catches throughout the season and makes plays most receivers can't. The Buckeyes are dealing with injuries to the ground game and have also been without receiver Jaxon Smith-Njigba, so Harrison is vital to the offense on this stage. If he can provide a reliable target for Stroud and get in the end zone, Ohio State should be able to hang with any of the other semifinalists.
How Ohio State wins: The defense needs to limit big plays. It has done a good job of limiting explosive plays all season but showed some weaknesses against the Wolverines, who were able to score multiple long touchdowns through the air and on the ground. The offense has proved that it can put points on the board, but now the defense has to meet the challenge of playing a top-notch offense and have its best game yet. — Tom VanHaaren
---
No. 2 Michigan vs. No. 3 TCU
CFP Semifinal at the Vrbo Fiesta Bowl
When: Saturday, Dec. 31 at 4 p.m. ET
Where: State Farm Stadium, Glendale, Arizona
How to watch: ESPN and ESPN App
Opening line via Caesars Sportsbook: Michigan by 9
Michigan
Key player: Running back Donovan Edwards had 216 rushing yards and two touchdowns in Michigan's win against Ohio State. With Blake Corum out, Edwards' performance will be key for the Wolverines. The run game is critical to the Michigan offense, and Edwards' ability to establish the run and open up the passing game will be a key for the Wolverines.
X factor: Michigan has been a second-half team all season, with a plus-186 point differential after halftime. That is the second-highest margin for any FBS team through 12 games over the past 10 years. The Wolverines have been able to wear out their opponents in every game and have not shown any signs that they will slow down after outscoring Ohio State 28-3 in the final regular-season game and Purdue 29-9 in the Big Ten championship game. Coach Jim Harbaugh has praised strength and conditioning coach Ben Herbert for those second-half surges, which have been a signature for Michigan all season.
How Michigan wins: If the Wolverines can establish their running game and control the clock as they have all season, plus mix in some big plays through the air from quarterback J.J. McCarthy, they should have a good shot. McCarthy has continuously called this a "smashfest" team, and the Wolverines relish beating their opponents up front. Michigan showed it can strike through the air if it has to against Ohio State, but its ideal scenario is having success on the ground first. — Tom VanHaaren
TCU
Key player: Max Duggan attempted another wild comeback Saturday against Kansas State, but the Frogs came up just short for the first time in six of those scratch-and-claw games this season. But Duggan has been unflappable, never more so than in a late comeback win on the road at Baylor, when he led two fourth-quarter scoring drives without TCU's best running back (Kendre Miller, who has 1,342 rushing yards this season, the most at TCU since LaDainian Tomlinson in 2000), top two receivers (Quentin Johnston and Derius Davis) and no timeouts. Duggan has thrown for 3,321 yards and 30 touchdowns to just four interceptions, and his 25 career rushing touchdowns are in the top 10 in school history. Duggan calmly piloted the Frogs to victory after falling behind by 17 to Oklahoma State and 18 to Kansas State in the regular season. That's why he's a leading contender for the Heisman Trophy.
X factor: Quentin Johnston. The 6-4, 215-pound junior receiver is a big-play threat with first-round draft potential but has been hobbled for much of the season. When TCU has turned to him, he has been huge, including a key third-down catch with the game on the line in the fourth quarter at Texas, and a 55-yard touchdown catch down late against Kansas State. The Horned Frogs were able to rest him against Iowa State to get him ready for the postseason. When he was healthy, Johnston showed his potential with a two-game stretch against Oklahoma State and on the road against Kansas, when he combined for 22 catches for 386 yards and two touchdowns. On Saturday against Kansas State, he caught four passes for 139 yards. A return to that type of threat would be a huge boost for TCU.
How TCU wins: The Frogs have employed a mix of thunder and lightning to keep opponents on the ropes, particularly in the second half. TCU had 17 plays of at least 50 yards this season, second only to Tennessee in the FBS. Duggan ranks third nationally in completion percentage on passes of 20 or more yards downfield at a 54.7% clip with 12 touchdowns on such plays, tops in the country. And Miller rushed for more than 1,000 yards between the tackles and is tough to bring down, ranking third in the Big 12 with 650 yards after contact. If the Frogs can remain patient and pound away with Miller, they'll be able to open up the field for their playmakers and a roster loaded with speed. — Dave Wilson
Georgia, Michigan, TCU, Ohio St. picked for CFP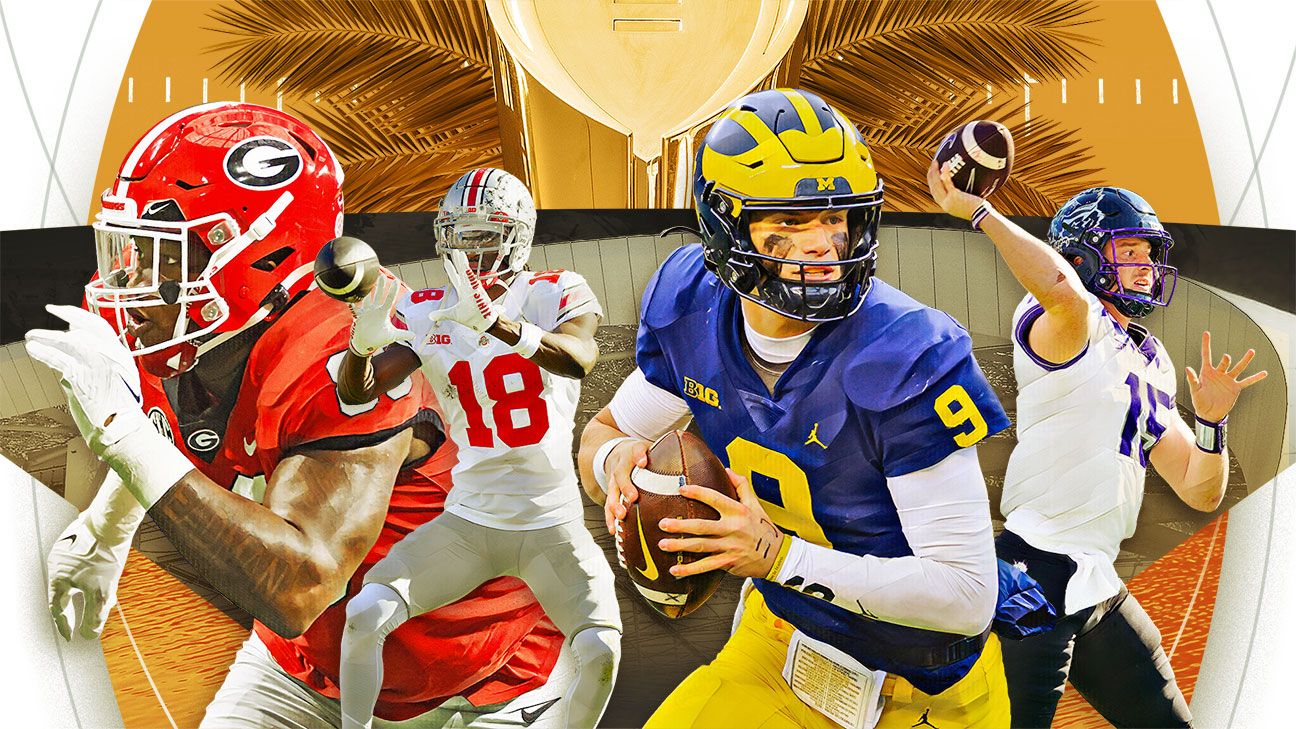 Georgia, Michigan, TCU and Ohio State will play for the national championship after being chosen for the College Football Playoff on Sunday.
After not playing in a conference championship game, the Buckeyes (11-1) moved up one spot following USC's loss in the Pac-12 title game Friday to give the Big Ten two playoff teams for the first time in the format's nine-year history.
No. 4 Ohio State will face No. 1 Georgia in the Chick-fil-A Peach Bowl, and No. 2 Michigan will face No. 3 TCU in the Vrbo Fiesta Bowl on Dec. 31.
The CFP National Championship presented by AT&T will be played Jan. 9 at SoFi Stadium in Inglewood, California.
Georgia opened as a 7-point favorite over Ohio State at Caesars Sportsbook, and Michigan is a 9-point favorite over TCU.
TCU (12-1) held on to its No. 3 ranking after losing in overtime in the Big 12 championship game to Kansas State. The Horned Frogs and Buckeyes are the fifth and sixth teams to make the College Football Playoff without winning a conference title.
Horned Frogs coach Sonny Dykes said he was concerned about his team's playoff status after the loss but added that he had faith in the selection committee.
"I think we're certainly deserving," Dykes said.
At a watch party for TCU players and staffers at its Fort Worth, Texas, campus, cheers broke out when the Frogs landed in the bracket during the announcement show.
Alabama (10-2) had hoped to make a jump into the top four following USC's and TCU's losses, with coach Nick Saban lobbying for his team Saturday.
"If we played any of those teams that are on the edge of getting in, would we be the underdogs or the favorite?" Saban said on Fox at halftime of the Big Ten championship.
The Crimson Tide were ranked fifth by the selection committee.
Committee chairman Boo Corrigan, the athletic director at NC State, said Ohio State's big wins over Penn State and Notre Dame helped push the Buckeyes in over Alabama.
"As we looked at the total body of work, the committee was comfortable with Ohio State at No. 4 and Alabama at 5," Corrigan said in an interview on ESPN.
Georgia (13-0) and Michigan (13-0) are in the playoff for the second straight year. They won their respective conference title games handily Saturday and will look to become the fourth team to win the CFP with an undefeated record.
The only time Georgia and Ohio State have previously played was in the 1992 Citrus Bowl, a 21-14 Bulldogs victory. TCU, whose only national title came in 1938, has never played Michigan.
Corrigan said the committee did not make any special effort to avoid having a rematch of Ohio State and Michigan in a semifinal. The Buckeyes and Wolverines have never played outside of their annual regular-season game in a rivalry that dates back to 1902.
The Associated Press contributed to this report.