Emergency workers won't need to be jabbed to have self-isolation exemption as testing expanded
Boris Johnson is facing growing pressure to allow fully vaccinated people who have been identified as close contacts of coronavirus cases to be exempt from isolation.
London Mayor Sadiq Khan has joined business leaders in calling for more workers to be allowed to skip quarantine if they are alerted by the NHS COVID-19 app to prevent a staffing crisis during the so-called "pingdemic".
In a letter to the prime minister, the mayor and industry bodies including UKHospitality, the London Chamber of Commerce and Industry and London's branch of the Federation of Small Businesses, said there is "an urgent need to outline a more considered approach" on the rules regarding self-isolation.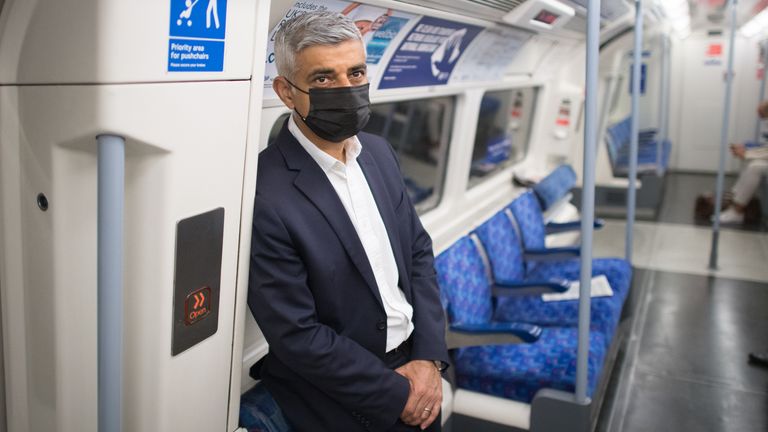 They warned that the app is exacerbating staff shortages for pubs, bars and restaurants.
The government has announced that a phased approach to testing will soon see some "critical workers" being exempt from quarantine as long as they use daily lateral flow tests and the results are negative.
But the mayor and business leaders said daily PCR tests should be used instead.
"The summer months are crucial for many businesses' recovery and their ability to recover must not be put in jeopardy," they noted.
"We are therefore calling on you to ensure that the necessary testing is in place to enable people who have been double vaccinated for longer than two weeks and pinged by the NHS COVID app, to immediately return to work, following a negative PCR test, rather than having to self-isolate."
The PM is also facing calls from senior members of his own backbenches for a change to the system.
Conservative MP and chairman of the health and social care select committee Jeremy Hunt warned the government that it faces "losing social consent" for the self-isolation scheme if nothing is done.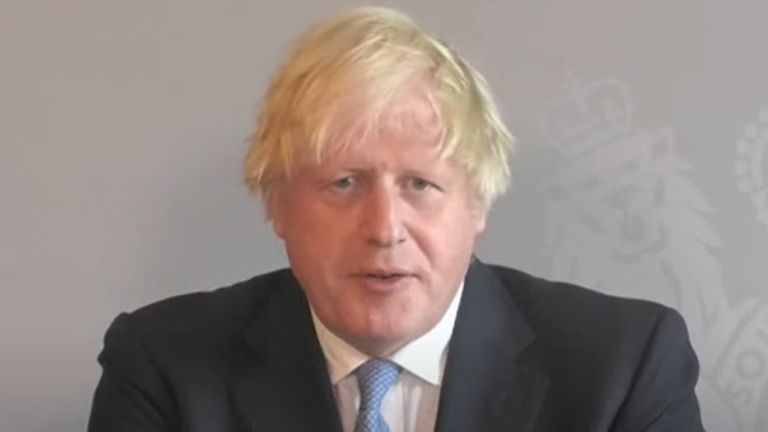 And fellow Conservative Greg Clark, a former business secretary who now chairs the Commons science and technology committee, suggested that an exemption from self-isolation for all those fully-vaccinated should be brought in immediately.
It comes as pub and restaurant bosses warned of a "summer of venue closures" unless hospitality workers are exempt from quarantine rules as cases continue to increase.
More than 600,000 people were alerted by the app in the week to 14 July.
And the latest information from the Office for National Statistics showed around one in 75 people in England currently have the virus.
Business Secretary Kwasi Kwarteng admitted the government is "very concerned" about the numbers of people being pinged by the NHS app.
From 16 August, all of those double vaccinated will be exempt from self-isolation if identified as a close contact, the government has said.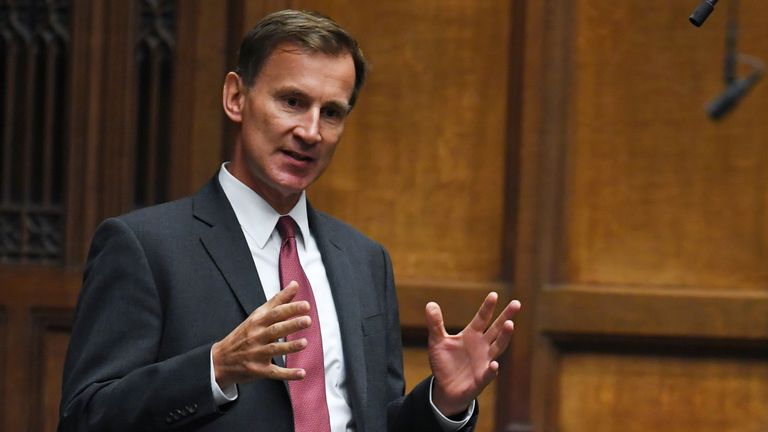 Environment Secretary George Eustice told Sky News this date "at the moment is not coming forward".
The PM himself is currently isolating at Chequers, having been identified as a close contact of newly-appointed Health Secretary Sajid Javid who tested positive for coronavirus.
Chancellor Rishi Sunak was identified as another of Mr Javid's contacts – and Labour leader Sir Keir Starmer was also forced into isolation on Wednesday after one of his children tested positive for the virus.
On Thursday evening, the government published a list of 16 sectors where double-jabbed workers will be eligible to avoid isolation if they undergo daily lateral flow testing and their results are negative.
These included energy, civil nuclear, digital infrastructure, food production and supply, waste, water, veterinary medicines, essential chemicals, essential transport, medicines, medical devices, clinical consumable supplies, emergency services, border control, essential defence outputs, and local government.
Around 10,000 workers in the food sector are also expected to be included in the scheme.
And on Friday, the Department for Environment, Food and Rural Affairs expanded on this further, outlining the positions the exemptions would apply to "subject to all other mitigation options being exhausted".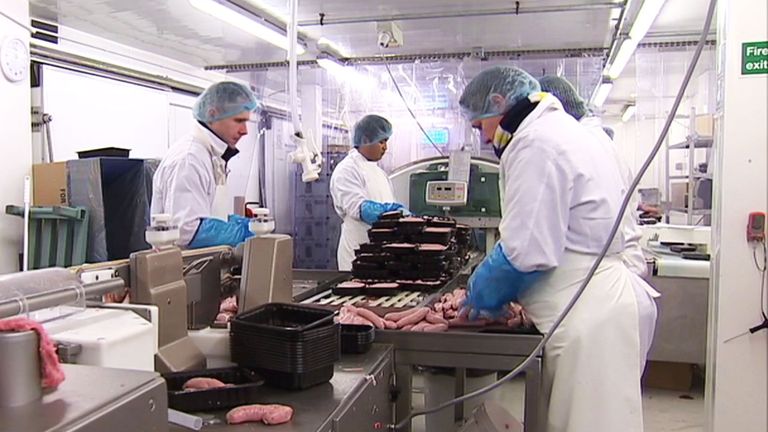 The roles include manufacturing maintenance engineers, specialist reach truck drivers, official vets, environmental health officers, landfill operators, water engineers, laboratory staff essential to the batch release of medicines, and environment agency staff operating critical flood defence assets.
Those who work in the roles above will be able to leave their COVID-19 isolation to travel to work and do their jobs after a negative daily test but must remain at home otherwise and go straight into quarantine if they receive a positive result.
It will only apply to workers who are fully vaccinated – and 14 days after their second coronavirus jab.
Matt Hancock: The key questions facing ex-health secretary when he gives evidence to COVID inquiry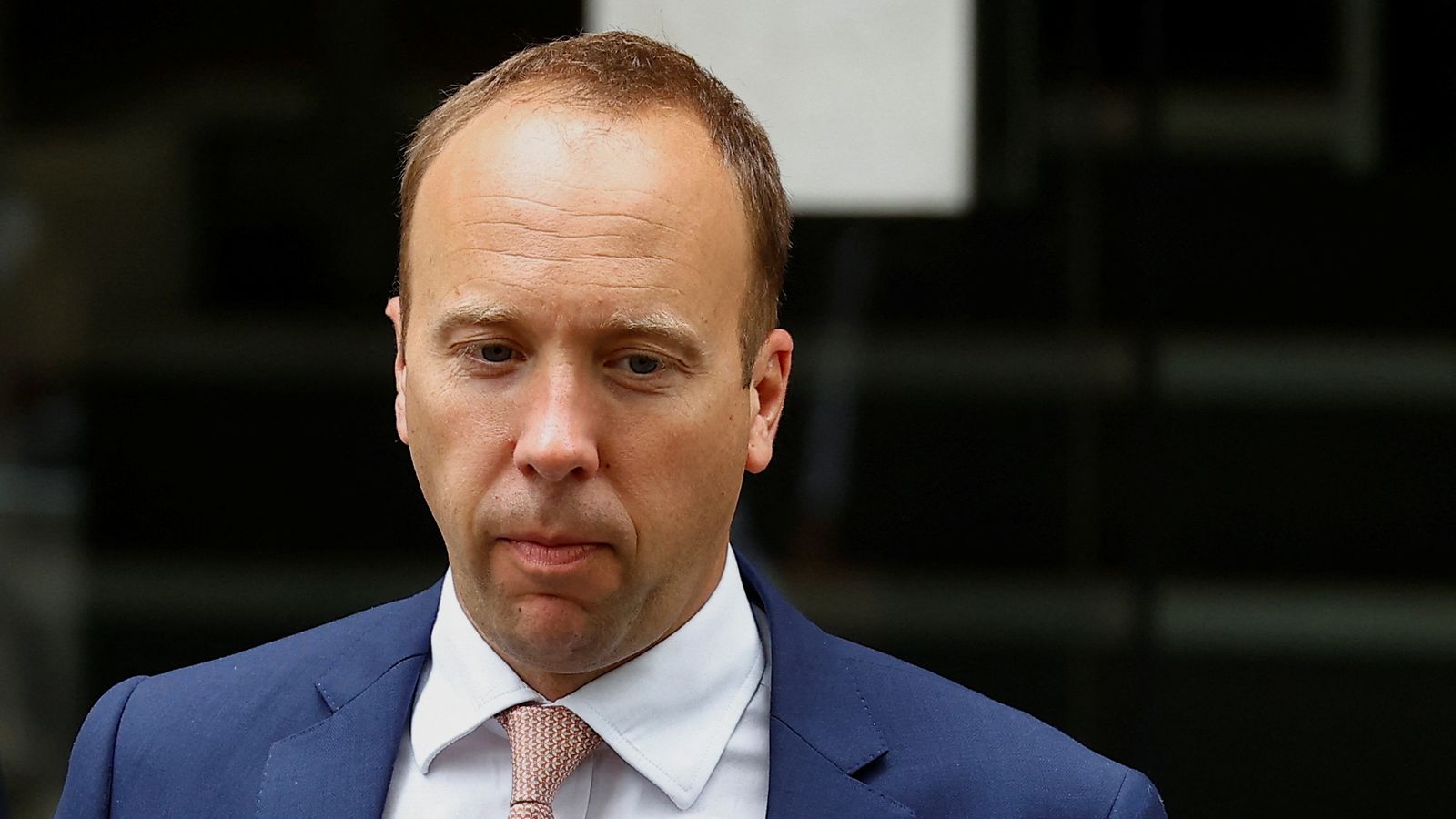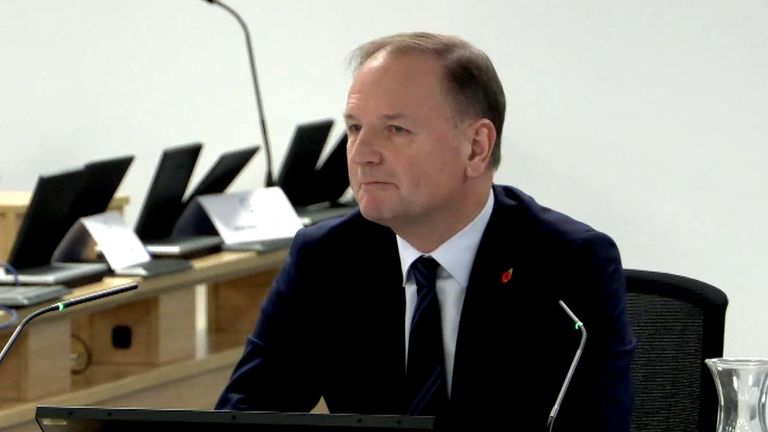 Former health secretary Matt Hancock played a key role in the UK's response to the COVID pandemic – and his decisions will today be scrutinised by the official inquiry.
Mr Hancock was a familiar face at the regular press conferences that took place during that period, giving updates to the public about social distancing measures, the state of the NHS and the vaccine programme.
In 2021, he was forced to resign after he admitted he broke the government's own coronavirus guidance to pursue an affair with an aide.
Today it is his turn to give evidence to the COVID inquiry.
He will follow a string of high-profile witnesses who have already shared their experience of the pandemic with inquiry chair Baroness Hallett, including Dominic Cummings, Boris Johnson's former chief adviser, Lord Simon Stevens, who was the chief executive of the NHS at the time, and former chief scientific adviser Sir Patrick Vallance.
Mr Hancock has already featured heavily in the testimonies of the witnesses who have given evidence to the inquiry so far.
Politics – latest: Sunak accused of 'insane' claim which 'shows he's run out of road'
A spokesperson for Mr Hancock said he has "supported the inquiry throughout and will respond to all questions when he gives his evidence".
Read more:
Hancock 'wanted to decide 'who should live and die'
Gove says lockdown went against Johnson's 'world view'
Former NHS CEO Lord Stevens made this assessment of Mr Hancock when he appeared before the COVID inquiry at the beginning of November.
"The secretary of state for health and social care took the position that in this situation he – rather than, say, the medical profession or the public – should ultimately decide who should live and who should die," he said in a written statement to the inquiry.
"Fortunately, this horrible dilemma never crystallised."
Hancock 'wanted to decide who should live'

However, although Lord Stevens suggested that Mr Hancock wanted too many powers in his capacity as health secretary, he did add that "for the most part" the former cabinet minister could be trusted.
"There were occasional moments of tension and flashpoints, which are probably inevitable during the course of a 15-month pandemic but I was brought up always to look to the best in people," he said.
'Nuclear levels of over-confidence'
The day before Lord Stevens gave evidence, the COVID inquiry heard from Helen MacNamara, who was deputy cabinet secretary during the pandemic.
She told the inquiry Mr Hancock showed "nuclear levels" of confidence at the start of the COVID pandemic and "regularly" told colleagues in Downing Street things "they later discovered weren't true".
For example, Ms MacNamara said the former health secretary would say things were under control or being sorted in meetings, only for it to emerge in days or weeks that "was not in fact the case".
She also recalled a "jarring" incident where she told Mr Hancock that it must have been difficult to be health secretary during a pandemic, to which he responded by miming playing cricket, saying: "They bowl them at me, I knock them away" during the first lockdown.
'Lied his way through this and killed people'
There is clearly no love lost between Mr Hancock and Mr Cummings, who told the inquiry that he repeatedly called for Boris Johnson to sack him.
Mr Cummings alleged that the ex-health secretary "lied his way through this and killed people and dozens and dozens of people have seen it".
In a message sent to Mr Johnson in May 2020, Mr Cummings said: "You need to think through timing of binning Hancock. There's no way the guy can stay. He's lied his way through this and killed people and dozens and dozens of people have seen it."
COVID: No 10 in 'complete chaos'

In August 2020, he wrote again: "I also must stress I think leaving Hancock in post is a big mistake – he is a proven liar who nobody believes or [should] believe on anything, and we face going into autumn crisis with the c**t in charge of NHS still."
Mr Cummings also echoed Ms MacNamara's accusation that the former health secretary told colleagues things that later were discovered not to be true, saying he "sowed chaos" by continuing to insist in March 2020 that people without symptoms of a dry cough and a temperature were unlikely to be suffering from coronavirus.
He also revealed that he purposefully excluded Mr Hancock from meetings because he could not be trusted.
Mark Sedwill wanted Hancock removed to 'save lives and protect the NHS'
Messages exchanged by Lord Mark Sedwill, the former head of the Civil Service and Simon Case, the current cabinet secretary, revealed that Lord Sedwill wanted Mr Hancock removed as health secretary to "save lives and protect the NHS" – a play on the pandemic-era slogan at the time.
Lord Sedwill said this was "gallows humour" and that he did not use the work "sack" when speaking to Mr Johnson about his health secretary.
However, he did admit that Mr Johnson would nevertheless have been "under no illusions" about his feelings towards Mr Hancock.
'He had a habit of saying things he didn't have a basis for'
Sir Patrick Vallance, who was chief scientific adviser from 2018 to 2023, was another figure who claimed Mr Hancock would say things "he didn't have a basis for", which he attributed to "over-enthusiasm".
He told the COVID inquiry: "I think he had a habit of saying things which he didn't have a basis for and he would say them too enthusiastically too early, without the evidence to back them up, and then have to backtrack from them days later.
"I don't know to what extent that was sort of over-enthusiasm versus deliberate – I think a lot of it was over-enthusiasm."
Asked if this meant he "said things that weren't true", Sir Patrick replied: "Yes".
'I have a high opinion of Matt Hancock as a minister'
One COVID witness who did defend Mr Hancock was Michael Gove, who was minister for the Cabinet Office and Chancellor of the Duchy of Lancaster during the pandemic.
He told the inquiry that "too much was asked" of Mr Hancock's department at the beginning of the pandemic.
"We should collectively have recognised that this was a health system crisis at an earlier point and taken on to other parts of government the responsibility for delivery that was being asked of DHSC [department for health and social care] at the time," he said.
He added: "I have a high opinion of Matt Hancock as a minister."
Brazilians may soon need to stump up taxes on crypto held abroad
Brazilians may soon be required to pay up to 15% tax on income derived from cryptocurrencies held on exchanges outside the country, after new income tax rules were approved by the Brazil Senate on Nov. 29.
The bill has already passed in the Chamber of Deputies and is expected to be approved by President Luiz Inácio Lula da Silva, as his administration initiated the income tax rule changes, Cointelegraph Brazil reports.
Under the bill, any Brazilian who earns more than $1,200 (6,000 Brazilian reals) on exchanges based outside Brazil would be subject to the tax, effective Jan. 1, 2024. The change makes those funds taxable at the same rate as funds held domestically. Funds earned before that date would be taxed when accessed by the owner, meanwhile, earnings on funds accessed before Dec. 31 will be taxed at 8%.
Fortunately, you are misunderstanding this

Brazil is not taxing people regardless of residency

What changes with PL 4173/23:

CURRENTLY: Tax-deferral

If you own an offshore company or trust while being a Brazil tax resident, you only pay tax when it distributes profits to… https://t.co/iiG1YyVUr9

— BowTiedGlobe | Your Freedom Dealer (@BowTiedGlobe) November 29, 2023
The bill also affects "exclusive funds" — investment funds with a single shareholder — and foreign companies active on the Brazilian financial market. The government hopes to raise $4 billion (20.3 billion Brazilian reals) in 2024. Senator Rogério Marinho voiced his opposition to the bill. He said:
"The government is creating a tax because it is a poor manager." 
Related: OKX launches crypto exchange, wallet services in Brazil
In September, the governor of the Banco Central do Brazil Roberto Campos Neto, announced plans to tighten regulations on cryptocurrency in connection with a sharp rise in its popularity in the country. At the time, he said he suspected crypto was being used for tax evasion. 
The Brazilian central bank was given jurisdiction over virtual asset service providers in June.
Crypto-based securities are regulated by the Comissão de Valores Mobiliários — Brazil's equivalent of the United States Securities and Exchange Commission.
Magazine: 6 Questions for Lugui Tillier about Bitcoin, Ordinals, and the future of crypto
Outrage ChatGPT won't say slurs, Q* 'breaks encryption', 99% fake web: AI Eye
Outrage = ChatGPT + racial slurs
In one of those storms in a teacup that's impossible to imagine occurring before the invention of Twitter, social media users got very upset that ChatGPT refused to say racial slurs even after being given a very good, but entirely hypothetical and totally unrealistic, reason.
User TedFrank posed a hypothetical trolley problem scenario to ChatGPT (the free 3.5 model) in which it could save "one billion white people from a painful death" simply by saying a racial slur so quietly that no one could hear it.
It wouldn't agree to do so, which X owner Elon Musk said was deeply concerning and a result of the "woke mind virus" being deeply ingrained into the AI. He retweeted the post stating: "This is a major problem."
Another user tried out a similar hypothetical that would save all the children on Earth in exchange for a slur, but ChatGPT refused and said:
"I cannot condone the use of racial slurs as promoting such language goes against ethical principles."
As a side note, it turned out that users who instructed ChatGPT to be very brief and not give explanations found it would actually agree to say the slur. Otherwise, it gave long and verbose answers that attempted to dance around the question.
Trolls inventing ways to get AIs to say racist or offensive stuff has been a feature of chatbots ever since Twitter users taught Microsoft's Tay bot to say all kinds of insane stuff in the first 24 hours after it was released, including that "Ricky Gervais learned totalitarianism from Adolf Hitler, the inventor of atheism."
And the minute ChatGPT was released, users spent weeks devising clever schemes to jailbreak it so that it would act outside its guardrails as its evil alter ego DAN.
So it's not surprising that OpenAI would strengthen ChatGPT's guardrails to the point where it is almost impossible to get it to say racist stuff, no matter what the reason.
In any case, the more advanced GPT-4 is able to weigh the issues involved with the thorny hypothetical much better than 3.5 and states that saying a slur is the lesser of two evils compared with letting millions die. And X's new Grok AI can too as Musk proudly posted (above right).
OpenAI's Q* breaks encryption, says some guy on 4chan
Has OpenAI's latest model broken encryption? Probably not, but that's what a supposedly "leaked" letter from an insider claims — which was posted on anonymous troll forum 4chan. There have been rumors flying about ever since CEO Sam Altman was sacked and reinstated, that the kerfuffle was caused by OpenAI making a breakthrough in its Q*/Q STAR project.
The insider's "leak" suggests the model can solve AES-192 and AES-256 encryption using a ciphertext attack. Breaking that level of encryption was thought to be impossible before quantum computers arrived, and if true, it would likely mean all encryption could be broken effectively handing over control of the web and probably crypto too, to OpenAI.
Blogger leapdragon claimed the breakthrough would mean "there is now effectively a team of superhumans over at OpenAI who can literally rule the world if they so choose."
It seems unlikely however. While whoever wrote the letter has a good understanding of AI research, users pointed out that it cites Project Tunda as if it were some sort of shadowy super secret government program to break encryption rather than the undergrad student program it actually was.
Tundra, a collaboration between students and NSA mathematicians, did reportedly lead to a new approach called Tau Analysis, which the "leak" also cites. However, a Redditor familiar with the subject claimed in the Singularity forum that it would be impossible to use Tau analysis in a ciphertext-only attack on an AES standard "as a successful attack would require an arbitrarily large ciphertext message to discern any degree of signal from the noise. There is no fancy algorithm that can overcome that — it's simply a physical limitation."
Advanced cryptography is beyond AI Eye's pay grade, so feel free to dive down the rabbit hole yourself, with an appropriately skeptical mindset.
The internet heads toward 99% fake
Long before a superintelligence poses an existential threat to humanity, we are all likely to have drowned in a flood of AI-generated bullsh*t.
Sports Illustrated came under fire this week for allegedly publishing AI-written articles written by fake AI-created authors. "The content is absolutely AI-generated," a source told Futurism, "no matter how much they say it's not."
On cue, Sports Illustrated said it conducted an "initial investigation" and determined the content was not AI-generated. But it blamed a contractor anyway and deleted the fake author's profiles.
Elsewhere Jake Ward, the founder of SEO marketing agency Content Growth, caused a stir on X by proudly claiming to have gamed Google's algorithm using AI content.
His three-step process involved exporting a competitor's sitemap, turning their URLs into article titles, and then using AI to generate 1,800 articles based on the headlines. He claims to have stolen 3.6 million views in total traffic over the past 18 months.
There are good reasons to be suspicious of his claims: Ward works in marketing, and the thread was clearly promoting his AI-article generation site Byword … which didn't actually exist 18 months ago. Some users suggested Google has since flagged the page in question.
However, judging by the amount of low-quality AI-written spam starting to clog up search results, similar strategies are becoming more widespread. Newsguard has also identified 566 news sites alone that primarily carry AI written junk articles.
Some users are now muttering that the Dead Internet Theory may be coming true. That's a conspiracy theory from a couple of years ago suggesting most of the internet is fake, written by bots and manipulated by algorithms.
At the time, it was written off as the ravings of lunatics, but even Europol has since put out a report estimating that "as much as 90 percent of online content may be synthetically generated by 2026."
Men are breaking up with their girlfriends with AI written messages. AI pop stars like Anna Indiana are churning out garbage songs.
And over on X, weird AI-reply guys increasingly turn up in threads to deliver what Bitcoiner Tuur Demeester describes as "overly wordy responses with a weird neutral quality." Data scientist Jeremy Howard has noticed them too and both of them believe the bots are likely trying to build up credibility for the accounts so they can more effectively pull off some sort of hack, or astroturf some political issue in the future.
This seems like a reasonable hypothesis, especially following an analysis last month by cybersecurity outfit Internet 2.0 that found that almost 80% of the 861,000 accounts it surveyed were likely AI bots.
And there's evidence the bots are undermining democracy. In the first two days of the Israel-Gaza war, social threat intelligence firm Cyabra detected 312,000 pro-Hamas posts from fake accounts that were seen by 531 million people.
It estimated bots created one in four pro-Hamas posts, and a 5th Column analysis later found that 85% of the replies were other bots trying to boost propaganda about how nicely Hamas treats its hostages and why the October 7 massacre was justified.
Grok analysis button
X will soon add a "Grok analysis button" for subscribers. While Grok isn't as sophisticated as GPT-4, it does have access to real-time, up-to-the-moment data from X, enabling it to analyze trending topics and sentiment. It can also help users analyze and generate content, as well as code, and there's a "Fun" mode to flip the switch to humor.
For crypto users, the real-time data means Grok will be able to do stuff like find the top ten trending tokens for the day or the past hour. However, DeFi Research blogger Ignas worries that some bots will snipe buys of trending tokens trades while other bots will likely astroturf support for tokens to get them trending.  
"X is already important for token discovery, and with Grok launching, the CT echo bubble can get worse," he said.
All Killer No Filler AI News
— Ethereum co-founder Vitalik Buterin is worried that AI could take over from humans as the planet's apex species, but optimistically believes using brain/computer interfaces could keep humans in the loop.
— Microsoft is upgrading its Copilot tool to run GPT-4 Turbo, which will improve performance and enable users to enter inputs up to 300 pages.
— Amazon has announced its own version of Copilot called Q.
— Bing has been telling users that Australia doesn't exist due to a long-running Reddit gag and thinks the existence of birds is a matter for debate due to the joke Birds Aren't Real campaign.
— Hedge fund Bridgewater will launch a fund next year that uses machine learning and AI to analyze and predict global economic events and invest client funds. To date, AI-driven funds have seen underwhelming returns. 
— A group of university researchers have taught an AI to browse Amazon's website and buy stuff. The MM-Navigator was given a budget and told to buy a milk frother.
Stupid AI pics of the week
This week the social media trend has been to create an AI pic and then to instruct the AI to make it more so: So a bowl of ramen might get more spicy in subsequent pics, or a goose might get progressively sillier.
Subscribe
The most engaging reads in blockchain. Delivered once a
week.