Parts of London and the South have flooded after torrential rain and the Met Office has issued an amber storm warning.
Areas including Hackney Wick, Newham and Barking were affected by the downpours, with videos showing cars driving through deep water and people walking nearly knee-deep at times.
Another video shows Pudding Mill Lane DLR station in Stratford underwater after heavy rainfall on Sunday.
Thunderstorms bringing lightning and the threat of flooding to the South are set to continue until Monday, forecasters have warned.
The Met Office issued an amber warning for storms covering London and surrounding counties where homes and businesses are at risk of flooding, which was in place until 7pm on Sunday.
The torrential downpours come after a heatwave earlier this week brought days of record-breaking temperatures.
A yellow warning for storms which could cause travel and power disruption also covers a wider area of the South from Norwich to Plymouth, and lasts until midnight.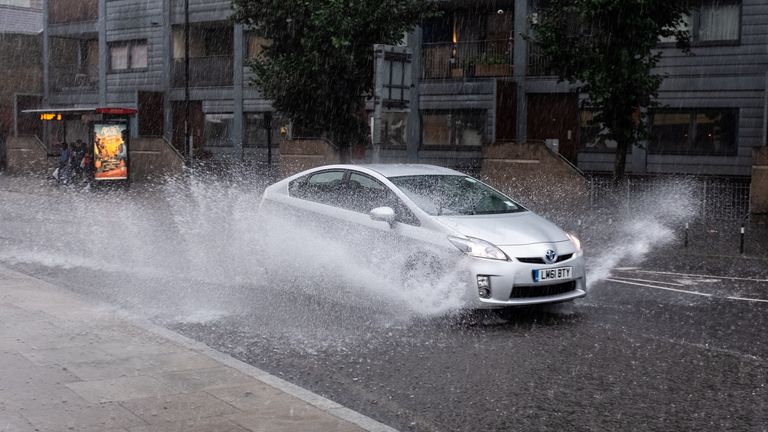 Met Office meteorologist Steven Keates said parts of the South between south Suffolk and the Isle of Wight could be deluged by 100mm of rain in just a few hours on Sunday evening.
"There's torrential thunderstorms around yet again," he said.
"Into the evening, from Norfolk to Bournemouth we are going to see some pretty lively showers.
"Torrential downpours, thunder and lightning and potentially some hailstones are settling in the South."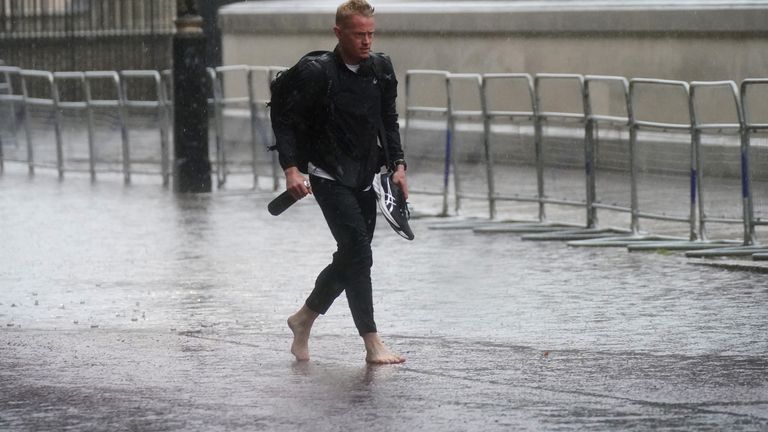 Mr Keates said the storms are being caused by a "convergence" of air currents, due to warmth in the Earth's surface from the recent heatwave rising into cooler air in the atmosphere.
It comes after lightning set fire to houses in Andover, Hampshire, on Saturday morning, forcing residents to leave.
Neighbours heard an "enormous bang" as the strike set two homes ablaze on Mercia Avenue, and a 70-year-old woman was assessed by paramedics.
Kingston Police, who oversee a borough in the amber zone for storms, warned motorists to "drive carefully" and remember they are "not driving a submarine".
The force said in a tweet: "Please remember to drive carefully.
"Also remember that you're not driving a submarine.
"Do not enter what could possibly be deep water.
"Watch your speed and distance as stopping distances will be greater."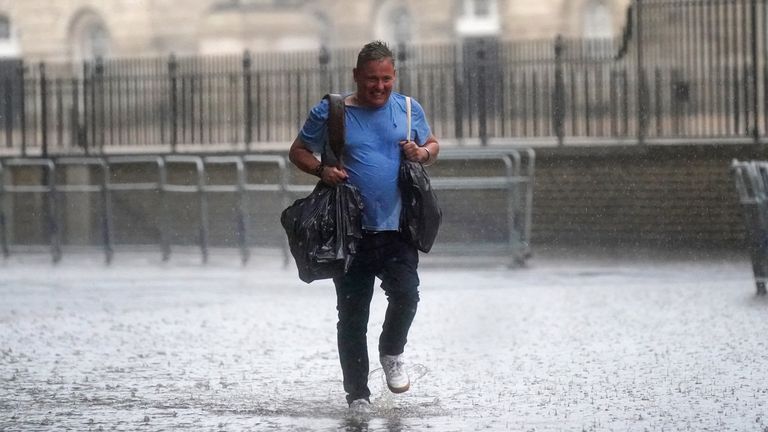 The rain brought an end to the heatwave earlier this week, potentially disappointing anyone who hoped for a dry, sunny trip to the coast.
The rest of the country was forecast to experience a cloudy, more settled end to the week while sunshine is expected in Scotland.
Temperatures are set to rise in most places again on Monday as the storms clear, with the mercury predicted to reach 26C in London, 25C in Edinburgh, 24C in Cardiff, and 22C in Belfast.
The Met Office has predicted early cloud in some northern and eastern parts which will move up to Scotland, and sunny spells and scattered showers in most places throughout the day.
Prince Harry says Royal Family 'without doubt' withheld information from him on phone hacking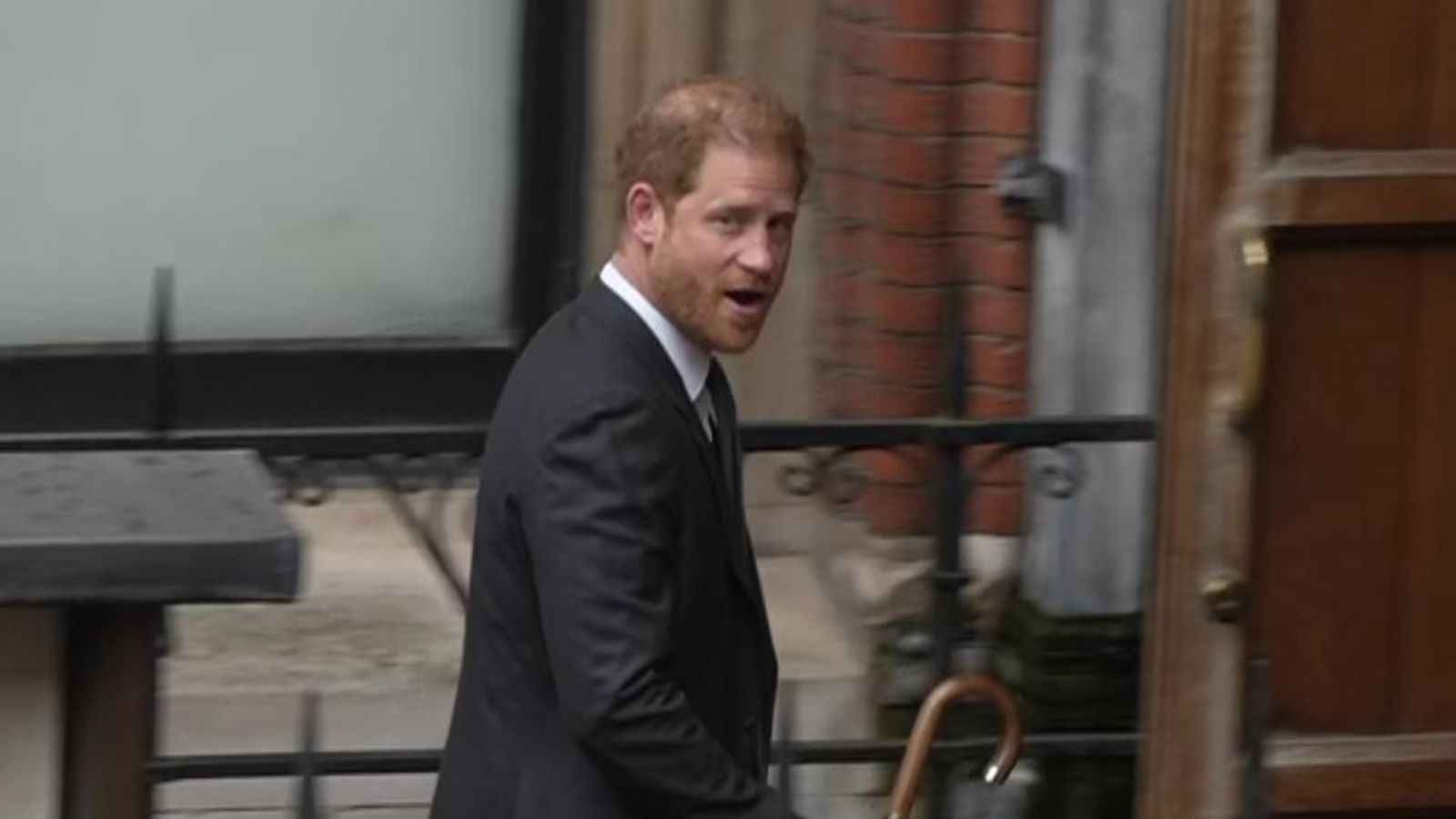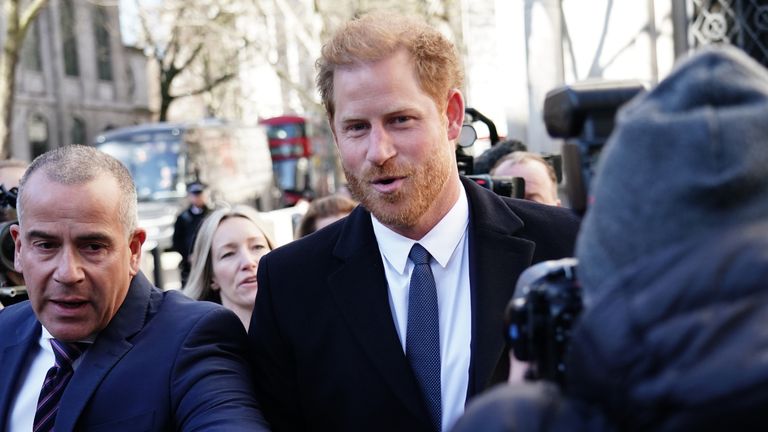 Prince Harry has said the Royal Family withheld information from him about phone hacking because they didn't want him to bring a claim as it would "open a can of worms".
In a witness statement submitted before his civil claim against Daily Mail publisher Associated Newspapers, the Duke of Sussex said that he was "conditioned to accept" his family's rule to "never complain, never explain" when dealing with the press.
But discussing phone hacking claims against News Group Newspapers, Harry said "I became aware that I had a claim that I could bring" in 2018.
Prince Harry v Daily Mail publisher – latest
"The Institution was without a doubt withholding information from me for a long time about NGN's phone hacking and that has only become clear in recent years as I have pursued my own claim with different legal advice and representation," he said.
Earlier in his submission he said he would refer to the Royal Family as "the Institution".
The prince is among a group of claimants, including Sir Elton John, Liz Hurley and Sadie Frost, against Associated Newspapers accusing them of numerous breaches of privacy. The publisher denies all the allegations.
Speaking about how he found out other people within or associated with the Royal Family had brought phone hacking claims against the press, he says: "It is not an exaggeration to say that the bubble burst in terms of what I knew in 2020 when I moved out of the United Kingdom."
Everything you need to know about Harry's latest court case

He went on: "There was never any centralised discussion between us about who had brought claims as each office in the Institution is siloed.
"There is this misconception that we are all in constant communication with one another but that is not true."
Read more:
Everything you need to know about the Duke of Sussex's latest court case
Prince Harry's unexpected High Court visit sends a message
The prince added: "The Institution made it clear that we did not need to know anything about phone hacking and it was made clear to me that the Royal Family did not sit in the witness box because that could open up a can of worms."
He went on to say the Royal Family's "strict no comment policy" meant that "even the worst or most suspicious articles were often never brought to my attention".
Ending his written statement to the court, Prince Harry said he was "bringing this claim because I love my country and I remain deeply concerned by the unchecked power, influence and criminality" of the publisher.
"The British public deserve to know the full extent of this cover up and I feel it is my duty to expose it," he added.
Buckingham Palace declined to comment on Prince Harry's remarks.
MI5 raises terror threat in Northern Ireland to 'severe' – meaning attack highly likely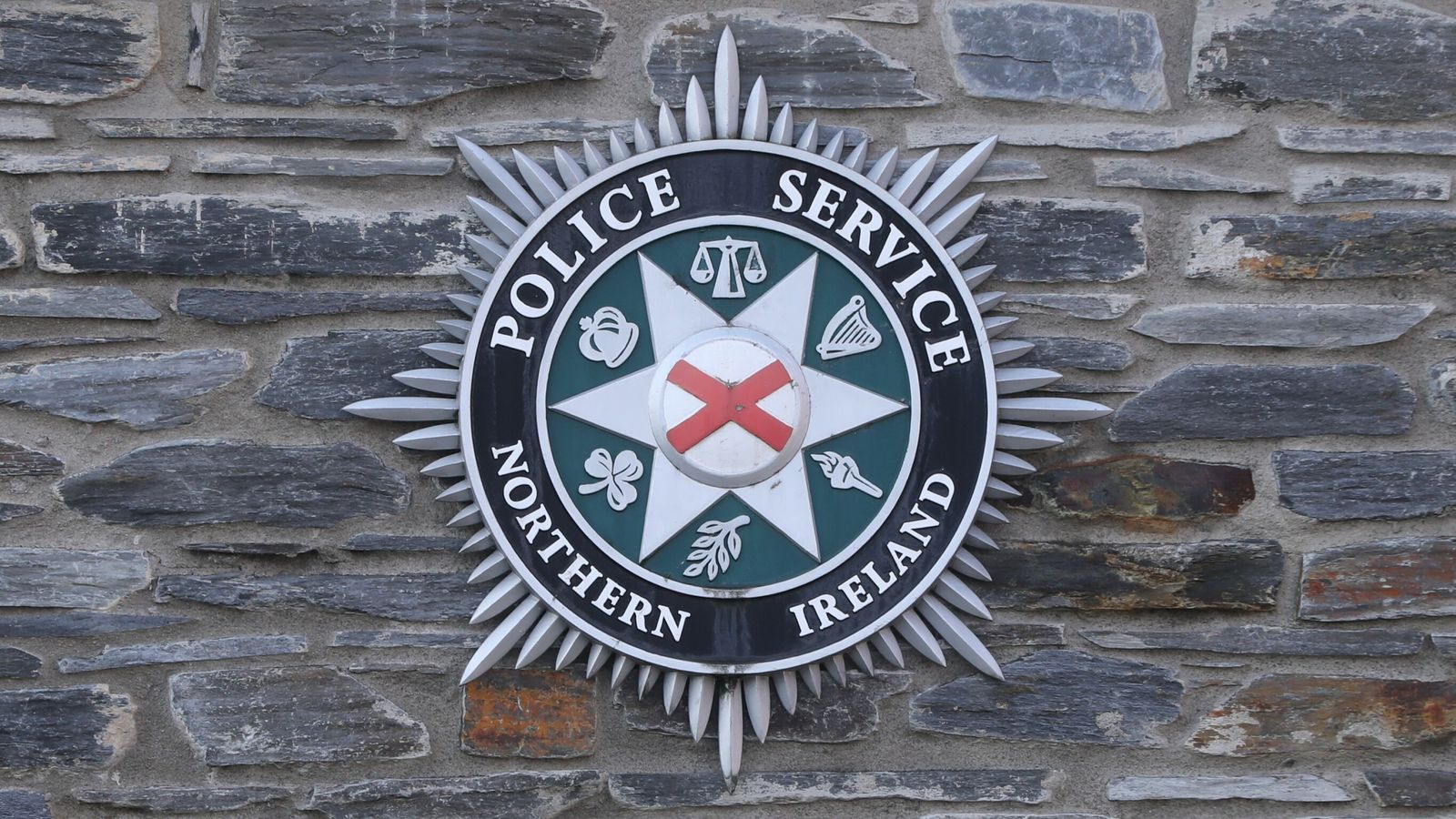 The terror threat level in Northern Ireland has increased from "substantial" to "severe" meaning an attack is highly likely, the government has said.
Northern Ireland Secretary Chris Heaton-Harris told the House of Commons that the decision was made by MI5, independent of ministers.
In a written ministerial statement he said: "MI5 has increased the threat to Northern Ireland from Northern Ireland Related Terrorism from 'SUBSTANTIAL' (an attack is likely) to 'SEVERE' (an attack is highly likely).
"The public should remain vigilant, but not be alarmed, and continue to report any concerns they have to the Police Service of Northern Ireland (PSNI)."
The cabinet minister said while Northern Ireland has transformed into a peaceful society since the Troubles, "a small number of people remain determined to cause harm to our communities through acts of politically motivated violence".
He said recent months have seen an "increase in levels of activity relating to Northern Ireland Related Terrorism, which has targeted police officers" – pointing to the attempted murder of DCI Caldwell.
He went into pay tribute to the "tremendous efforts" of the police in Northern Ireland and security partners, "and the determination and resilience of the Northern Ireland people, who are making Northern Ireland a safer place to live and work".
"The political future of Northern Ireland rests with the democratic will of the people and not the violent actions of the few. Together we will ensure there is no return to the violence of the past."
The UK has five terror threat levels which are:
• Low – an attack is highly unlikely
• Moderate – an attack is possible, but not likely
• Substantial – an attack is likely – this is the UK's national threat level
• Severe – an attack is highly likely
• Critical – an attack is highly likely in the near future
Last March the terrorism threat level in Northern Ireland was lowered from "severe" to "substantial", marking the first reduction in 12 years.
The national threat level to the whole of the UK remains at substantial, meaning an attack is likely.
The change to Northern Ireland's status comes ahead of a planned visit by US President Joe Biden to mark the 25th anniversary of the Good Friday Agreement, which brought peace to the region after decades of violence.
Addressing the increased terror threat, Chief Constable Simon Byrne said it is part of an "ongoing process of monitoring the threat level in Northern Ireland, which is conducted by MI5".
He added: "We will relentlessly pursue those who seek to cause harm and terrorise our communities, and attack my officers and staff, and I pay tribute to them as they continue to deliver for our communities.
"I would also like to thank the community and political leaders of Northern Ireland for their overwhelming support for the Police Service in recent times.
"We will not be deterred from delivering a visible, accessible and responsive community focused policing service to keep people safe."
'Corrosive' bullying culture at 'toxic' NHS trust could put patient care at risk, probe finds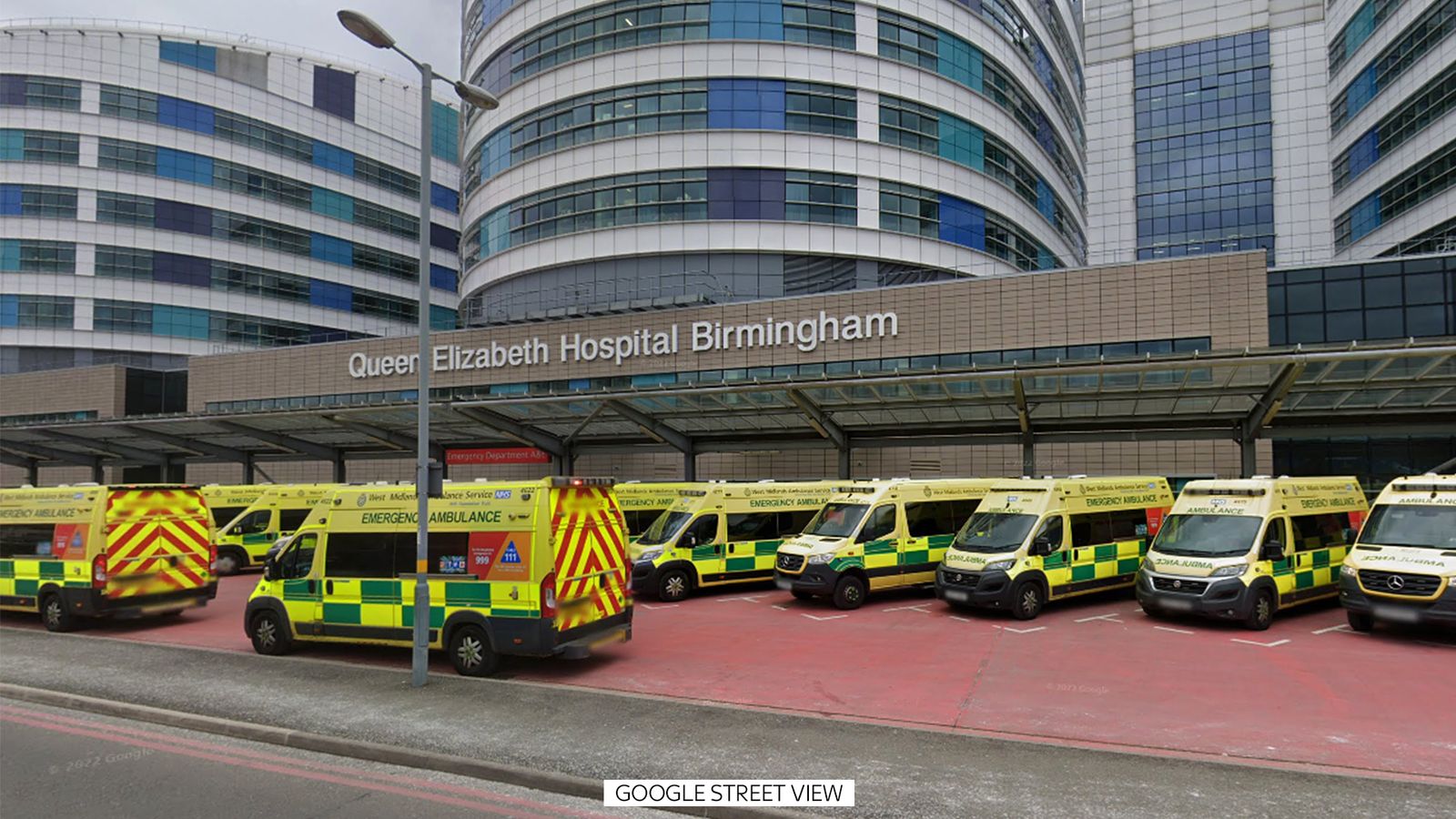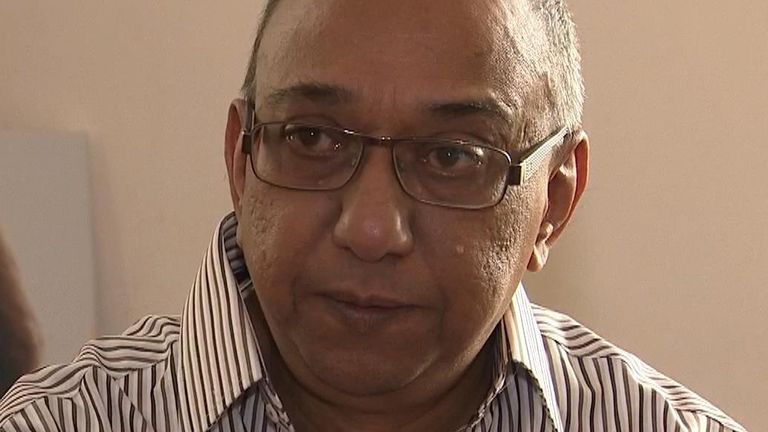 A culture of bullying at one of England's biggest NHS trusts could put the care of patients at risk, a report has found.
An independent review of the University Hospitals Birmingham NHS Trust (UHB) has found the number of patient deaths at the trust is higher than would be expected and has warned that "if the cultural environment at UHB has not already affected mortality it is likely to be affecting the patient experience and morbidity".
The report revealed "extensive complaints" had been made by staff about the organisation's conduct and that "many were concerned about the 'toxic atmosphere and bullying at all levels of management'".
It said the report team "heard many examples of concerning comments following a range of topics, including issues over promotion processes, bullying of staff (including junior doctors), and a fear of retribution if concerns were raised".
It also highlights concerns around staffing levels. In November 2022, 13.35% of nursing posts at the trust were vacant, compared with an England average of 10%.
It warns that "any continuance of a culture that is corrosively affecting morale and in particular threatens long-term staff recruitment and retention will put at risk the care of patients".
The report chaired by Professor Mike Bewick, a former deputy medical director at NHS England, who is now an independent consultant, was commissioned last year after a number of complaints were raised about the trust which employs 22,400 people across several sites and operates four major hospitals in the West Midlands.
Father of junior doctor: 'Our lives stopped on 22 June'

It followed the death by suicide of Dr Vaishnavi Kumar, 35, who was working at the Queen Elizabeth Hospital Birmingham when she took a fatal overdose in June of last year.
"She wrote a letter," her father, Dr Ravi Kumar, told Sky News. "She very clearly mentioned that she was doing this because of the QE hospital."
After taking the overdose she waited three hours to call an ambulance. Her father says that when paramedics arrived "she said under no circumstances was she going to the QE hospital".
Dr Kumar says his daughter was "bright, fun-loving and compassionate" but things changed soon after she began working at the Queen Elizabeth Hospital.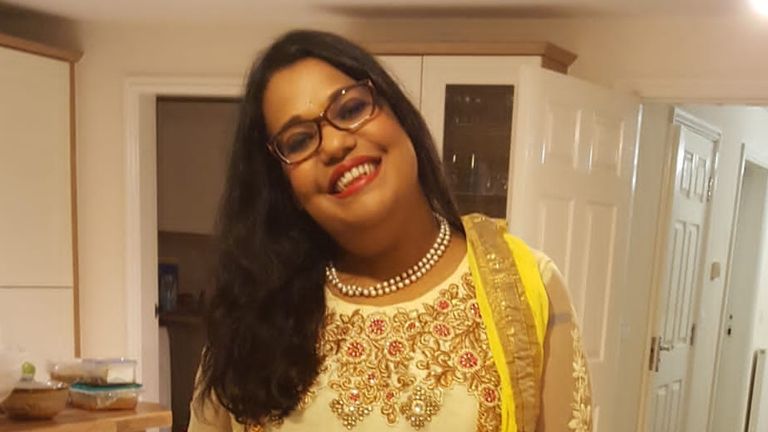 "She started facing this toxic environment and she started getting a bit more worried and tearful," he said, adding sometimes when she returned from work she would say "people are belittling her and demeaning her".
The report found there was "considerable unrest and anger at the trust's response" to Dr Kumar's death, both from her family and "the wider junior doctor community".
It also found that "this was not the first death by suicide of a doctor at UHB".
It revealed there was "disappointment and anger" from staff at a lack of senior representation by the trust at Dr Kumar's funeral, and that the trust only formally wrote to her family two months after her death.
Shockingly, the report found a senior member of staff within medical staffing was unaware of Dr Kumar's death and emailed the medic personally 26 days after her death to ask why she had been removed from her post and if she was still being paid.
The report concluded the case showed a need for "a fundamental shift in the way an organisation demonstrably cares about its staff as people".
Dr Kumar's father said: "It makes me angry and at the same time worried about other junior doctors who are going to follow her.
"Our lives stopped on the 22 June and it's very hard. Each day is a struggle.
"Now my main worry is to stop it happening to others and that is why I want to bring this forward so people realise that there is a toxic atmosphere."
A spokesperson for University Hospitals Birmingham said: "Dr Vaishnavi Kumar was a much loved and respected doctor, who was popular with colleagues and patients alike. Her unexpected death was a tragedy and our heartfelt condolences remain with Vaishnavi's family.
"We have reflected on our response to Vaishnavi's death, have learnt lessons from this, and are acting on them.
"Dr Kumar wants his daughter's death to result in improvements in the support offered to all doctors in training and to see a change in the culture of the trust. We are pleased that he has agreed to work with the trust on this."
Read more UK news:
Prince Harry turns up for phone-tapping and privacy court case again
Grocery inflation hits new record high – and the worst is yet to come
Only Fools And Horses star discovers daughter he never knew he had
Jonathan Brotherton, chief executive at University Hospitals Birmingham NHS Foundation Trust (UHB) said in response to the report's findings: "Patients can continue to be confident that the care and treatment provided at our hospitals is safe. We are pleased that Professor Bewick's overall view 'is that the trust is a safe place to receive care'.
"We fully accept his recommendations and welcome the additional assurance that has been asked for through further independent oversight.
"There are a number of significant concerns that we need to, and have started to, address; we will continue to learn from the past, as we move forward.
"We want to develop a positive, inclusive work environment where people want to come to work, in a place that they are proud to work in, to do their very best for our patients. While we will not be able to fix things as quickly as I would like, we do need to do it as quickly as possible, for the benefit of patients and staff; I am committed to ensuring this happens.
"We must now focus on continuing to provide the best possible patient care, building a values-led culture and supporting our incredible colleagues."
:: Anyone feeling emotionally distressed or suicidal can call Samaritans for help on 116 123 or email jo@samaritans.org in the UK. In the US, call the Samaritans branch in your area or 1 (800) 273-TALK.