SAITAMA, Japan — Luka Doncic is only a 22-year-old Olympic rookie, a player who might still be a few years away from his best basketball.
Sergio Hernandez doesn't need to wait.
"For me, I said this two years ago: He is the best player in the world, including the NBA," Argentina's coach said. "And if there was any doubt in my mind, there is no doubt anymore. He is the best player in the world."
Hard to argue after Doncic's performance Monday at the Saitama Super Arena.
Doncic made a spectacular Olympic debut with 48 points, tied for the second-highest total in men's basketball history, to lead Slovenia to a 118-100 victory.
In Slovenia's first Olympic game ever, Doncic scored 31 points in the first half, putting him on pace to break the Games' scoring record of 55 points by Brazilian Hall of Famer Oscar Schmidt in 1988.
Though he didn't have to do as much in the second half with Slovenia's huge lead, the superstar guard for the Dallas Mavericks stayed on the floor well into the fourth quarter and ended up tied with Eddie Palubinskas, who had 48 for Australia in the 1976 Games in Montreal.
There was still enough time left to break the record when Doncic checked out with a few minutes left, but he wasn't interested in pursuing more points.
"I don't care about records," he said. "We got a win and that's what we came here for."
His teammates wanted both.
"Everybody was telling him on the bench, 'OK, let's get the record,'" veteran Zoran Dragic said.
"But that's not the case. The case is to win the game. He knows that, and it's crazy that he's only 22 years old."
Slovenia didn't even have a spot in the Olympics until earlier this month but is a medal threat thanks to Doncic, who had a historic first postseason in the NBA and might just do the same in the Olympics.
Luis Scola scored 23 points for Argentina. Facando Campazzo of the Denver Nuggets added 21.
The opening day of play in Group C started with Luka against Luis, the phenom against the 41-year-old veteran who was beginning his record-tying fifth Olympics in men's basketball.
But it was quickly clear Doncic would be the star of this show with 15 points before the game was five minutes old.
"He was too good obviously," Scola said. "I mean, he was unbelievable."
Casually launching his step-back 3-pointers from well behind the international 3-point arc – one came from just inside the TOKYO 2020 logo at center court – Doncic shot from places where Argentina just couldn't come out to defend.
When they tried, he just took his game inside, getting consecutive baskets on follow shots in the second quarter on his way to 11 rebounds.
That came during a 23-8 finish to the half for Slovenia, extending a 39-34 lead to 62-42 at the break.
Manu Ginobili was impressed, the Argentine idol tweeting at halftime that Doncic was "a beast" and praising his "tremendous mastery of the game."
Doncic had already shown he had that playing in Europe even before going on to win Rookie of the Year honors in the NBA. In his second season, he became the first NBA player to average 30 points, eight rebounds and eight assists in his first postseason series.
His first Olympics might be even better than that.
Slovenia has been a country on the rise, winning the EuroBasket title in 2017 and then qualifying for Tokyo by winning one of the Olympic qualifying touraments earlier this month. The Slovenians knocked off host Lithuania in the final after Doncic went right to playing for his country after the Mavericks were knocked out of the playoffs in the first round.
Argentina, the 2004 Olympic champions, were thought to be past their years of challenging for titles when Ginobili and some other stars from that era called it a career.
But Scola is still here and the Argentines showed they're not done just yet when they made a surprise run to the gold-medal game two years ago in the Basketball World Cup, losing to Spain but not until after clinching their spot in the Olympics.
Spain is also in Group C along with host Japan, but even those games shouldn't be any tougher than playing against Doncic.
"We tried everything that we would have tried against a normal player," Hernandez said, "but he's not a normal player."
How Jacob deGrom decided to ditch New York and become a Texas Ranger
Chris Young, the head of baseball operations for the Texas Rangers, called Bruce Bochy on Thursday with news that stunned the new manager. "Jacob wants to come with us," Young said.
Bochy's response: "Are you kidding me?"
Bochy knew the Rangers were going to be aggressive in their negotiations with Jacob deGrom, and he had been impressed by the pitcher in a Zoom meeting with deGrom and his wife, Stacey Harris, in the days before Thanksgiving. But Bochy had assumed that the process would play out for days and perhaps weeks to come as deGrom considered the possibility of leaving the New York Mets, the organization that had drafted him in 2010.
Instead, deGrom made his decision quickly, agreeing to terms on a five-year, $185 million million contract without even giving the Mets an opportunity to present a final offer, based on interviews with a dozen sources involved in deGrom's free agency. According to sources, Mets general manager Billy Eppler learned about deGrom's deal with the Rangers on Friday evening, just minutes before the news broke — and more than a day after deGrom had closed his deal with Texas.
For some in the Mets' organization, that last bit of silent treatment from deGrom was confirmation of what they had suspected even during the season: that deGrom, the Cy Young Award-winning pitcher who warmed up to Lynyrd Skynyrd's "Simple Man" before his starts, probably preferred to pitch somewhere other than New York City.
CFP preview: First look at Georgia-Ohio State, Michigan-TCU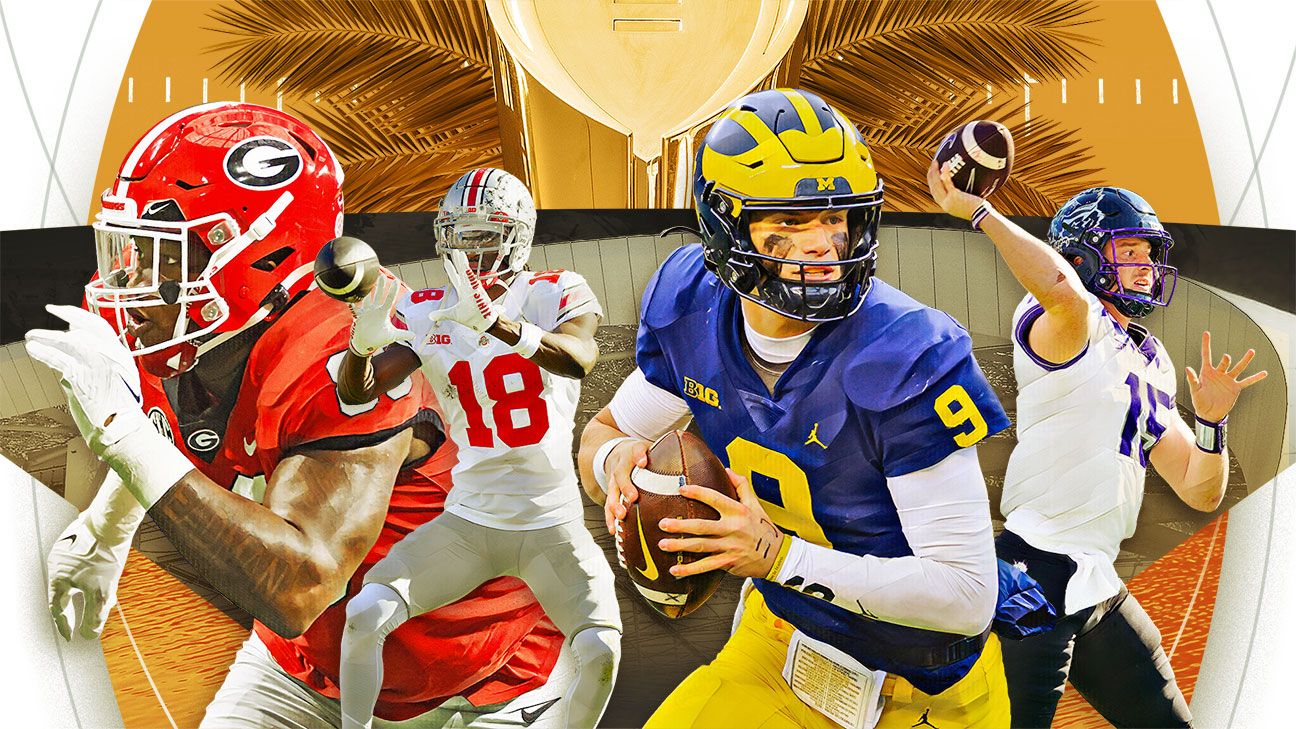 Nick Saban tried. Alabama's coach found whatever megaphone was available to him Saturday night to publicly plead the Crimson Tide's case to make the College Football Playoff.
He suggested looking at the top four through the lens of, "How are they playing at the present?" He asked, "If we played these teams in question, would we be underdogs in the game or not?"
But the committee didn't budge. Betting lines aren't part of their criteria, after all. They meet in Grapevine, Texas, not Las Vegas.
There would be no leapfrogging Ohio State or TCU. In the end, the math was simple: The top three of Georgia, Michigan and TCU remained the same, out went USC by virtue of a second loss in the Pac-12 championship game, and in slipped the Buckeyes, who moved up one spot to No. 4. Which means, for just the second time since the CFP began in 2014, Alabama will not be part of the semifinal round.
So we have new blood: The Horned Frogs become the first team from the Big 12 not named Oklahoma to reach the playoff.
And we have an old rivalry: The Buckeyes and Wolverines will play their respective semifinal games for a chance to meet for the national championship.
And we have a chance for some more history: Georgia is seeking to become the first repeat champion of the CFP era.
Here's a first look at the semifinal games.

No. 1 Georgia vs. No. 4 Ohio State
CFP Semifinal at the Chick-fil-A Peach Bowl
When: Saturday, Dec. 31 at 8 p.m. ET
Where: Mercedes-Benz Stadium, Atlanta
How to watch: ESPN and ESPN App
Opening line via Caesars Sportsbook: Georgia by 7
Georgia
Key player: Georgia's defense shouldn't be this good again. Repeating last season's success would have been hard enough, even if it had not lost five first-round draft picks to the NFL. But maybe the most talented player on that defense from a year ago — Jalen Carter — did come back. And after dealing with nagging injuries the first half of the season, he has showed what a game-wrecker he can be of late. In his past six games, he had 24 tackles, 6.5 tackles for loss, three sacks and two forced fumbles. Big and strong enough to plug the running lanes, and quick and agile enough to rush the passer, Carter must be accounted for.
X factor: Georgia's offense is effective, of course. It has a three-headed monster at running back with Kenny McIntosh, Kendall Milton and Daijun Edwards. And quarterback Stetson Bennett is a threat whether he's throwing from the pocket or scrambling for yards. What's more, he has mismatches at tight end in Brock Bowers and Darnell Washington to lean on. But who's the go-to receiver? Who's the deep threat? Ladd McConkey is solid with 51 receptions and five touchdowns, but those aren't exactly eye-popping numbers, and he's undersized at 6-foot. Fellow receivers Marcus Rosemy-Jacksaint and Dillon Bell have only two touchdowns apiece.
How Georgia wins: The formula isn't terribly complicated. Kirby Smart built the Bulldogs to win the line of scrimmage on both sides of the ball. So start from the inside out. Carter and the defensive line suffocate the running game (2.97 yards per rush during the regular season, sixth lowest in the FBS) and get in the face of the quarterback (31% pressure rate). Meanwhile, the offensive line powers a strong running game (5.5 yards per rush, eighth best among Power 5 teams) and protects the quarterback (seven sacks, tied for second fewest in the FBS). Throw in a savvy veteran quarterback (Bennett) and an All-America tight end (Bowers), and all the ingredients to reach the national championship game are there. — Alex Scarborough
Ohio State
Key player: Quarterback C.J. Stroud had a Heisman-type season going until the Michigan game, with 3,330 passing yards, 37 touchdowns and six interceptions on the year. Stroud threw for 349 yards and two touchdowns against the Wolverines but also had two interceptions. The Buckeyes were dealing with injuries to running back TreVeyon Henderson and Miyan Williams, while freshman Dallan Hayden had just two carries. With converted linebacker Chip Trayanum getting most of the carries, Stroud becomes that much more important if Ohio State isn't fully healthy at running back. He has been the leader of the offense this season, and while the loss to rival Michigan was a big setback, he can make up for it in the playoffs.
X factor: Wide receiver Marvin Harrison Jr. is one of the best receivers in the country. He has continuously made ridiculous catches throughout the season and makes plays most receivers can't. The Buckeyes are dealing with injuries to the ground game and have also been without receiver Jaxon Smith-Njigba, so Harrison is vital to the offense on this stage. If he can provide a reliable target for Stroud and get in the end zone, Ohio State should be able to hang with any of the other semifinalists.
How Ohio State wins: The defense needs to limit big plays. It has done a good job of limiting explosive plays all season but showed some weaknesses against the Wolverines, who were able to score multiple long touchdowns through the air and on the ground. The offense has proved that it can put points on the board, but now the defense has to meet the challenge of playing a top-notch offense and have its best game yet. — Tom VanHaaren
---
No. 2 Michigan vs. No. 3 TCU
CFP Semifinal at the Vrbo Fiesta Bowl
When: Saturday, Dec. 31 at 4 p.m. ET
Where: State Farm Stadium, Glendale, Arizona
How to watch: ESPN and ESPN App
Opening line via Caesars Sportsbook: Michigan by 9
Michigan
Key player: Running back Donovan Edwards had 216 rushing yards and two touchdowns in Michigan's win against Ohio State. With Blake Corum out, Edwards' performance will be key for the Wolverines. The run game is critical to the Michigan offense, and Edwards' ability to establish the run and open up the passing game will be a key for the Wolverines.
X factor: Michigan has been a second-half team all season, with a plus-186 point differential after halftime. That is the second-highest margin for any FBS team through 12 games over the past 10 years. The Wolverines have been able to wear out their opponents in every game and have not shown any signs that they will slow down after outscoring Ohio State 28-3 in the final regular-season game and Purdue 29-9 in the Big Ten championship game. Coach Jim Harbaugh has praised strength and conditioning coach Ben Herbert for those second-half surges, which have been a signature for Michigan all season.
How Michigan wins: If the Wolverines can establish their running game and control the clock as they have all season, plus mix in some big plays through the air from quarterback J.J. McCarthy, they should have a good shot. McCarthy has continuously called this a "smashfest" team, and the Wolverines relish beating their opponents up front. Michigan showed it can strike through the air if it has to against Ohio State, but its ideal scenario is having success on the ground first. — Tom VanHaaren
TCU
Key player: Max Duggan attempted another wild comeback Saturday against Kansas State, but the Frogs came up just short for the first time in six of those scratch-and-claw games this season. But Duggan has been unflappable, never more so than in a late comeback win on the road at Baylor, when he led two fourth-quarter scoring drives without TCU's best running back (Kendre Miller, who has 1,342 rushing yards this season, the most at TCU since LaDainian Tomlinson in 2000), top two receivers (Quentin Johnston and Derius Davis) and no timeouts. Duggan has thrown for 3,321 yards and 30 touchdowns to just four interceptions, and his 25 career rushing touchdowns are in the top 10 in school history. Duggan calmly piloted the Frogs to victory after falling behind by 17 to Oklahoma State and 18 to Kansas State in the regular season. That's why he's a leading contender for the Heisman Trophy.
X factor: Quentin Johnston. The 6-4, 215-pound junior receiver is a big-play threat with first-round draft potential but has been hobbled for much of the season. When TCU has turned to him, he has been huge, including a key third-down catch with the game on the line in the fourth quarter at Texas, and a 55-yard touchdown catch down late against Kansas State. The Horned Frogs were able to rest him against Iowa State to get him ready for the postseason. When he was healthy, Johnston showed his potential with a two-game stretch against Oklahoma State and on the road against Kansas, when he combined for 22 catches for 386 yards and two touchdowns. On Saturday against Kansas State, he caught four passes for 139 yards. A return to that type of threat would be a huge boost for TCU.
How TCU wins: The Frogs have employed a mix of thunder and lightning to keep opponents on the ropes, particularly in the second half. TCU had 17 plays of at least 50 yards this season, second only to Tennessee in the FBS. Duggan ranks third nationally in completion percentage on passes of 20 or more yards downfield at a 54.7% clip with 12 touchdowns on such plays, tops in the country. And Miller rushed for more than 1,000 yards between the tackles and is tough to bring down, ranking third in the Big 12 with 650 yards after contact. If the Frogs can remain patient and pound away with Miller, they'll be able to open up the field for their playmakers and a roster loaded with speed. — Dave Wilson
Georgia, Michigan, TCU, Ohio St. picked for CFP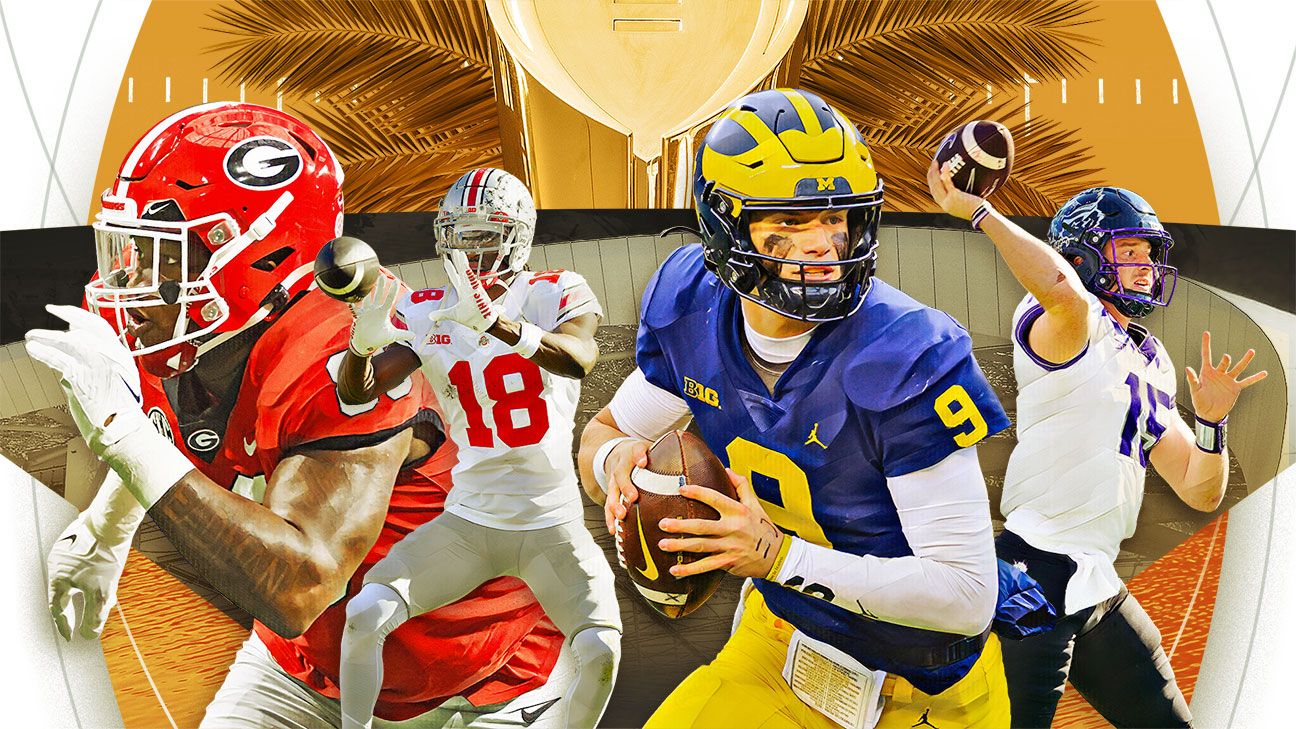 Georgia, Michigan, TCU and Ohio State will play for the national championship after being chosen for the College Football Playoff on Sunday.
After not playing in a conference championship game, the Buckeyes (11-1) moved up one spot following USC's loss in the Pac-12 title game Friday to give the Big Ten two playoff teams for the first time in the format's nine-year history.
No. 4 Ohio State will face No. 1 Georgia in the Chick-fil-A Peach Bowl, and No. 2 Michigan will face No. 3 TCU in the Vrbo Fiesta Bowl on Dec. 31.
The CFP National Championship presented by AT&T will be played Jan. 9 at SoFi Stadium in Inglewood, California.
Georgia opened as a 7-point favorite over Ohio State at Caesars Sportsbook, and Michigan is a 9-point favorite over TCU.
TCU (12-1) held on to its No. 3 ranking after losing in overtime in the Big 12 championship game to Kansas State. The Horned Frogs and Buckeyes are the fifth and sixth teams to make the College Football Playoff without winning a conference title.
Horned Frogs coach Sonny Dykes said he was concerned about his team's playoff status after the loss but added that he had faith in the selection committee.
"I think we're certainly deserving," Dykes said.
At a watch party for TCU players and staffers at its Fort Worth, Texas, campus, cheers broke out when the Frogs landed in the bracket during the announcement show.
Alabama (10-2) had hoped to make a jump into the top four following USC's and TCU's losses, with coach Nick Saban lobbying for his team Saturday.
"If we played any of those teams that are on the edge of getting in, would we be the underdogs or the favorite?" Saban said on Fox at halftime of the Big Ten championship.
The Crimson Tide were ranked fifth by the selection committee.
Committee chairman Boo Corrigan, the athletic director at NC State, said Ohio State's big wins over Penn State and Notre Dame helped push the Buckeyes in over Alabama.
"As we looked at the total body of work, the committee was comfortable with Ohio State at No. 4 and Alabama at 5," Corrigan said in an interview on ESPN.
Georgia (13-0) and Michigan (13-0) are in the playoff for the second straight year. They won their respective conference title games handily Saturday and will look to become the fourth team to win the CFP with an undefeated record.
The only time Georgia and Ohio State have previously played was in the 1992 Citrus Bowl, a 21-14 Bulldogs victory. TCU, whose only national title came in 1938, has never played Michigan.
Corrigan said the committee did not make any special effort to avoid having a rematch of Ohio State and Michigan in a semifinal. The Buckeyes and Wolverines have never played outside of their annual regular-season game in a rivalry that dates back to 1902.
The Associated Press contributed to this report.