University students could need to be fully vaccinated against coronavirus to attend lectures and stay in halls this coming academic year.
"We aren't ruling it out," a senior government source told Sky News about the prospect of mandating COVID-19 vaccination passports for universities.
Live COVID updates from the UK and around the world
22 July: Govt 'reserves right' to mandate jab passport use

According to a report in The Times newspaper, Boris Johnson is said to be "pushing" the idea.
The prime minister is "raging" at low COVID-19 vaccine uptake among young people and wants to apply pressure to increase the numbers coming forward for a jab, the report added.
But asked by Kay Burley on Sky News if students would need to be fully-vaccinated to enjoy a normal university experience, education minister Vicky Ford replied: "No. We must make sure we continue to prioritise education."
Ms Ford did say that having two jabs would "minimise disruption" for students as they would then not have to isolate if they are identified as a close contact of someone who has tested positive for the virus.
But the minister later appeared to contradict herself, telling BBC Radio 4's Today programme that ministers will "look at every practicality to make sure that we can get students back safely and make sure that we can continue to prioritise education".
Southgate urges young people to get jabbed

Follow the Daily podcast on Apple Podcasts, Google Podcasts, Spotify, Spreaker
And she told Times Radio: "We don't want to go back to a situation where large parts of education were closed to many young people and children, and a key part of doing that is having that double-vaccinated population.
"So I think we need to continue to encourage our young people to step forward, have the vaccination, and that is the way that they can have that freedom and confidence that they'll be able to have that full university life."
Boris Johnson to admit he 'unquestionably made mistakes' at COVID inquiry – report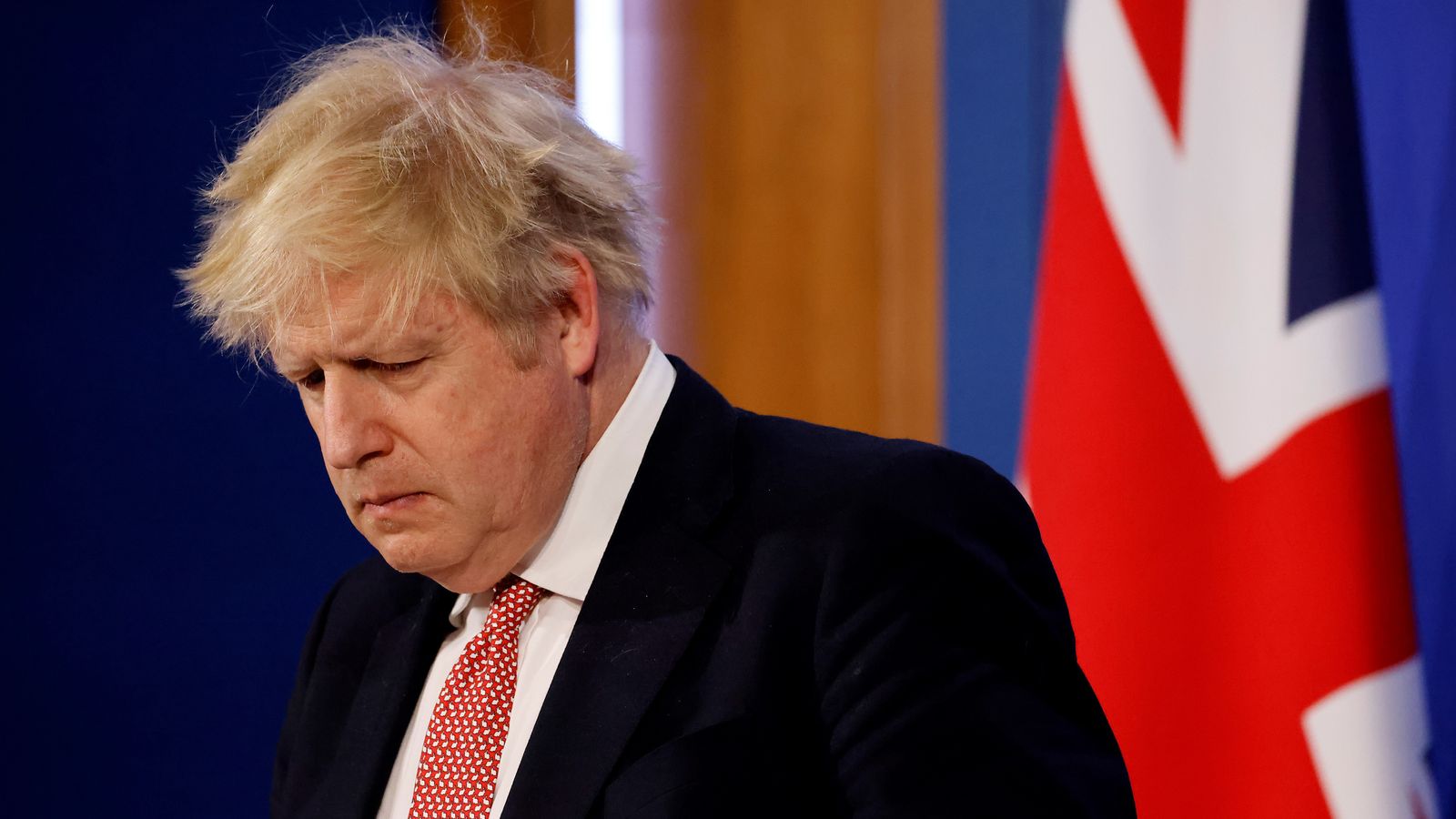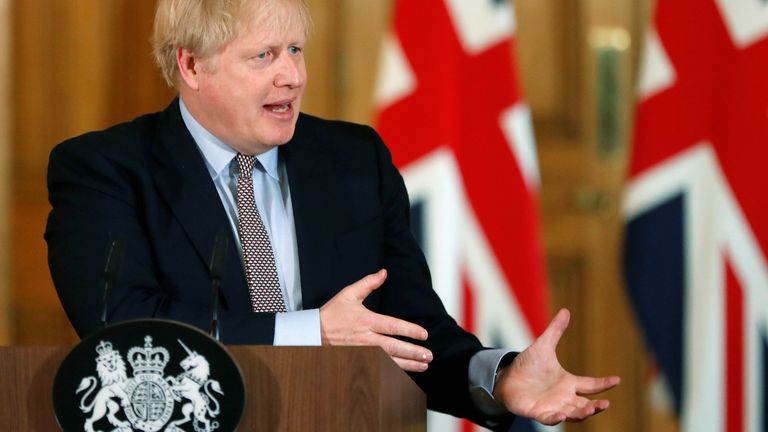 Boris Johnson will reportedly tell the COVID inquiry that he "unquestionably made mistakes" during the pandemic, but his decisions helped save tens of thousands of lives.
The former prime minister is due to give evidence next week – and according to The Times, he will issue an "unreserved apology" and admit his government was "initially far too complacent" about the threats posed by the virus.
Mr Johnson is expected to express regret for boasting about shaking hands with patients on a coronavirus ward and defend the timings of the UK's three lockdowns.
March 2020: 'I shook hands with everybody'

He is set to argue that failing to act would have caused thousands more "miserable and unnecessary deaths – some of them in hospital car parks and corridors".
Last month, England's chief medical officer Professor Chris Whitty told the inquiry that he believes the first lockdown in March 2020 came "a bit too late".
'First lockdown was a bit too late'

But The Times is reporting that Mr Johnson will claim Prof Whitty was "instrumental in arguing for a delay" – and the possibility of a lockdown was first discussed three weeks before it was enforced.
The ex-PM is also expected to deny saying that he had a "let it rip" attitude towards COVID, with a view to achieving herd immunity.
Mr Johnson is expected to face difficult questions on multiple issues – including partygate, his communications with government colleagues, and the evidence heard so far.
Read more from Sky News:
Two rescued after house explosion in Edinburgh
Why did King wear a tie covered in Greek flags?
June 2023: What was in the partygate report?

The report suggests that the former politician is preparing to argue that his WhatsApp messages have been taken out of context, meaning "dark humour is lost or morphs into mockery".
Eat Out to Help Out is also likely to be discussed, amid claims that the government's COVID-19 taskforce was "blindsided" when the controversial scheme was announced.
'Blindsided' by Eat Out to Help Out

Mr Johnson is expected to argue that the policy was "properly discussed" with Prof Whitty and former chief scientific adviser Sir Patrick Vallance.
According to the newspaper, then chancellor Rishi Sunak and de facto chief of staff Dominic Cummings are both set to be largely absent from Mr Johnson's written testimony, which is likely to be published after his appearance in front of the inquiry.
Cummings says PM was known as a 'trolley'

Aides to Mr Johnson have said they were not responsible for briefing The Times.
A spokesman was quoted as saying: "Boris Johnson will be at the COVID inquiry next week and is looking forward to assisting the inquiry with its important work."
The SEC is facing another defeat in its recycled lawsuit against Kraken
The legal duel between the United States Securities and Exchange Commission (SEC) and Kraken, a leading cryptocurrency exchange, looks like another misguided attempt by the SEC to exert control over an industry that fundamentally challenges an outdated regulatory playbook. The agency's lawsuit, filed in November, accuses Kraken of operating as an unregistered securities exchange.
The lawsuit isn't just a repeat of the SEC's past failures. It's also a glaring example of regulatory overreach that fails to grasp the essence of cryptocurrency. It mirrors the agency's actions against Coinbase, which mark a pattern of aggressive regulation that is both ineffectual and counterproductive. In its case against Coinbase, the SEC allegations similarly involved operating as an unregistered securities exchange. The approach fundamentally misunderstands the nature of cryptocurrency exchanges.
The lawsuit isn't just a repeat of the SEC's past failures. It's also a glaring example of regulatory overreach that fails to grasp the essence of cryptocurrency. It mirrors the agency's actions against Coinbase, which mark a pattern of aggressive regulation that is both ineffectual and counterproductive. In its case against Coinbase, the SEC allegations similarly involved operating as an unregistered securities exchange. The approach fundamentally misunderstands the nature of cryptocurrency exchanges.
Unlike traditional securities exchanges, platforms like Kraken offer a diverse range of digital assets that do not fit neatly into the securities framework. This misclassification by the SEC reveals a lack of understanding of the unique characteristics of cryptocurrencies, which function as decentralized assets, often with utility or currency-like features rather than conventional securities.
Related: Expect some crypto companies to fail in the wake of Bitcoin's halving
One of the most striking issues is the absence of technological neutrality — the principle that regulatory frameworks should apply equally to all forms of technology, without favoring or penalizing any particular one. By forcing cryptocurrencies into the traditional securities mold, the SEC is not only misapplying laws but also showing a clear bias against digital assets. This lack of neutrality not only hinders innovation but also unfairly targets platforms that are striving to work within the regulatory landscape.
The aggressive stance of the SEC risks driving innovation and business away from the U.S. to more crypto-friendly jurisdictions. This phenomenon, known as regulatory arbitrage, could result in the U.S. losing its position as a leader in technological innovation. The crypto industry is global, and excessive regulation in one country simply pushes businesses to relocate, taking their economic benefits and innovations with them.
Related: 3 theses that will drive Ethereum and Bitcoin in the next bull market
The Kraken lawsuit is set to become another example of the SEC's failure to successfully regulate the crypto industry, akin to the outcome of its actions against Coinbase. This repetitive cycle of aggressive and misinformed regulation is not only futile but also harmful to the credibility of the SEC. It sends a message that the regulatory body is more interested in flexing its regulatory muscle than in understanding and adapting to new technological paradigms.
The case isn't just an isolated legal battle. It is indicative of a broader issue within the U.S. regulatory framework's approach to cryptocurrencies. The SEC must move beyond its current, outdated tactics and engage with the crypto industry in a more informed and constructive manner. Regulation is necessary, but it must be reasonable, well-informed, and designed to foster innovation, not stifle it.
It looks the SEC is set for another resounding defeat, which will serve as one more reminder of the need for a new approach by regulators.
Daniele Servadei is the 20-year-old founder and CEO of Sellix, an Italian e-commerce platform that has processed more than $75 million in transactions for more than 2.3 million customers worldwide. He's attending the University of Parma for a degree in computer science.
This article is for general information purposes and is not intended to be and should not be taken as legal or investment advice. The views, thoughts and opinions expressed here are the author's alone and do not necessarily reflect or represent the views and opinions of Cointelegraph.
Nayib Bukele steps down as El Salvador's President ahead of re-election bid
El Salvador President Nayib Bukele, who was behind legislation recognizing Bitcoin (BTC) as legal tender in the country, has stepped down from office to campaign.
On Dec. 1, Bukele resigned as the President of El Salvador following approval from the country's Legislative Assembly, allowing him to take a leave of absence to focus on his 2024 re-election campaign. He was succeeded by Acting President Claudia Rodríguez de Guevara, who is expected to serve until June 2024. The next general election will take place in February 2024.
"Current state of democracy in El Salvador: the office of the President of the Republic will be occupied by a person for whom no one has ever voted," said Héctor Silva, candidate for the mayor's office of San Salvador, on X.
El legado correcto

The right legacy 
https://t.co/dO2c0ZtQUN

— Nayib Bukele (@nayibbukele) November 29, 2023
Bukele, who first took office in June 2019, quickly became known for his attempts to reduce the homicide rate in El Salvador — one of the highest in the world at the time — as well as his pro-crypto policies. He advocated for the Salvadoran government to adopt Bitcoin as legal tender in September 2021 and pushed for the creation of a volcano-powered 'Bitcoin City' in the country.
Related: Salvadoran pro-Bitcoin President Nayib Bukele launches reelection bid
Though the homicide rate under Bukele has dropped significantly, many critics have pointed to El Salvador violating laws on human rights in its attempts to crack down on gang activity. A United Nations human rights office report from March said the country had implemented "mass detentions" since 2022, in which many people were mistreated or had died in custody.
The President of El Salvador serves for a five-year term. Before September 2021, the country's constitution required presidents to wait ten years before running for re-election. However, El Salvador's Supreme Court ruled at that time that a president may serve two consecutive terms.
Magazine: What it's actually like to use Bitcoin in El Salvador