What is legacy of Arab Spring protests and uprisings as Tunisia's president ousts PM in 'coup'
Long considered one of the few success stories that sprang from the Arab Spring, Tunisia has seen its president accused of staging a coup after he sacked his prime minister and suspended parliament with the help of the army.
President Kais Saied's dismissal of Prime Minister Hichem Mechichi on Sunday followed violent demonstrations across the country over the government's handling of the coronavirus pandemic.
It has led to clashes between supporters and opponents of the president in the streets of the capital, Tunis.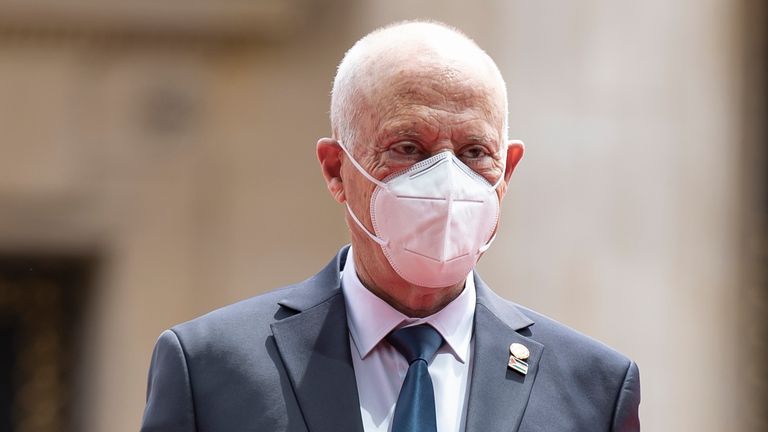 Mr Saied has said he will name a new prime minister, but his critics have accused him of a power grab that threatens Tunisia's young democracy.
Here is a look at the legacy of the Arab Spring and how protests and uprisings dramatically altered the political structure of much of the Arab world.
The Arab Spring
The Arab Spring spread across much of the Arab world from early 2010 as demonstrators rallied against the region's dictatorial leaders in protests over corruption, poverty and oppression.
Escalating anti-government protests spilt over into uprisings and eventually civil wars in several countries as the Arab Spring spread from Tunisia to Egypt, Syria, Libya and Yemen, resulting in the ousting of the leaders in those countries, with the exception of Syria.
It has directly contributed to the refugee crisis and the rise of the Islamic State and has seen fresh authoritarian leaders seize power in many countries, leaving many with their hopes crushed as they struggle to live under increasingly authoritarian regimes in countries beset by greater levels of poverty and unemployment.
Tunisia
People took to the streets in the capital, Tunis, to celebrate the PM's dismissal – but others have called the move 'a coup'

The roots of the Arab Spring can be traced back to Tunisia, where Mohamed Bouazizi, a fruit seller, set himself on fire in protest after police confiscated his goods and a female officer slapped him on 17 December 2010.
Footage of his self-immolation spread across the country and led people in his home city of Sidi Bouzid to take to the streets in rage.
Within a month, protests had forced Tunisia's authoritarian president, Zine El Abidine Ben Ali, to flee to Saudi Arabia.
Despite the relative success of Tunisia's revolution, the country has recently seen large protests over mass unemployment and many consider its parliament inefficient and stagnant.
These problems have been exacerbated by the coronavirus pandemic, which has hit the economy hard as infection rates soared over the summer.
Egypt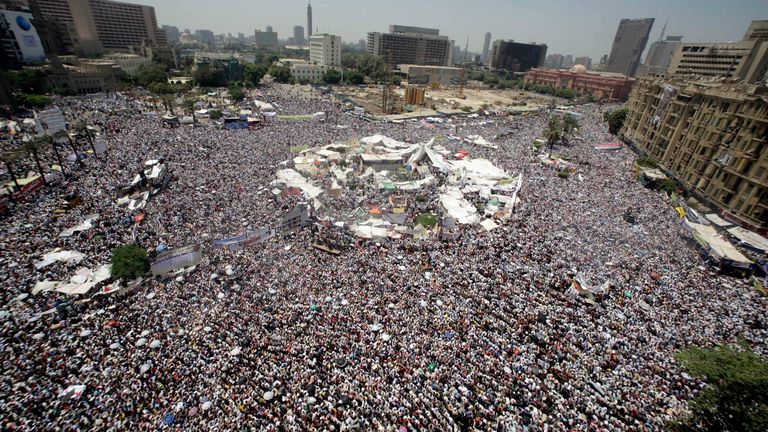 Demonstrations in Tunisia following the death of Bouazizi inspired massive protests across Egypt, leading President Hosni Mubarak to leave office within weeks.
A presidential election in 2012 gave power to President Mohammed Morsi and the Muslim Brotherhood, but Mr Morsi himself was later deposed when Egypt's military generals seized power in 2013.
Field Marshal Abdul Fattah al-Sisi then became president and imposed a police state, which has seen tens of thousands of Egyptians imprisoned and hundreds executed.
The country remains under military rule.
Syria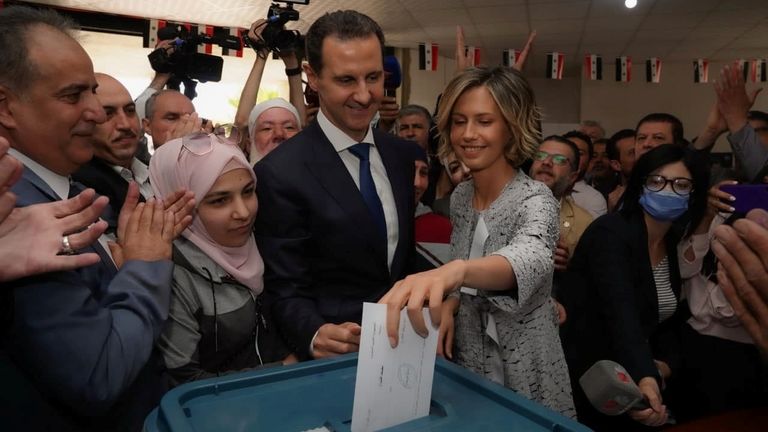 As unrest spread across Syria, Bashar al Assad's government began using live ammunition against protesters, leading tensions to boil over and igniting a civil war in 2011 between the regime and rebel groups.
IS emerged from among the myriad rebel groups and expanded across the border into Iraq, where it declared a new Islamic caliphate in 2014.
Sky's Mark Stone visits refugee camps in northern Syria and hears of the growing influence of Islamic State inside

Syria's brutal decade-long civil war has seen hundreds of thousands of people killed and over 6.8 million Syrians become asylum seekers and 6.7 million displaced within the country's borders.
Despite this, Mr Assad has managed to cling on to power with the support of Russia, Iran and Lebanon-based Shia-militant group Hezbollah, although fighting in the war-ravaged country continues and several areas remain under the control of rebels.
Libya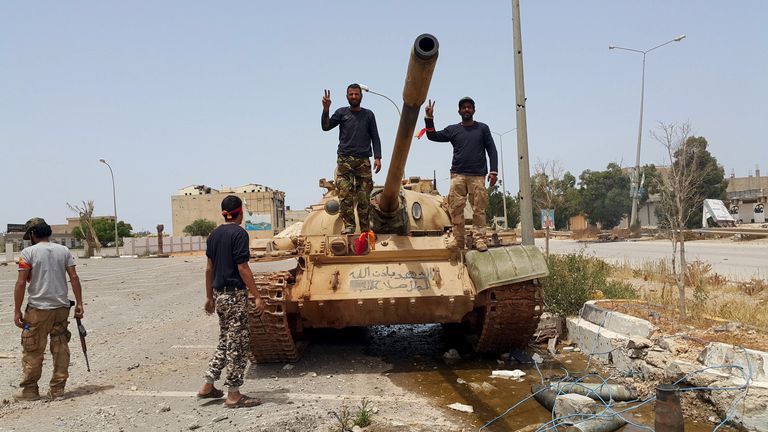 Similarly, Libya's Muammar Gaddafi decided to crack down on the largest protests in the country's history with force.
The move sparked a civil war and a NATO-led coalition began conducting airstrikes in support of the country's rebels.
Rebel forces deposed and later killed Gaddafi in October 2011. However, efforts to transition away from Gaddafi's rule broke down and the country descended into a renewed civil war.
The internationally recognised Government of National Accord remains in control of Tripoli and the city of Misrata, while the Libyan National Army, commanded by General Khalifa Haftar, runs Benghazi and much of the oil-rich east. General Haftar's forces are supported by Russia, Egypt and the United Arab Emirates.
Yemen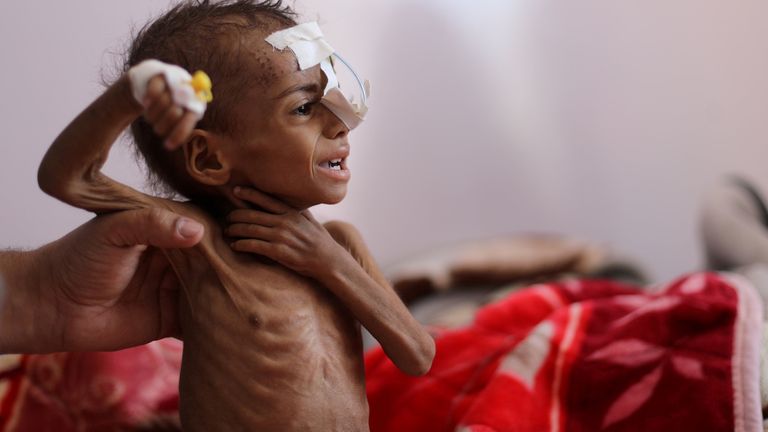 As protests spread throughout much of the Arab world, pressure on Yemen's authoritarian president Ali Abdullah Saleh led him to hand power to his deputy, Abdrabbuh Mansour Hadi, in 2011.
However, Mr Hadi's presidency was beset by continuing problems of corruption, unemployment and an insurgency from the Houthi militia.
The Houthis took control of the capital, Sana'a, in 2014 and declared themselves in charge of the government. Yemen's President, Abdrabbuh Mansur Hadi, fled to Aden, where he continues to lead Yemen's internationally-recognised government.
David Miliband criticises Yemen aid cut

Fierce fighting between the Iran-backed Houthi group and the western-backed coalition led by Saudi Arabia has led to one of the worst famines the world has ever seen, with half of the population lacking food and almost 16 million on the brink of starvation in 2016.
Other countries affected
While the Arab Spring saw rulers deposed in Tunisia, Libya, Egypt and Yemen, it also led to street protests in Iraq, Morocco, Algeria, Lebanon, Jordan, Kuwait, Oman and Sudan. Some countries, such as Saudi Arabia, were able to use military force to effectively end revolts before they could seriously threaten the status quo.
Legacy of the Arab Spring
While the reverberations of the Arab Spring continue to affect life in the Arab World, continuing issues including corruption, authoritarianism and poverty are likely to be exacerbated by the coronavirus crisis.
Only Tunisia's uprising resulted in a transition to a constitutional democracy, but with the country's president ousting his prime minister, the shift away from authoritarian rule is looking increasingly fragile.
Israel-Hamas war: UK sending one of its most lethal warships to Gulf to deter Iran-backed groups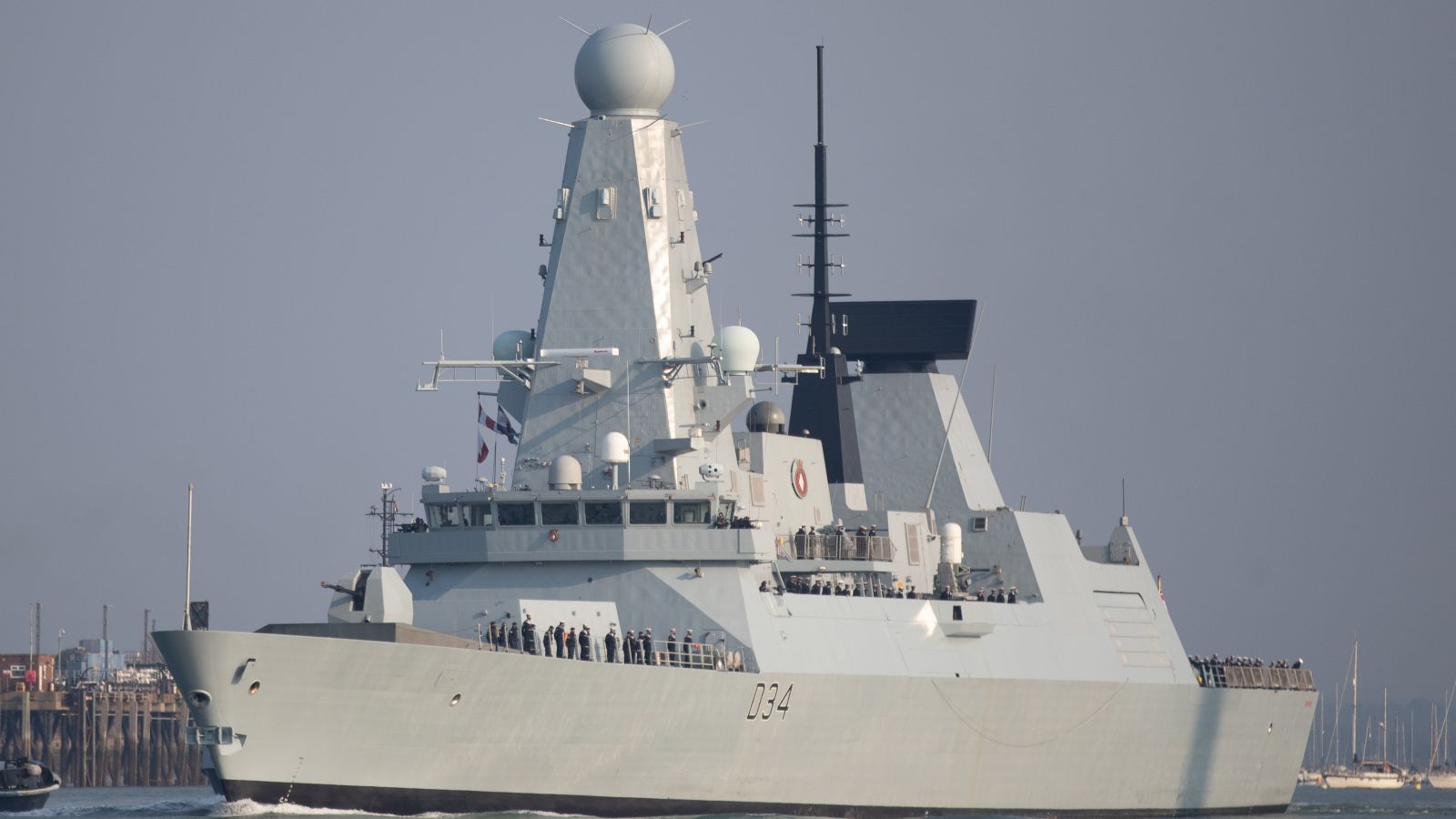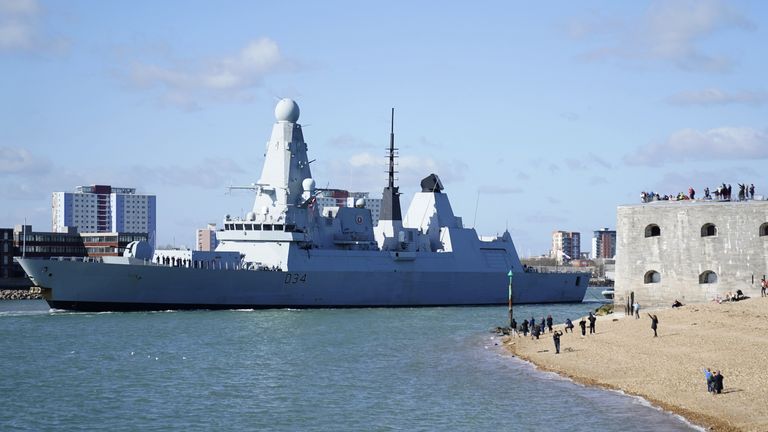 The UK is sending one of its most lethal warships to the Gulf to deter growing threats to shipping from Iran and Iranian-backed groups in the wake of Israel's war against Hamas.
The deployment of HMS Diamond, a Type 45 destroyer, with the ability to shoot missiles out of the sky, comes after Houthi rebels in Yemen hijacked an Israeli-linked cargo ship in the Red Sea last week and the US military had to rescue another vessel on Sunday.
Grant Shapps, the defence secretary, said he was beefing-up a long-standing Royal Navy maritime security operation in the Gulf to reduce the risk of the current crisis between Israel and Tehran-backed Hamas escalating into a regional conflict.
"This is a response to what's happening in the region," he told a group of reporters.
In a statement, the senior minister added: "It is critical that the UK bolsters our presence in the region, to keep Britain and our interests safe from a more volatile and contested world."
The dispatching of a destroyer is the most substantial, publicly-declared military move by Britain since a Hamas attack on Israel on 7 October triggered war.
It follows the deployment of two support ships and surveillance aircraft to the region.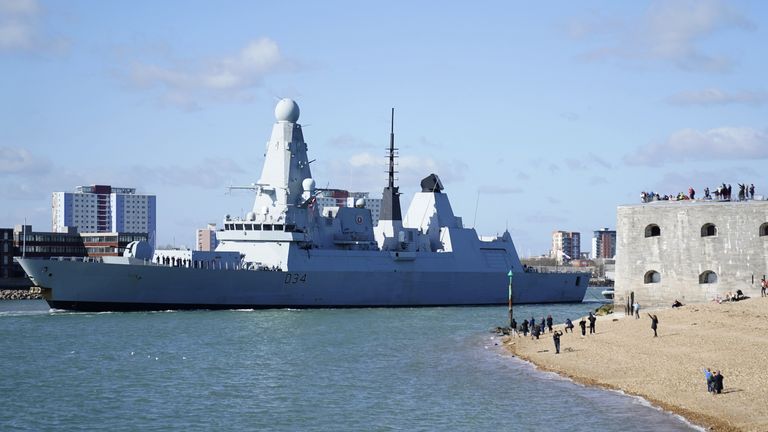 But the most significant attempts to de-escalate the crisis and deter Iran have come from the US, which has sent two huge aircraft carrier strike groups to the region and very unusually flagged the presence of a submarine.
The UK's HMS Diamond will join a long-standing mission, dubbed Operation Kipion, which operates out of Bahrain and works with allied navies to provide additional maritime security to commercial shipping in the Gulf and the Indian Ocean.
The operation was particularly active in 2019 amid escalating tensions between the US, the UK and other allies with Iran when Donald Trump was the US president.
Equipped with a Wildcat helicopter, the Royal Navy destroyer will be joining HMS Lancaster, a Type 23 frigate, as well as three smaller minehunters and a Royal Fleet Auxiliary support ship, the Ministry of Defence said.
Mr Shapps said Arab leaders would welcome the enhanced British footprint as a stabilising presence. "We will be working in the region really to assure our many partners there."
Concern about the security of vital commercial shipping routes in the region was heightened last week when Houthi militants seized the Galaxy Leader cargo ship.
A video released by the militants showed at least seven masked men, carrying what appeared to be AK-47s, drop from a helicopter and land on the top deck of the ship.
Yemen's Houthi rebels hijack cargo ship

It purportedly showed the rebels successfully capturing the vessel raising both the Yemeni and Palestinian flags on board.
Israeli officials said the ship was British-owned and Japanese-operated. But ownership details in public shipping databases associated the ship's owners with Ray Car Carriers, founded by Abraham "Rami" Ungar, who is known as one of the richest men in Israel.
Mission in Europe
Separately to the Gulf mission, the defence secretary also announced that a Royal Navy task force of seven ships will deploy with allies early next month on a mission in European waters to protect critical underwater infrastructure such as cables, which are known to be a high-value target for hostile states such as Russia.
The joint patrols will be the first operation by a UK-led grouping of 10 like-minded European nations called the Joint Expeditionary Force (JEF).
Read more:
US warship aids Israeli-linked tanker after attack in Gulf of Aden
Freed Palestinian prisoners complain of mistreatment
The mission will cover a wide area from the English Channel to the Baltic Sea.
The aim will be to deter threats to a mass of undersea communications lines, oil and gas pipelines and other critical infrastructure that criss-crosses over the seabed.
The UK contribution to the deployment will include two Royal Navy frigates, two offshore patrol vessels and mine countermeasures vessels, as well as a Royal Fleet Auxiliary landing ship – supported by a Royal Air Force P-8 Poseidon maritime patrol aircraft.
Hamas releases two Russian hostages after Kremlin negotiations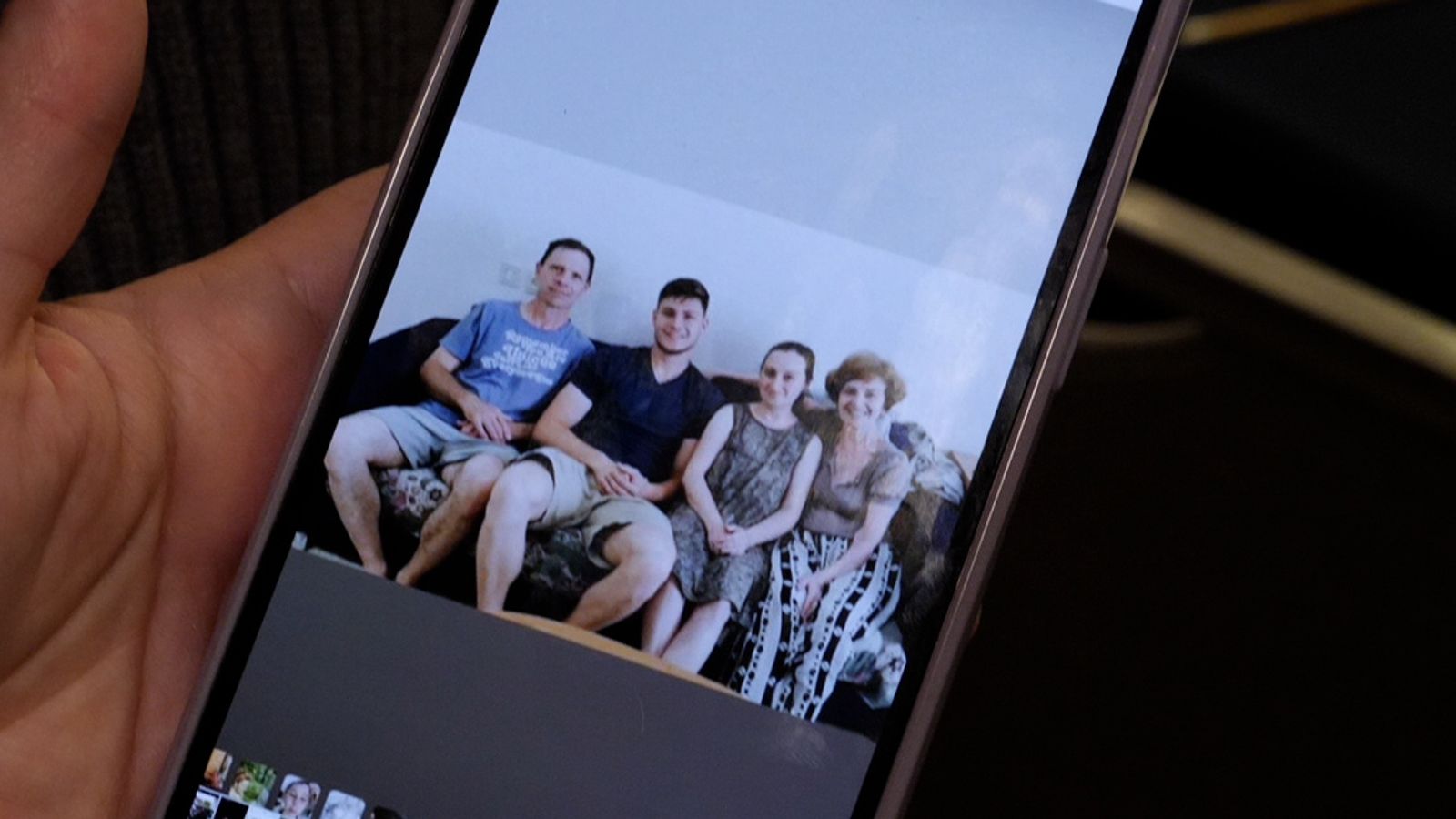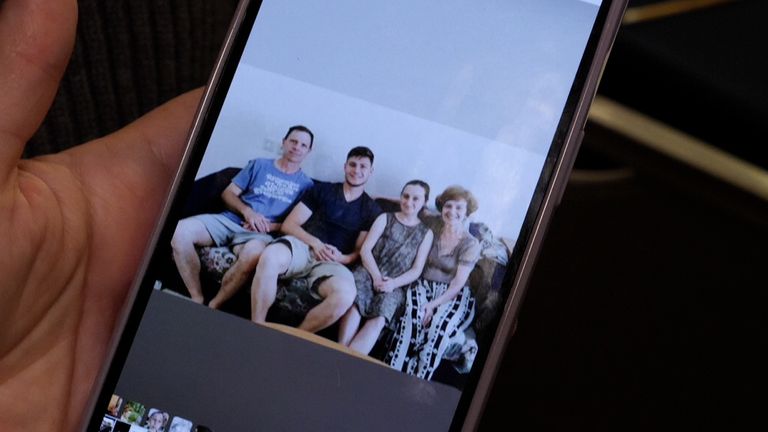 Hamas has released two Russian-Israeli dual nationals and handed them over to the Red Cross under a separate agreement negotiated between Hamas and the Kremlin.
Elena Trufanova, 50, and her mother Irina Tatti, 73, were released on Wednesday afternoon "in response to the efforts of the Russian President", according to a statement by Hamas.
That brings to three the number of hostages with Russian citizenship who have been released since Sunday.
Follow the Israel-Hamas conflict live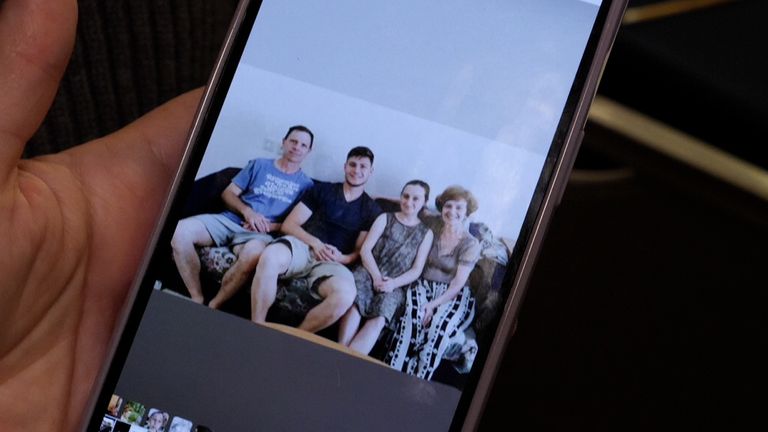 Ms Trufanova's sister, Maria Leizerovich, told Sky News from Moscow that she was "overwhelmed" by the news, but that her fight was not over until Ms Trufanova's son Alexander (Sasha) and his Israeli fiance Sapir Cohen were also released.
The family were kidnapped from Ms Trufanova's home in Kibbutz Nir Oz on 7 October. Her husband Vitaly was killed in the attack.
The first sign Ms Leizerovich had that her sister was alive came almost three weeks later, when Ms Trufanova appeared in a hostage video released by Hamas.
"It was a great joy for us when we saw her there, no matter how crazy that sounds", Ms Leizerovich told Sky News.
"It gave us hope that all our remaining relatives were also alive".
Eight of the roughly 240 hostages originally taken by Hamas were Russian-Israeli dual nationals.
Hamas says 3 hostages killed in Gaza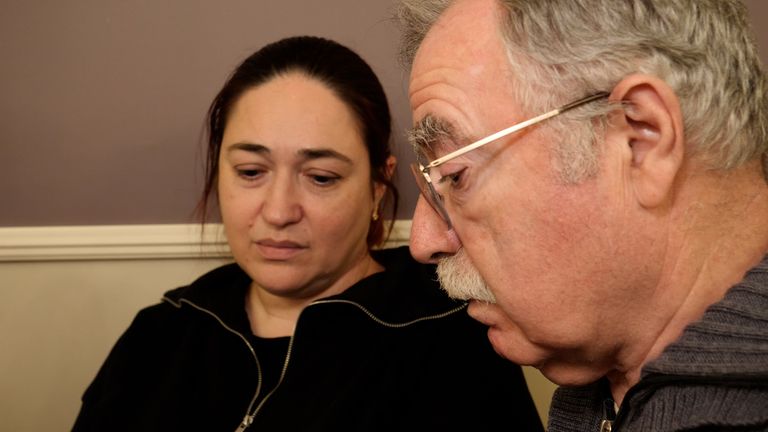 Read more:
Have hostages gone missing in Gaza?
Thai hostage negotiator thanks Iran for support
On Sunday, 25-year-old Roni Krivoi was the first to be released and was reunited with his parents at the Sheba Medical Center near Tel Aviv.
In video of that reunion released by the Israeli government, he appeared to be physically in good health.
Mr Krivoi's aunt told Israeli radio that he had managed to escape his captors for four days when the building he was in was bombed, but that he was recaptured by Gazans and returned to Hamas.
Mr Krivoi had been working at the Nova music festival when he was taken hostage, and is the first adult male with Israeli citizenship to have been released so far by Hamas.
At a press conference in Moscow, relatives of the Russian-Israeli hostages said they had written a letter to Vladimir Putin asking for his help.
"Of course we wrote to Putin", said Oxana Lobanova, whose son Alexander was kidnapped. "And of course we hope that Vladimir Vladimirovich will influence the situation. He stands strong for his citizens".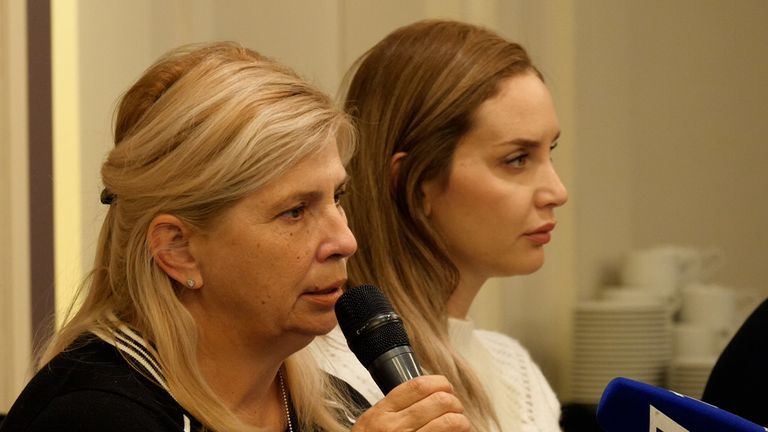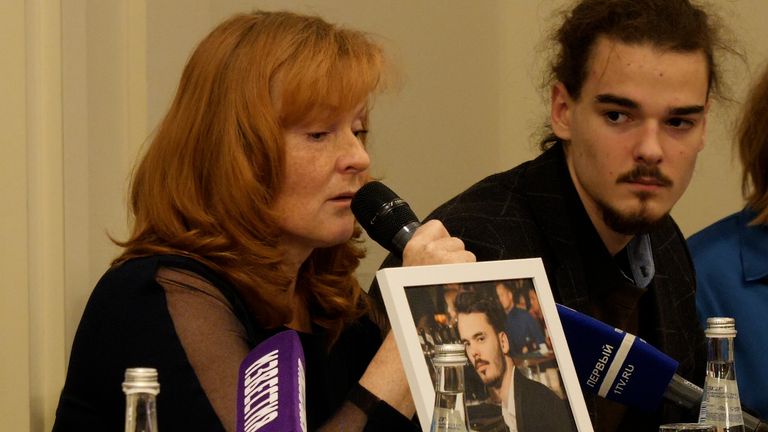 Evgenia Kozlova's son Andrei was working as a security guard at the Nova festival.
"No one knows if he is alive now," she said. "We don't know where is he, in what conditions he's being kept. We don't know what he eats or if he sees the sun.
"We can only guess, based on the hostages who've already been realised, what is happening to him and it does not reassure us."
In late October, a senior Hamas delegation travelled to Moscow for talks with Russian officials.
According to the foreign ministry, the talks focused on the immediate release of foreign hostages and the evacuation of Russian and other foreign citizens from the Gaza Strip.
One month later it would appear that deputy foreign minister Mikhail Bogdanov's dealings with Hamas are beginning to bear fruit.
Thai hostage negotiator thanks Iran for support – and says Hamas justified in taking captives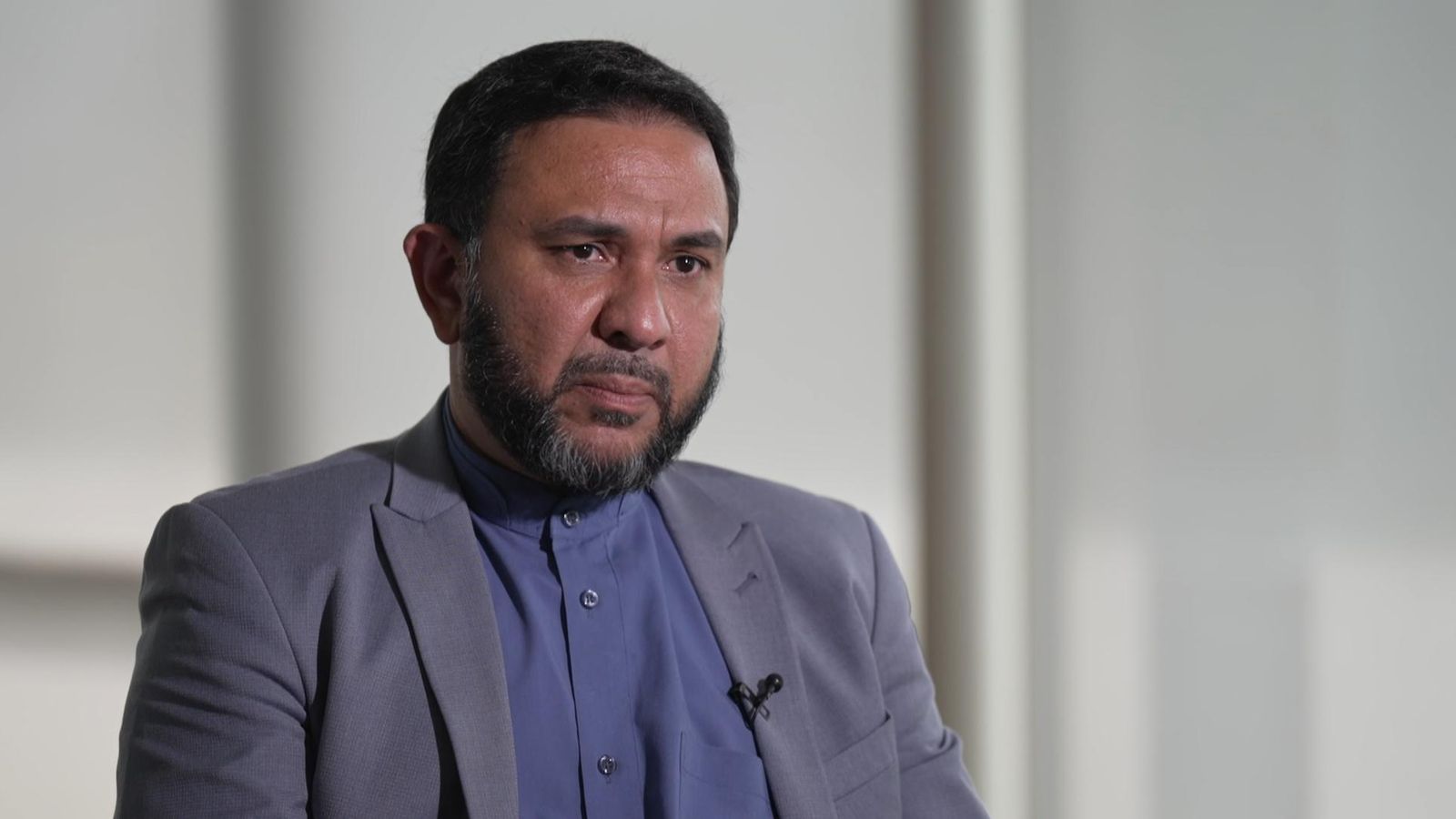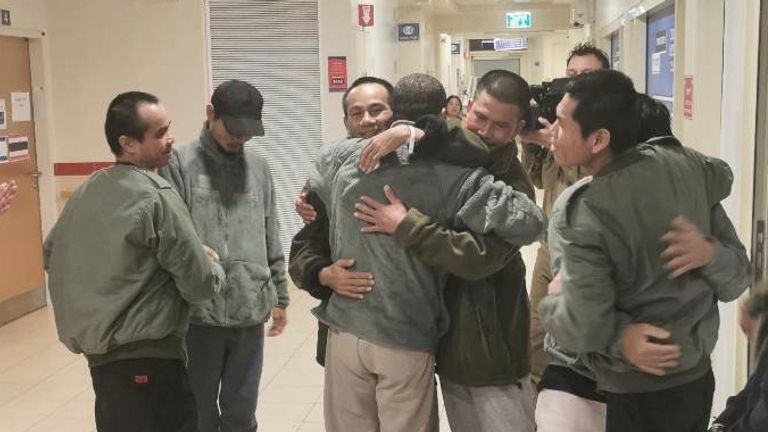 Thai nationals were the single largest group of foreign nationals held by Hamas in Gaza and the highest number killed in Israel – the fact that 17 were quickly freed is considered a diplomatic achievement.
Behind the scenes, Thailand officials have been quietly working away at trying to get their citizens freed, attending meetings in Qatar and Iran.
At the centre of the Thai negotiating team is Lerpong Sayed, a Thai Muslim who, in an exclusive broadcast interview, told Sky News Hamas was justified in taking hostages.
Dr Sayed in recent weeks has split his time between his home country and Iran, where he spoke to Hamas five times.
"We went there to negotiate as normal people, not politicians. Hamas saw this. They saw us as Thai Muslims," he told me in an interview that provides a window into his high-level talks.
"They promised that if there was a ceasefire Thai people would be released in the first group.
"Now we can obviously see Thais are among the first citizens freed compared to 20 other nationalities."
Dr Sayed is part of a small team of three people working on behalf of the Thai House Speaker, Wan Muhammad Noor Matha, and the Shia Muslim leader in Thailand, Syed Sulaiman Husaini.
Thai hostages arrive at Shamir Medical Centre

Thailand's population of 70 million people is predominantly Buddhist and has largely peacefully co-existed with its sizeable Muslim minority.
On Tuesday, the Thai foreign minister went to Israel to meet with the hostages who were freed last week – the first group of captives released by Hamas as part of a truce deal with Israel.
The hostages are due to return to Thailand on Thursday.
Most went to Israel to work as farm labourers. On 7 October, when Hamas launched its attack, many were working in farms on the border. Before the war, 30,000 Thai labourers worked in Israel, predominantly in the agricultural sector.
Dr Sayed says the Thai government's talks with the Qataris partly helped secure the release of Thais, but he firmly believes it was Thailand's historic relationship with Iran that proved critical.
Read more:
Thai mother describes 'indescribable sadness' as Hamas holds daughter captive
Tensions run high in West Bank's Jenin refugee camp
"I'd like to thank Iran – both the government and the people who have been supportive in negotiating with Hamas."
Other analysts have suggested an agreement mediated by Qatar and Egypt was the pivotal factor in securing the release of hostages.
Iran has said it facilitated the release, while Hamas said it was due to the efforts of Turkish President Tayyip Erdogan.
For his part, Dr Sayed is confident that the Thai hostages have been treated well.
He says he knows they've told their families "they were well taken care of, well looked after, given shelter, clothes, food and water and given mental support".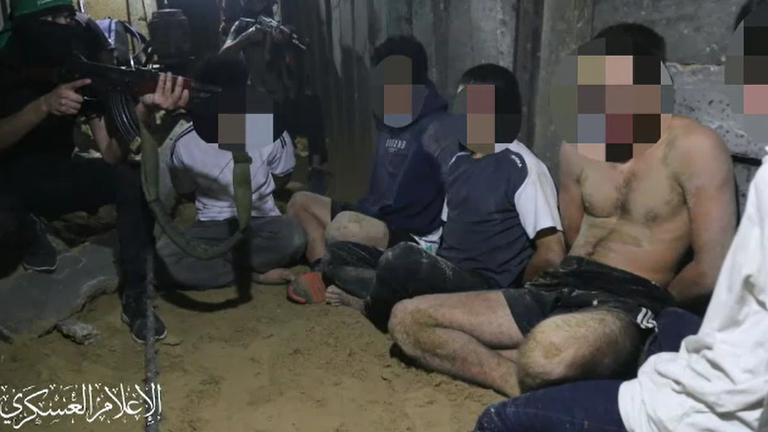 The negotiator insists there were no conditions from Hamas on what the hostages could or couldn't say, and dismisses the idea that the group, seen waving at hostages in increasingly highly produced videos, are using the hostage releases as a spectacle.
Controversially, he also says Hamas was justified in taking hostages.
It was, he argues, "to help the Palestinians", citing the thousands of Palestinians in Israeli prisons and decades of what he sees as Israeli occupation and mistreatment.
From what he has seen and heard from Hamas, he believes the rest of the Thais being held in Gaza will be released. According to the Thai government, there are 15 still being held in Gaza.
But he said Hamas had given him an ominous warning for the Thai people and the Thai authorities: "The border area is disputed land and it's war time and Hamas will consider anyone who works there is working for the outlaws."
They will be very alarming words for the many Thais who are now looking to return, and are financially dependent on the considerable extra money they make in Israel.