Simone Biles says mental health concerns were behind her shock withdrawal from the team gymnastics final at the Tokyo Olympics as she admitted: "I just didn't want to go on".
Biles, the US superstar who some consider the greatest female gymnast of all time, was bidding for six gold medals coming into the competition, but pulled out of her first final after a disappointing start.
Without her, the American team finished second behind the Russian Olympic Committee.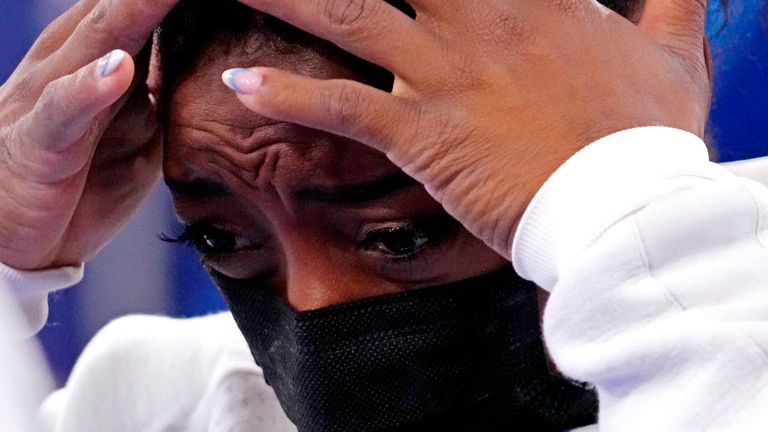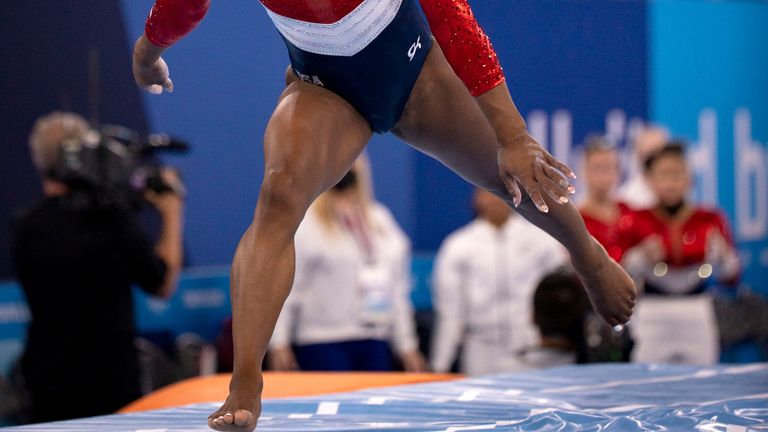 Initially the reason given by team bosses for her withdrawal was a "medical issue".
But, speaking to reporters, Biles, who won four golds and a bronze in Rio 2016, said: "After the performance I did, I just didn't want to go on."
She wasn't hurt, she said, but had suffered "just a little injury to my pride".
"I have to focus on my mental health. I just think mental health is more prevalent in sports right now … we have to protect our minds and our bodies and not just go out and do what the world wants us to do.
"I don't trust myself as much anymore … maybe it's getting older. There were a couple of days when everybody tweets you and you feel the weight of the world.
"We're not just athletes, we're people at the end of the day and sometimes you just have to step back."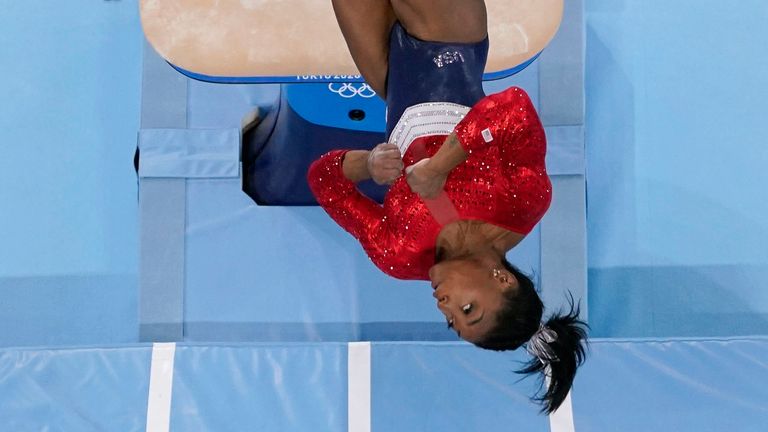 Especially hard was the sense she was no longer doing gymnastics for herself, but for the rest of the world.
"It just sucks when you are fighting with your own head. You want to do it for yourself but you're just too worried about what everybody else is going to say, think, the internet," she said.
Her Olympics is far from over, with her next scheduled competition in the women's all-around final in two days' time. Apparatus competitions also remain.
"We're going to see about Thursday," she said, echoing the team's statement that she "will be assessed daily to determine medical clearance for future competitions".
Biles, who at one point choked back tears, added: "We're going to take it a day at a time and see what happens. I'm just trying to gear up for the next test. I tried to go out there for the team and they stepped up to the plate."
She admitted to feeling conflicted, adding: "It's like fighting all those demons and coming out here. I have to put my pride aside. I have to do it for the team.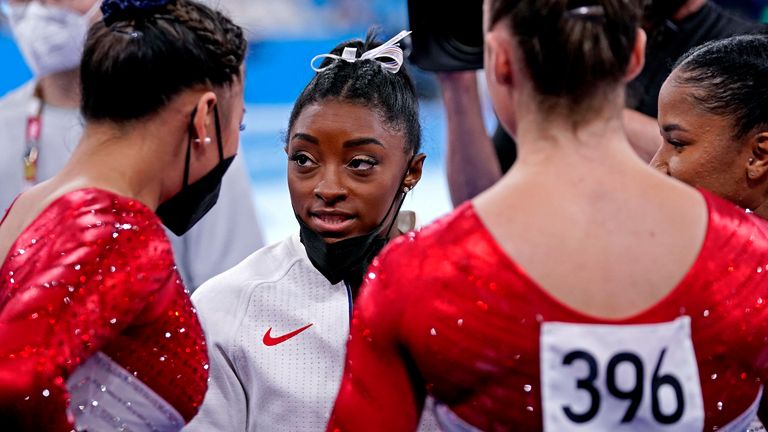 "And then at the end of the day, it's like 'you know what, I have to do what is right for me and focus on my mental health and not jeopardize my health and my well-being'".
Biles kept open the possibility of still competing in Tokyo, but said she would take it a day at a time.
She admitted to regretting she won't be able to have the chance of winning the six golds she was aiming for in Japan, which would have taken her personal tally to 10.
"It is very unfortunate that it has to happen at this stage because I definitely wanted these Olympics to go a little bit better. But again, take it one day at the time. We'll see how the rest goes."
Follow the Daily podcast on Apple Podcasts, Google Podcasts, Spotify, Spreaker
The record-breaking American athlete had a rocky start in the final, where the US was looking to secure a third straight Olympic title.
The 24-year-old bailed on her planned Amanar vault, opting for an easier one in mid-air, and then struggled with the landing.
The rare misstep allowed the gymnasts from Russia to open up a one-point lead after the first rotation and they went on to win.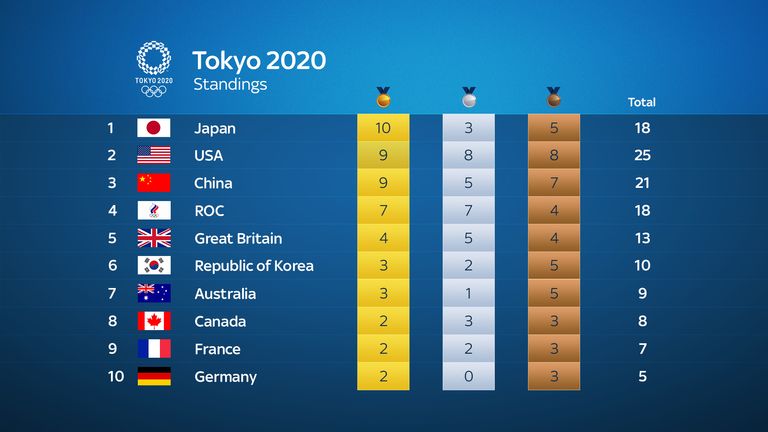 After huddling with her trainer, she left the competition floor with the team doctor before returning several minutes later with her right leg wrapped.
Team GB took a historic bronze after leap-frogging Italy on the last rotation.
Gwyneth Paltrow wins high-profile civil court case against man who claimed she crashed into him while skiing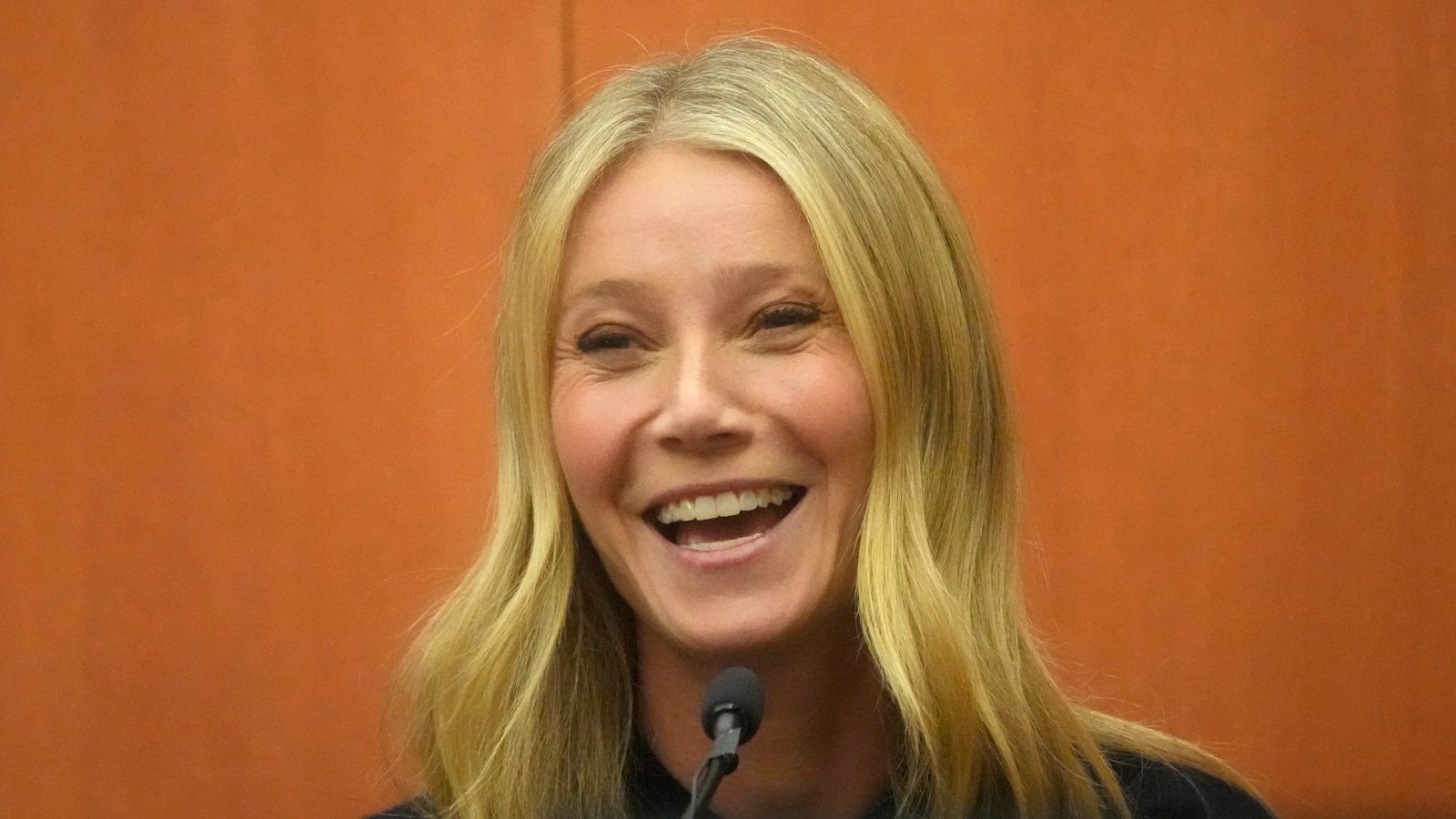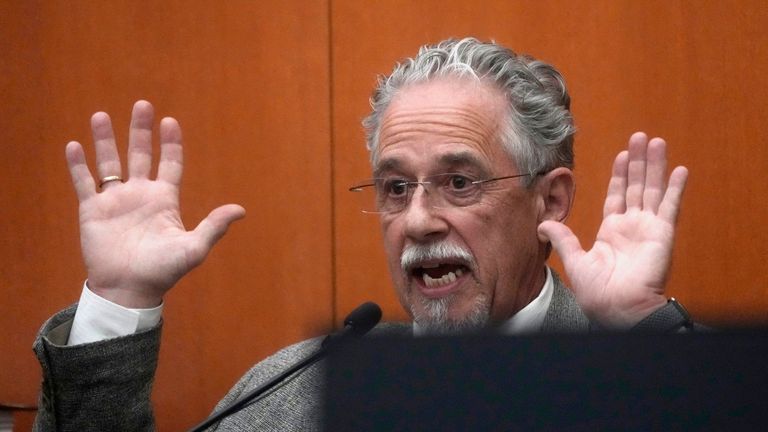 Gwyneth Paltrow has won a high-profile civil court case against a man who claimed she crashed into him while skiing.
She was awarded $1 in damages after the jury found retired optometrist Terry Sanderson was "100%" at fault for the skiing accident.
The jurors deliberated for two hours on Thursday after hearing eight days of evidence.
Paltrow, dressed in a navy blazer jacket and striped shirt, did not react when the verdict was announced.
In a statement released after the verdict, she said she was "pleased" with the outcome.
"I felt that acquiescing to a false claim comprised my integrity," she said.
"I am pleased with the outcome and I appreciate all of the hard work of Judge Holmberg and the jury, and thank them for their thoughtfulness in handling this case."
Mr Sanderson, 76, sued the Hollywood actress for $300,000 (£242,000), saying the 2016 collision on the slopes of Utah left him with several broken ribs and severe brain injuries.
Paltrow, who is also a lifestyle influencer, denied the claims, alleging Mr Sanderson crashed into her at the Deer Valley resort, and caused her to lose "half a day of skiing".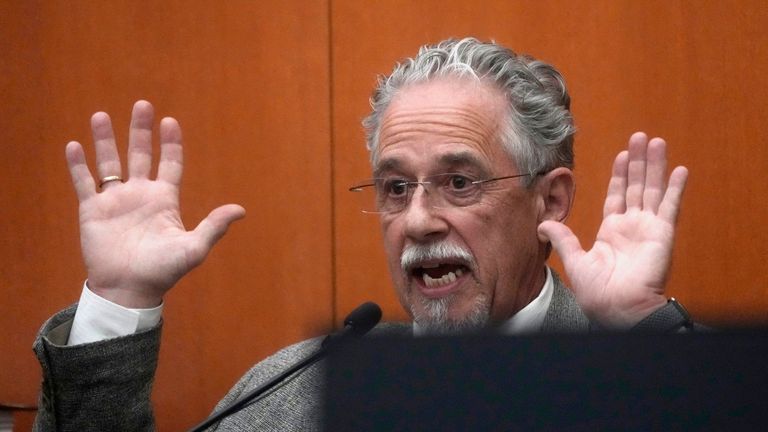 She counter-sued him for the awarded amount of $1 and her legal fees.
During the court case in Park City, jurors heard evidence from a variety of medical experts, ski instructors, and members of both Mr Sanderson and Paltrow's family, including the actress' children Apple and Moses Martin.
Mr Sanderson said he had become a "self-imposed recluse" after the incident and had been advised never to ski again in case of further injury.
But Paltrow's lawyers showed photos of him enjoying multiple holidays after the accident.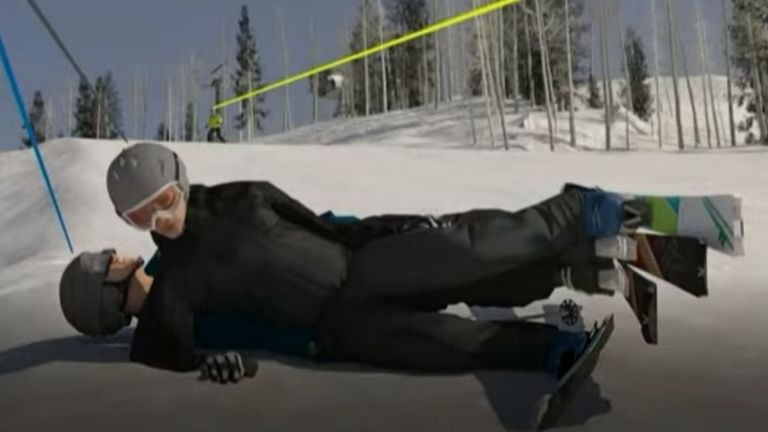 Oscar-winning actress Paltrow, 50, said she felt "very sorry" for Mr Sanderson but reiterated that she was not "at fault" for the crash.
Mr Sanderson said he had been told by medical experts that travelling would be "healing" for him and that he had struggled during his trips.
Donald Trump indicted: Who is Stormy Daniels and what is former president accused of doing?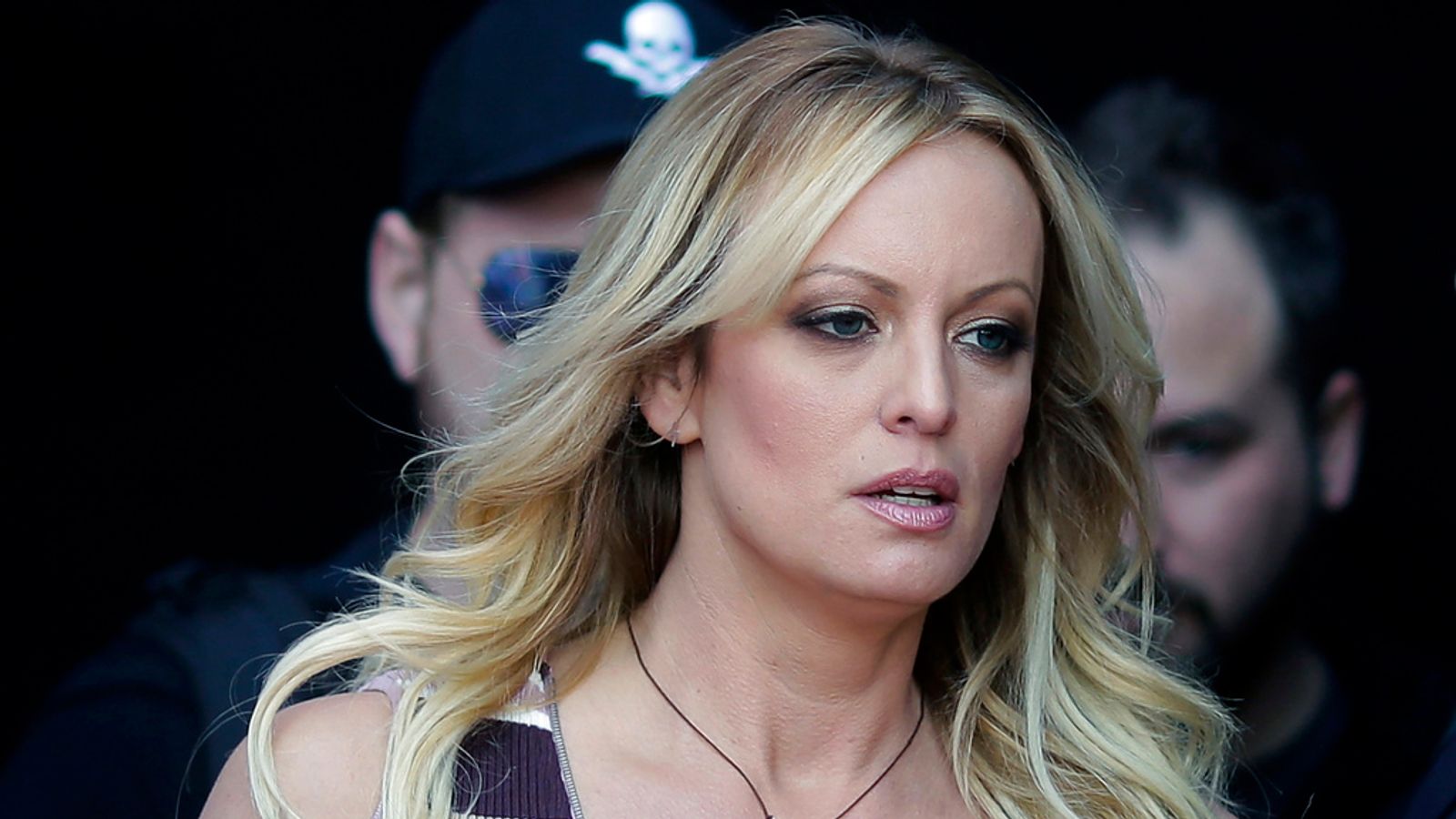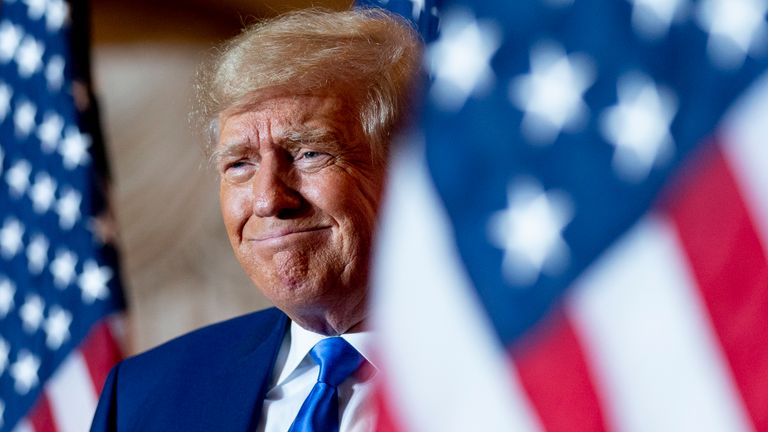 Donald Trump has been indicted by a grand jury in New York, making him the first ex-president to face criminal charges.
The case against him centres on a $130,000 (£105,000) payment made to adult film star Stormy Daniels during the final days of the 2016 presidential campaign.
Live updates – Prosecutors launch first ever criminal case against former president
What is Trump accused of doing?
Ms Daniels, whose real name is Stephanie Clifford, claims she had an affair with Mr Trump in 2006, which the former US president denies.
In 2016 when he was running for president, she offered to sell her story to the press.
Mr Trump's then-lawyer Michael Cohen was notified of her plans, resulting in a $130,000 (£105,000) payment being made to keep Ms Daniels quiet.
Once he was elected, Mr Trump reimbursed Mr Cohen by paying him more than double the original amount. He continued to deny the affair, however.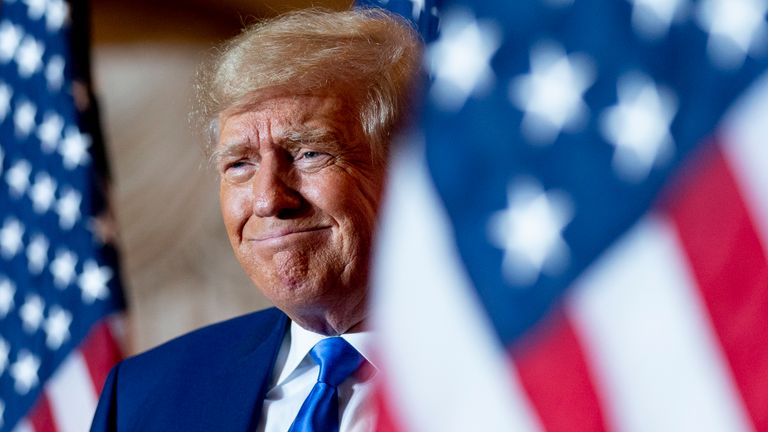 New York investigators have been looking into the former president's finances for years – originally led by former District Attorney Cyrus R. Vance Jr.
But when he was replaced with Alvin Bragg in 2022, Mr Bragg decided to drop the grand jury investigation into claims the Trump empire fraudulently inflated its real estate value.
Instead he decided to focus on the hush money case last summer, impanelling a grand jury (one assembled in secret to determine whether there's enough evidence to prosecute) in January.
Soon after Mr Cohen, who was jailed on several counts in 2018, was summoned by prosecutors.
According to court documents, Mr Trump falsely listed his former lawyer's reimbursement as "legal services".
What charges could Trump face?
It is not yet known what Mr Trump will be charged with.
But among the options for prosecutors is an accounting fraud charge over the payment made to Mr Cohen.
They could also decide to indict him on campaign fraud charges – as silencing Ms Daniels's claims could have helped propel him to power.
Mr Trump has described the investigation as a politically motivated "witch hunt".
Donald Trump faces criminal charges over alleged hush money payment to adult film actress Stormy Daniels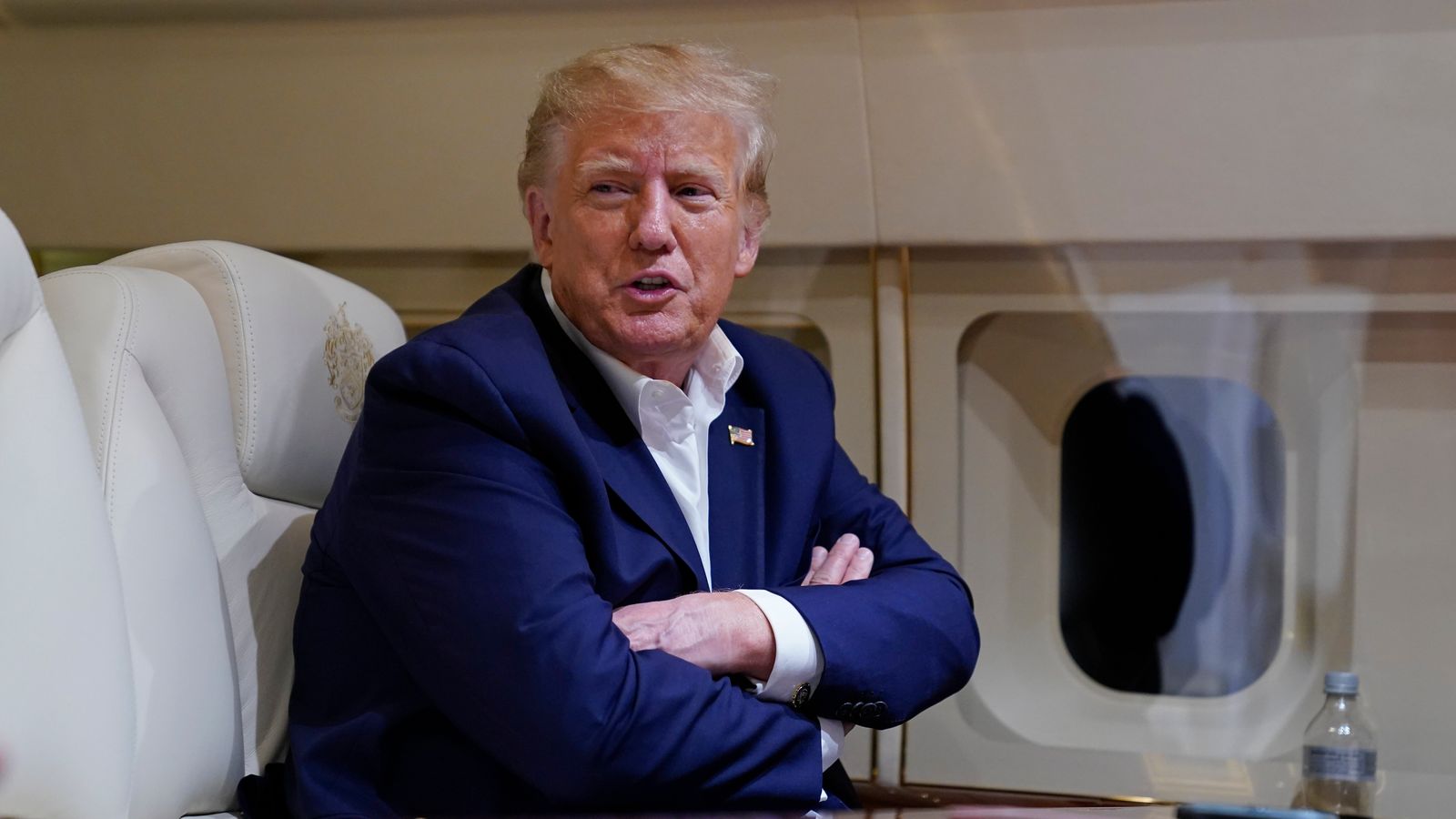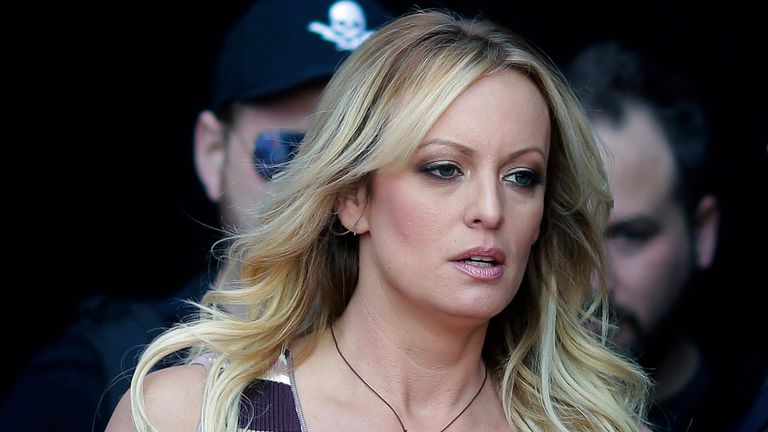 Donald Trump has been indicted on criminal charges arising from an alleged hush money payment to an adult film actress.
A grand jury in New York voted to indict Trump over possible offences related to a $130,000 (£105,000) payment to Stormy Daniels during the 2016 presidential election campaign.
It was allegedly made in exchange for Daniels' silence about an alleged sexual encounter she said she had with Trump a decade earlier.
He is the first former US president to face criminal charges in court, even as he makes a bid to retake the White House in 2024.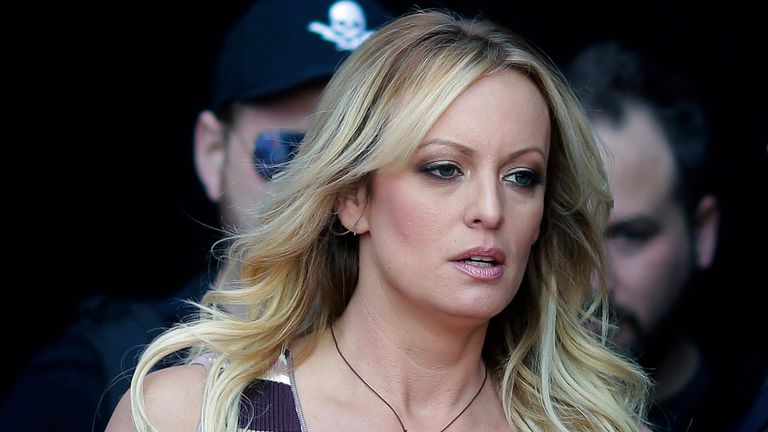 Trump, a Republican, said he was "completely innocent" and called the indictment "political persecution", with his lawyers saying they will "vigorously fight" it.
Live updates: Prosecutors launch criminal case against Trump
The Manhattan district attorney's investigation centred on accusations of money paid to Daniels and former Playboy model Karen McDougal, whom Trump allegedly feared would go public with claims they had extramarital sexual encounters with him.
Trump, 76, has denied having affairs with either woman.
His former personal lawyer Michael Cohen said he co-ordinated with Trump on the payments to Daniels, real name Stephanie Clifford, and also to McDougal.
Cohen pleaded guilty to campaign finance violations in 2018 related to the payments and served more than a year in prison.
Federal prosecutors said Cohen acted at Trump's direction.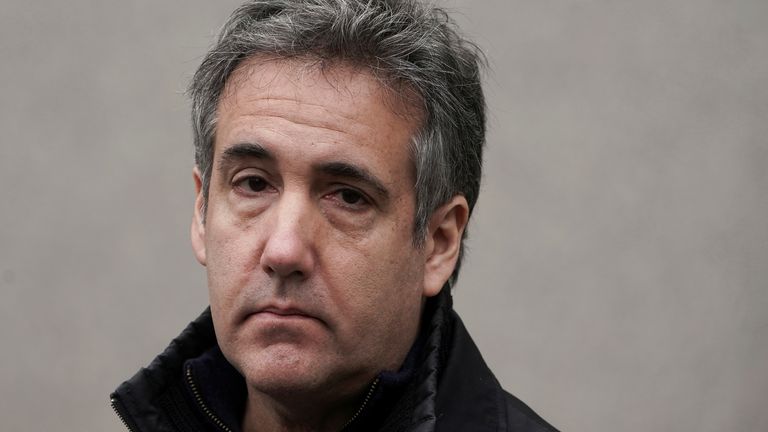 Trump said: "The Democrats have lied, cheated and stolen in their obsession with trying to 'Get Trump,' but now they've done the unthinkable – indicting a completely innocent person in an act of blatant election interference."
"Never before in our nation's history has this been done."
He added: "I believe this witch-hunt will backfire massively on Joe Biden."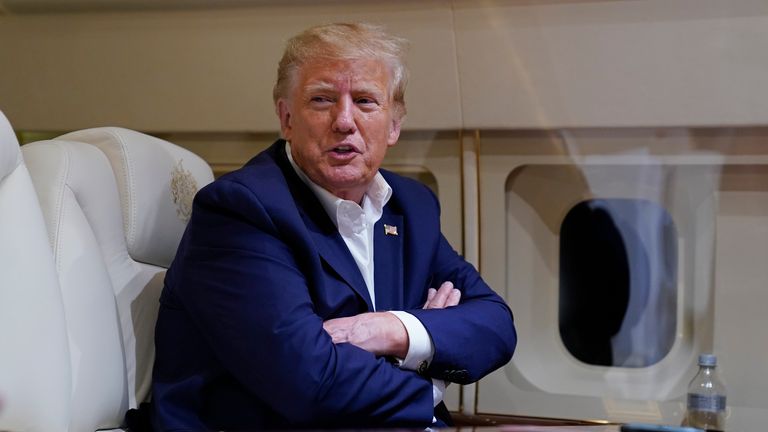 Read more:
Trump says investigations 'straight out of Stalinist Russia horror show'
Who is Stormy Daniels?
How many investigations is former US president facing?
Trump was expected to surrender to authorities next week.
He has denied any wrongdoing and has repeatedly attacked the investigation by district attorney Alvin Bragg.
His office has spent nearly five years investigating Trump and the grand jury has been hearing its evidence since January.
Trump son hits out at indictment
On Twitter, one of Trump's sons, Eric, wrote: "This is third world prosecutorial misconduct. It is the opportunistic targeting of a political opponent in a campaign year."
Amid speculation in recent weeks that the former American leader was due to be indicted, Trump urged his supporters to protest against the authorities if he was detained.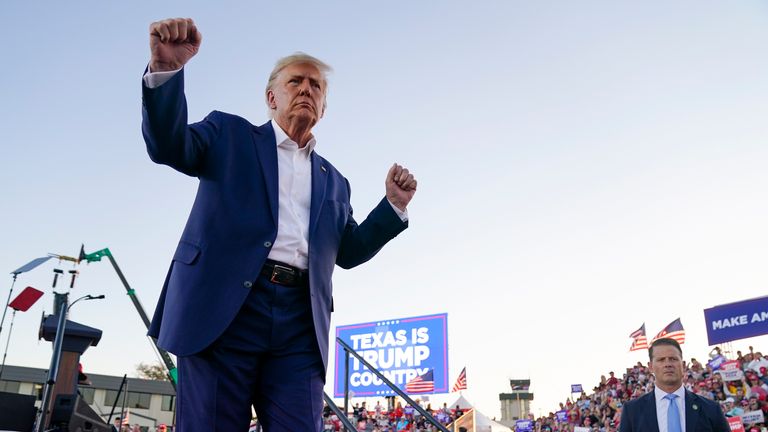 He published a long statement describing the investigation as a "political witch-hunt trying to take down the leading candidate, by far, in the Republican Party".
"I did absolutely nothing wrong," he said, before criticising a "corrupt, depraved and weaponised justice system".
Other ongoing cases Trump faces include a Georgia election interference probe and two federal investigations into his role in the 6 January 2001 insurrection at the US Capitol.