BA owner increases flight numbers to meet take-off in air travel demand as coronavirus rules eased
British Airways owner International Consolidated Airlines Group (IAG) is to increase flight numbers to meet the surge in demand for air travel as quarantine rules are eased.
The group, which also operates Iberia and Aer Lingus, said it plans to operate at around 45% passenger capacity from July to September, compared with the same period in 2019.
This is up from 21.9% during the previous three months.
Latest coronavirus updates from the UK and around the world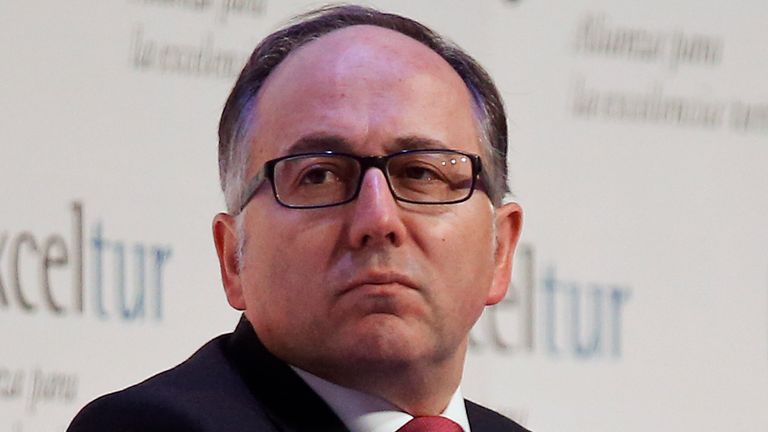 IAG chief executive Luis Gallego said the firm was "ready to fly as much as 75% of 2019 capacity" in the final three months of the year.
But the firm warns steps to increase its flight schedules "remain uncertain and subject to ongoing review" as a result of the coronavirus crisis.
It says it "continues to be adversely affected by the COVID-19 pandemic together with government restrictions and quarantine requirements".
However, the group did welcome the move to allow US and EU travellers who are fully vaccinated against coronavirus to enter the country without the need to quarantine from 2 August.
Mr Gallego said British Airways saw a 95% increase in the number of bookings for flights from the US to the UK shortly after Wednesday's announcement on easing travel rules, compared with the same period last week.
Shapps: 'Now is good time to open up'

He added: "In the short term, our focus is on ensuring our operational readiness, so we have the flexibility to capitalise on an environment where there's evidence of widespread pent-up demand when travel restrictions are lifted.
"We know that recovery will be uneven, but we're ready to take advantage of a surge in air travel demand in line with increasing vaccination rates.
"We welcome the recent announcement that fully-vaccinated travellers from amber countries in the EU and the US will no longer have to quarantine upon arrival in the UK.
"We see this as an important first step in fully reopening the transatlantic travel corridor."
The update came as IAG posted an operating loss of €2.03bn (£1.73bn) for the half-year to 30 June, representing a narrowing of the €4.05bn (£3.45bn) loss it saw for the same period in 2020.
Pressed over whether the planned ending of the furlough scheme in September could lead to more UK job losses, Mr Gallego said: "What we would like is to have an extension of the furlough scheme until the end of the year."
He added: "Right now, we are not considering to reduce jobs more, but for sure we need to see the evolution of the situation.
"With the plans that we have right now, our plan is to fly, people want to fly, and for that we're going to need our people."
British Airways announced last year that more than 10,000 staff were being made redundant in response to the COVID-19 crisis.
HS2 to Manchester axed in favour of 'Network North' – as former PM Cameron calls decision 'wrong'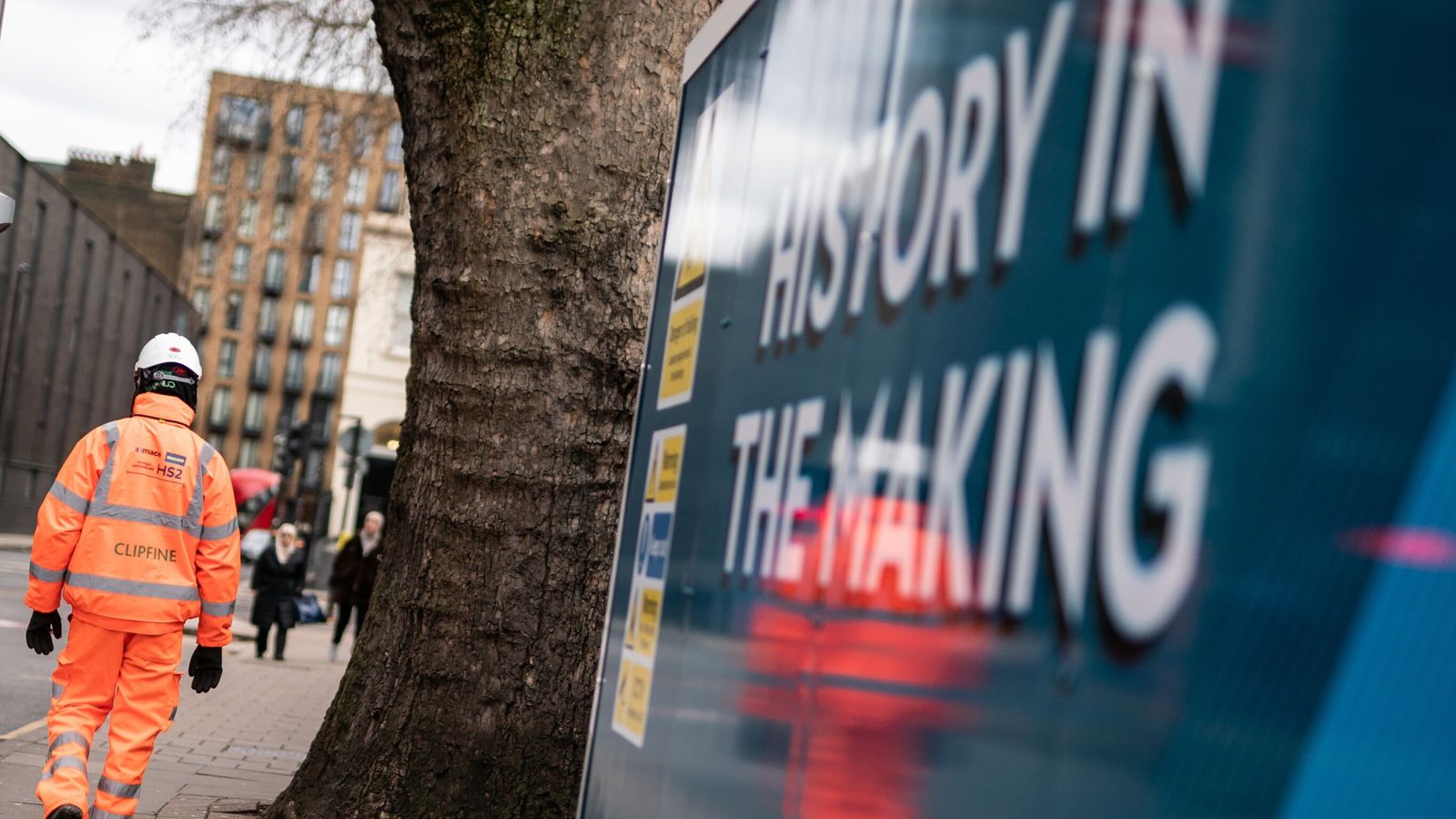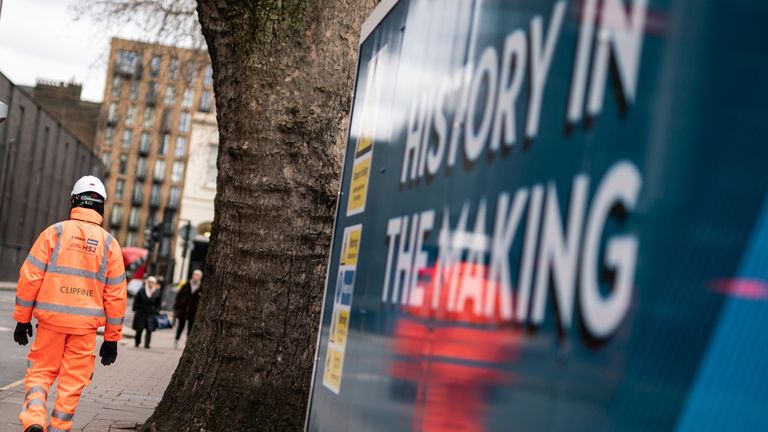 Rishi Sunak has confirmed the long-rumoured decision to scrap the northern leg of HS2 .
Reports the planned high speed rail line would end in Birmingham – rather than continuing up to Manchester – have been circling for weeks, with sources telling Sky News on Monday the decision had been made.
But the prime minister has spent days dodging the question, only making the announcement as he gave the closing speech to this year's Conservative Party conference.
Read more: HS2 axe branded betrayal of the north – politics latest
Mr Sunak defended the move by promising to spend the billions of cash savings on hundreds of other transport schemes across the country instead.
They will include:
• The 'Network North' project to join up northern cities by rail
• A 'Midlands Rail Hub' to connect 50 stations
• Keeping the £2 bus fare cap across the country
But a number of the projects appear to have been announced before and critics have suggested Mr Sunak is reviving schemes he was responsible for cancelling.
HS2 will still go to Euston despite suggestions it could end in the west London suburb of Old Oak Common, rather than in the centre of the capital.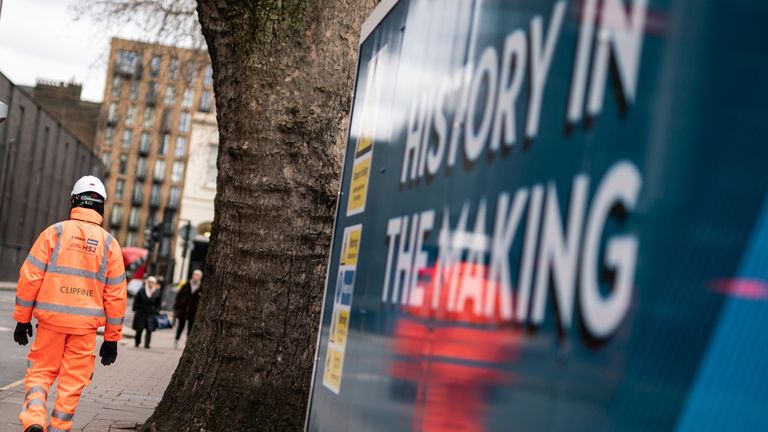 Speaking from a former railway station in Manchester, where the Tories' annual event was held this year, Mr Sunak told members getting infrastructure right was key to driving growth, but a "false consensus" had emerged, with projects "driven by cities at the exclusion of everywhere else".
'I am ending this long running saga'
He said HS2 was "the ultimate example of the old consensus", saying the cost had doubled and the "economic case" for the line had "massively weakened with the changes to business travel post-COVID".
The prime minister added: "I say, to those who backed the project in the first place, the facts have changed. And the right thing to do when the facts change, is to have the courage to change direction.
"So I am ending this long-running saga. I am cancelling the rest of the HS2 project."
Mr Sunak said scrapping phase two to Manchester would free up £36bn, and "every single penny" would be spent on "hundreds of new transport projects in the North and the Midlands, and across the country".
But the government's new "focus" would be on a project called Network North, which would "join up our great towns and cities in the North and the Midlands".
The fully electrified line would see trains make the journey from Manchester to Hull in 84 minutes, to Sheffield in 42 minutes and Bradford in 30 minutes.
"No government has ever developed a more ambitious scheme for northern transport than our new Network North," the prime minister added.
"This is the right way to drive growth and spread opportunity across our country. To level up."
Sunak has rolled the dice
Rishi Sunak's speech was packed with policy – on banning smoking, replacing A-levels with a new qualification – though not for quite a few years – and of course the long awaited axing of HS2 to fund regional transport upgrades.
There were also some indications of campaign attacks on Labour – in particular with his references to trans issues, and Sir Keir Starmer's previous positions on Brexit.
A year out from an election, these are long term plans that may never happen, if voters don't want to keep the Conservatives in the short term.
But Sunak has rolled the dice on the idea his party can regenerate for the future.
Listing other transport pledges, Mr Sunak said he would "protect" the £12bn project to link Manchester and Liverpool, build a tram in Leeds and upgrade the A1, A2, A5 and the M6.
He also promised to extend the West Midlands Metro, electrify the North Wales main line and 70 further road schemes.
"I challenge anyone to tell me with a straight face that all of that isn't what the North really needs," he said.
"Our plan will drive far more growth and opportunity here in the North than a faster train to London ever would."
The plans immediately drew criticism from regional mayors, including Andy Burnham in Greater Manchester, who said the HS2 announcement was "no way to treat our city when they are in our city".
He said the government had not announced a "coherent plan" but a "transport plan patched together in hotel rooms at a party conference with no input with northern leaders or mayors".
Mr Burnham went on to say the current plan would not solve the problem of bottlenecks and lack of capacity on the railway network in the north, which covers from Liverpool in the west to Hull in the east.
He also accused the government of failing to turn its transport pledges into reality and suggested that previous statements had been made "with political intentions in mind to try and win votes here".
"It's starting look very much like that's what it was all about – and what has been announced today feels more of the same," he added.
His concerns were echoed by Labour's shadow transport secretary Louise Haigh, who said the north and Midlands had been "left to pay the price" for this "staggering Tory fiasco".
"Only after 13 years of dismal failure could the Conservatives make the centrepiece of their conference a re-announcement of promises the Conservatives have made before," she said.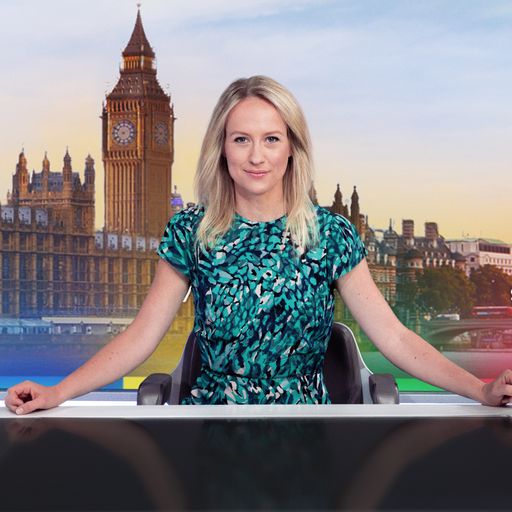 Politics Hub with Sophy Ridge
Sky News Monday to Thursday at 7pm.
Watch live on Sky channel 501, Freeview 233, Virgin 602, the Sky News website and app or YouTube.
Read more:
Analysis: Sunak's woes are a conference sideshow
HS2 explained – what is the route and why has leg been axed?
West Yorkshire Mayor Tracy Brabin called the decision "yet another betrayal of the North which will punish passengers and businesses alike".
The head of research and policy at the GMB union, Laurence Turner, also said the scrapping of the northern HS2 leg would "send a shockwave through the construction industry and railway supply chain, costing hundreds of jobs".
He added: "The UK's political instability was already holding the economy back – it will now be even harder to fund and deliver the new infrastructure that the country desperately needs.
"We can't rebalance the economy or fix the railway capacity crisis without HS2. It's essential that the planned route is now protected so that a future government can reverse this disastrous decision."
Mr Sunak accepted he would face criticism for the decision – having already been slammed by Tory grandees, regional politicians and businesses before the announcement was even made.
"They will say that halting it signals a lack of ambition," he told the audience. "There will be people I respect, people in our own party, who will oppose it.
"But there is nothing ambitious about simply pouring more and more money into the wrong project.
"There is nothing long-term about ignoring your real infrastructure needs so you can spend an ever-larger amount on one grand project.
"For too long, people in Westminster have invested in the transport they want, not the transport the rest of the country, particularly the North and Midlands, wants and needs."
Mr Sunak addressed one critic in particular – the Tory mayor in the West Midlands, Andy Street – saying he was a man he had "huge admiration and respect for", Mr Sunak added: "I know we have different views on HS2.
"But I know we can work together to ensure a faster, stronger spine: quicker trains and more capacity between Birmingham and Manchester."
Mr Street confirmed he would not resign from his post despite being "incredibly disappointed" about the HS2 decision.
He said he had "thought incredibly long and hard about what my future in the Conservative Party should be", but had decided to remain a member.
"The West Midlands must be at the heart of the UK's modern transport network and reap all the benefits that will bring," he said.
"The prime minister has today reached out to work with me to make that happen and to turn my back on that offer would be doing a serious dis-service to my region.
"I know this decision will make me deeply unpopular in some circles, and indeed many wanted me to resign and make a statement against my party."
The prime minister announced a number of other policies that had been trailed in the days leading up to the conference – including introducing a British baccalaureate to allow pupils over 16 to study a wider range of subjects, and new tactics for making England smoke-free.
Train strikes: Full list of October 2023 dates and rail lines affected as Tube action called off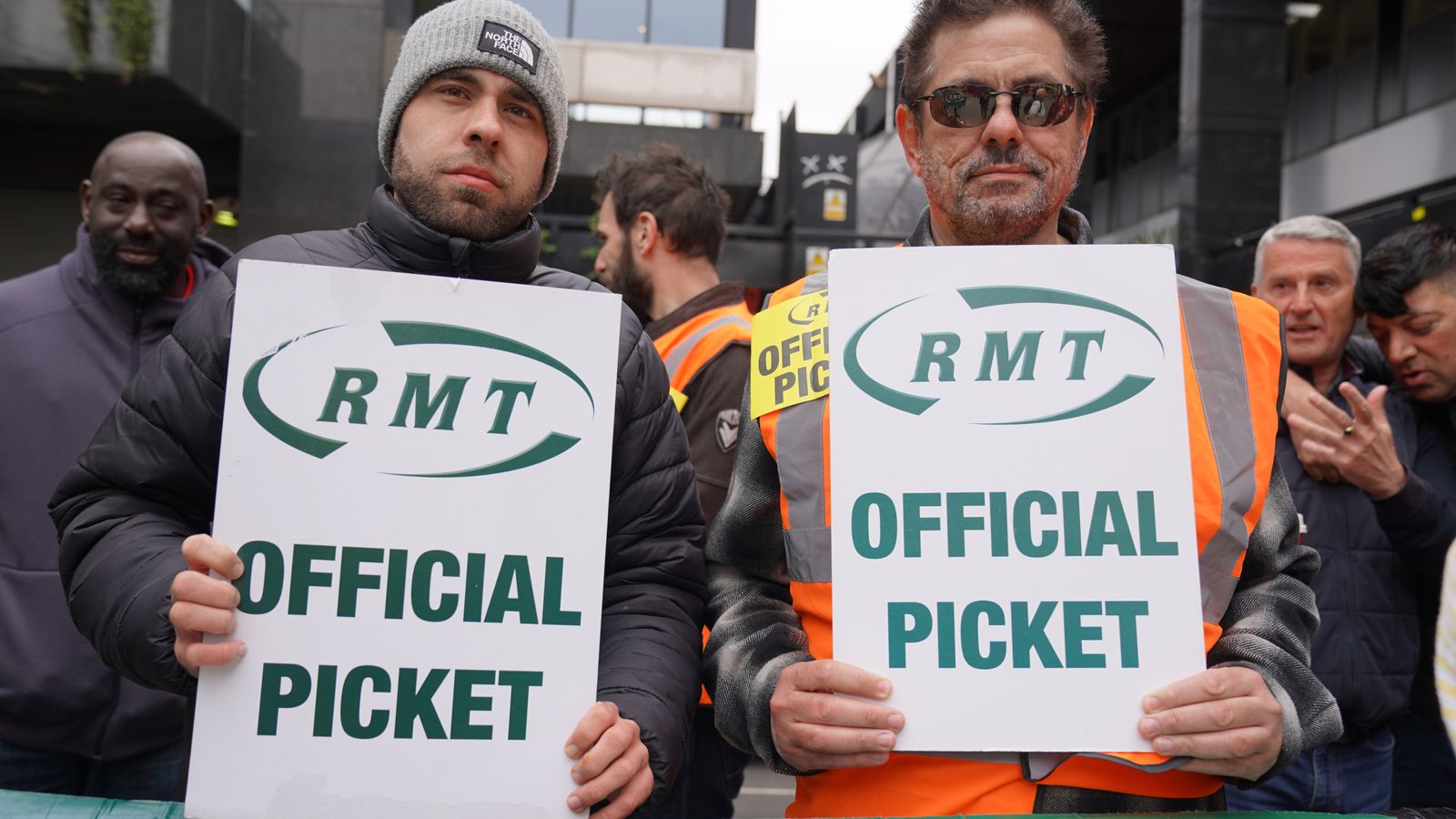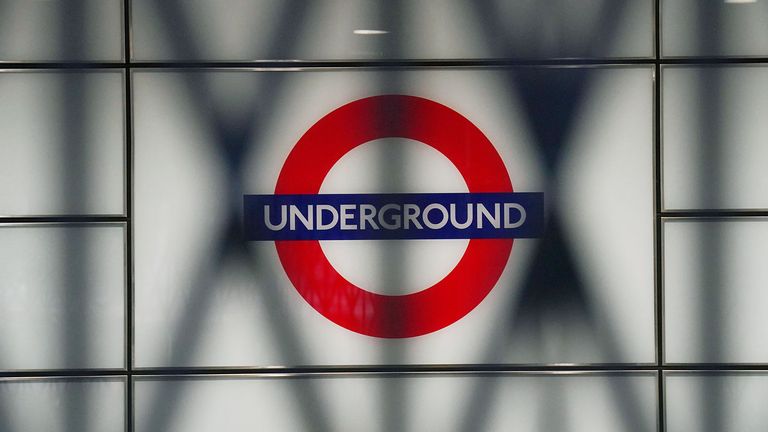 Thousands of rail workers and train drivers are going on strike this month – with an overtime ban beginning from Monday and mass disruption expected from Wednesday.
But planned industrial action by London Underground workers has been cancelled, it was announced on Tuesday.
RMT (the Rail, Maritime and Transport union) and ASLEF (The Associated Society of Locomotive Engineers and Firemen) members are striking in an ongoing dispute over pay and conditions.
ASLEF represents drivers, whereas the RMT represents workers from many different sectors of the rail industry – including station staff and guards.
Here is everything you need to know about which services are affected this week.
What's happening this week?
Tuesday 3 October
Train driver overtime ban likely to reduce services
Wednesday 4 October
Train driver strike and overtime ban to cancel or reduce services
Thursday 5 October
Knock-on effect of strikes to affect early morning services. Train driver overtime ban likely to reduce services
Friday 6 October
Train driver overtime ban likely to reduce services
Saturday 7 October
Knock-on effect of strikes to affect early morning services
London Underground
Tube workers had been planning to walk out on Wednesday 4 October and Friday 6 October.
The industrial action would have "severely affected" most underground lines and there would have been no night tube on 6 October, either.
But on Tuesday unions announced the planned strikes have been called off.
Around 3,000 members of the Rail, Maritime and Transport union (RMT) had been due to walk out during the two days of strikes.
The RMT said that following talks at the conciliation service Acas it has managed to save jobs, prevent detrimental changes to rosters and secure protection of earnings around grading changes.
The union said: "The significant progress means that key elements have been settled although there remains wider negotiations to be had in the job, pensions and working agreements dispute."
RMT general secretary Mick Lynch said: "I congratulate all our members who were prepared to take strike action and our negotiations team for securing this victory in our Tube dispute.
"Without the unity and industrial power of our members, there is no way we would have been able to make the progress we have."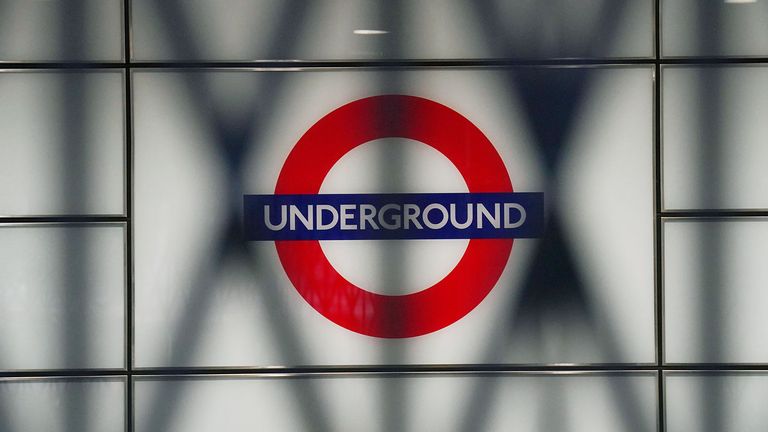 Avanti West Coast
Avanti West Coast will not be operating any services on Wednesday 4 October.
Customers who booked tickets to travel on these days can claim a full, fee-free refund from their point of purchase.
Customers with pre-booked tickets for travel on a strike day can use their ticket the day before or the two days after.
Avanti plans to run its normal timetable during overtime bans, but recommends you check before you travel as the impact will vary from route to route.
C2C
There will be no C2C service on Wednesday 4 October.
On days when overtime bans are in place, there will be a reduced peak time service and a reduced frequency of two trains per hour during off-peak hours across all routes.
First and last trains will be unaffected.
Chiltern Railways
There will be no Chiltern Railways services on Wednesday 4 October on any routes.
Although industrial action on the London Underground has been suspended, there will be impacts on Chiltern Railways services at the London end of the route.
On 5 and 6 October no services will be calling at stations including; Harrow-on-the-Hill, Rickmansworth, Chorleywood, Chalfont & Latimer and Amersham. This is until after 8am on Thursday and all day on Friday.
On Saturday 7 October, no Chiltern Railways services will call at South Ruislip until after 8am.
Chiltern Railways will be running an amended timetable during the week of overtime bans, which travellers can check here.
CrossCountry
There will be no CrossCountry services on Wednesday 4 October.
Some services will be amended during overtime ban dates. You can view the list of trains affected on each day here.
Read more:
Cost of living latest – with Airbnb tips
East Midlands Railway
There will be no East Midlands Railway service on Wednesday 4 October.
East Midlands says its journey planners have now been updated for days where an overtime ban is in place. Check here for updates.
GTR
GTR, also known as Govia Thameslink Railway, is the UK's biggest railway franchise and operates Southern, Thameslink, Great Northern and Gatwick Express.
It says there will be no Thameslink, Great Northern or Gatwick Express services operating on Wednesday 4 October.
A limited Southern shuttle service will run, calling at Gatwick Airport and London Victoria only.
Services on Thursday 5 October will begin much later than normal in the aftermath of the strike the day before, with some routes having no services before 7am.
On days when an overtime ban is in place, GTR says an amended timetable with fewer services will run.
The usual non-stop Gatwick Express service between London Victoria, Gatwick Airport and Brighton will not run.
To help customers, extra stops at Clapham Junction and East Croydon have been added, so these trains will be operating as Southern services.
Gatwick Express tickets will be valid on Southern and Thameslink at no additional cost.
Find out more about each of GTR's lines by clicking on their names at the top of this section.
Great Western Railway
Great Western Railway (GWR) will be operating a reduced and revised timetable on Wednesday 4 October.
Many parts of the network will have no service at all. Services that go ahead will start from 7.30am and all journeys must be completed by 6.30pm.
GWR says there are likely to be short-notice alterations or cancellations to its services on days when overtime bans are in place.
You can check GWR's website for updates nearer the time.
Greater Anglia and Stansted Express
Reduced services are expected to run on both strike and overtime ban days.
You can click here to see what plans are in place on all affected dates.
Heathrow Express
On the strike day of 4 October, there will be fewer trains going to Heathrow Airport and they will start later and finish earlier.
Trains will run between Paddington and Heathrow between 7.40am and 6.25pm.
Services between Terminal 5 and Paddington will run between 7.42am and 6.57pm.
And there will be trains between 7.47am and 7.02pm from Heathrow Central into Paddington.
The Elizabeth Line will service customers travelling from London to Heathrow.
Heathrow has not announced any changes during overtime bans. Click here for more information about its services.
LNER
LNER services will run on an "extremely limited timetable" during 4 October, with minor alterations on days before and after them.
You can find more details here.
London Northwestern Railway
There will be no London Northwestern Railway (LNR) service on Wednesday 4 October.
It will have buses in place of trains between Watford Junction and St Albans Abbey on days when there are overtime bans.
You'll be able to see what impact the overtime ban will have on LNR via journey planners.
Northern
There will be no Northern service in operation on Wednesday 4 October, and no rail replacement bus services.
Days affected by overtime bans are likely to cause some short-notice alterations or cancellations. You can check here for updates.
Southwestern Railway
An extremely limited service will operate on a small number of lines during strike days, and most of the Southwestern Railway mainland network will be closed. There will be no service on the Island Line.
Customers are advised to only travel if absolutely necessary.
Reduced services will operate across the mainland South Western Railway network on overtime ban days, with an hourly service on the Island Line.
Find out more here.
Southeastern
There will be no Southeastern service in operation on any routes on strike days.
Southeastern expects to run a full service during overtime ban periods.
TransPennine
No TransPennine Express service will run on any route during the strike on Wednesday 4 October.
There will also be some early morning and late evening alterations on the days before or after a strike day.
TransPennine Express plans to run its normal timetable during overtime ban days but warns there could be significant disruption to your journey, so be sure to check before you travel.
West Midlands Railway
There will be no West Midlands Railway service on Wednesday 4 October.
On days when the overtime ban is in place, reduced train services will operate between Birmingham New Street and Hereford and Birmingham New Street and Shrewsbury – and a bus service will replace trains between Nuneaton and Leamington Spa via Coventry.
The overtime bans may lead to amended timetables and on-the-day cancellations, particularly if there is disruption to services, so check before you travel.
How you can remain up-to-date
You can tap any of the links provided above to check for updates on specific lines.
National Rail urges anyone hoping to travel on strike and overtime ban days to use its Journey Planner to keep an eye on how services will be affected.
Any journey accompanied by a yellow warning triangle means the information is still subject to change.
Most journeys should now be up to date on the planner.
Fuel retailers deny profiteering as pump prices shoot up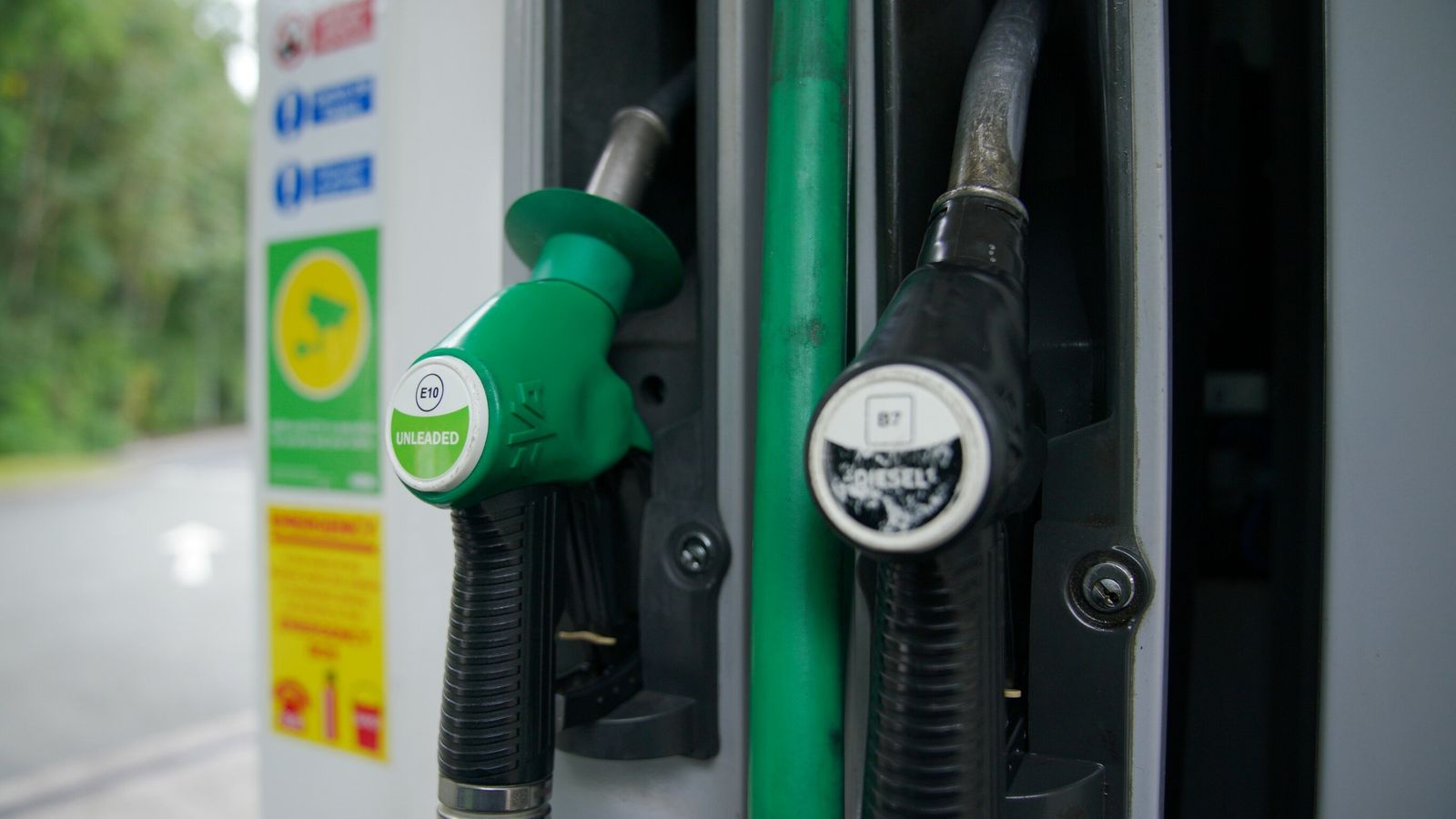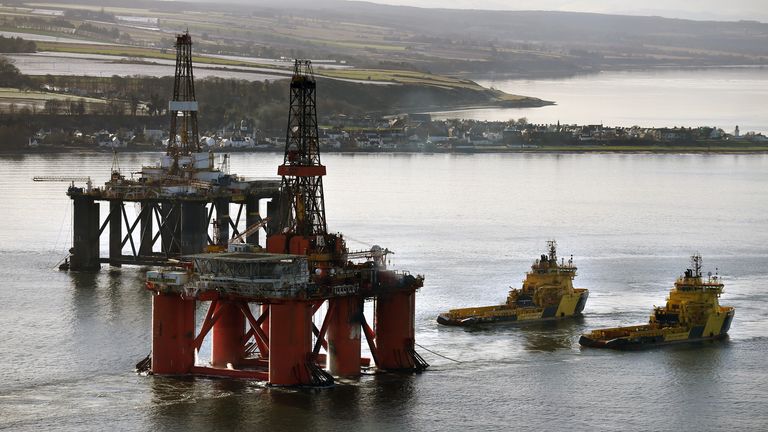 Fuel retailers have dismissed claims that drivers are being overcharged following a surge in pump prices.
Data released by the RAC on Wednesday showed an 8p per litre surge in the cost of diesel last month to a new average of 163.1p.
Petrol prices rose by nearly 5p per litre to 157p.
The motoring group blamed the continued hikes on production cuts agreed by the Opec+ group of oil-producing nations, which have helped send Brent crude oil costs up since July.
A barrel stood at around $72 then.
It has nudged towards $100 in recent weeks and currently stands at $90, placing greater upward pressure on inflation more widely as the additional bills only add to the cost of living crisis.
'Constrained' oil supply in the coming months
Because oil is priced in dollars, a weakening of the pound against the US currency has also contributed to the additional bills at the fuel pump.
The RAC, however, claimed that retailers were overcharging petrol customers – months after supermarkets were rapped on the knuckles by the competition regulator over pricing and forced to support a fuel transparency mechanism.
RAC fuel spokesman, Simon Williams, said: "Our analysis of RAC Fuel Watch wholesale and retail data shows that petrol is currently overpriced by around 7p a litre, although the price of diesel is likely to go up further still in the coming weeks.
"It's worrying that retailer margin across the UK is higher for petrol than it should be considering the big four supermarkets were told off by the Competition and Markets Authority for overcharging drivers by £900m in 2022.
"While many have voluntarily started to publish their prices ahead of being mandated to in law, we still have a situation where wholesale price changes aren't being fairly reflected on the forecourt."
Read more:
Cost of living latest
July: 'Motorists are not getting the best deal possible'

The RAC's conclusion was dismissed by the Petrol Retailers Association (PRA) which represents non-supermarket, independent, forecourts and has almost two-thirds of the fuel market.
Its executive director Gordon Balmer said: "Contrary to claims made by the RAC, our members are not unjustifiably pricing petrol higher than needed.
"Fuel margins have been under pressure due to increased operational costs that our members have had to bear.
"To address rising labour expenses, energy costs, and the highest inflation rates in recent years and reduced fuel sales, margins have inevitably increased.
"Attempting to whip up public anger by suggesting otherwise is deeply irresponsible."
He added: "The PRA remains committed to advocate for our members and promote transparency within the sector.
"We are willing to engage with any mediator to facilitate a constructive and informed dialogue on these critical issues."