Peter Kay fans have clamoured for tickets to see his return to the stage – selling the shows out in 30 minutes.
The Bolton funnyman, who has been all but absent from the public eye over the last few years, will make his stage comeback next month when he hosts two live Q&As in Manchester.
Kay's shows will be in aid of 20-year-old Laura Nuttall, who has a severe form of brain cancer called glioblastoma multiforme.
The shows, called Doing It For Laura, will take place at Manchester's 3,500-capacity O2 Apollo on 7 August.
They will take place at 1.30pm and 6.30pm – and sold out within just half an hour of going on sale at 9am on Friday, with fans after that being directed to a waiting list.
Ms Nuttall was diagnosed with her condition in October 2018 when she had a series of headaches while studying during her first term at King's College London. She was 18 at the time and a brain scan showed six tumours.
She has just completed her second year at Manchester University where she is studying philosophy, politics and economics and will be in the audience, alongside her family, for the shows.
Laura's mother and father first met the comedian when they were working at Granada Television around 20 years ago, and said Kay phoned them out of the blue when their daughter had her diagnosis.
Kay has spent the last few years largely away from public view, after cancelling his last arena tour in December 2017 due to "unforeseen family circumstances".
Subscribe to the Backstage podcast on Apple Podcasts, Google Podcasts, Spotify, Spreaker
In the time since, the Bolton star has surprised fans by turning up at a charity screening of his award-winning show Car Share in 2018, and talked about his love of music during an appearance on Radio 2 in January.
Kay shot to fame in his 2001 comedy Phoenix Nights, which followed the lives of people working at The Phoenix Club – a fictional working men's club in Bolton.
But Kay is perhaps best known for his stand-up comedy, selling out tours up and down the UK from the early noughties.
He is no stranger to charity, having put together a number of fundraising singles for Red Nose Day and Children In Need, including re-releasing the Tony Christie track Is This The Way To Amarillo in 2005.
Last year he appeared on the BBC's Big Night In, where he presented an updated version of his Amarillo video made by fans.
'Feminists can't tell us what to do with our bodies': Sex workers fight council strip club ban in Edinburgh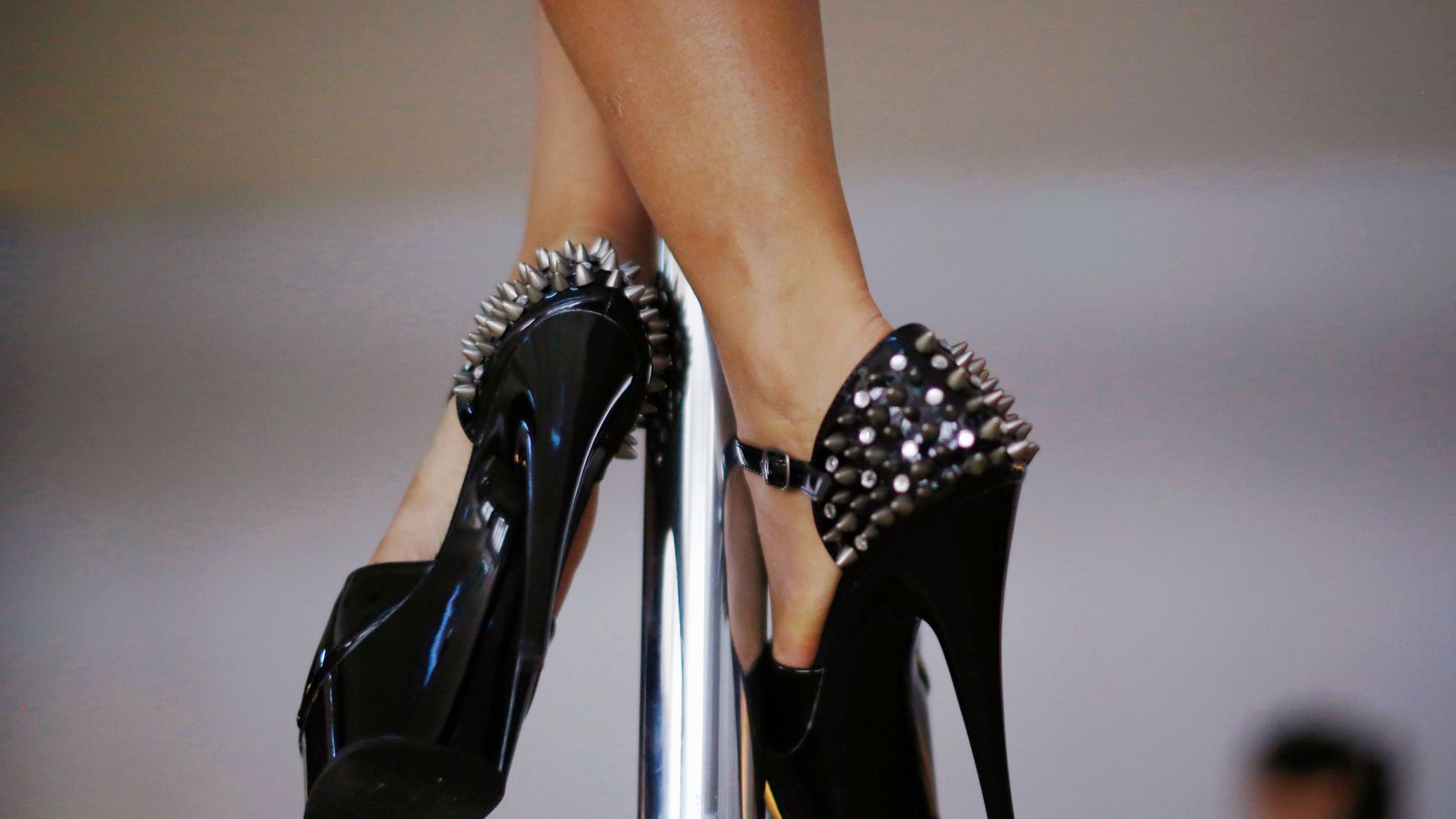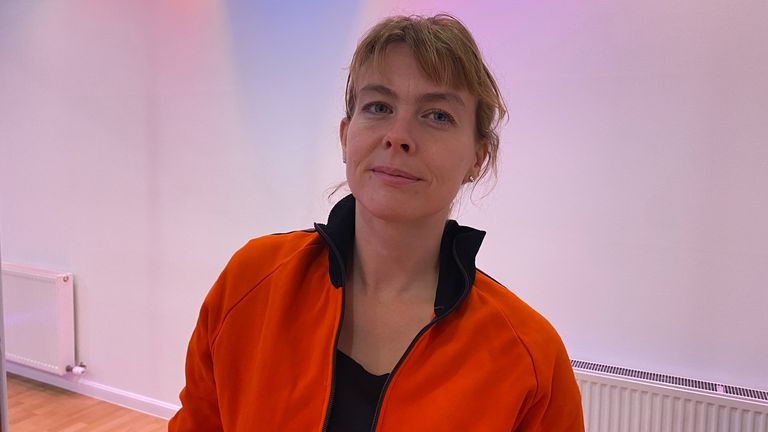 Strippers in Edinburgh have told Sky News the council's decision to ban sexual entertainment venues (SEVs) will financially devastate them, as the clubs and the union launch a judicial review to challenge the shutdown of the city's clubs.
Three Edinburgh clubs (Baby Dolls, The Western and Burke and Hare) and the United Sex Workers (USW) union argue the council vote to limit the number of licensed venues to zero from April 2023 will force the industry underground, making it riskier for the women.
'It should be my choice'
Edinburgh dancer Sasha told Sky News the choice should be hers to make.
"I think it is our right to choose that and I don't think it's right for feminists to tell women what they should and shouldn't be doing with their bodies, what jobs they should do, and what jobs they shouldn't do," she said.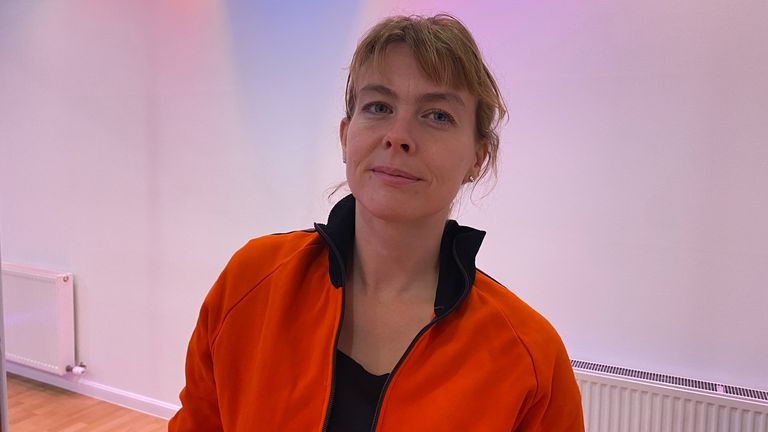 Sasha added that working as a stripper means good money and flexible shifts that helps her as a mother.
"As a parent, I just find it very flexible and there's a potential for it to be well paid, so it ticks a lot of boxes for me. Particularly the flexibility, the money is never guaranteed, but the flexibility is great."
Sasha doesn't believe changing what she does is an option.
"It's not that easy, we've been doing what we're doing, most of us, for years – and that's our trade, it's our industry and that's what we want to continue doing to make money."
'Epitome of the patriarchy'
However, for those campaigning for the ban of strip clubs, they say the choice to do this work shouldn't be available.
Former Labour councillor and writer Susan Dalgety believes the council's decision is right for women.
"As a feminist, I think that men paying us for sexual favours is the worst kind of exploitation of our bodies," she said.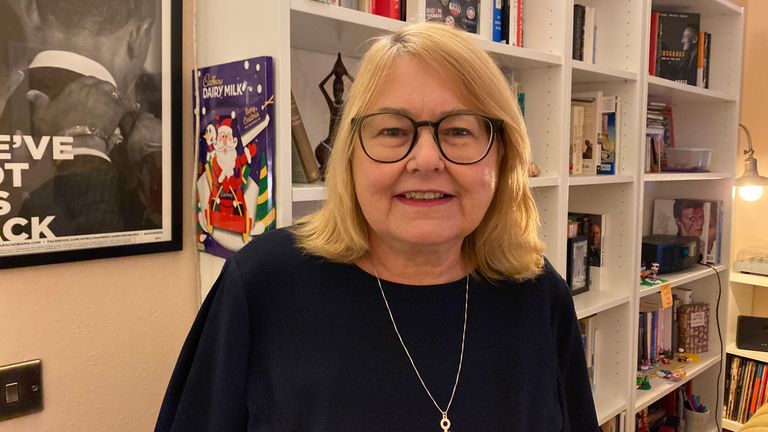 "And it is the epitome of the patriarchy that men are much more powerful in society than women, and that all we are there for is either to reproduce the next generation or for the sexual entertainment of men.
"All Edinburgh is doing is saying that in our city we do not want to legitimise sexual entertainment. It's living pornography.
"It is young women taking their clothes off and dancing sexually for the pleasure of men."
Read more on Sky News:
How can I save £100 off my energy bills?
No-fault evictions driving up homelessness rates in this region
Ms Dalgety's views have changed. As a young councillor, she believed such clubs should exist and be properly regulated for the safety of women.
In the 1990s, she voted to licence saunas "knowing full well that they were brothels".
"Edinburgh was the epicentre of the AIDS epidemic in the UK in the late 1980s and early 1990s, and it was spread through the drug using community," she said.
"So it was in the heterosexual community and sex workers, unfortunately, were at a much higher risk of it," Ms Dalgety said, adding the policy choice back then was "a public health decision", but now she thinks the very existence of any sexual entertainment venue is problematic.
Forcing women into dangerous conditions
Mina from the USW union told Sky News that exploitation isn't found in the clubs; instead, it is in forcing women into working minimum wage jobs.
"The patriarchy exists across all aspects of society, so clearly stripping is not free from that. However, it is the dancer's decision to choose that form of work, they're not being exploited," she said.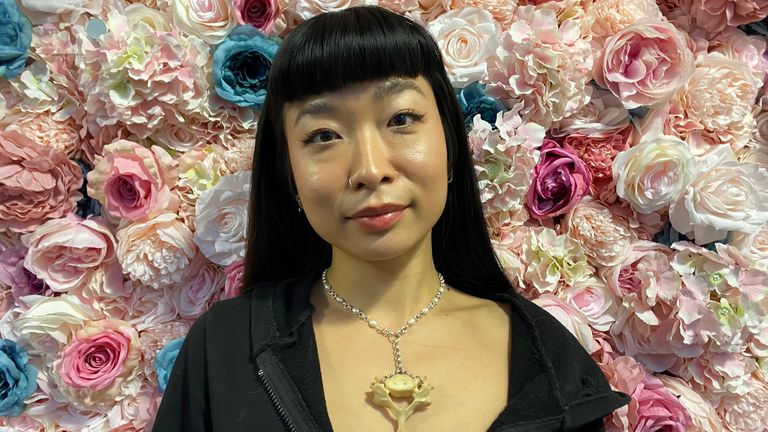 "United Sex Workers take the position that shutting down legal, regulated place of work for dancers who are primarily women would force them to work more dangerous conditions, especially in a cost of living crisis.
"Sex workers are not to be blamed for exploitation of actual violence because it splits women into particles of good and bad. And it's never that simple, and it's not fair."
Previously, sex workers have told Sky News that the cost of living crisis means they are unable to say no to dangerous clients.
Decision is for 'prevention of crime and disorder'
In a statement, Edinburgh City Council told Sky News the decision to close down the strip clubs was for the "preservation of public safety and the prevention of crime and disorder" and that "SEVs can still apply for a licence and a committee would consider them against the agreed policy".
The judicial review decision is expected to take several weeks, possibly months.
The Game Awards: From God Of War Ragnarok to Stray, our picks to win on gaming's Oscars night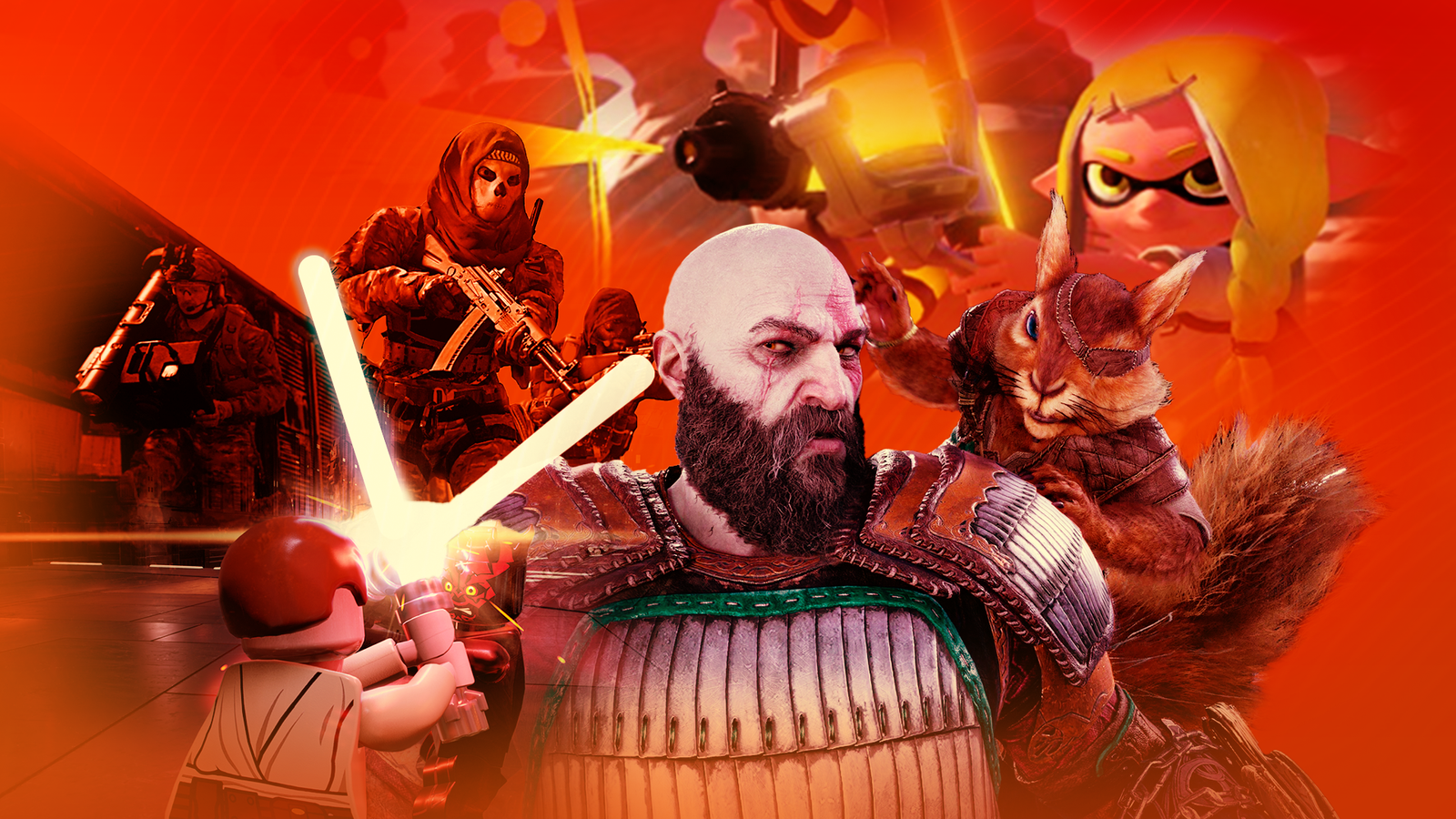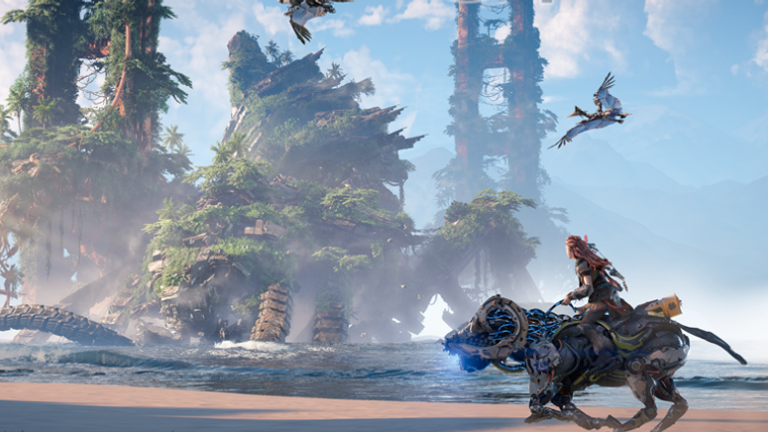 The biggest night in gaming – the closest thing the industry has to its own Oscars ceremony – is almost upon us.
Live from Los Angeles in just a few days, The Game Awards will honour the best the medium had to offer this year, honouring everything from the biggest blockbusters to the smallest independent debuts.
Gaming reporter Martin Kimber and technology reporter Tom Acres are here with their tips for some of the most competitive categories – and you can keep scrolling for the full list of nominees.
Best game
A Plague Tale: Requiem
Elden Ring
God Of War Ragnarok
Horizon Forbidden West
Stray
Xenoblade Chronicles 3
Martin's pick: Horizon Forbidden West
It's very difficult to pull off a successful sequel, but Guerrilla Games has done just that. You'll struggle to find a prettier game with a bigger, more expansive map. It offers excellent replayability and thus value for money, it is addictive, and did I mention it's pretty? Plus, robot dinosaurs! What's not to like?!
Tom's pick: Stray
Quite the debut from French indie studio BlueTwelve Studio. This surprisingly moving dystopian adventure painted a bleak yet hopeful picture of the fragility of life, and how it endures. Not content with nuanced commentary on capitalism and its impact on the planet, you also play as a very cute cat. And there's a meow button!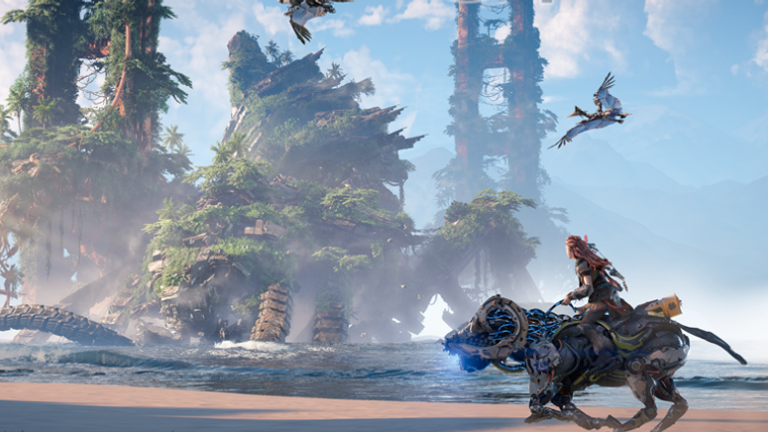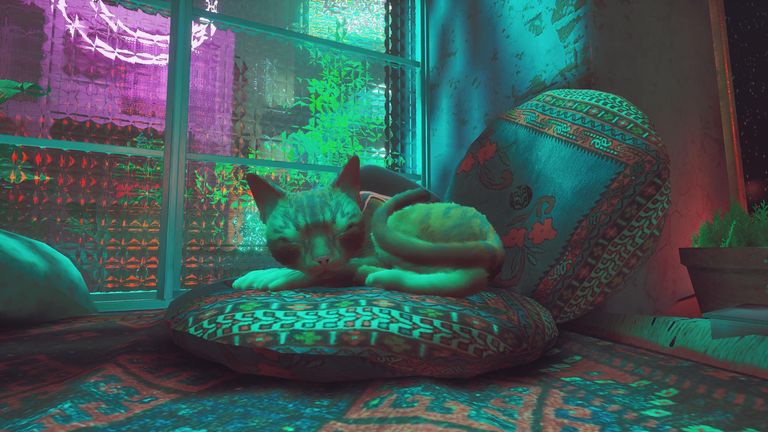 Best narrative
A Plague Tale: Requiem
Elden Ring
God Of War Ragnarok
Horizon Forbidden West
Immortality
Martin's pick: Horizon Forbidden West
In the first Horizon, it felt like the developers came up with the concept of robot dinosaurs and built the whole game around that idea. However, this sequel boasts a much more fleshed out story, captivating even the players who just want to take on a mechanised velociraptor with a bow and arrow.
Tom's pick: God Of War Ragnarok
God Of War's reinvention four years ago was a triumph, plucking the vengeful protagonist Kratos out of his Greek comfort zone and into Norse mythology – with a son, no less. The stranger in a strange land setup was inherently less novel this time, but his metamorphosis from one of gaming's most two-dimensional meatheads into a touching and relatable depiction of fatherhood goes from strength to strength, with quite the emotional pay-off.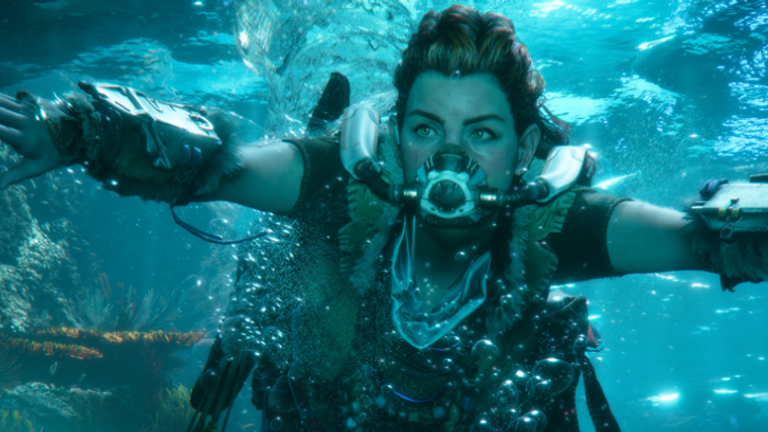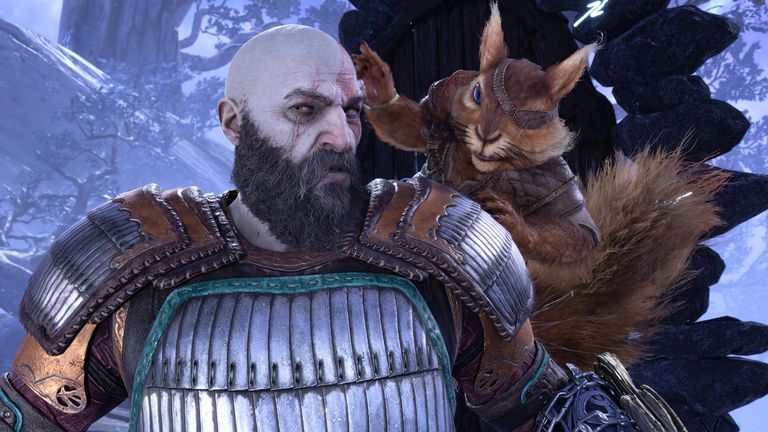 Best art direction
Elden Ring
God Of War Ragnarok
Horizon Forbidden West
Scorn
Stray
Martin's pick: God Of War Ragnarok
I played this recently with some friends, who genuinely couldn't tell the difference between the cinematics and the gameplay. If you basically want a playable, violent Pixar film, this is the game for you.
Tom's pick: Elden Ring
FromSoftware's games have always boasted tremendous art direction, and each have brought its dark, fantasy tendencies to bigger audiences. Elden Ring was a collaboration with Game Of Thrones creator George RR Martin, showcased by the sheer scope and detail of its world. There's an almost impossible-to-imagine level of variety, with every corner you turn invariably offering something new. Best art or not, it's definitely got the most.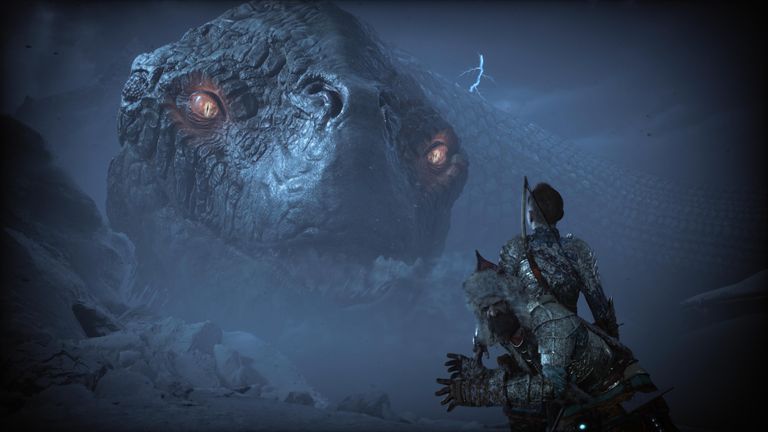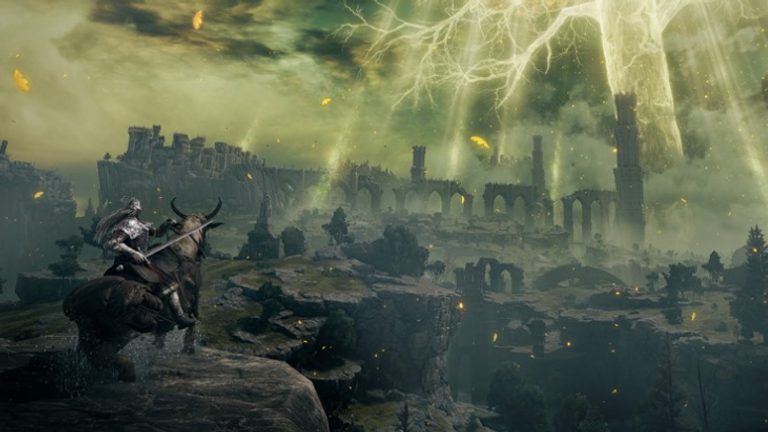 Best family game
Kirby And The Forgotten Land
LEGO Star Wars: The Skywalker Saga
Mario + Rabbids Sparks Of Hope
Nintendo Switch Sports
Splatoon 3
Martin's pick: Lego Star Wars: The Skywalker Saga
If I could give this game all of the above awards, I would. It's been so long since they released one of these, I was worried they'd mess with the perfect recipe – but they didn't. Collectible characters, stud multipliers and hilarious cinematics all make a return. A must-play for every family member (and Star Wars nerd).
Tom's pick: Nintendo Switch Sports
I didn't realise how much I missed the thrill of family competition in Wii Sports until its spiritual successor arrived on Nintendo's Switch console. As was the case with the original, your mileage with each sport will vary and tennis and bowling remain by far the best, but each is boosted by far more precise motion controls and online multiplayer.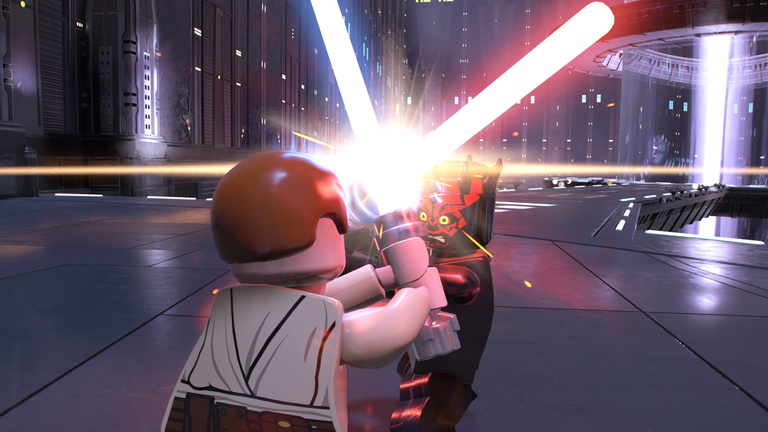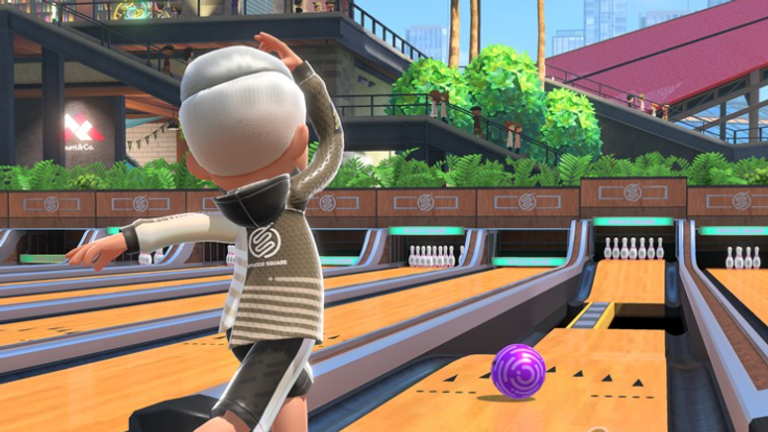 Best multiplayer game
Call Of Duty: Modern Warfare II
MultiVersus
Overwatch 2
Splatoon 3
Teenage Mutant Ninja Turtles: Shredder's Revenge
Martin's pick: Call Of Duty: Modern Warfare II
Boy, this game is hard. It's so bloomin' hard. I haven't died this much in a game since… well, ever. But the new multiplayer maps are well-designed, the gun play is satisfying and balanced, and it's fast. Infinity Ward has had a long time to perfect the FPS formula, and they've done just that.
Tom's pick: Splatoon 3
Infinity Ward may have perfected the FPS formula, but Nintendo has a monopoly on futuristic paintball. Splatoon 3 was very much more of the same, with an emphasis on the more. While the fast-paced matches and tight controls were familiar to anyone who played prior instalments, a bolstered selection of maps, modes, and weapons made it a worthy entry in a series which remains unlike anything else almost six years after it debuted.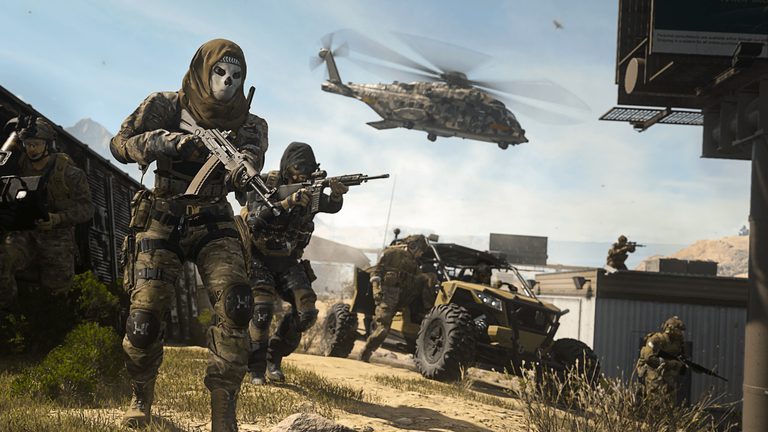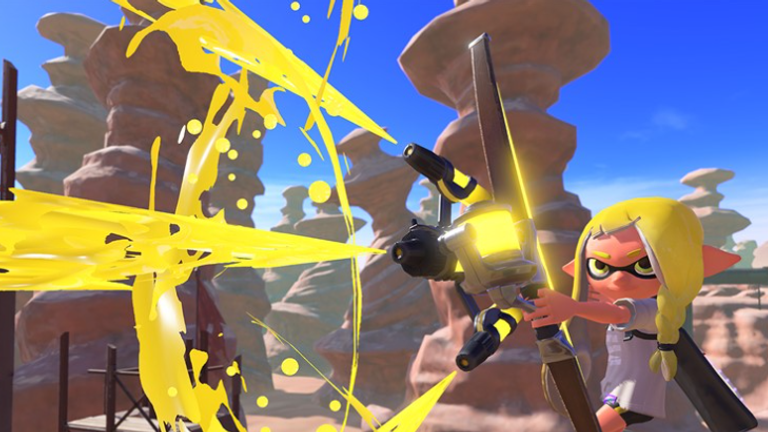 Best game direction
Elden Ring
God of War Ragnarok
Horizon Forbidden West
Immortality
Stray
Best score and music
A Plague Tale: Requiem
Elden Ring
God Of War Ragnarok
Metal: Hellsinger
Xenoblade Chronicles 3
Best audio design
Call Of Duty: Modern Warfare II
Elden Ring
God Of War Ragnarok
Gran Turismo 7
Horizon Forbidden West
Best performance
Ashly Burch, Horizon Forbidden West
Charlotte McBurney, A Plague Tale: Requiem
Christopher Judge, God Of War Ragnarok
Manon Gage, Immortality
Sunny Suljic, God Of War Ragnarok
Games for impact
A Memoir Blue
As Dusk Falls
Citizen Sleeper
Endling – Extinction is Forever
Hindsight
I Was a Teenage Exocolonist
Best ongoing game
Apex Legends
Destiny 2
Final Fantasy XIV
Fortnite
Genshin Impact
Best indie game
Cult Of The Lamb
Neon White
Sifu
Stray
Tunic
Best debut indie
Neon White
Norco
Stray
Tunic
Vampire Survivors
Best community support
Apex Legends
Destiny 2
Final Fantasy XIV
Fortnite
No Man's Sky
Best mobile game
Apex Legends
Diablo Immortal
Genshin Impact
Marvel Snap
Tower Of Fantasy
Best VR/AR game
After The Fall
Among Us
Bonelab
Moss: Book II
Red Matter 2
Best action game
Bayonetta 3
Call Of Duty: Modern Warfare II
Neon White
Sifu
Teenage Mutant Ninja Turtles: Shredder's Revenge
Best action/adventure game
A Plague Tale: Requiem
God Of War Ragnarok
Horizon Forbidden West
Stray
Tunic
Best role-playing game
Elden Ring
Live A Live
Pokemon Legends: Arceus
Triangle Strategy
Xenoblade Chronicles 3
Best fighting game
DNF Duel Arc
JoJo's Bizarre Adventure
The King Of Fighters XV
MultiVersus
Sifu
Best sim/strategy game
Dune: Spice Wars
Mario + Rabbids Sparks Of Hope
Total War: Warhammer III
Two Point Campus
Victoria 3
Best sports/racing game
F1 22
FIFA 23
NBA 2K23
Gran Turismo 7
OlliOlli World
The Game Awards takes place on 9 December at 12.30am UK time.
Liev Schreiber on his $1m fundraising for Ukraine: 'Doctors are carrying out open heart surgery by flashlight'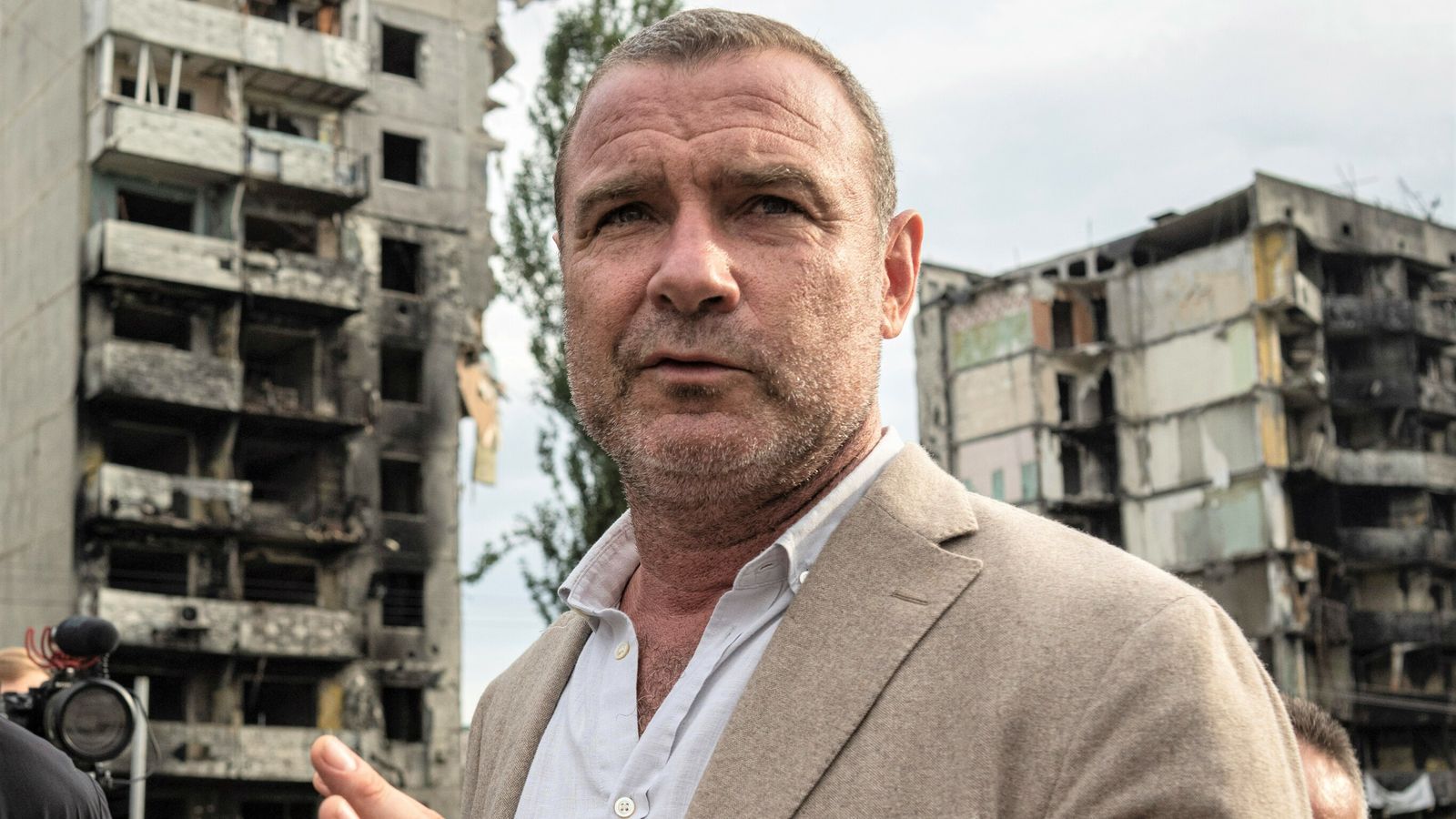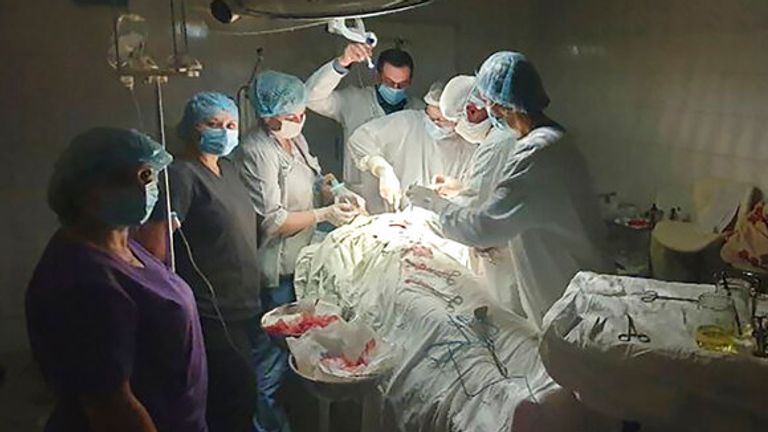 As Russian missile strikes against Ukraine's power and water supplies ramped up in recent weeks, images of surgeons carrying out life-saving work by torchlight started to make headlines around the world.
Liev Schreiber, who you might know as Hollywood "fixer" Ray Donovan in the hit TV series, or for his roles in films varying from blockbuster X-Men Origins: Wolverine to the Oscar-winning Spotlight, had already been fundraising to support a range of organisations in Ukraine since the start of the war. But the stories emerging about hospitals being plunged into darkness made him want to do more.
The American actor, whose grandfather was a Polish-Ukrainian immigrant, has launched an appeal to raise $1m (about £833,000) to buy generators to help medics in need; to give them the basic conditions of light and warmth in which to continue their work should power outages continue.
Speaking to Sky News in a UK exclusive interview, Schreiber said he felt he had no choice but to help.
"Russia's strategy of responding to military advances by attacking civilian infrastructure has gotten pretty drastic," he said. "They've done a tremendous amount of damage to the energy infrastructure in Ukraine. What we are doing, is just to [help] hospitals and doctors… for them to be able to continue to do the work that they need to do, which is so essential, to keep people alive.
"There's a couple of hospitals that have had these extraordinary examples of doctors completing open heart surgeries by candlelight and flashlight. These are incredibly capable medical professionals. What we're trying to do is to raise money to buy generators, to keep all of these hospitals lit so that the medics and the surgeons can do their work."
Schreiber, a five-time Golden Globe and three-time Emmy nominee, is an ambassador for Volodymyr Zelenskyy's United24, set up by the president to raise funds for the country following the outbreak of the war.
He has now been joined by five fellow United24 ambassadors – footballer Andriy Shevchenko, heavyweight boxer Oleksandr Usyk, astronaut Scott Kelly, tennis player Elina Svitolina and historian Timothy Snyder – who are all supporting the generator fundraising campaign. Generators start at about $8,000. In just over a week, they have raised $220,000 (about £179,000).
Russia has reportedly been carrying out attacks on Ukraine's electricity transmission and heating infrastructure since October, in what Kyiv and its allies say is a deliberate campaign to harm civilians. The Kremlin has rejected accusations that it targets civilian facilities.
Saving lives in the dark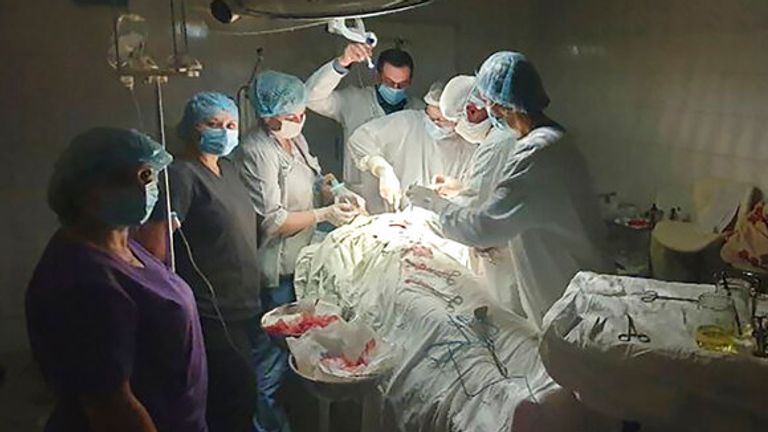 This photograph was shared by cancer surgeon Oleh Duda, who was in the middle of a complicated surgery at a hospital in the city of Lviv when explosions were heard nearby. Moments later, the lights went out, and he had no choice but to keep working with only a headlamp for light before a generator brought the power back after three minutes. "These fateful minutes could have cost the patient his life," the surgeon said in an interview.
The operation on the patient's major artery took place on 15 November, when the city in western Ukraine suffered blackouts as Russia unleashed yet another missile strike on the power grid, damaging nearly 50% of the country's energy facilities.
In Kyiv, the city's Heart Institute posted a video of similar scenes earlier in November, of surgeons operating on a child's heart with the only light coming from headlamps and a battery-powered flashlight.
"The medical infrastructure… has just been decimated in Ukraine," Schreiber said. "Just to keep those doctors working at saving lives is so crucial right now."
The actor has visited Ukraine three times so far year and his Instagram page is almost solely dedicated to calls for support, as well as clips of the "heroes" he has met there and the work he has carried out himself in and around the country to raise funds and deliver aid.
As well as partnering with United24, he is also the co-founder of BlueCheck, a crisis response organisation set up just weeks after the war broke out with the aim of fast-tracking urgent financial support to Ukrainian non-governmental organisations (NGOs) – helping to fund everything from psychological support programmes to the evacuation of orphans.
'Did I have that level of courage? I felt the answer was no. So I had to do the best I could'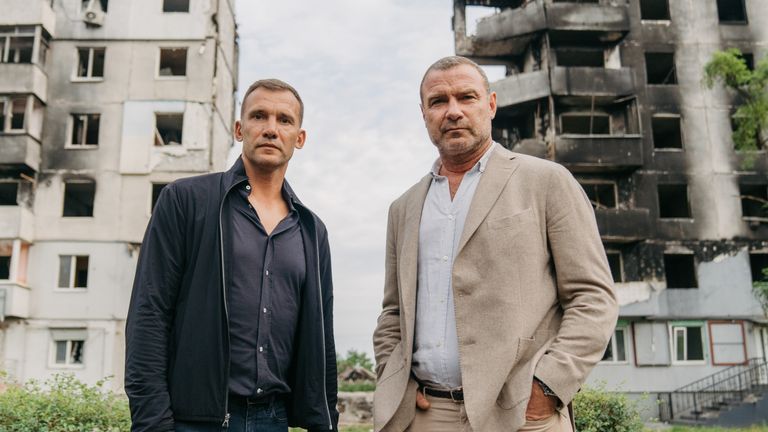 While he is connected through his Ukrainian heritage, Schreiber says it is something bigger that has compelled him to offer his support. "As I sat on my couch with my children watching this war develop, and watching these normal Ukrainian men say goodbye to their wives and children, knowing that they may never see them again as they were loaded on to buses to fight in a war in which they were wildly outmanned and outgunned…
"The idea that it was an existential crisis for them, that without these men going to war, Ukraine would cease to exist. They would lose their ability to vote for their own leaders, to have their own homes, to speak their own language, to raise their children the way they wanted to, to love whom they wanted to love… Anything, everything would be gone.
"That pure idea of democracy for me feels like it's being challenged all around the world right now. And I felt like when I saw that, particularly in front of my own children, questions were raised for me: Could I do that? Was I Ukrainian? Did I have that level of courage? And I felt like the answer was no. So I had to do the best that I could do, being as Ukrainian as I was – which I'm not, I'm American – I felt like I owe a debt to my grandparents and my ancestors who fought that particular fight over 80 years ago, and it's now being fought again.
"As we see disinformation and misinformation popping up all over the world, it feels like Ukraine is the sort of stark example where it's incredibly clear what's happening. Maybe not to folks who are limited to Kremlin media, but for the rest of us, it's very clear how fragile our democracy is and that we need to protect it and that we need to cherish the freedoms and liberties that we have and that were earned by our ancestors."
'We are all brothers and sisters and we need to think like that'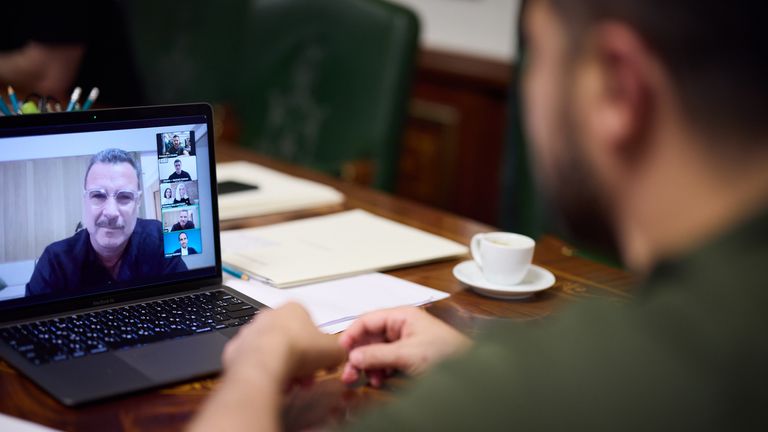 Schreiber, who is a parent to two teenagers with his former partner, actress Naomi Watts, said as a father he could not sit by and do nothing.
"The life that [my children] have, the luxuries that are afforded them because of the battles my grandparents fought and the opportunities that I've been allowed, are not just granted," he said.
"It feels like public discourse has lost a kind of civility and I think that's being reflected in this war. I need my children to know what's important. I need my children to know what the values are and principles that are important to me are, which is that we treat each other with civility and humanity."
Horrified by the images and news reports coming out of Ukraine at the start of Russia's war, the world was quick to respond with donations of money, essentials and support. But nine months on, the initial groundswell of support has inevitably dipped.
Read more: Eyewitness – what the strikes on energy mean for Ukraine's winter
Schreiber said the Ukrainians he has spoken to are in "remarkably good spirits… just incredibly resilient people and they're convinced that it's just a matter of time before this is over and they're victorious".
But he still hopes people will continue to show support for the country in any way possible.
"We are all brothers and sisters and we need to think like that. And we need, especially at this time of year, to be aware of those in need. And these Ukrainian people are deeply in need right now."
Liev Schreiber is fundraising for United24