Tourists staying at the Turkish holiday resort of Bodrum were evacuated and told to wait for rescue boats on Saturday evening as fresh wildfires erupted nearby, according to local media.
Panicked holidaymakers reportedly rushed to the seashore following the evacuation of several hotels in the coastal city.
Fires across Turkey have been raging since Wednesday, burning down forests and some settlements, and encroaching on villages and tourist destinations. Satellite images show smoke billowing across huge areas of land.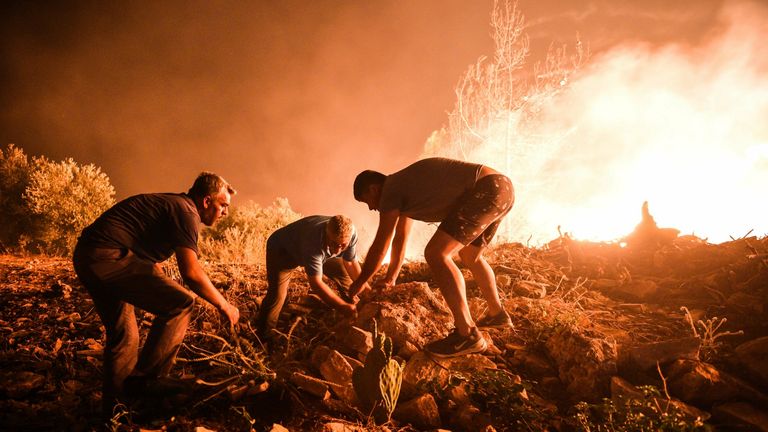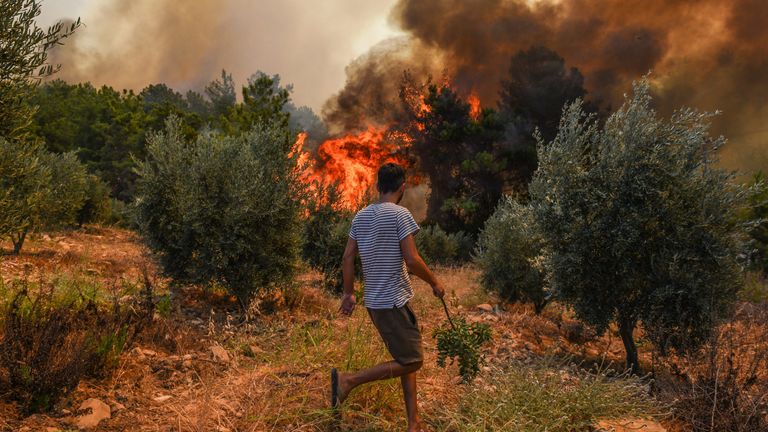 Two forest workers died on Saturday, the country's health minister said, taking the total death toll from the blazes to six, while hundreds more have been injured or suffered health problems.
In the Aegean resort of Bodrum, coast guard units led the rescue operation and authorities asked private boats and yachts to assist the efforts.
Mayor of Bodrum Ahmet Aras has been posting videos and updates, and said clear-up efforts continue in the area.
Canımız yanıyor…
Şehir merkezimizde başlayan yangının ardından, maalesef Mumcular Bayır bölgesinde ikinci bir yangınla daha karşı karşıya kaldık.
Gün boyunca ekipler ve vatandaşlarımızla birlikte sürdürdüğümüz söndürme çalışmaları, Bayır bölgemizde devam ediyor.#bodrumyangın pic.twitter.com/rqaqTK20CU

— Ahmet Aras (@ahmetarasbodrum) July 31, 2021
While new fires have sprung up, the minister of agriculture and forestry, Bekir Pakdemirli, said on Saturday that 91 of the 101 fires across the country have been brought under control.
However, neighbourhoods affected by the fires in five provinces have been declared disaster zones by the country's emergency and disaster authority.
President Recep Tayyip Erdogan visited the town of Manavgat on Saturday, inspecting the damage from a helicopter.
He announced that the Turkish government would cover rent for people affected by the fire, and rebuild their homes. Taxes, social security and credit payments will also be postponed for those affected and small businesses will be offered credit with zero interest, he said.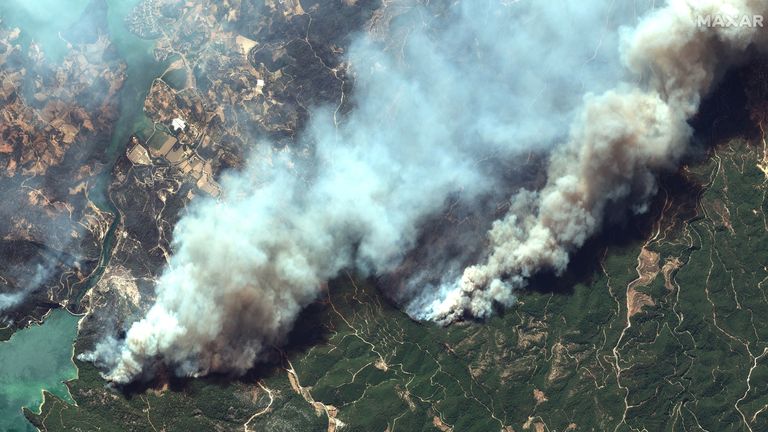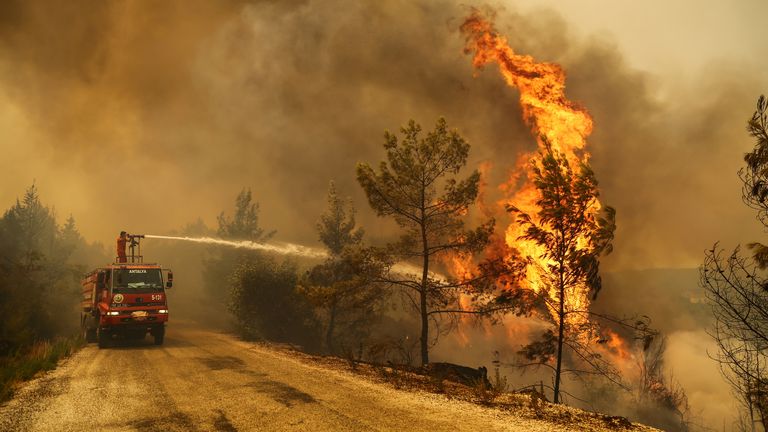 "We cannot do anything beyond wishing the mercy of God for the lives we have lost but we can replace everything that was burned," Mr Erdogan said.
Wildfires are common in Turkey's Mediterranean and Aegean regions during the hot and dry summer months.
Mr Erdogan has said authorities are investigating the possibility of "sabotage" causing the country's fires.
Further wildfires have spread across other countries in the Mediterranean, including Italy and Greece, caused by the worst heatwave in decades in southern Europe, fed by hot air from Africa.
Temperatures in Greece and nearby countries are expected to climb to 42C (more than 107F) on Monday.
Strikes on energy mean Ukraine is facing its toughest 125-day wintertime in post-Soviet history, energy boss Maksym Timchenko says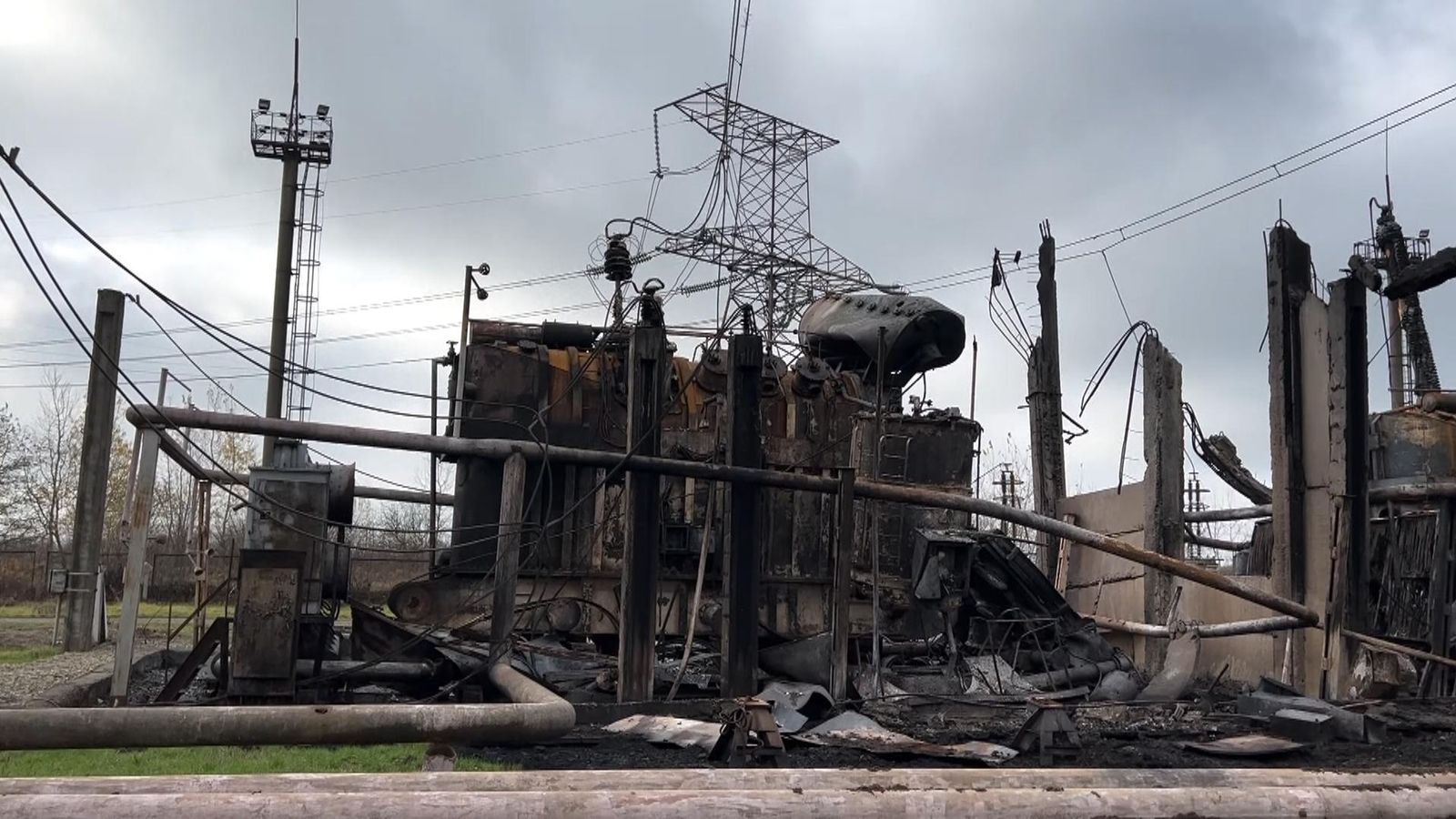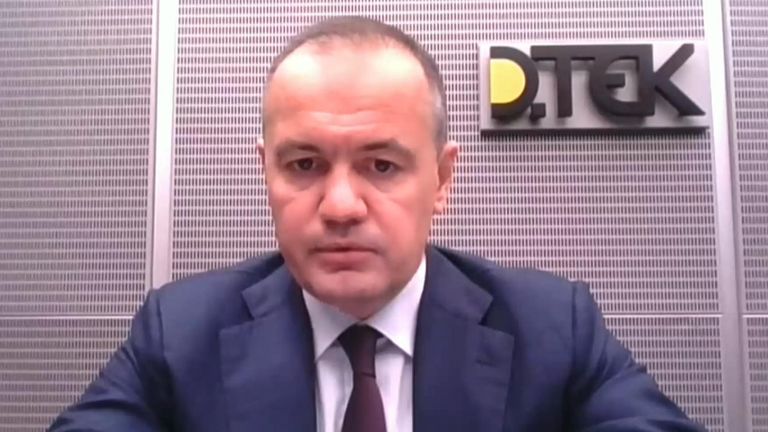 This winter will be the toughest in Ukraine's history as an independent state as Russia targets power and water supplies, worsening the impact of the war, an energy boss has said.
But Maksym Timchenko told Sky News that Moscow will fail to turn out the lights for too long with its missile strikes because of his country's ability to repair the damage quickly.
The chief executive of DTEK, the largest private Ukrainian energy firm, predicted that people will endure the next 125 days of wintertime "as brave Ukrainians" despite the threat of new Russian attacks against the energy grid.
"We will survive and we will win," he said.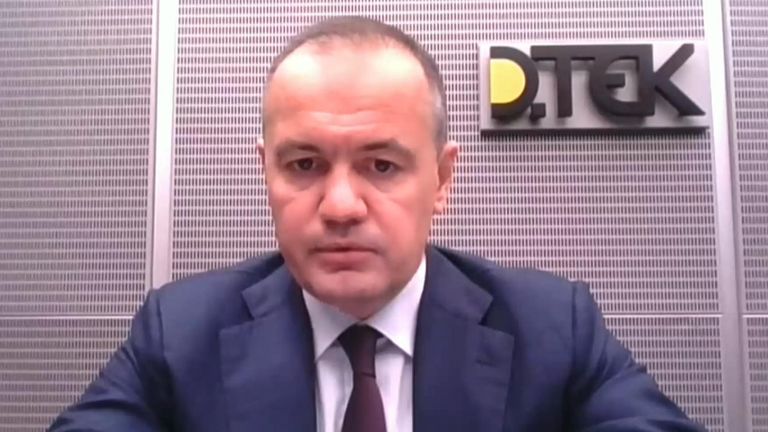 Workers from DTEK as well as Ukrenergo, the national electricity company, have mobilised – at great personal risk – to repair power stations, substations and other parts of the network that have been targeted by Russian airstrikes since October in a new energy frontline.
"This has the same importance for Ukrainian victories as the military frontline," Mr Timchenko said.
Four of his employees have so far been killed on duty since Russia launched its full-scale war in February. Three died in rocket strikes and the fourth was killed by a mine.
"I'm so grateful to our people… who work in this industry," he said. "These are real heroes and will stay in the history of Ukraine forever."
With Russia thought already to have bombed more than a third of Ukraine's energy system, the boss of DTEK predicted the coming months would be the harshest since at least 1991 when Ukraine gained its independence from the then Soviet Union.
"I can say with full confidence [it] will be the most difficult winter because we have never seen such destruction, such behaviour of our enemy, and we never lived under such conditions – constant rocket attacks and destruction and damage and explosions," he said.
Equally, "I have full confidence that we will cope".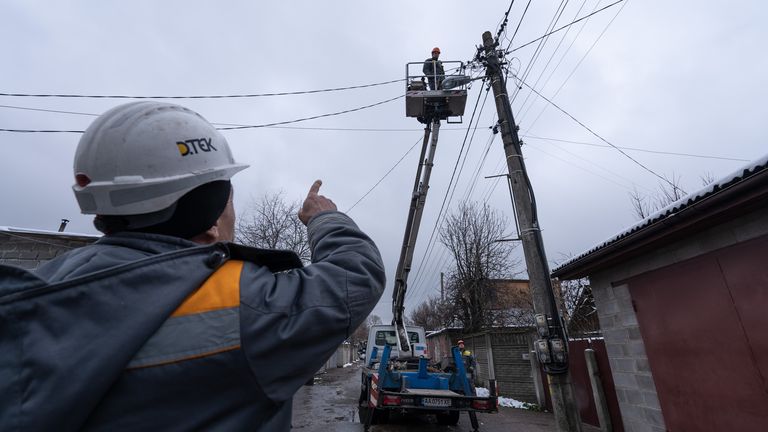 READ MORE: Ukraine war latest – Putin spy chief meets CIA over nuclear threat
Mr Timchenko said all six of his company's thermal power stations had been hit, some of them several times, but they were all back up and running.
"In this fight, you learn a lot: how to restore power supply; how to restore the system; what creative technical solutions can be found so that we bring back our power stations," he said.
"I have a strong belief that there is no chance that a complete blackout can continue for a long time so that people cannot live."
But he appealed to the international community for more electrical transformers to assist with efforts to reconnect the grid. "Today, equipment is more important than money for us."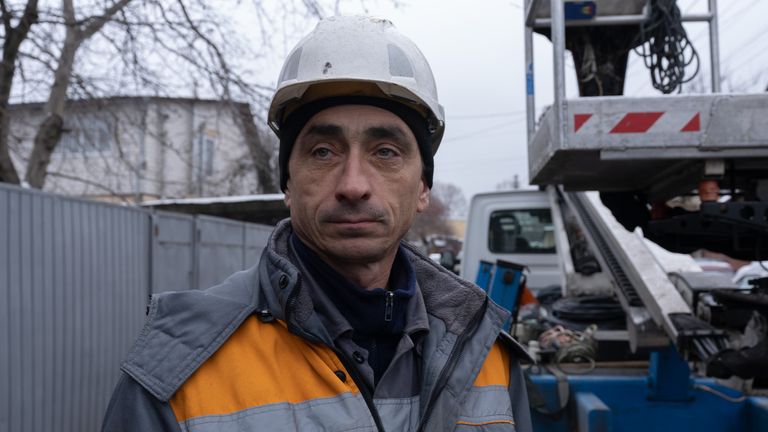 A major attack on 23 November knocked power out across much of the country for tens of millions of people. Even many homes in the capital Kyiv were without electricity and water for at least 48 hours – the worst impact of Russia's new tactic so far.
Read more: Striking satellite image reveals extent of Ukraine's power shortage after Russian missile strikes
However, Mr Timchenko said despite the damage, it had been possible to retrieve power supplies. "Now we start this countdown of the winter season – 125 days – and trust me, we will get through these 125 days as brave Ukrainians," he said.
In one home on the outskirts of Kyiv, a couple in their 70s said they would never give up no matter how long they must go without electricity and running water.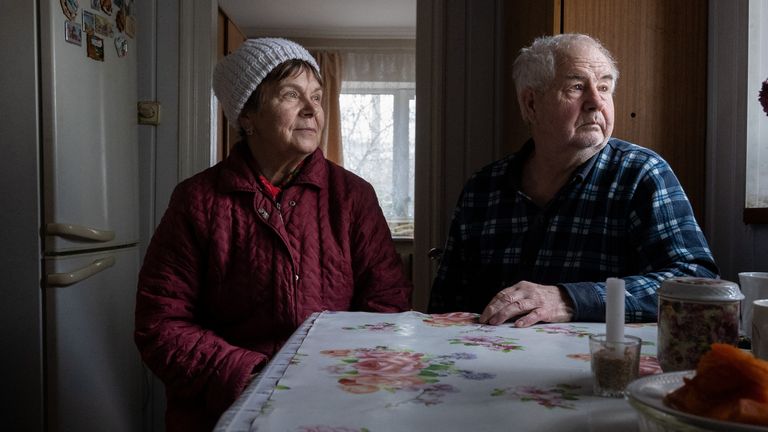 Liubov Sudakova and Volodymyr Sudakov are lucky because they have a log stove that keeps the house warm when the power is out. They have also stocked up on food – potatoes and other vegetables – grown in their garden.
"We just need the bombs to stop falling," said Liubov. "When bombs were flying in the summer… I was in my garden and heard this 'woosh' and later boom. So that was scary."
Pele: Brazil football legend back in hospital as he fights cancer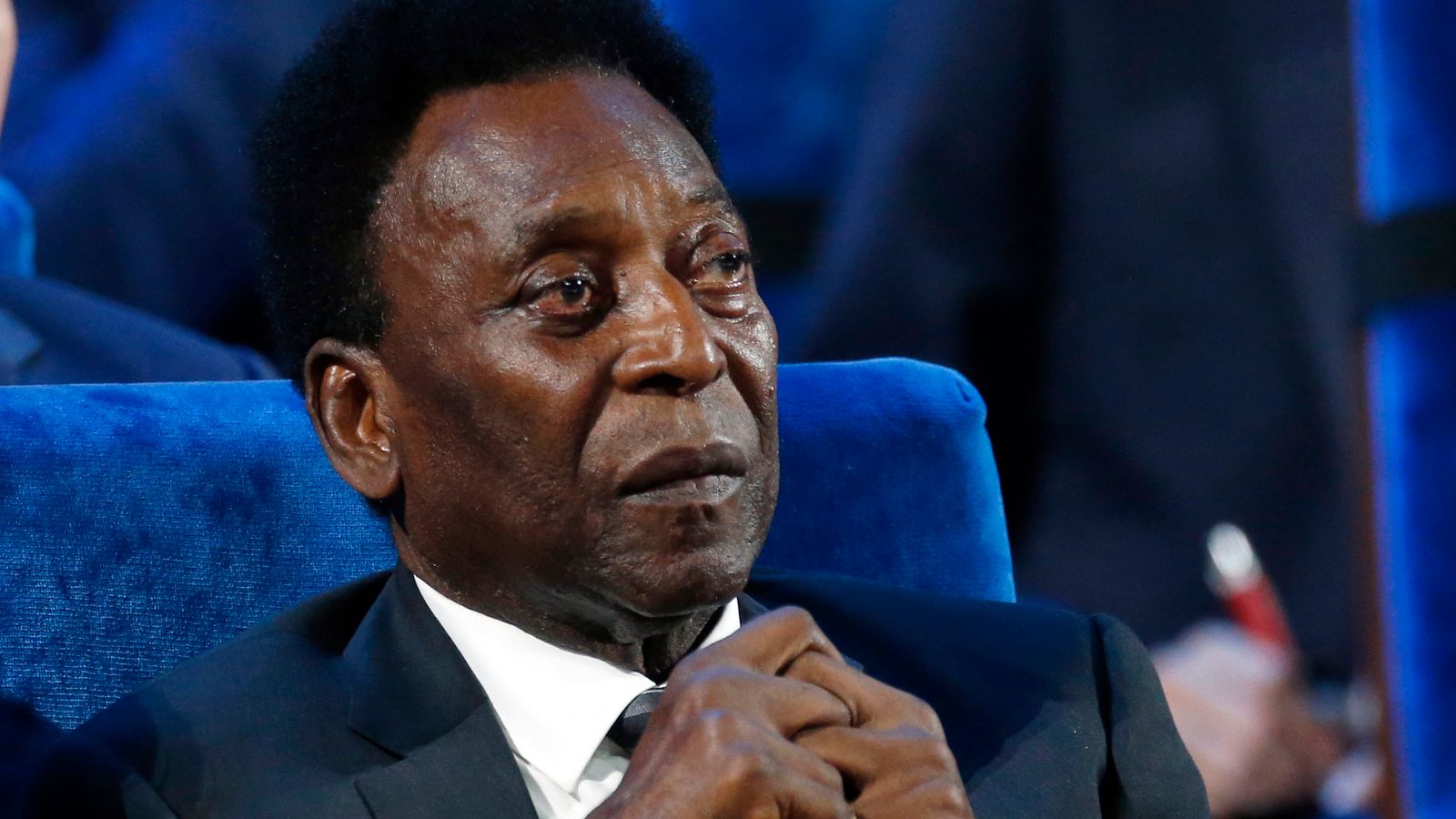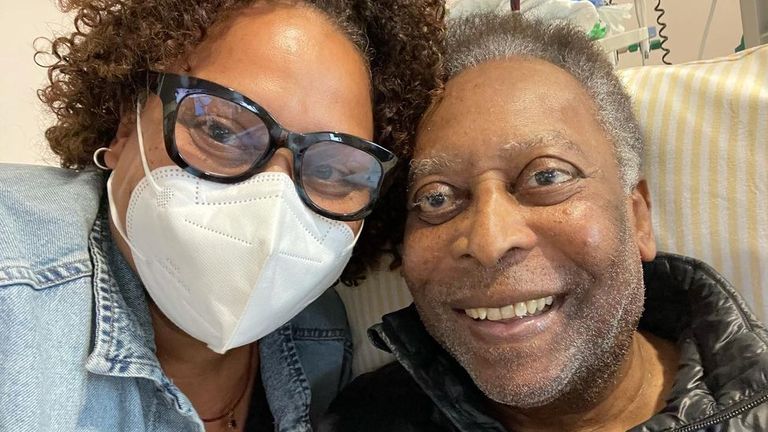 Brazilian football legend Pele is back in hospital, according to his daughter.
But in an Instagram post, Kely Nascimento also said there was "no emergency", as he continues to fight colon cancer.
She said he had been admitted so that doctors could regulate his medication.
She wrote: "Lots of alarm in the media today concerning my dad's health. He is in the hospital regulating medication.
"There is no emergency or new dire prediction. I will be there for New Years and promise to post some pictures."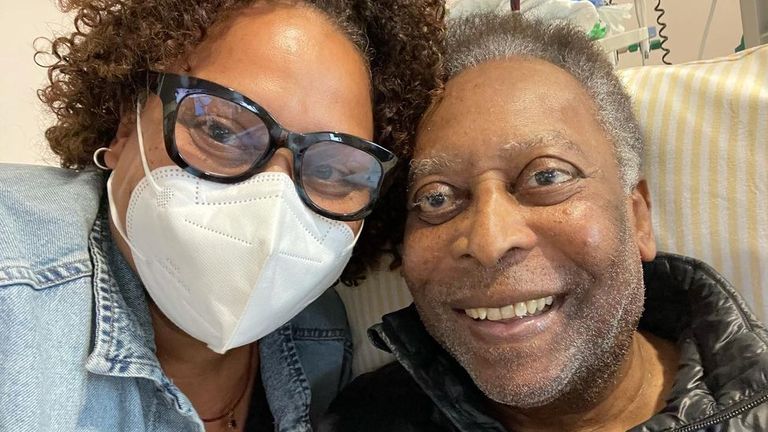 The football star had a tumour removed from his colon in September 2021 and has since been in and out of hospital for treatment on a regular basis.
ESPN is reporting the 82-year-old had been admitted to Albert Einstein Hospital in Sao Paulo with "general swelling" and was having cardiac issues.
And medics were concerned that chemotherapy treatment was not having the expected results.
Pele is to have further tests for a more in-depth assessment of his health issues, it added.
His manager and the hospital did not immediately respond to requests for comment.
Pele is arguably the greatest footballer of all time.
He burst on to the global scene as a 17-year-old at the 1958 World Cup, helping Brazil to the first of their record five successes.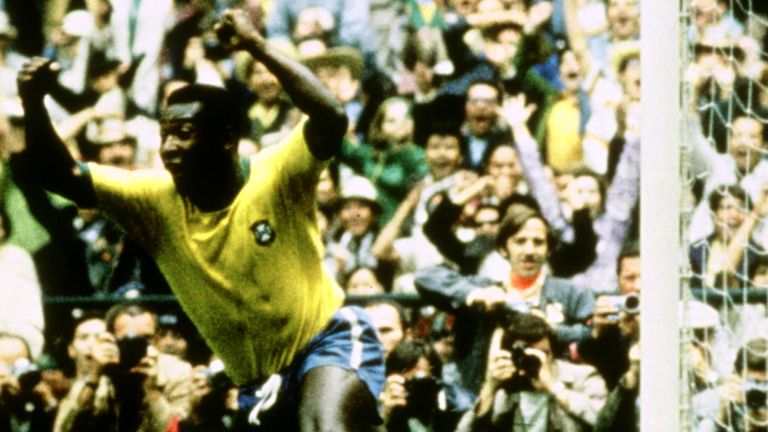 Injury affected Pele's contribution to the 1962 and 1966 finals, but he led Brazil to a third triumph, this time in Mexico in 1970 as part of what is widely regarded as the greatest international team of all time.
Brazil's leading scorer, with 77 goals in 92 matches for his country, he embodied the idea of football as "the beautiful game", one played with skill, speed and imagination.
There is much dispute over the number of goals overall he scored during his career, which Guinness World Records puts at 1,279.
However, critics believe that figure is too high, boosted by hundreds scored in friendlies and practice matches.
Including those, he scored at almost a goal a game throughout his 22-year career.
Others put his total at 757 goals, although his main club, Santos, says his tally was closer to 1,000.
In 2013, he was awarded the FIFA Ballon d'Or Prix d'Honneur (award of honour) in recognition of his career and achievements.
Man arrested over mass drowning of migrants in English Channel fighting extradition to France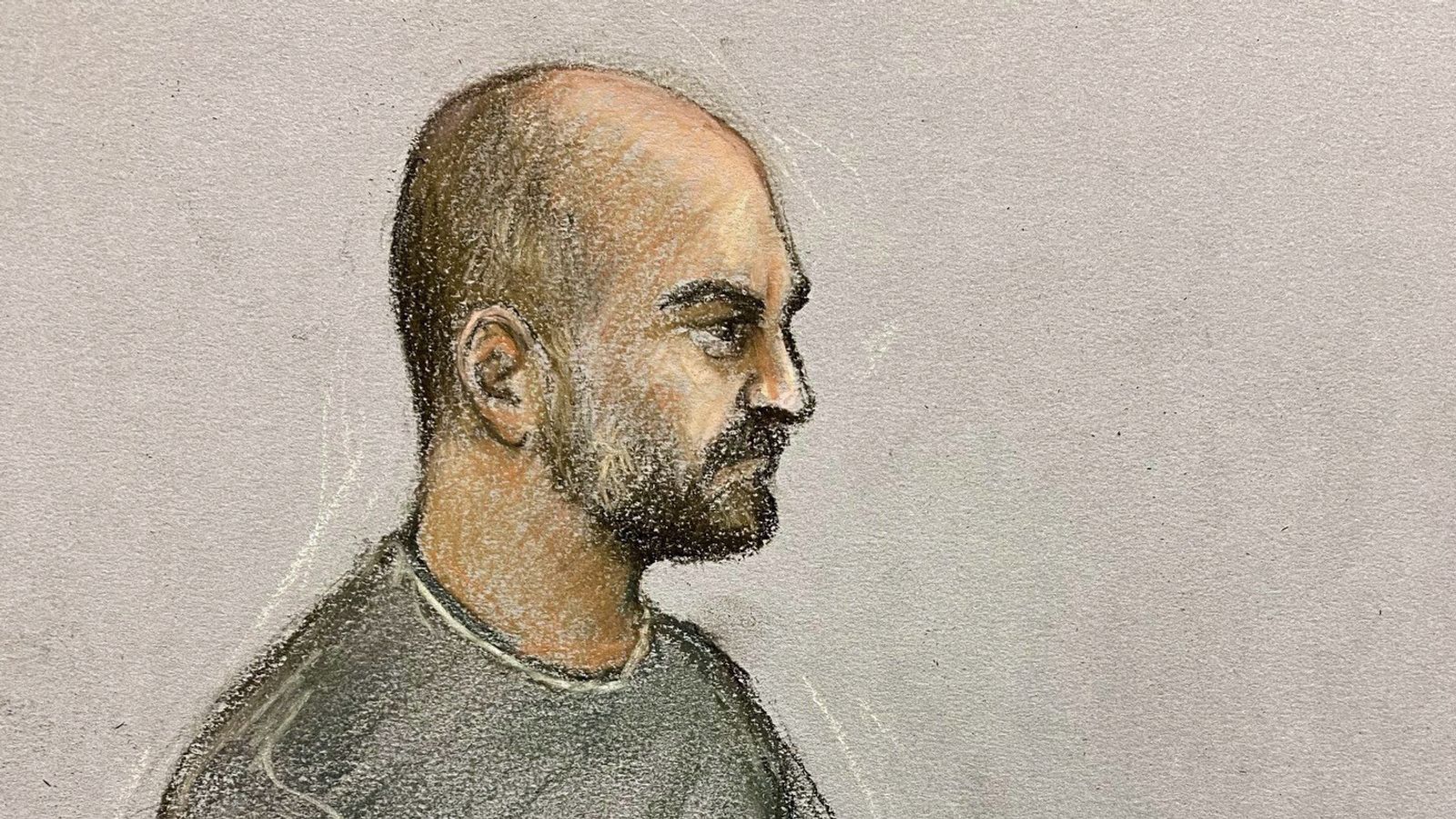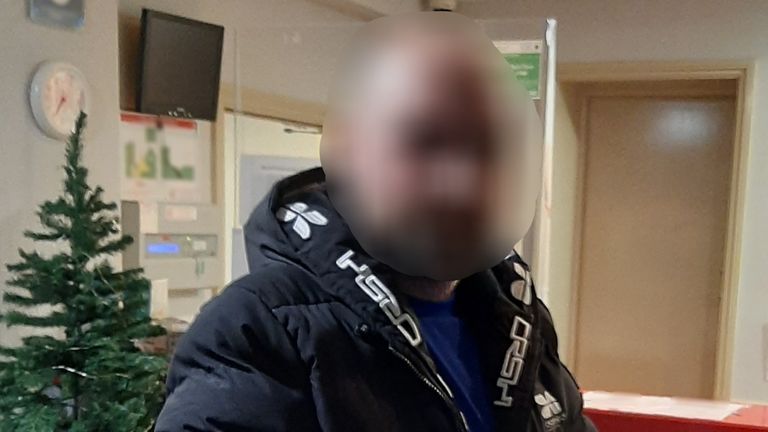 An alleged ringleader of a people smuggling gang, accused of sending more than 30 migrants to their deaths in the English Channel, is fighting extradition to France.
Harem Abwbaker, a UK asylum seeker, is said to have charged the migrants $3,200 (£2,680) each for the trip in November last year.
Appearing at Westminster Magistrates' Court, the 32-year-old was accused of putting them in a badly-designed boat with inadequate navigation or life-saving equipment.
When the boat deflated and sank in darkness two hours after leaving France – and all but two on board drowned – he allegedly offered their relatives money to keep quiet.
French authorities outline allegations
Two migrants survived and identified Abwbaker as the 'right-hand man' of the gang's leader, according to an extradition warrant issued by the French authorities.
The document also claims he personally helped the migrants on to the boat and electronic data showed his mobile phone was at the launch site on the French coast.
The warrant states the migrants were powerless to respond to an emergency, and "had no chance of facing any event at sea," Prosecutor Michael McHardy told Westminster Magistrates' Court.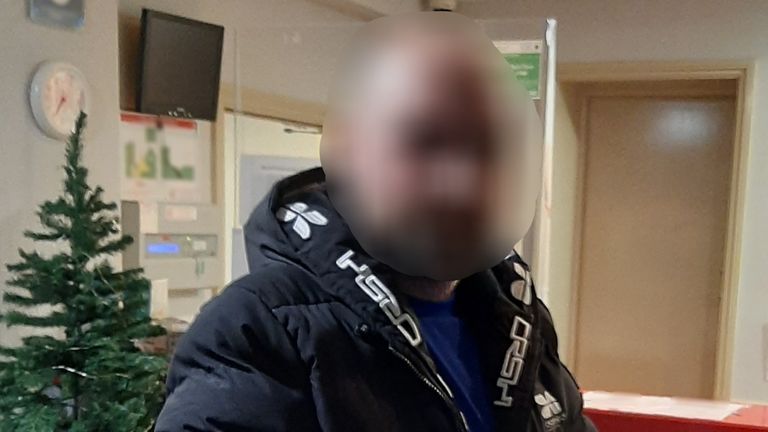 Suspect wants to prove 'innocence'
Abwbaker, a Kurd, was arrested in Cheltenham, Gloucestershire, on Tuesday morning. In court he gave his address as the town's Ramada Hotel.
He sat in the dock in jeans and a grey sweatshirt, scratching his beard during the 30-minute hearing.
Asked if he agreed to be extradited, he said through an interpreter: "If I return now, how can I come back once I've proved my innocence? What you're talking about is my life and my freedom."
Judge Paul Goldspring said: "It's clear he's not consenting."
Read more:
French government will investigate worst-ever Channel migrant disaster
It's previously been reported that 27 bodies were recovered the day after the boat sank and four migrants were still missing.
According to the extradition warrant, the French Navy recovered 25 bodies.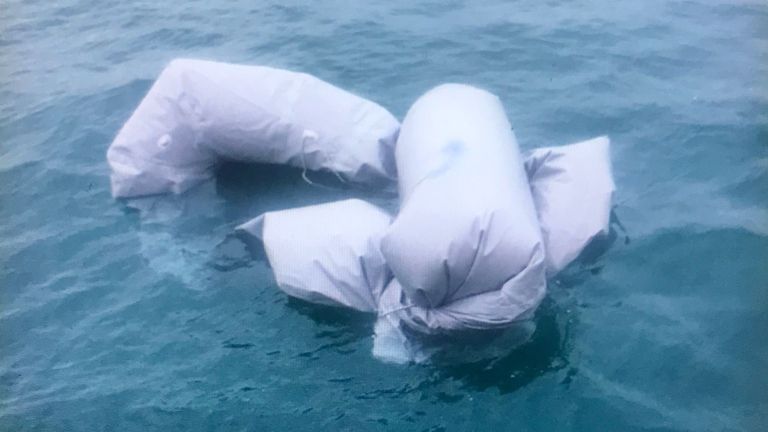 Abwbaker did not ask for bail and was remanded in custody ahead of an extradition hearing in April. He will appear in court again for a preliminary hearing on 29 December.