The UK and US have blamed Iran for an attack on an oil tanker in which two crew members, including a British national, were killed.
Foreign Secretary Dominic Raab accused Iran of carrying out a "deliberate, targeted" assault which he says constituted "a clear violation of international law".
Meanwhile, US Secretary of State Anthony Blinken said he was considering "next steps" with the UK and other allies, with "an appropriate response… forthcoming".
The incident occurred last Thursday when the MV Mercer Street was off Oman's Coast in the Arabian Sea.
"The UK condemns the unlawful and callous attack committed on a merchant vessel off the coast of Oman, which killed a British and a Romanian national," Mr Raab said.
"Our thoughts are with the friends and family of those killed in the incident.
"We believe this attack was deliberate, targeted, and a clear violation of international law by Iran.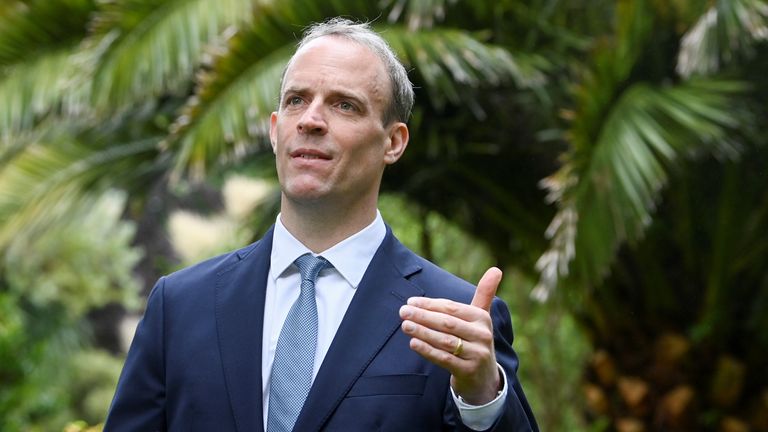 "UK assessments have concluded that it is highly likely that Iran attacked the MV Mercer Street in international waters off Oman on July 29 using one or more unmanned aerial vehicles (UAVs).
"Iran must end such attacks, and vessels must be allowed to navigate freely in accordance with international law.
"The UK is working with our international partners on a concerted response to this unacceptable attack."
Mr Blinken said: "Upon review of the available information, we are confident that Iran conducted this attack, which killed two innocent people, using one-way explosive UAVs, a lethal capability it is increasingly employing throughout the region."
He added: "We are working with our partners to consider our next steps and consulting with governments inside the region and beyond on an appropriate response, which will be forthcoming. We once again offer our condolences to the families of the victims."
Earlier this week, Israeli foreign minister Yair Lapid blamed "Iranian terrorism" for the attack.
Iran has not yet commented on the allegations.
A Romanian citizen was also killed in the attack.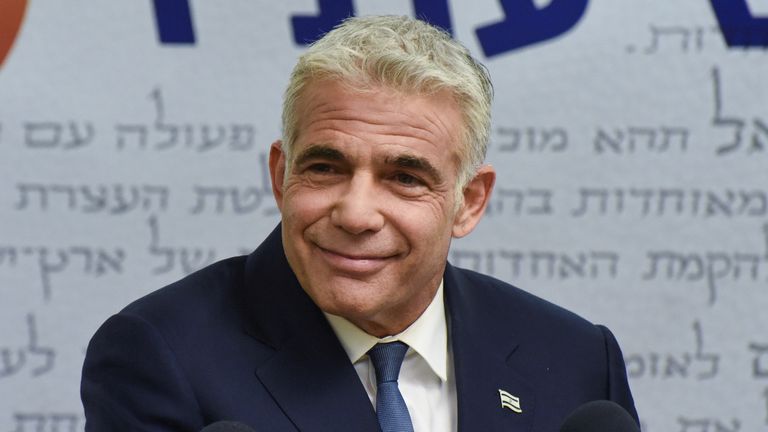 Lisa Nandy, Labour's shadow foreign secretary, said the UK government needs to take a hard line with Tehran.
She said: "The prime minister must make it clear to the incoming Iranian president that lawless actions will carry costs. This is the moment where Britain must show we are resolute in our determination to end this pattern of behaviour.
"The breakdown of a clear strategy to deal with Iran has not served the UK or our allies well in recent years. The foreign secretary must now make it a priority to pursue coordinated international efforts to tackle these actions by the Iranian government."
The tanker is operated by London-based company Zodiac Maritime, who say they are working to establish what happened.
The incident has sparked concern that tensions are increasing in the region.
A UK source said crew members reported being targeted by "some sort of drone" on Thursday in the Arabian Sea before communications with the ship were lost.
If a drone attack is confirmed it would raise speculation about a possible link to a government or some kind of proxy group.
Iran in the past has repeatedly been accused of targeting tankers in the Gulf.
The country has been locked in a tit-for-tat contest with Israel, with both sides accusing the other of targeting ships and launching cyber attacks.
According to Eikon's ship tracking, the Mercer Street was headed to Fujairah, a bunkering port and oil terminal in the United Arab Emirates, from Dar es Salaam, in Tanzania.
5 highlights of Sam Bankman-Fried's first day of trial
The high-profile trial of former FTX CEO Sam "SBF" Bankman-Fried kicked off on Oct. 3 with plenty of activity both inside and outside of the cramped Manhattan courtroom.
Journalists, crypto influencers and other gawkers reportedly gathered in a media overflow room to take notes on the day's events. Here are some of the most colorful observations about the day.
Noticeably leaner, signature haircut gone
The defendant, Bankman-Fried, appeared noticeably leaner, according to multiple reports.
Flanked by five defense lawyers, he was dressed in a navy suit that seemed bigger on him in previous appearances, and his signature unkempt curly locks were subbed for a shorter hairstyle.
Some of the first court sketches of SBF's new haircut by Jane Rosenberg for Reuters: pic.twitter.com/n0FqW71PWD

— Luc Cohen (@cohenluc) October 3, 2023
Unchained Crypto's Laura Shin noted that Bankman-Fried was noticeably "less jittery than normal."
"I did not see him shake his leg at all," she said in an Oct. 3 podcast.
The only time he spoke was to say "yes" to the judge and occasionally look at the jurors. Other times, he conferred with his lawyers or was seen typing and scrolling on his air-gapped laptop.
MY SBF HAIRCUT SKETCH VS COURT GUY pic.twitter.com/rNC4MC2xRK

— Tiffany Fong (@TiffanyFong_) October 3, 2023
SBF has spent the past seven weeks or so locked up at Brooklyn's Metropolitan Detention Center. When his lawyers unsuccessfully argued for his release, they claimed that he was subsisting on "bread and water" and lacking vegan meal options.
Crypto influencer Tiffany Fong said, "He kind of looks more criminal now."
Journalists, influencers and skeptics come to "crypto prom"
The first day of the trial was described as feeling like "the first day of school," according to some journalists in attendance.
"I've never seen the courthouse like this," remarked an unnamed member of the press, according to The Slate.
"While waiting to access the media overflow room, I spotted practically anyone and everyone who's had something to say about decentralized currency over the last few years," said The Slates' Nitish Pahwa.
He described it as a "crypto prom" crammed with a hodgepodge of paid media participants, crypto influencers, obsessives, skeptics and more.
i am standing outside of SDNY for SBF's trial pic.twitter.com/WDGd8kVqdQ

— Tiffany Fong (@TiffanyFong_) October 3, 2023
Cointelegraph reporter Ana Paula Pereira is also in attendance and will give daily updates on the most significant developments throughout the trial.
Jurors get whittled down, and some share sad crypto stories
Judge Lewis B. Kaplan told the burgeoning crowd of potential jurors: "You are to do no research. You are not to read press coverage"; however, he lightened up when it came to questioning the crowd, reported Cointelegraph.
Potential jurors were asked if they had prior knowledge about FTX and Alameda, with one saying they learned about it from The Joe Rogan Experience podcast, according to a partial transcript from Inner City Press.
One juror said they worked with a company that invested in (and lost money on) FTX and Alameda. Another potential juror said:
"I invested in crypto. I lost money."
One juror shared that he wasn't sure if he could be unbiased with crypto: "I've felt negatively about it since I learned about it." He was later dismissed from the pool of potential jurors.
Another juror even asked the judge whether a death sentence could be imposed for Bankman-Fried, to which the judge answered:
"We'll get to it in a minute or two, and my answer will have to suffice. Anyone unwilling to accept that punishment is up to the court? No one."
At the end of the session, Judge Kaplan said, "We now have a sufficient group of qualified jurors, 50." He added that 18 people will be selected in total, 12 of whom will be jurors with six alternates.
He added that on the next day (Oct. 4), a microphone will be passed around for each juror to speak for a minute. "Then the lawyers will confer, and the final selection will be made," he concluded.
Witnesses for the prosecution
An assistant U.S. attorney read out a list of potential witnesses for the prosecution. This included some expected names, such as former company executives Caroline Ellison, Gary Wang, Nishad Singh, Ryne Miller and Constance Wang; family members Joe Bankman and Barbara Fried; and even Anthony Scaramucci.
Several institutions were also listed, including Jane Street Capital, Sequoia Capital, BlockFi, Genesis, the Ontario Teachers' Pension Plan, Binance, Nexo, Guarding Against Pandemics (the nonprofit of SBF's brother) and Voyager Digital.
Six-week trial expected
Judge Kaplan said that the trial was expected to take about six weeks, but he also noted that it could be over in a much shorter time.
Related: What has Sam Bankman-Fried been up to in jail?
However, by the end of the day, he had not succeeded in finalizing the jury. Kaplan predicted that this would be completed by the morning of Oct. 4, after which both sides are expected to give opening arguments totaling around 90 minutes.
We decided to illustrate the lead-up to @SBF_FTX's trial. Here's Bankman-Fried's life in the slammer. From mirror monologues to peanut butter banquets, the fall is real. pic.twitter.com/v73IA6d5l2

— Cointelegraph (@Cointelegraph) October 3, 2023
Magazine: Can you trust crypto exchanges after the collapse of FTX?
Crypto-friendly Patrick McHenry takes interim House Speaker position
United States Representative and crypto-friendly lawmaker Patrick McHenry has been appointed as interim House Speaker after the high-profile ousting of U.S. House Speaker Kevin McCarthy.
McCarthy's ousting came after a 216–210 vote by Congress, with eight of the 216 votes coming from McCarthy's fellow Republicans, marking the first time a House Speaker has been removed in U.S. history, according to Reuters.
The vote was prompted by a motion from one of McCarthy's political rivals, Matt Gaetz, who called into question several contradictory promises made by McCarthy.
Though temporary, McHenry's appointment could be seen as a small win for the digital asset sector. The Speaker sets the House's legislative agenda, controls committee assignments, and schedules specific bills to be debated and voted upon in the chamber.
The House Speaker is considered the most influential position in the U.S. government behind the president and vice president.
Meanwhile, McHenry is regarded as one of the biggest challengers to the Securities Exchange Commission's regulation-by-enforcement-style approach to the cryptocurrency sector.
McHenry also grilled SEC Chair Gary Gensler in his testimony before Congress last week, suggesting he's attempting to "choke off the digital asset ecosystem." McHenry also called Gensler out for refusing to be transparent with Congress about the SEC's connections with FTX and its former CEO, Sam Bankman-Fried.
SEC Chair @GaryGensler refuses to schedule a Commission vote to provide Congress with requested documents.

Should Gensler continue to stonewall, Republicans will have no choice but to issue the first subpoena to the SEC from my Committee to compel their production. https://t.co/Aw5U0aJ0Tt

— Patrick McHenry (@PatrickMcHenry) October 2, 2023
McHenry also released the discussion draft "Digital Asset Market Structure Proposal" on June 1, which purports to provide clarity, fill regulatory gaps, and foster innovation in the cryptocurrency space, a paper that was praised by some industry leaders.
Related: Rep. Patrick McHenry blames White House for lack of urgency on stablecoin bill negotiations
However, McHenry's tenure as House Speaker may be short-lived, with an official vote on a new House Speaker set for Oct. 11, according to Bloomberg.
A Reuters report speculates that, along with McHenry, there is a possibility that pro-crypto Representative Tom Emmer or even Donald Trump could be a possible replacement for McCarthy, though none have publicly expressed interest in taking the position.
50-50 we get a crypto champion as Speaker now, with Whip Emmer and Speaker pro tempore McHenry in the running. Wild day.

(Speaker of the House is third in power behind President and VP for the non-US followers out there.) https://t.co/2ow5li2lnw

— Ryan Selkis (@twobitidiot) October 3, 2023
Meanwhile, McCarthy has already confirmed he won't run for House Speaker again.
Magazine: Opinion: GOP crypto maxis almost as bad as Dems' 'anti-crypto army'
Rishi Sunak to pitch himself as prime minister to 'fundamentally change the country'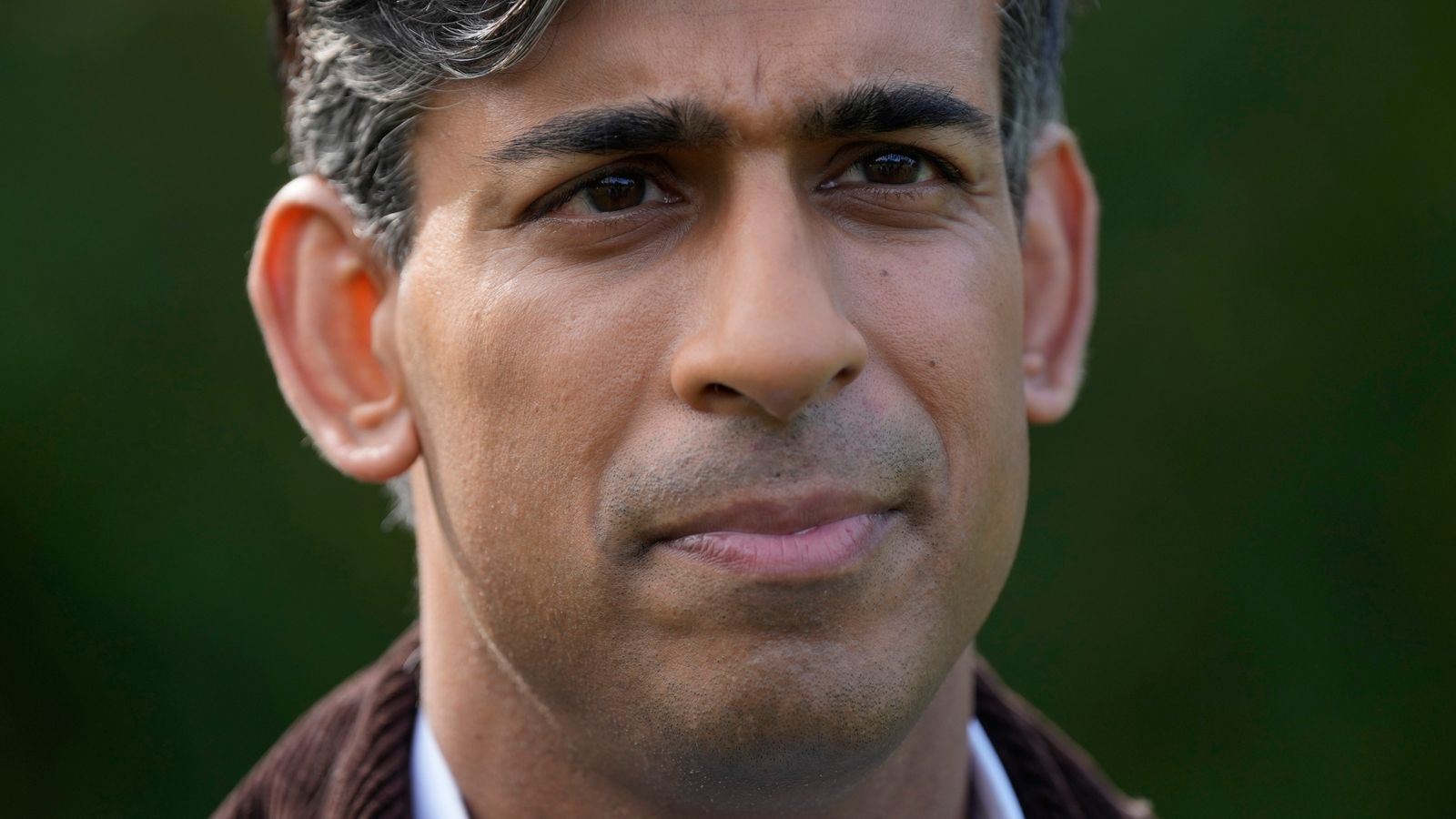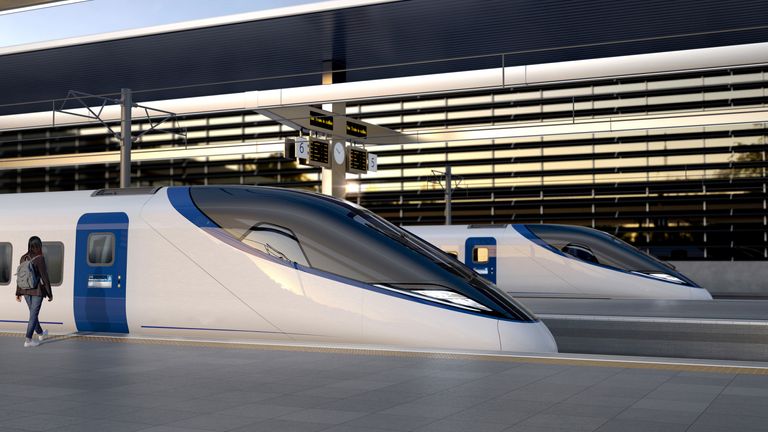 Rishi Sunak will try to convince the public he is the person to "fundamentally change the country" and fix Westminster's "broken system" – despite the fact his party has been in government for 13 years.
In his speech to the Tory Party conference, the prime minister will present himself as a reformer who is prepared to take difficult decisions, unlike opponents, who take "the easy decision, not the right one".
Mr Sunak will tell the conference hall that politics "doesn't work the way it should" and that his Labour opponent, Sir Keir Starmer, is "betting on voters' apathy."
The speech will round off what has been a chaotic four days at the party's annual conference in Manchester – an event that has been overshadowed by the announcement that the northern leg of HS2 will not go ahead as originally envisioned.
Instead, services will run between Birmingham and Manchester but they will not be high speed and they will use the existing West Coast Mainline track.
The development prompted Greater Manchester mayor Andy Burnham to accuse the government of treating people in the north as "second-class citizens".
Election would be 'massive distraction' – Tory conference latest
He warned the government: "To pull that plug here in Manchester would show complete contempt to the city region and to the north of England as a whole."
The Tory mayor for the West Midlands, Andy Street, also warned it would be "an incredible political gaffe" allowing opponents to accuse Mr Sunak of having decided to "shaft the north".
In his speech, Mr Sunak will rail against "30 years of a political system which incentivises the easy decision, not the right one – 30 years of vested interests standing in the way of change".
He will reflect on his first year in Number 10 and acknowledge a "feeling that Westminster is a broken system".
No high speed link north of Birmingham


"It isn't anger, it is an exhaustion with politics," he will say.
"In particular, politicians saying things, and then nothing ever changing.
"And you know what? People are right. Politics doesn't work the way it should."
Sunak: 'No one wants an election'

Poll shows most voters think Sunak is doing a bad job
A new poll of 1,000 people from Ipsos UK suggests most voters think Rishi Sunak is doing a bad job when it comes to hitting his goals.
On inflation, 57% said Mr Sunak was doing a bad job, up from 55% in May.
Some 54% said he was doing a bad job on growing the economy, up from 50% in May.
And 54% of people said he was doing a bad job on reducing national debt – up from 49%.
On cutting NHS waiting lists, dissatisfaction sits at 71%, compared to 62% in May.
On 'stopping the boats', two-thirds of people said he was doing a bad job.
The poll was carried out just before the Conservative party conference.
And he will say: "Politicians spent more time campaigning for change than actually delivering it.
"Our mission is to fundamentally change our country."
Read more:
Sunak to announce £30bn of transport spending in conference speech
Braverman says Andrew Boff should be allowed back into conference
As well as the HS2 announcement, Mr Sunak has also been undermined by his predecessor Liz Truss, who drew big conference crowds as she demanded immediate tax cuts to "make Britain grow again".
Mr Sunak has instead compared himself to the late Baroness Thatcher, who tackled inflation before cutting taxes during her premiership between 1979 and 1990.
While Mr Sunak has repeatedly sought to dodge questions over HS2, he did say on Tuesday that the costs of the project had gone "far beyond" what had been predicted, and the sums involved were "enormous".
The HS2 scheme was given a budget of £55.7bn in 2015 but costs have ballooned, with an estimate of up to £98bn – in 2019 prices – in 2020.