A US shot putter has vowed to hold on to her Olympic silver medal after being accused of breaking rules by making a political gesture on the podium.
During the photo session after the medals ceremony on Sunday night, Raven Saunders stepped off the podium, lifted her arms above her head and formed an "X" with her wrists.
Asked what that meant, she told reporters: "It's the intersection of where all people who are oppressed meet."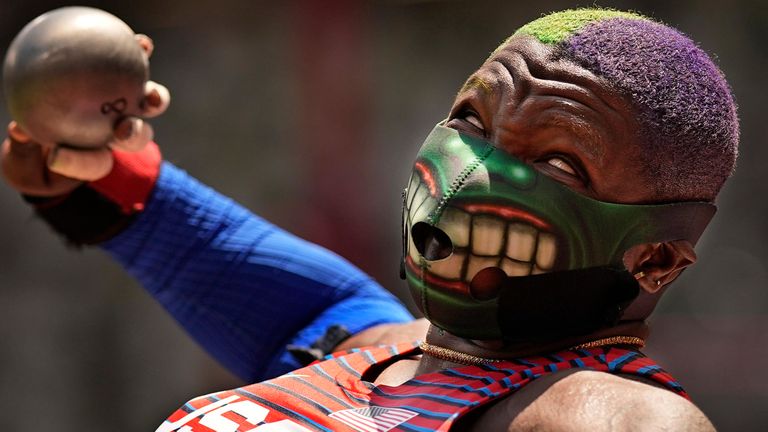 Saunders, 25, who styles herself as "The Hulk" by competing in a superhero mask and dyes her hair green and purple, said in a late night Twitter post: "Let them try and take this [silver] medal.
"I'm running across the border even though I can't swim."
Her gesture was to support the downtrodden, she indicated by retweeting an article about the action by news website theGrio.
It is not clear if she will be punished and talks are under way between Olympic officials and US team bosses, the International Olympic Committee (IOC) chief spokesman Mark Adams said.
Kate Hartman, the chief spokeswoman for the United States Olympic and Paralympic Committee, said they had reminded the IOC Saunders did not undermine the awarding of the medals or the playing of the Chinese anthem.
China's Gong Lijiao won gold in the event.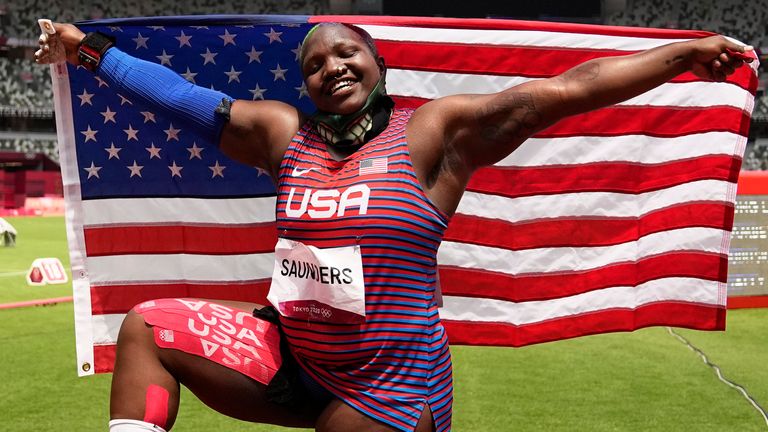 The IOC, which prohibits demonstrations on the podium or during competition, said on Sunday night that an athlete's national Olympic committee is required to issue any required punishment.
US officials have said they will not punish any athlete for exercising the right to free speech that does not express hatred.
The IOC last month relaxed rules forbidding athletes from any protests, allowing them to make gestures on the field, provided they do so without disruption and with respect for fellow competitors.
But the threat of sanctions remains for protests made on the podium during the medal ceremony.
If the IOC orders the Americans to punish an athlete and they refuse to do so, they would be in violation of the Olympic charter.
The Tokyo Games has already seen its fair share of protests.
Also on Sunday, US fencer Race Imboden took the bronze medal in foil with a circled X written on his hand. The meaning of the symbol remains unclear, but Imboden has knelt on the podium at previous tournaments to draw attention to racism and gun violence.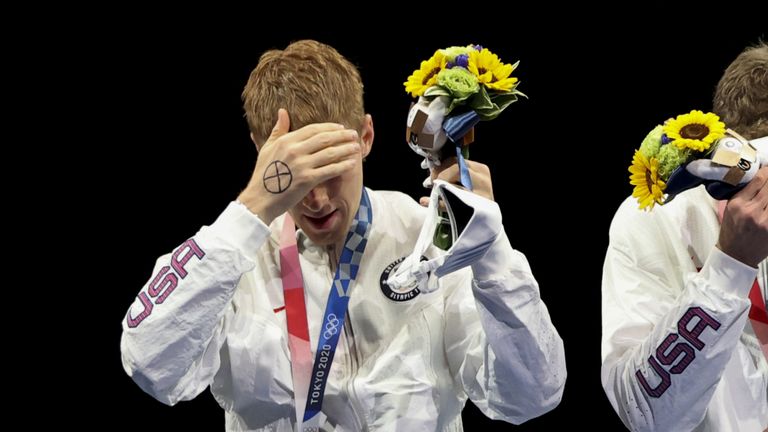 Elsewhere, the captain of the German women's hockey team has been wearing an armband in rainbow colours in solidarity with LGBTQ communities during the team's matches.
The Australian women's soccer team unfurled an indigenous flag prior to their opening match and several other women's teams, including Team GB, took a knee in a signal against racial inequality.
Costa Rican gymnast Luciana Alvarado raised a fist while taking the knee at the end of her routine, in support of racial equality.
Court rules woman, 73, who took part in Charles Manson killings should be released on parole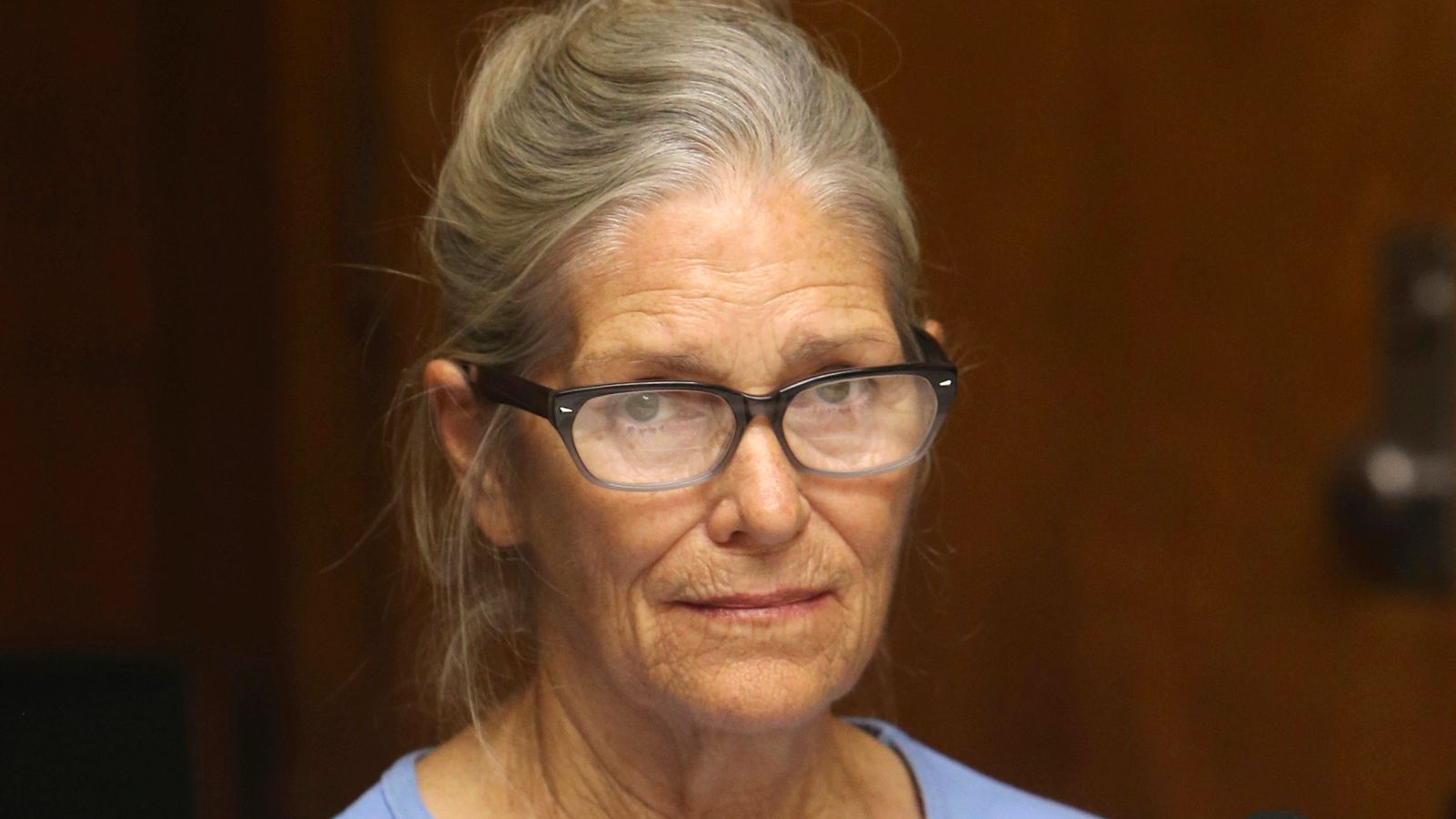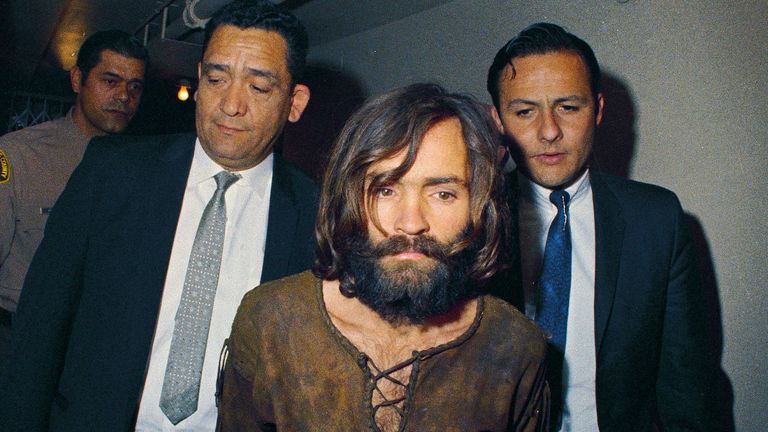 A 73-year-old woman who took part in two killings on the orders of cult leader Charles Manson in 1969 should be released from prison on parole, a Californian appeals court has ruled.
Leslie Van Houten is serving a life sentence for helping Manson and other followers kill Leno LaBianca, a grocer in Los Angeles, and his wife Rosemary.
Van Houten was 19 at the time.
Mr LaBianca's body was carved up during the killing and the couple's blood was smeared on the walls.
The killings came the day after other Manson followers, not including Van Houten, killed pregnant actress Sharon Tate and four others in violence that shocked Los Angeles and the nation.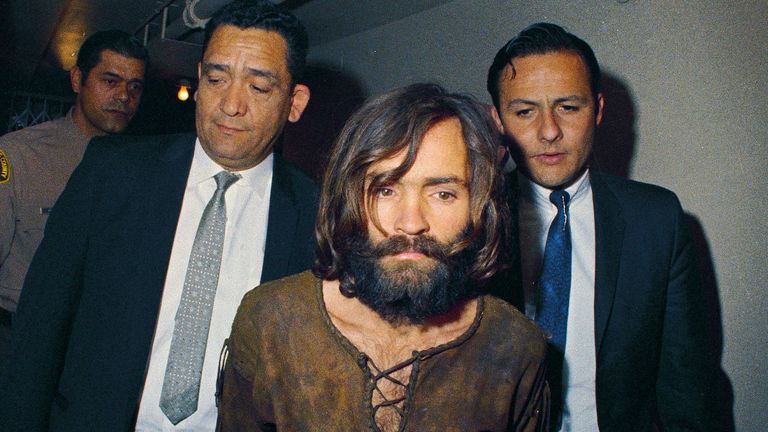 Van Houten, then one of Manson's youngest followers, has spent more than 50 years in prison.
The appeal court's ruling reverses an earlier decision by California Governor Gavin Newsom, who rejected parole for Van Houten in 2020.
She has been recommended for parole five times since 2016. All of those recommendations were rejected by either Mr Newsom or former California governor Jerry Brown.
Mr Newsom has said that Van Houten still poses a danger to society. In rejecting her parole, he said she offered an inconsistent and inadequate explanation for her involvement with Manson at the time of the killings.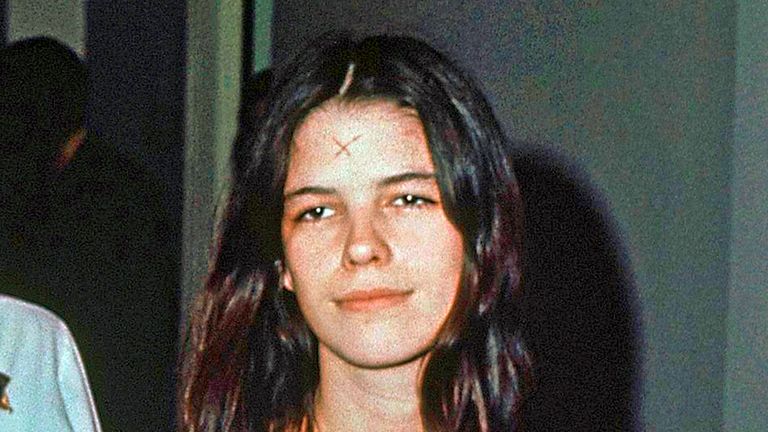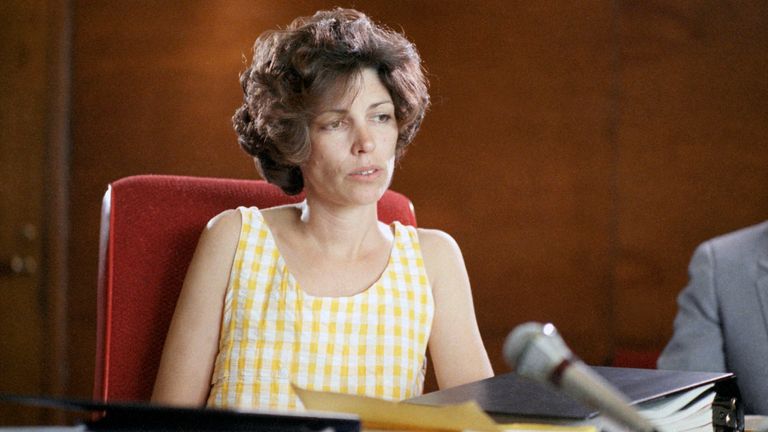 But the Second District Court of Appeal in Los Angeles has now ruled 2-1 to reverse Mr Newsom's decision, writing there is "no evidence to support the Governor's conclusions" about Van Houten's fitness for parole.
It marks the first time a court has overruled a governor's denial of parole to a Manson follower, according to the Los Angeles Times.
However, California Attorney General Rob Bonta could still ask the California Supreme Court to stop her release.
Neither his office nor Mr Newsom's immediately responded to requests for comment on whether they would do so, according to local reports.
Nancy Tetreault, Van Houten's lawyer, said she expects Mr Bonta to ask the state's supreme court to review the court's decision in a process that could take years.
Manson, who died in prison in 2017 at age 83, instructed his mostly young and female followers to murder seven people in August 1969 in what prosecutors said was part of a plan to spark a race war.
Although Manson, one of the 20th century's most notorious criminals, did not personally kill any of the seven victims, he was found guilty of ordering their murders.
Read more:
Manson's life and crimes
The death sentences given to Manson and his followers were commuted to life in prison after capital punishment was ruled unconstitutional in 1972.
Van Houten's 1971 original conviction and death sentence was initially overturned on appeal, but she was retried, convicted and sentenced to prison in 1978.
Ron DeSantis calls Trump's COVID lockdown criticisms 'ridiculous' at his first US presidential campaign event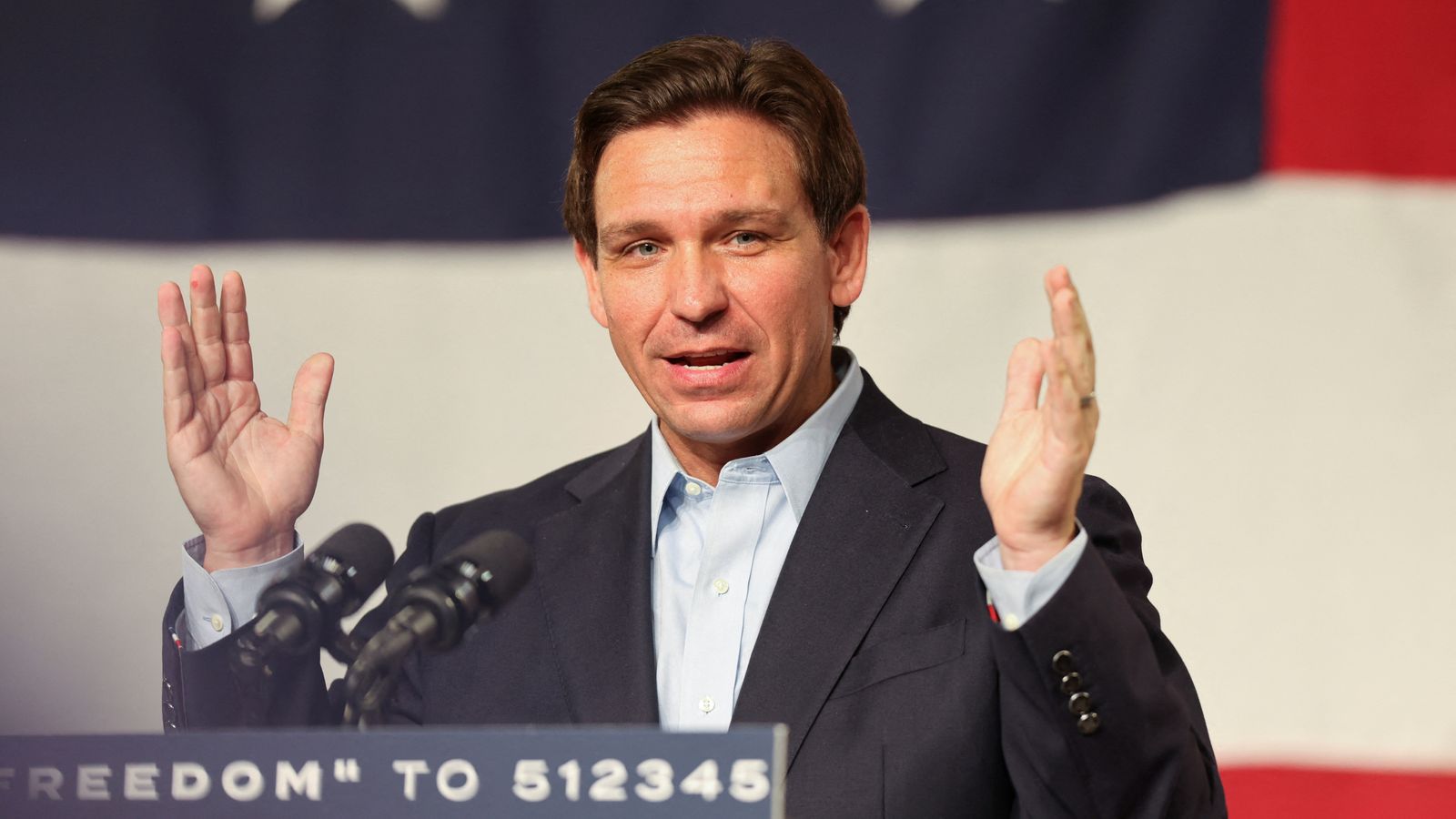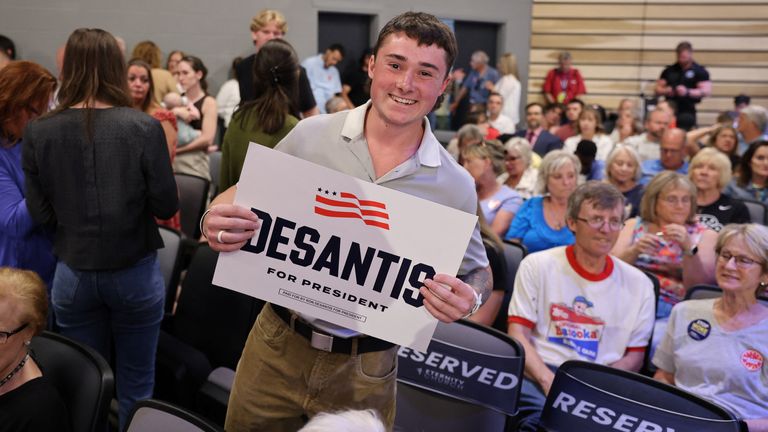 Ron DeSantis has begun his bid to become the Republican candidate for US president by claiming he is America's saviour and calling some of frontrunner Donald Trump's criticisms "ridiculous".
The Florida governor wants to be his party's candidate to challenge Joe Biden in next year's presidential election.
His key rival for the GOP nomination is former president Mr Trump, who has a big lead in opinion polls and an unbreakable grip on the party, according to some commentators.
At his first event as a candidate, Mr DeSantis, 44, told around 500 people at an evangelical Christian church in Iowa on Tuesday the US is "going in the wrong direction. We can see it and we can feel it."
His clearest criticisms of the frontrunner came when speaking to reporters afterwards.
Promising to "fight back" against the former president, he rubbished Mr Trump's suggestion that New York's pandemic response was better than Florida's, calling it "detached from reality.
"That criticism is ridiculous. But it is an indication that the former president would double down on his lockdowns.
"When we disagreed [while Mr Trump was president], I never bashed him publicly because he was taking all this incoming from the media, the left, and even some Republicans.
"And the whole collusion was a total farce. And he was treated very, very poorly. And that bothered me, and it still bothers me to be honest.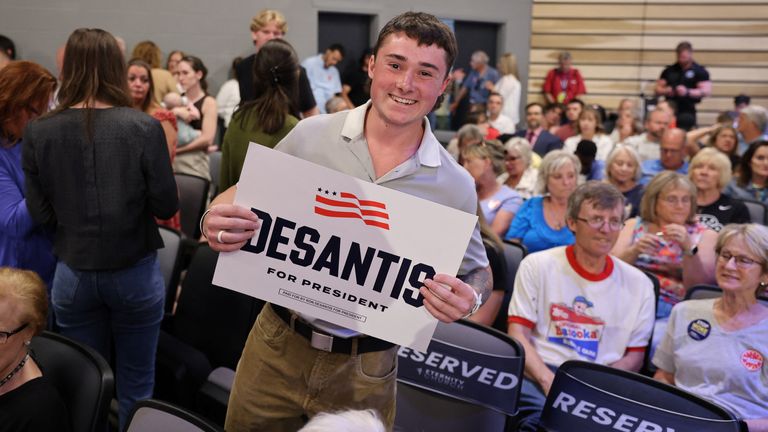 "So, I never really would air those disagreements. Well, now he's attacking me over some of these disagreements, but I think he's doing it in a way that the voters are going to side with me."
Read more:
Ron DeSantis as American president is exciting for some, but frightening for others
The controversial Florida governor taking on Mickey Mouse and Donald Trump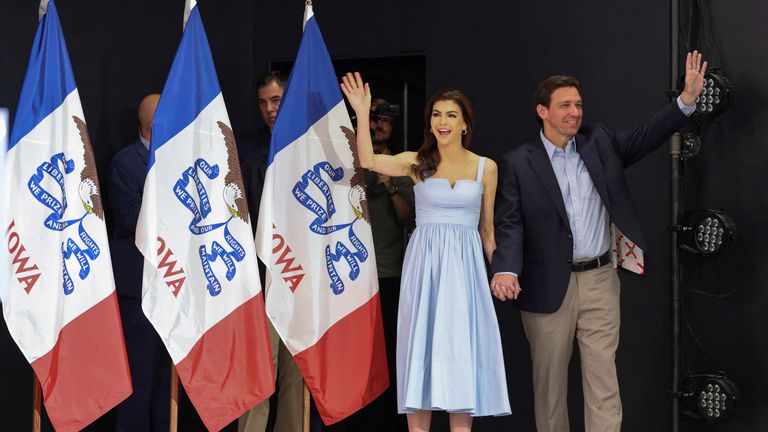 The governor's appearance came six days after a stumbling online announcement to launch his bid.
Mr DeSantis becomes the latest in a crowded Republican contest to decide whether the party will move on from Trump in 2024 as it aims to retake the White House from Democrat Joe Biden.
Those already in the GOP field include Trump, former United Nations ambassador Nikki Haley, South Carolina senator Tim Scott, entrepreneur Vivek Ramaswamy and former Arkansas governor Asa Hutchinson.
Click to subscribe to the Sky News Daily wherever you get your podcasts
Sometimes described as "Trump without the chaos", Mr DeSantis has nicknamed Florida "the place where woke
goes to die" and taken on the Disney Corporation after it opposed a state law banning classroom lessons on sexual orientation and gender identity in early years.
Mr DeSantis' campaign funds could increase by up to $80m (£64,724m) after a department in his own administration changed state rules, NBC said.
A state-level political committee Mr DeSantis led for the past five years, known as Friends of Ron DeSantis, is widely expected to transfer the sum to a federal super PAC called Never Back Down backing his bid for president.
The change overturns at least five years of state election rules, NBC said.
Prince Harry: US court to hear challenge over Duke of Sussex's visa following drug revelations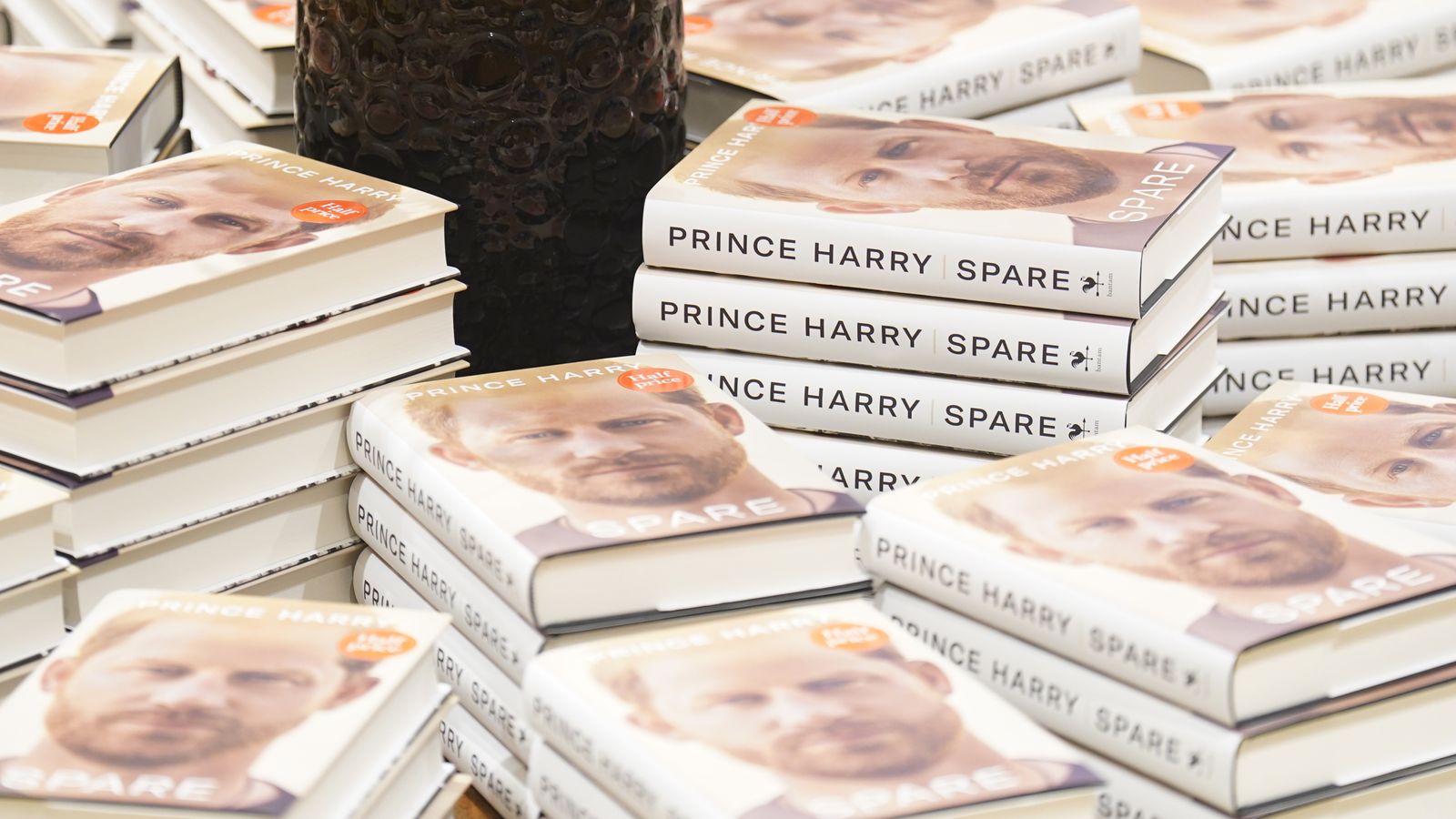 A federal judge will hear an appeal from a conservative think tank to unseal Prince Harry's US immigration records following revelations in his book that he took drugs.
Nile Gardner, of the Heritage Foundation, tweeted on Tuesday a hearing on his organisation's suit will be heard on 6 June.
He wrote that the "Prince Harry immigration records case will be held in Washington, DC Federal Court in front of a US Federal Judge".
He also announced the proceedings will be open to the press.
Past drug use can be grounds to deny a visa application for the US.
The Heritage Foundation is trying to discover if the revelations in the Duke of Sussex's memoirs Spare were documented in his visa application.
In the book, it was revealed Harry had taken cocaine, smoked marijuana and tried magic mushrooms.
It comes amid an ongoing High Court trial involving the duke, in which he is bringing a contested claim against Mirror Group Newspapers (MGN) over allegations of unlawful information gathering.
He is also awaiting rulings over whether similar cases against Daily Mail publisher Associated Newspapers Limited (ANL), and News Group Newspapers (NGN) – which publishes The Sun – can go ahead.
A judgment is also expected in the duke's libel claim against ANL over an article on his case against the Home Office.